Current Location:
Anchorage outside Korcula, Croatia
Current Position: 42 56.95 N 017 9.78 E
Click to view map.
Distance sailed since last post:
47 nautical miles
.
View the map of our voyage track here
Across from Korcula we could see a big mountain rising up above the small town of Orebic. If you click on the map link above, you can see where we are anchored and also the town and mountain just north of us. So we decided to do a hike.
It turned out that the mountain rose 900m up from sea level. So it ended up being quite a climb. But we weren't the only ones doing it, and met several other hikers on the way, including a family with two young girls from Oxford.
While we were puffing our way up, our friends Tony and Sally on the Junk-rigged schooner Ron Glas were checking out of Croatia to head for Italy and then Greece. Halfway up, we could see them! So, farewell Tony and Sally, and bon voyage for your crossing! We hope to bump into in some anchorage somewhere again.
We also had a nice view of Korcula town. We really like Korcula, and had another lovely evening there after our hike – live music at so many cafes and bars, and a lovely ambiance through the town. Definitely one of our favourites. We will tell more in our next post, with highlights of Croatia.
Below are a couple other photos from our hike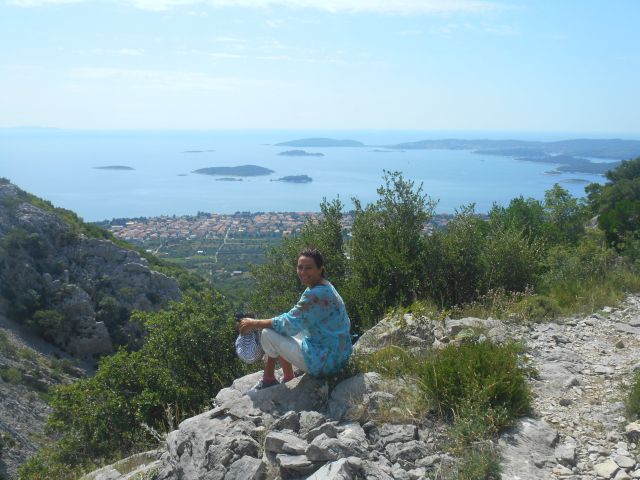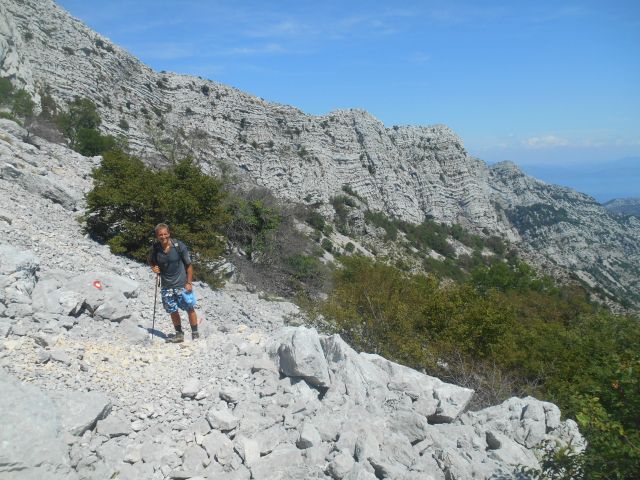 One Response to "A 900m Farewell to Friends"