Current Location:
Goreme, Cappadocia, Turkey
Current Position: 38 38.62 N 034 49.84 E
Click to view map.
Cappadocia
It looks like a fairy tale landscape of cones, pillars, pinnacles, mushrooms, and chimneys, which stretch as far as 40 meters into the sky.
Ancient volcanic eruptions covered this region with thick ash, which solidified into a soft rock called tuff.
Some made by nature and some by humans this place is full of living quarters, places of worship, stables, water wells and cisterns,and storehouses that were all dug into the soft stone thousands of years ago. Tunnel complexes formed entire towns with as many as eight different stories hidden underground. Cappadocia is situated in the principal Silk Road, the main commerce route between the orient and Europe going back forever.
The site became a religious refuge during the early days of Christianity. They excavated extensive dwellings and monasteries and created Byzantine frescoes paintings in cave chapels beginning in the seventh century.
Welcome to Cappadocia, and the incredible landscapes.
We started our journey on a 2 hour bus from here Finike, to Antalya where we had to take a different bus to the town of Goreme.
Antalya is a very nice city and we decided to take the bus in the morning and spend the day there. We then left the luggage at the bus station for a small fee and we were free to explore the beautiful place for the rest of the day. From Antalya we took an evening bus, at 10Pm and arrived in Cappadocia at 7:00Am. It was better than expected, we even had a good sleep.
When we got out of the bus, I was too busy looking up the sky and capturing some pictures of the balloons and all these funny looking rocks around us while Noel is calling me to get the luggage that I was ignoring.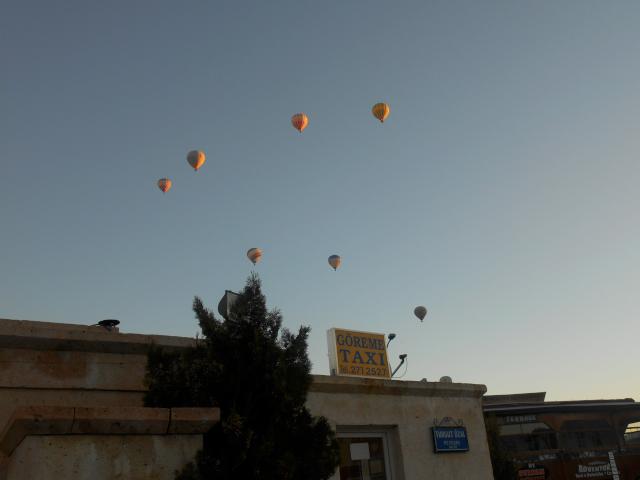 Sunrise and balloons all around. It was just like entering some kind of a movie set of Star Wars or something…..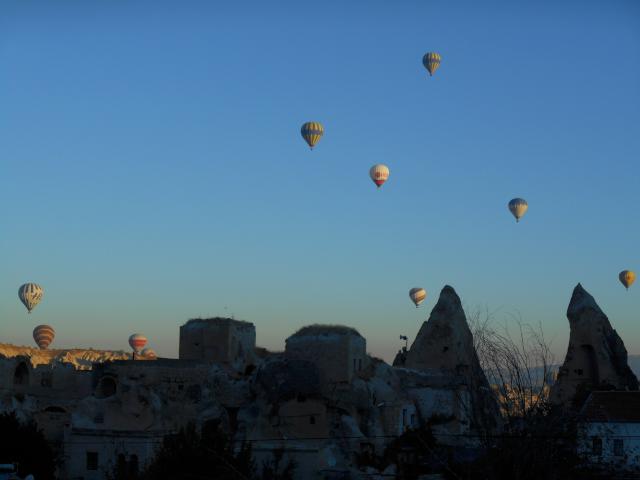 We were on a organized tour previously booked, so our guide picked us up and drove us to the hotel where we dropped our luggage, and went through the itinerary for the week.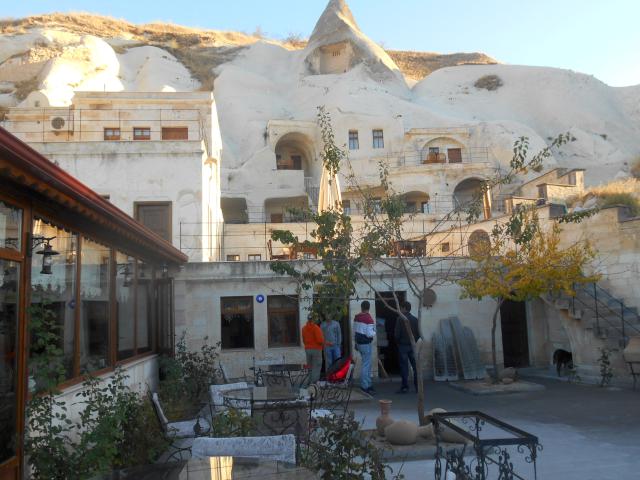 The hotel was quite nice and built into the caves on the hillside, like a lot of them are in the area. Some of them are almost like being in an underground city.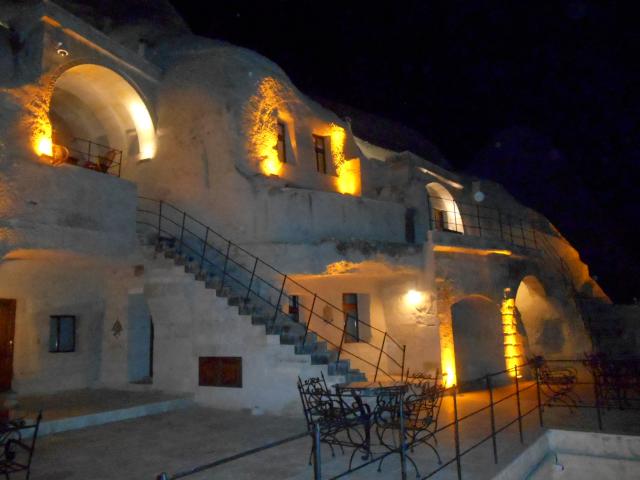 Out hotel at night.
Our first adventure was a short bus drive to one of the biggest underground city. So far tourists are allowed to visit 5 floors. There are more being excavated.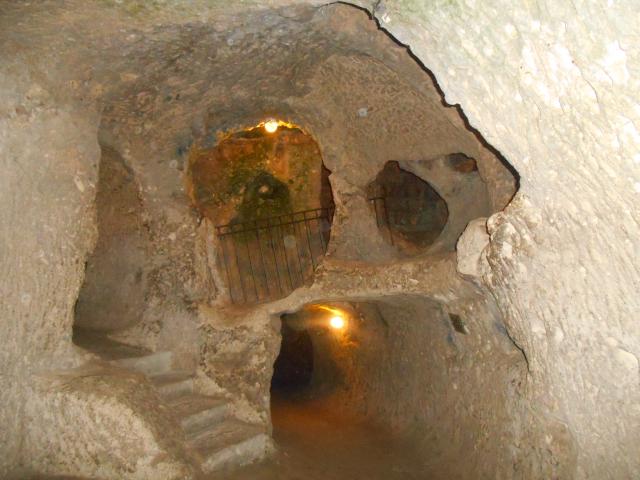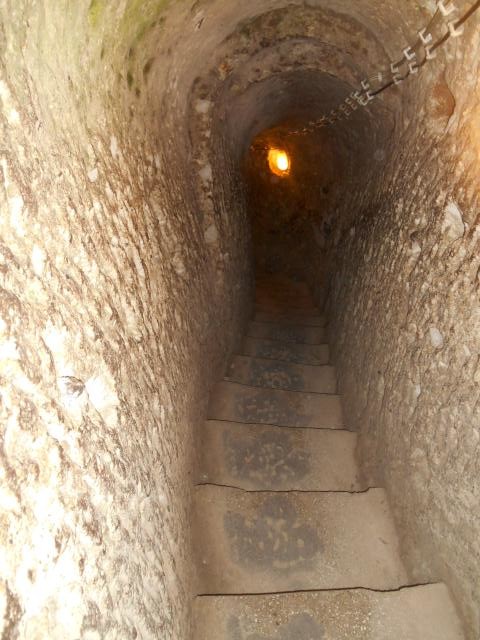 It was a maze inside, and beautiful work.
Our first hike, more like a walk, was the Ihlara valley. This is the view from the top of this beautiful gorge. We descended to it and visited a nice church inside of a cave where you could still see some frescoes representing the life of Jesus.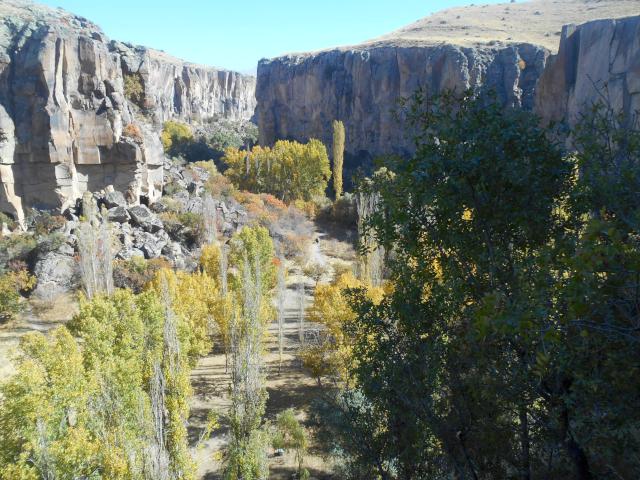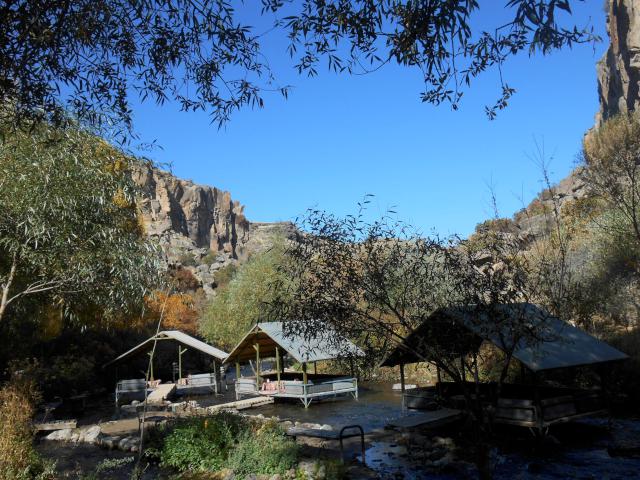 Beautiful scenery through Ihlara along the river and a nice stop for tea, coffee or freshly squeezed juices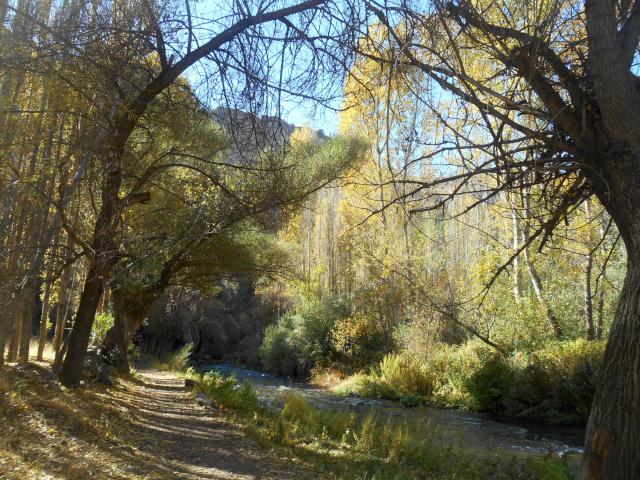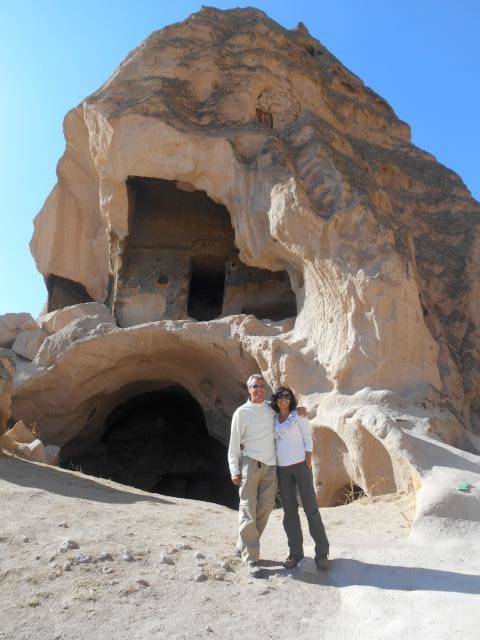 There are many many rock cut churches all over, this one above is one of the most important, is known as a Selime cathedral. The Cathedral has been hollowed out of the rocks up on the hill.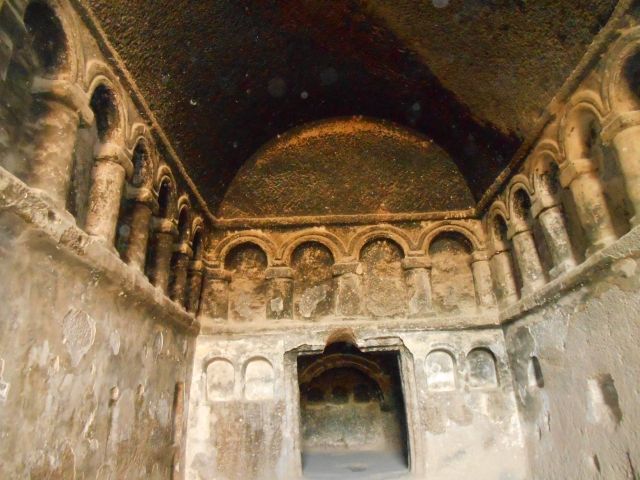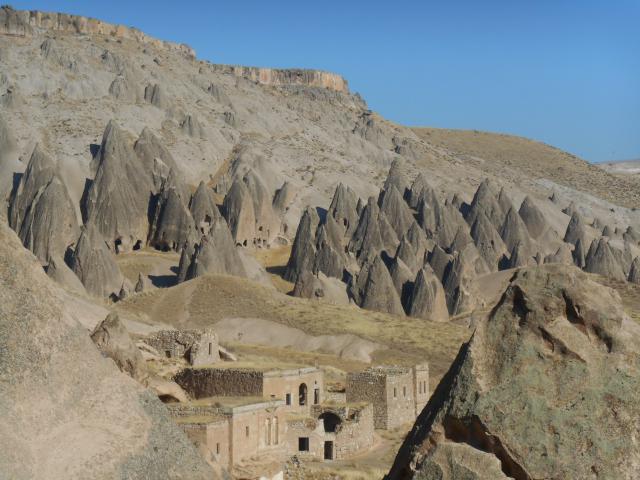 The Star Wars movie, don't know which one, was not allowed at the time to film here due to Turkish laws, but they used it as back round on the movie. It is right outside the Cathedral on the hills.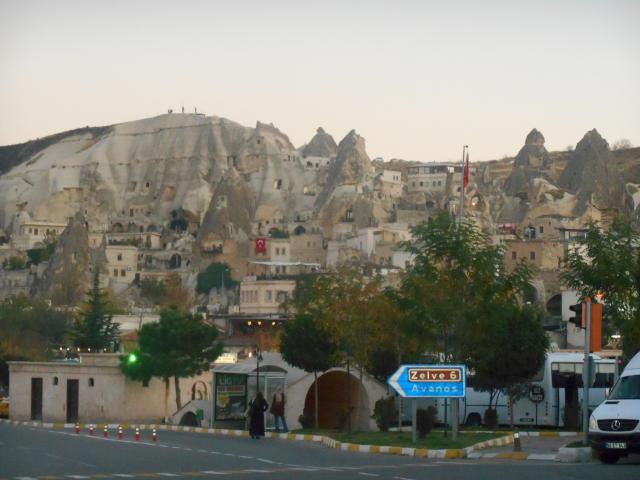 We stayed here in the town of Goreme. Goreme is the main center for visitors. There are many other towns near by with all the tourist facilities but you have to take the Dolmus that comes by every few minutes. So Goreme makes it more central.
From here it is much easier to start your hikes to the valleys. Or sometimes you are driven up to the start of the walk and you end up walking into town. Everyday was a surprise.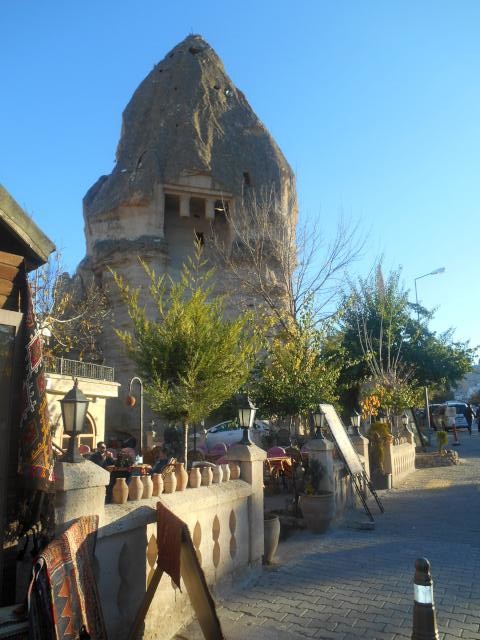 Goreme is a very cute little town by day or night.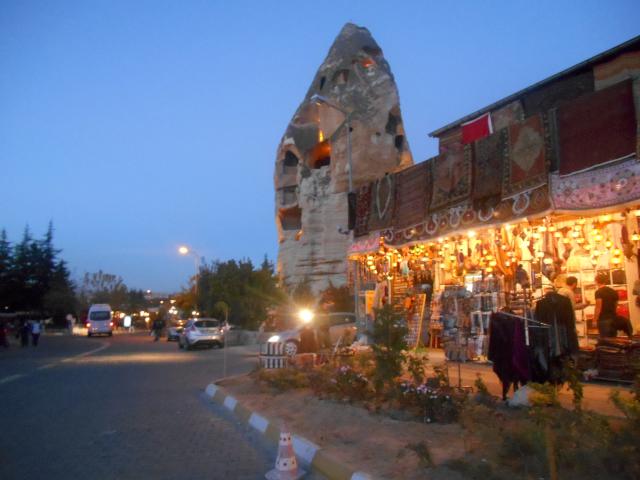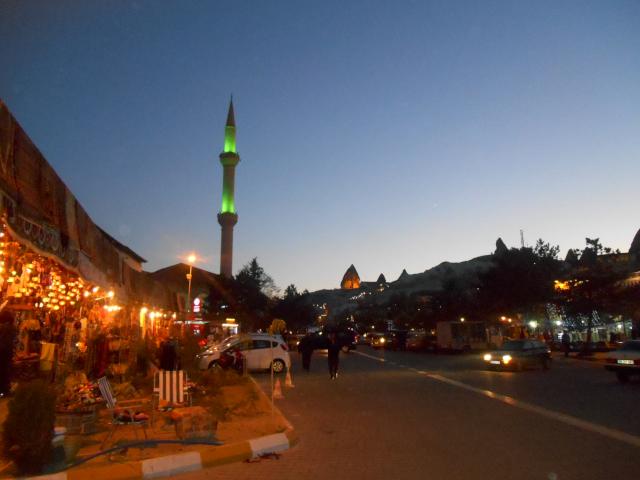 Thanks to the minarets to remind us we are on planet earth.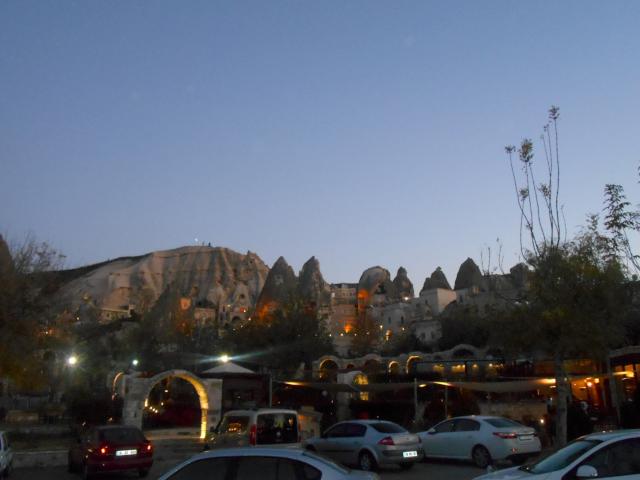 We were excited for the next day: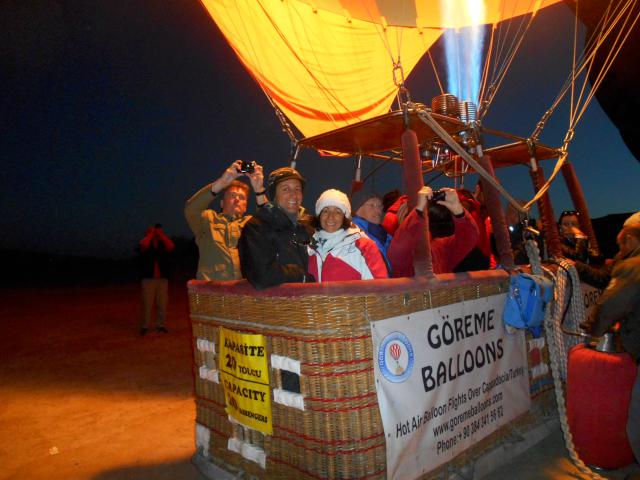 We were up at 5 am. A short bus ride took us to destination where our hot air balloon ride was to start. 16 people climbed up, 4 on each basket. Everyone had a great view.
Getting ready for the ride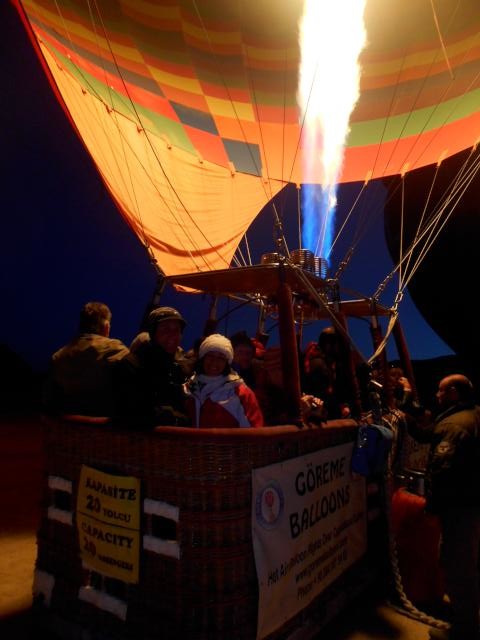 And here we go
We had fun watching the many balloons going up near by.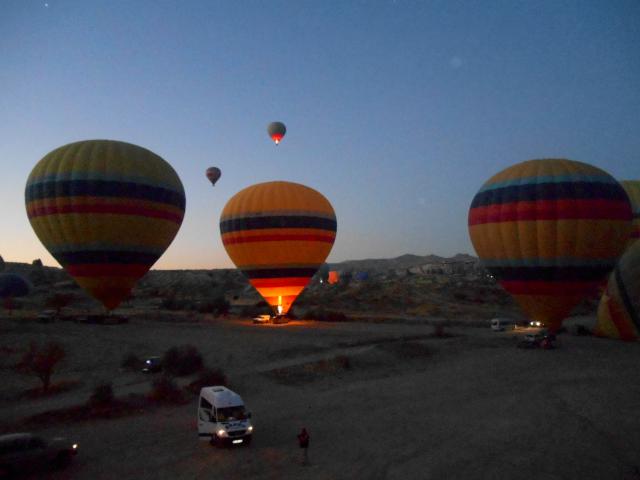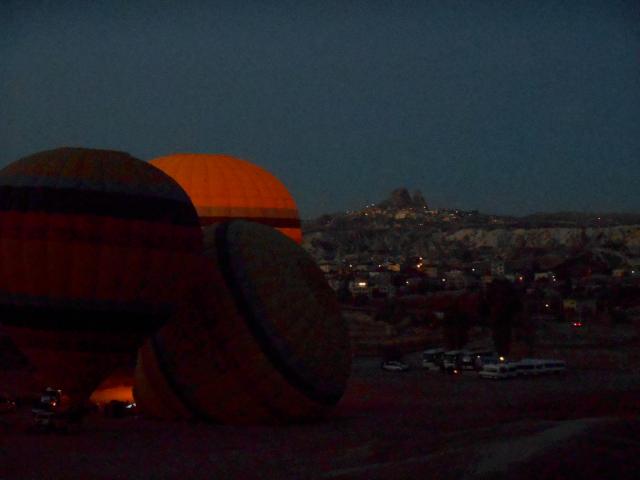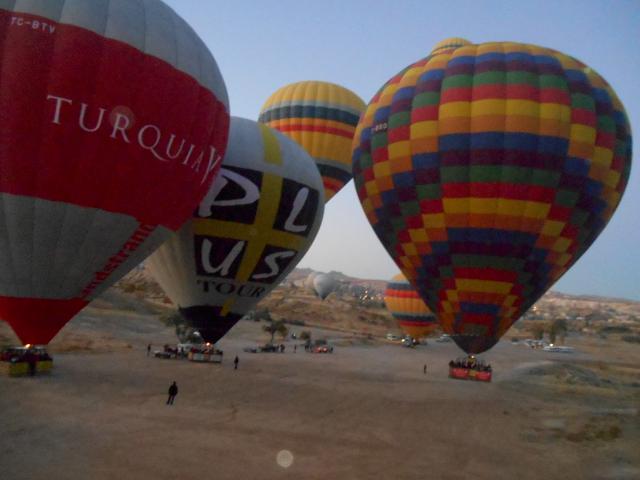 Enjoy some of the photos I took from the air. Amazing views over the valleys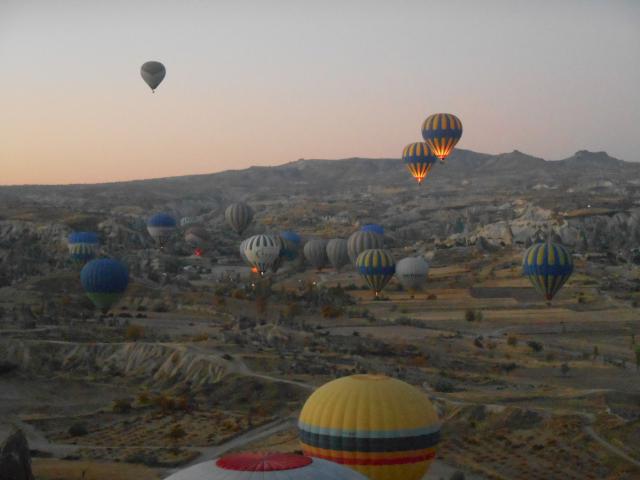 Breathtaking!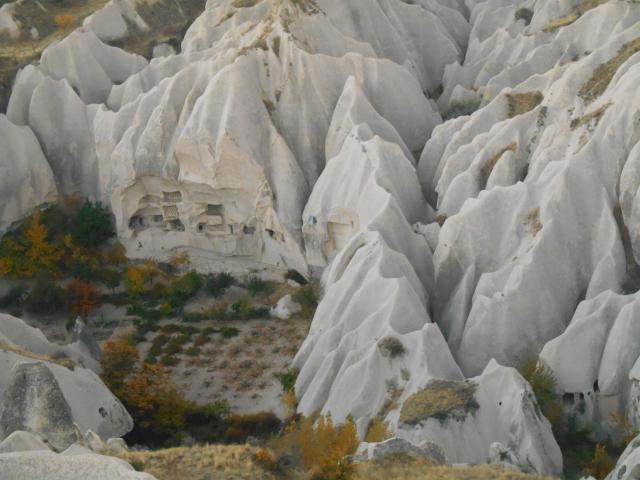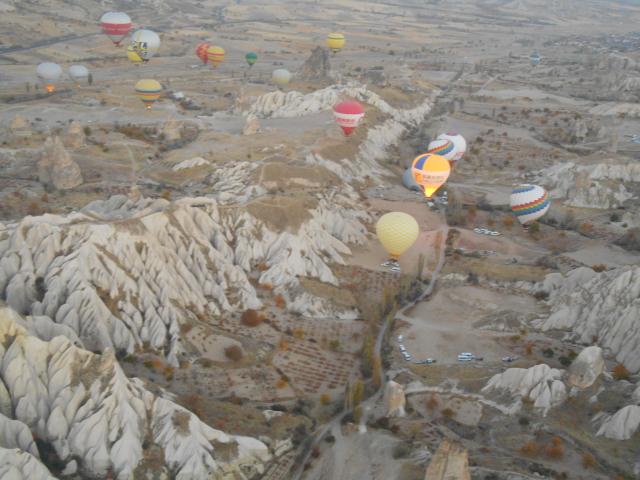 Below is rose valley, the much popular one. Looks like ice cream cones: strawberry, vanilla or lemon, or perhaps mango???
The sun is rising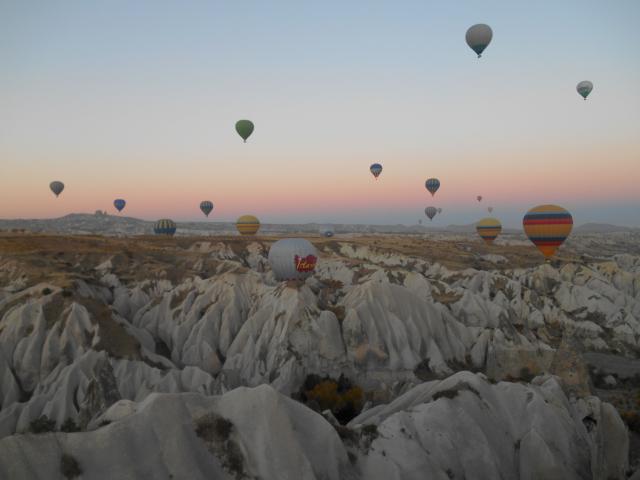 At one time I counted 74 balloons around us.
For safety reasons, they are only allowed to have a maximum of 100 balloons in the skies. At one time they had up to 200. After a fatal accident of a Brazilian young man in a collision a few years ago, they changed the laws. I can't even imagine what it must have been like, and the danger! It already looks so busy with half the amount drifting along.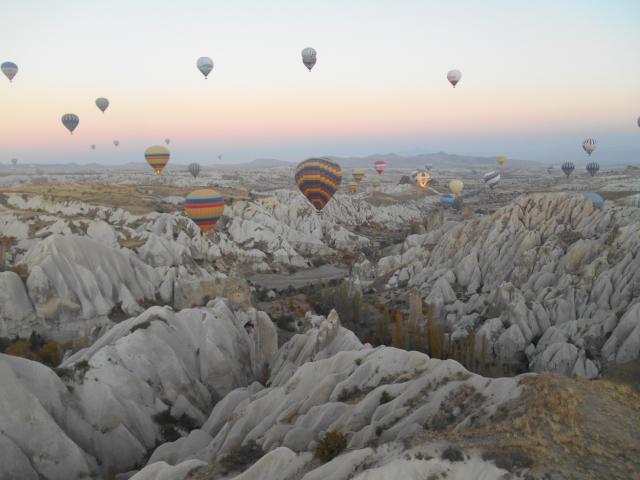 Drifting away over the dramatic scenery and sometimes lowering down between the fairy chimneys and cliffs and into the valleys, was just magical.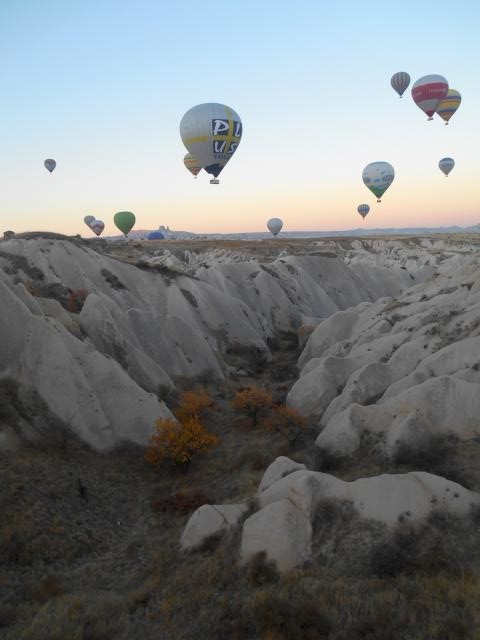 Sun rise over the town of Ortahisar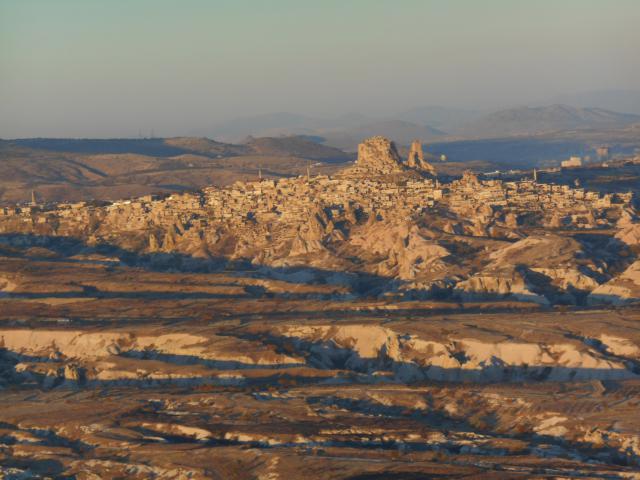 Sun rise over the town of Ortahisar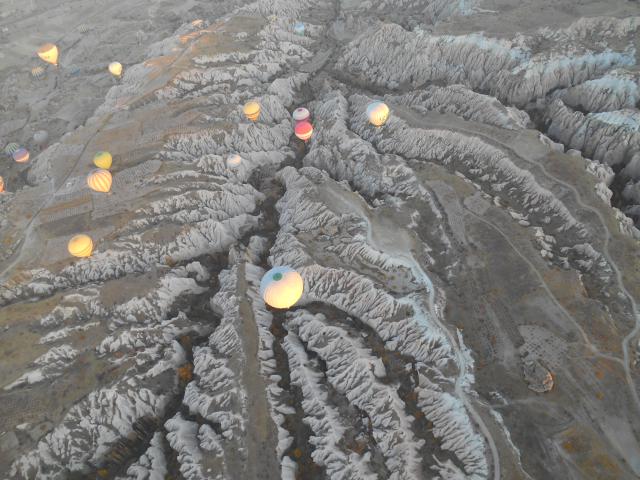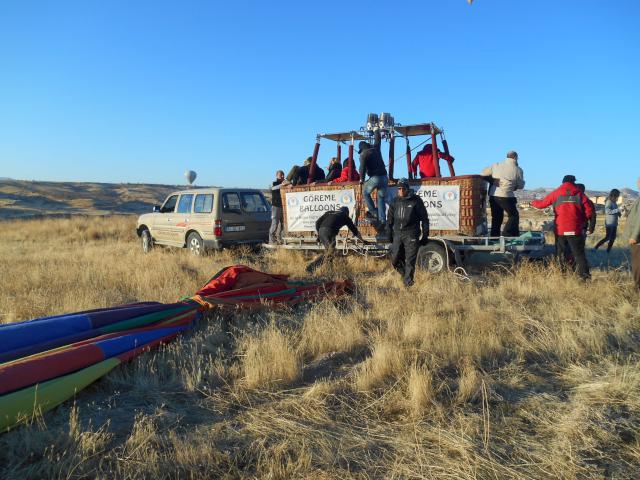 Safe landing. Champagne waiting!
We celebrated with Champagne and they drove us back to the hotel for breakfast at about 8am.
We were so excited and ready to explore these valleys on foot with our guide.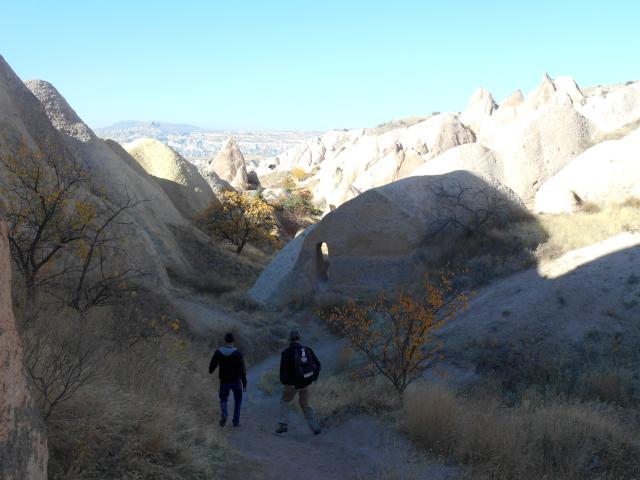 We started about 9,30.This is red valley. The scenery included many fruit trees and grapes, through out the valley and between churches, chapels, caves and fairy chimneys. The frosty mornings were cold, the days  sunny, nice and warm and cold again at sun down.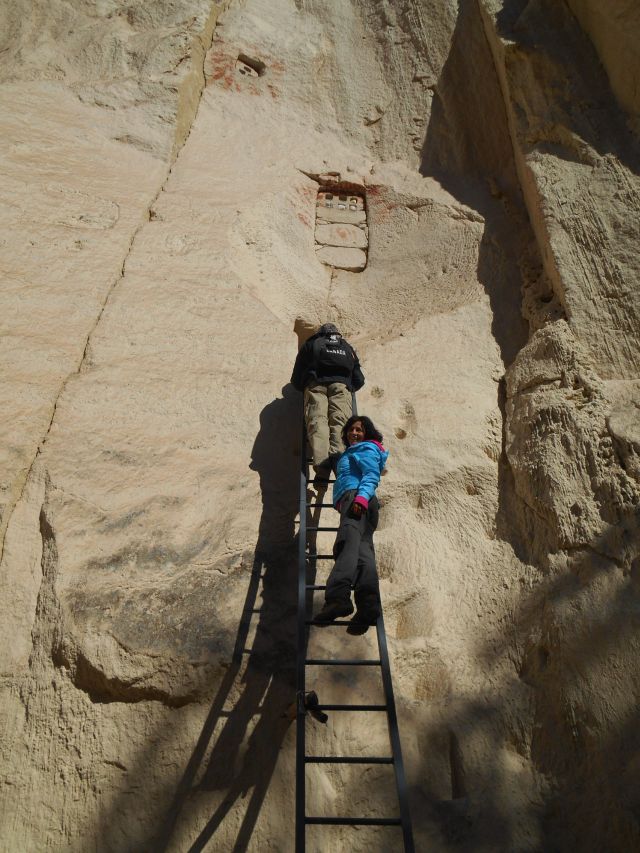 Checking out the pigeon holes…..
By 1:oo pm we had reached Pasabagi where lunch awaits.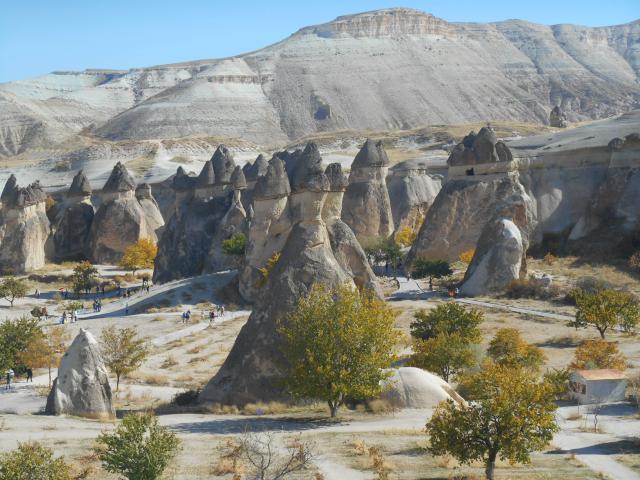 Pasabag. Also called Monks valley. One big cluster of stunning fairy chimneys and a monastery.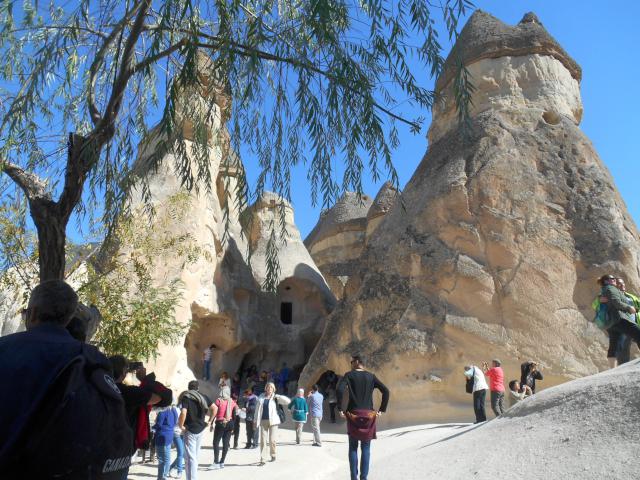 Pasabag is one of the most popular sights. The chimneys are dramatic, but also due to the fact that is right on the bus route and it is free to walk around. It's easy for everyone to get to.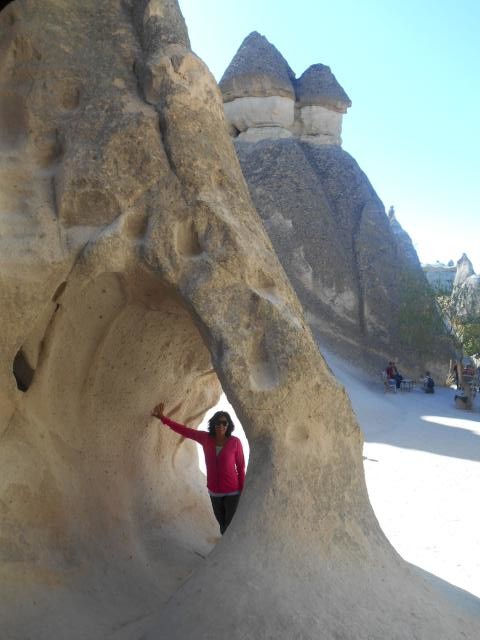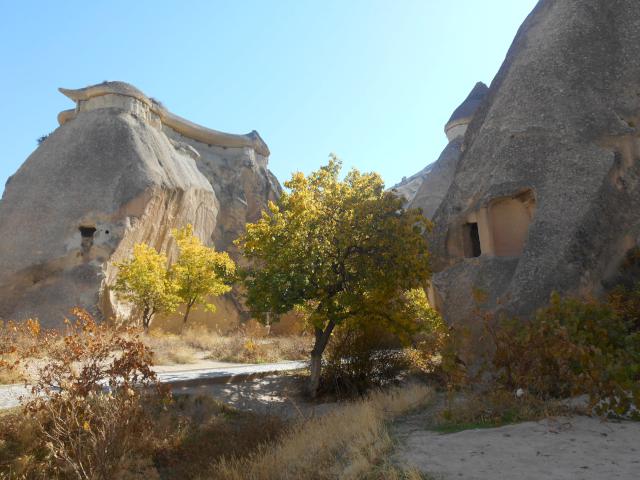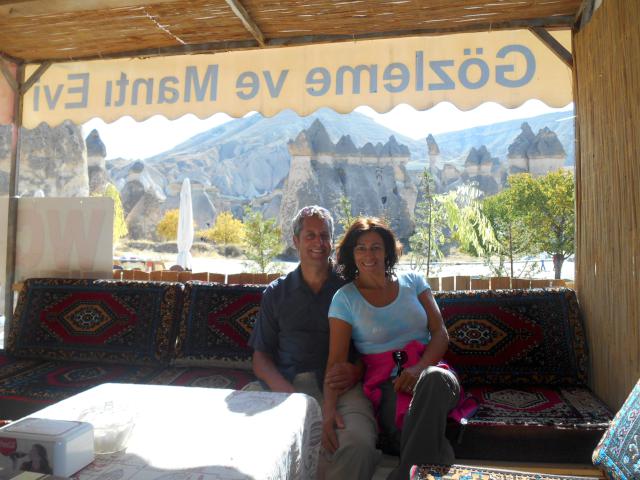 Lunch break across the street from the fairy chimneys .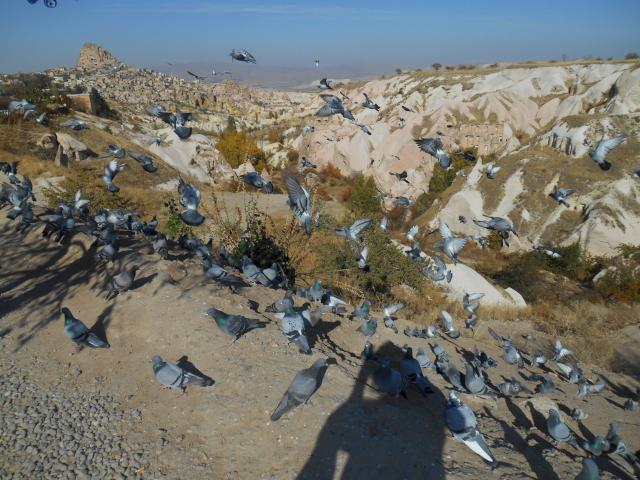 The pigeon valley. We enjoyed the pigeons…but when we looked over our shoulder, the fruit juice and nuts bar got the laugh!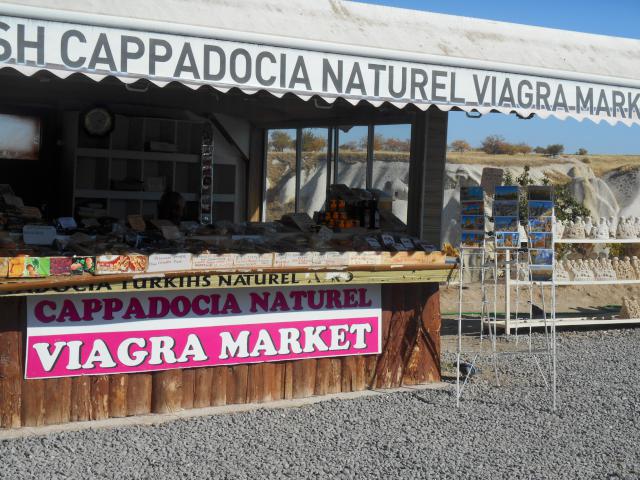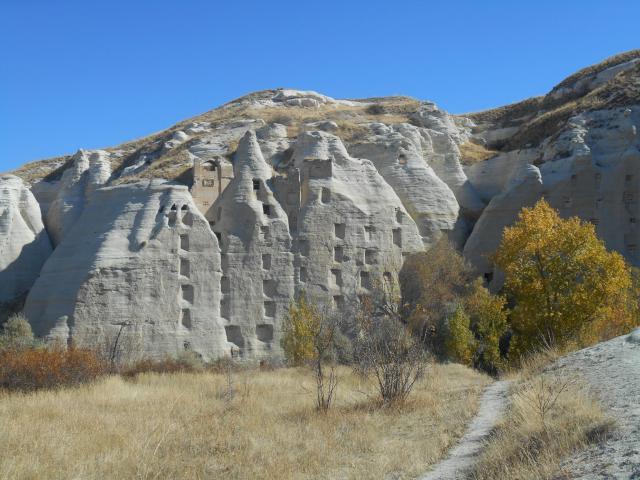 Centuries old pigeon houses carved on the cliffs. Looks like they have their own apartment building here.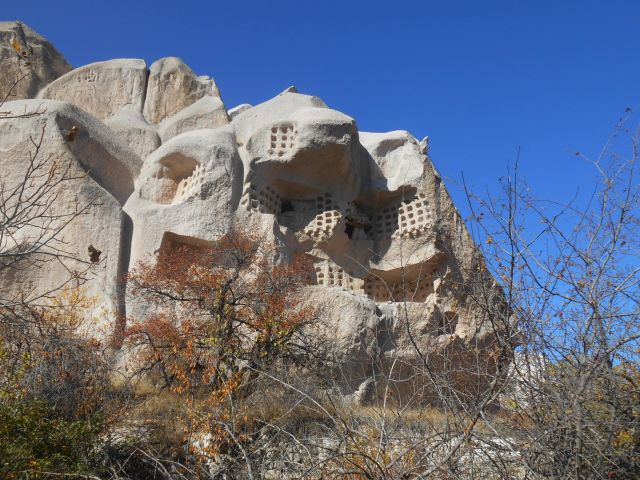 Throughout the years farmers have used pigeons as message senders, for manure, fertilizer for their crops and for fuel.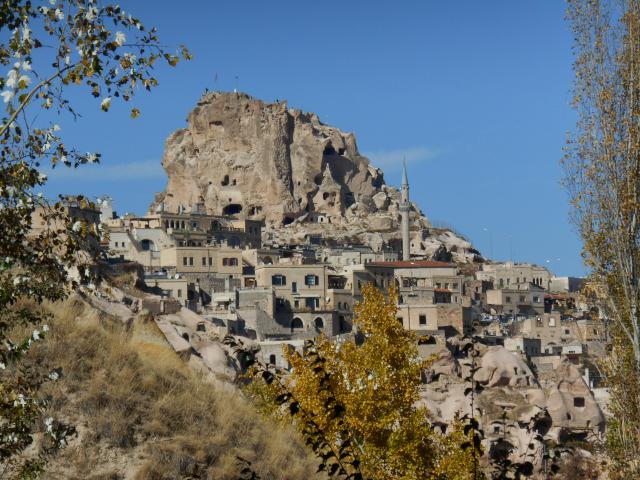 Our walk through pigeon valley took us to the base of the attractive town of Uchisar, we did not climb up there this day, but visited on a different walk.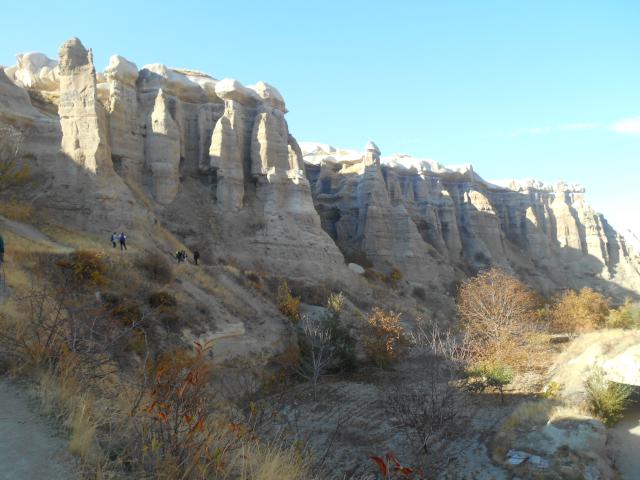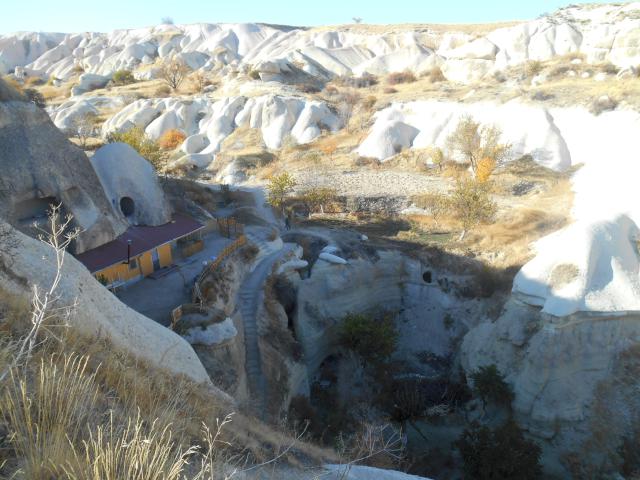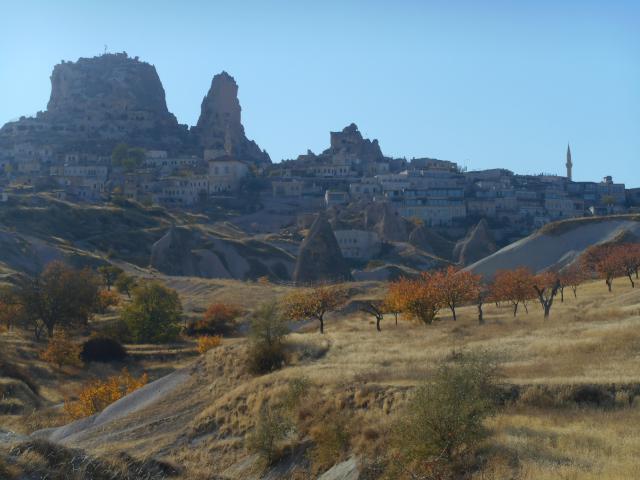 We walked these beautiful valleys for 5 days and we couldn't get enough.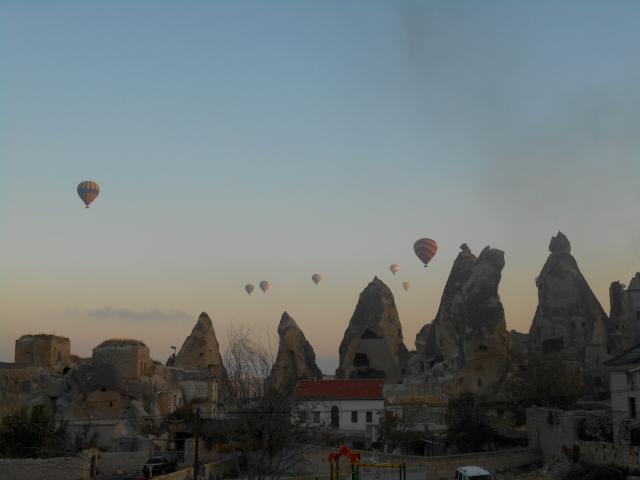 Every morning, I woke up and quickly moved the curtain out of my way to see if it was time for the balloons yet or perhaps I slept in and I missed them. I woke up with the sun, so luckily they were still a few around. How many also depended on the direction of the wind. I stepped outside into the patio and every morning I was delighted with the sky full of hot air balloons around and  above our hotel. I loved it!
This photo above was also taken from our balcony. People gathered up there every evening to watch the sunset. Nice Sunset Cafe up there where you can also enjoy a nice drink as well as the sunset and the views all round.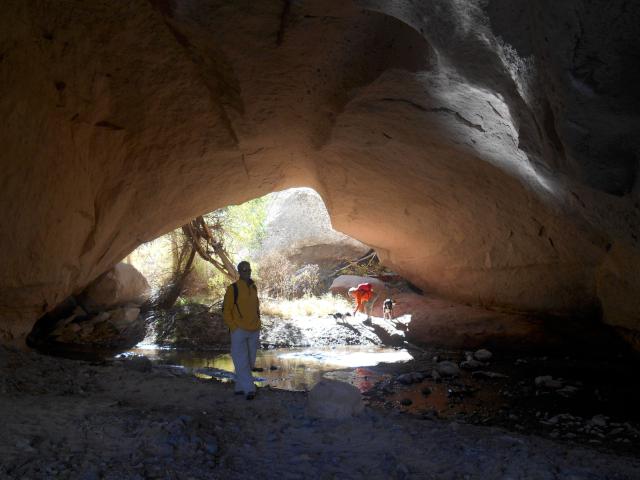 Our French guide brought her 2 dogs with us. One of them was still a puppy and it was his first time going in such a big adventure through puddles, small creeks and bridges.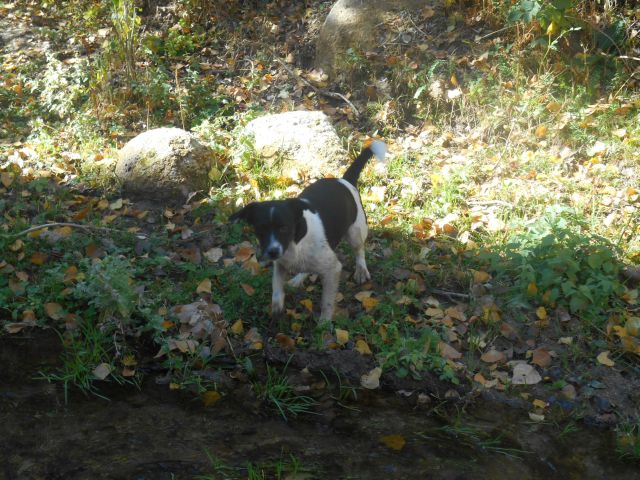 At first he was so nervous and we had to help, but in the afternoon he was just like the big dog and wanted to do it all! So cute. It added to the fun of another great day.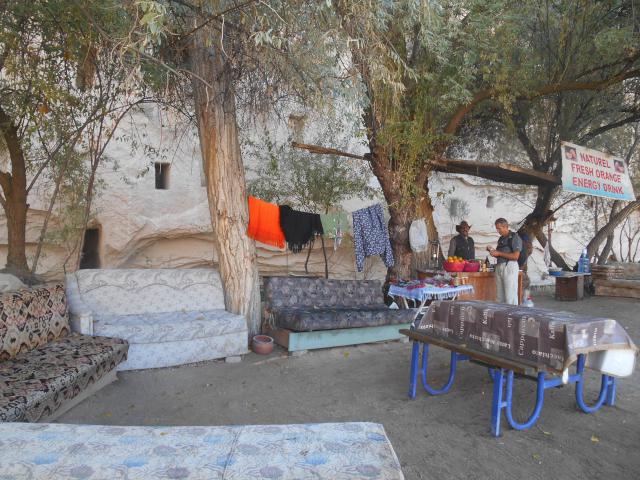 Time for some freshly squeezed pomegranate  juice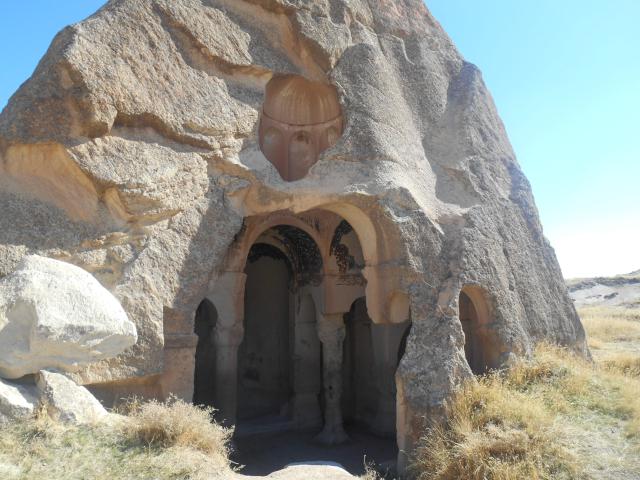 Many churches everywhere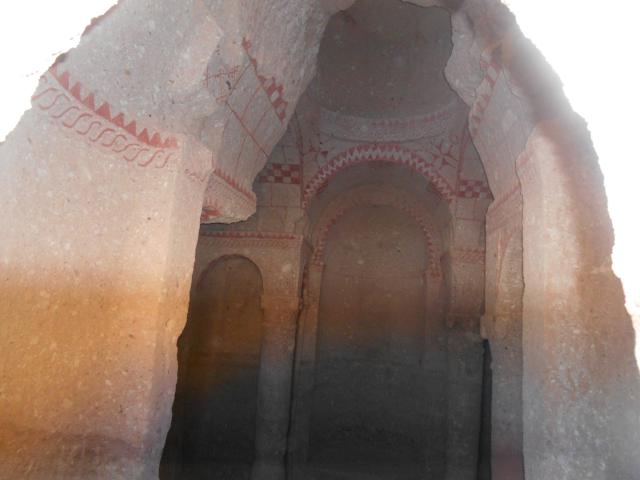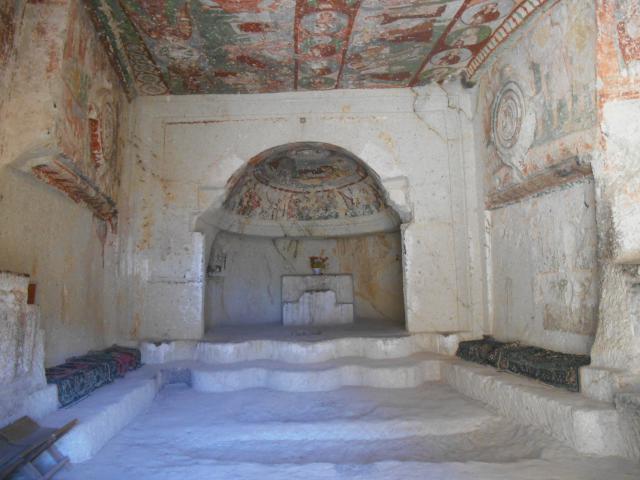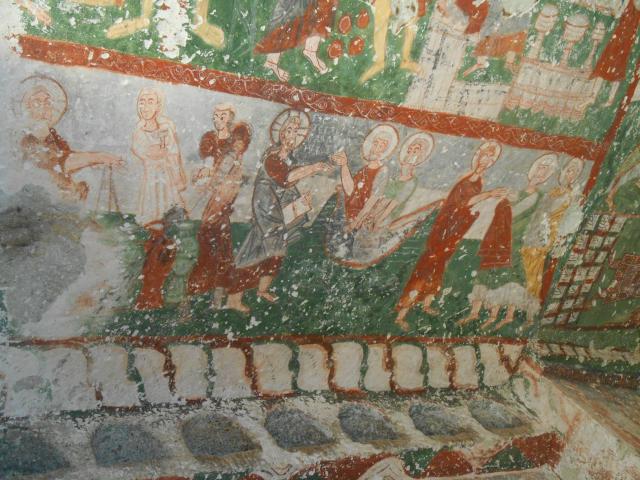 Some with nice frescoes of the life of Jesus Christ in some of the churches.
Unfortunately in many of them, their eyes or the whole face, has been scratched off.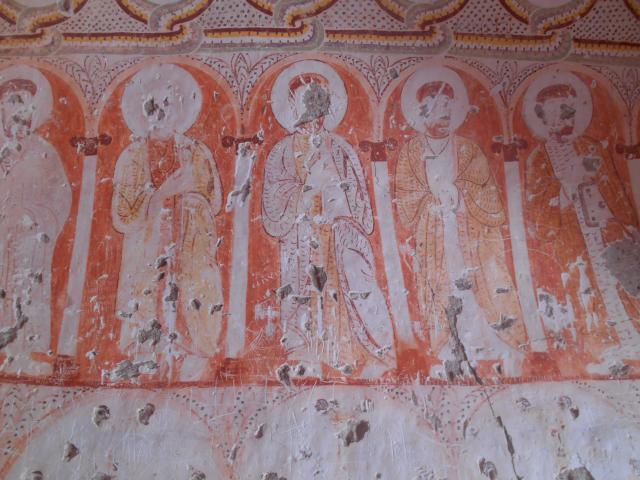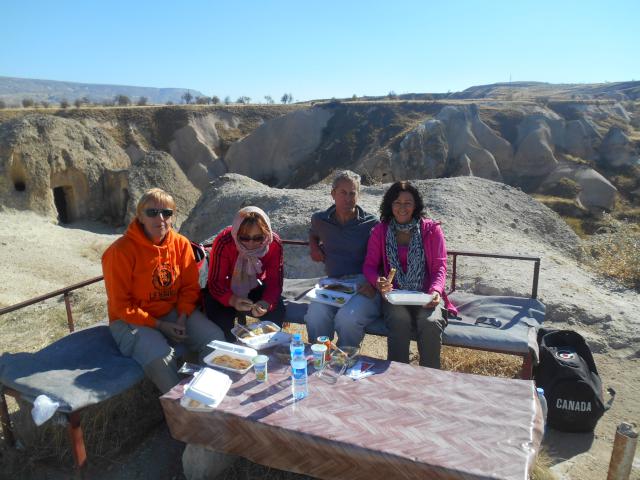 Above one of the churches. This  day included a picnic lunch. Well it was more like a fast food pick up by the guide's husband who brought it to us here. It was a really good wrap. We enjoyed the view of the valleys from the top of the hill. A cute little man arrives in a motorbike and opened his shack. Gathers up some wood and makes a nice fire. Boiled some water and a few minutes later he was serving us Turkish tea.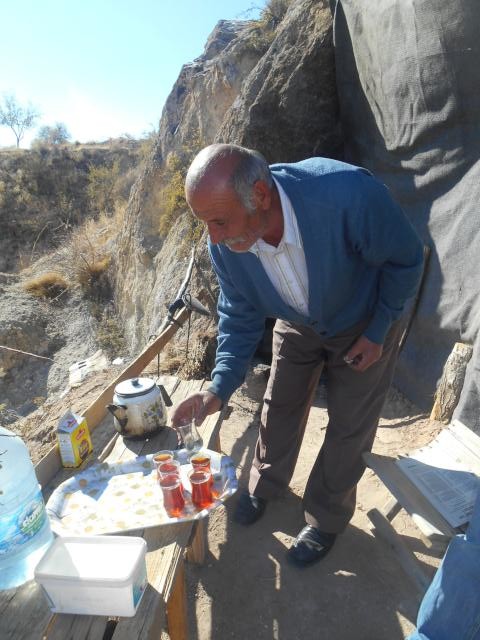 Shhh… kissing under the mistletoe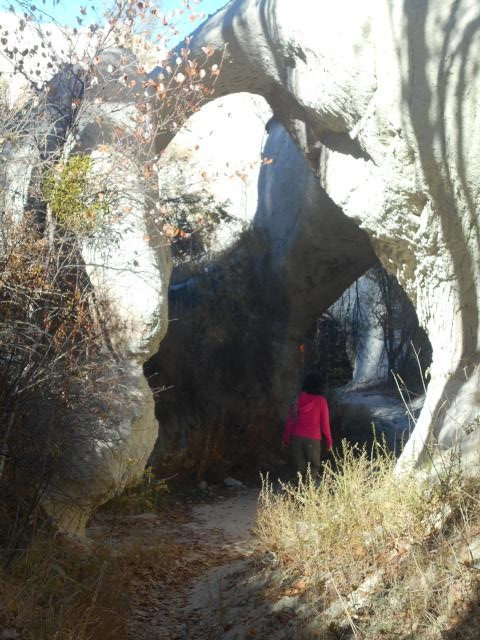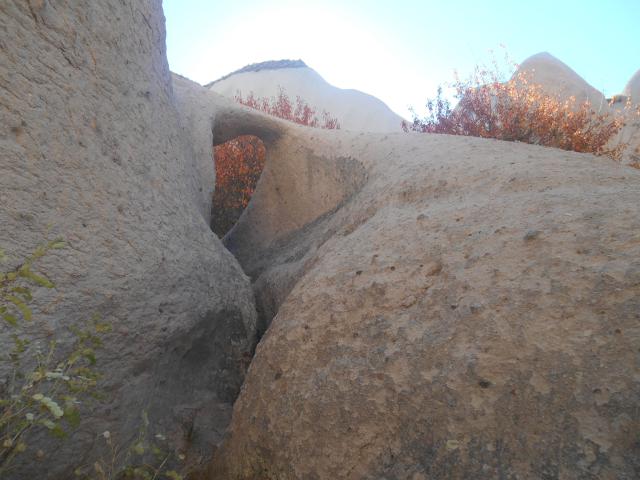 Amazing rock formations. Every valley was different….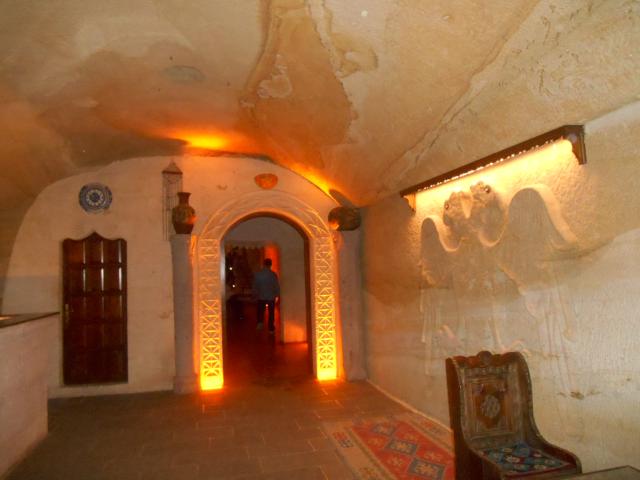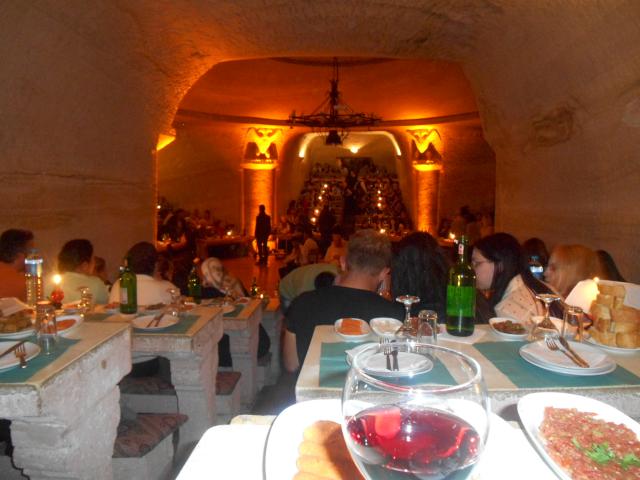 We also went to a Turkish night where they put on a show of all the dances from the different areas of the country and of course the belly dancer.The guys were the most impressive with their very energetic Russian style type dancing. Amazing!
The show was in this beautiful hall built in to the caves with about 4 different theater style seats and tables a 3 course meal and all  you can drink.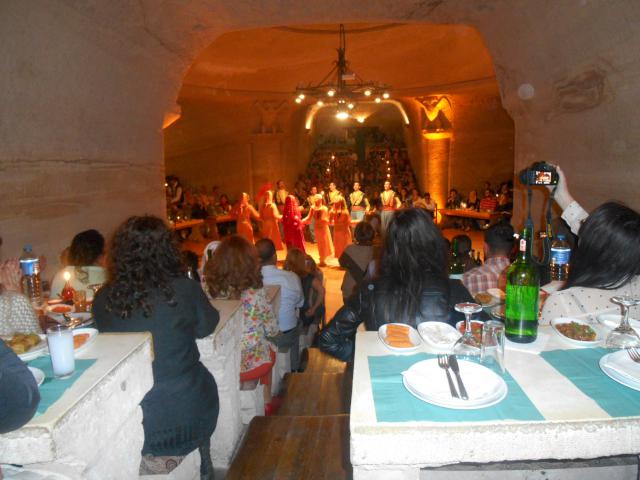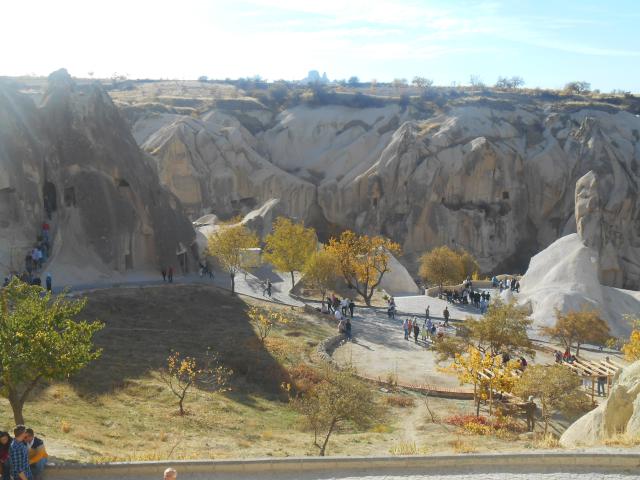 Open air museum in Goreme. It is only a 15 minute walk from the village center. It has many rock cut churches tables and benches dating back to the 10, 11 and 12th century. Some of them still have beautiful frescoes, especially the Dark church. Unfortunately you are not allowed to take photos, once I tried to sneak one in and security made me delete it.
The Goreme Open Air Museum has been a member of the Unesco World Heritage since 1984, and was one of the first two Unesco sites in Turkey.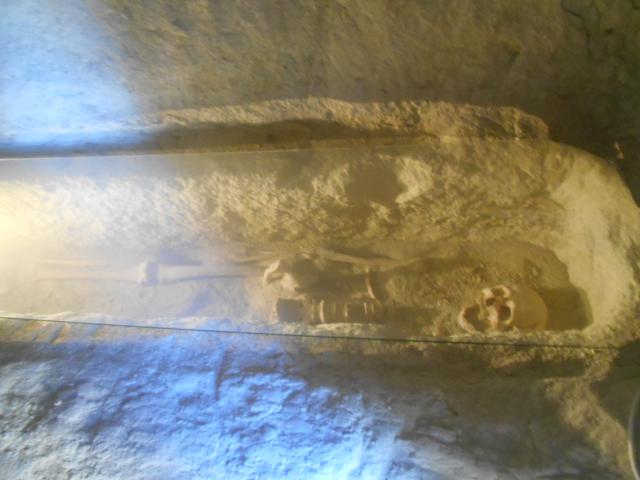 I did get this one photo. This church had a necropolis, the frescoes were not in great shape. It is very unusual to see the skeletons though.
More walks through the valleys and a visit to  Uchisar castle.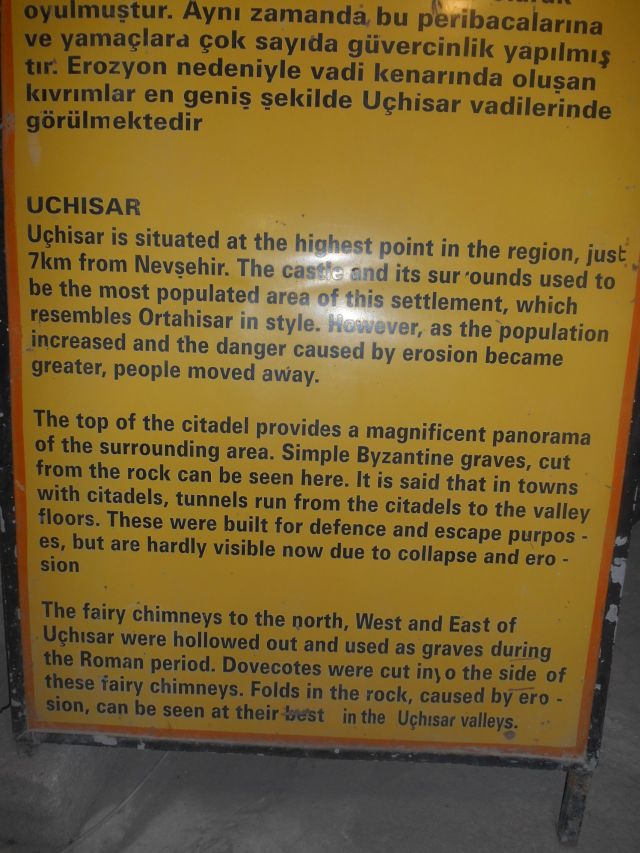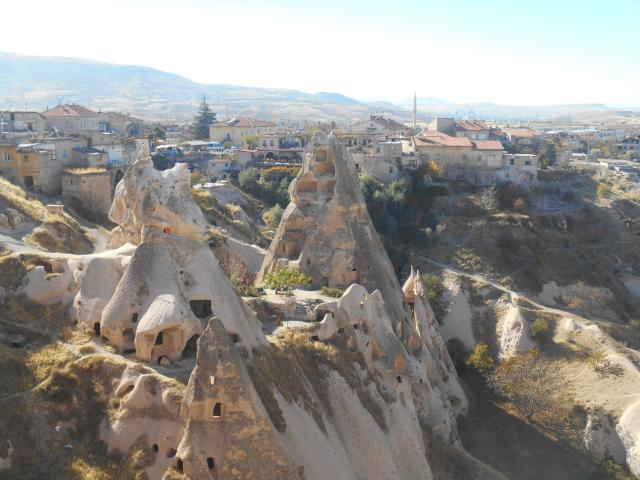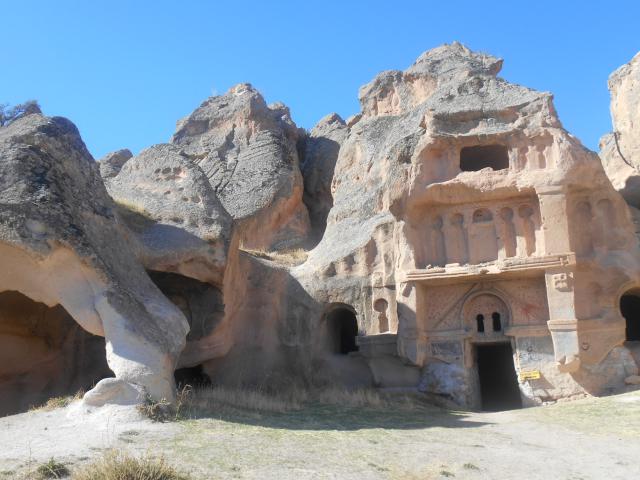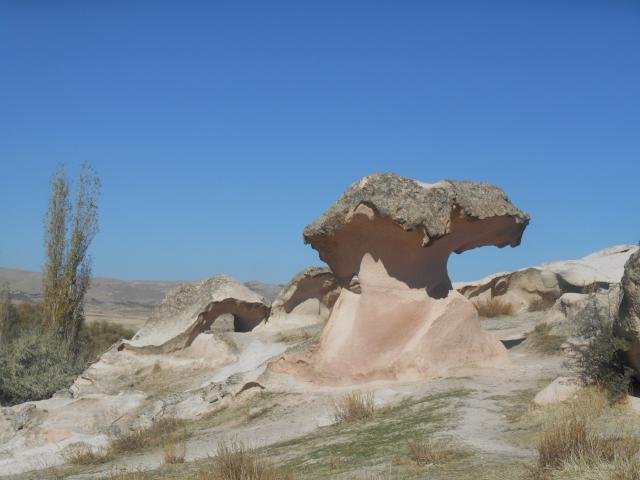 Mushroom rock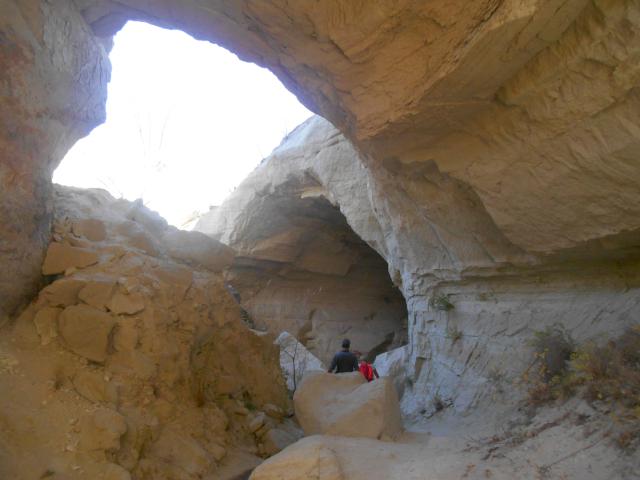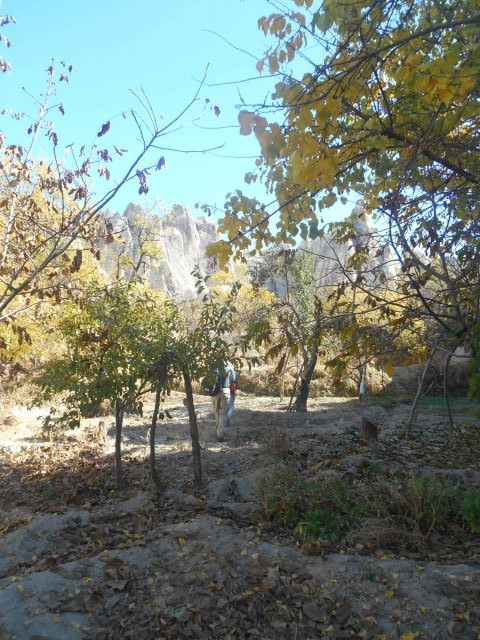 Walking through the gardens of the villagers in the base of the valley. They grow some vegetables  here but are not now harvested. Ahhh but hard to reach grapes so yummy off the vines that have grown wild over other trees! The many apples so sweet, and even dried prunes still left on trees. I was always running behind and catching up, either was photos or food…Organic, gotta take advantage!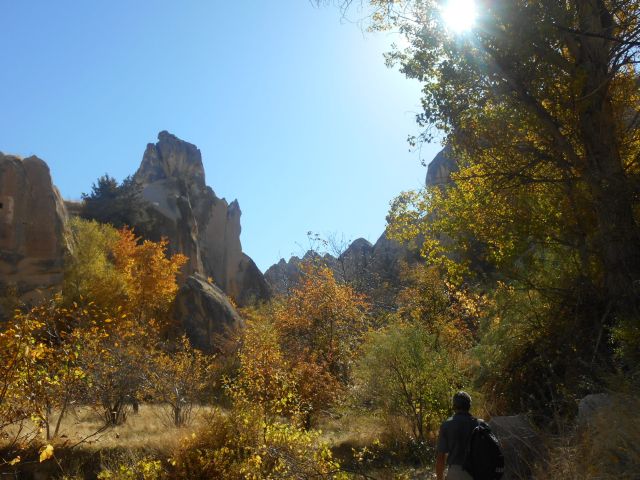 Some valleys have many many fruit trees, mostly apricots and grapes. Lots of apples still on trees and on the ground, locals didn't pick them. Mulberries and quince also everywhere.
We told our French guide to teach the Turkish how to make tart aux pommes. After being served or at least offered, baclava for 9 days, we were ready for a change. She told us " she is French and she is a woman" what she says don't count. Oops! She is married to a Turkish man here in Goreme, has her teaching job at University in France and comes to spend every short or long holiday here. She says Cappadocia is her home.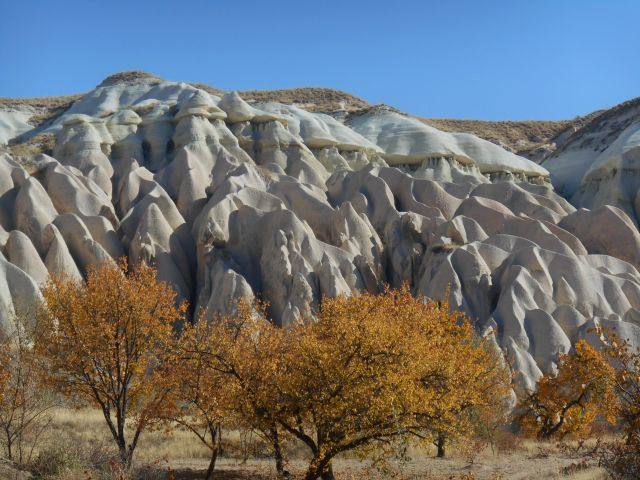 After the red valley, rose valley pigeon valley, white valley and more, we pass through the Love valley.
Ancient homage to male fertility? They are far from being man made. Below you can decide where the name comes from.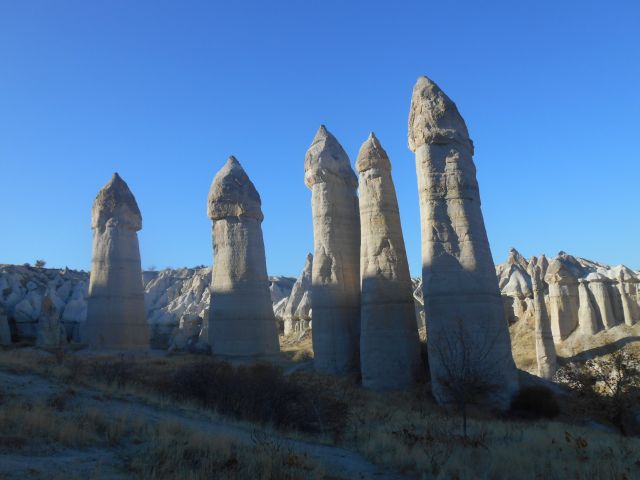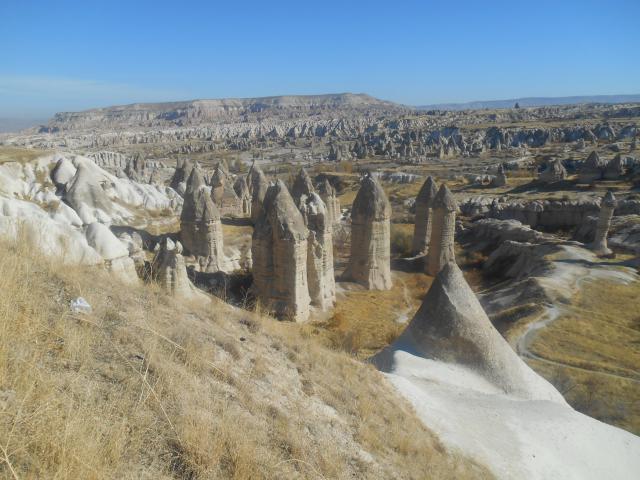 Again the dramatic colors, pink, white, and sometimes yellow.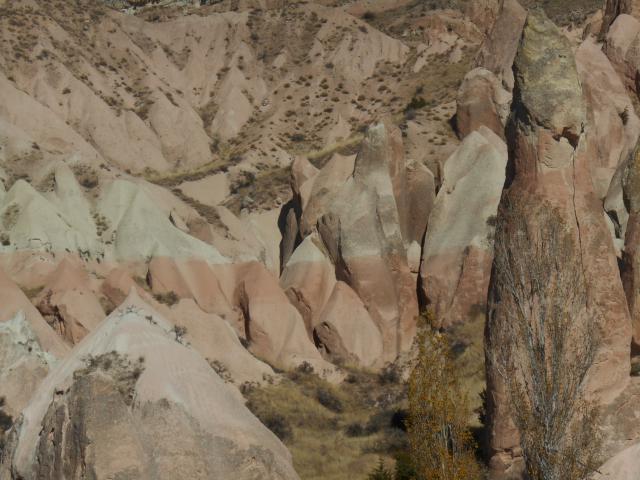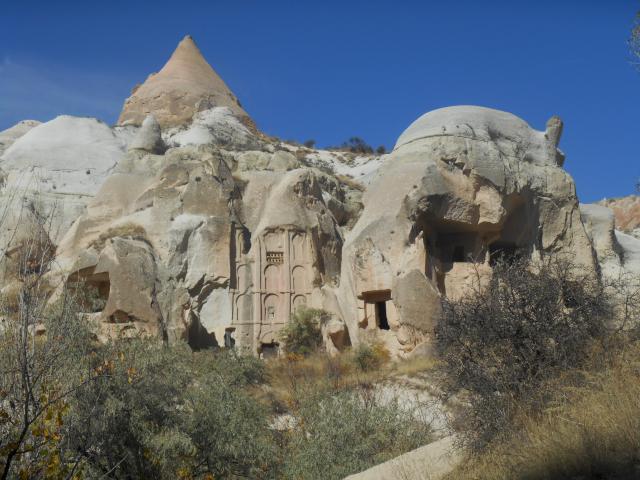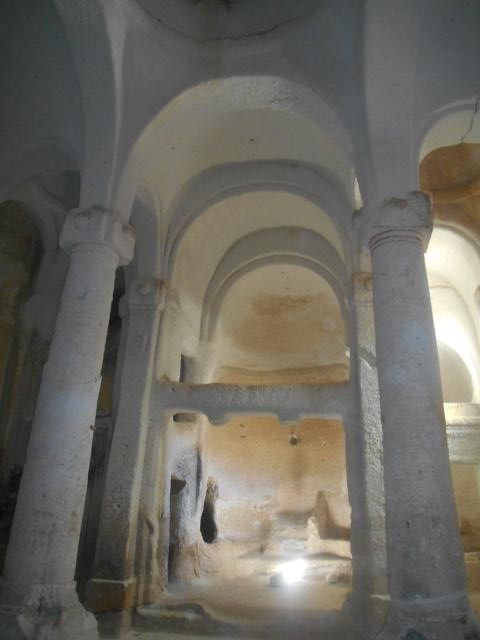 Very impressive cathedral. One of many. I took so many photos, was hard to choose which photos to use.
One can visit the valleys by horse back riding. A few ranches around.
We enjoyed Cappadocia so much. Sad to see it end. We spent 5 days there and we could have stayed and walked more and more through this amazing and mysterious place.
The other 3 days were part of the same tour, it took us on a long but nice trip to Sanliurfa, East of Turkey. There we visited Nemrut Mountain, Gobekli Hill, the oldest Temple in the world, Abraham cave, and  the pools with the holly (sic) fish. The pictures will be on the next and last post for the season 2013. Stay tuned.
It is a full schedule here in the marina. Yoga time, coffee and cake time, happy hour,  pub night, quiz night and games night, animal shelter fundraising and many walks and hikes…..Let's schedule in some work!
One Response to "Cappadocia, Turkey"