Current Location:
Dalyan River, Turkey
Current Position: 36 47.89 N 028 36.16 E
Click to view map.
Distance sailed since last post:
16 nautical miles
.
View the map of our voyage track here
We left the nice town of Marmaris just before lunch on Sunday Sept 28th en route to Ekincik.
It was fun beating through the channel, tacking and dodging all the traffic in a nice breeze of 15kts.
As we came around the headland, the wind vanished and we had to motor for a couple of hours. Finally the wind filled in and we sailed nicely until 2 miles before destination as the sun was going down and we pressed on…
We anchored just past Ekincik Marina in front of a beach in 4m of nice sandy bottom, photo below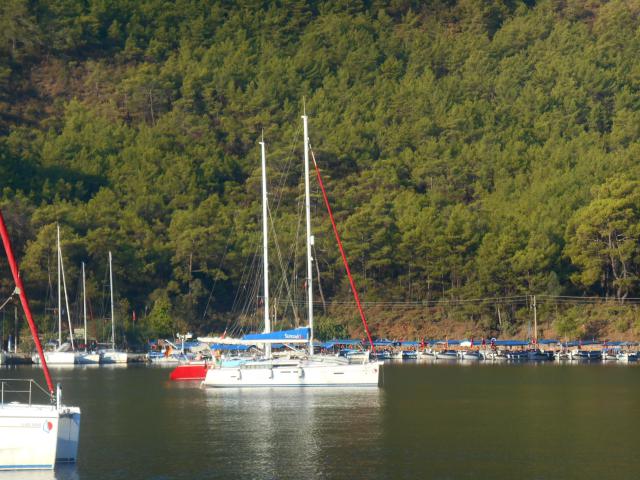 At 6 pm we were anchored here. Big bay with only other 3 or 4 boats at anchorage. Ashore there's only 1 restaurant and a market, which we tried to visit but as soon as we stepped ashore Noel got stung  under his foot by a wasp, so we turned around.
Soon after we anchored one of the boats came by to offer his services on a Dylan River tour, which we planed for the next morning.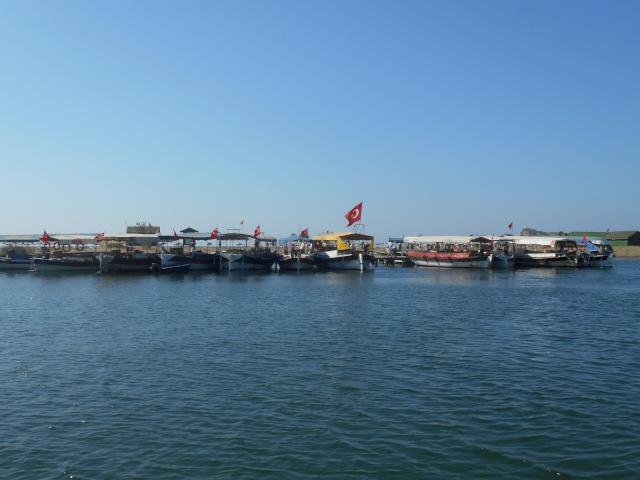 These are the excursion boats that fill up with tourists and cruise up and down the river.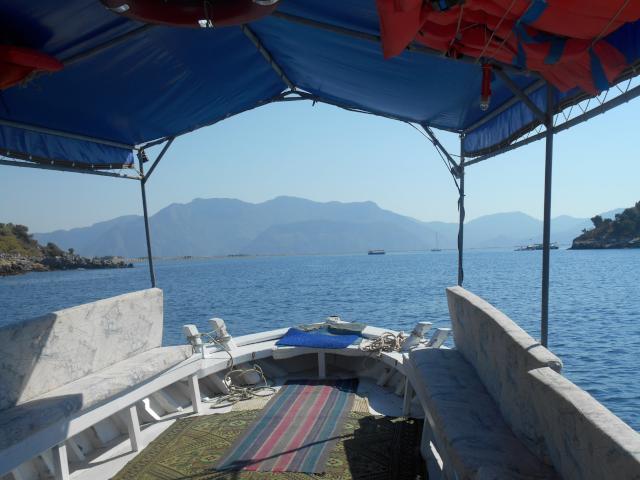 The next morning we were picked up after a very peaceful night at our anchorage with again another beautiful starry sky and another milky way.
Our ride picked us up around 10 am and back at almost sunset. He took us past the Turtle beach through a maze of reeds, beautiful scenery with ruins and soon, the Lycian tombs in site.
Many many pomegranate trees have been planted on the fertile soil along the river where they used to grow cotton before.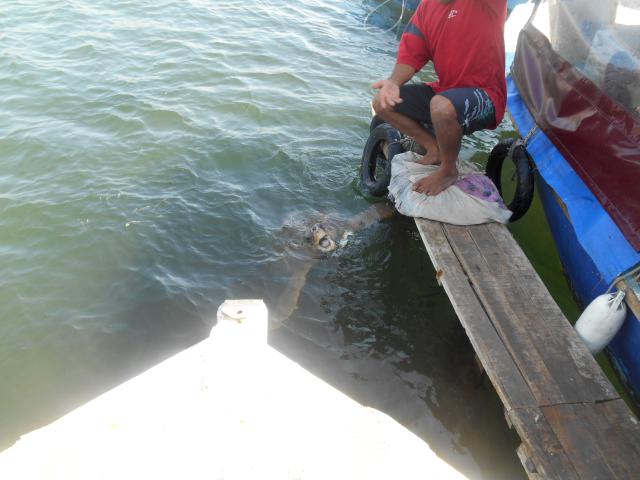 Our first stop was visiting a family on their little fishing boat where they prepare their catch of fresh crab and offer it you for 10TL. We had to say no because we had a huge breakfast just before, because we didn't know what to expect for food. We had no idea there was an actual town of Dalyan and that surprisingly was dominated by restaurants!
They feed the turtles so the tourists can have a quick glimpse at them.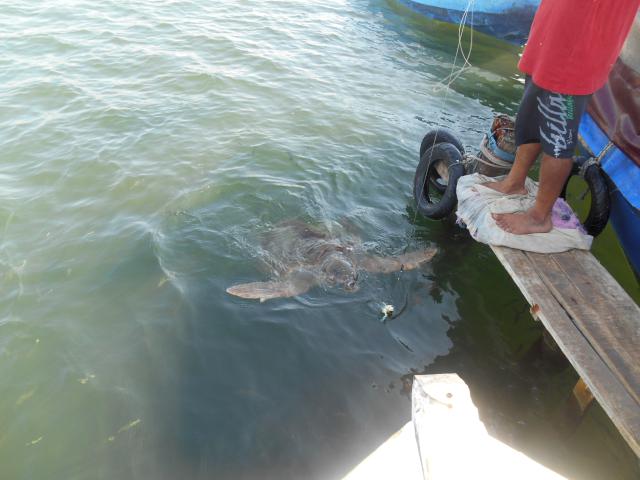 here they are fed a little crab. The turtles are actually quite big, the ones we saw were maybe 3 feet at least. The Turtle beach here, also called Iztuzu beach is a natural nesting ground for the Loggerhead turtles.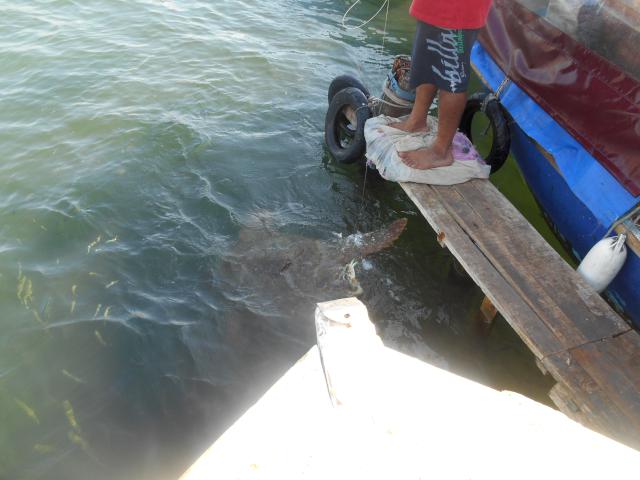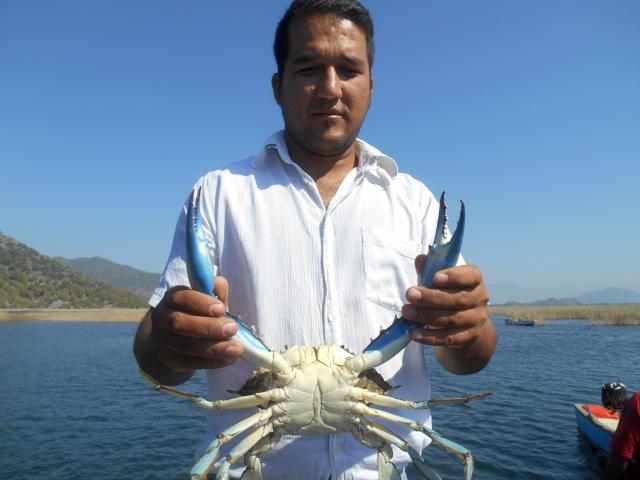 The blue crab is popular, but more popular yet in North and South America. It is unknown how the blue crab made it through the Atlantic, but gourmet chefs are happy about it. Since our encounter with them, I read that it is considered a delicacy  and a specially good catch in the Dalyan Delta. They turn red when cooked.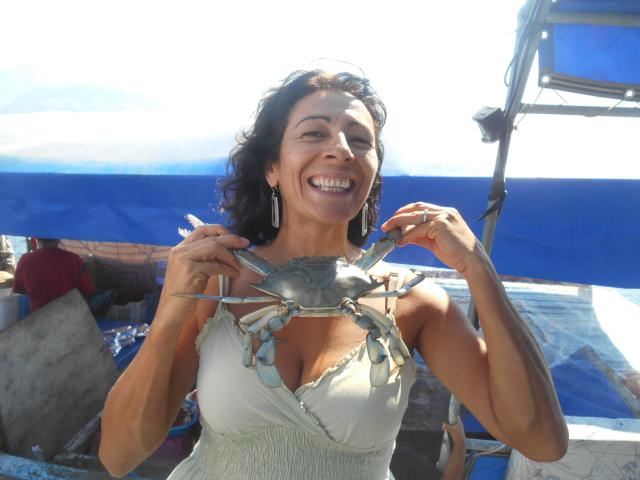 He assured me it was safe to have it as a necklace (as long as i don't wrap it around my neck)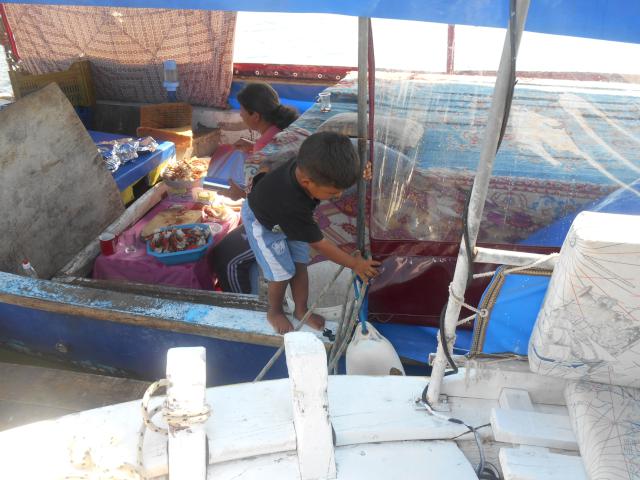 Ohh what fun it is to grow up on boats! This boy from the turtle family was not older then 2 and half or 3 and he was jumping around from boat to boat, tying and untying them. So cute! Here he is……untying our line.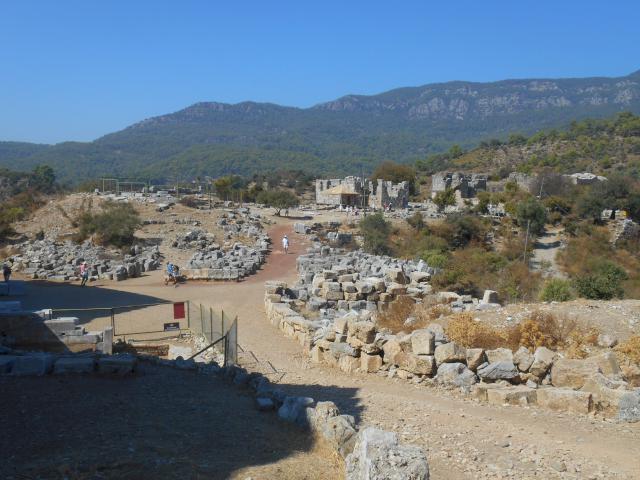 Along the river we made another stop where we went up the hill and visit the ancient trading city of Kaunos.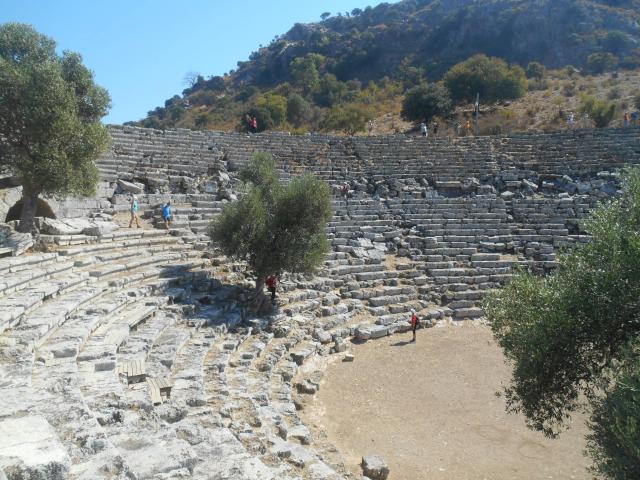 Again another theatre but not as impressive as the one in Pamukkale. The same style though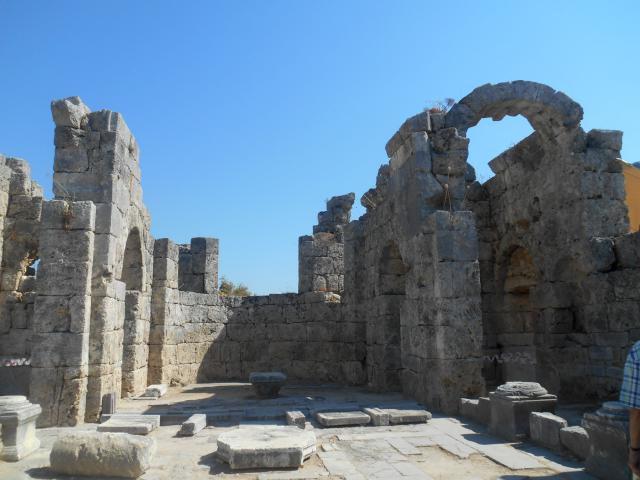 Ruins of the Church dating back to 6th century AD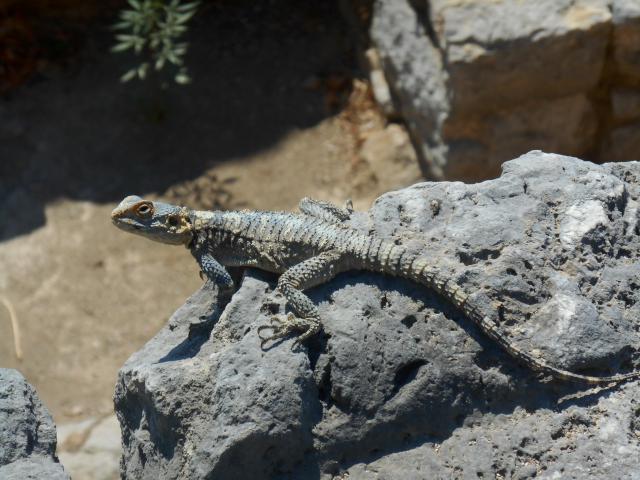 And a creature that followed us to the Church…….
Coming up from the Agora, arch at the top of the main street before you get to the Roman baths.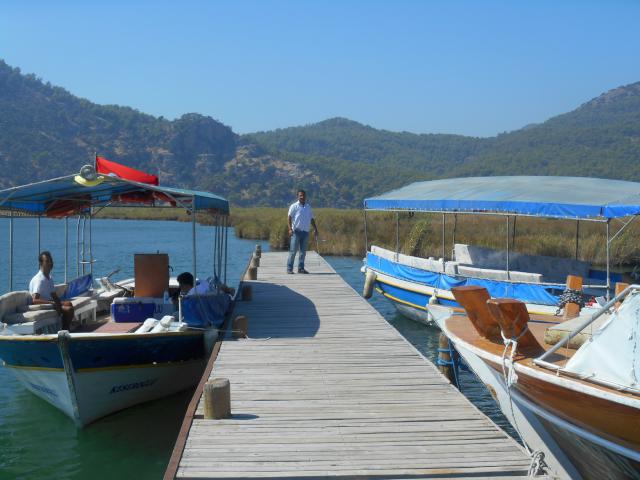 Our Captain awaits while we visited the ruins on our own. It was very pleasant walk up and around there. And nice views of the river on one side and the sea on the other.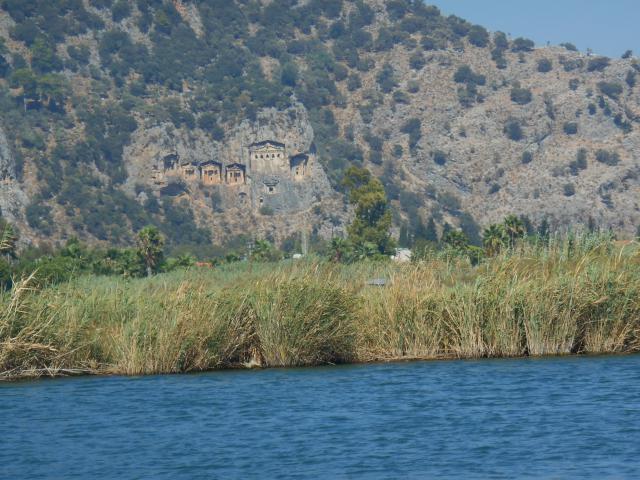 Along the river, next to the ancient city, on the cliffs and backed by wooded pine hills are façades of Lycian tombs cut from rock, circa 400 BC. This was my first photo I took as we were approaching……and wondered into the by gone ages of hard labor…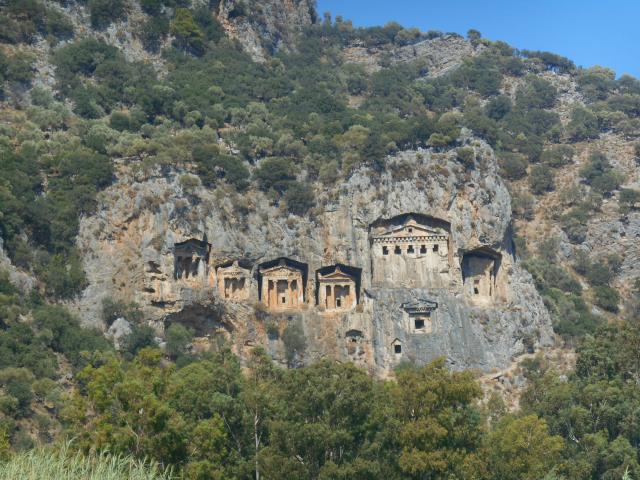 How did they manage to work in such steep cliffs???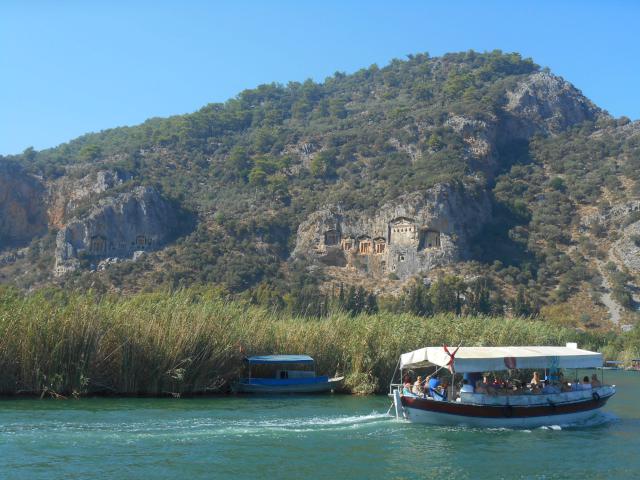 The river is busy with boats coming and going through the maze. We would certainly get lost if we adventured on our own with the Kayak or dinghy. I guess one could always follow the boats there, but many shallows and murky waters.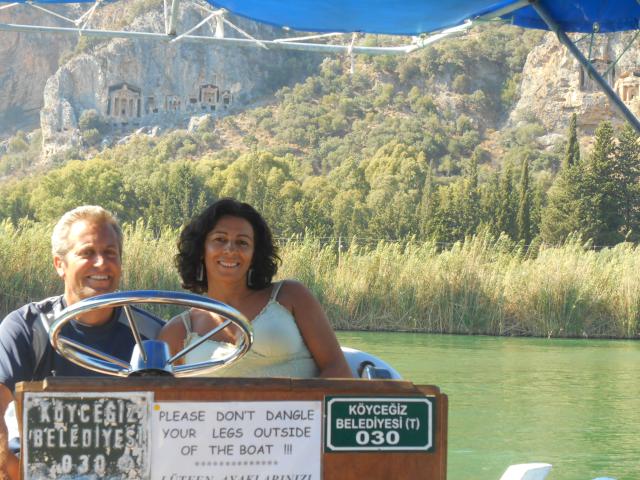 Our captain/photographer after many tries to produce a photo of the 2 of us with the Lycian tombs in the backround…. the boat kept on turning the wrong direction, he couldn't get the tombs in the picture!……soo funny!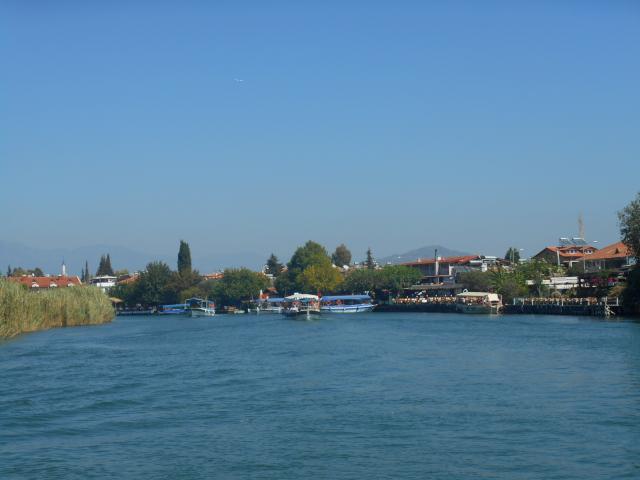 Entering Dalyan town. Lined with Restaurants and excursion boats along the walls.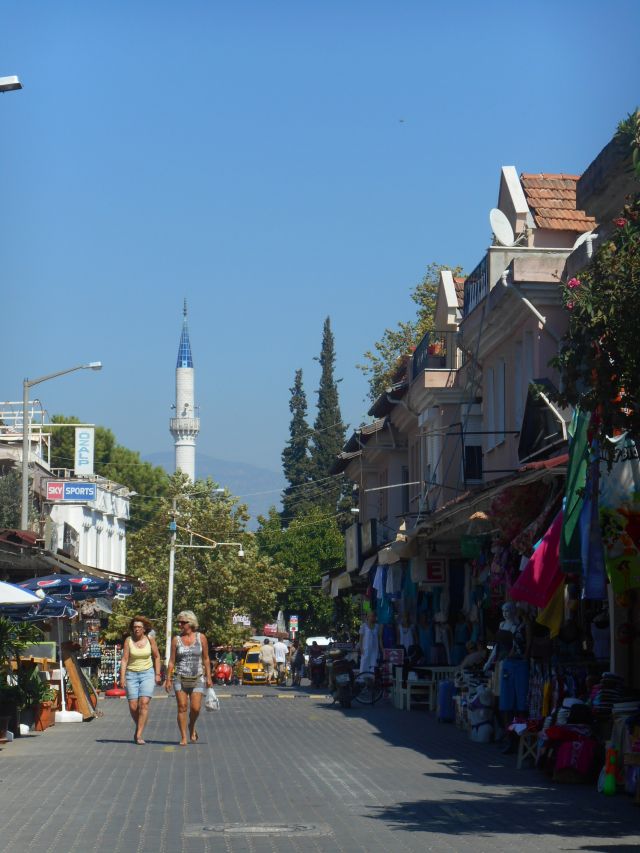 The town was small and charming. The river front was full of colorful excursion boats and backed by beautiful restaurants adorned with many flowers and decorations to suit every mood and with the view of the tombs on the cliffs across.
Main street had lots of shopping, square surrounded by more restaurants, bank, bank machines and Post office. Many B&B and cosy rentals everywhere. It is Tourist Ville.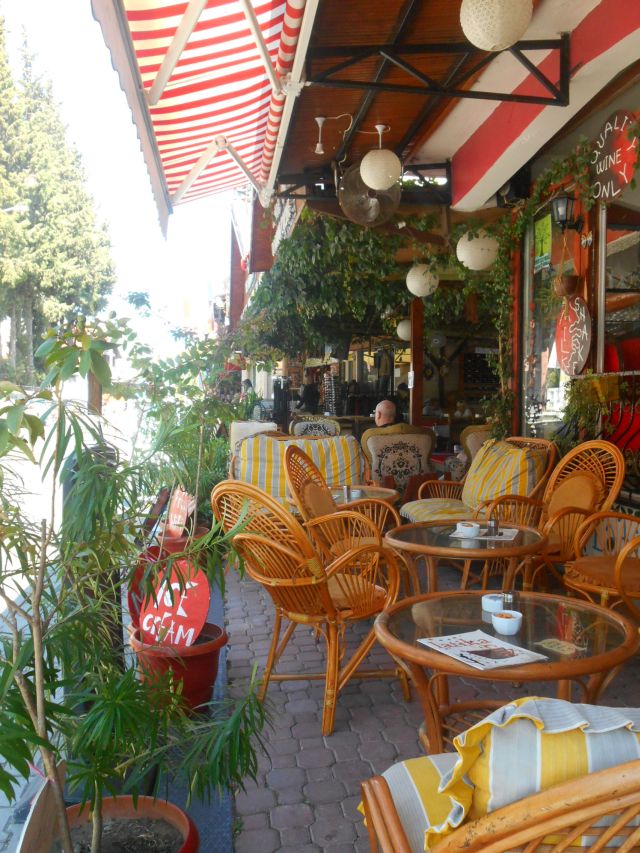 We went ashore enjoyed a wonderful lunch and …ice cream!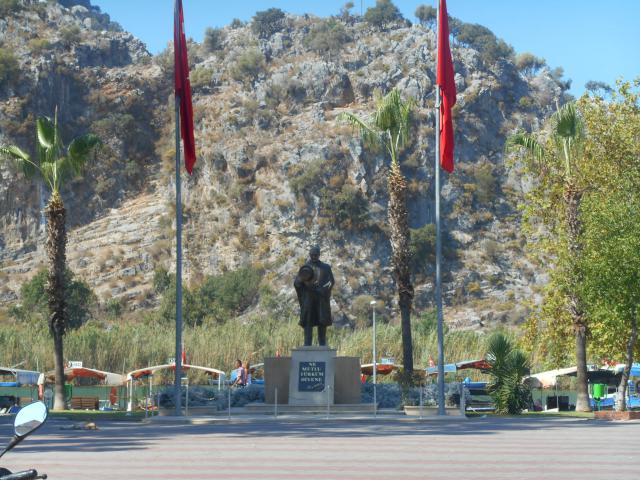 There is not one town we have been in, doesn't matter how little the town it is, that does not have a big statue of Ataturk. And the amount and the size of their Turkish flags everywhere, puts us Canadians and Americans to shame…seriously. They are very proud people!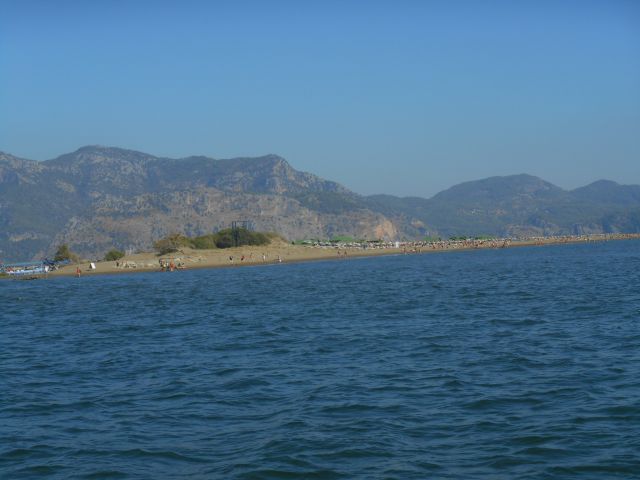 This is the famous Turtle beach also called Iztuzu beach.
It is a 4km long narrow spit of land, between the fresh water delta of the Dalyan river and the Med. Behind is the river, and this is the sea side, it is where the river meets.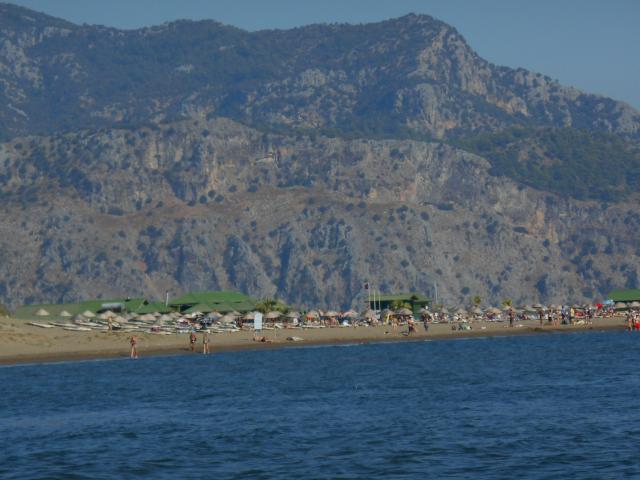 Iztuzu Beach is one of the prime nesting habitats of the loggerhead turtle in the Mediterranean. The government are monitoring and protecting them and have some strict rules:
The beach is closed between 8pm and 8am during the period that the turtles lay their eggs and hatch-lings go out to sea (May to October)
Vehicles and animals are not allowed to enter the beach.
They have marked nesting zones where parasols and sunbeds are forbidden. Not allowed to lie down on towels or to dig holes.
Speedboats are banned within a 1-mile zone from the beach and in the Dalyan delta and river.
Besides all this, in 2008 was the best beach in the category Best Open Space in Europe by the Times because of the eco-friendly exploitation of the beach.
And in 2011 Dalyan and Iztuzu Beach were proclaimed Best Beach Destination by a Dutch holiday assessment website.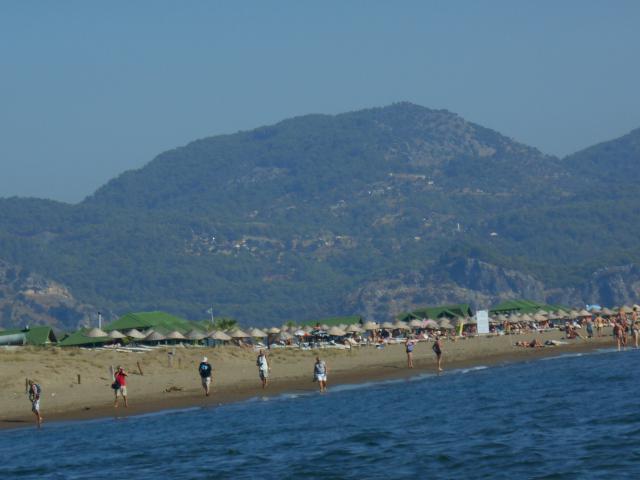 Due to all this hype the beach is usually packed. Lucky for us, it is low season, so we could still see sand. To enter the beach they charge you about $2,50 but we have been in nicer beaches that are free. We didn't find it to be that special. We passed by twice, took some photos and said No to a swim stop there since we had a private tour, just the 2 of us, we had that option.
We are on the way home, to LifePart2. It was a great day out.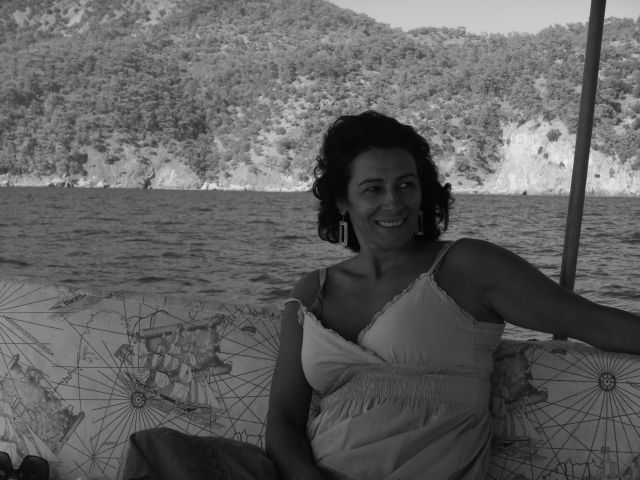 Surprisingly Noel decided to play with the camera. Noel does not take photos, or most important: remind me to take the camera along. Very few occasions I did forget it at home. Just like 2 days ago in the nice town of Kas…..but I made sure I went back the next day with the camera in hand. (and charged up battery. lol)
Where will I take you next????
Hmmm….maybe a sunken city where there are sarcophagus popping out of the turquoise waters of this beautiful spot in the Turkish coast.
This morning I even got up much earlier than usual to watch the sun rise over this magical place.
Happy Thanksgiving to everyone.
2 Responses to "Dalyan river cruise"