Current Location:
Marmaris, Turkey
Current Position: 36 51.05 N 028 16.17 E
Click to view map.
Distance sailed since last post:
8 nautical miles
.
View the map of our voyage track here
We were leaving the ancient town of Knidos on our last post. Well, we have since traveled a few more miles and visited more beautiful places.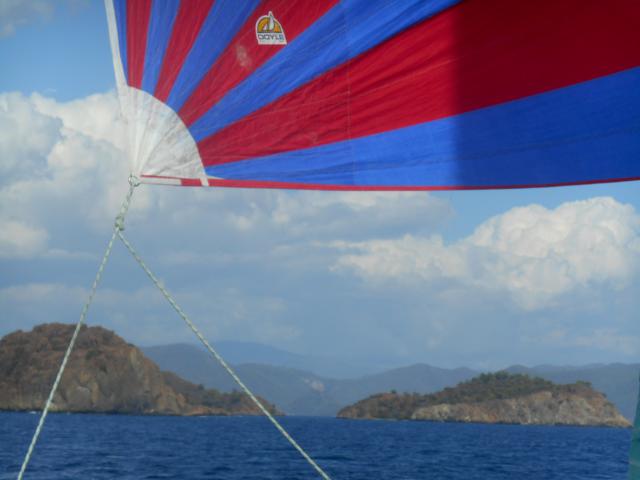 We left Knidos on very light winds but perfect weather for the spinnaker. It was a short sail to our next anchorage, which took us to the little town of Palamut, bellow.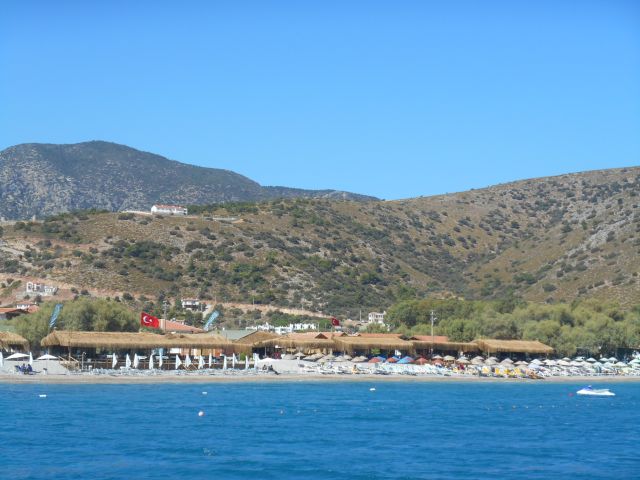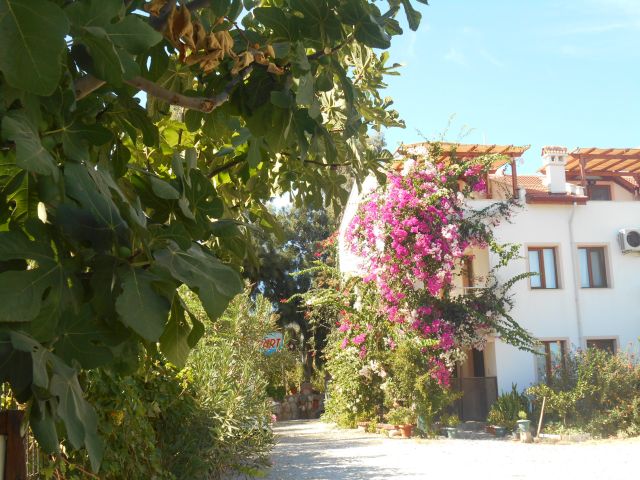 The village was small, but charming with a nice waterfront street lined with restaurants and a market, a harbour and pebble beaches.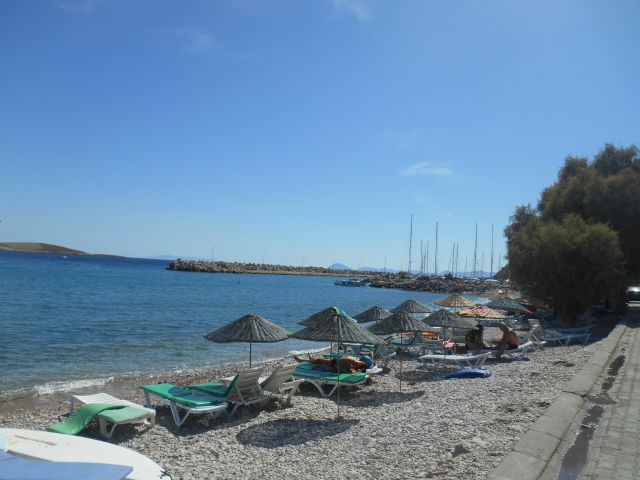 We anchored right in front of this pebble beach in 3m sandy bottom.
We kayaked ashore and visited for a couple of hours, bought some fruit and vegetables and then sailed along another short distance.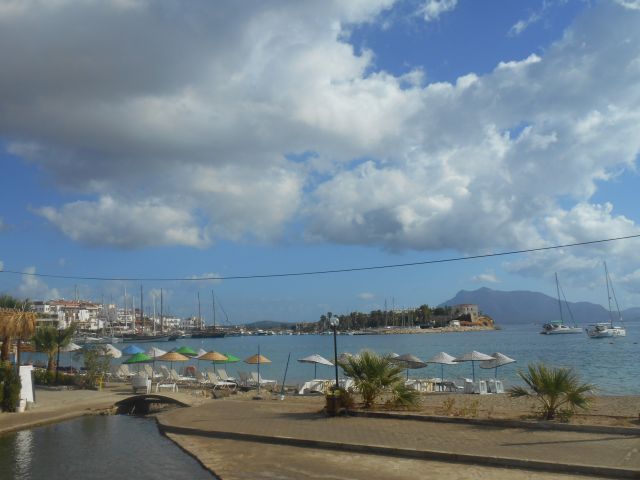 A short sail later we arrived in the much bigger and very touristic town of Datca. A popular resort.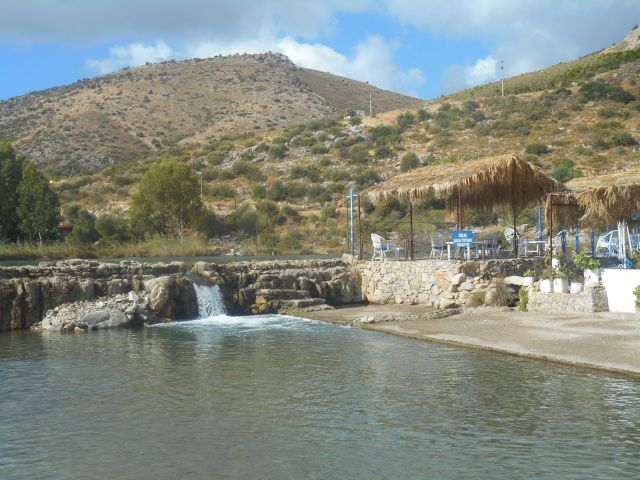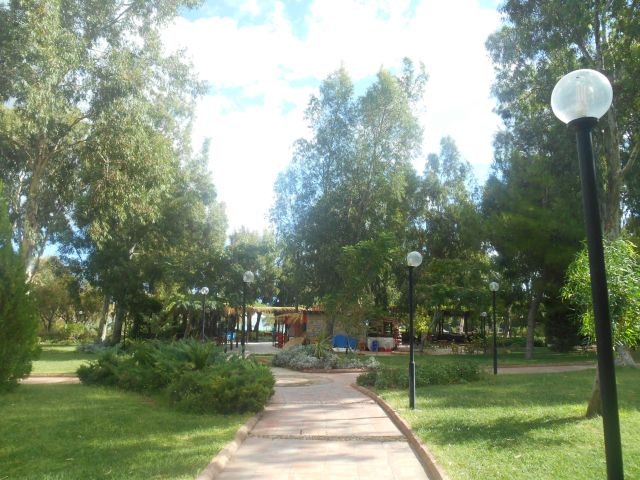 We stayed here a couple of days and not only did we enjoy the town, but behind the beach there was this little lake with a nice water fall and a beautiful park where we enjoyed a nice walk through the shade trees and many flowers.
We had read that this town is famous for their almonds. We did buy almost a kilo of them, they are tasty but expected to have some nice almond desserts or pastries…..
One evening Noel and I were strolling through town and went almost from door to door asking if they served anything with their famous almonds! No one had anything "we don't want to see your touristic menu…..we want your traditional stuff." So we settled in this cute little cafe by the water, where we were greeted in perfect English and she said she makes the best apple strudel. Was it ever good!!!! with real pastry! Noel was happy to have Austrian dessert (or is it German??) in Turkey. That's ok…we get plenty Turkish delight!
The next morning we set off on a 17 nm voyage to Marti Marina. We needed to pump our black water and it was also a beautiful spot to visit. Marti Marina is brand new with nice gardens and a water fall. The bay just outside is shallow enough to just anchor and enjoy the scenery. And it's also a short bus ride to Marmaris where you can do all your big shopping.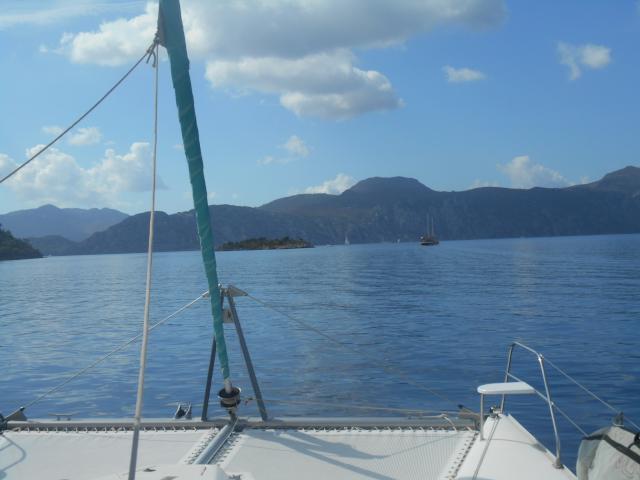 Arriving at Marti Marina.
The pump out went well, it was free of charge. Wow!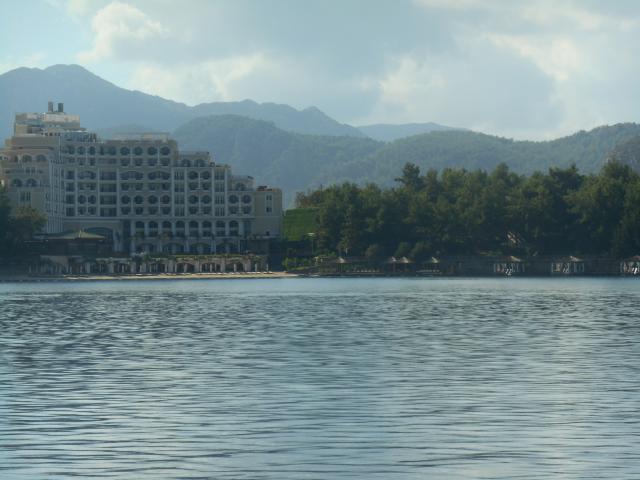 Just before getting into the Marina, there was a big beautiful resort, and the area was very busy with sail boats. Around here, Noel says it's like sailing in the Solent in the UK.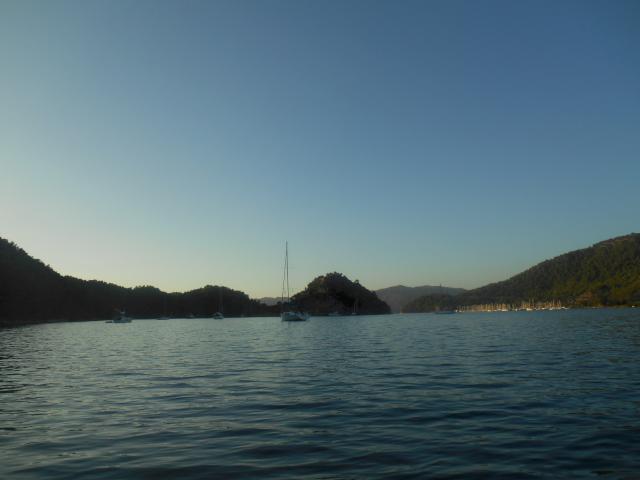 I took this photo from our anchorage just outside the Marina. At the end is the harbour in the town of Orhaniye.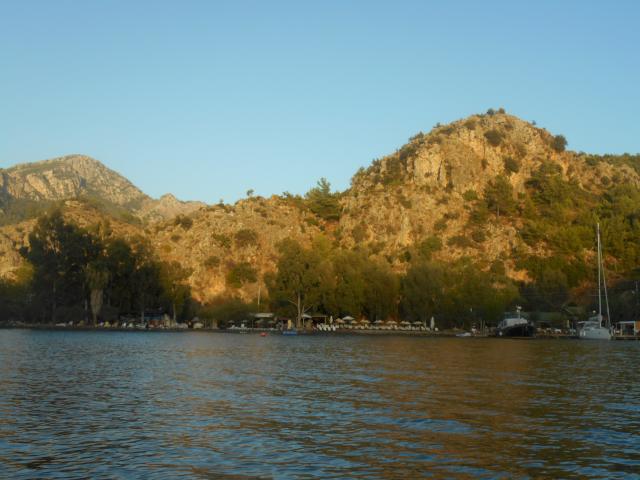 We were anchored just in front of this little resort and restaurants.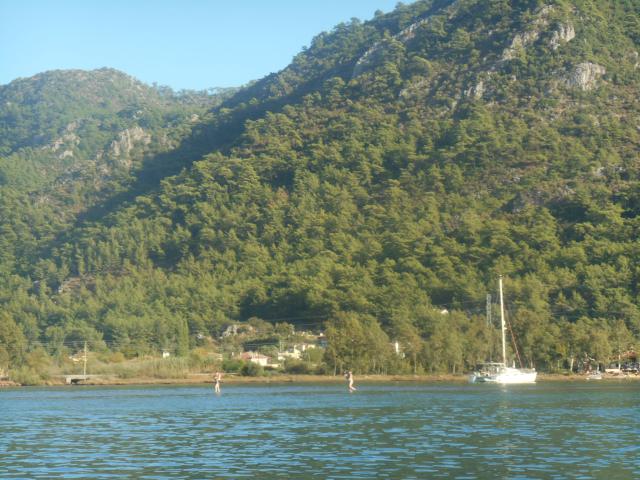 We took the dinghy around to the harbour in Orhaniye and visited the tiny village. just near the harbour there is a sandy bar water up to your ankles, gives the illusion of walking on the sea……..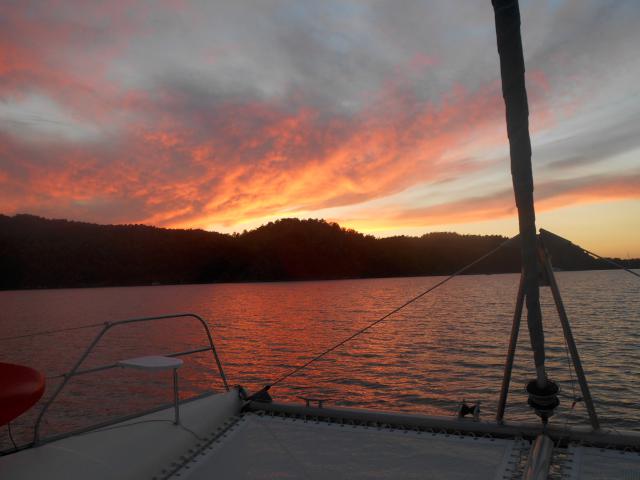 We came home to a beautiful sunset and red sky. On the Swiss boat next door a lady was busy also taking photos and gave me her thumbs up!!! Another great day, counting the blessings!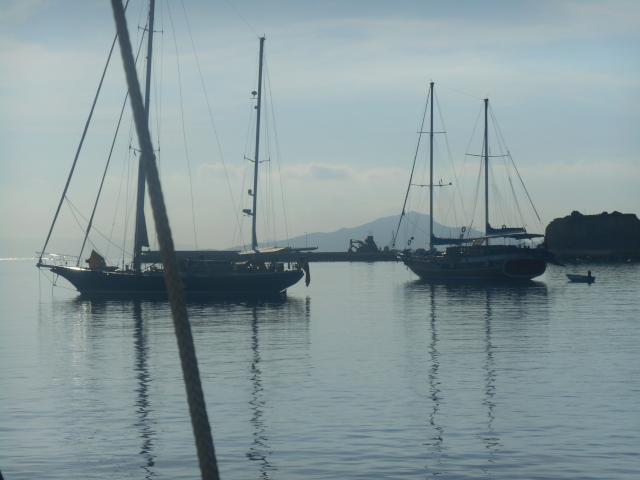 Just a fun photo as we were getting into the bay, Marti Marina.
The next day we picked up the bus just above the Marina on a short ride to Marmaris. This time we had to figure out our internet that had quit on us. On this trip we met John and Jill from England who were staying in the same anchorage as us. Upon returning from town we had a drink with them on their boat, Petronella.
Morning after we motored around to the town of Selimiye, not far, less than 2hrs.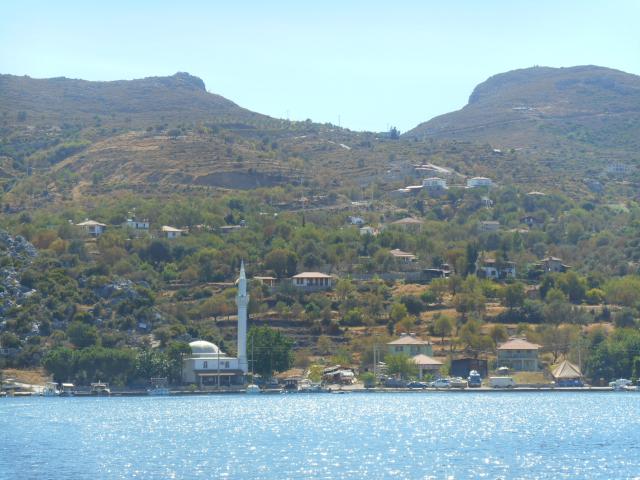 Selimiye. We anchored right in front of this Mosque, with lines ashore.
We are getting better at this Med mooring business. Especially now that we bought new LONG lines – 65m – so that I don't have to tie 3 or 4 together sometimes in hurry when you realize AGAIN this one is not long enough!!! To my surprise( or I shouldn't have been surprised..lol) I was still busy with the lines and found myself jumping with the loud sound of the prayers. Memo to self- don't dock right in front of a Mosque – especially on Friday! We were only there for a short visit we didn't care for that noise, we were out and about!
We left the boat at the Mosque and we were off to visit this romantic village. The fishing village is very authentic. There are no big Resorts and ugly developments. There is a lot of accommodation in boutique hotels and traditional houses, all with beautiful views and romantic gardens with bougainvilleas, banana and almond trees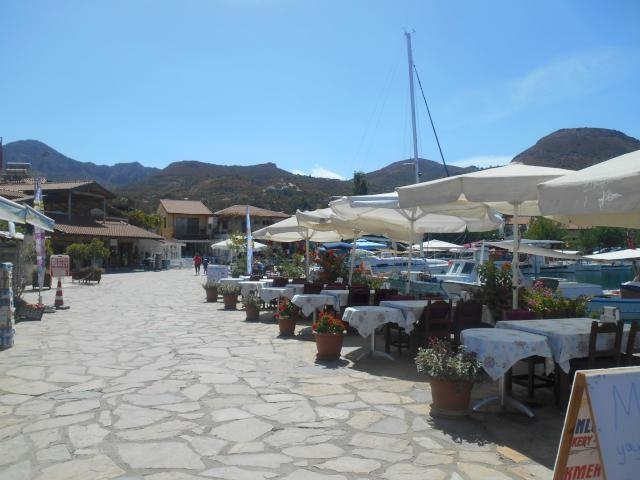 A stroll in the waterfront, so many beautiful romantic gardens and restaurants, and small intimate pebble beaches so I didn't want to intrude on people by taking their photos on the beach, and many sunbeds covering the decks that have been extended above the water belonging from the bungalows along the seafront. It was sure a really charming village!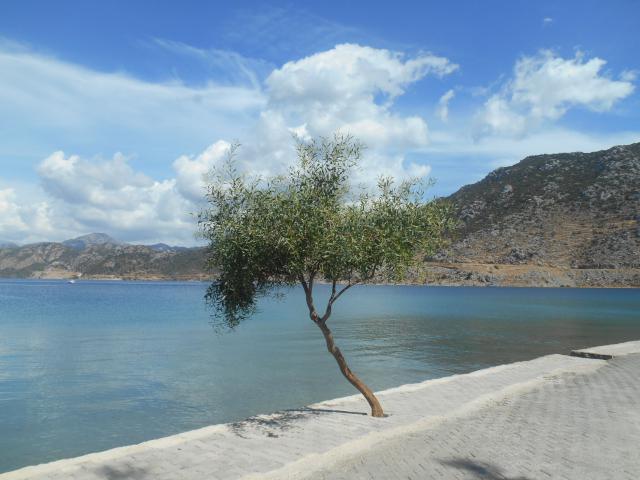 And then at the other end of the bay, one can still find peacefulness.
About 3pm we got back to lifepart2 picked up the lines and the anchor and were off to another anchorage.
We motored against the wind, it was a short distance of 5 or 6 miles again to Desirek. In about an hour we arrived in this bay with very deep waters, like most of them are, around here!
As we come into the bay we had a nice guy on a dinghy selling ice cream and chips, who offered to take our lines ashore. Ahhh…it is so much easier when you have a third person. He takes a line ashore while Noel is at the helm and I am at the front making sure the anchor is holding and enough rode is out. It is always hard to judge distances. That was quick. Of course, we then had to buy an ice cream from the nice man!
Time to enjoy a cocktail surrounded by the most clear water ever, cliffs, and the sounds of the bells from the goats around. A nice swim first though, the water is so inviting!!!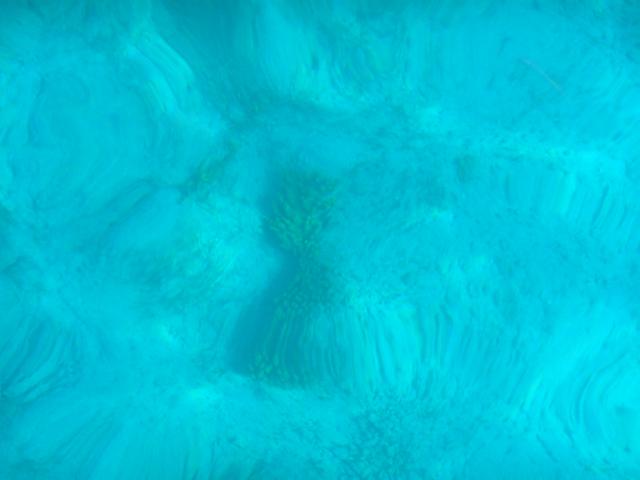 This was right behind our boat. The waters were so clear…you could see the sponges clearly from the cockpit. Depth here is about 2-3m.
We only stayed here 1 night. It was a big beautiful bay, with a restaurant ashore. The next day we moved on…
This time to the big town of Bozborun, bellow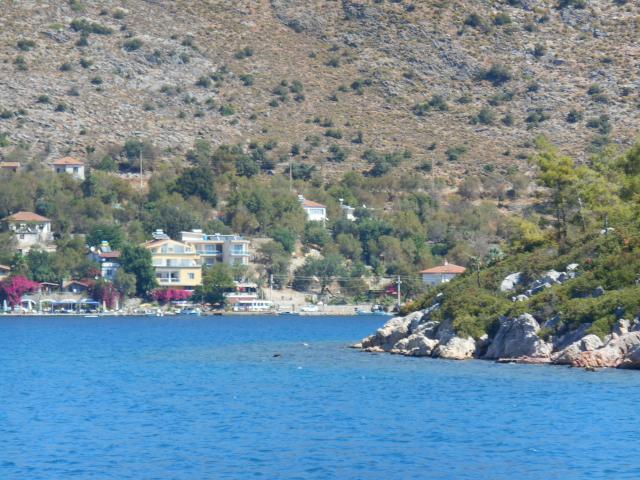 Just coming in towards the harbour in Bozburun. We had a great sail here, 16kts wind on a run with jib only and we just glided through. Arrived in this nice anchorage by lunch time. No need to tie to anywhere. Just dropped anchor in 3m, a swim and Lunch
It's a very attractive town in the midst of high mountains with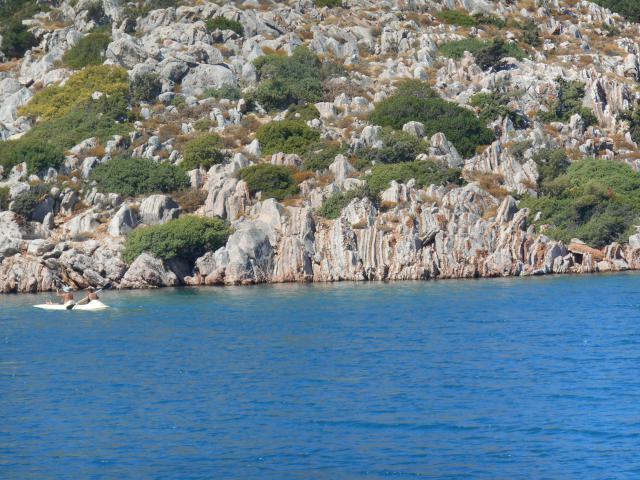 beautiful waters and cliffs, just entering the bay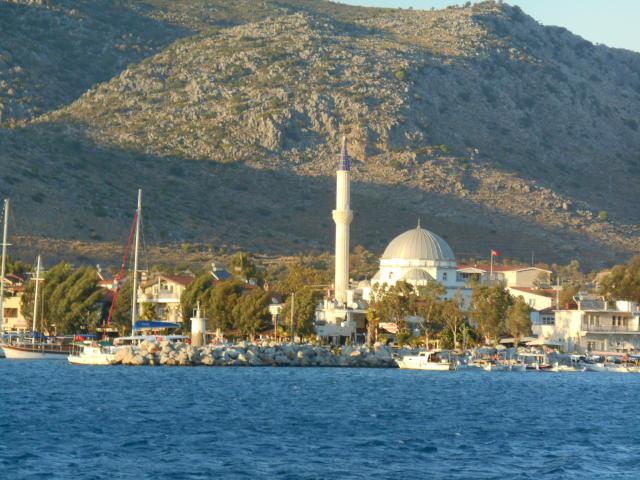 Bozburun town harbour. Bozburun is very well known for boat building. It is just outside of here that gullets are made. We did not visit the place but saw the warehouses as we sailed along the coast near the shore.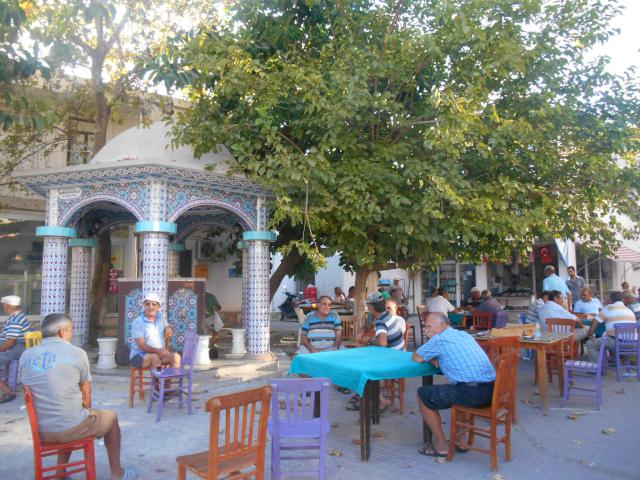 We stayed here in Bozburun for a couple of days and really enjoyed it. When you leave the the waterfront into the village is when you get to see the village. The men love to gather….I almost thought I was in Greece, except for the Mosque across the street and the music….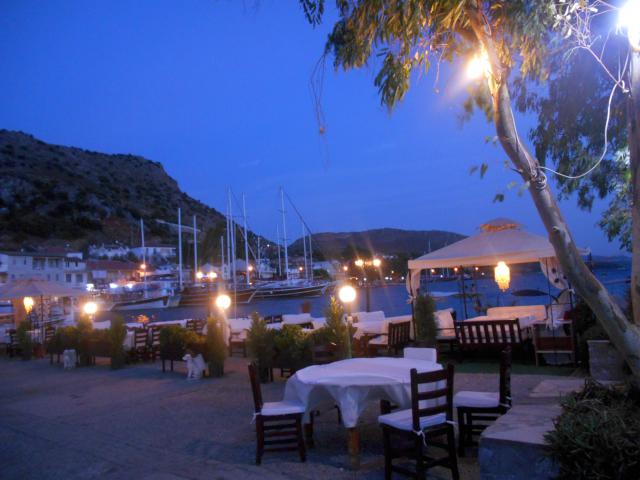 The waterfront was lined with many restaurants and shops. Walking along here we spotted a Canadian flag on the other side of the harbour. We met Jaque from Montreal and Hilda from Ontario on their sail boat. They had just arrived from the neighbour Greek island of Symi.
They invited us in for a glass of wine and always a good chat about all our sailing adventures and "Oh, the place you'll go!!!" ( and the ones not to go!)
2 days later we left our anchorage moving down the coast as we are making our way towards Marmaris where in a few days our Turkish Residence Permit should be ready for pick up.
Our next stop is in Bozzukkale, below.
We left at about 10:30 sailing very slowly with with barely any wind (Noel is allergic to motoring). There was no rush and we were expecting the wind to come in. One hour later the wind came, we had 16-18kts, jib up only, till we had to go around the headland and then hoisted the mainsail as well, Noel loves to keep in shape!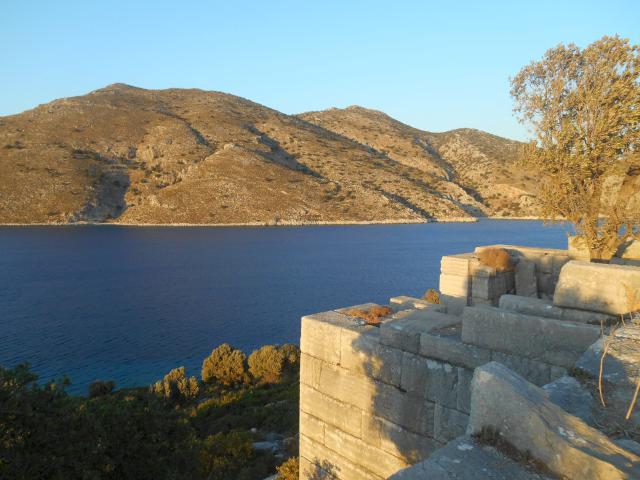 This is Bozzukkale. In Turkish means "ruined castle". Beautiful bay surrounded by these castle walls. Very calm waters inside. Very peaceful. As the popular thing here is the restaurants offer you free mooring on their peer in exchange for you to eat at their place. There were only 2 restaurants there. The piers were noisy with music and people having fun. It is amazing how busy still is with many charter boats out as well.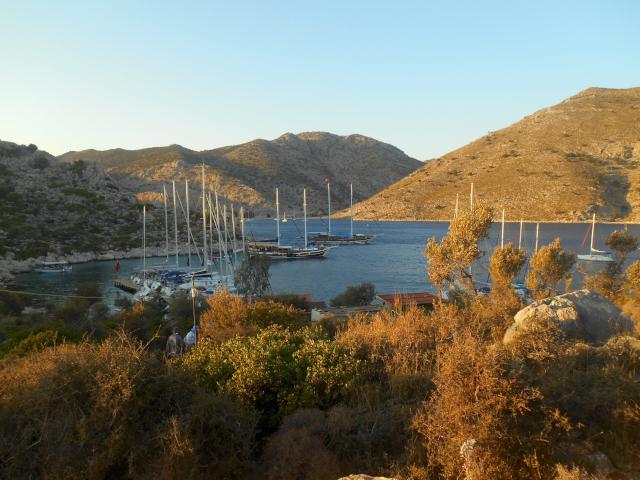 We walked up to the castle walls just before sunset. Lots of people walking around enjoying the nice views and lots of photos, mostly English and German speaking. You can see all the boats lined up in front of the restaurant. Our anchorage was just on the left. To the left of that small boat you can see afar.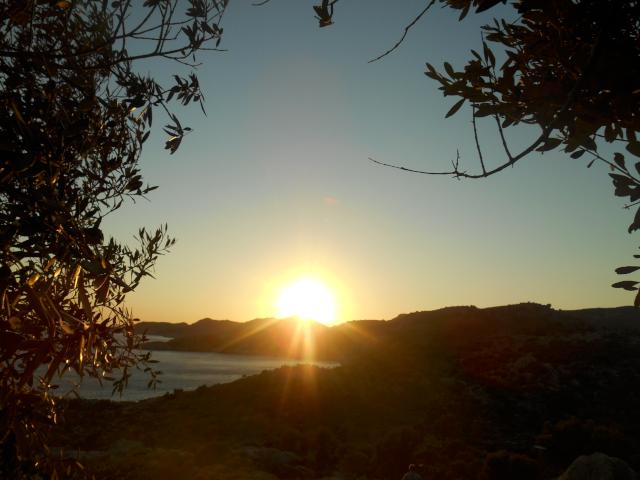 Another sunset……from the hills of the ruined castle.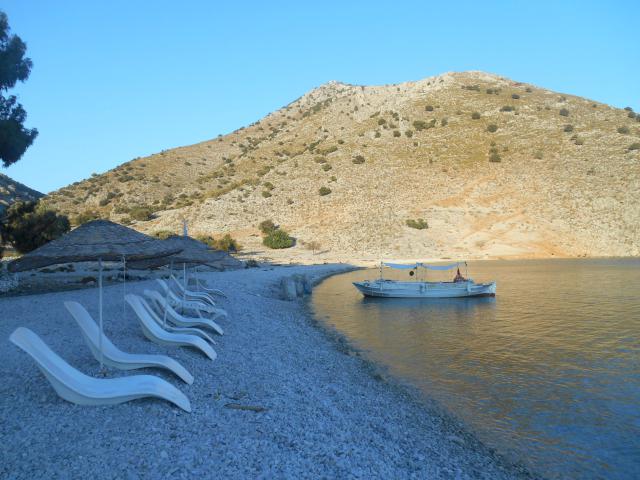 After sunset we were happy to return to our anchorage. Here is our beautiful backyard we choose anytime over being tied up along the town quay which is usually pretty too, but either too noisy from the town or from the neighbors and no privacy.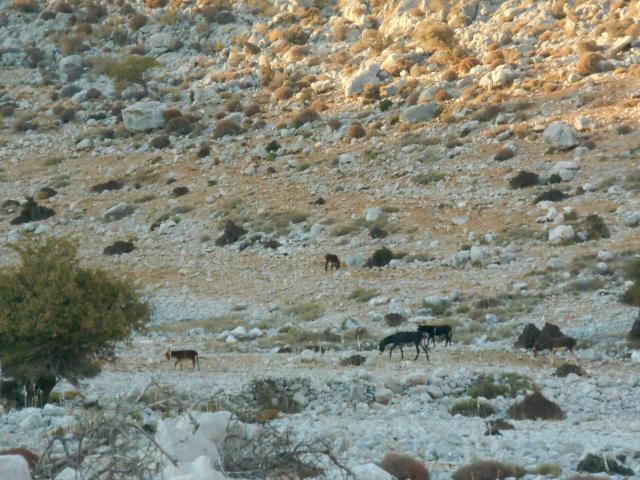 Behind the little pebble beach and up to the hills there many donkeys, very friendly, just walking along…..
We loved our backyard!
The next day we left to another anchorage, Gerbeske: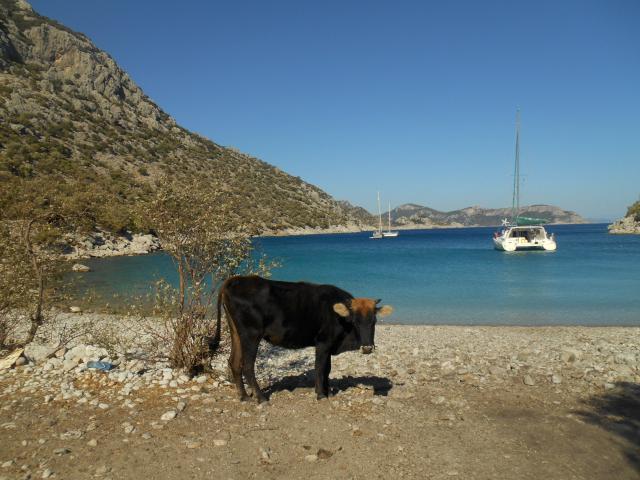 This bay is a very narrow spit with deep waters so unless you are the only boat there perhaps you can just anchor in the middle otherwise you have to take your lines ashore as we did.
The beauty of this little anchorage and the walk ashore through the Byzantine ruins and the cows and the donkey, it sure makes it worth while a stop there. This cow above, was so friendly, she actually was following us around. Funny hairstyle though.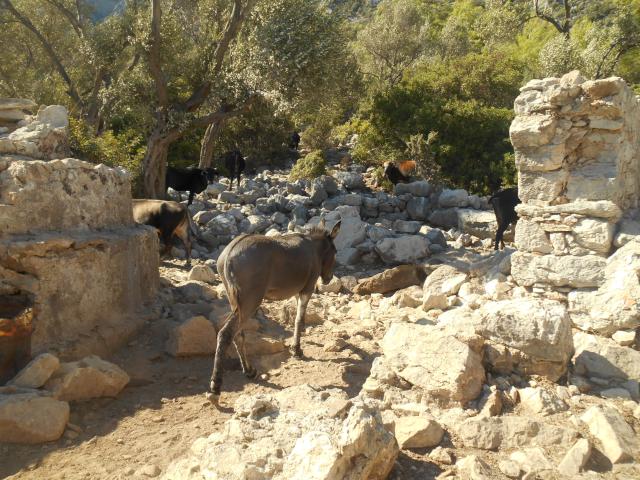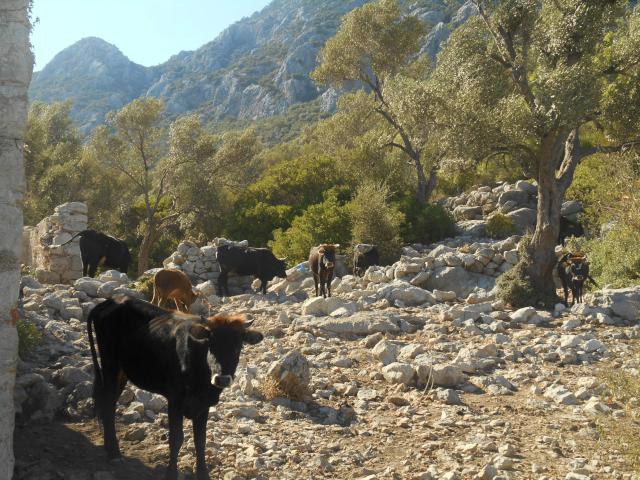 It felt like you were out in a countryside.
The bay was really busy with gullets full of tourists coming from near by Marmaris. They come up the coast and this is one of their stops for a half hour swim, take a walk around and leave, then next one would come along, traffic jam…..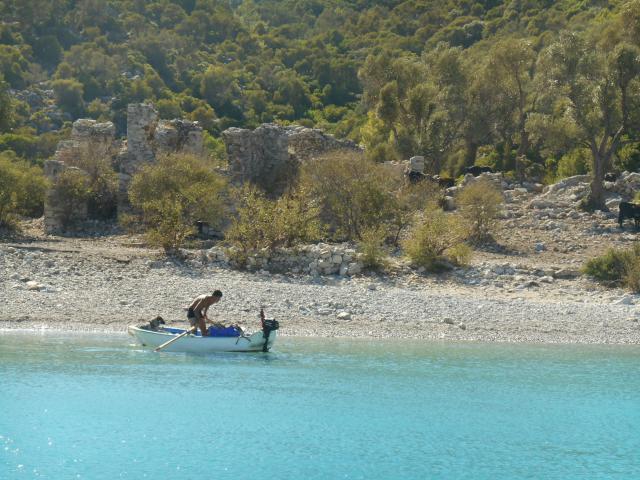 By 4pm we and another 2 boats had the bay to ourselves. Even this young man above, left from his tent where he was selling some honey. When we were coming around the headland just before this bay, we saw just ahead of us on AIS this boat who we had previously had contact with last year in Greece.
We called them on the radio and sure enough it was the same people, Phil and Allison on Bagheera. We asked where they were headed and they said they were going to the same bay as us for the night.
Ok…drinks later at Lifepart2. We made plans for after dinner for drinks and a game of crib.
They anchored in the middle of the narrow bay and we went ahead close to the beach and on our starboard, a rocky shore and many olive trees.
At 7:30 Phil came around and said he didn't feel all that secure, maybe he was not holding well. The wind was still howling. Perhaps we should come over to his place instead.
At around 8:15 we came over with a bottle of wine and let the fun begin. Forget the drinking and the game of crib, the game of anchoring is way more fun:
We sat at the table and they poured us drinks. Within 2 minutes their anchor alarm goes beep!
Phil was very quick to come out and next I heard was "we're on the cat" . We were the only catamaran there! We all jumped after him too, with me spilling Noel's beer all over the carpet, which I managed to clean pretty quick after assessing the situation outside. Our boats wanted to do some bonding….
Both our dinghies were tied up on that side so they acted as pretty good fenders. No problem.
We offered to go to our place to get extra lines and help him re-anchor and take lines ashore. It was also really dark at this time. When we got to our boat we realized that we were in trouble too. The wind  was doing crazy things in crazy directions…we were really close to the rocks, so we no longer returned to his boat to help him re-anchor, as we were busy putting out different lines ashore.
A few minutes later, they waved and said they were going somewhere else. Be in touch. Unfortunately a young couple on a charter boat came in late that afternoon and anchored really close to him, so they didn't have much space to play with. It was good that Bagheera left otherwise they would hit in the middle of the night.
Noel and I spent more than 1 hour tying different lines ashore and making adjustments. In the midst of it all, the wind had come back to the previous direction and died down by midnight. Even during all that excitement I couldn't help noticing the beautiful sky covered in stars, including the milky way. At 10:30 all was calm, pitch black out and Noel grabbed a cup of tea and sat on the trampoline and watched the nice starry sky. We knew we were going to the big town of Marmaris, no sky like this there!!! It was after all a peaceful and beautiful night, we woke up to the cows mooing, just like being out in the countryside.
After breakfast, we set off to Marmaris.
We came out of the bay with jib up only. Not much wind but just enough to get us to the short destination of less than 1 hour away.
As we came around the headland Bagheera called us on the radio to come in for coffee, they were just on the next bay. We were happy to hear they found a quiet place so close by, at night. We anchored near them and went over for coffee. They too had had a quiet night after their late-night repositioning.
Next stop was at nearby Kumlubuku Yacht Club for lunch. We saw it in the Bay Express magazine showing off this nice restaurant with a very good Chinese Chef that does dishes very unusual to this area.
Restaurant bellow:
LifePart2 is at the dock there, while we enjoyed some really good yummy Chinese with good service and amazing views. It was sure nice having something different than aubergine again! To our fellow sailors, if you are in the area, as many of you probably are because they are wintering at the same Marina as us, check this restaurant out. Aren't we all tired of aubergine yet???? Do they serve anything here without it?
In Turkey they call it, "Slow Food", which means you eat the products where they are grown, caught or slaughtered. The vegetables grow behind the house, the lamb and the cows up in the hills and the fish from the sea.
They only sell what' s in Season.. It's nice and I love to eat what I grow too, but please grow different things, so we can eat more of a variety and re seed and re grow your crops more often, because in these temperatures you could have everything all year round.
What's for dinner tonight? Ratatouille…got to use up those eggplants, oh sorry! some people only knows them as aubergines!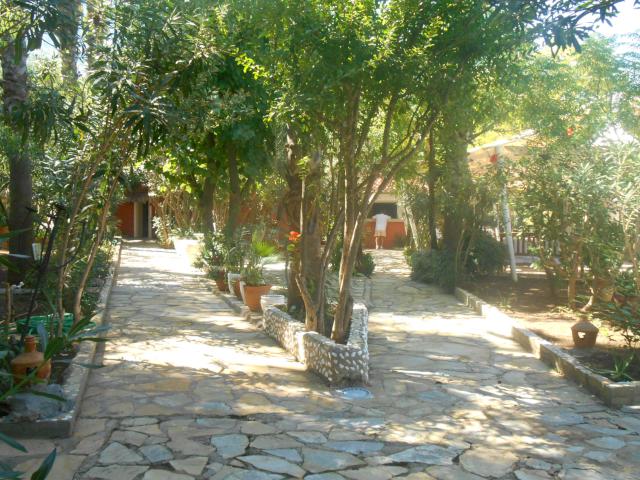 The gardens getting leading you to the restaurant and the bar, bellow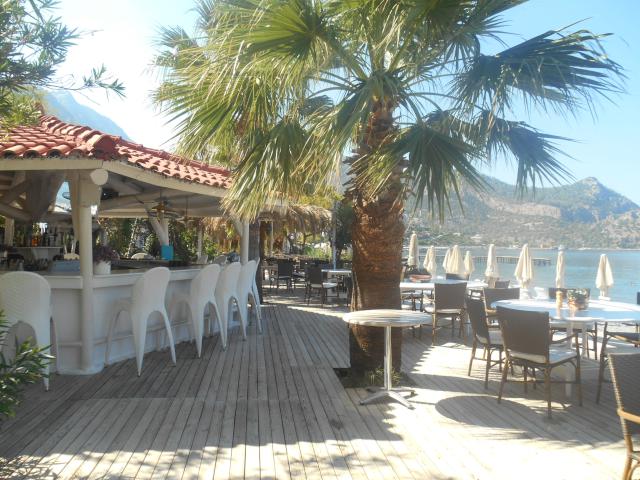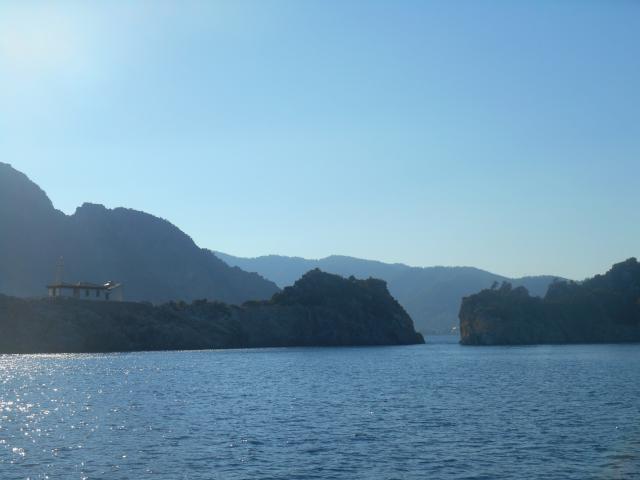 Just before the bay of Marmaris. Town of Icmeler in the other side of this little island. Just before the bay of Marmaris.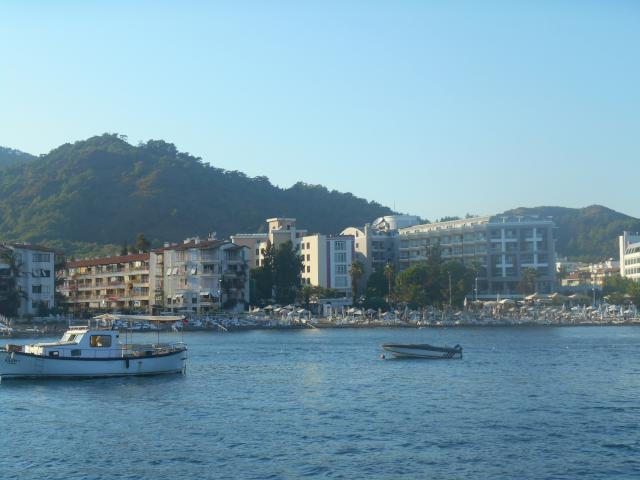 We arrived in Marmaris just before sunset. We anchored in front of this beach after trying further up with no luck, much weeds. So went a bit further towards the waterfront. Great spot, 2 minute dinghy ride to a pontoon and we are downtown with all the action, and yet is quiet at night. Lucky us, all the loud music was happening further down by the Marina.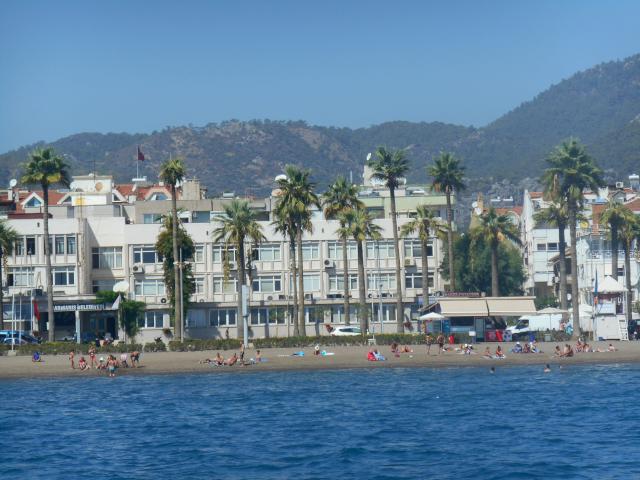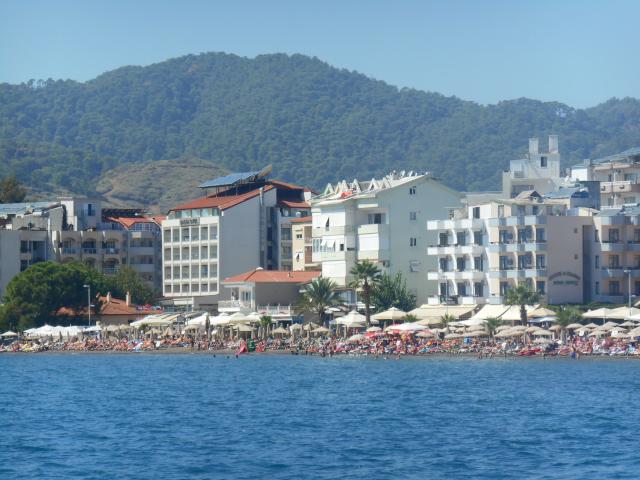 We were surprised how busy the beaches and the town is around here even at this time of the year.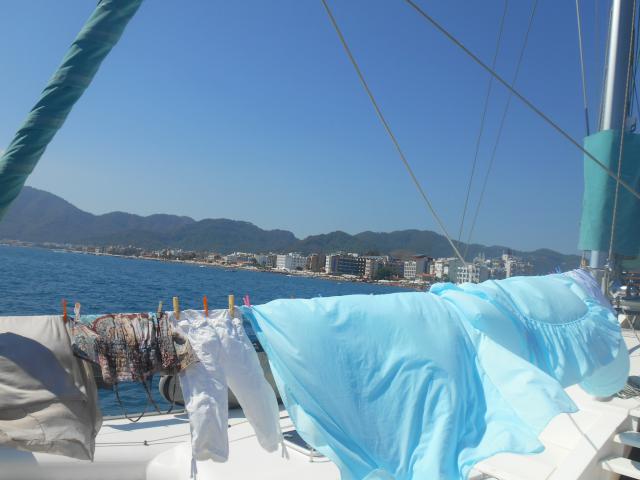 And for us it's a day at the beach too, but maintenance and chores must be done! I wash my laundry right outside and hang it on the line….Noel is replacing a hose pipe, the gullets pass by take photos of us…and we take photos of them too!!
The next day we were happy to pick up our Resident Permit that was ready and we also booked a trip inland from the info booths that line the streets selling you their inland and boat cruises. We took advantage of another English breakfast with "proper" bacon for 6TL, we couldn't believe it was only 3 dollars, but we added freshly orange juice that costs same amount. Further on we stopped at a pharmacy to buy dental floss which they did not have at a big supermarket, and the dental floss cost 6 dollars, twice as much as breakfast. Go figure!!!!
We headed back to the boat, the next day we had to be ready for pick up at 6:40 for a bus tour to Pamukkale.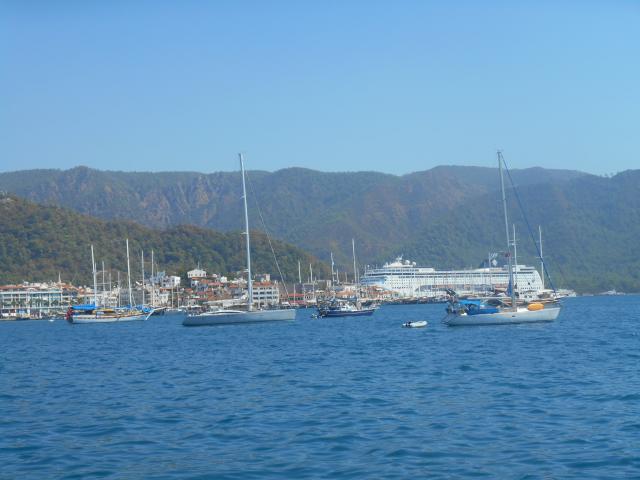 At the end of the Netsel Marina is the Cruise Ship Terminal. It is a very busy bay. Every about 2 or 3 minutes there are gullets going by to their daily cruises around here. Caves, nice coves and beaches, restaurants and the scenery.
Many people still choose to have their holiday later. Why not? Weather is still great, water is still warm at 27 degrees or so. I can't even imagine how busy it must be July and August. Marmaris is a town of about 30,000 people, but in the summer population is up to 250,000. Can you imagine?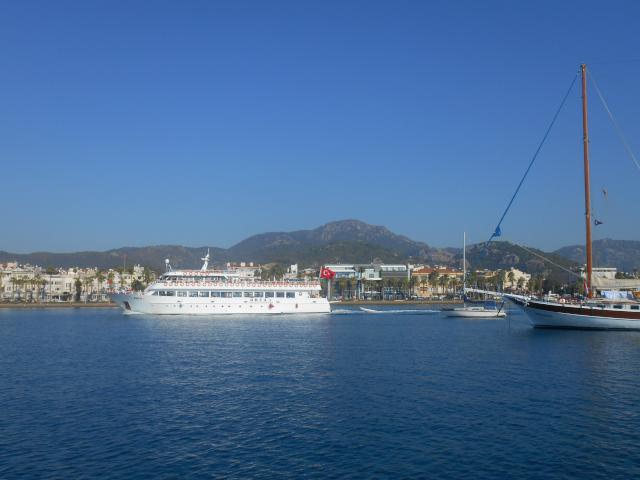 The busy bay of Marmaris. We were anchored just before these boats.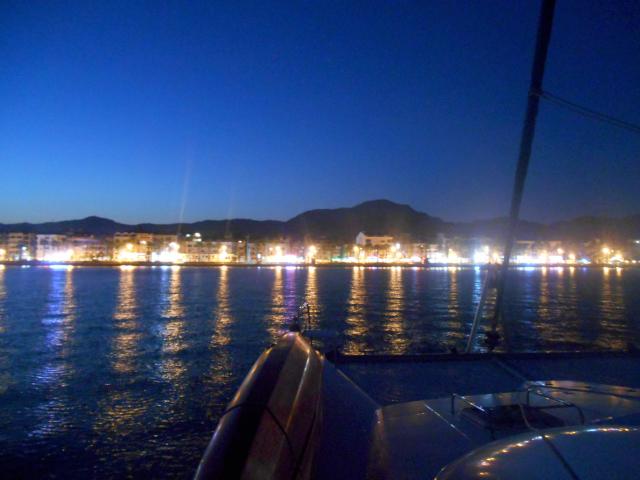 At night the city lights are amazing!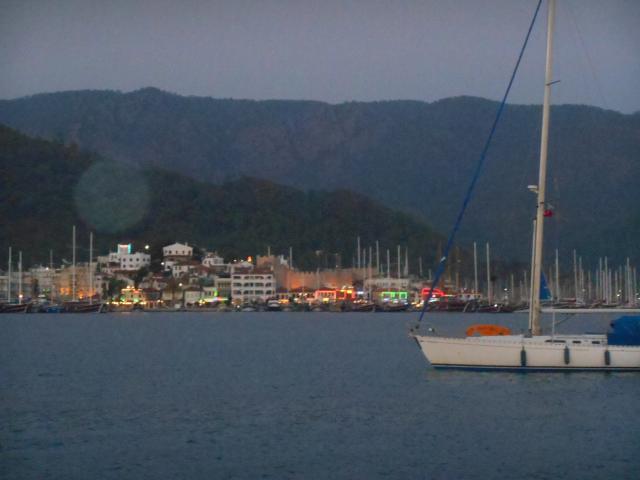 They love their red and green lights here! They have them everywhere and it just makes us think of Christmas at home!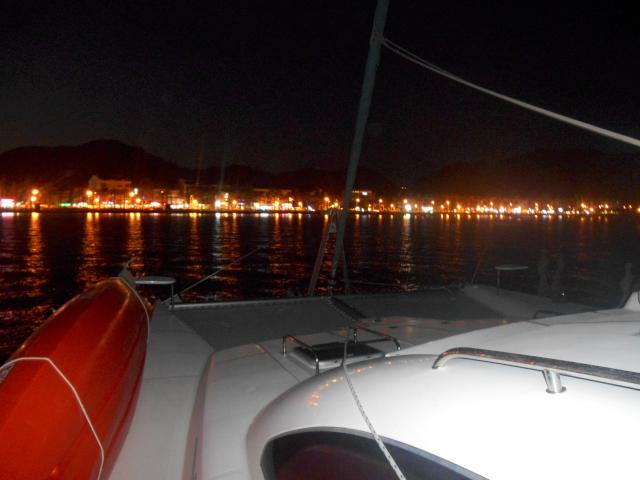 Its a bustling town with lots of people and lots of shopping, if you don't mind wearing designer fake labels…..
Noel and I walked through this street one evening and it was buzzing with loud music, bars everywhere, not busy yet it as it was only 11pm, of course the real party only starts way after midnight going up to 6am. When we got to the other end we saw the sign saying "Bar Street".
Totally high tech clubbing scene, outdoor dance venues and all the latest tunes!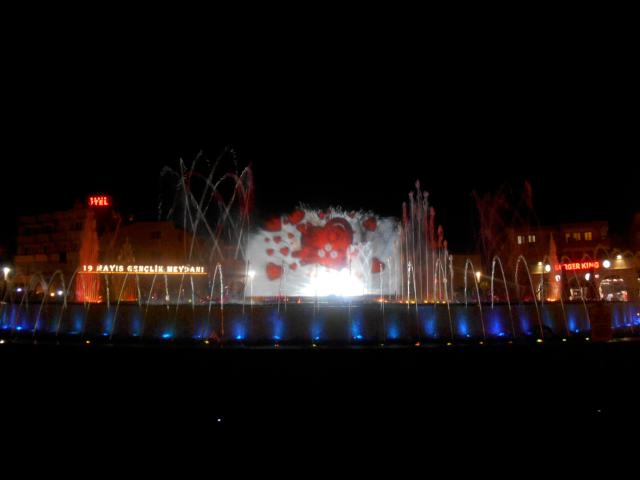 The main square is a beautiful park with gardens and many statues and fountains. In the evening the real show starts. They projected a bunch of beautiful images and a bit of their history right onto the water fountain and beautiful music in the background changing it at each display. Those hearts are actually projected onto the huge water fountain in the middle. A few minutes later it changed to a different display of just the fountains, below:
The display was like a dance show. With every color and fountain doing it's own dance according to the music. At fast paced music they go into action, the fountain in the middle sometimes shooting as high as maybe 100 feet. All the time the jets are choreographed with the music. Fascinating.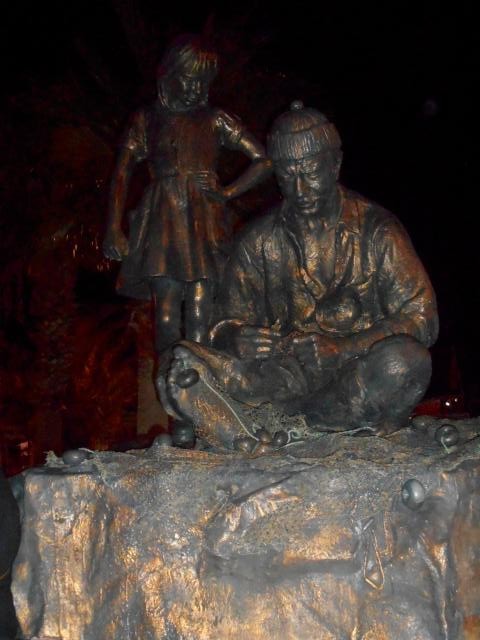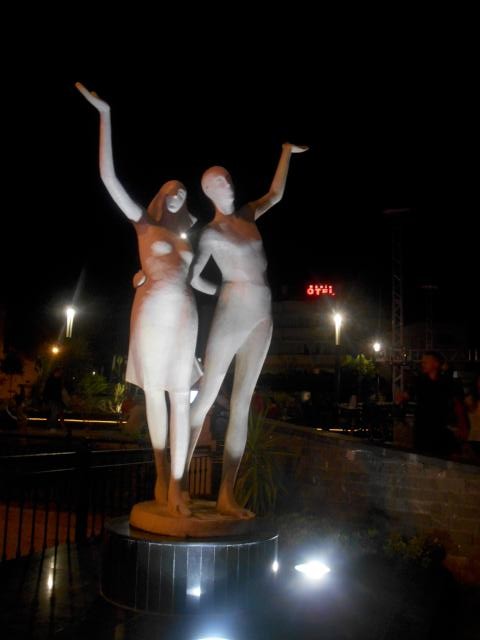 Beautiful statues and even a waterfall at the park.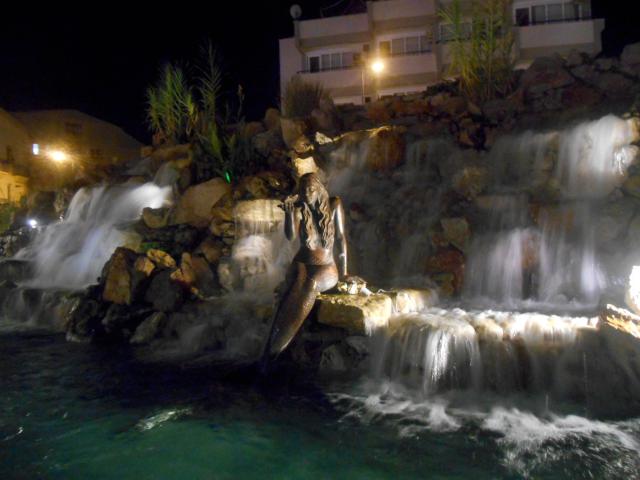 We enjoyed walking through the gardens and parks with many statues and  even a waterfall.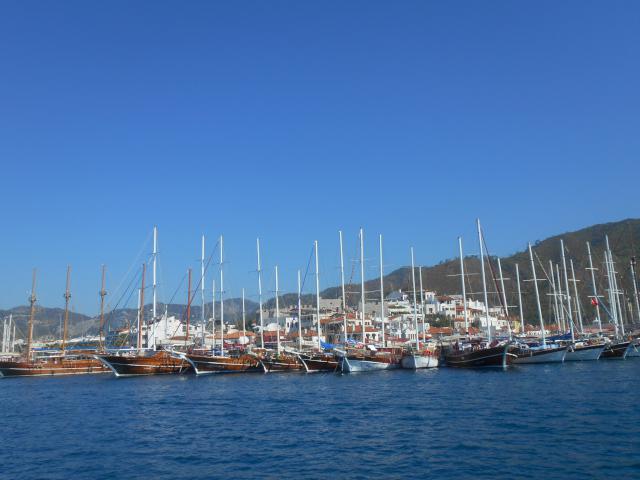 Upon leaving our anchorage in Marmaris , on our way out we once again went into Netsel Marina to pump out the black water and off we go. This time they charged about C$12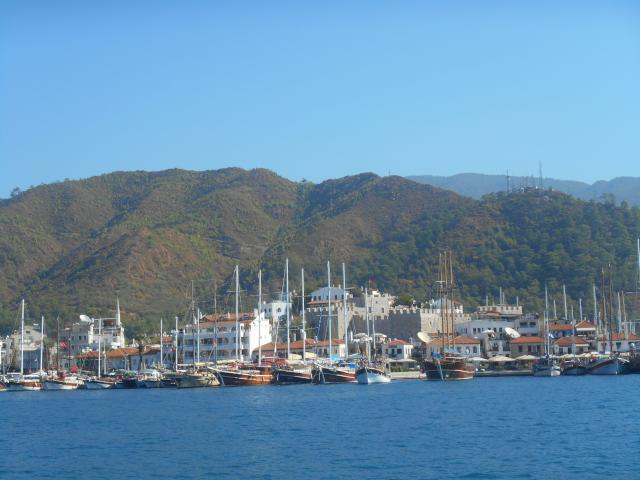 We say goodbye to Marmaris after a few days here. We really liked this place. Beside being very well maintained and manicured, it had everything there and close by, busy but yet it had this small town charm for some reason. But happy to go again on another adventure…..change our back yard views!
I am about a week late on this post. So since then much more has happened…
On the way to Pamukkale…..
a stop for breakfast and a little market outside selling their sun dried tomatoes, peppers and funny looking dried eggplants.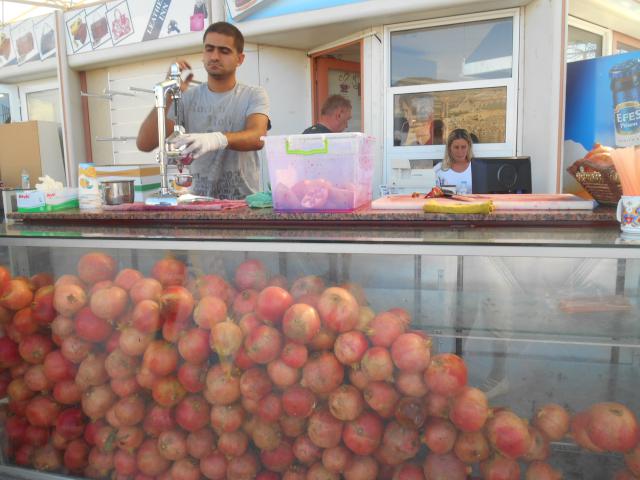 Pomegranates are in season! Freshly squeezed juice was available everywhere.
Another stop during the trip at Onyx factory. Where they show you how they make it and invite you to their very extensive gallery where you can buy many pricey items. Noel did buy 2 nice wine goblets.
We are now having our wine in heavy Onyx.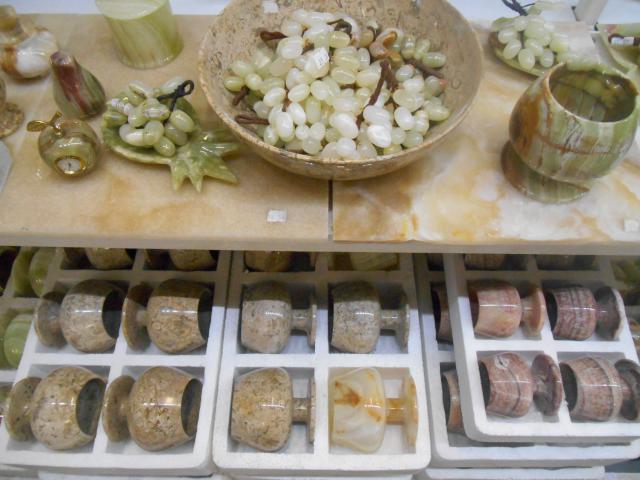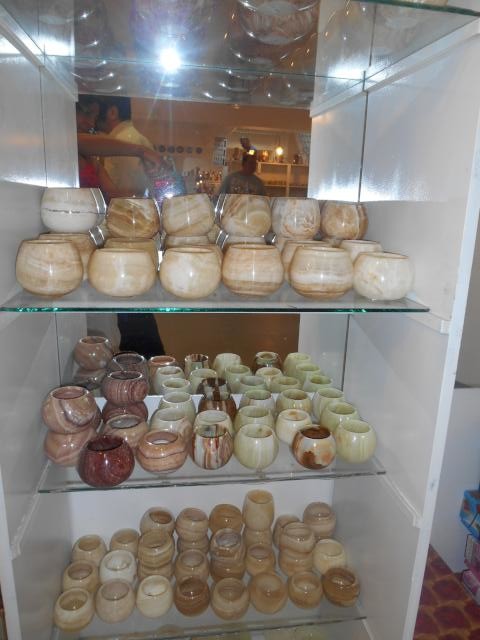 Inland trip of Pamukkale.
Are you bored yet? Maybe need to pee? Perhaps take a break now.
There are 20 more photos but not much to read. It was such an amazing trip that I cannot put into words…..or writing! Pictures are great, but they don't capture the moment…..
Below we are entering the busy pools in Pamukkale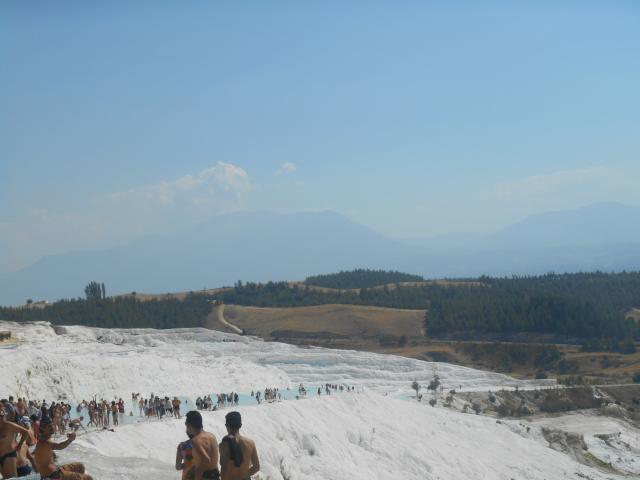 It was just breathtaking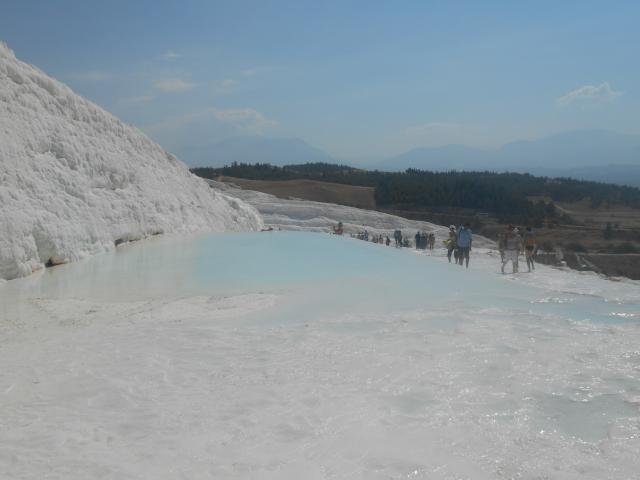 Pamukkale is an amazing display of natural hot water pools in south-western Turkey. Known as travertines or the terraces that form due to the carbonate minerals that gather up as the flowing water circles. Pamukkale is actually Turkish for "cotton castle". Some of the pools are deep enough so you can just soak in, enjoy the moment and the incredible formations. Most people were just walking around taking in the views and admiring this natural beauty and lots of photo taking and posing…. for more photos
No, this isn't snow or ice! The water is, in fact, warm. Pamukkale Hot Springs can be visited all year long, and in the winter must be fun too when more pools of hot water form.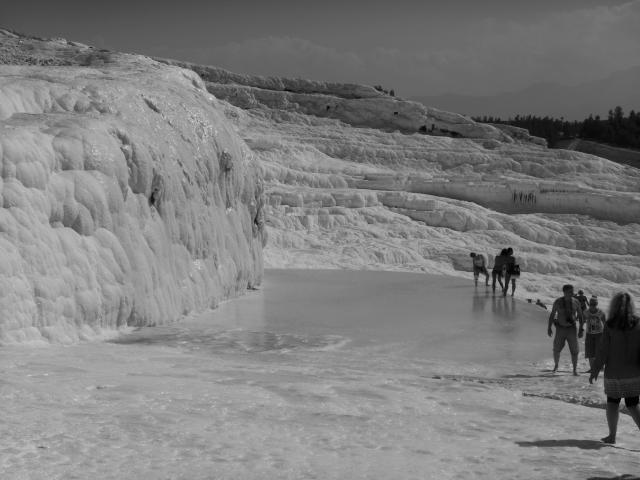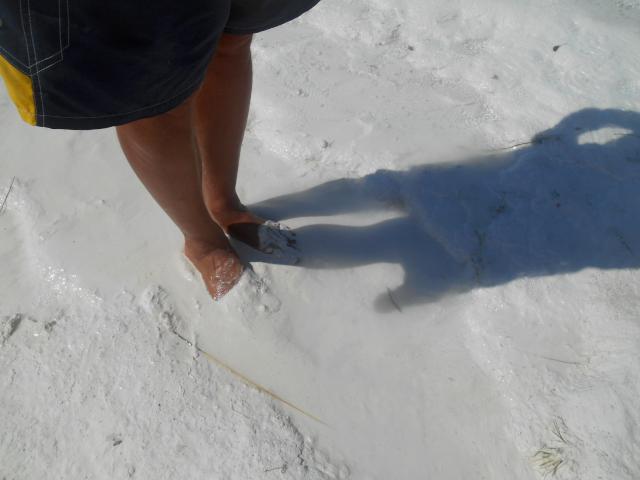 Many people were covering themselves with this as a beauty treatment. Apparently is very beneficial to your skin. No thanks. We did the mud thing already last year. The sedimentation starts as soft white mud and over time hardens to form these amazing shapes.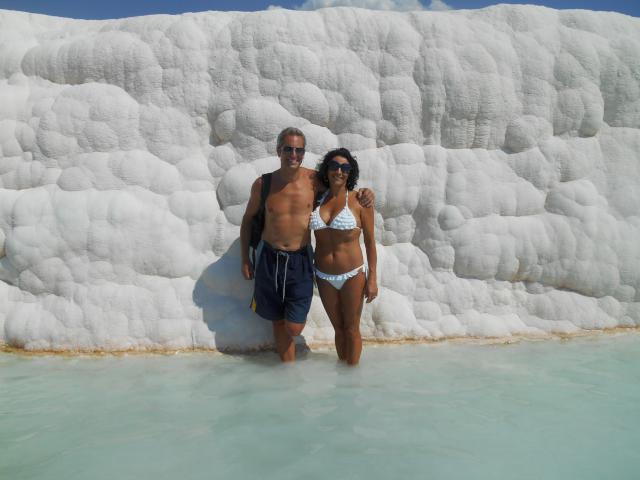 Of course the furthest you walk down the hill, the less people you encounter. Like Noel says: anything further than 100m from the parking lot…..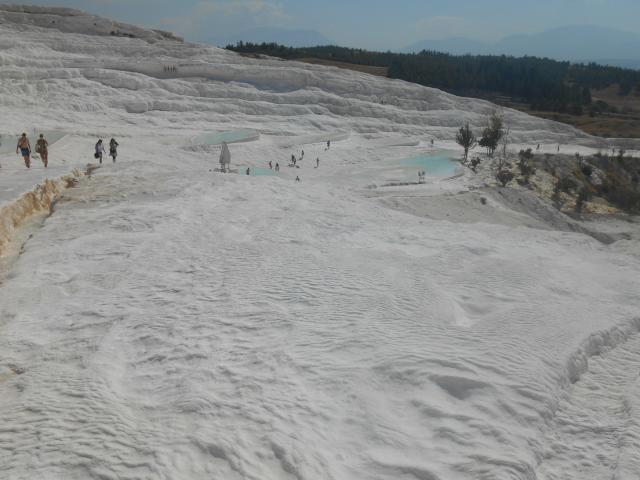 This place truly was an amazing experience.
Beside Noel down the channel runs cold water from a spring at the top where you can just sit and cool off. It gets pretty hot there.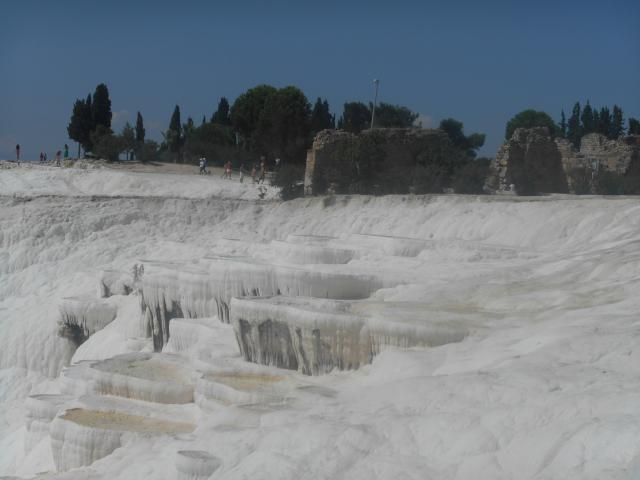 Unfortunately some of these pools have dried out. That is the result of hotels above diverting the water into their swimming pools. But that was a few years ago, and now it is gradually being restored.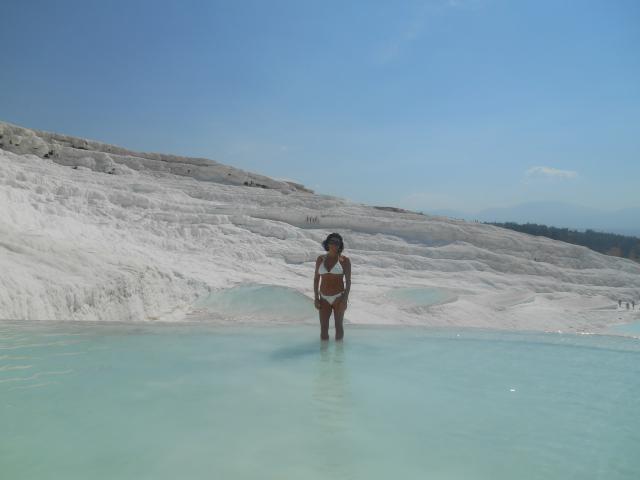 The water was actually not hot, but just warm.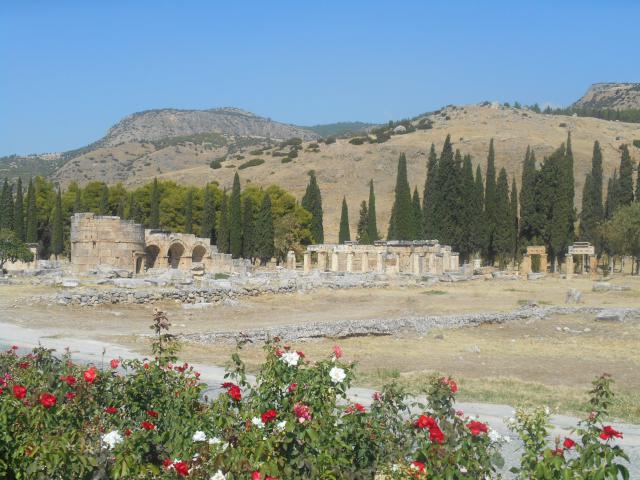 And as an added bonus you walk along these beautiful gardens that lead you along more pools and into the ancient city. Cathedral and main street.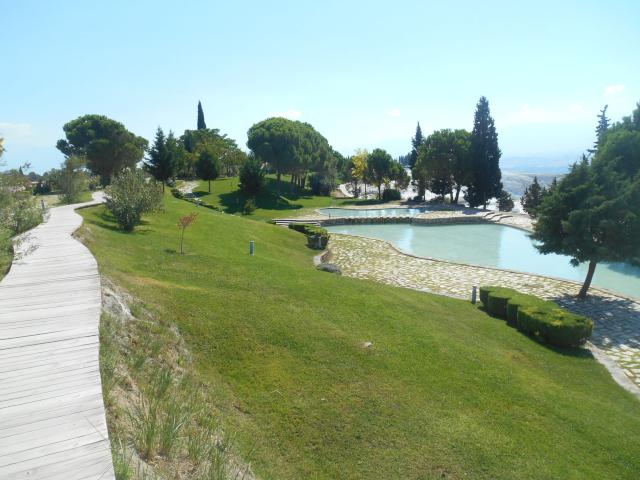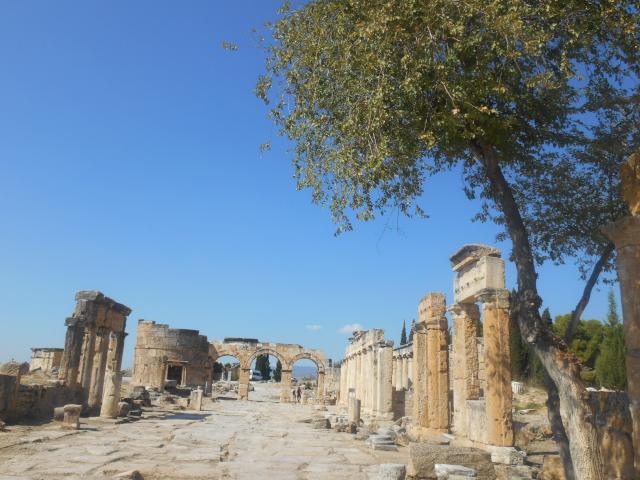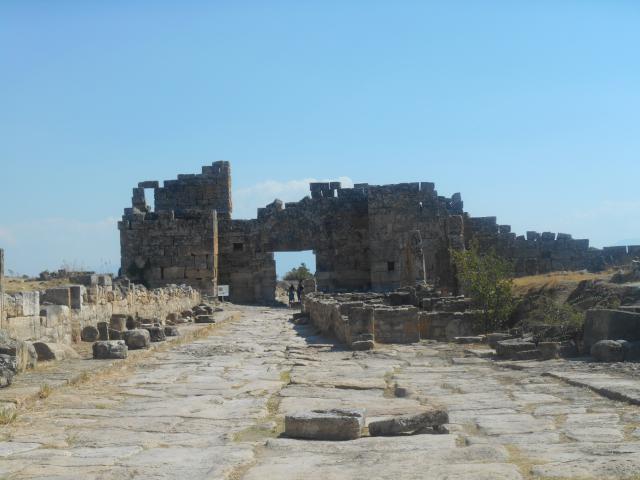 The North Byzantine Gate to the Agora. Built in 4th century AD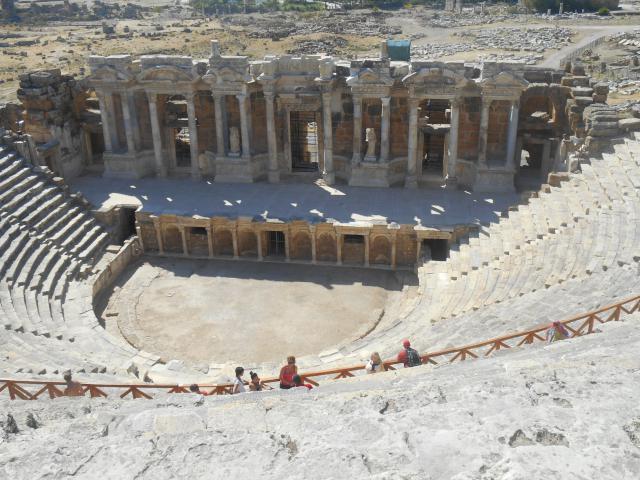 The theater was the most impressive. Built in the 3rd century AD, very well preserved. At the center bottom they used to have a marbled area with fancy seats for people of high status with lion paws and and high backs.
It was also decorated with some figurative dedicated to Apollo and Artemis.
It looks to me, that there was not a bad seat in the house!!!!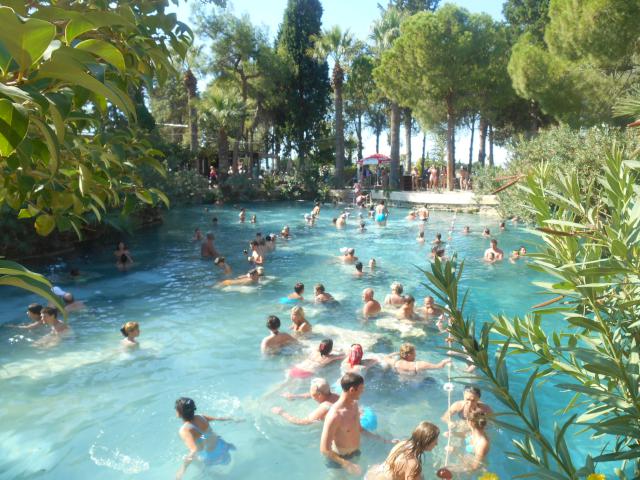 And of course the very popular Cleopatra's pool. It is said, Cleopatra came here with Anthony on their honeymoon.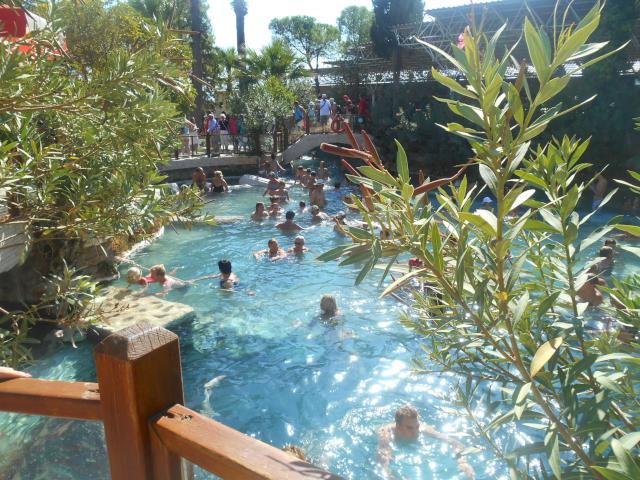 The pool is only about 4 feet deep, but go under the bridge to the other side and you will find some deeper waters – 5m! Very attractive setting surrounded with restaurant and pretty gardens just at the bottom of the hill from the theater.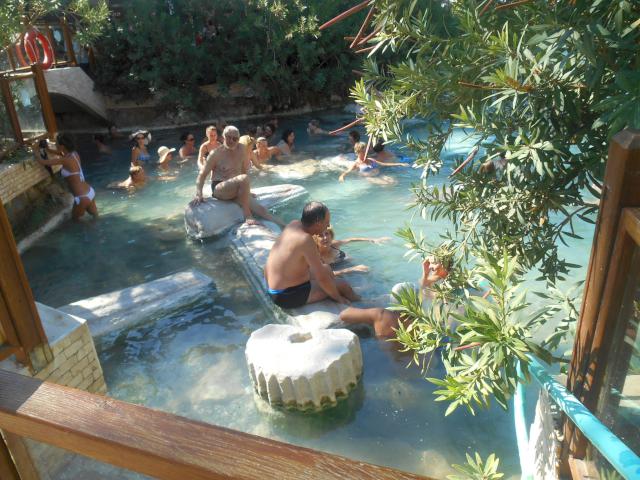 The pool has all these stones and columns that have fallen down over the years into the beautiful turquoise waters.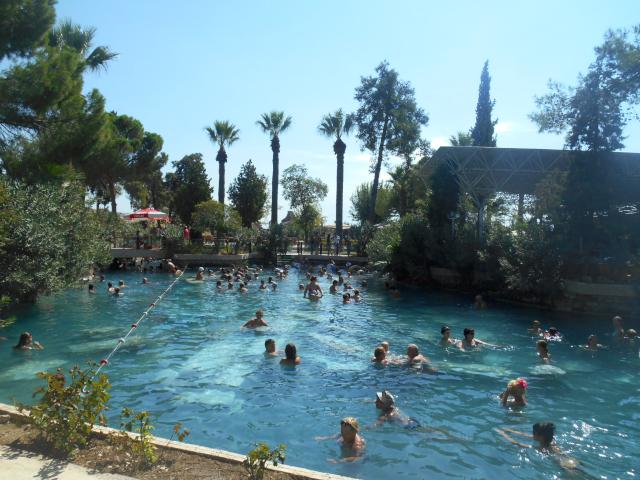 You can see all through the pool more of the many fallen stones. The pool also advertizes outside that bathing in these waters "cure" a very long list of diseases from arthritis on…… Somehow I don't think those claims have been evaluated by the FDA!
This takes me to end of a very long post. For more photos check our gallery soon, I must update in the next few days.
Next we will take you cruising up the Dalyan river.
One Response to "Great sail to a great town Marmaris"