The thing about having visitors on board is that you have to make some preparations for their arrival. This time, however, those preparations were a little unusual!
My son, Ben, and his cousin, Mac were due to fly in to Pula on RyanAir on Tuesday afternoon.
So we stationed ourselves in Pula, not far from airport and where we could easily get transportation to and from, and also provisions.
We took a trip to the local market to buy some vegetables and also the fish market.  Ceu wondered to next stall in a hunt for red peppers, but instead she stopped for the best looking cherries she had seen there.  As we were getting the cherries, we got talking with this friendly man who not only could speak good English but another 4 or 5 languages as well. He was asking how long we were visiting for and told him we would be around the area for a week because we had our son arriving. He took interest in knowing how we were getting around. Salvo his name, he was so friendly, in fact, that the next thing we knew we had organized:
A ride to the airport: Salvo would drive us there to pick up the boys for just 100 kuna fuel money (the bus trip would have cost us 138 kuna for all of us – and a lot of waiting around).
A chef for the evening meal: Salvo insisted that he wanted to cook scampi and spaghetti for us on board! And he did: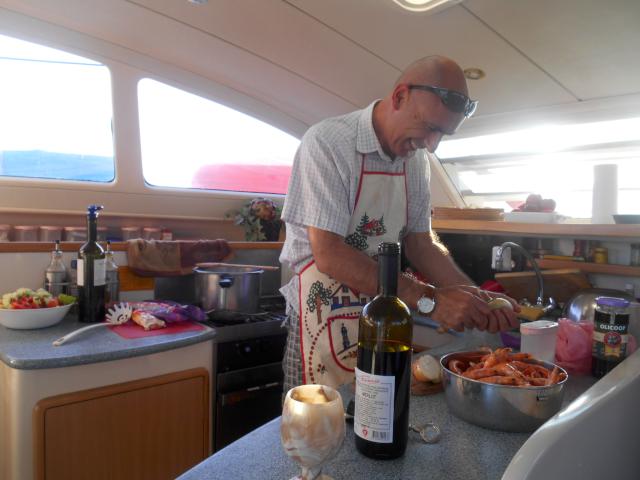 We also had managed to pick ourselves some delicious mussels and oysters from a nearby concrete wall. So we added them to the party.
So that got our week off the a good start!
We decided that we would sail/motor around the Istrian peninsula, up to Opatija and then back to Pula where Salvo again drove us to the airport. These are some of the highlights:
Salvo's favourite food is pasta. Anything Italian he says. He worked with Italians for many years.
His wife could not come along for the dinner but he did bring her in the next day for a drink. She was so excited to be in a Catamaran and even more excited when she finds out we live in it for 8 0r 9 months of the year! And then she really could not believe we crossed the Atlantic ocean, which she kept calling  Atlantic city. " wait till I go to work tomorrow and tell my friends about these people and their lifestyle!" she was so funny and bubbly. Nice couple.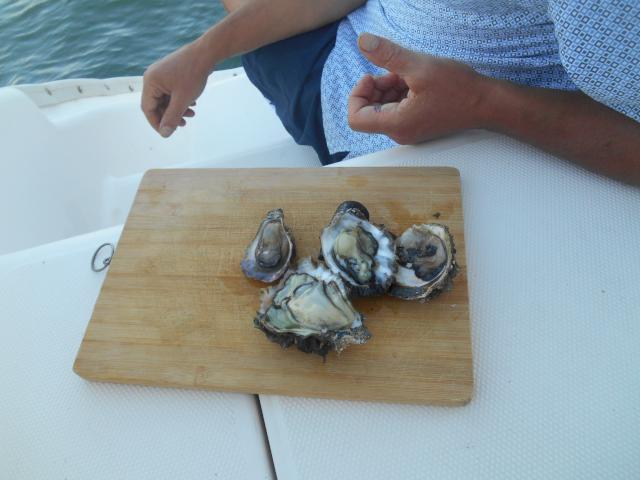 Yummy oysters for starters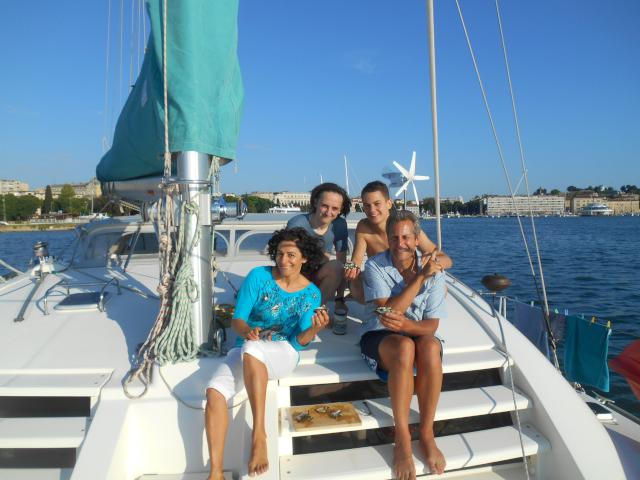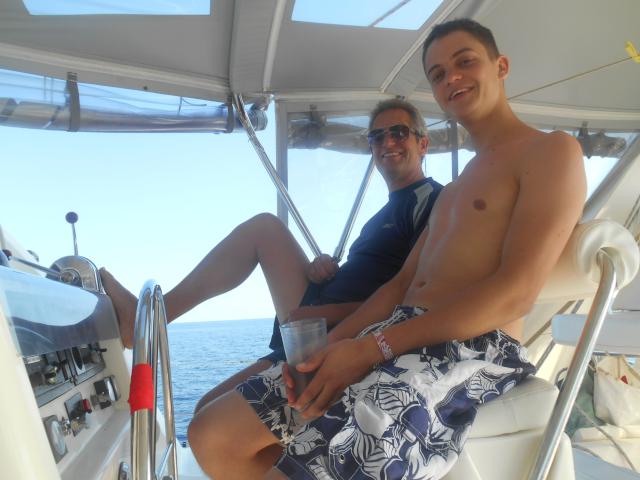 The week the boys visited we sailed up the Istrian coast all the way to Opatija in the Istrian Peninsula. A popular Summer and Winter resort town, surrounded by beautiful woods and very picturesque.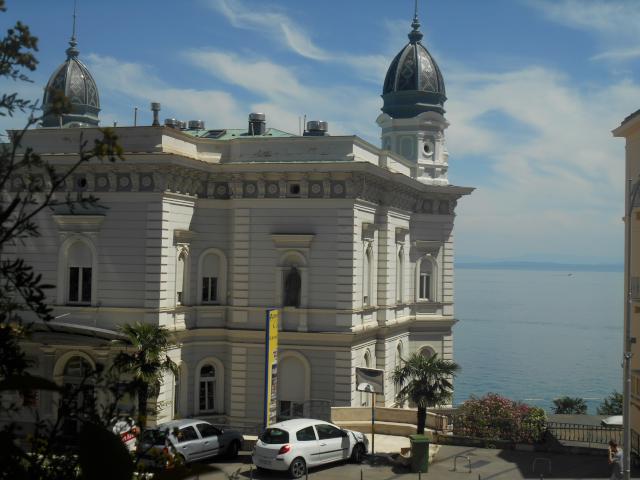 The town of Opatija has much history. In 1844,  a rich merchant from Rijeka, founded Villa Angiolina. In 1872 Railways came to the area, it opened the path for the development of tourism in Opatija and Lovran.
In 1882 many villas and were built.
It became a fashionable destination for the Austrian imperial family and Austrian nobility and soon more luxury hotels and villas were built.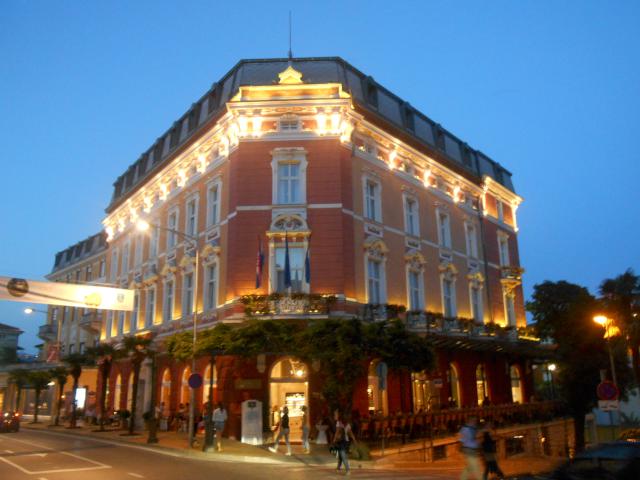 Opatija is a beautiful town and very touristic. Many parks and beautiful buildings everywhere you turn.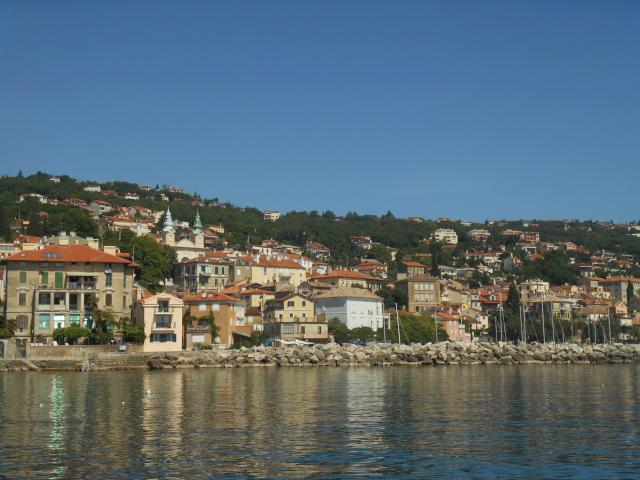 A walk along the sea wall takes you to this cute fishing village. We actually first moored here along the town quay and could not find the harbour master to ask for prices and so on…..till he showed up at 4pm telling us he would bring the bill the next morning. "What bill"???? he started to add up and make up some bill in his head. Something like this: hhhmmmm….12 metres times$$$, +$ per person, +$$ for garbage disposal. At that point , I did not believe any of his bull, I told him we would leave and go some where else for the night. He said "fine, but it will cost you more!" haha…that's when we moved to a beautiful spot in front of the park and the statue of a Maiden with Seagull. Beautiful anchorage, in calm weather of course. And Free of charge.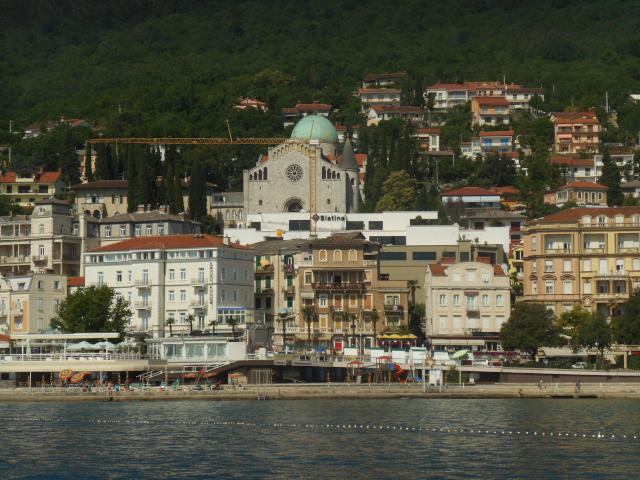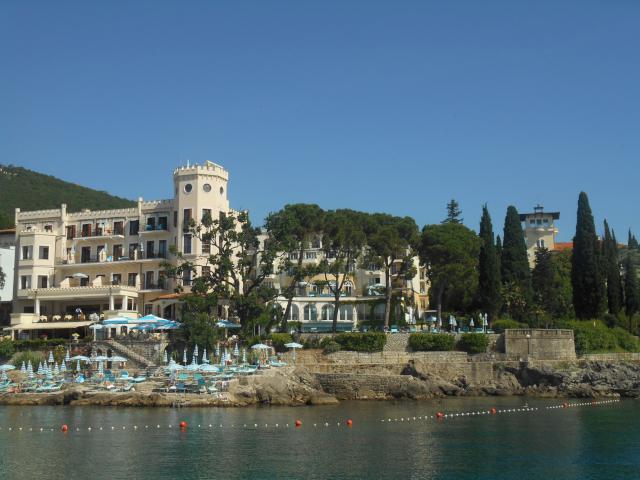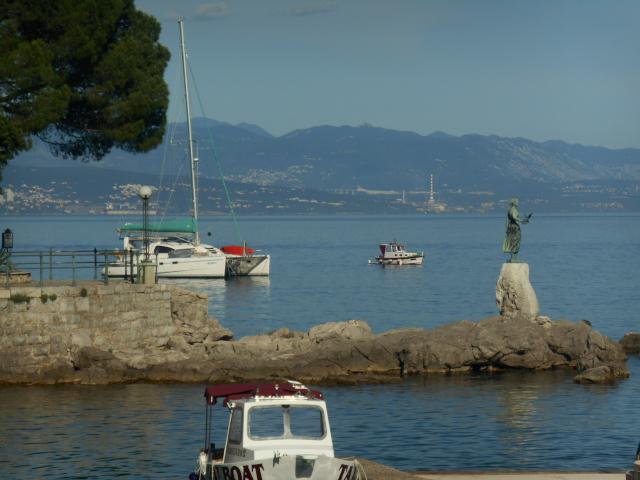 We anchored right in the middle of town. This statue, Maiden with Seagull is a symbol of Opatija. The statue Madonna, that once stood here was demolished by communists after the end of World War II. The place is popular with tourists taking hundreds of  pictures of course, and we also saw a wedding party going around there for photos. It was a great spot for us.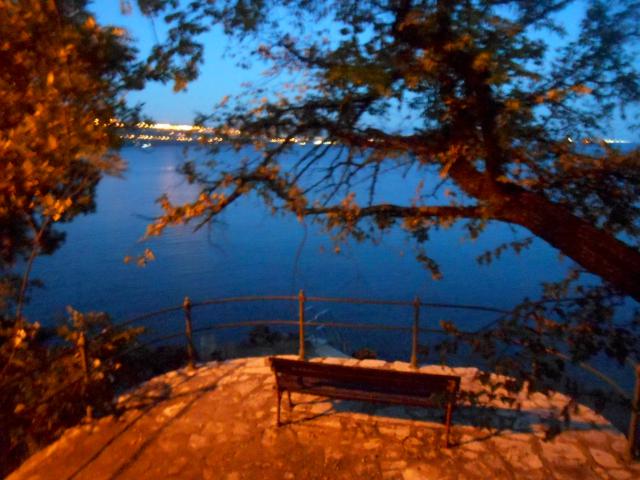 We walked  along at night too. I love to check out the atmosphere in the evening as well. Lots of live music playing  in the hotels restaurants and bars, and some of the benches had someone playing the guitar or the older men with their accordion….love it!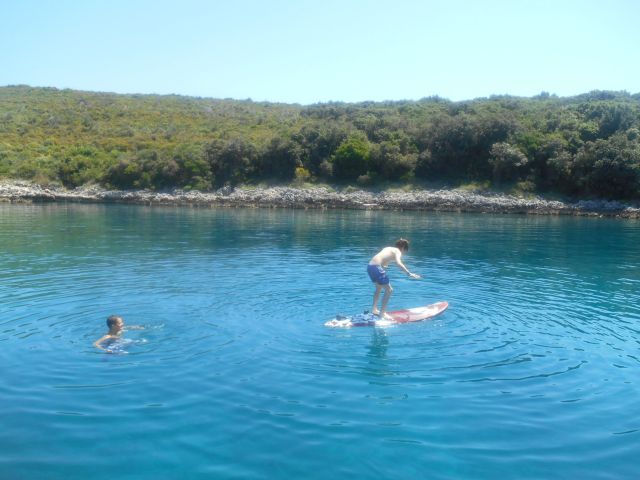 Fun in the sun with the windsurfing board , out for some knee-boarding.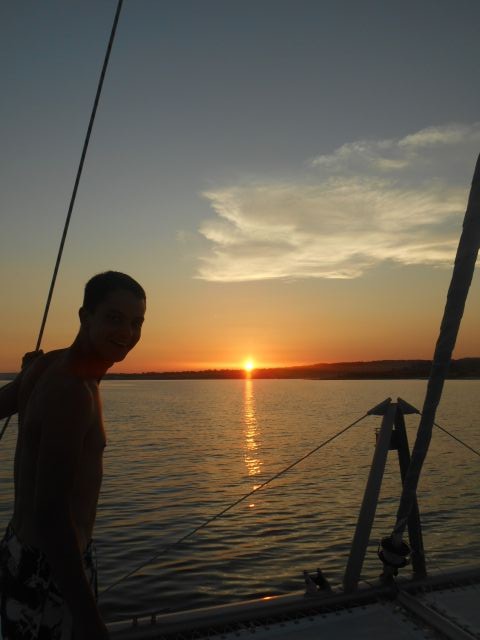 And more sunsets…..every night!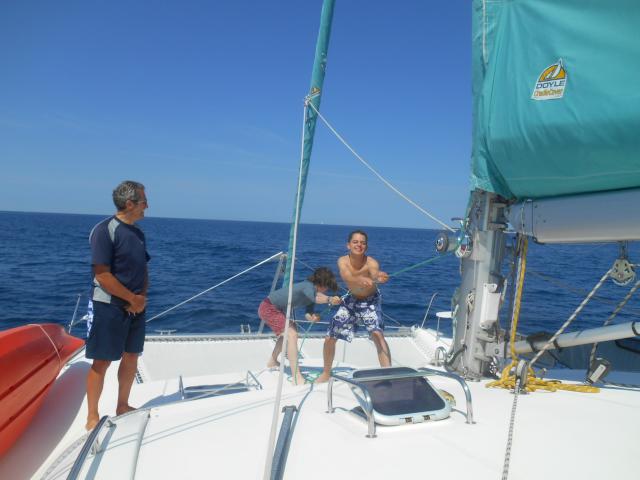 Haha…time to put the boys to work now. The fun is yet to begin! It was time to change scenery and we are moving to another destination. It took the 2 of them to hoist it and Noel to supervise and lots of cheering, to get the main up and ready! After  a few days on board they both had a blister on their hands. This is how we keep in shape. How else did you think we did it?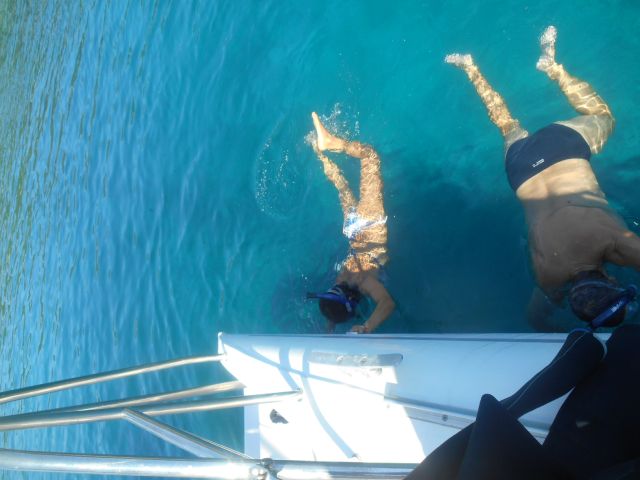 Noel and I were busy too. The boat's bottom needed a cleaning. So we scraped away the growing weed
Never a dull moment around Life Part 2. From laundry to hair cuts to cleaning and more cleaning….and trying to sail with very little winds or lots of it but in a wrong direction, study weather and charts, where  to go and when????? Sails need a lot of babysitting in the Adriatic. Where is the time to do my knitting or crochet???
I have now been accused of not paying any attention to the sails because of my crochet.
When I was in Turkey the ladies in the Marina were knitting really nice sweaters and I got inspired and bough lots of nice cotton and wool and I have been teaching myself how to knit from the internet. I just finished my first project. Finally. I knitted a tank top. I think I prefer crochet because it goes a lot faster, but it turned out ok.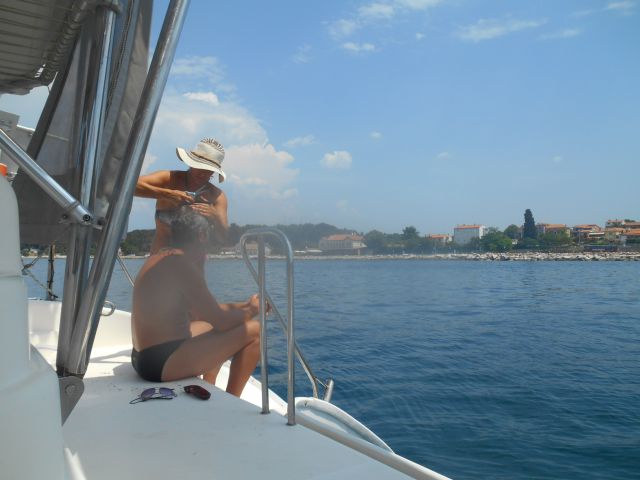 Noel getting a hair cut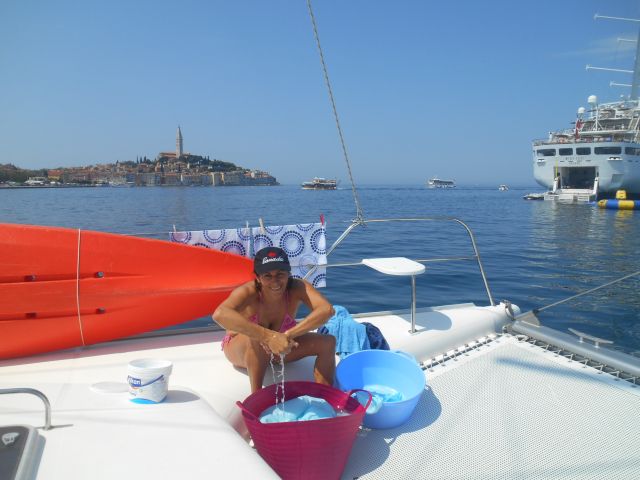 Cruising is not only fixing boats in exotic places but laundry gets done there too!! The nice town of Rovinj in the background and beside us a is a small cruise ship with their garage open and the toys out for the guests to enjoy. Met some guests from the US, who were enjoying their kayaking around the bay and stopped to chat when they saw the flag.
Of course they all want to know if we crossed the Atlantic…????!!!!
As you can tell by the grammar, Noel started this blog post. And I had to take over , otherwise it would not be published for a long time.
The UPDATE is:
this post was started long time ago so we are now 2 0r 3 weeks behind.
We have since, gone all the way up the coast to Venice and are back down again in Croatia.
At the moment we are in the area of Pula. We have Noel's son Josh visiting us for a week. It's beautiful around here and the airport is a 7 minute drive from our anchorage. So it makes it easy to pick up company.
Stay tuned for a post on Venice.
Noel does not want to blog much anymore and so I think I will mostly post pictures and update where we are and then we leave it to you to Google it and find all the great history on it! And great photos too! Isn't internet fun????