Current Location:
Pythagorio, Samos, Greece
Current Position: 37 41.35 N 026 56.94 E
Click to view map.
Distance sailed since last post:
82 nautical miles
.
View the map of our voyage track here
Welcome to Patmos
Patmos is not a big island, but it is one of the best known. It was here St. John had his vision and wrote the apocalypse, and this is why Patmos is sometimes called "The Jerusalem of the Aegean".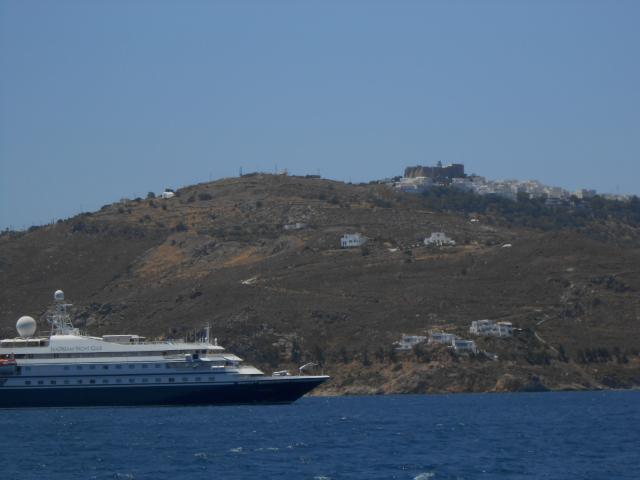 Arriving in Patmos. No…not on this cruise ship!
Noel and I walked from our anchorage into town Skala, and then up to the Monastery.
The Island includes one of the UNESCO world heritage monuments.
The Monastery of St. John and the traditional village of Chora, that was built in the Middle Ages and the Cave of the Apocalypse were the main reasons that Patmos is well known.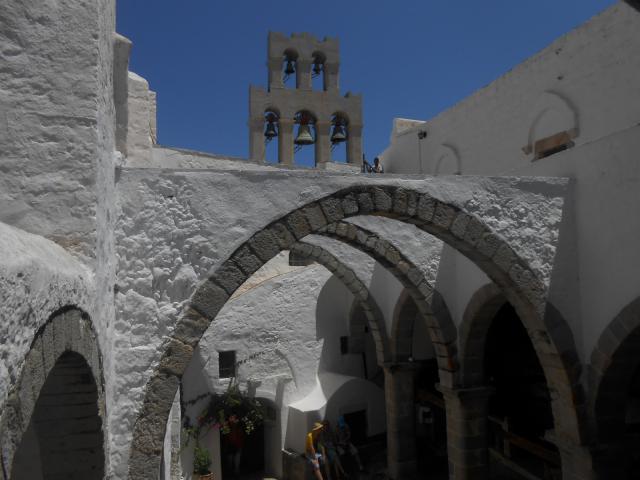 Inside the Monastery. Only this one photo, the battery died. lol
The Chora was very nice with all the windy narrow cobbled streets and many cafes restaurants and vendors, unfortunately selling way too many religious items.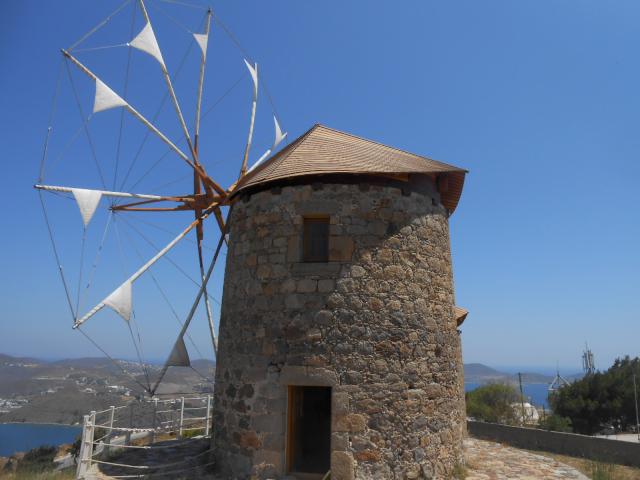 This wind mill has been restored, and they let us in upstairs to see it in action. It was also the first time we have seen one with at least a bit of sails up! The crazy winds are always Up!!! Even the windmills have to reef all the time!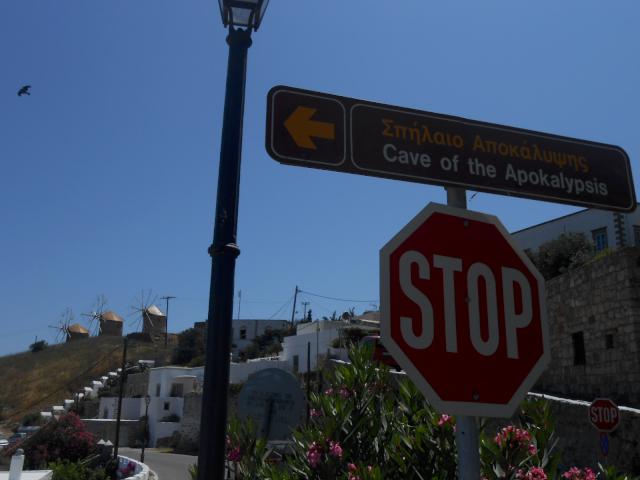 And of course we visited the cave of the Apocalypse. The Cave of Revelation is up the hill between Chora and Skala
There is a crack in the roof where Jesus appeared to him and John dictated his vision to his disciple Prochorus. The cave is not that big, at first when you walk in it looks like a chapel, but then you see the cave and they showed where St John stood and wrote the book and also where he slept. The chapel was added right next to the cave and it's down about 60 steep stairs. We were not allowed to take pictures there…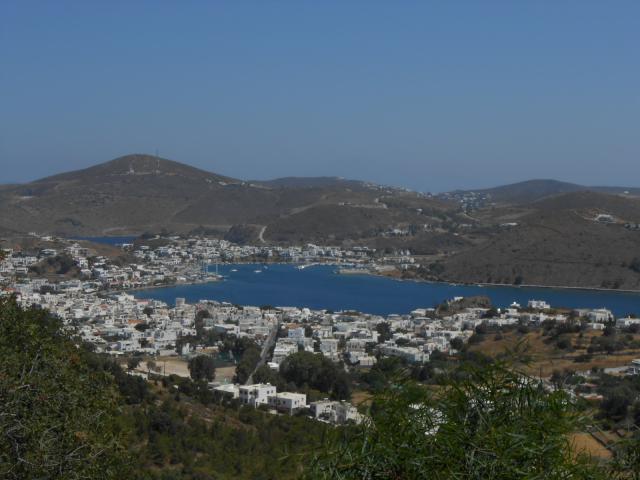 but we got some great views of the island. It was also a long walk. We were not moored or anchored in the harbour, there was no space for us, we were about 4km away. So we walked about 12 km that day.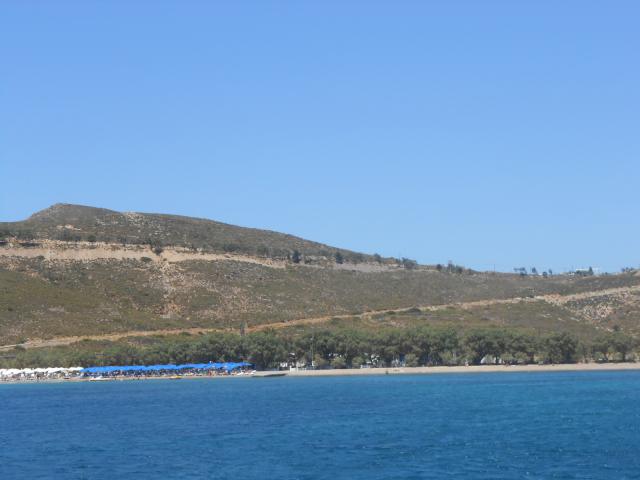 Our anchorage by day
Our anchorage by night. It was a nice spot, but it was our second choice, as this one was a bit further from town, Skala.
We were busy providing some entertainment at the previous beach: we were playing the anchor game.
We arrived in a beautiful bay only one boat there, and we had plenty of space.
After cruising around with me at the bow looking for that non existent patch of sandy bottom (we found that out later) we decided to drop anchor. Well, it didn't hold, the light patch turned out to be very hard sand, from what I could see the rest was all weed. Another boat shows up from behind and decides to anchor as well. By this time we are left with less space to play with.
We move along and Noel is yelling above the wind from the helm to drop it right there. I am trying!
I turned to him and pointed with the remote from the windless pressing on the down button and no action. The DOWN button decided to quit on me! So the tough and mighty decided to lift the chain by hand from the locker and just drop it, with success, but not without a bruise on her hand.
At this time the boat that arrived after us is yelling in a foreign language that we were too close to his anchor. Hello…we were here first, my anchor didn't drop fast enough and the wind is blowing at over 20kts.
We threw down our big fortress and still would not hold. We were about to leave to the next cove, along the coast , no big deal. But we had a visitor swimming from the beach. When he saw me handling the big fortress he decided to come and help. What a gentleman!
He came aboard and said he was an experienced skipper from England in holidays there. We gave it one more try. He saw we were doing everything right. There was nothing to be done differently. He thought we had charted a nice boat but didn't have much experience. He apologized for being "so presumptuous".
We thanked him and he dove off pretty quick from our port bow as we turned around and went to anchor in front of this quiet beach. Funny that behind us the other boat was re-anchoring too, as soon as we left!
We were happy to be holding in the new place on the first try. Let's have a swim and a nice drink.
After that Noel fixed the remote, one of the wires had broken, and I got to clean up the messy foredeck.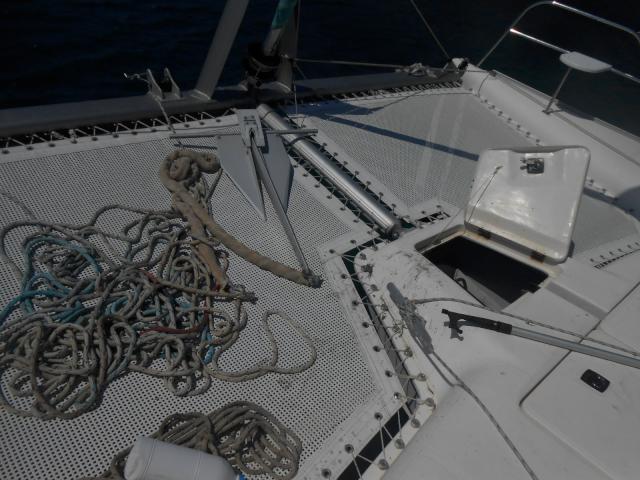 The mess I was left with…..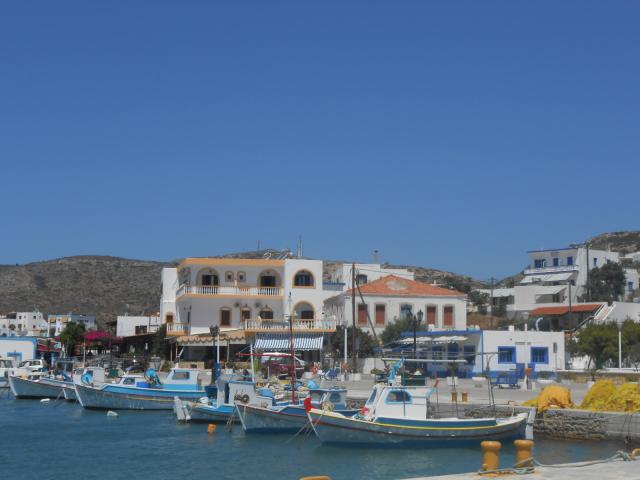 We stopped in this nice little village in Lipsi island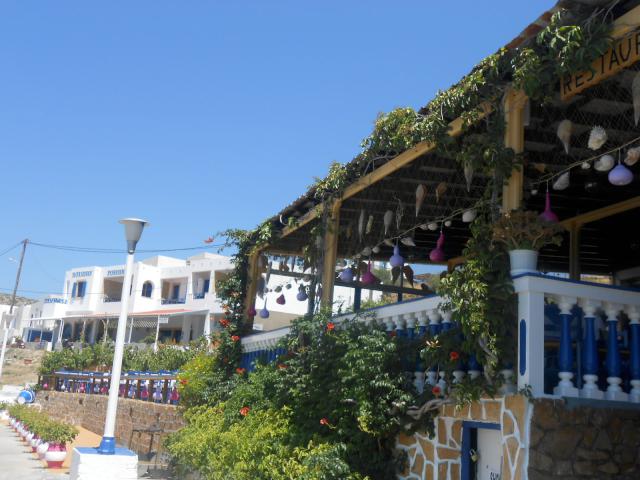 Small, but charming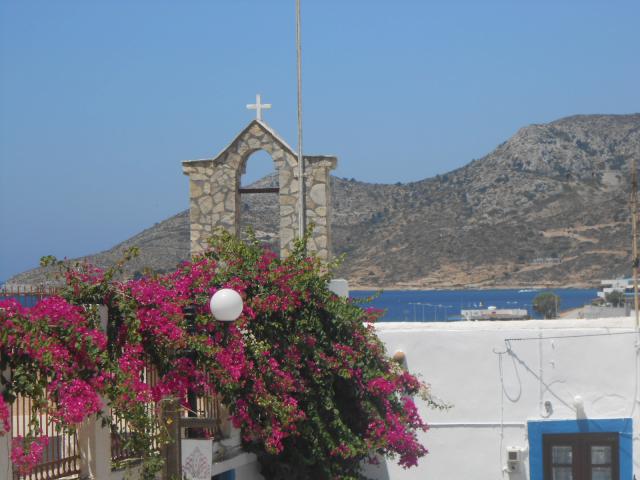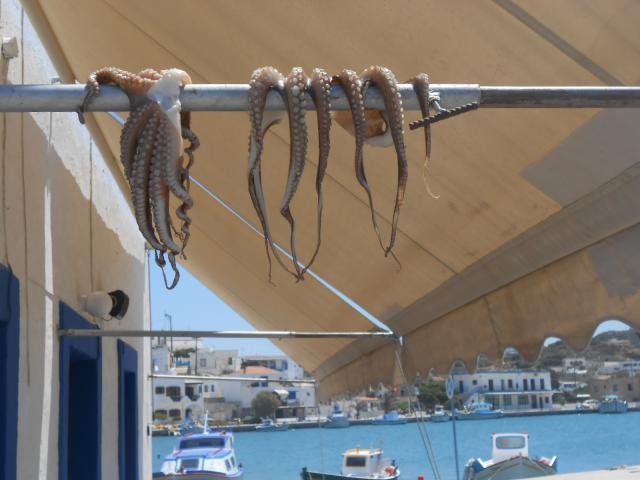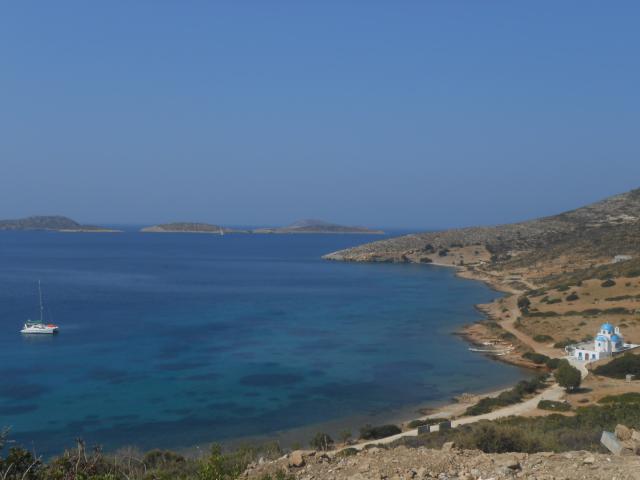 We anchored in this beautiful bay, with a church that was always closed and nobody around. Just 2 minutes dinghy ride from the village, it was so peaceful, only the bells from a few goats around.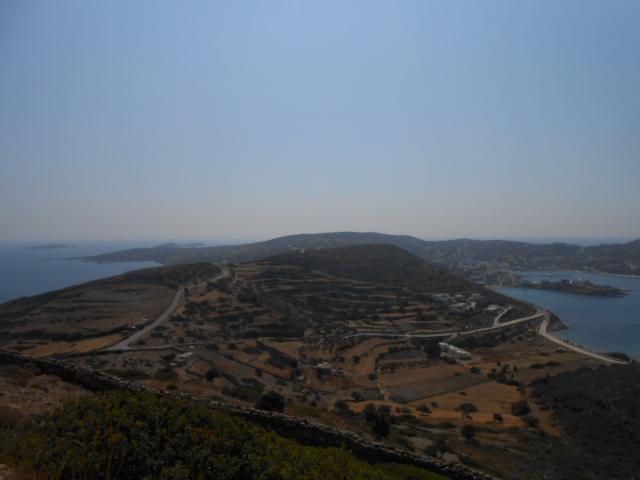 From this anchorage we hiked up these hills. There are only goat trails, or maybe rabbit trails. We did see a rabbit jumping ahead of us and then this skeleton on the picture bellow.
It was quite funny because we kept on being trapped by these walls, some of them even had thorny twigs on them and we had to do some climbing over and trying no to get in trouble from the owners. This must be to divide the properties and keep the goats in.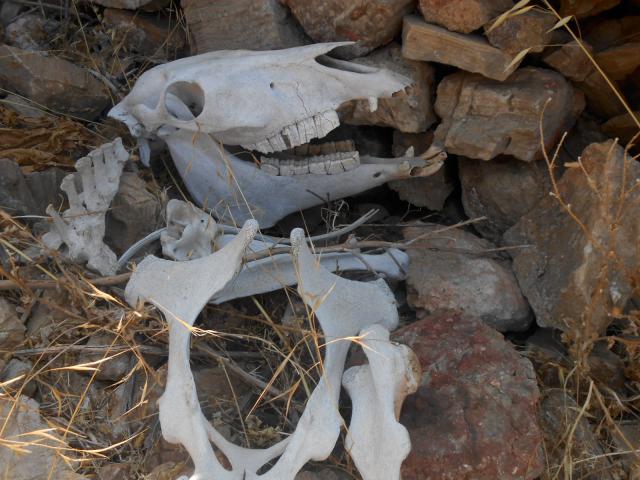 Left the animals in the mountains to die???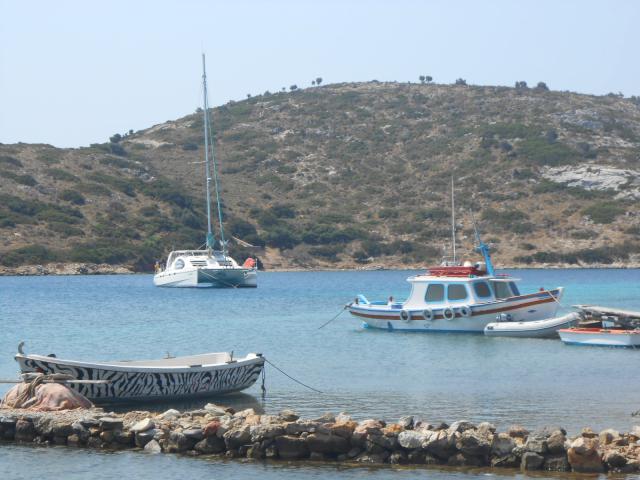 As we keep sailing, working our way towards Turkey, we made a night stop in this cute very small place on Arki island. Home to 47 inhabitants. With 2 beautiful bays to anchor, and very few boats around. There are still many many places around one can visit that are not crowded, even in busy season.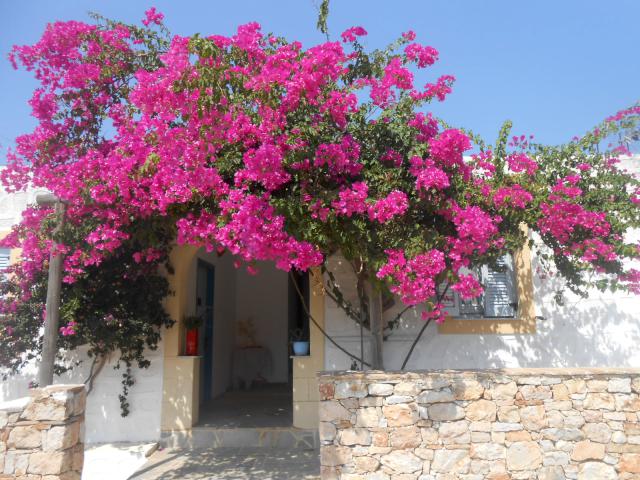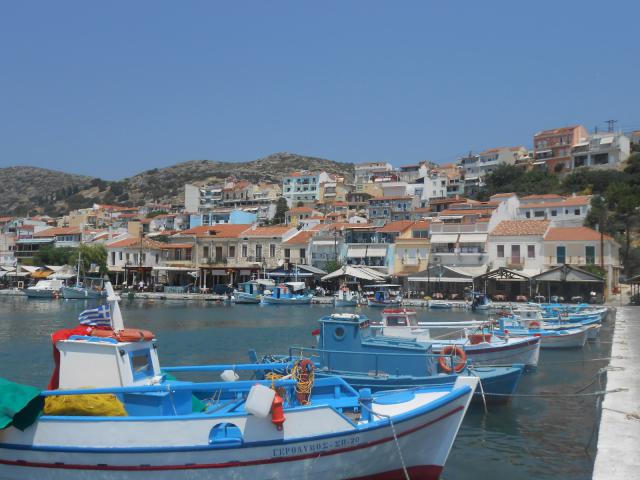 We have now arrived in Samos. North of Patmos in the eastern Aegean sea.
Everyone stops here and waits for that good weather window to take you right into Turkey. Only 1.5 km separates Turkey and the island of Samos.
Plus, how can you not stop in Samos??? We anchored here in the town of Pythagorio. Free anchorage just outside the harbour, you dinghy into town in less than a minute. The water is clean and you can swim around your boat, or swim to town right into the beach across!
Nice town, touristic, but not too much. Shopping streets, supermarkets, nice waterfront and great food. Noel even found his favorite: Ginger ale in one of the supermarkets. We cleaned out their shelf and they couldn't get more for us. It is very hard to find around here.
We tied up our dinghy here many times. We were at anchor right behind here. The statue in honor of Pythagoras, the philosopher, astronomer, mathematician. His most famous accomplishment is the Pythagorian theorem. He was born here in Samos around 569BC.
We stayed in the lovely island of Samos for 5 days. Rented a car and toured the island on one day. This Monastery was easy to find, as soon as left town we caught up with this full tourist bus that soon came to a stop at this site. Turned out to be Megali Penagia Monastery. Beautiful setting, nice church and big and colorful courtyards.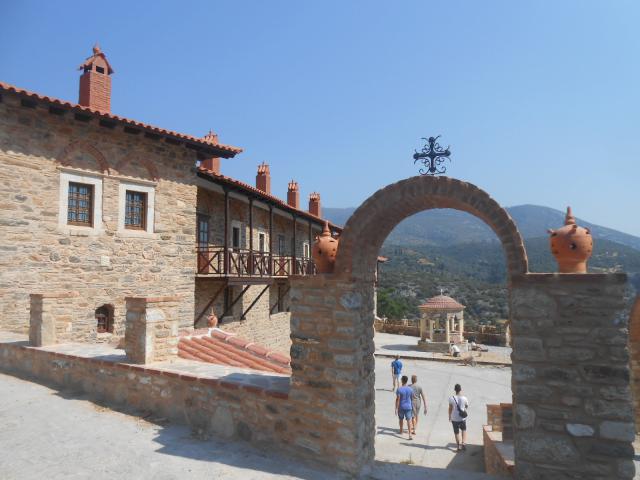 The Monastery was established by 2 monks in 1586.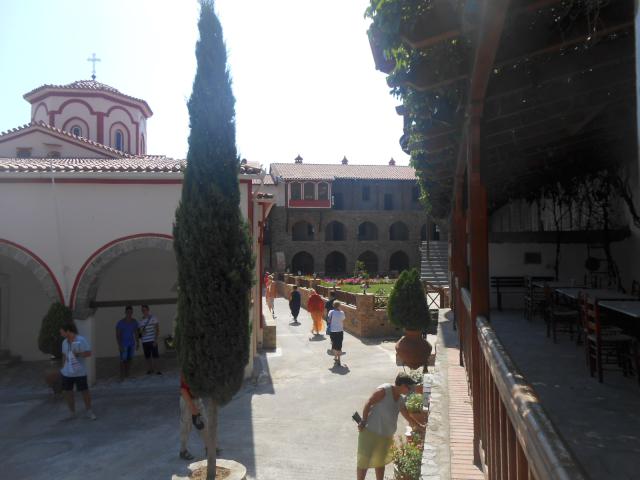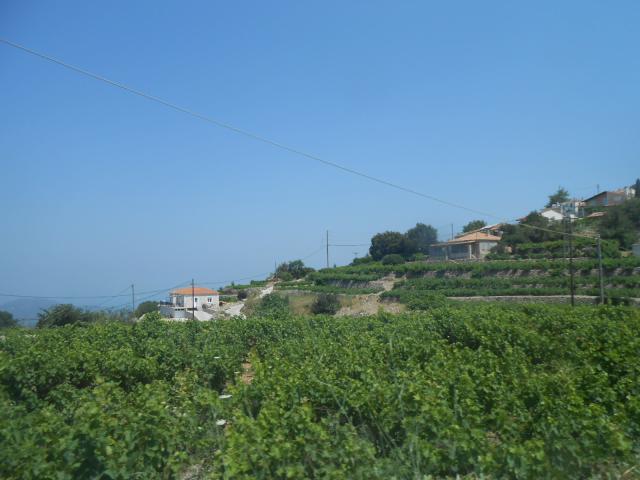 We took some detours up the steep hills into the cute villages. This one overlooking the sea, with all the grapes reminded me of home, the Okanagan.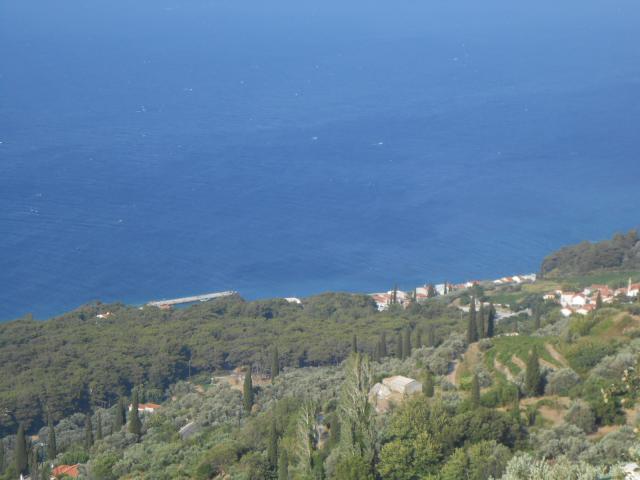 They call Samos the green island.
After sailing along the Cyclades, where the landscape is very dry and barren, it was sure a nice change of scenery. Luscious green hills everywhere filled with cypress, grapes, pines and olive groves.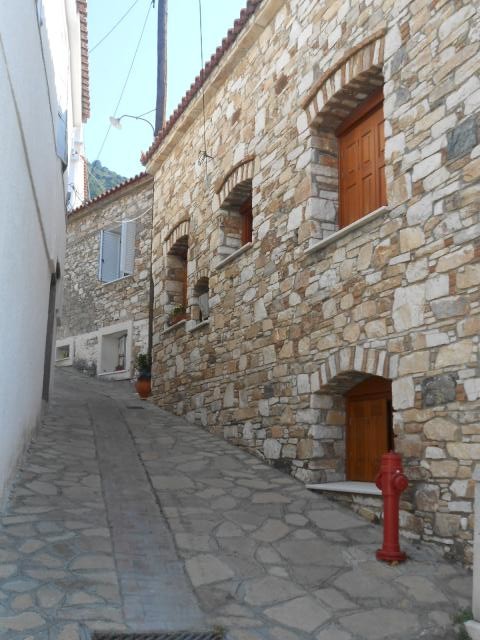 The water drains down the middle of roads indicate that sometimes they get some rain! Not in the summer though 🙂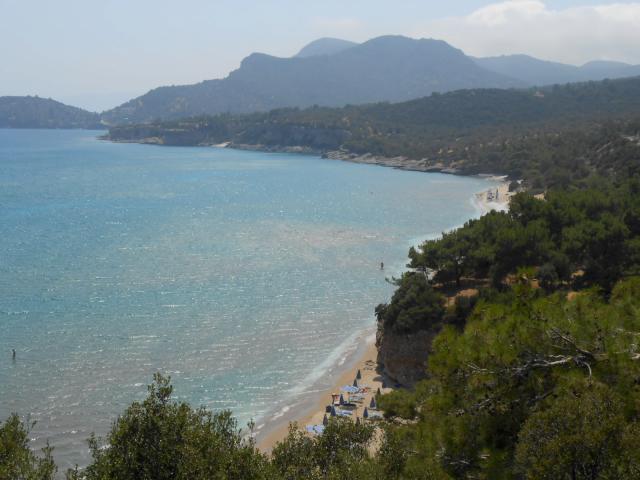 Many beaches throughout, here the south coast is more popular with Greek tourists. The north coast is more famous for their big organized beaches full of sun beds, bars, restaurants and backed by big tourist resorts. The island has 45 beaches, one can always find some that are quiet and more secluded.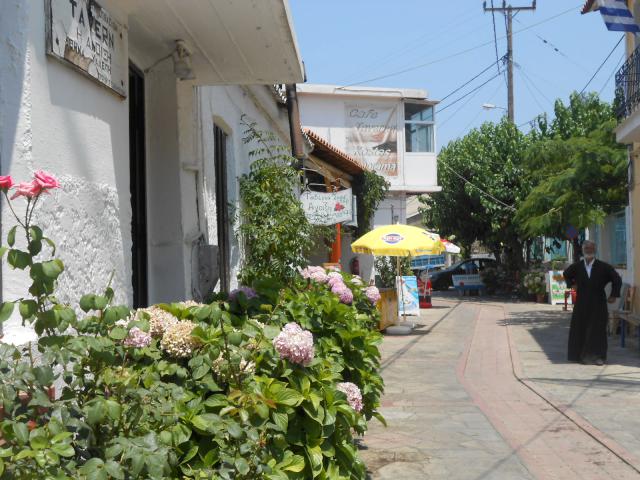 Another village where our waiter awaits! Yes, the orthodox priest. He insisted for us to take a table, but we wanted to tour around town first.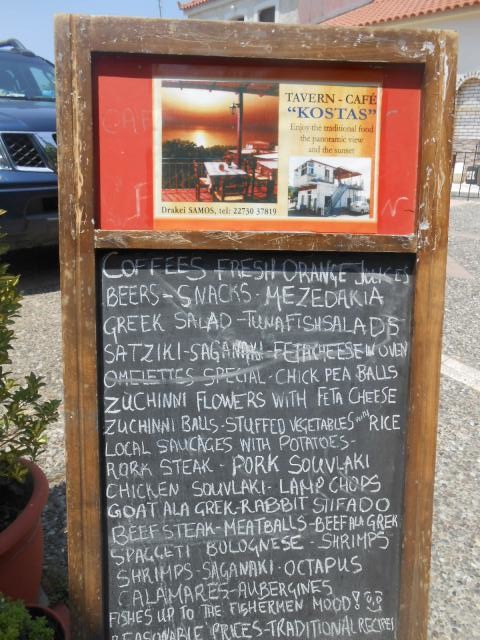 We ended up having our lunch here in this cute patio where Mama and son took care of a very full patio, ordering each other around in a smooth manner, not a word of English (and no harassment on the street). We enjoyed our meal overlooking the green hills and the sea in the distance. I had the rabbit on the menu and Noel had the calamari.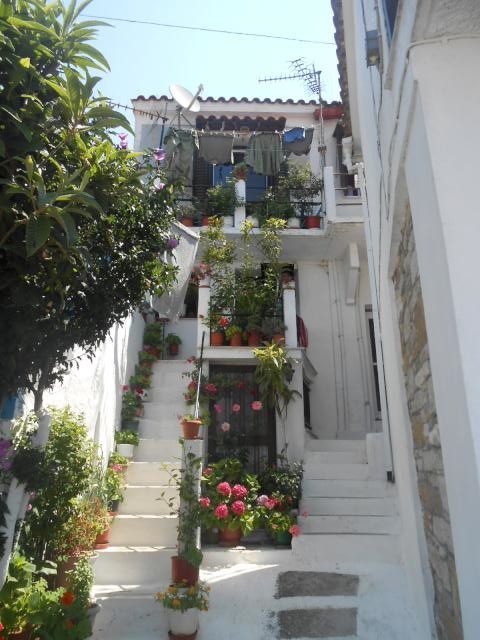 One of many cute and typical houses through the village while walking the narrow streets. Greeks sure love their white steps. We do too!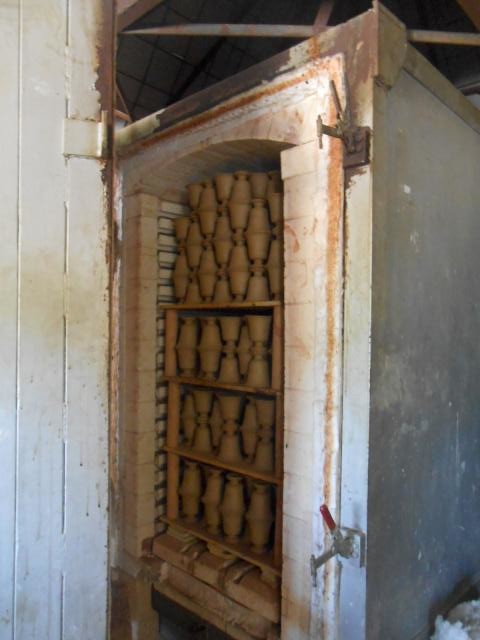 We again were following a tourist bus up and around the hills. They stopped. Well, it must a popular place! We stopped too!
We visited a traditional ceramic place and it was interesting to see the Pythagora's cup in the make! (story bellow)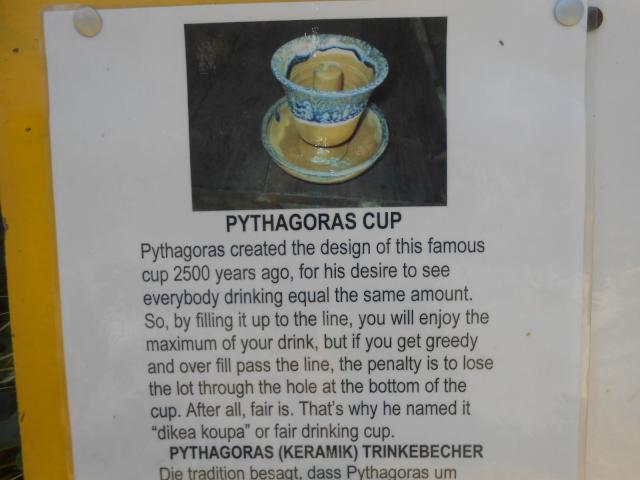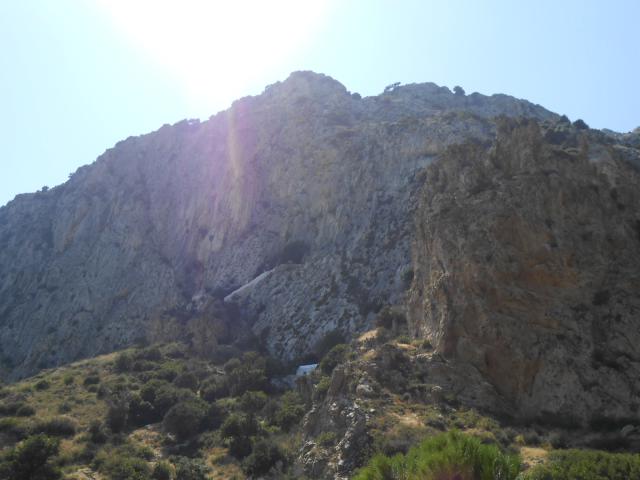 Another drive through a dirt road took us to the famous Pythagoras' cave.
It is up in a beautiful valley with some steep cliffs and there's a little cafe where we enjoyed some cold drinks after a good sweat.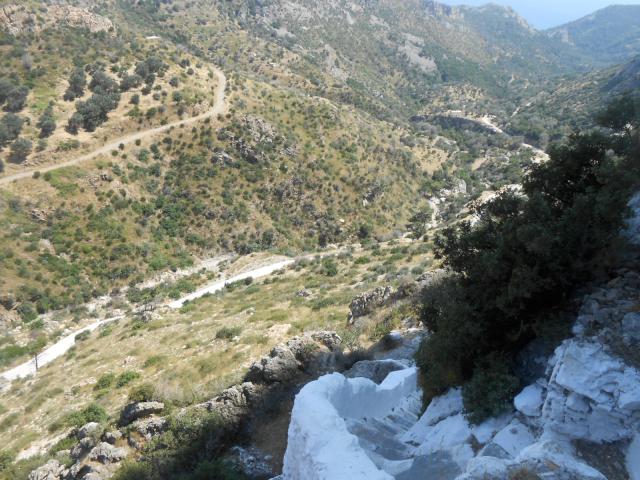 Many steep steps later up the mountain we are about to arrive at the cave. We didn't know it was so far up! On the way down I decided to count the steps. There were 333.
We figured that day we walked up and down well over 1000 stairs, including all the villages we visited in the hills.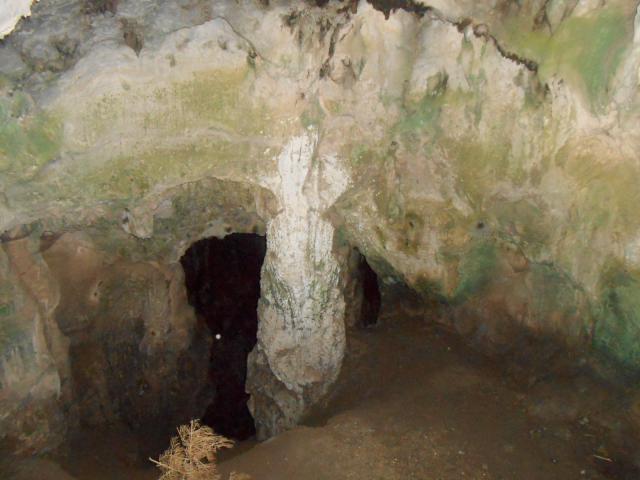 The cave is said to be where Pythagora took refuge from the Polycrates. Due to some politics he banished from the island. The cave has a big hall and a few small ones around
We took a walk in the wild side and walked up to Potami waterfalls. It was a beautiful and cool walk along a little river through this enchanting little forest.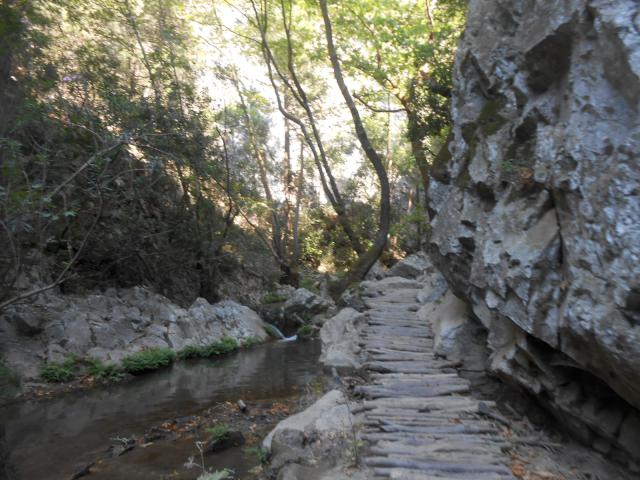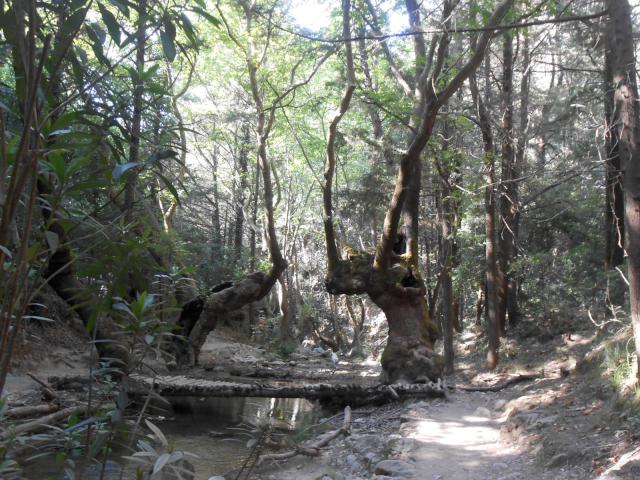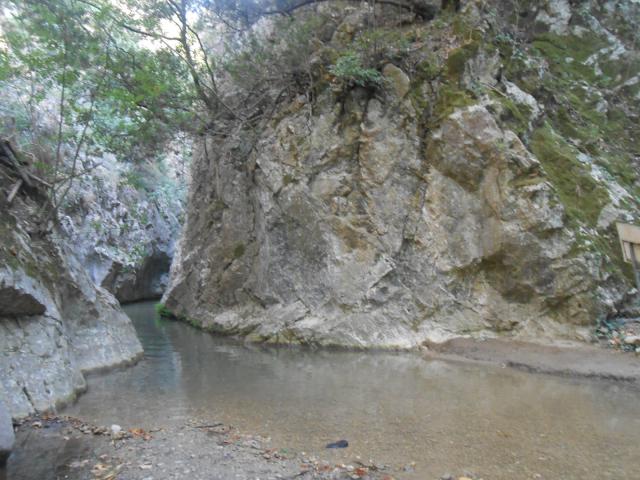 At the end of this little lake is the fall, but we actually didn't get to swim to it, because we took too many detours and time was moving on…….
If we had the time we would have gone and do another 100 plus stairs to get to this restaurant by the falls, instead we have the picture. It was taken from the other side from another hill where Noel is scrambling up.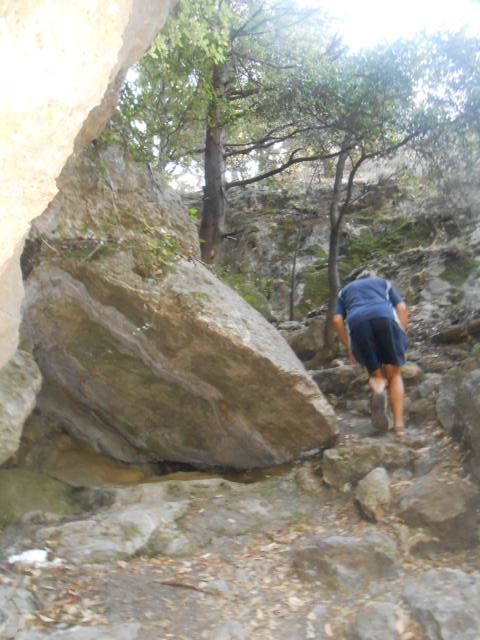 We enjoyed our stay in Samos and we will most likely visit again on the way back from Turkey.
As we leave the harbour there were many other boat going as well. Turkey, here we come!
We put up our main sail in a nice breeze. The jib next. Within very few minutes we realized there was something wrong with it. Turns out the jib furler sections had separated – exactly as they had done last year in Ragusa. Fortunately we caught it before it did any real damage.
We rolled up the jib and thought no big deal, good wind and a short passage across to Kusadassi. Will fix it when we get there. But we decided we could use some practice putting up our storm jib that luckily we have never used.
We put it up and once all is well and we sit down, we look around and see all these boats sailing the same course but: one boat had full sails on. Another boat had 1 reef in. Another one had 2 reefs in, and there we are with a storm jib up. What did we know they didn't??
Nothing beats a good laugh!!!
We had a great sail into Turkey. People were lining up at the Marina office and the lady behind the counter was surprised that it was getting so busy. We told her that there many other boats coming in, she was about to get busier.
She scratched her head, rolled her eyes and started to speak Turkish to her co-workers.
Within a few minutes more sailors come in and we got to meet up with some of the people we had met previously in Samos.
Love the sailors community.
We spent less than 30 hours in our port of entry in Kusadassi, Turkey. Just enough time to do all the check in procedures. The next day together with another couple from the US we rented a taxi to go see Ephesis. See Turkey's next post soon.
After our tour in Kusadassi we sailed just a few miles up the west coast and anchored in a nice beach area, where we had a nice peaceful night and a great swim. It's always nice to get away from the Marina.
Few days later we crossed over to this little Greek town of Mandraki, in the island of Oinoussa below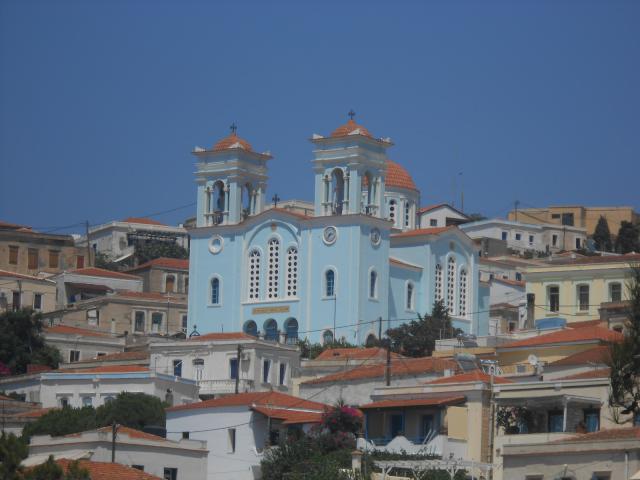 This is the island from which all the billionaire Greek shipping magnates originally came.
We tied up to the town quay, just in across from a little private island island, gorgeous spot. We walked around the island for a couple of hours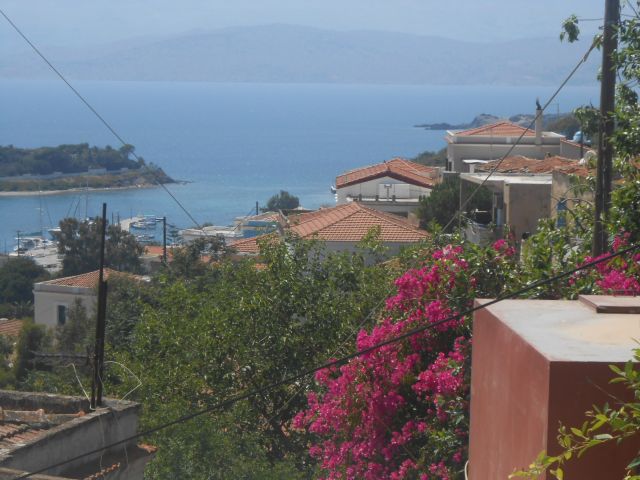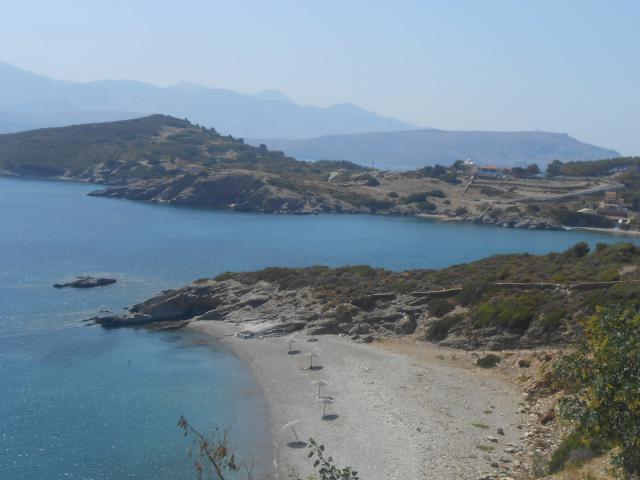 Enjoyed some nice views and amazingly we still find nice quiet beaches with no one around. We met a boat with Australian flag, Pete took our lines when we arrived. In the evening they joined us for gyros and beer in a Greek taverna.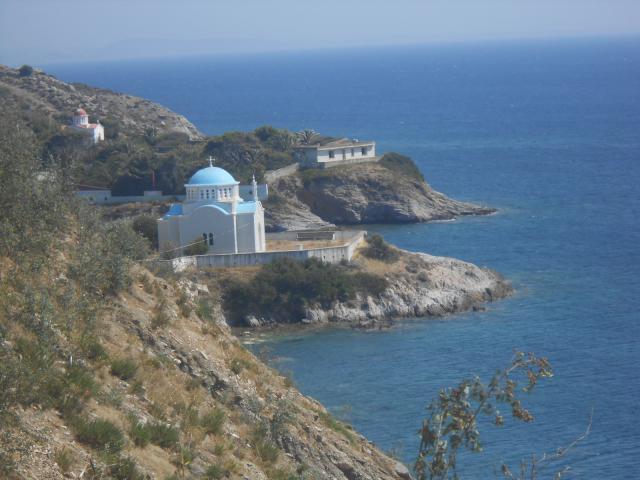 Greece! We just can't get away from here!
One Response to "Leaving Greece"