It was really nice to go home in the Summer. For the last 3 years we always went home in the Winter. Winter is nice too, because you get to enjoy the ski hills, but I was just so excited to be back and admire the truly beautiful place we live in. I am talking about BC of course.
The beautiful mountains, the luscious landscapes and gardens in full bloom, not to mention the friendly people. Ohhh and they all speak English….it feels strange the first few days after you arrive from a foreigner country, but it's a treat!
We do enjoy all of our travels but we feel blessed to come home to a wonderful place.
Ahhh but let me talk about the highlights of my trip:
My 2 grandsons running up the ramp at the airport to greet me with big smiles and big hugs, that was precious!
My 2 daughters and 2 grandsons picked me up in Vancouver airport and we enjoyed a couple 0f days there before our scenic trip to Kelowna.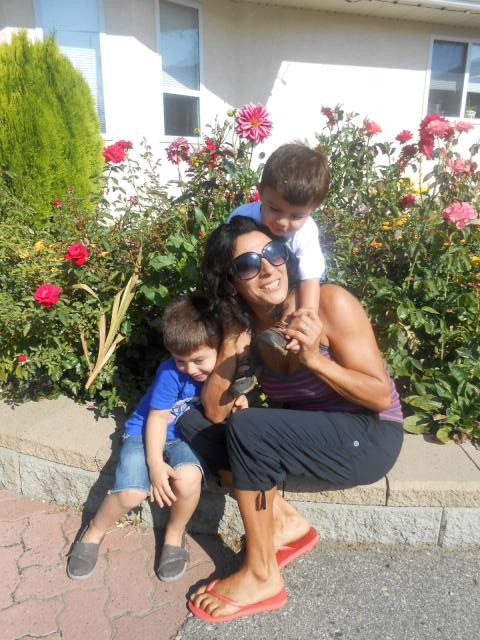 My sweethearts, Tiago and Jonah
My other sweethearts, Allisen and Jessica. My daughters and I had a fun night out at the Chinese fair in Vancouver that is held every Friday night through the Summer.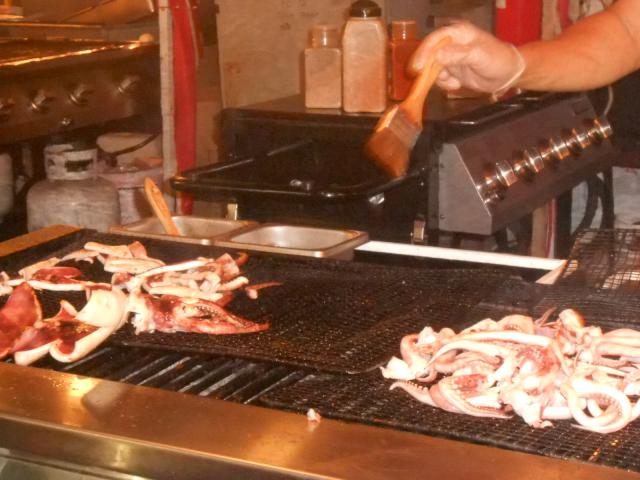 We had a lot fun at the Chinese Market, besides the yummy Chinese food that I was craving we enjoyed some octopus right off the grill. So much seafood to choose from. Funny that we even have better prices on seafood in Canada than through out the Med. Fish and seafood here are very expensive. No wonder! there are barely any fish in these waters.
As far as Chinese food goes, you can only find it in large touristic cities, but we enjoy the local foods everywhere we go.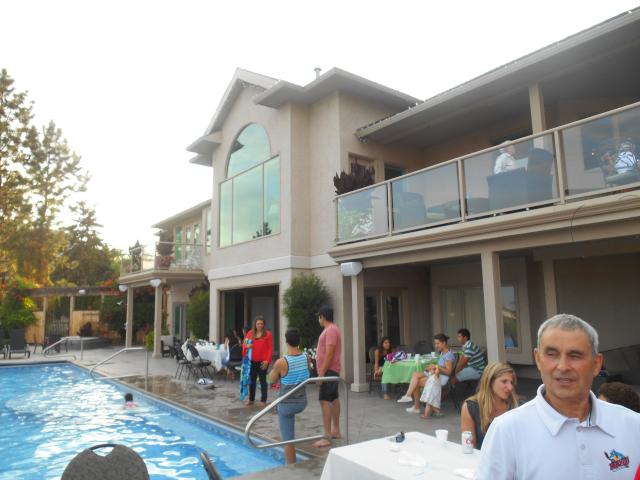 Upon arriving in Kelowna I enjoyed many family get togethers, bbques and pool parties.
We had some family that came over all the way from Portugal for the upcoming wedding in Edmonton Alberta.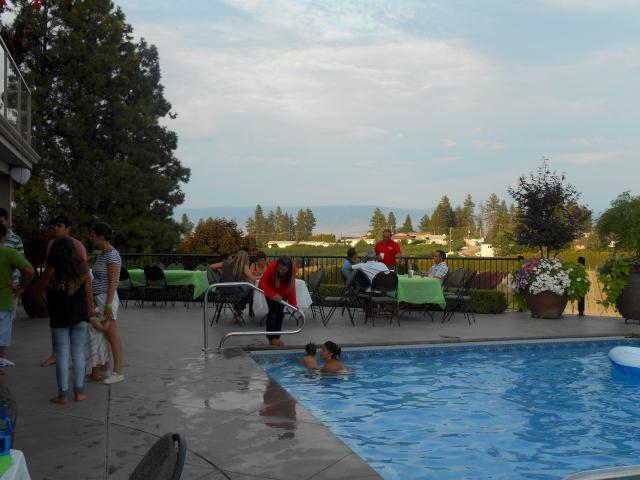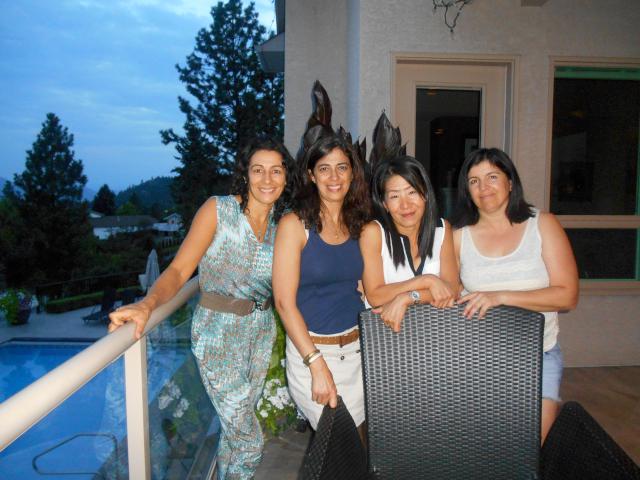 My sister Elisa from Portugal and 2 cousins from Kelowna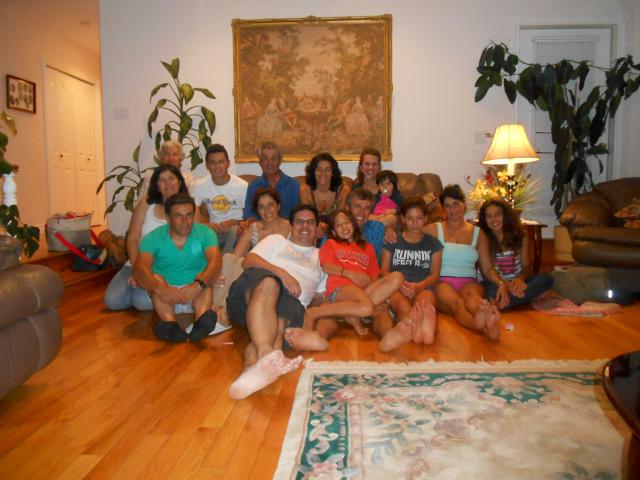 Aunt  and uncle and cousins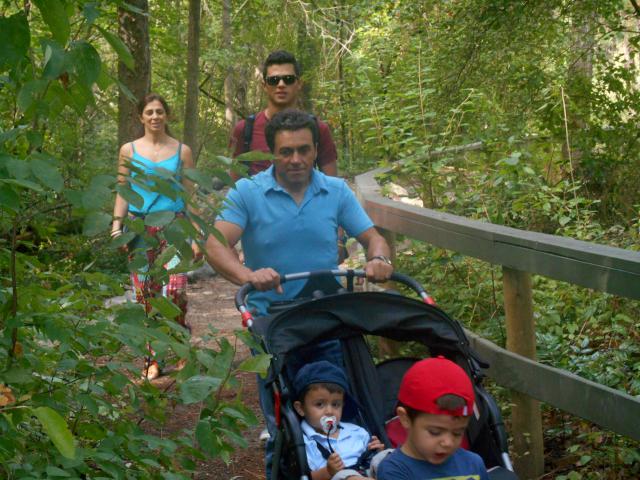 Enjoyed the walks through Mission Creek park just across our house. My sister, her husband and son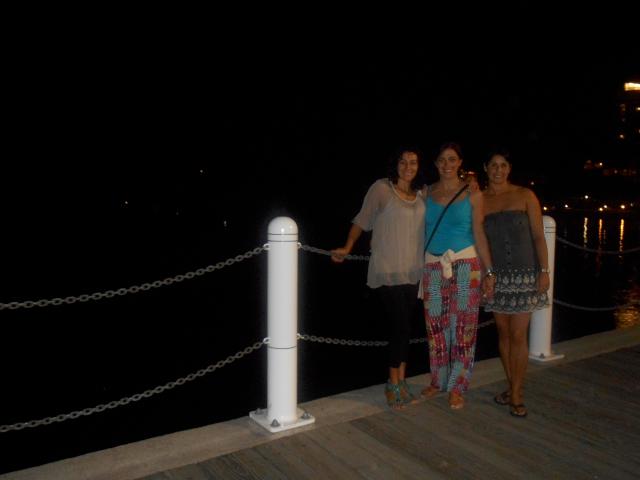 Night outings for coffee and walks along our beautiful Okanagan Lake. Myself and 2 sisters, one from Portugal and one from Kelowna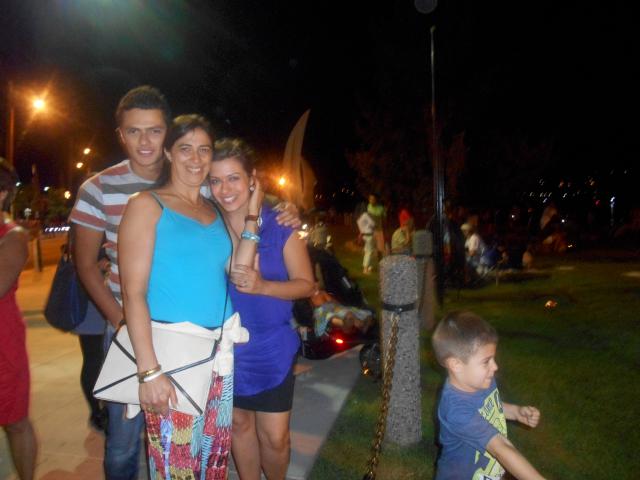 Party time!     Go, Tiago go!  So cute.  Downtown Kelowna with blasting music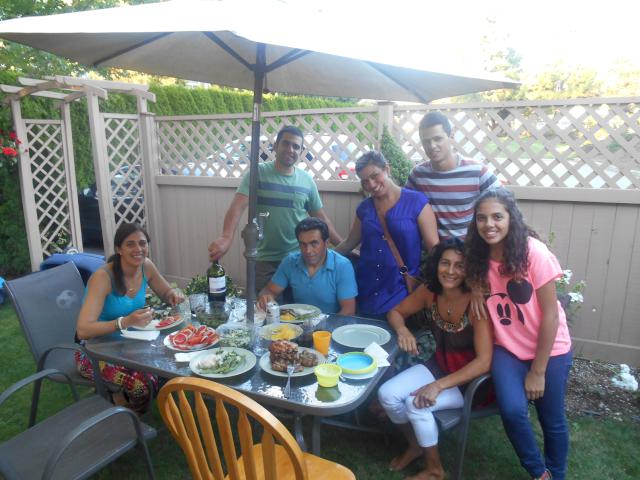 Backyard fun. Mixed grill.
Backyard fun and brotherly love…..adorable
Bubbles bubbles on my nose….bubbles bubbles on my toes!!!!!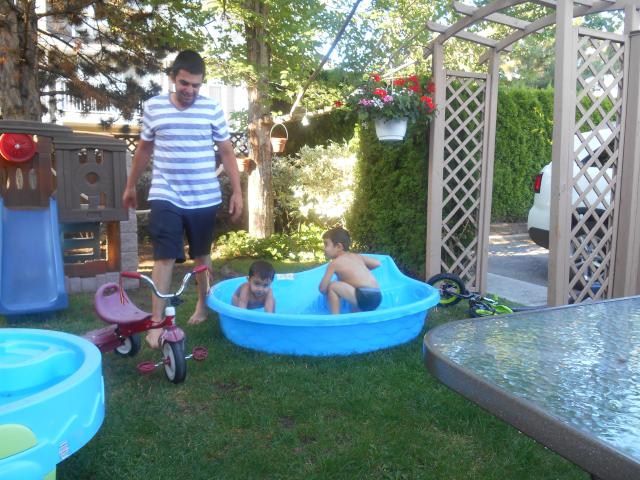 Let's cool off.
Ahhhh for many of you foreigners that ask how cold it is in Canada: we do have a nice hot summer (30 – 35 deg C), Lakes and beaches to enjoy especially in our area. It's amazing how everyone only knows Canada for being cold. We do have Winters (av. -5 deg on the ski hill), in which we enjoy the many activities you can do as well.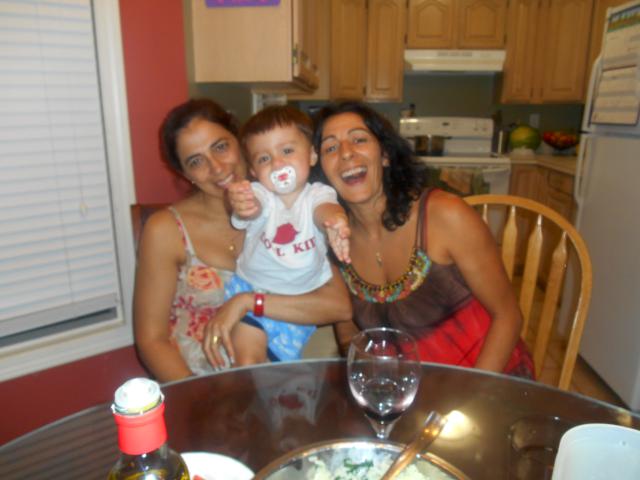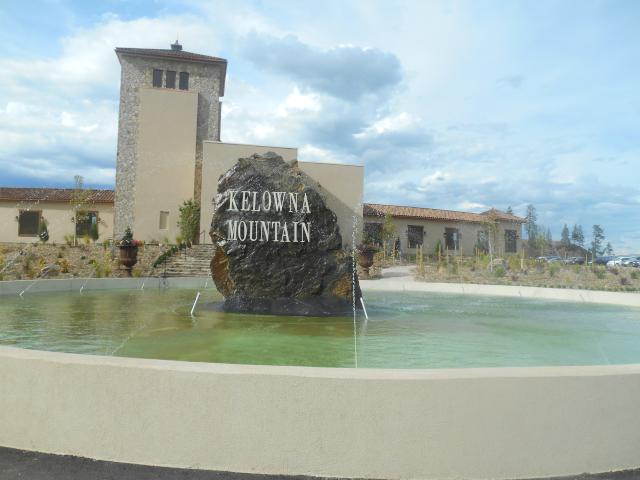 We have a new development in Kelowna. The Okanagan Mountain park, with water fall and lagoon, many suspension bridges and breathtaking views. They haven't had their official Grand Opening yet, so at the moment it's all free to enjoy.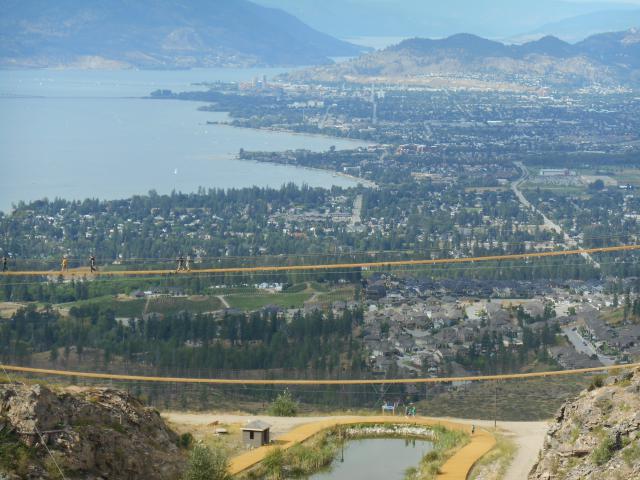 The Park is complete with water fall and lagoon, a cave cellar, many suspension bridges, theatre with breathtaking views.  It should also be fun in the winter with the snow.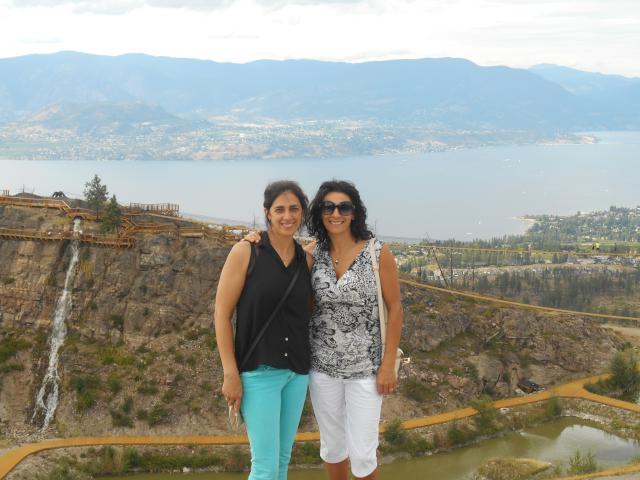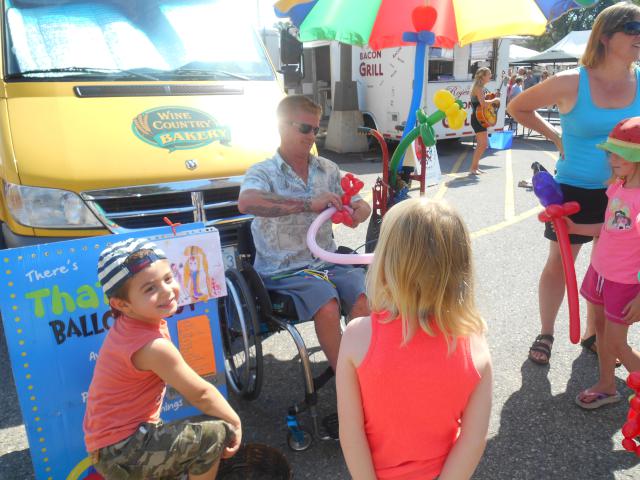 fun balloons at the farmer's market
Ohhhh Jonah. He is way too cute!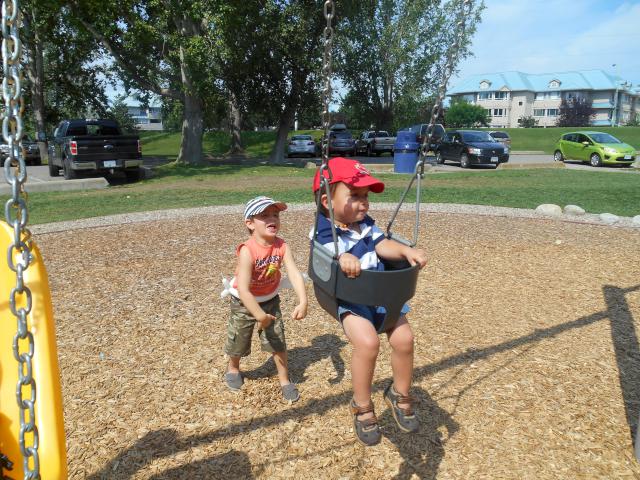 Tiago giving Jonah a push…..What big brother he is!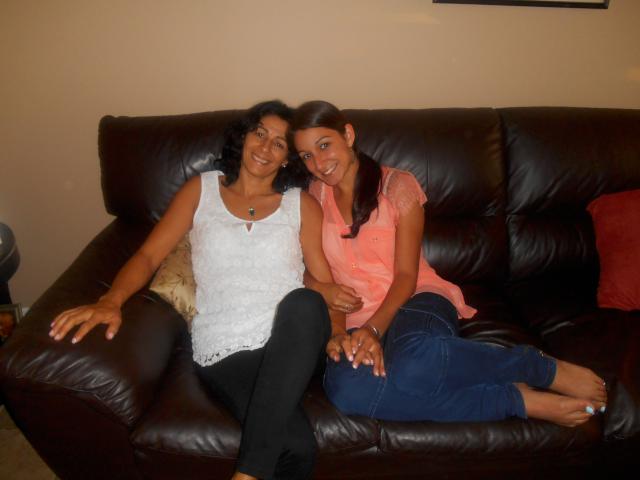 My daughter Jessica and I
Fun and more fun…..loved every minute of it. I cherished every moment of my 18 days in Canada.
To all my friends in Kelowna I apologize. I did not visit with anyone. As you can see I was busy with the children and family and lots of family, being a tourist in my own town and a long trip to Edmonton. Coming up!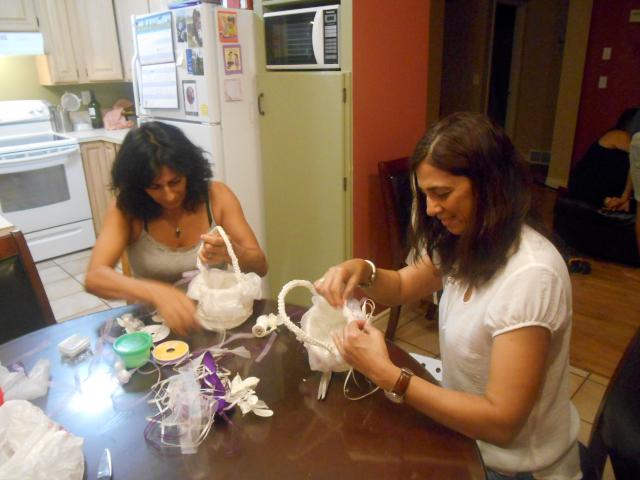 Before we headed to Edmonton for the Big Fat Portuguese Wedding we had to make the flower girls baskets. The baskets with a story to tell…
I will try to make the long story shorter, I tried to buy them them in Europe.   I told the bride, my niece, I would make them, I enjoy doing crafts and I would love to do that for her wedding. Or perhaps I would find something nice on my travels. After realizing how difficult it was here to gather the supplies, I knew to start shopping for them made instead. Adventure to follow:
While in Sicily, on one occasion I took a 30 minute bus trip inland to a bigger town just to look for the baskets.
The girl in the Marina spoke good English and gave me some addresses where to start looking: bridal shops.
I went to bridal shops they told me they don't supply them and sent me to wedding accessories a few block away.
When  I got to the accessories, it only included decorations, candy and many trinkets you can make to give to your guests. The shop in broken English told me to go to bridal shops and I told them been there and done that!
After a hot and sweaty day with no success I picked up a few items at the grocery store (you can't ever go home empty handed) and picked up the bus to return home. Noel asked me to pick up some electrical wire I could get at the hardware store. I asked the bus driver to leave me there and not too happy, he made a quick stop for me. It was an Industrial area about 10 km from the Marina where we had the boat .
Ahhhh the crazy siesta hours. The hardware store was closed! Some of their big stores don't close during the day, but they are so inconsistent  that it always leaves one guessing.
The problem here was that the store was closed for the next 2 hours and the next bus was not coming for the next 2 hours either, leaving me stuck in a Industrial area. No shopping around there to kill time and nothing open anyways!
HMMMM….rearrange my pack sack. Throw in my purse (out of sight) re-arrange some money in different pockets too. I stopped on the side of the road for maybe a taxi passing by. Nothing.
Lots of traffic. I have never hitch hiked before in my life, it's totally out of my comfort zone, but I didn't feel like waiting around in a scorching afternoon heat.  I was so embarrassed, but put my thump up just for a few seconds. I put my hand down again and kept walking till I got the courage again to put my thumb up.
Ahhhh a minute later, hand and thumb up ……someone stopped!
Driver only. I took a look and said "English???" He said Yes. (that was a good start).
One quick look at him and I decided that it would take him a long time to get out of his seat, as the steering wheel carved into his beer belly.
Turns out, he was a nice guy. We spoke during the short trip and he dropped me off right by my boat. He was going to spend a few days in his Summer home in the sea side town near the marina.
What an adventure! I still laugh about it. First time for everything.
Well I was not totally discouraged from basket hunting. This time we had moved on …to Greece
In Greece they told me that they don't sell such items as flower girls baskets, because it's usually a gift to the bride from the bridal boutique where she buys her dress, and maybe a special order????
Very strange. At that point I gave up and decided to make it all in Kelowna where it is sure easier to get what I needed.
But time??? Kelowna will be so busy with family and children???
Well, while at the Chandler in Greece  buying some stuff for the boat (as usual)  I took a look at this roll of nylon line, just off-white in color, like the bride likes, shiny, hmmm, that would be perfect for crochet….with baskets still on my mind.
Bought it. Came home with it, I was so excited, in  couple of hours Noel wouldn't believe what happened to that string!  2 baskets done, no pattern needed, no matter what crochet stitch you used they still stay upright. Perfect.
Will decorate in Kelowna because there my sister had the right color purple to match the bridal party. It saved me time in Kelowna. It was also fun to decorate with my beautiful sister who came from Portugal for the wedding.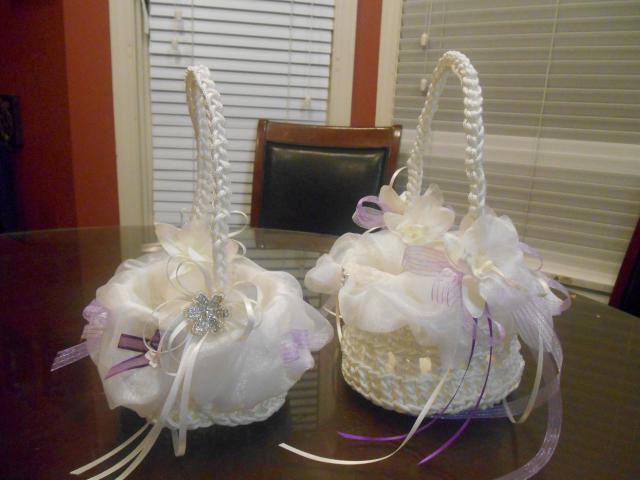 Baskets done!!!!
Let's go to Edmonton now.
Ooops, not yet. We still had to make alterations on a suit for a handsome young man…..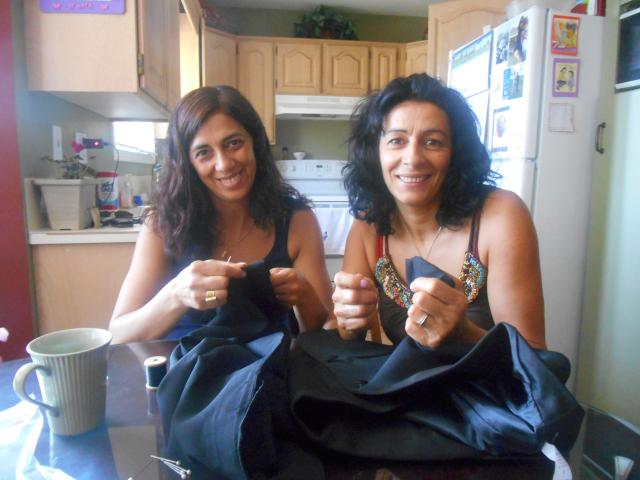 Tiago's pants  and Jacket needed alterations so our ring bearer could look good up the isle. ( Our 3 and half  year old  called himself, Prince at the wedding)
Now we sett off on a long 900 km drive to Edmonton, Alberta, where the wedding is to take place.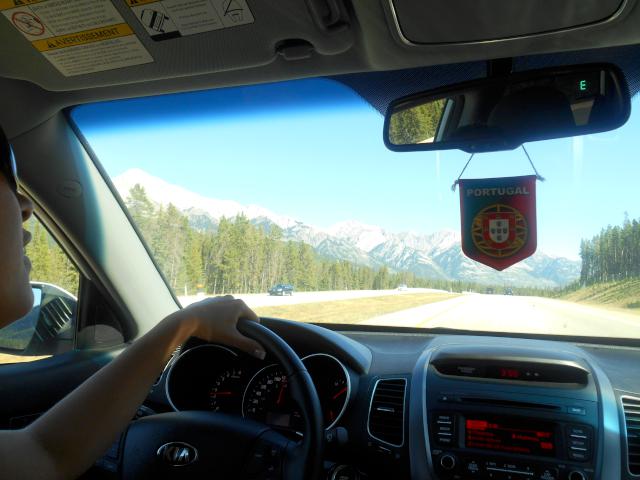 Beautiful Canadian rocky mountains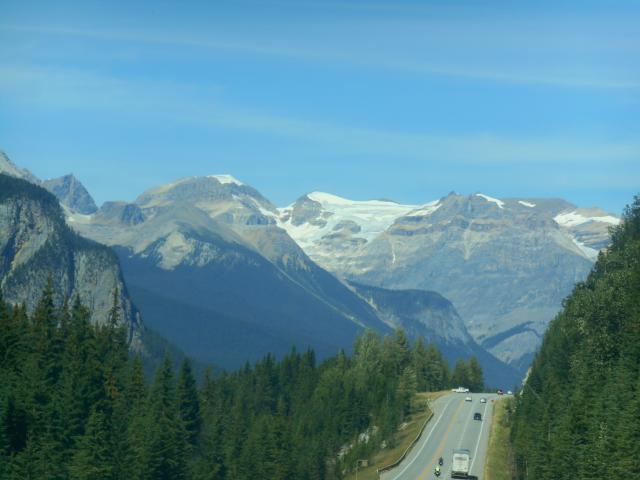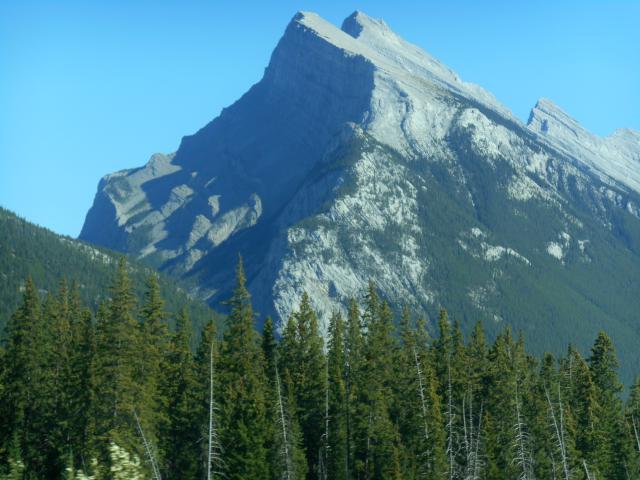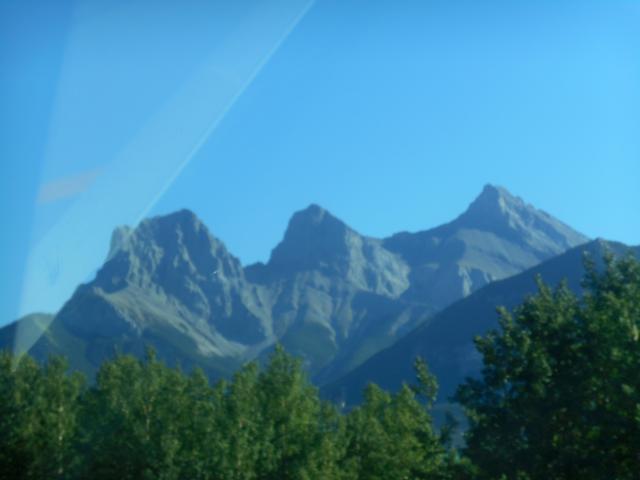 Near Banff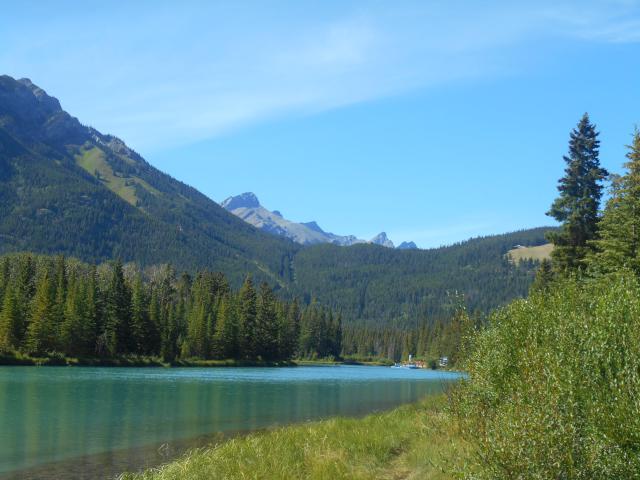 Banff
Although was a long trip but very much enjoyed. We had a nice stop in Banff for lunch and also it was a farmer's market going on that day as well, so it was a nice walk to stretch our legs!
Our next stop: Edmonton bellow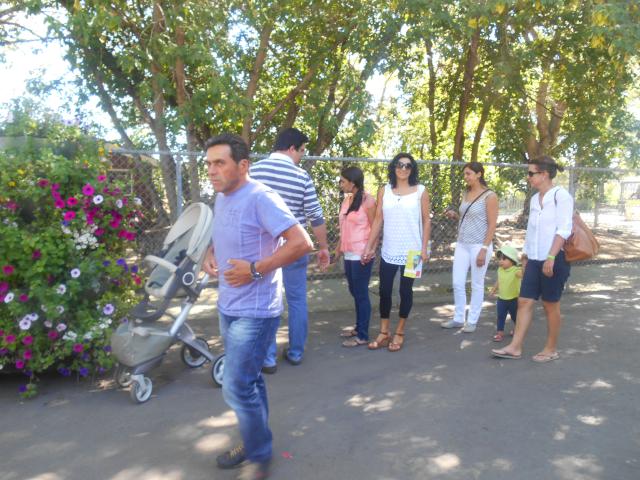 We arrived a couple days before the wedding, so we did some site-seeing. The Zoo was one of the choices one afternoon, especially among the young ones
We did see quite a variety of animals, birds, reptiles, etc. but I had not seen a giraffe in many years, so it was my favorite. They had 3 or 4 there.  Zoo is not our favourite place to visit the animals, but……
Let's go party
We have a wedding to attend!
The hall, DJ, open bar and food are ready!!!!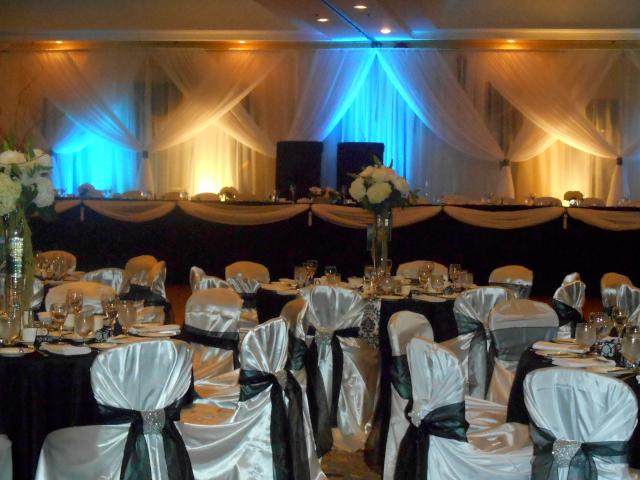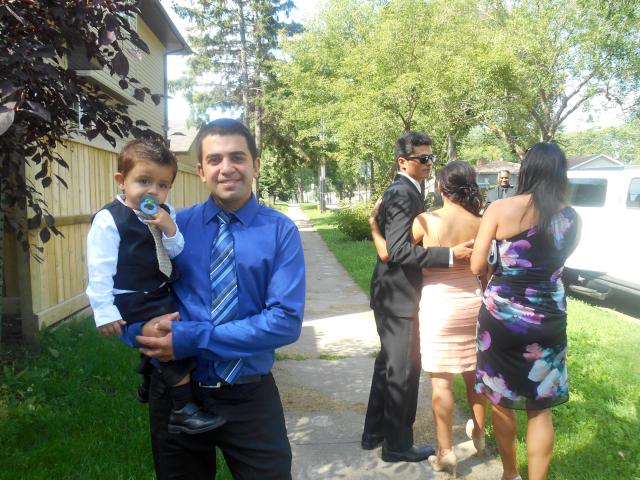 Dressing up!
Son in law with Jonah, sister, daughter and nephew. Looking good!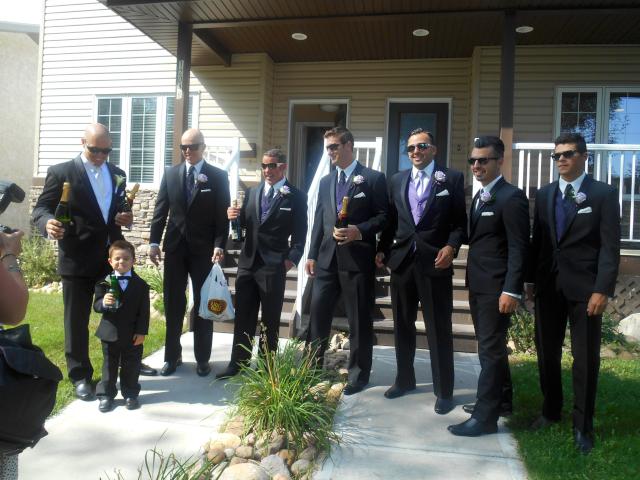 I got my first shot of the boys leaving the house.
Don't they look handsome?? The most handsome is Tiago of course, so proud to be with the big boys.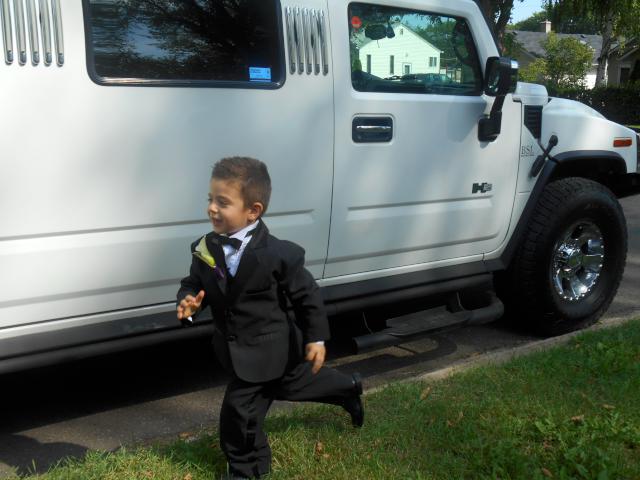 Run to the limousine…..
Ahhhhh……made it on time!
Here comes the Bride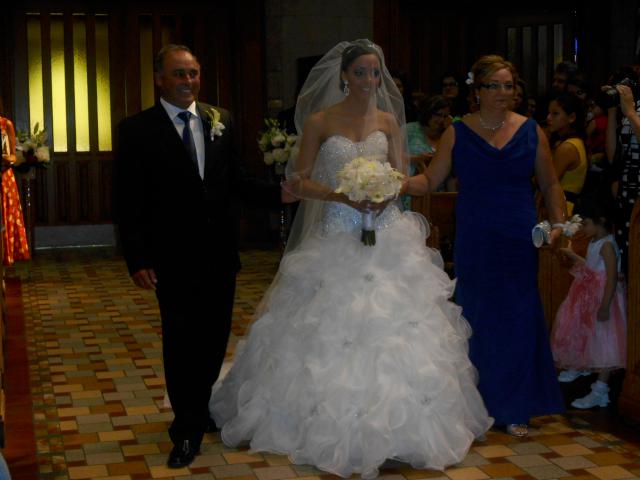 with my brother and sister in law. They looked beautiful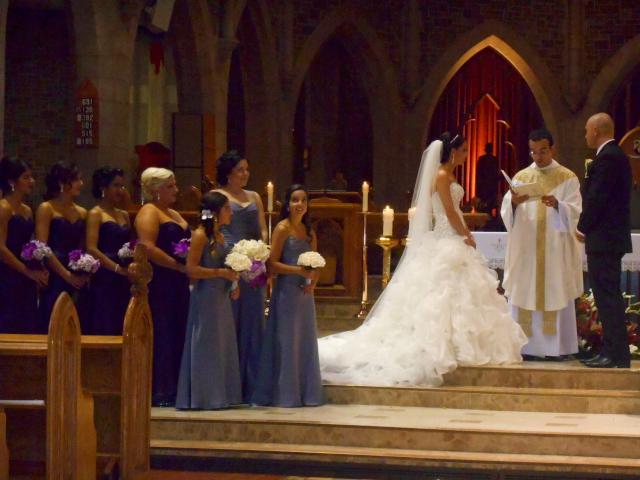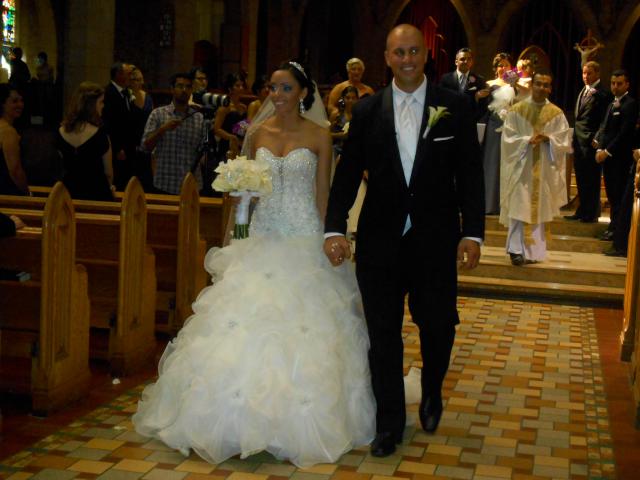 The beautiful couple.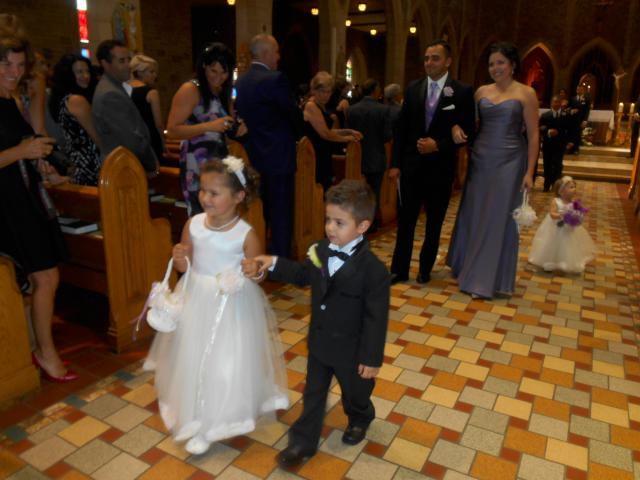 and the other beautiful couple…. oops, Tiago lost the other flower girl, who decided to stay behind and socialize. So cute, they did such a great job!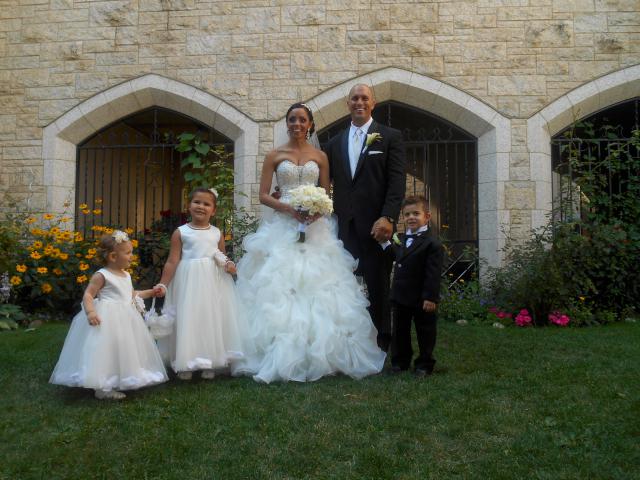 Picture perfect….
Siblings. Four out of seven. The other 3 from Portugal and France were unable to attend.
My beauties and I. The audience is uncle John cousin Michael and cousin Miguel.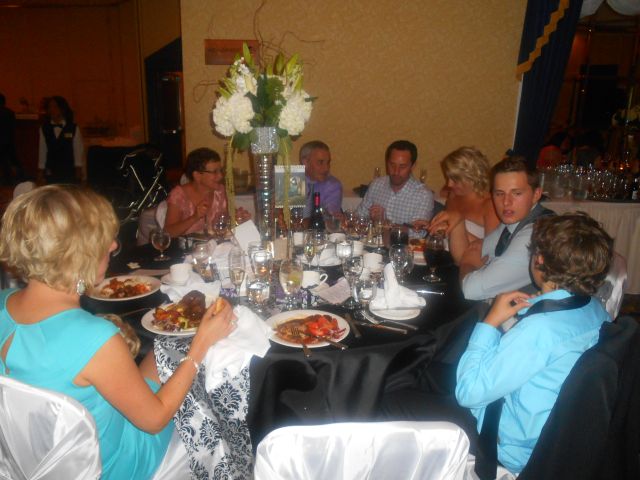 Yummy food, drinks, beautiful decor and people, and great company!
Let the party begin…
Leave it to the Portuguese ladies to start the Dance!!!! Way to go!
Great times with great people.
We were sad to see the family reunion come to an end.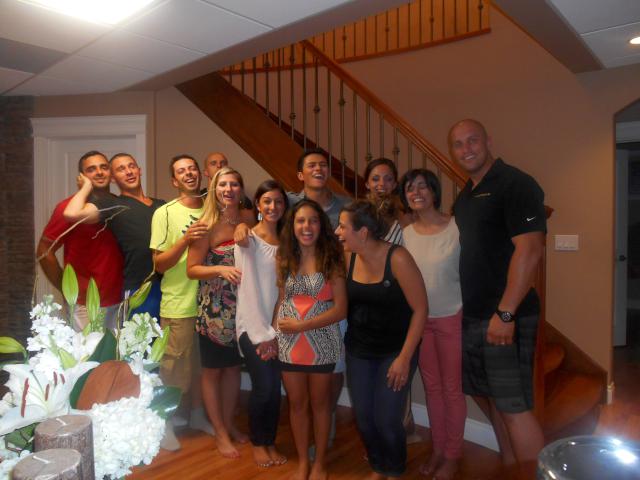 The next day some of us were together at my brother's house . With an open and well stocked bar the party was not over yet! Cousins, so much fun.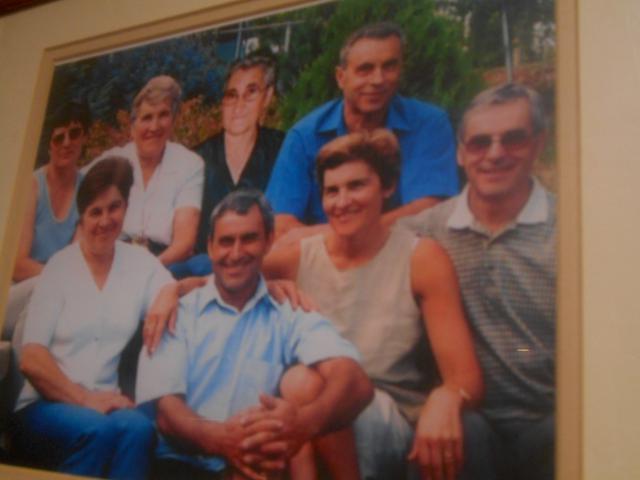 I finish my blog with a picture (of an older picture)  of my Mom and her siblings.
My aunt Lou, first left on back row and my Mom, third from left on back row, were unable to attend. Thinking of you.
And now at last…the Captain is calling! Put the main sail down, we are dropping anchor in Cleopatra's beach in the Turkish Riviera. It's looking very busy around here. Popular place!
We have done some great sailing along the coast. Just left Bodrum 2 days ago.
Will update you on the Turkish Riviera soon. The scenery has changed and it's a lot more green in this area, but also very busy still with tourists and Gulets.
One Response to "My Canada Trip"