Current Location:
Valldemossa Harbour, Mallorca
Current Position: 39 43.11 N 002 35.18 E
Click to view map.
Distance sailed since last post:
60 nautical miles
.
View the map of our voyage track here
My image of Mallorca was always one of brash tourist filled beaches lined with tacky high-rise hotels. I was not expecting to enjoy it too much, but figured we really should do the Balearics just to see.
However, it all turned out very differently.
After a beautiful 10 hour sail across from Ibiza in a steady 7kt wind, on the beam, with no clouds in the sky, we arrived at the nearest landfall in Mallorca which was Port Andraitx (no idea you pronounce that) at about 5pm. Perfect timing.
However, there was nowhere to anchor. The outer harbor was filled with mooring buoys, and everywhere else was too deep and too close to the shore.
We decided to go elsewhere. So we turned the corner to the north and found a beautiful anchorage at Sant Elm, also known as San Telmo. Crystal clear waters, a lovely little village, and views across to Isla Dragonera.
There was also a spectacular hike up the mountain giving great views.
Since the forecast was for calms the next few days at least, we decided that we would proceed up the northwest coast, instead of going south to Palma. This coastline is spectacular! Rugged mountains, cliffs, and tiny little bays called calas.
We stopped at three before arriving at Port Soller.
First was Valldemossa. A beautiful small village with a tiny fishing harbor set in a valley surrounded by huge cliffs. The actual town of Valldemossa is actually about 5km up the mountain. We wanted to visit the Carthusian monastery but being a Sunday it was closed. Oh well, we had a swim, and moved on.
 The next stop was the Peninsula of Foradara, with a dramatic hole through it. We stopped and kayaked around.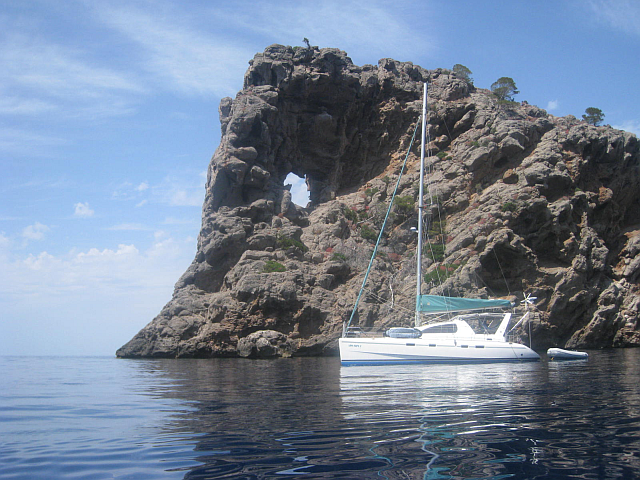 Then was Deia – again incredibly beautiful. All of these had quite a few day-visiting tourists, many from Palma, but even so the villages have remained unspoilt.
Finally we arrived in Port Soller, just in time for our sundowner cocktails. This is also a lovely town that boasts of a Victorian tram to take you up to Soller town itself (4km inland), and from there you can take a Victorian railway to Palma.
Instead we decided to hire a car for 35 euros for a day. This gave us some real mountain driving up and down steep hairpin turns through the Serra de Tramuntana. We first backtracked on land what we had done by sea, going to visit the Monastery that, this time, being Monday, was open. For 7.50 euro each, this was well worth the visit.
There was, of course, the Church with the usual Catholic extravagance.
There was also King Sancho's palace dating back to the 14th Century. I have to say it looked far more comfortable than Lord Montagu's residence in Beaulieu, England!
Then there we the various aspects of the Monastery – both in the monk's days, and then after it had passed into private hands and was visited by various people including Frederik Chopin and his 'partner' George Sand – who was actually a woman, but used the name George Sand as her 'nom de plume'. I guess she figured she could sell more books as a male writer, this being 1838-39.
To celebrate Chopin's sojourn here, where he composed quite a few of his best pieces, they put on a piano recital several times each day, which was beautifully played.
The monk's library had shelves full of ancient leather bound books. The monks were permitted to take out three books at a time to take to their cells for study and contemplation.
The also built a pharmacy in the early 1700's, which still has bottles and jars filled with strange potions.
There is a fascinating collection of 1584 engravings on wood, used for printing with a hand press that is dated 1622 and continued in service until as late as 1950.
On from Valldemossa we then drove through Deia (previously home of Robert Graves and currently home to Michael Douglas who owns a property at La Estaca).
In which we took another hike
Then we drove through another small village called Fornalutx, just outside Soller,
And on to Lluc, which is another religious retreat. This had a huge Basillica, and various other buildings, grounds, and gardens.
From there we went down from the mountains into the middle of Mallorca, passing through the town of Inca, but that was just a boring modern town, so we quickly headed back to the mountains to drive through various winding roads through small villages.
Finally we crested the mountain col, and could see both sides of the island – Palma, huge, flat and built up on one side, and Soller, small, rustic, charming and not at all spoilt on the other. I know which we preferred!
We were fortunate to have settled weather. This trip could not have been done in any kind of onshore wind, so although we had to motor all the way, it was WELL worth it. So far there have been very few other boats about, though there have certainly  been tourists at all the stops, most of them German, so I dread to think how it will all be in a couple of weeks when the high season gets going properly!
Today the sun is again shining, and the sea is again 'Rizada' (calm with ripples), so we have continued along the coast.
We called in a Sa Colebra, another very popular tourist day visit. When we arrived the beach had 5 people on it. When we left, at 1pm, there was standing room only! This is seriously spectacular, with huge cliffs, and a cut between then that provides the beach. A foot tunnel has been cut through the headland to allow you to get to another little bay, which is where the restaurants are, and the tourist boats dock.
Continuing north, the coast continues to be spectacular.
Tonight we are in Cala San Vicente. The only ones in a quiet bay, with a hotel at the end. And we even have free internet – hence the blog post!
Tomorrow we will head around the corner to the East coast.
One Response to "North West Mallorca – a Delightful Surprise!"