Current Location:
St. Mark's Square, Venice, Italy
Current Position: 45 26.05 N 012 20.34 E
Click to view map.
Wow…I am really behind on my Venice blog, but here it is.
Find a comfortable seat!  Not much text, but there are about 75 photos, including islands of Burano and Murano.
After this blog post you will want to visit Venice, OR…. maybe you won't need to go there anymore because you have seen it all here, ( or you wont look at my blog posts anymore!!)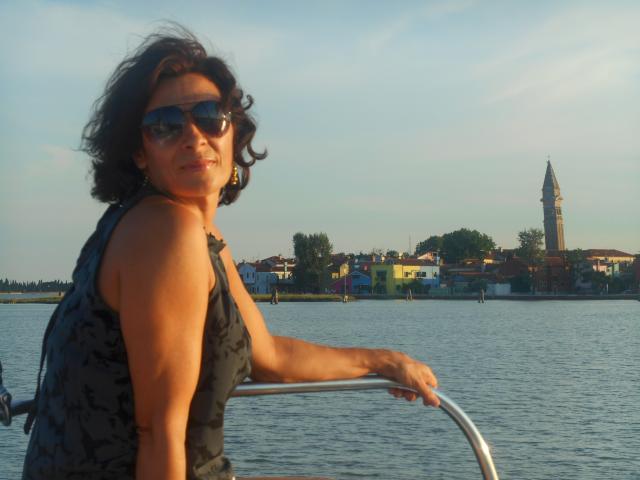 Saying goodbye to Burano island. We were anchored right here for 6 days. This was our parking space, or may I say parking lot we had all for ourselves in Burano. From here we took the Vaporetti (ferry) to Venice and  everywhere.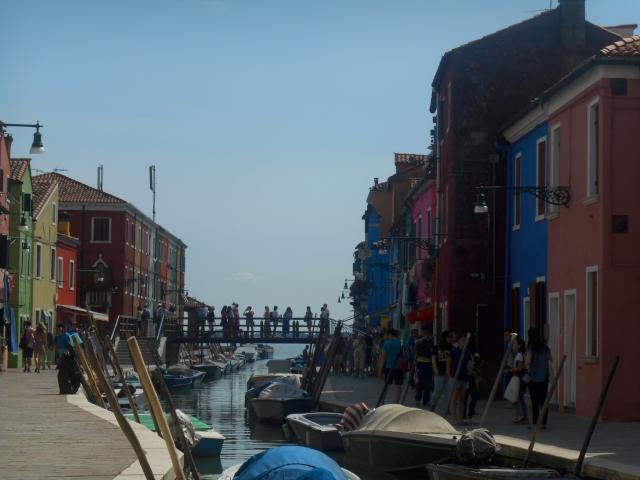 We took the dinghy ashore and tied up at he end of this canal on a little fishing harbour. I was so excited to see this cute little colorful and very picturesque island, that I thought Venice couldn't beat that!
We loved Venice but it sure isn't as picturesque as this.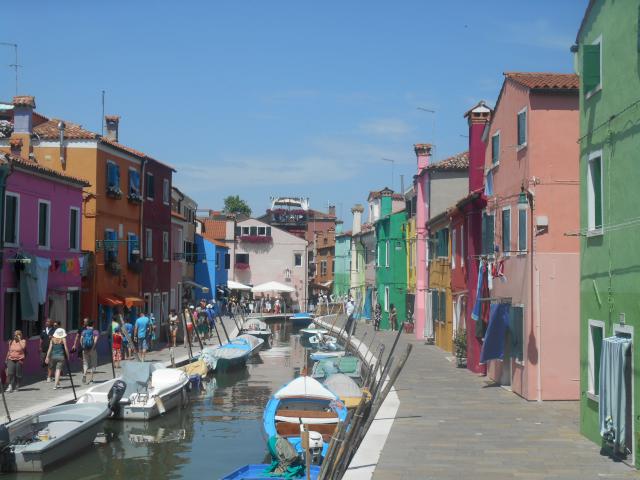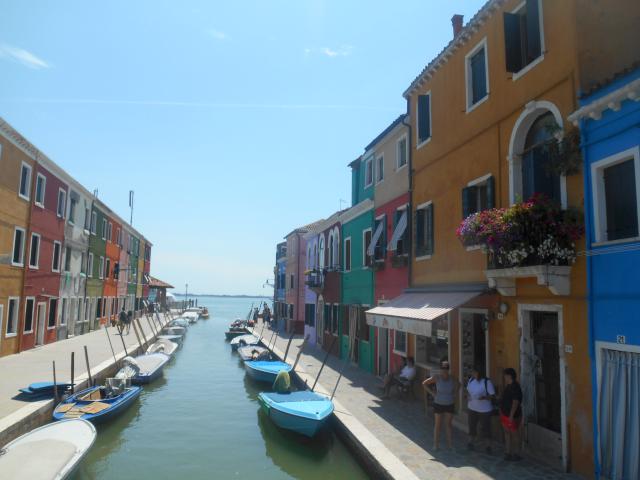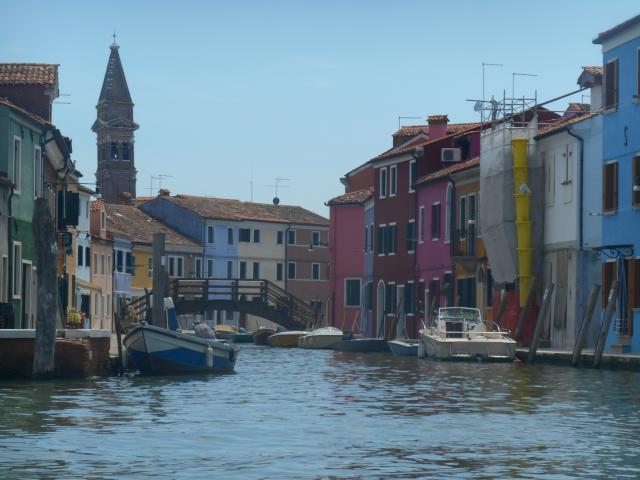 In the morning it was really quiet, and peaceful, one could just hear the sound of the waves, and the birds, there is a  lot of countryside around the area. The afternoons were busy with tourists and their cameras.
Love the photo below: colorful house and nice garden, but the cute old lady  hanging up her laundry in her pink gloves, is the best!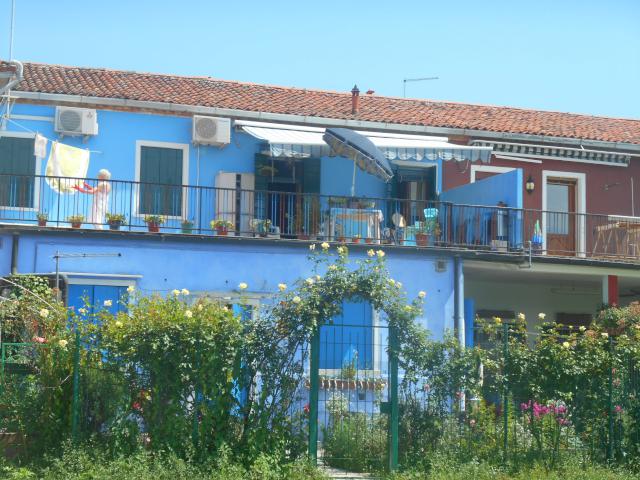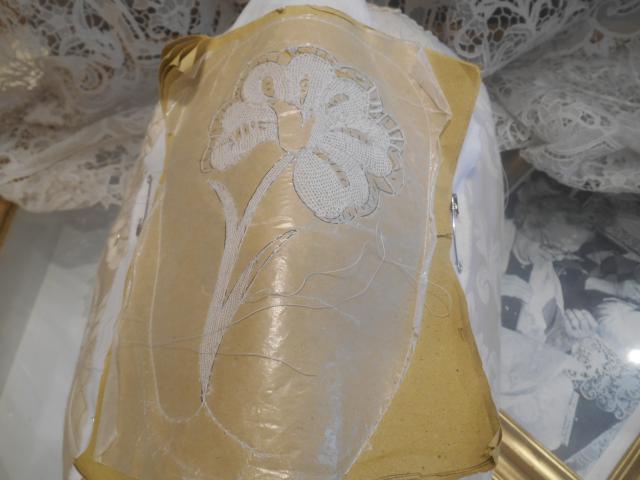 Burano island…..known for their lace. Above is how they make the lace by hand. It is a very slow process, stitch by stitch with needle and thread.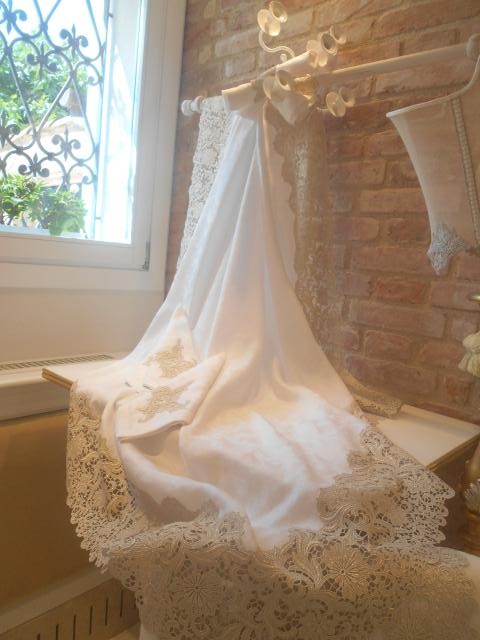 Now..if you want to pay hundreds of dollars for a lace doily or thousands for a table cloth, above, you will get the quality, BUT if you don't want to pay that much, the main street and the Church Square is lined with stuff of such low quality that some of us  Canadians can get it at the dollar store!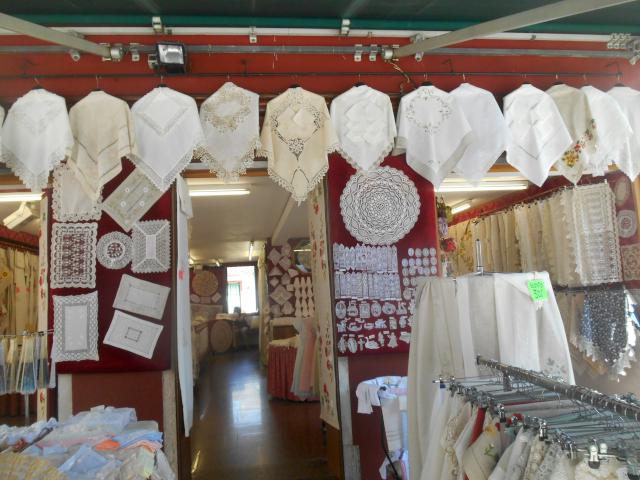 Welcome to Murano
The island  of Murano, famous for their glass.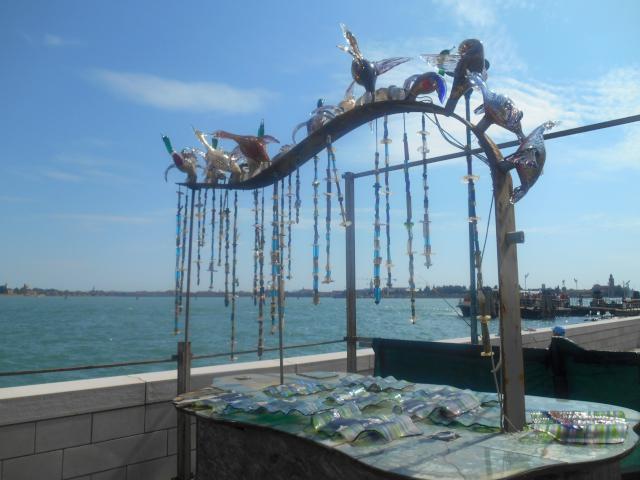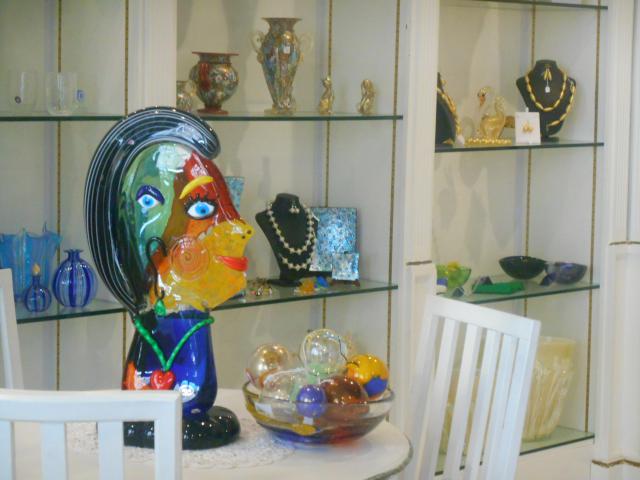 Lots of fun just window shopping…..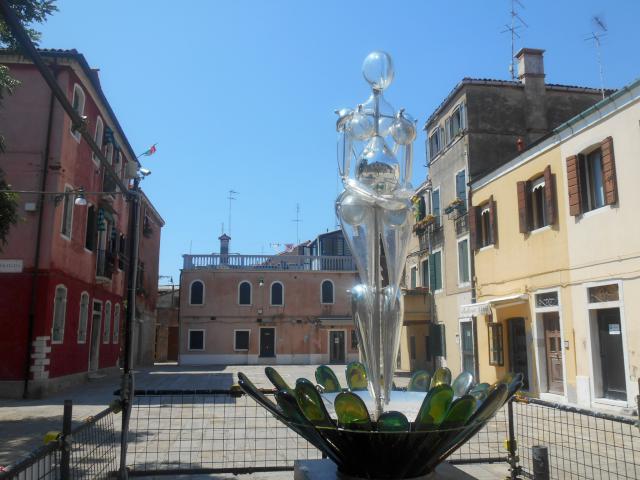 Glass everything, from the fancy and too tacky for my taste, Chandeliers ( many shops did not allow photos taken) to very beautiful jewelery and housewares.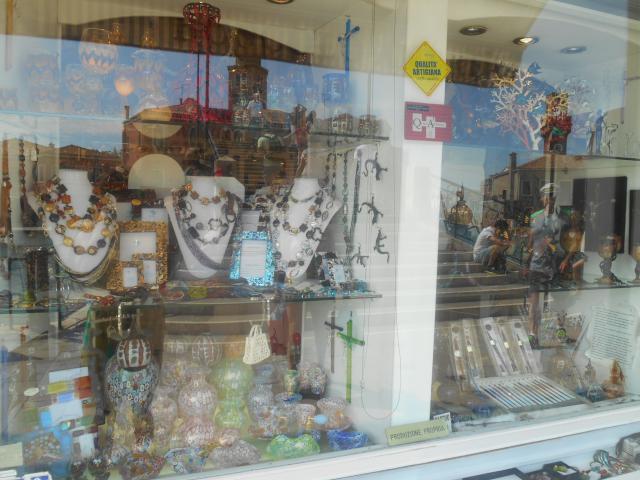 And of course you could watch them make their specialties for a tip, or some of them actually charge about 5 dollars. We watched a few different ones, although the horse seems to be the most popular one they do.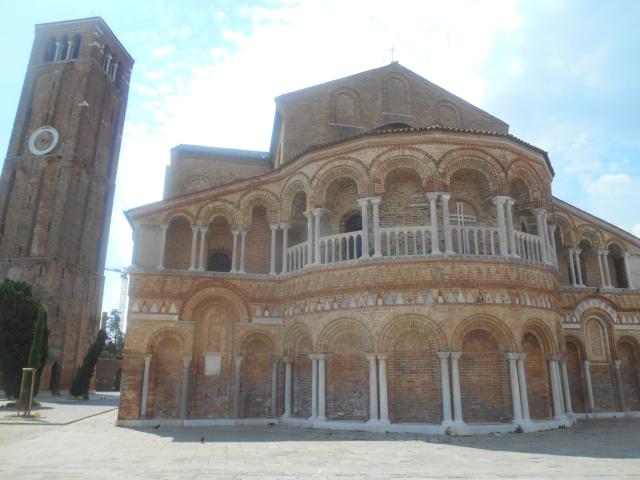 We came across this beautiful Church. Free entrance. So many times you must pay to get in and they are not even that nice.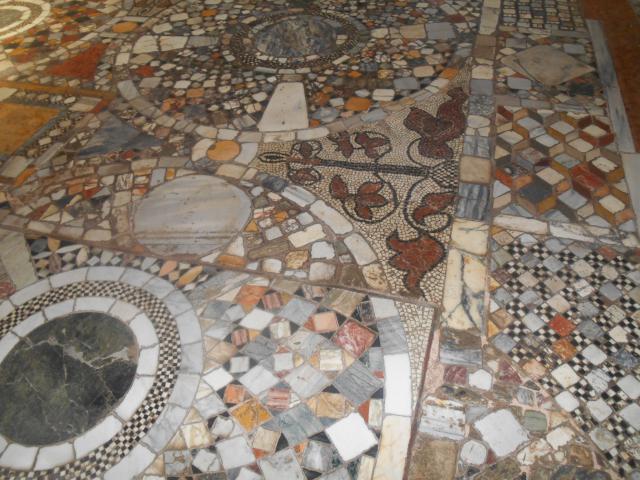 The mosaic was amazing…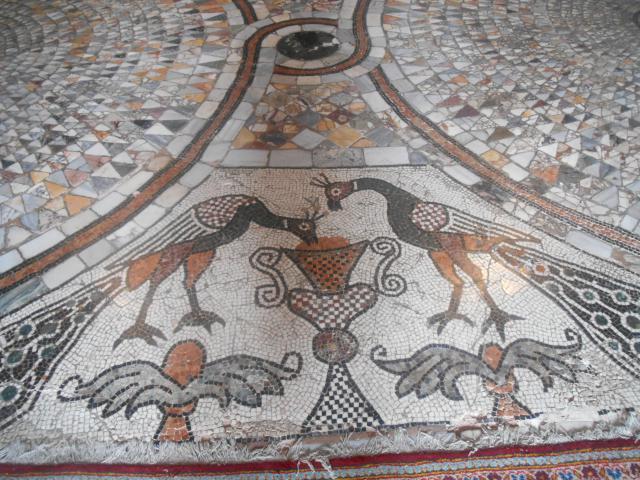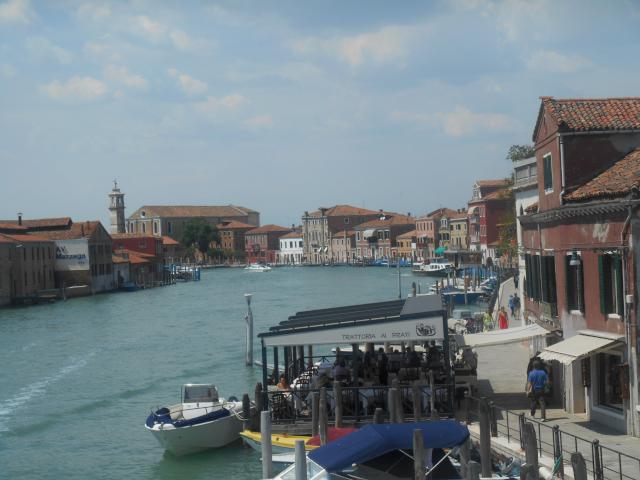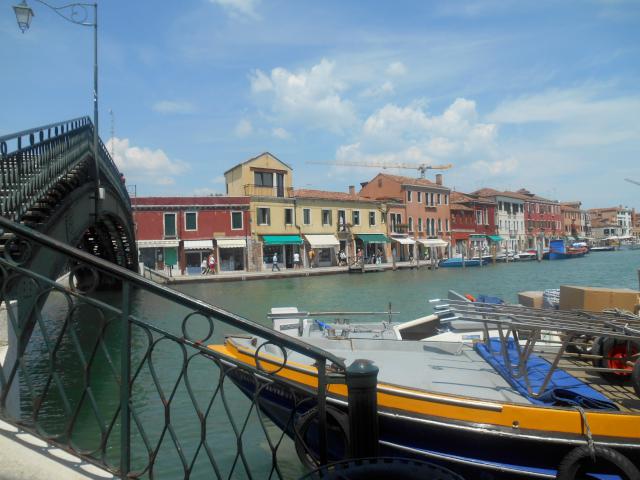 Murano though not as picturesque as Burano  is still really nice.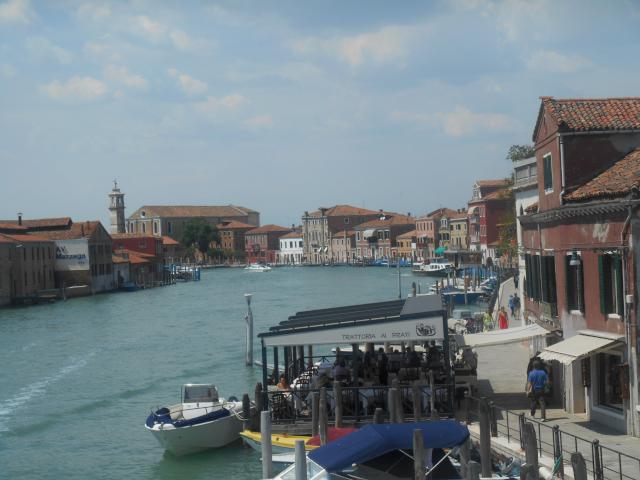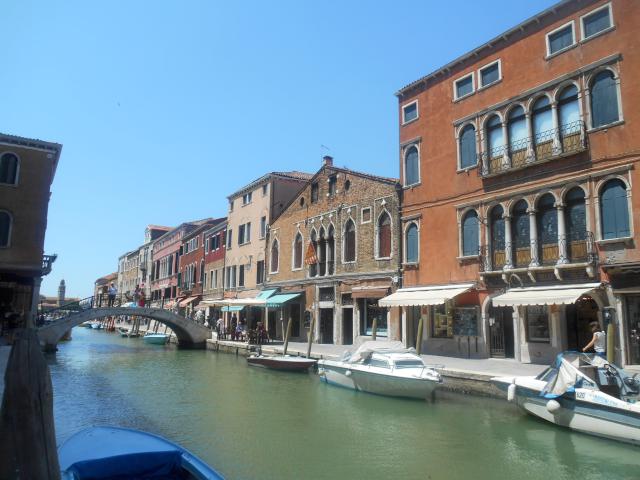 A walk through Venice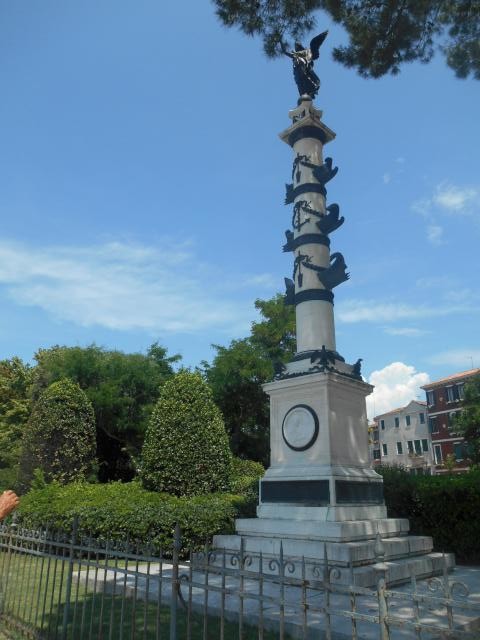 First day we went to Venice we decided to get off the Vaporetti a little ways before St Marc square. We wanted to enjoy walking through the park and then along the canal.  This beautiful quiet park and 5 minutes along the canal took us to this view below. We thought for sure it must be the wrong day to visit, maybe a cruiseship was in.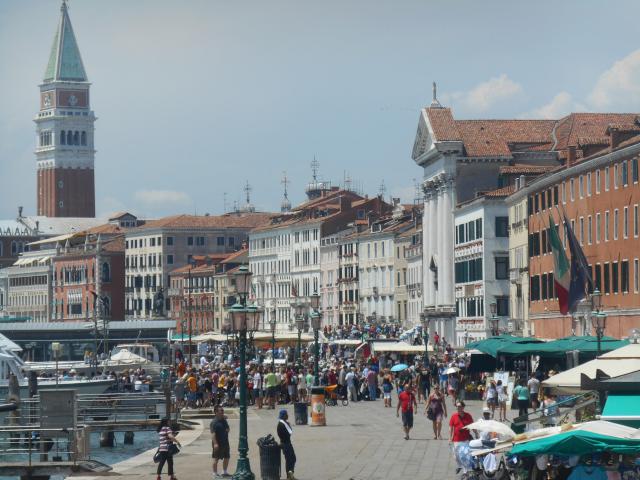 Turns out that this was the spot for all the connections for the vaporetti and ferries as it is very close to St Mark's square.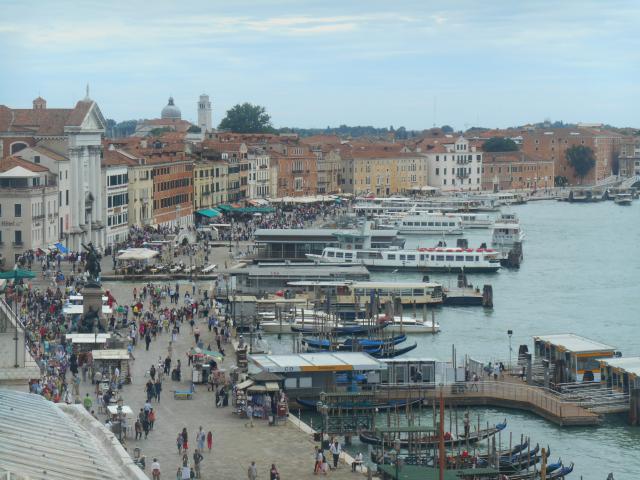 The good thing is: most of those people stop at the main square for all the main attractions. Once you pass that, and St Mark's square,  it is actually very nice and quiet.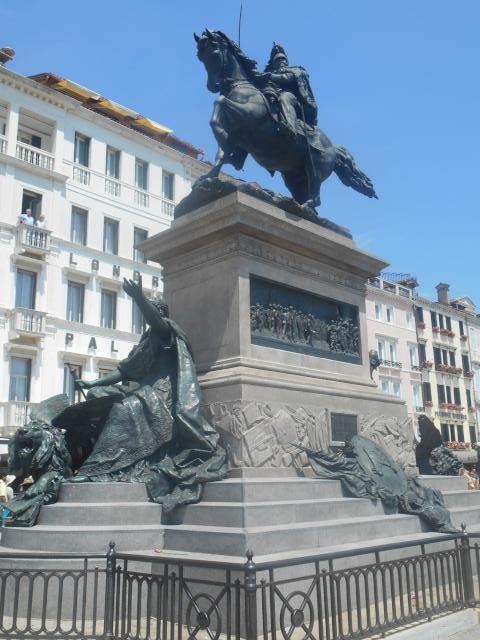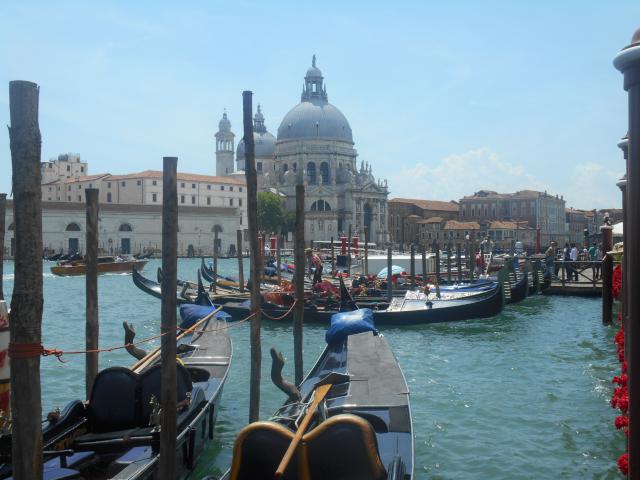 The Grand canal and the beautiful gondolas!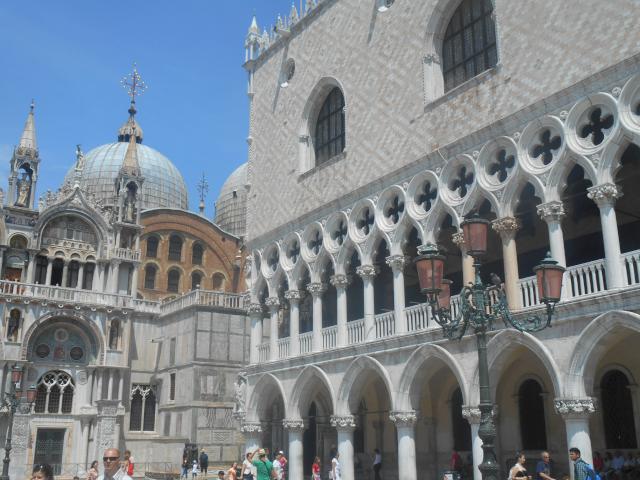 We are now arriving at St Mark's  square. On the left is the Basilica, on the right is the Doge's Palace. After seeing the 1/2 mile long line ups outside the doors to visit these famous monuments, Noel and I decided we would be back the next day to start the line before they opened at 10AM. We sure did.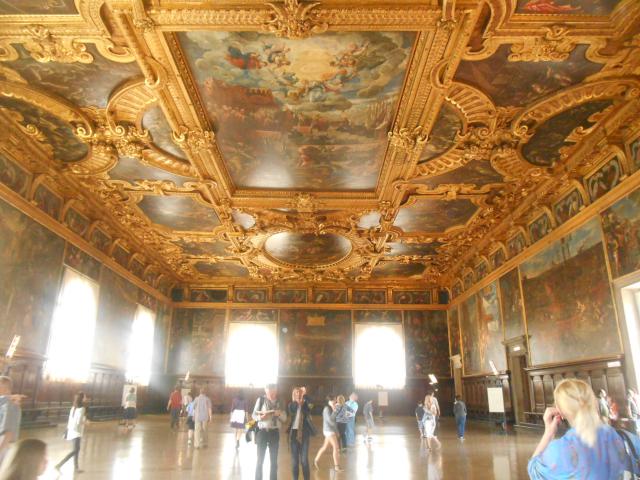 Yes..the palace was beautiful. Every room was adorned with beautiful art. The frescoes were just amazing!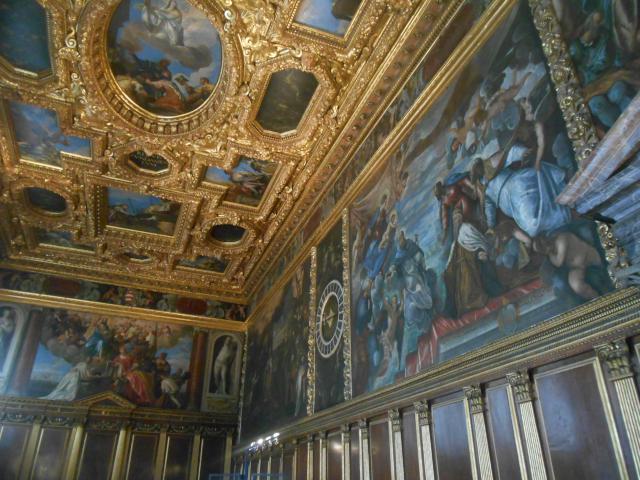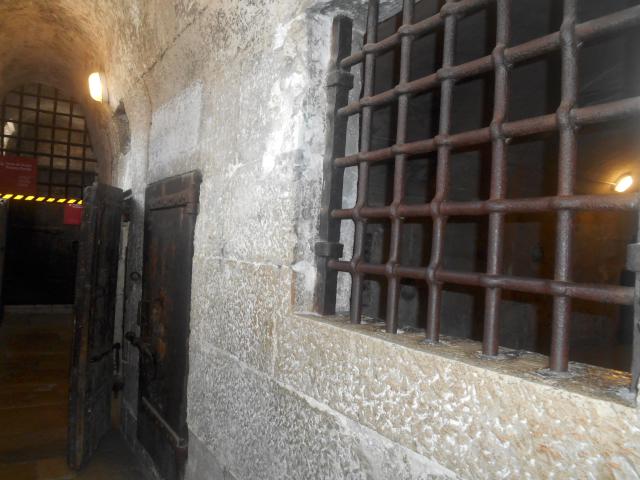 The jail cells in th Doge's Palace. Casanova imprisoned here for a long time. It was from here that he escaped  with a help of a mate.
Giacomo Casanova was an Italian adventuror, and author of "Republic of Venice" and also "Histoire de ma vie" He was also spy for Venice and a man of all trades. Born in 1725, at  the age of 17 he had finished his law degree. He soon started gambling, cheating, complicated and elaborate affairs with with young women, took him to jail a few times. His name is now synonymous with "womanizer".  He died very poor at the age of 73.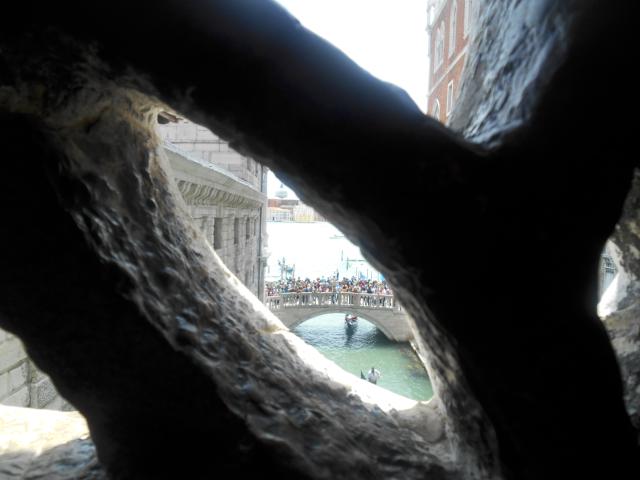 I took this photo from the hallway inside the Palace overlooking the 'bridge of sighs', bellow
The famous name of the bridge was supposed to refer to the sighs of prisoners who, passing from the courtroom to the cell in which they would serve their sentence, took a last look at freedom as they glimpsed the lagoon and St Giorgio through the small windows.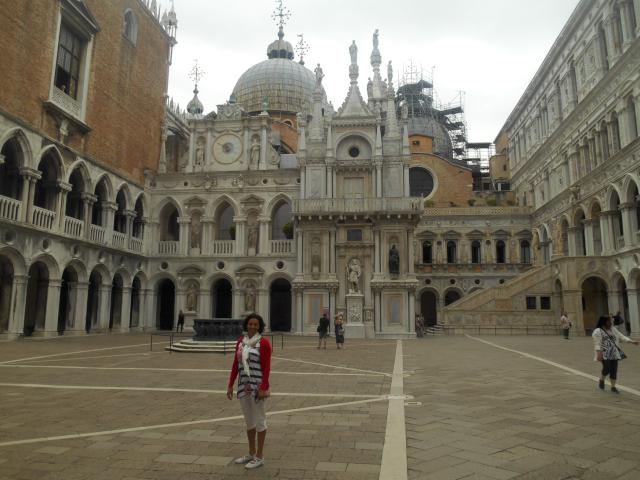 Courtyard of Doge's Palace, with Basilica next.
Now we will soon enter the Basilica with its famous gold tiles. Amazingly entrance was actually free! Of course there was an 'optional extra' for which a fee is charged.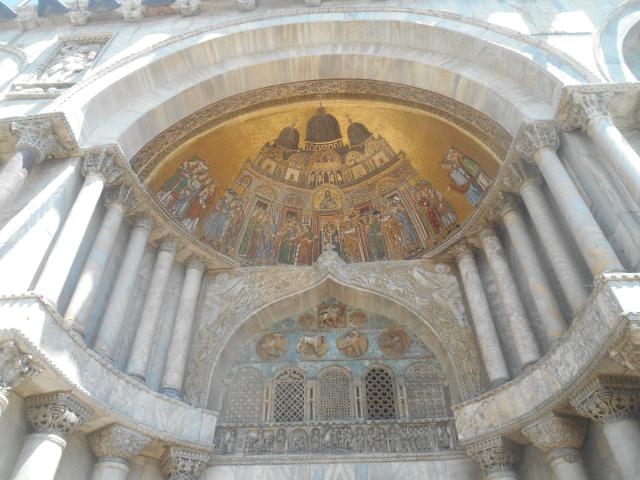 The mosaic of the Last Judgement was added in 1836 :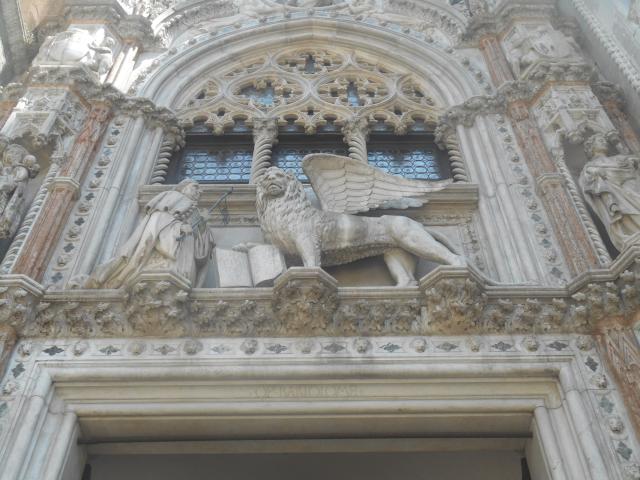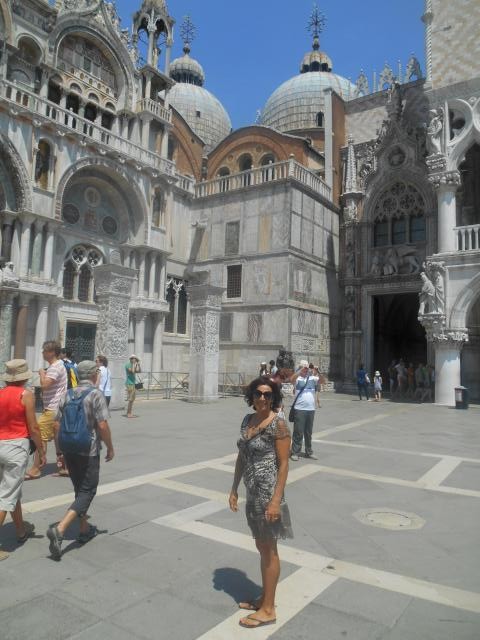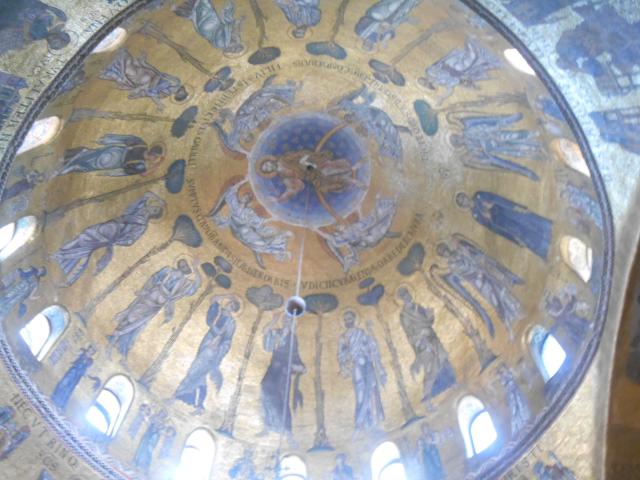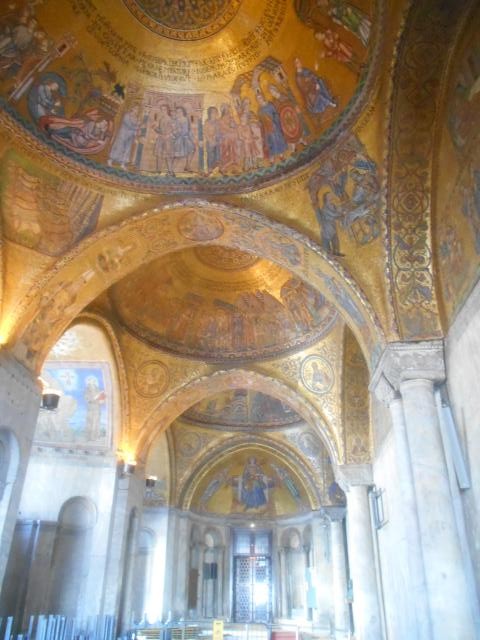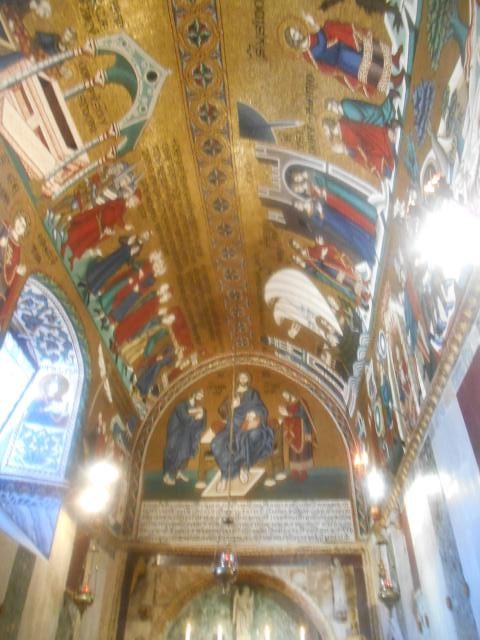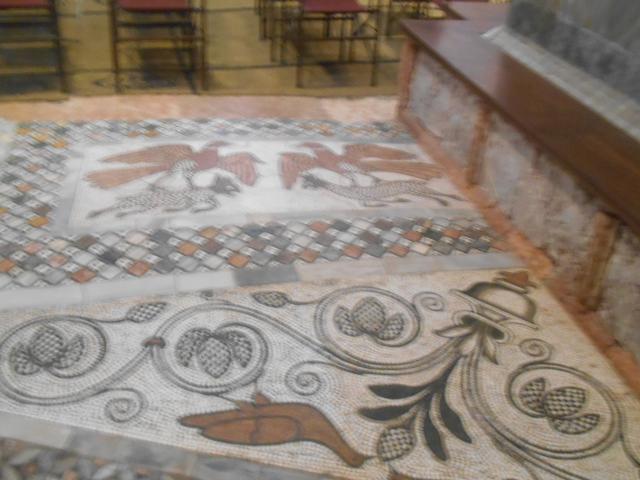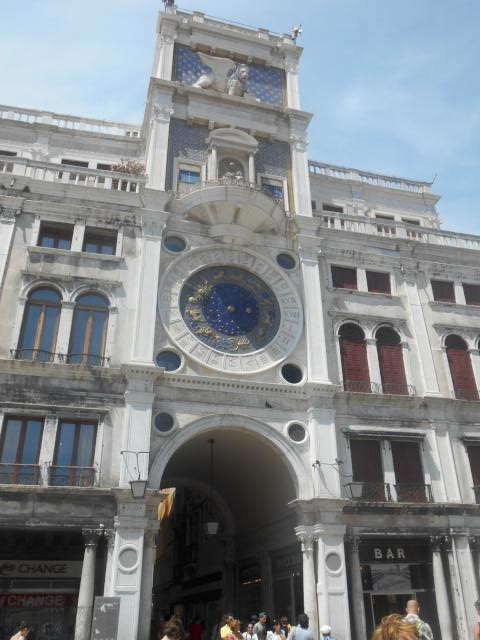 Clock tower in St Marco square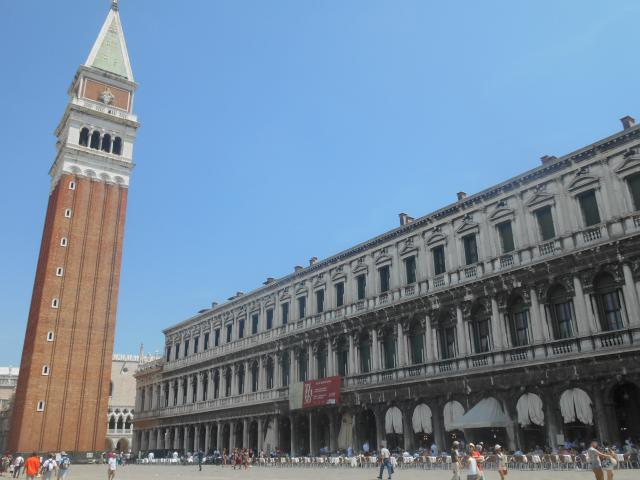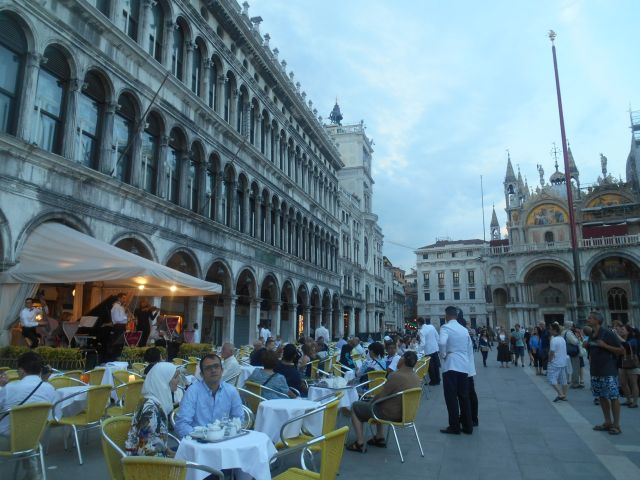 In the evening the square is very lively with bands playing in the cafes. Surprisingly the fancy and famous square is not as fancy as we expected, it is not lined with fancy Restaurants, but cafes with just plastic chairs and tables, which they dress up in the evening with a table cloth.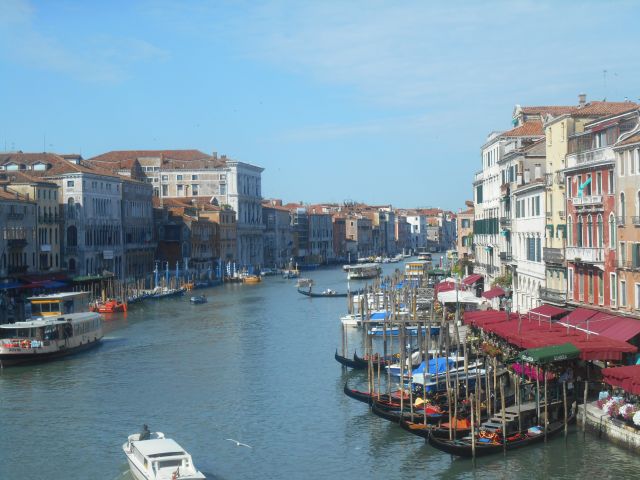 The gondolas await in the Grand canal. Overrated! They make the trips sound romantic. The people on gondolas are constantly being photographed and there are so many of them sometime pushing their way in. It did not look romantic at all. Of course we did not go, not worth the $100.00.  We rather enjoyed getting lost many times, getting to the end of the street and no bridge….just gondolas. Click, click, more photos!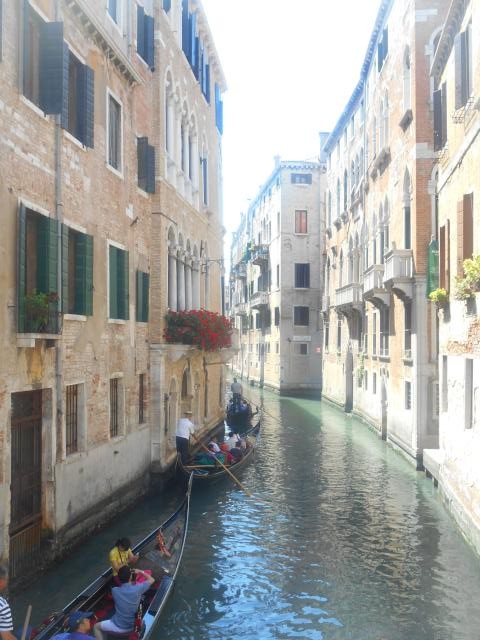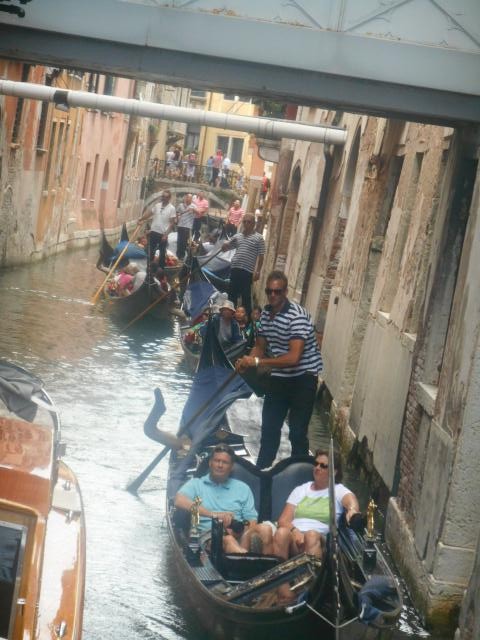 On the photo above it was fun watching the gondola traffic build up waiting for the boat on the left to deliver guests to this Hotel.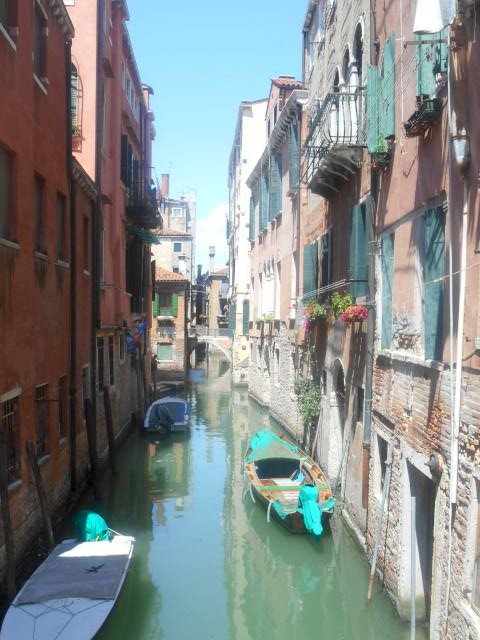 Here we are again…more gondolas, more photos. The streets and canals were very peaceful throughout. Occasionally the gondolas would have a musician playing accordion! Noel and I would lean over the bridge and enjoy the music till they were long gone away and we could no longer hear it. Till the next one.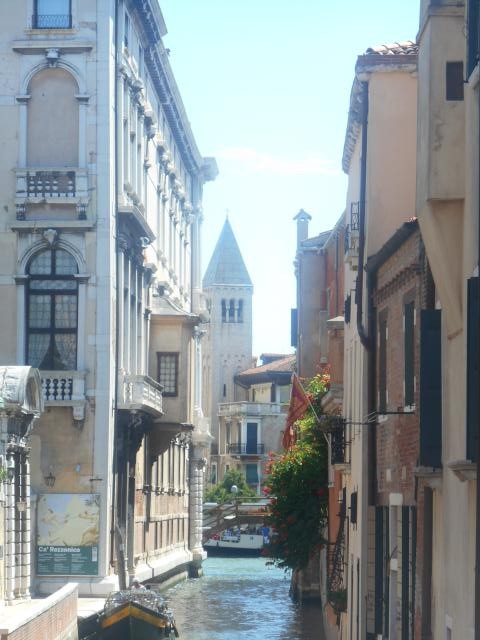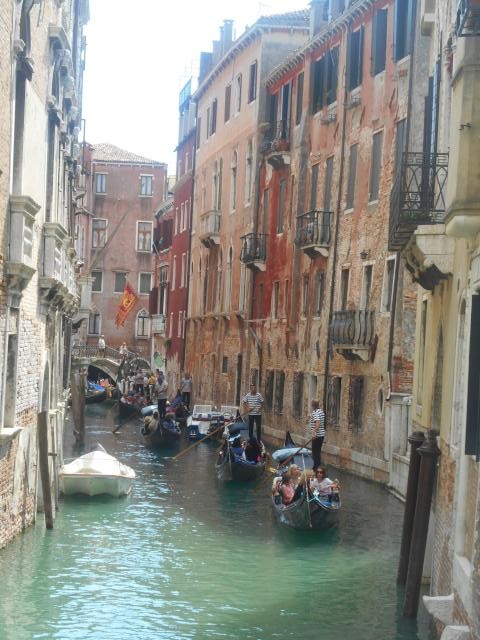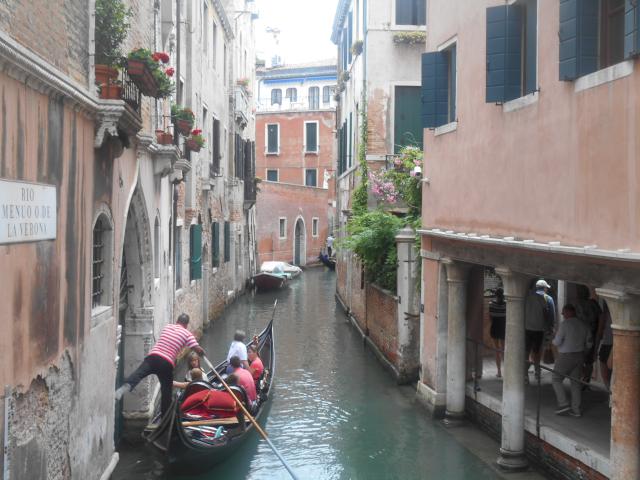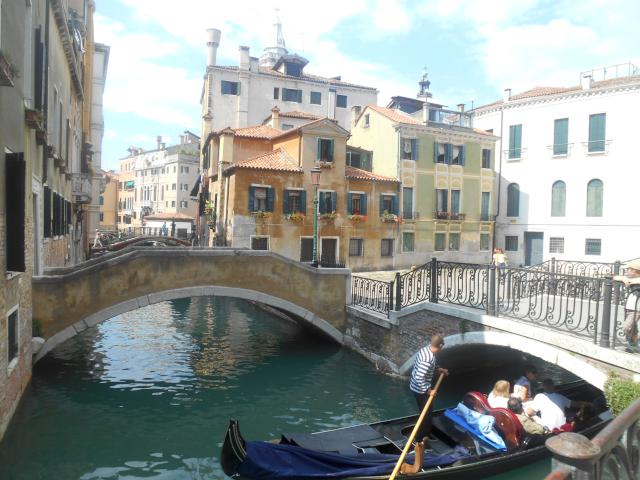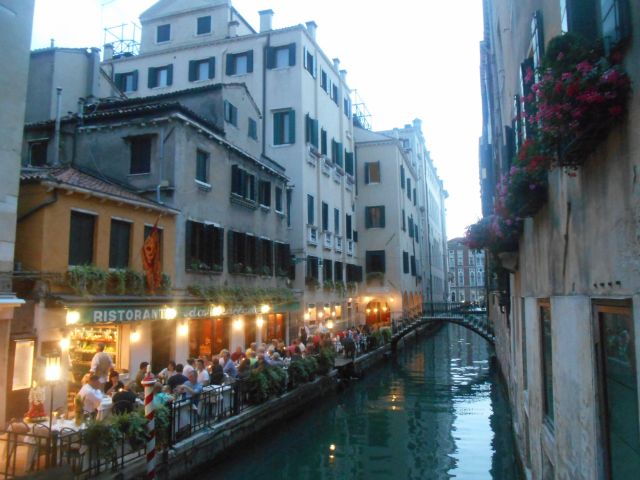 We had spent 3 days in Venice. Noel thought he had seen it. But I had to persuade him to go again, one more time, at sunset and no map, no place to visit and no stress.
The first day day there was just to check it out, get to know the place.
Second day, we thought we knew the place. We were always lost. We were running around with the map  and these tickets to visit some museums and Palaces and many times you get to the end of a street and it was just water! Like on the photo bellow, you can see the tip of the gondola.
The third day, we were in St Marc square early to beat the crowds and do the visiting to the main attraction: Cathedral and Palace.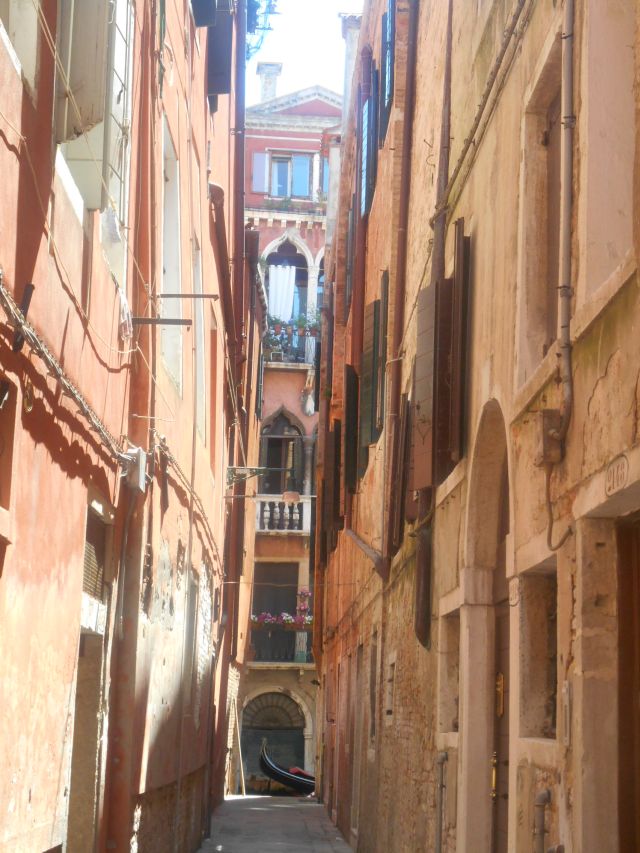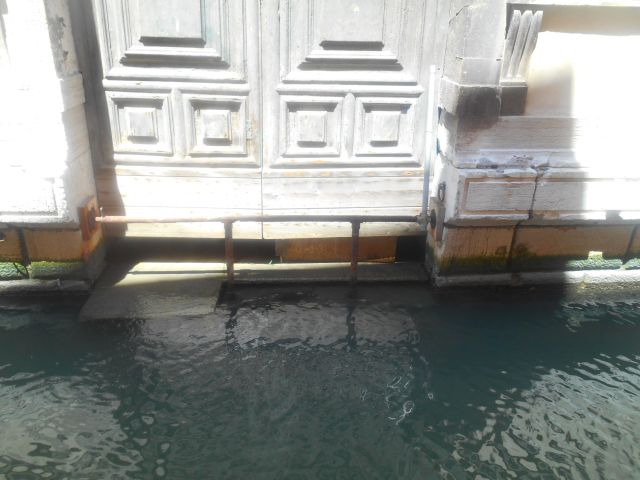 Yes, Venice is sinking. On many buildings you could see that their entrance steps, previously above water, are now below. Some had extra boards across. Many had the bottoms of the doors rotting away. When there is a particularly high tide, 'aqua alta', St. Mark's and many other places are flooded, so they have to put out wooden boardwalks for people to get about.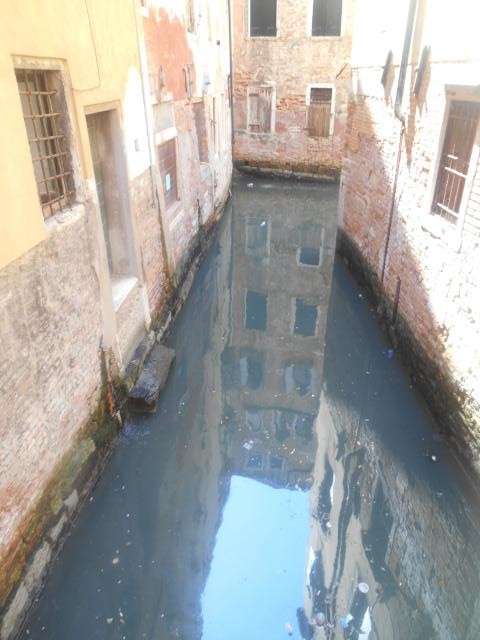 The many many beautiful Churches in Venice!
We sure enjoyed spent the time to visit as much as we could and explore so much of the little streets. Even survived the very tiring late night, after watching a classical music concert,  running to catch the vaporetti through streets and alleys, sometime ending up at some private residence…oops! and missed the vaporetti by a minute and the next was an hour later! They run only every hour at night to Burano or Murano.
The Grand Canal is busy busy. We did travel it at night by vaporreti, but were disappointed that many of the buildings were not lit up!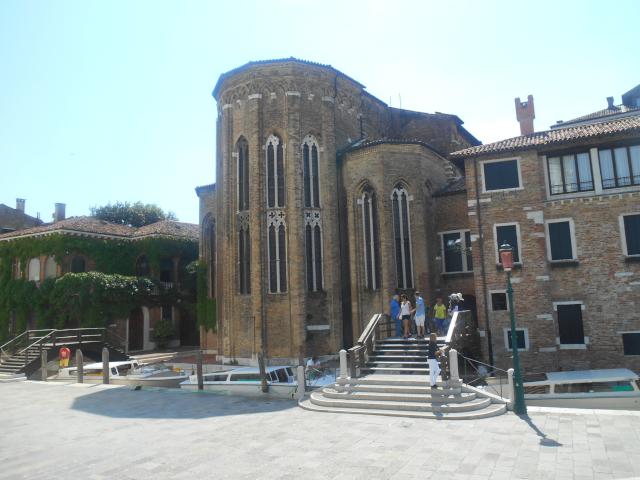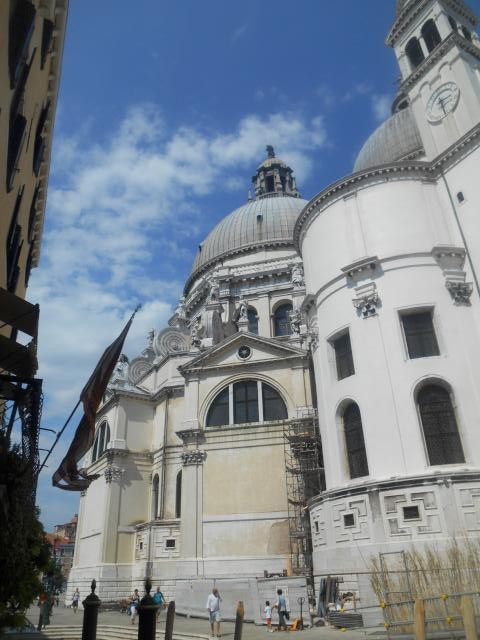 There are countless churches in this tiny city. Some of them are now museums, including a museum of violins and other instruments that was very interesting.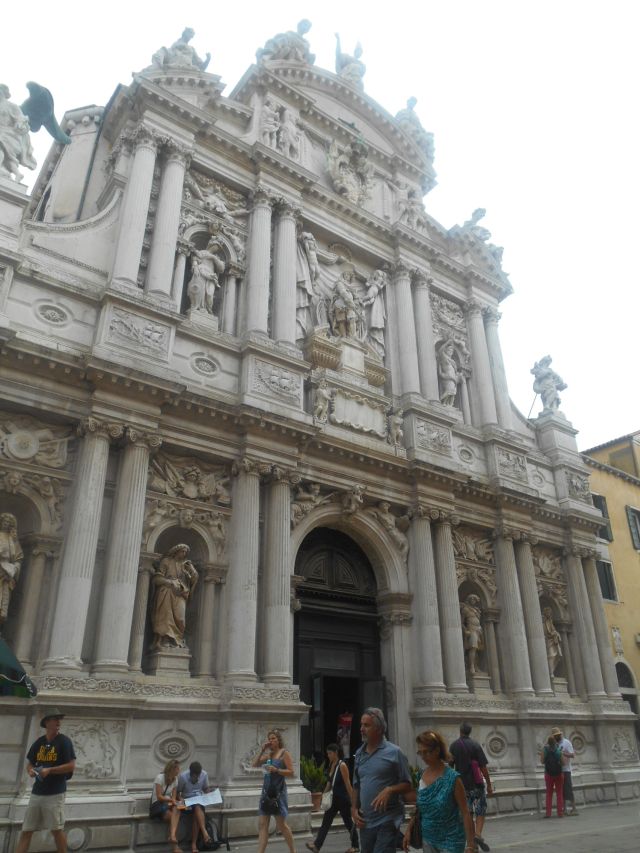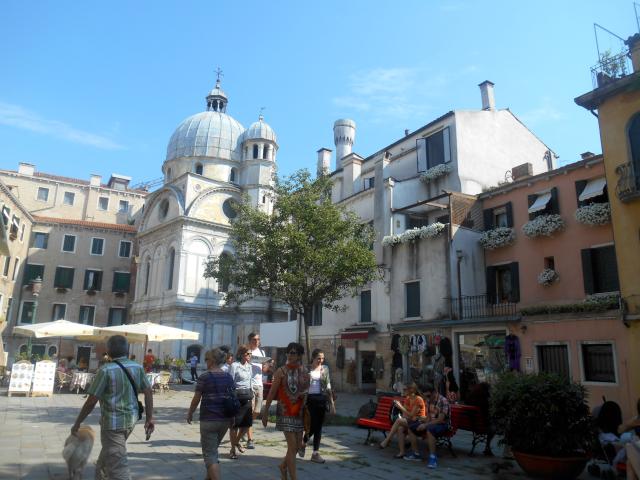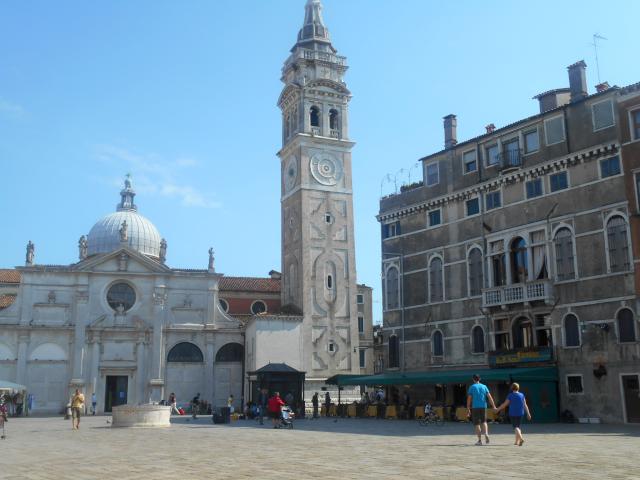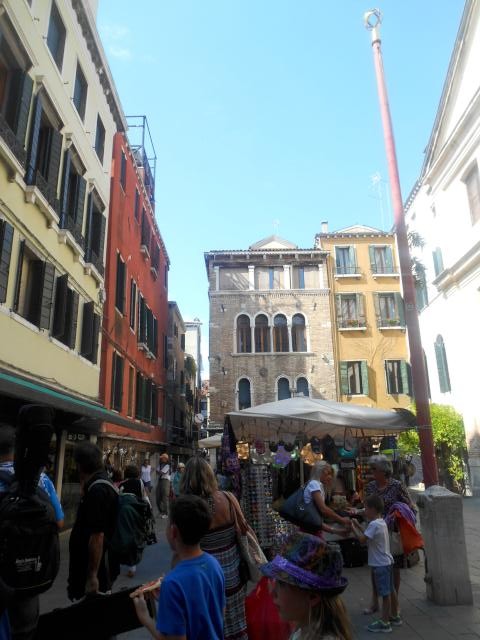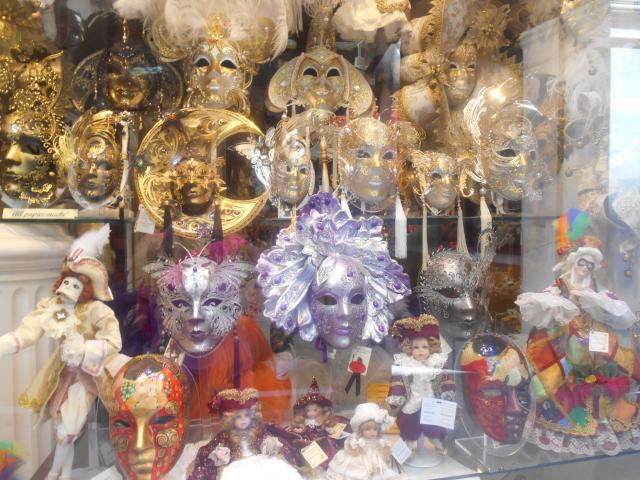 The many cute and narrow streets of Venice are lined with shops. Lots of very fancy masks, leather purses and shoes. Also lots of  jewelry and Murano glass seems to be the shopping in Venice. Ohhh and the amazingly beautiful art galeries…..
Shopping in Venice  is very chic compare to most touristic areas wher you get hassled by street vendors with low market stuff  like T-shirts  and more T-shirts and beach wear, souvenirs and more of the same souvenirs (probably all made in China anyway).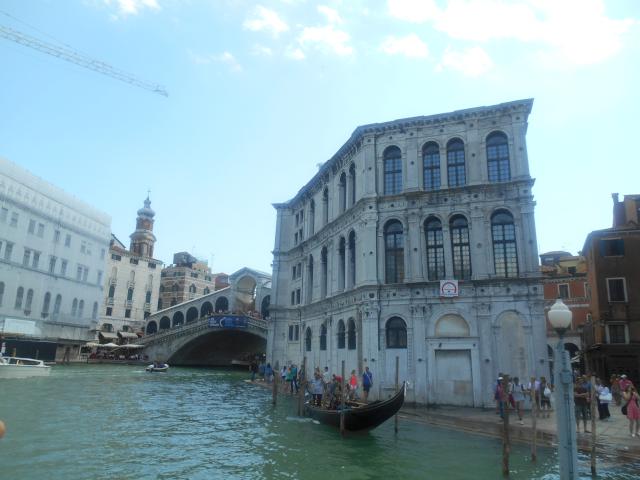 Rialto bridge, above.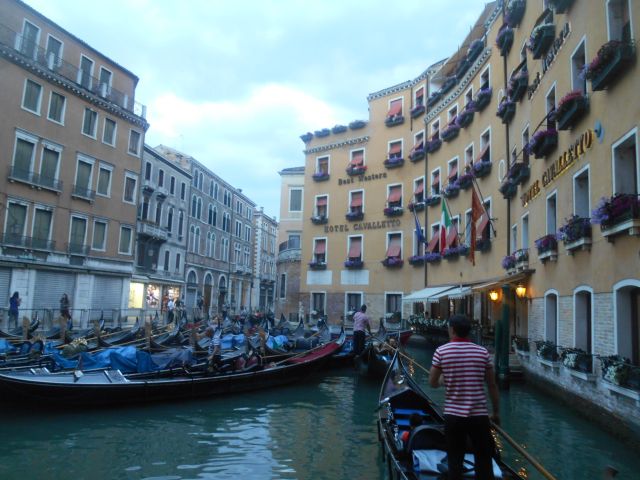 Parking lot. Gondolas tie up for the night.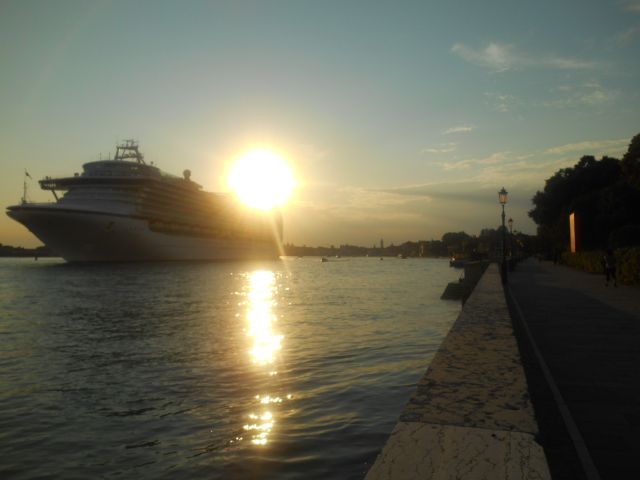 A big cruise ship departing at sunset.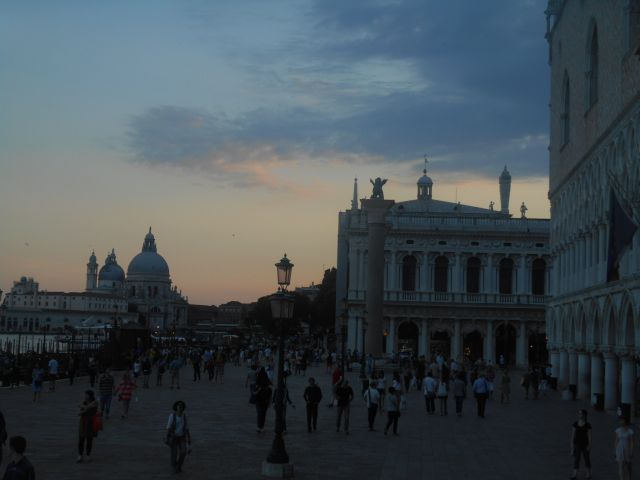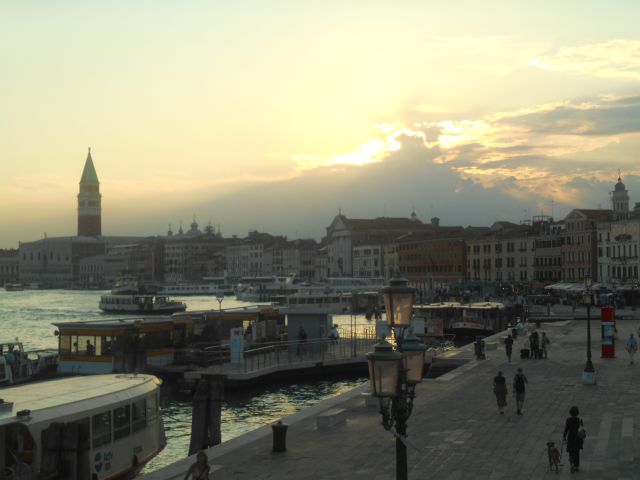 Rialto bridge in the evening.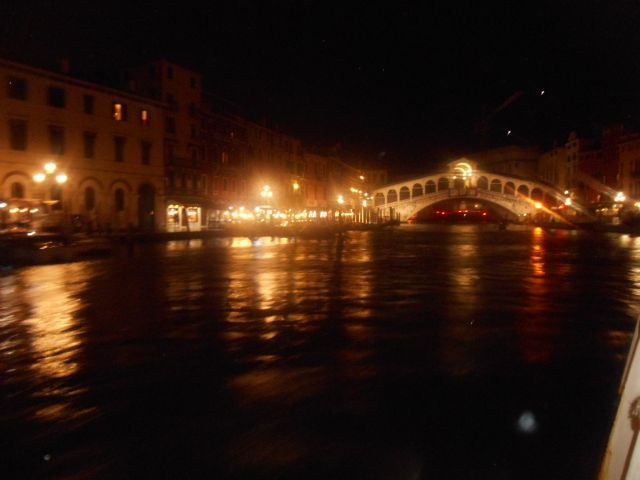 We had spent 3 days in Venice. Noel though he had seen it. I had to persuade him to go again, one more time, at sunset and no map, no place to visit, just get lost one more time!!!!
So, Venice? Fascinating. As one guide book says, a 'not so practical but oh so precious' city that is still very much anchored in the renaissance era. Definitely worth a visit.
3 Responses to "Venice! We love you, we leave you"