Current Location:
Mljet National Park, Croatia
Current Position: 42 47.43 N 017 22.63 E
Click to view map.
Distance sailed since last post:
34 nautical miles
.
View the map of our voyage track here
Having checked in at Cavtat (pronounced Tsavtat) our first stop was at World Heritage Site Dubrovnik.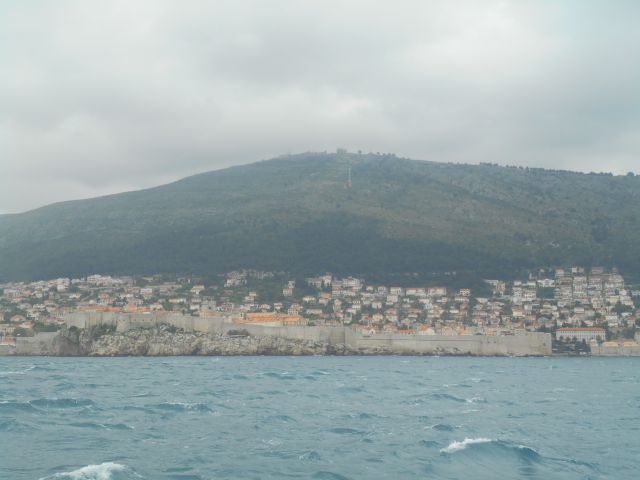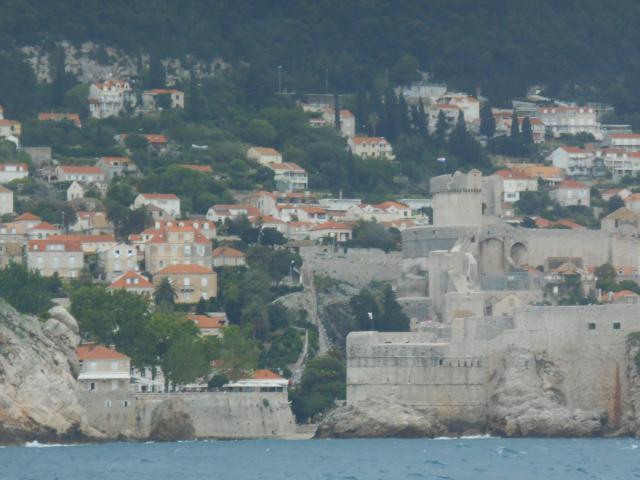 We sailed around the corner and, apart from the bridge ahead, what we saw were lots of seagulls diving the water, and the water itself churning with fish. Clearly there was a predator or two down there chasing them all.
Well, we had to stop and join the action. So around we motored about five times, trying to drag our lure through the action to entice a fish to take it. Alas to no avail.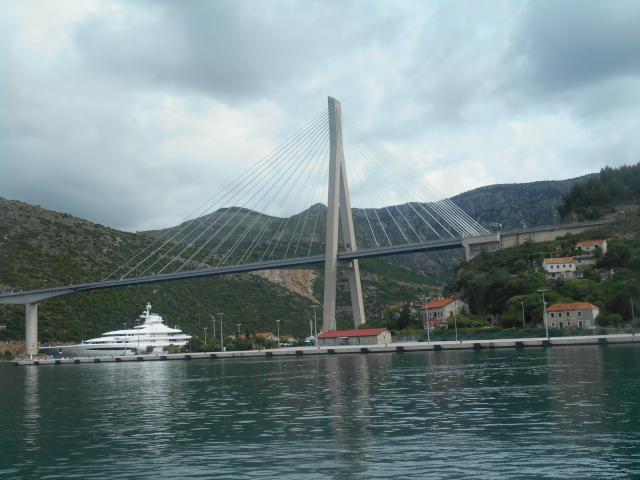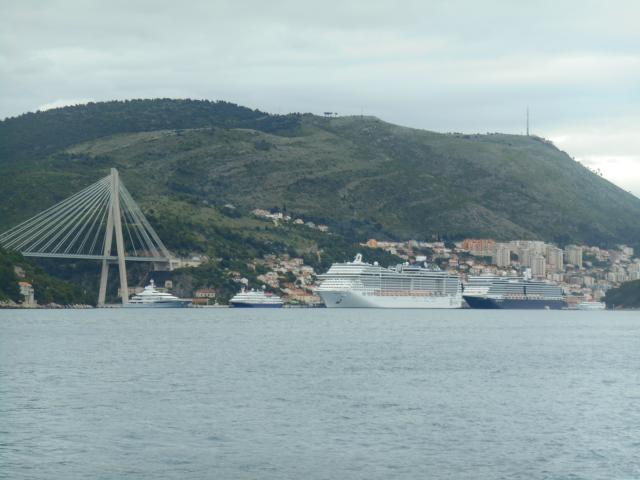 So then we motored up the river, and anchored just outside the ACI marina, about 2 miles outside of Dubrovnik town. Incidentally, see where those cruise ships are? Just behind them is a town quay – we discovered that if it is not too busy they will let you tie up for a couple of hours while you do some shopping, as long as you ask (VHF channel 9) first. And we also were able to snag some free water for our tanks. Fortunately the next day the cruise ships had gone, and the crowds went with them.
The following morning at our anchorage we had our Encounter #1 with local fishermen.
Early in the morning we heard some banging on our boat, the sound of a fisherman's boat bumping in to us. Apparently we had parked ourselves above this guy's fish traps and he couldn't get at them to raise them. There were no buoys or markers – he just seems to know where they are, and hooks them up with a long hook. So  how were we supposed to know they were there?
Well, no big deal. He managed to get at them, and all was good.
So we took a bus (15 Kuna each ($2)) to town to walk around the old city: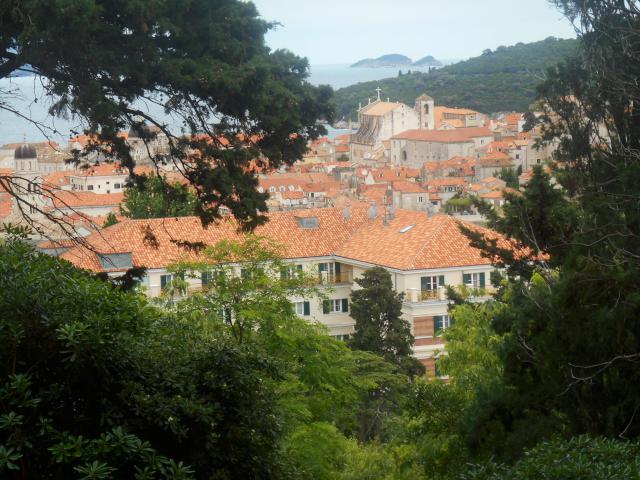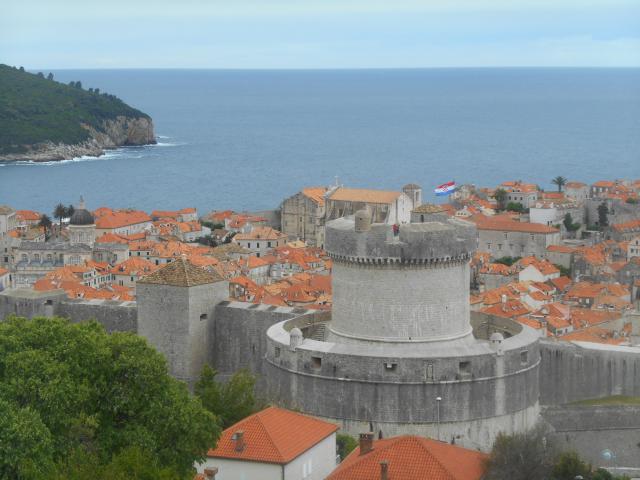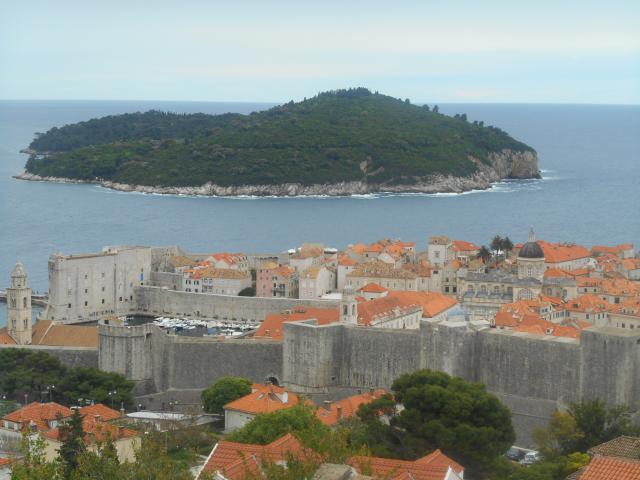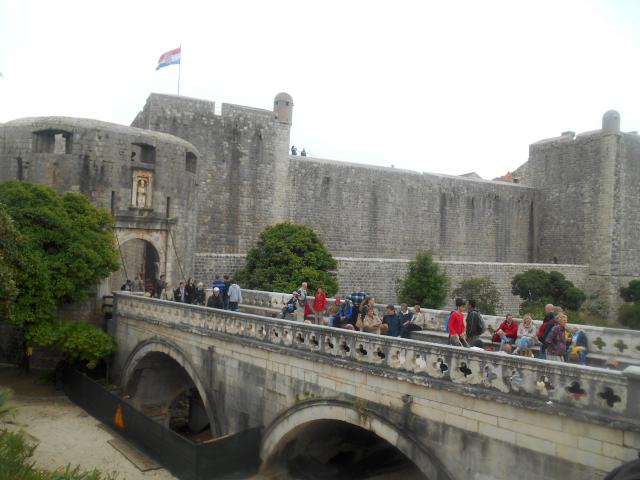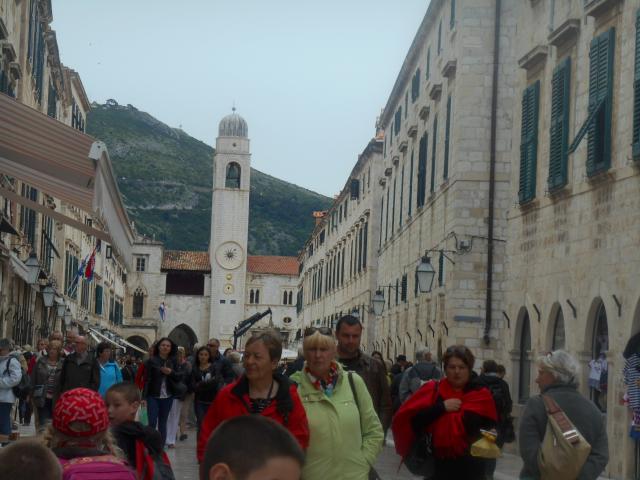 Goodness were we glad it was May and not August! I can't imagine how busy it must get then.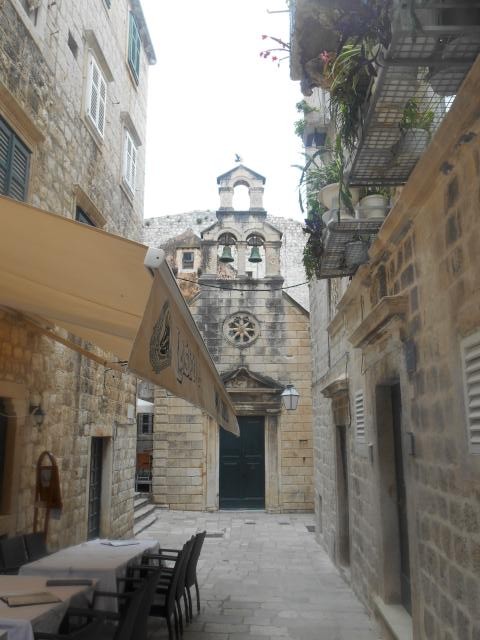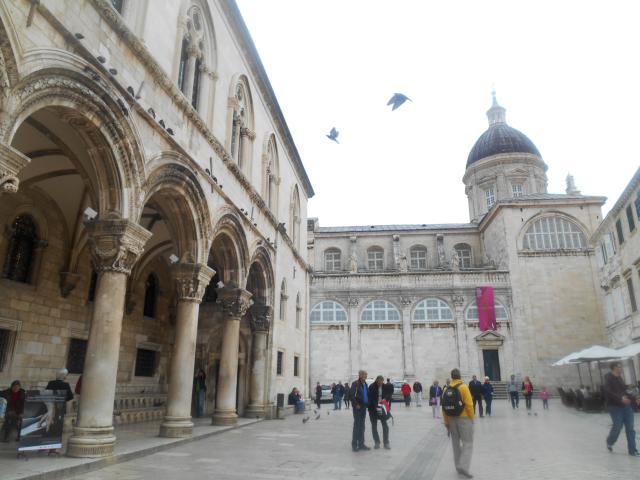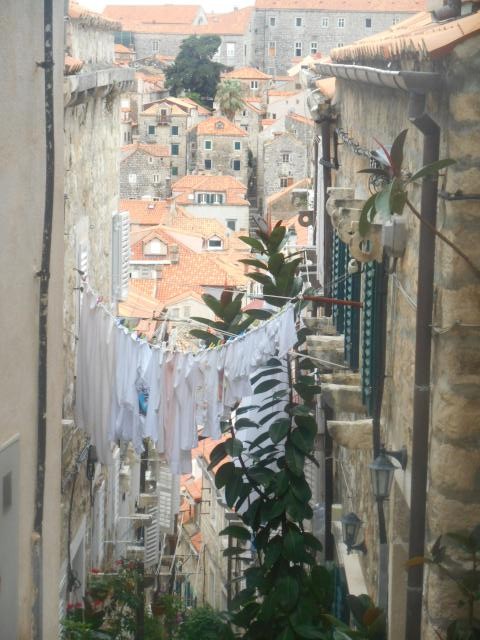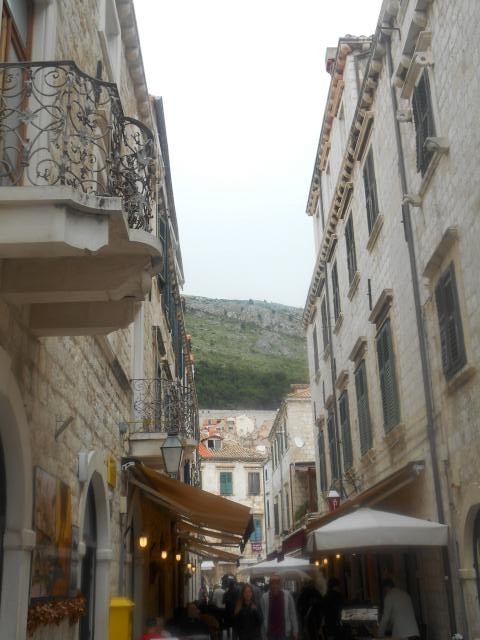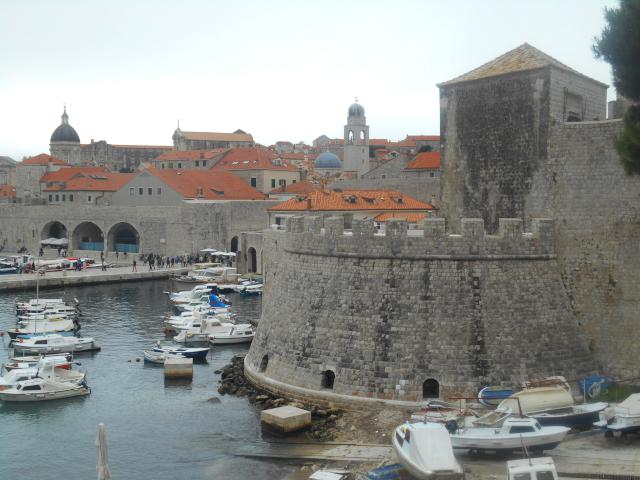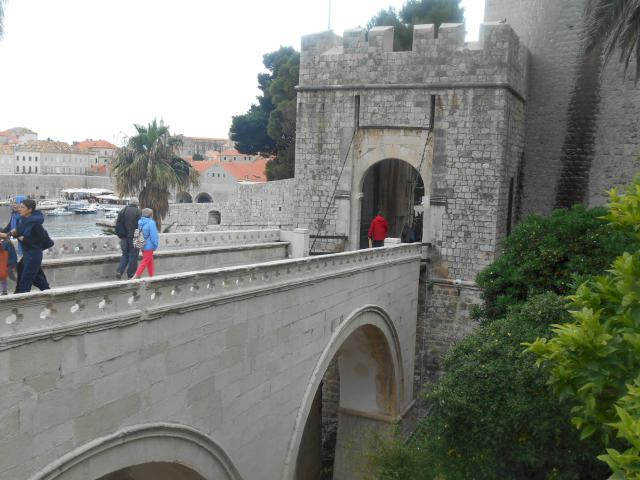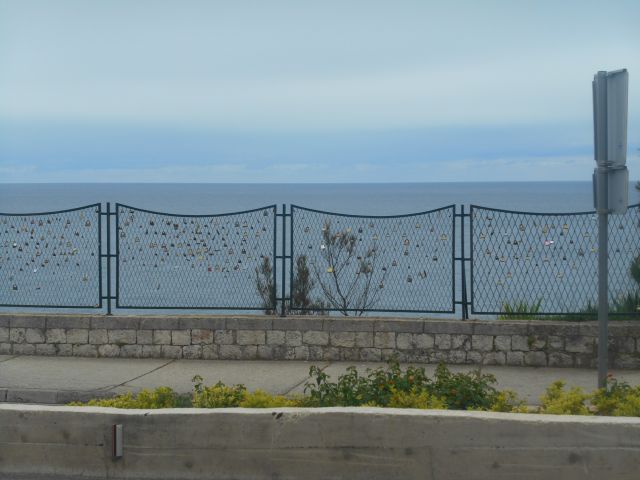 What are these on the railings? First, why are the railings here? Because behind them is a big cliff, famously known as a suicide leap.
And these locks? Who knows how it started, but each one is engraved with the two names of lovers, their love locked together, forever, by the padlock. There is even an online company that will supply you with specially engraved padlocks in different colours.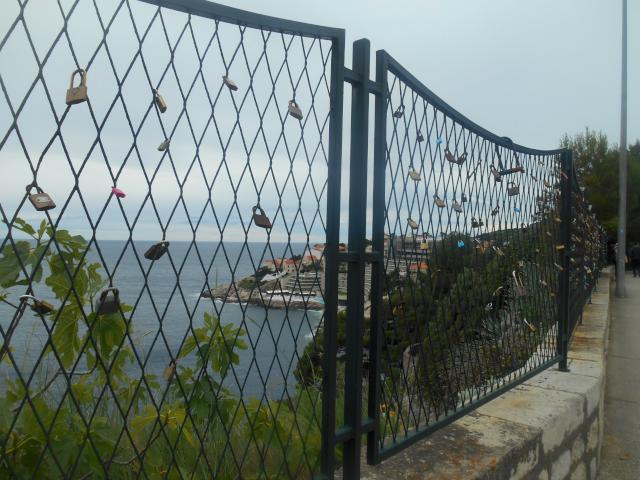 While I went to sort out a Croatian internet connection, Ceu went to the local market, right next to the dock. It was, apparently, the day before Croatian Mother's Day – hence all the flowers.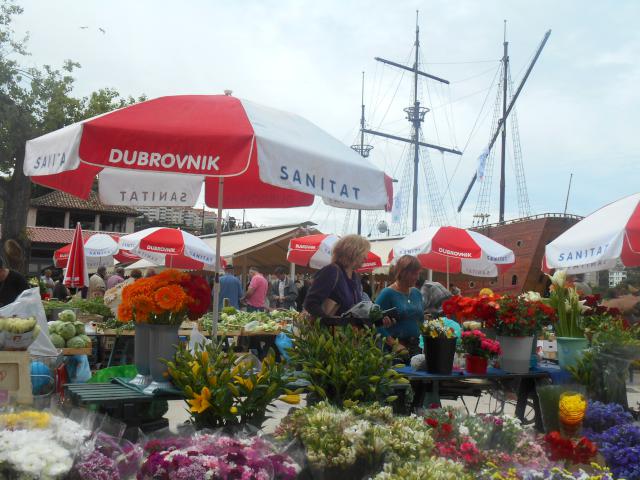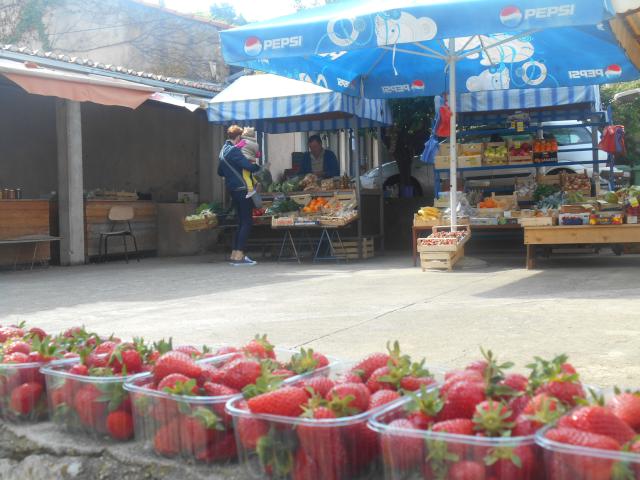 The next day we set off for Lopud island, just 8 miles away. Beautiful and peaceful.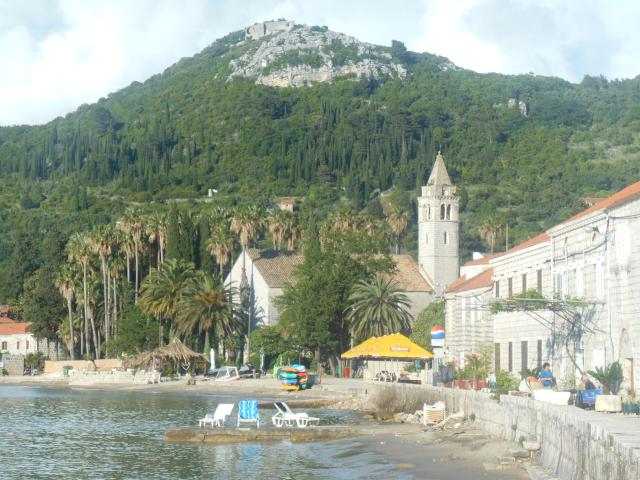 Well, ok, it wasn't totally peaceful. We did have some tourist boats coming to visit for day trips.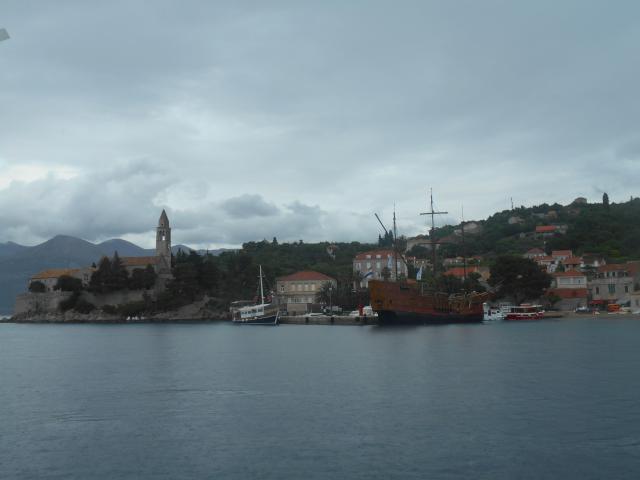 But none of them ventured as far as the delightful little park, just off the waterfront: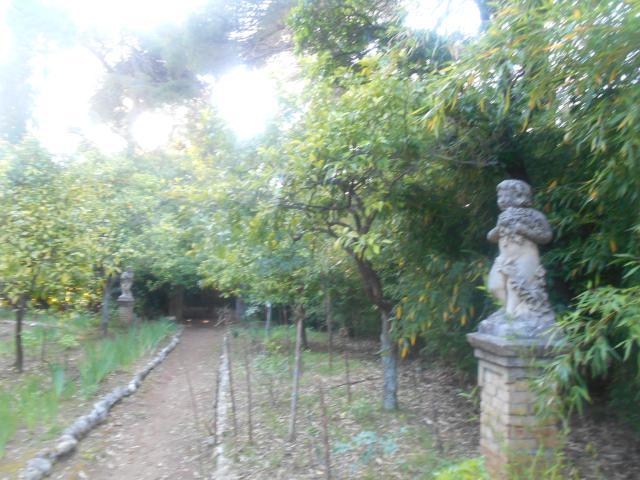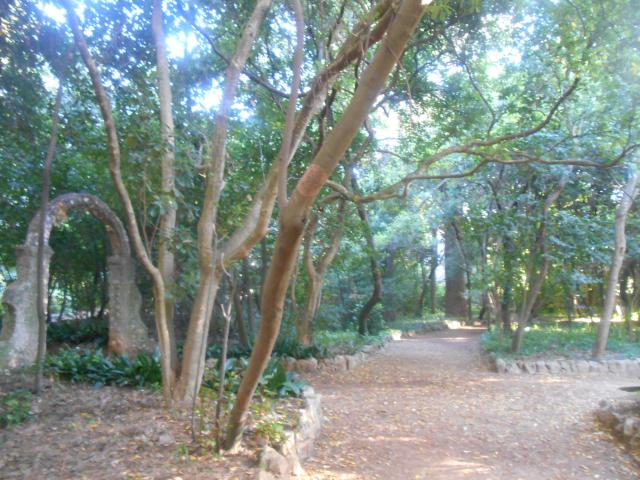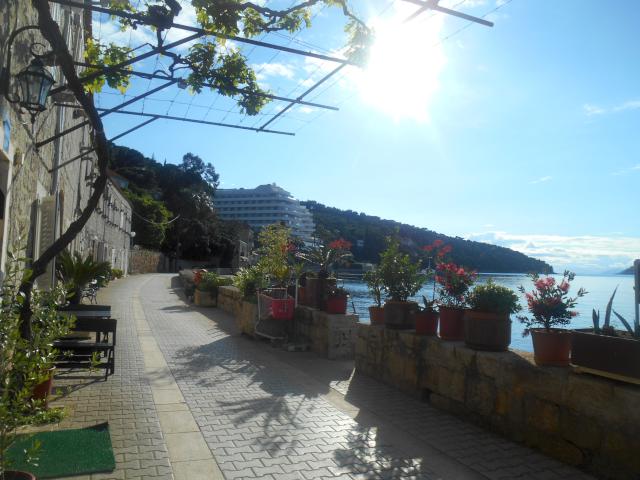 That, in the background, is NOT a cruise ship. It is, in fact, a hotel built solidly on land.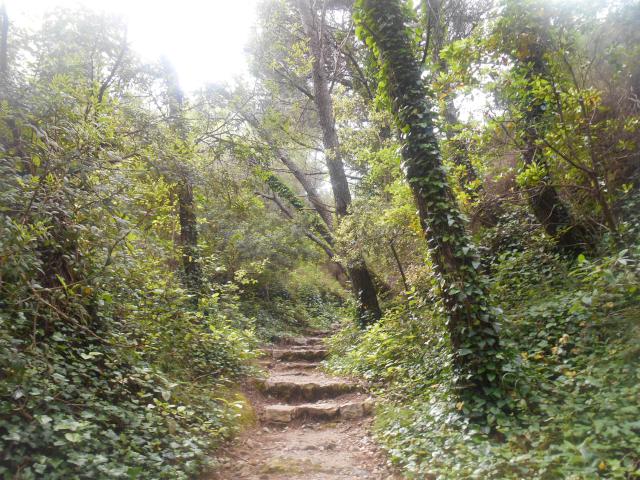 It seems our internet connection didn't get properly activated, so we will have to go back to Dubrovnik on Monday to get it fixed. In the meantime, time for a beer. This is at the other beach, diametrically across the island, just 2 km walk. See how busy the beach is? The girl at the bar said that in two weeks time it will be packed.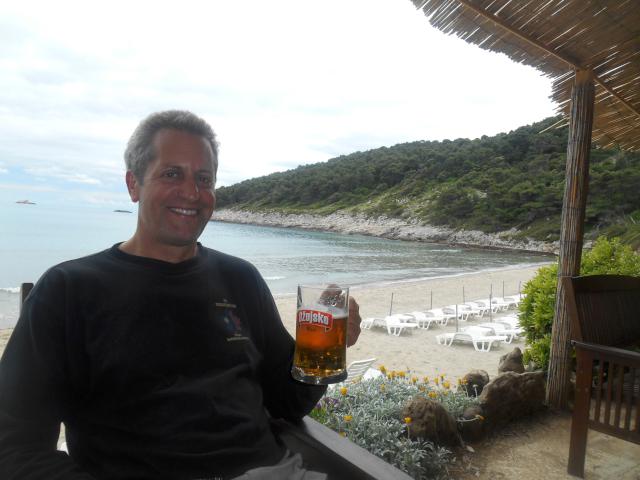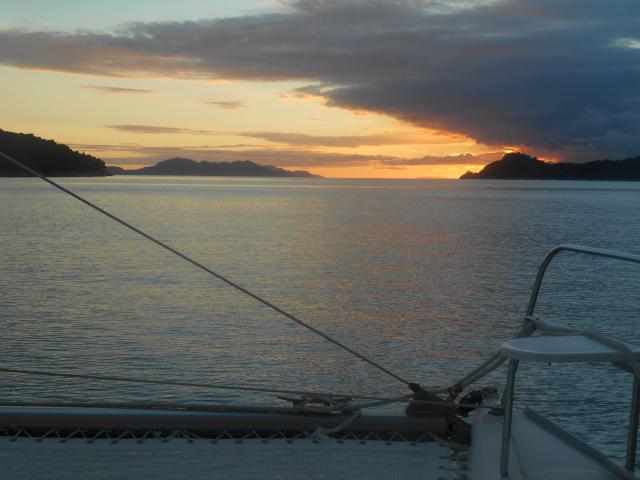 No, not a forest fire, just another sunset: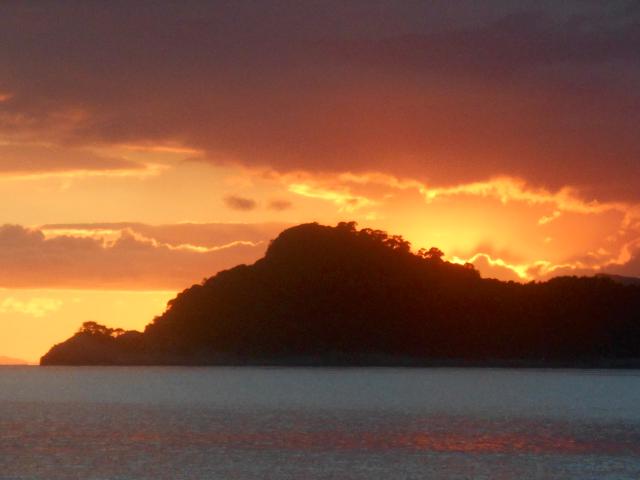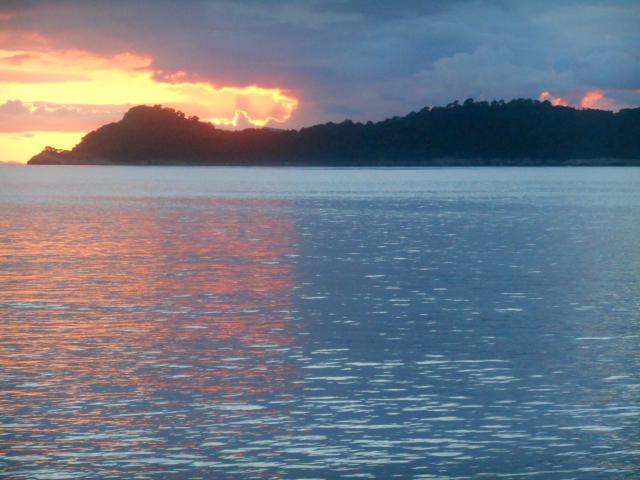 And then the next day, another sunset. In fact, we had beautiful sunsets every night on this island.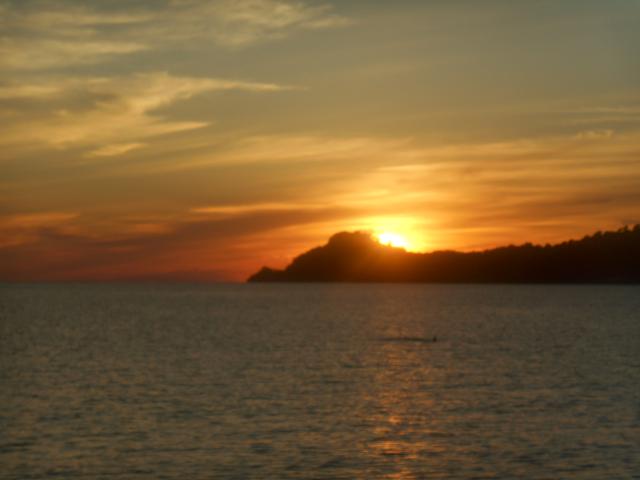 And, just to complete the picture, a dolphin:
Onwards and upwards took us to the Island of Mljet, the first of the National Parks. Again, not yet busy. That's us anchored below, and no one came to charge us anything.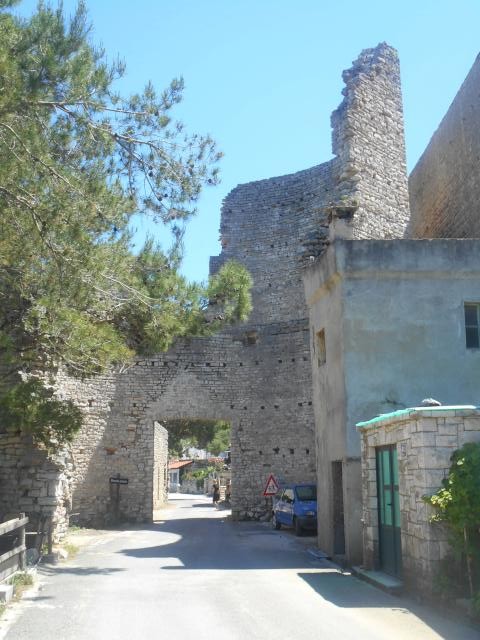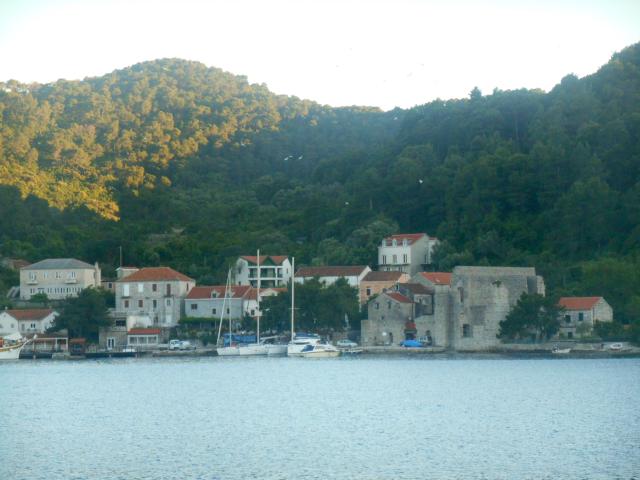 We had a full day of hiking. Great views. Lots more trails we could do – maybe on the way back down again in a few weeks.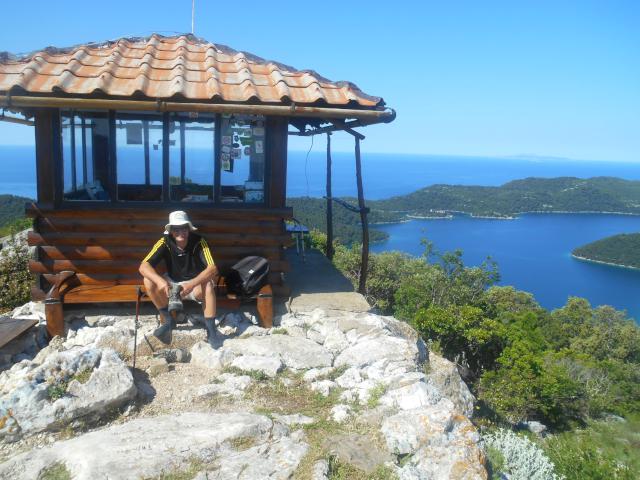 Here you can see the two salt-water lakes that connect to the sea through a very small channel.
There is, of course, a monastery on the little island. It seems there always is in Croatia!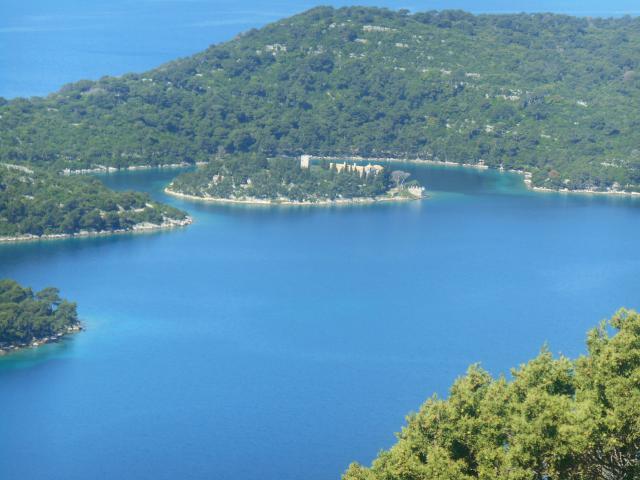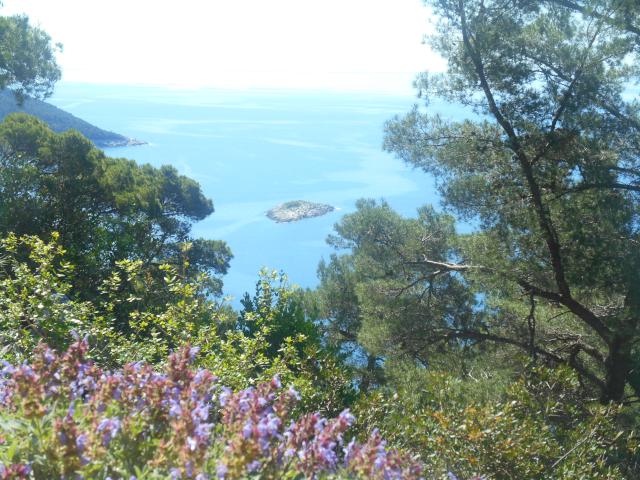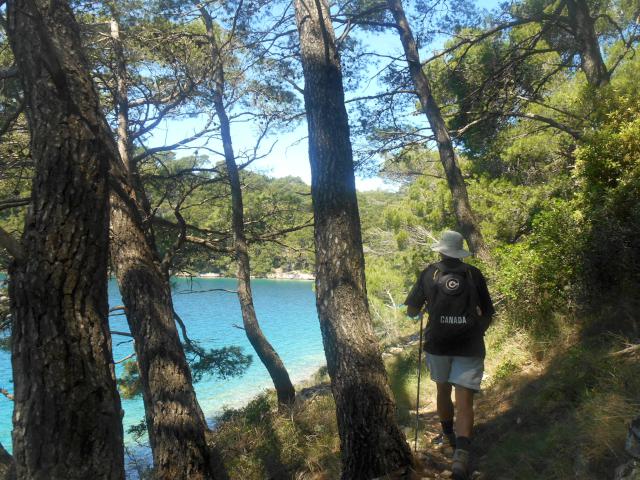 The scenery is very reminiscent of BC.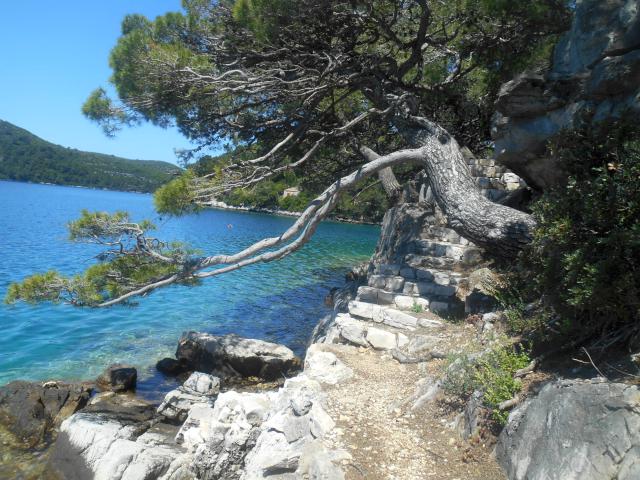 And even a swim in one of the lakes!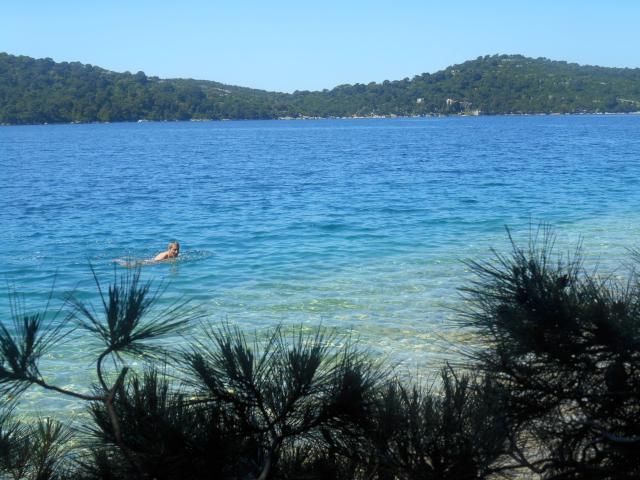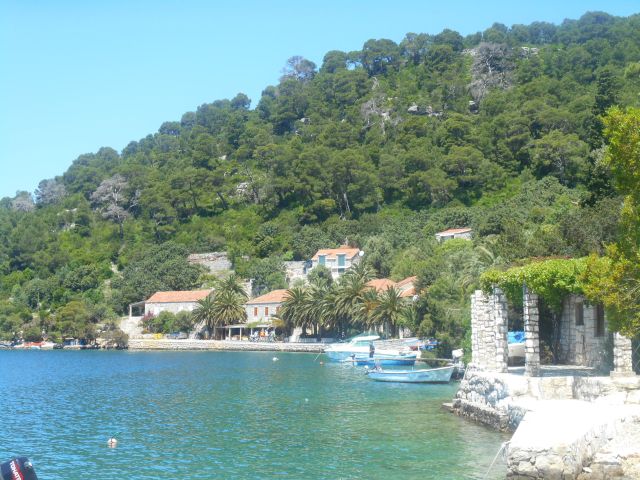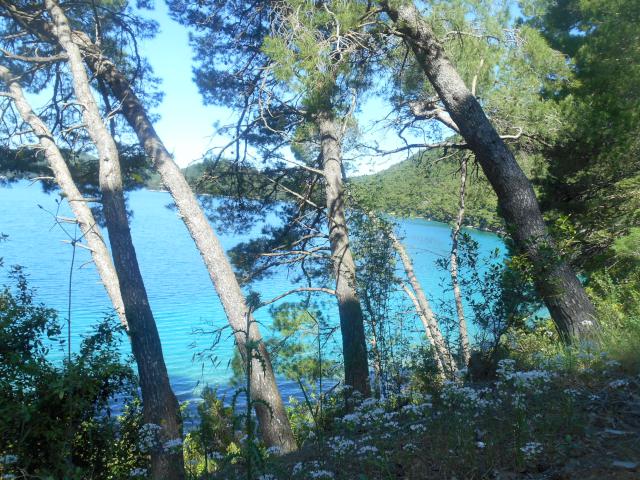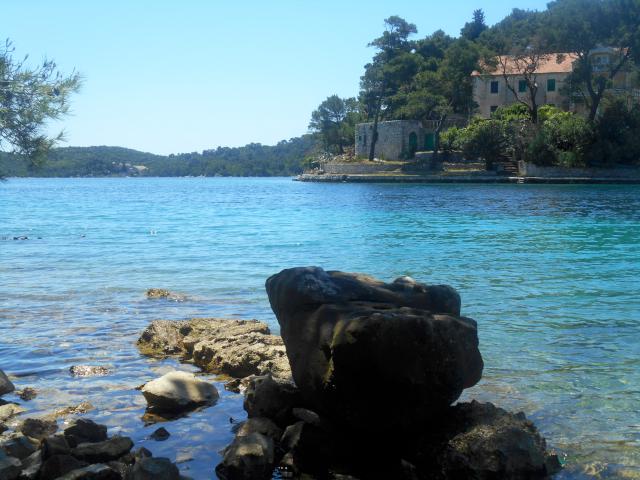 The bridge over the channel that connects the large lake with the sea exists no more. Want to cross? Then get a taxi: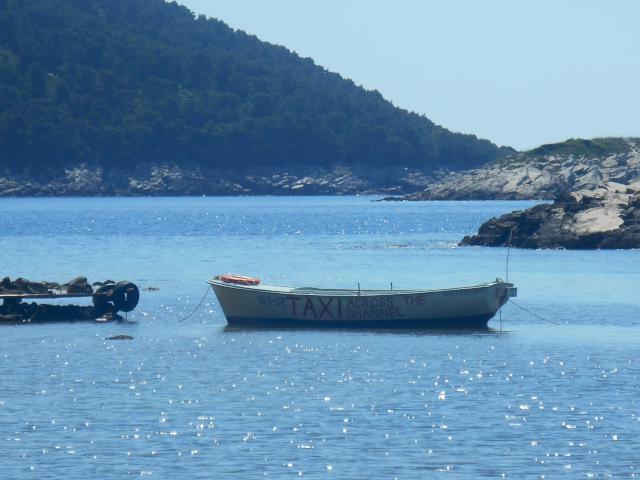 The smaller lake feeds into the larger lake under this little bridge: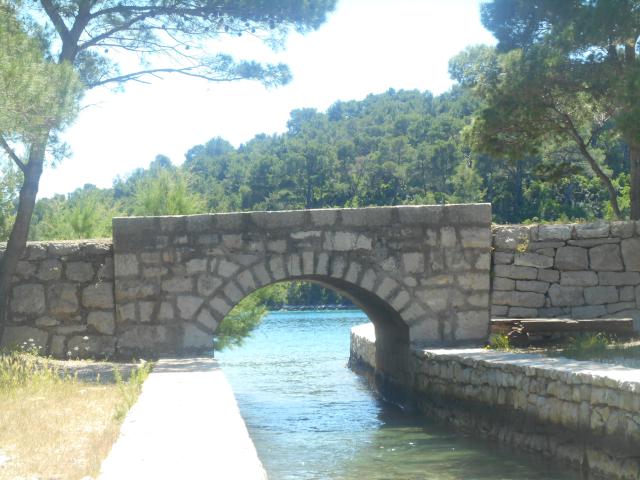 So far Croatia has been fantastic. Beautiful landscape, friendly people, wonderful sunsets, but still rather chilly.
Nope, despite what everyone said, no one has charged us for anchoring, nor hassled us for money. In fact, everyone has been very friendly.
Next stop is Split and then the waterfalls at Skradan.  We will update with pictures soon!