After a 5 month break, visiting Panama, Canada, and the UK, we are now back on board Life Part 2 in Cartagena, Spain.
Everyone told us that is was the warmest sunniest winter for years but, of course, as soon as we get here it starts to rain. No matter, we still had a bunch of stuff to get done.
First was to service the engines. This time Ceu did the job! Yes, there she was, pumping the old oil out through the dip-stick. Then a quick change of the filter, pour in the new oil, and she was good to go, with nary a spill of oil. Good job done.
Then we tried to hoist the genoa up the new forestay. Oops. Sito had installed the channel pieces backwards, so the grooves for the genoa luff didn't match up. So that was an additional few hours of work for him.
However, in the process, his English-speaking friend Sem came around, and then drove us around town to some of the key shops, which was very helpful. He is also organizing a new engine battery for the port side, as that seems to have died. Today he drove us around town so that we could get our bicycles fixed (well, one of them, anyway, the other is not worth salvaging), buy a couple of new paddles for our kayak, and a ladder out of which to make a passarelle. It makes a huge difference having someone who knows where to find stuff in town, and can take you there.
And finally we are putting up the new standing rigging, having lugged it all the way from Canada.
Apart from that, all is well with Life Part 2 – she seems to have wintered well with no problems.
Ah, yes. The joys of traveling through airlines with BAGS and WINDSURFERS. Well, we did it. With careful calculations of allowable weight we got everything here, including a brand new windsurfer and three sails. Can't wait to get that rigged up and on the water! Actually, it turns out that we had no difficulties at all with either the flight from Canada to UK or with EasyJet from Gatwick to Murcia. And then at Murcia we found a large taxi that took us straight to the marina. Couldn't have been easier. The trick with EasyJet is that there is no weight restriction on hand carried cabin luggage. As long as it is small enough to fit in the racks, and you can carry it, you can take it on board. So we put all our books and stainless steel in the back pack for a total weight of 30lbs! You can see it on the trolley below.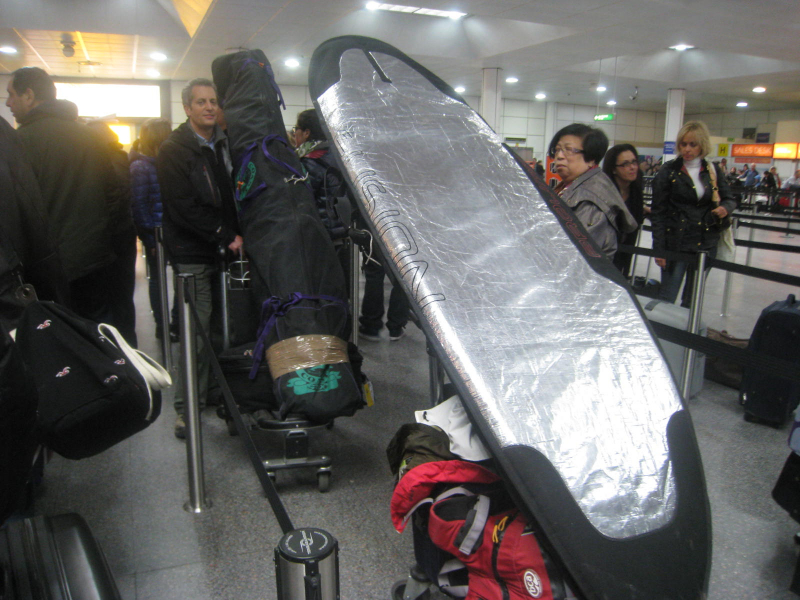 Oh, and almost forgot – a brand new Canadian flag to replace a rather beaten up old one!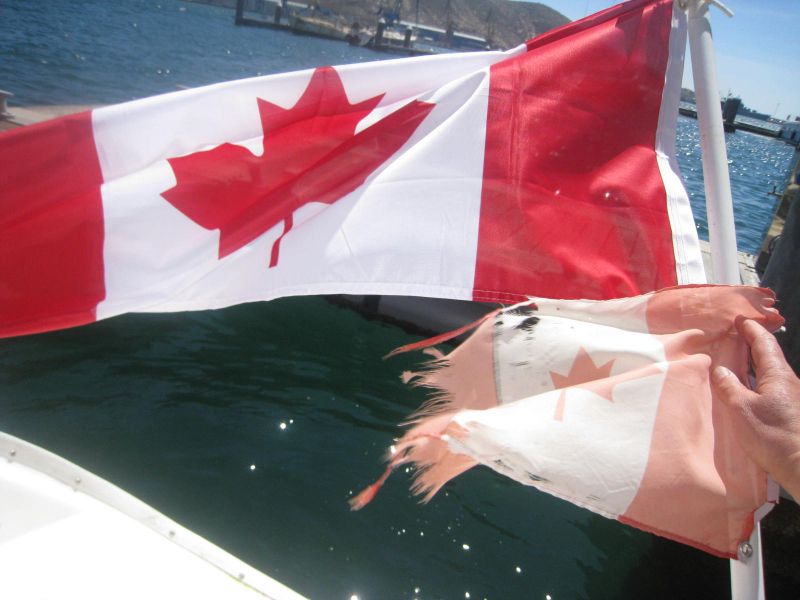 'tis good to be back on board 🙂