Current Location:
Marigot Bay, St Martin
Current Position: 18 3.88 N 063 5.7 W
Click to view map.
Distance sailed since last post:
349 nautical miles
.
View the map of our voyage track here
On our last post Nov 2020 we were looking forward to moving on to Puerto Rico or just straight to the Bahamas. It turns out after Christmas 2020 we were set up with PCR appointments prior for departure, when we got the call Mom (Ceu's Mom) passed away in Portugal. Course was changed rapidly and Ceu is now going to Portugal instead.
With Covid times making all plans unpredictable, one not knowing if there would be flights coming back to Grenada from Portugal, we decided it was best to come back home to Canada instead.
We spent the Winter snowshoeing and skiing and enjoying time with family and friends.
We love where we live and Spring has Sprung.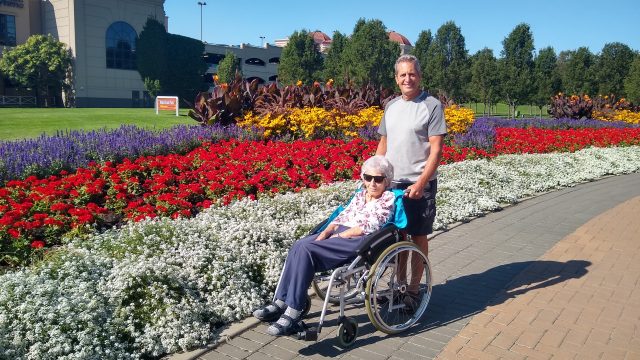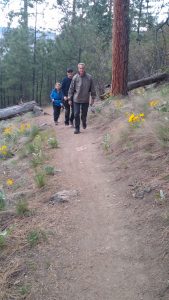 On Easter break we picked up the grandkids in Alberta did some camping along the way.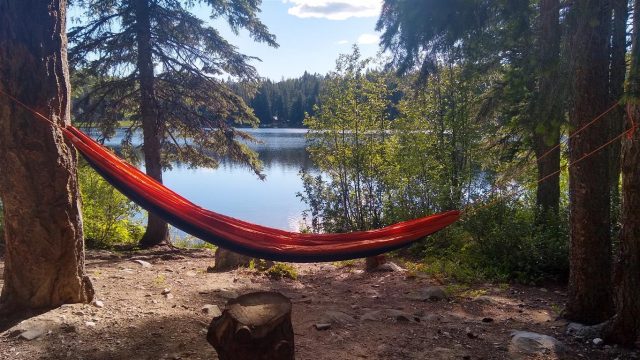 In May Noel joined the Sailing Club and brought in his little Trimaram he has been building the last couple of years.
Good times and good laughter as we show up with this black and white boat at the club, they called it Sea Cow…lol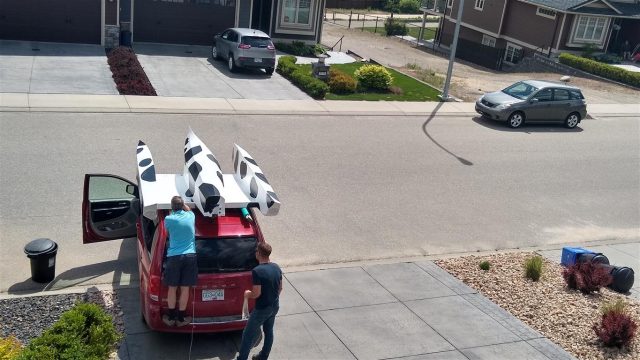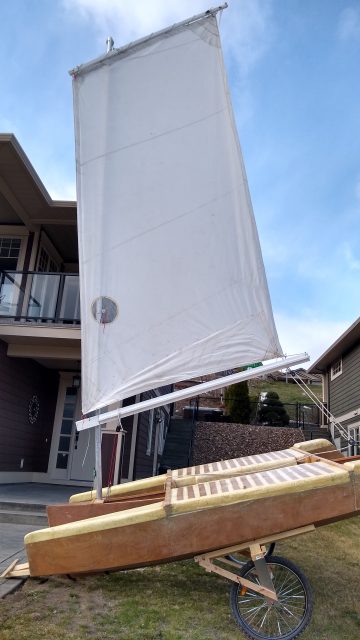 Ceu loves gardening, so she enjoyed growing nice vegetables all summer long. She also enjoyed landscaping the front yard. We removed all the grass and put decorative rock with some shrubs. Much less maintenance and water.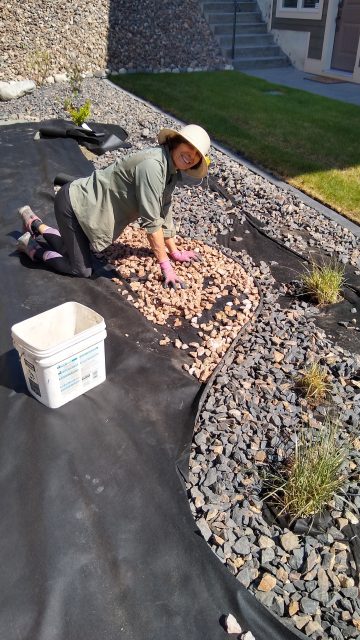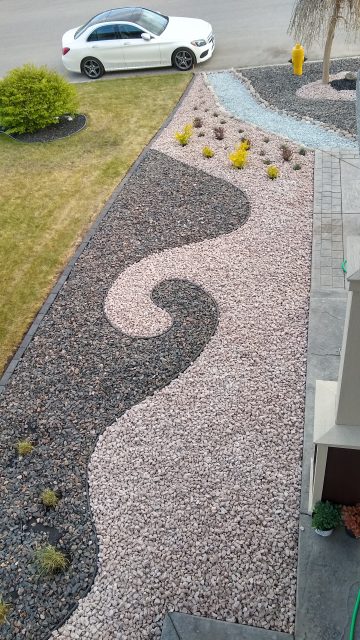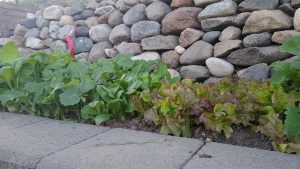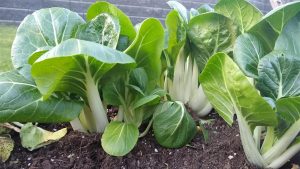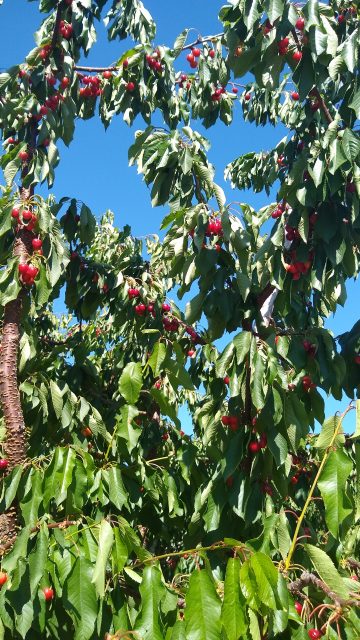 Again we enjoyed our Summer in the Okanagan and great times were had with the family and friends. Lots of walks and some hikes and lots of swimming in the Lakes. Life Part 2 was being looked after in Grenada for Hurricane Season.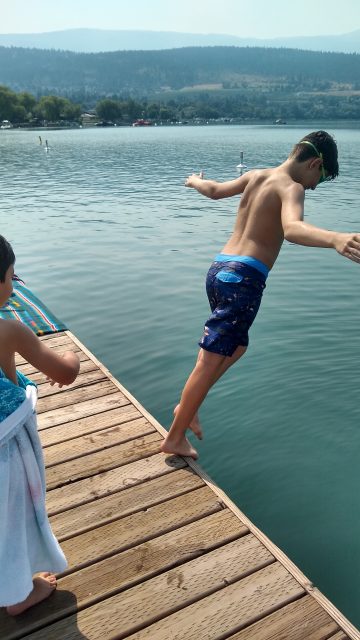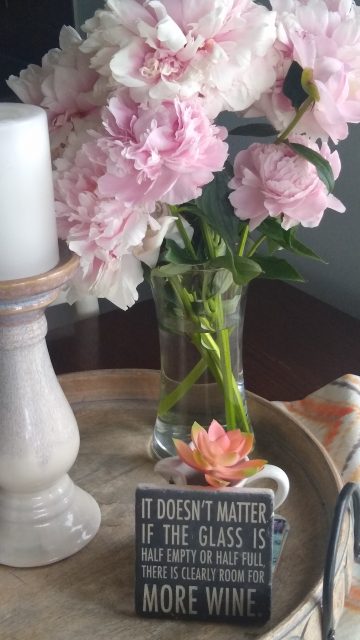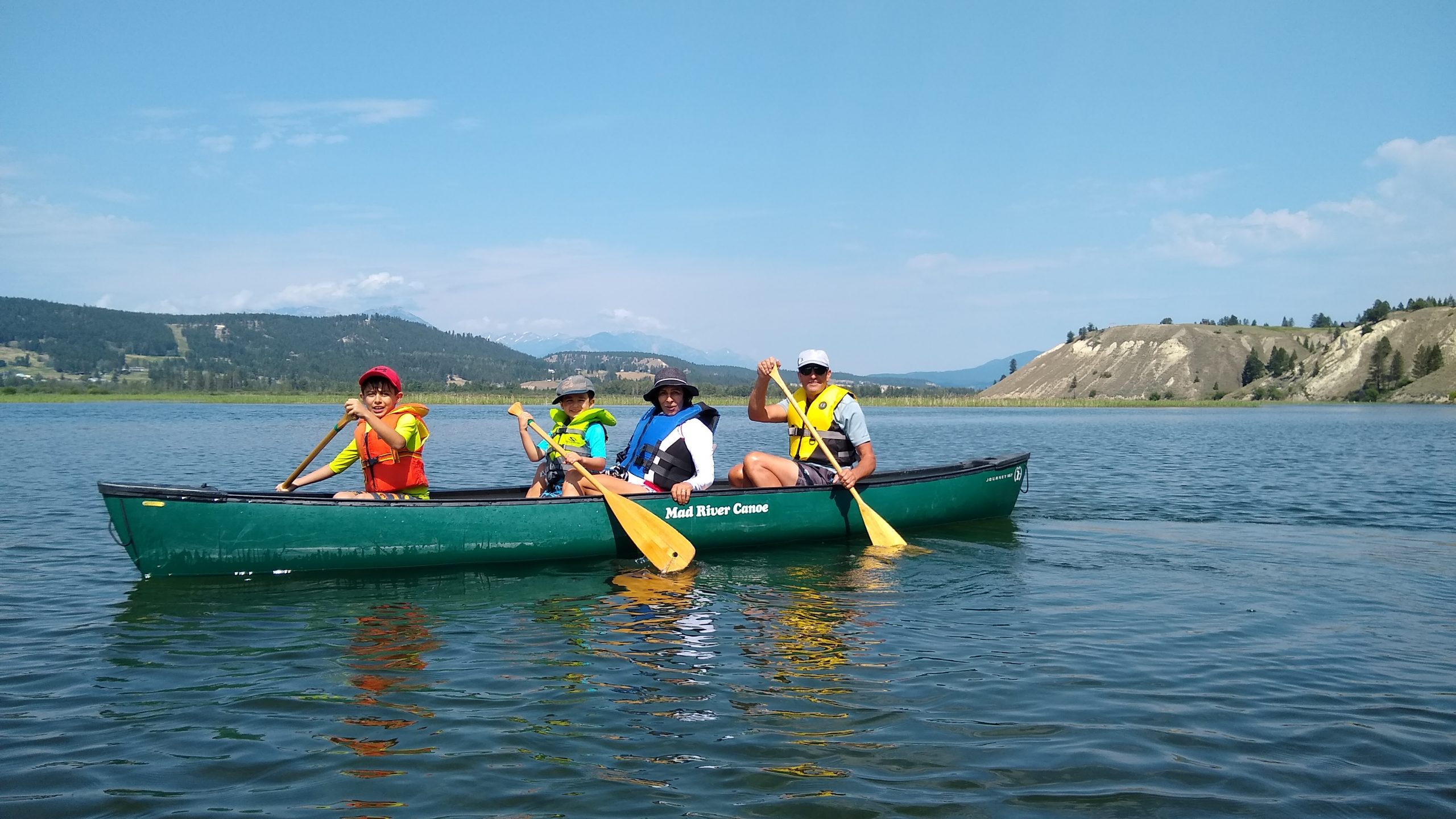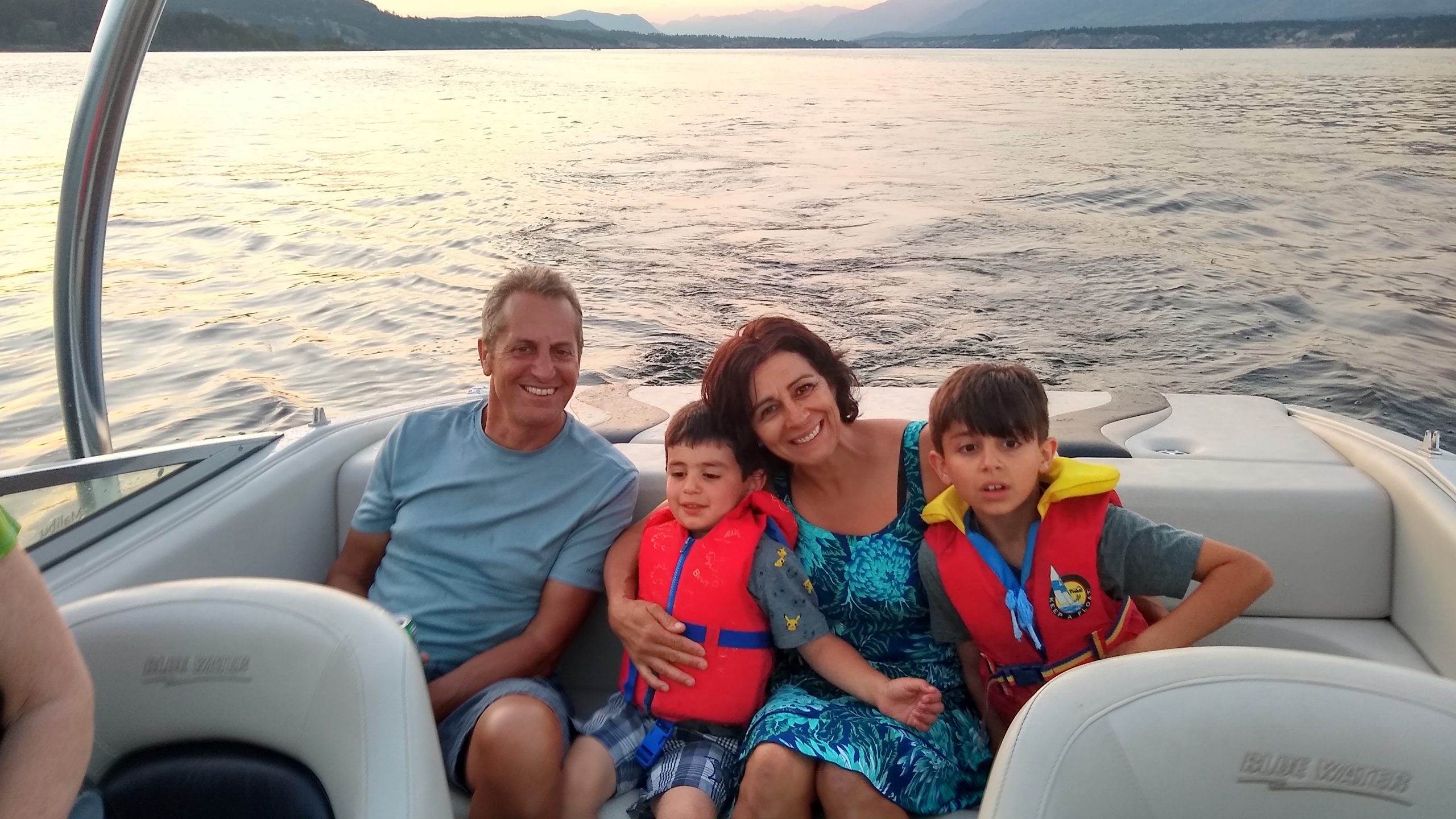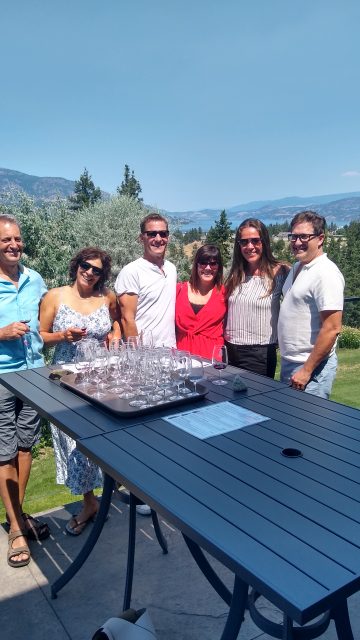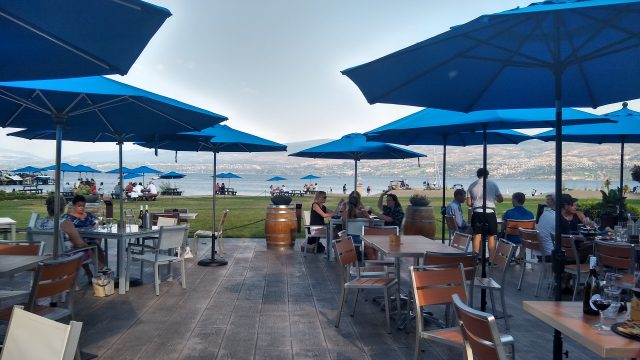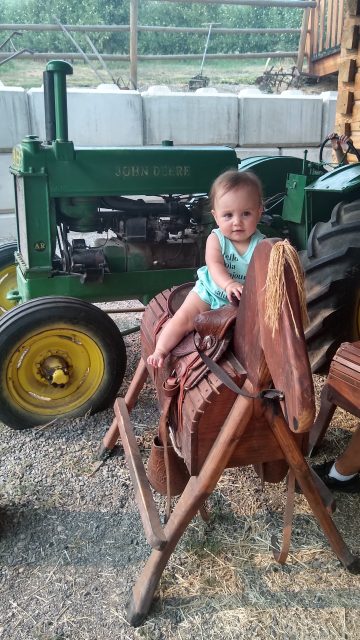 September we went to Portugal and spend time with family and celebrate Ceu's brother 60th Birthday.
Our plans changed again when we were to go to England and visit our other 2 kids. We could not go. England was not accepting the vaccines from Canada. Even though they are the same vaccines and we both have 2 vaccines the same. Go figure!
We stayed in Portugal a bit longer, rented a car and went up North of Portugal to beautiful city of Porto. From there we walked de Portugues Camino de Santiago de Compostela for 6 days. It was our first multi day walking trip and we found it very pleasant and not tiring, average 20 km a day.
Porto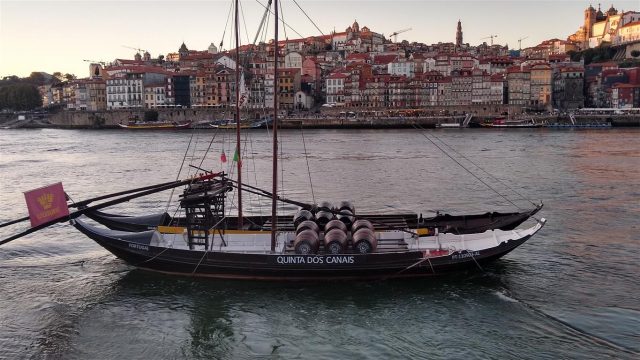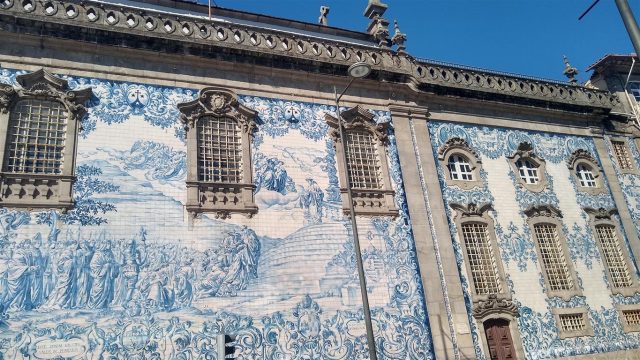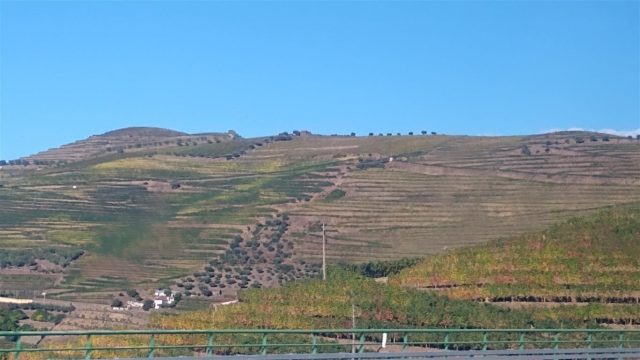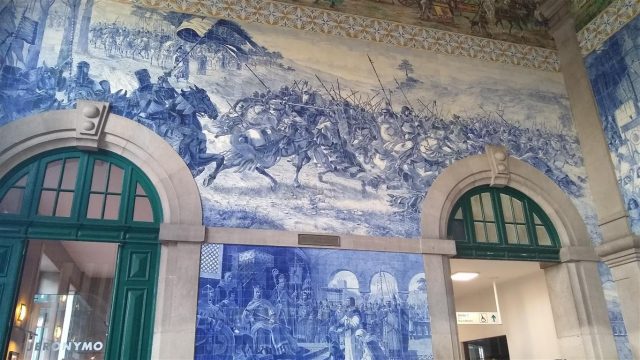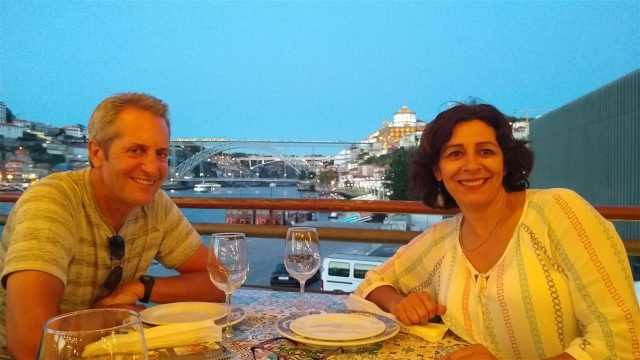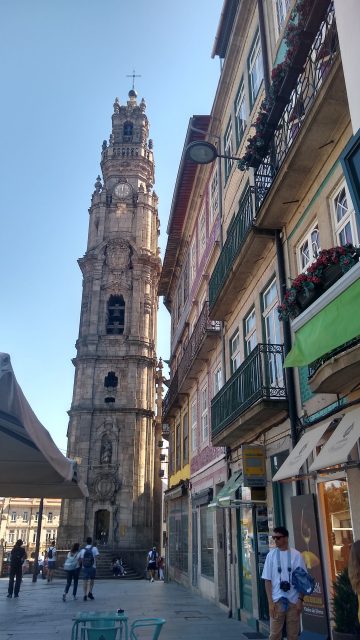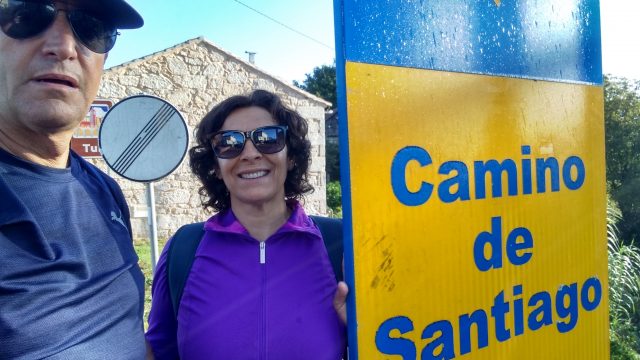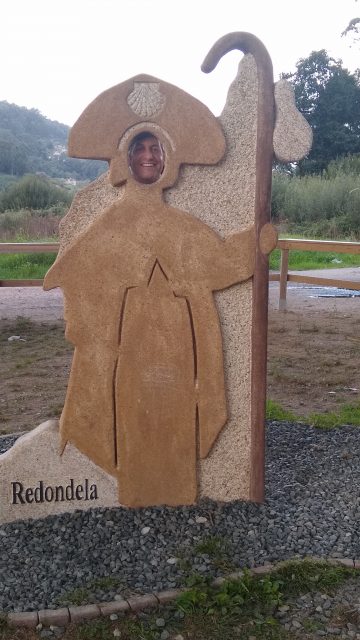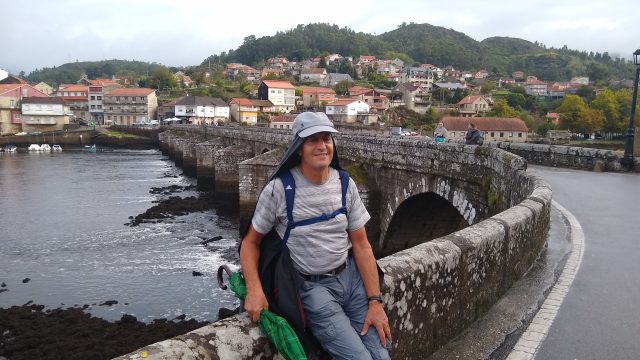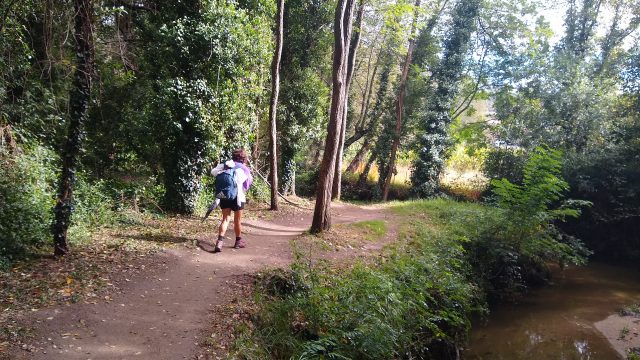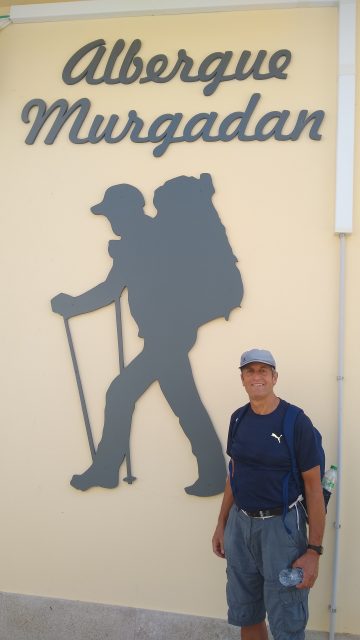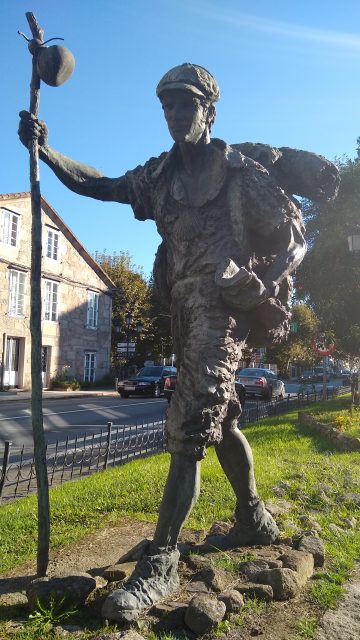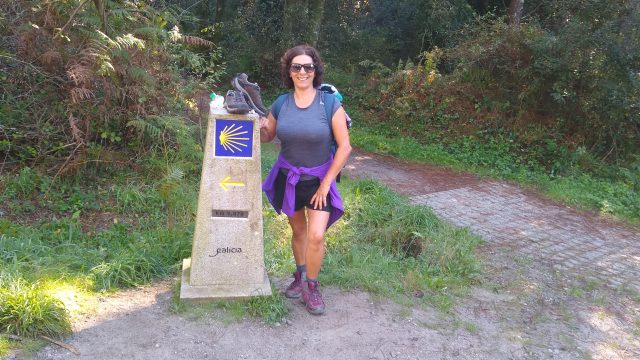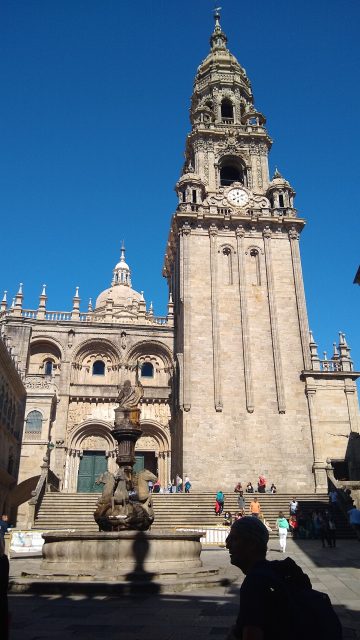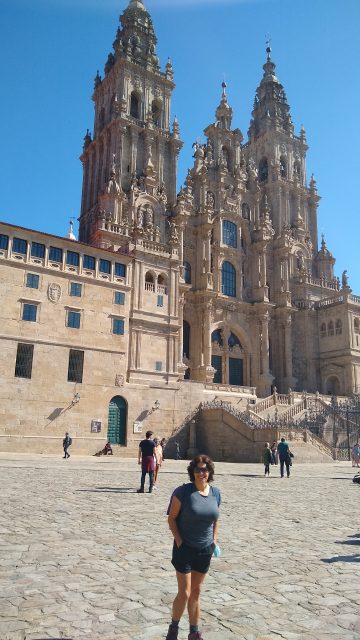 Cathedral of santiago. The end of of the famous Pilgimage routes of Santiago de Compostela. It is said to be the burial of the apostle St James, and his remains lie in this Cathedral.
The city is the Capital of Northwest Spain, Galicia, and its a UNESCO world heritage site. The Cathedral has spectacular facades and the interior, from the adorned gold leaf to sculptures and architecture… amazing work. I took many pictures but they dont do any justice.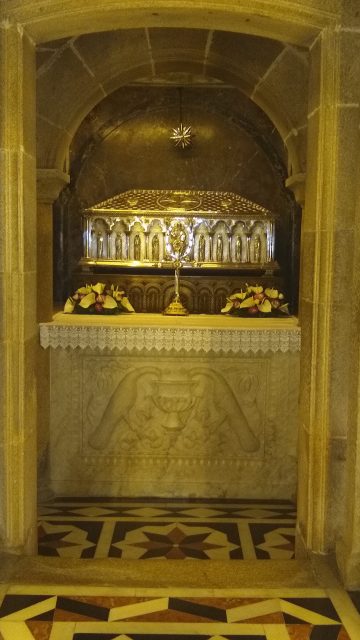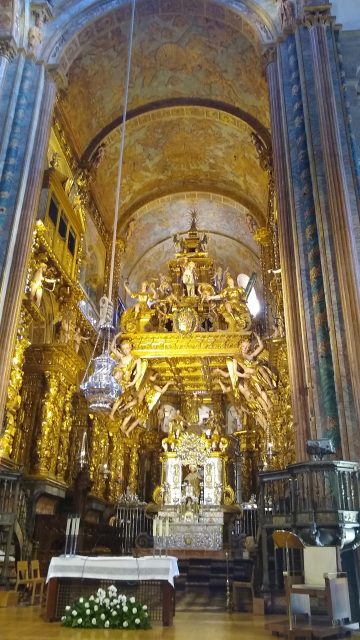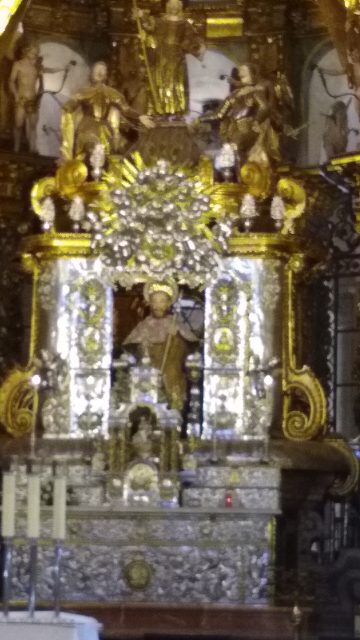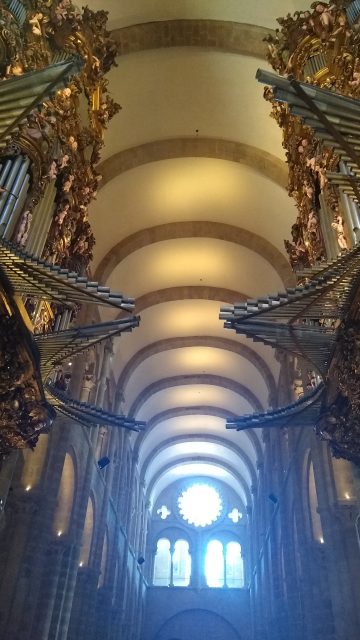 A side trip to our Maritime Aveiro. This city is little Venice of Portugal. Its perched on the shores of a coastal lagoon historicaly famous for the fishing, salt and seaweed. The town boast with buildings and streets decorated azulejo tiles. You can cruise the city's canal network on these brightly coloured traditional boats called Moliceiros. We had so much fun.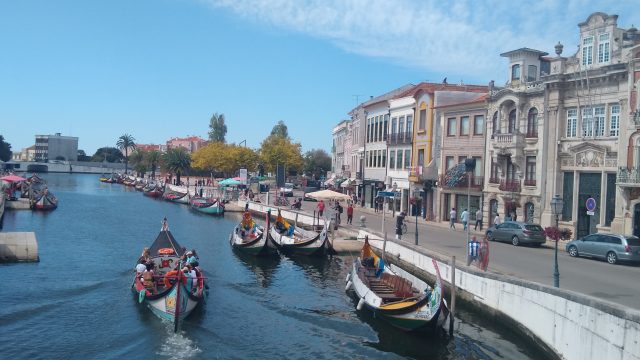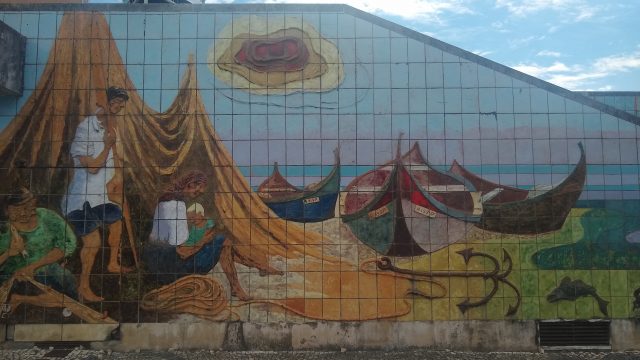 Near Aveiro we visited Praia da costa Nova, a very picturesque sea-side town with great atmosphere and good food. It was late in the season, beaches are almost empty and so pleasant to visit.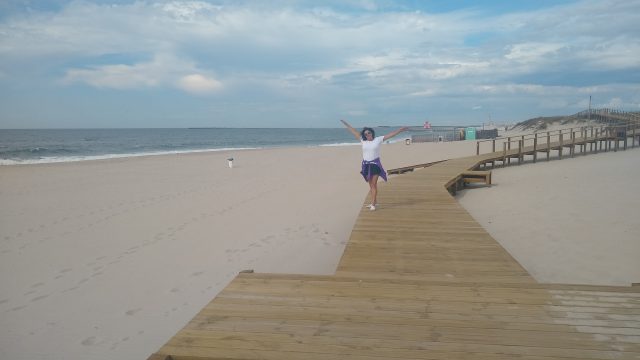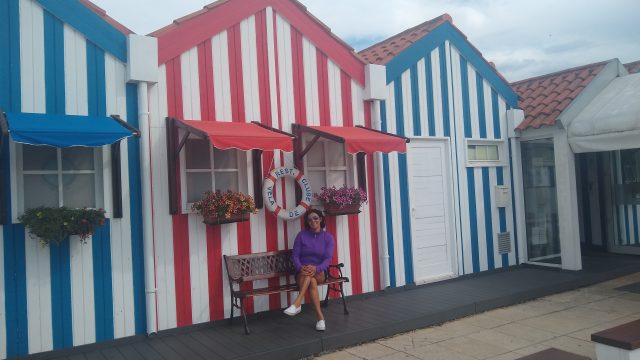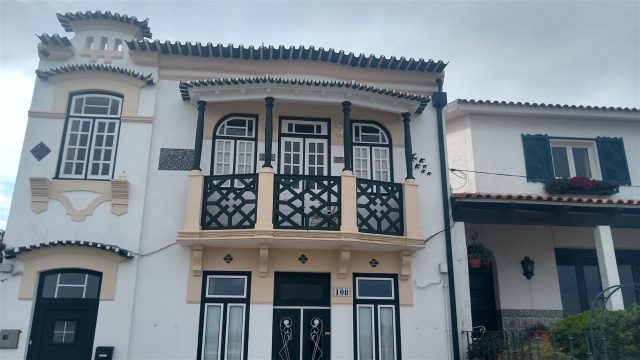 It is now time to start booking flights to come back to Grenada and join Life Part 2. Well, the only flights available were through the US and the US was not allowing travelers in coming from Europe. So we came back home to Canada for a couple of weeks in October. We could only book our flights for Nov 1st when Air Canada started to fly directly Toronto – Grenada
And that takes us to being away from the boat for 10 months.
The flight to Grenada was fine. Only 4 days of quarantine on a Hotel while waiting for test results.
And now its time to clean up the boat. Some mildew, not bad. But the bottom of the boat…wow, we had a whole ecosystem on it. Beautiful colored sponges, crabs, even banded coral shrimp. we have only seen these on our boat. It took us 2 mornings of scraping, it came off easily in big chunks floating away, and the creatures are now free to find new homes!
Like all boats, a bit of maintenance needed, but engines started at the first turn, batteries fully charged, water pump working, toilets are working . We have propane and stove works too. Yey, we can go places…after a big grocery shop!!
Oops the dinghy! Our taxi, its taking in water. We moved to Pricly Bay anchorage in Grenada near where Budget Marine is so Noel could get what he needed to repair the dinghy. Did another couple of sails around the island to make sure all was working and to try and catch some fish. first catch of the season was a barracuda but let it go again. It is not safe to eat due to poisoning ciguatera.
Although Grenada is a beautiful Island we have spent lots of time there and were excited making plans to go to Puerto Rico. But first we needed to make a stop in St Maarten and get the bottom of the boat painted.
Left Grenada on Nov 18 to sister island of Cariacou, where we staged ourselves to leave the next day to St Maarten. We were happy to hear that you just need to be vaccinated to check in to French St Maarten. No need for any testing prior. So we checked out in Cariacou and prepared some home cooked meals for the trip.
The next morning, Friday 19 we got up at 4:30 am to watch the amazing Eclipse of the Moon. It was very special to be able to watch it. An hour later, about 5:30 we set sail for St Maarten. We stared off with 17-22 kts of wind, died down a bit by lunch time. We had our fishing line out and something big came and broke it never saw anything. Just another lure gone!! During the night the wind was pretty consistent at 14-17 kts and our speed was about 7 kts. Morning we caught another barracuda, which we sent back again. But the following the day we were so excited to catch not one, but TWO Spanish mackerel. Later just before St Maarten near Philipsburg we caught a beautiful and tasty Mahi Mahi. Lots of fish to prepare upon arrival, and a dirty bloody stern to clean up. We had a great voyage with with brightest full moon and small waves. Beautiful sunsets and sunrises.
About 360 nautical miles and 2.5 days we checked in to St Marten.
St Maarten
He hauled out at Tobys Marina with everything running smoothly. Besides the bottom painting we did a couple of other jobs that took us working from 7 am and into the dark so we could do get out of the boat yeard as soon as we could. Its never a fun place to be, although this one is actually pretty good and a great breeze flowing through, no mosquitoes and not too hot.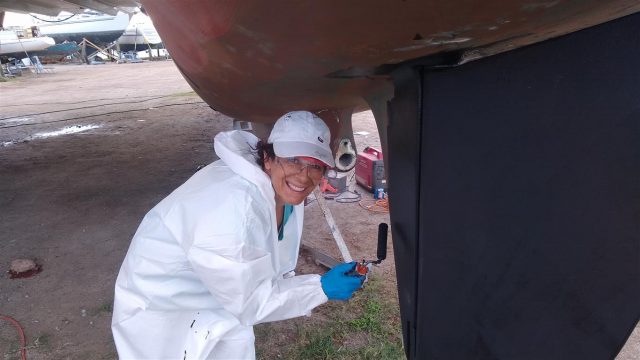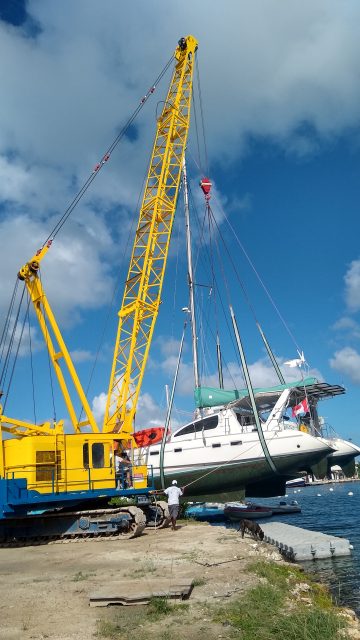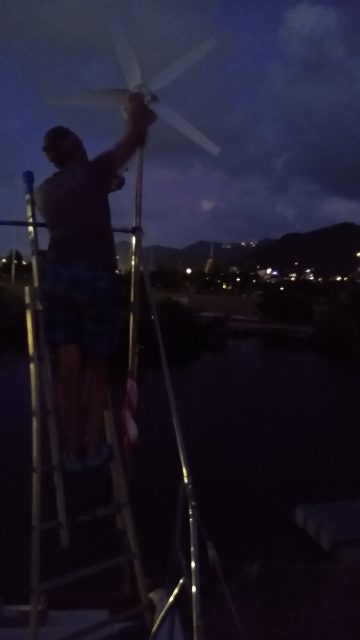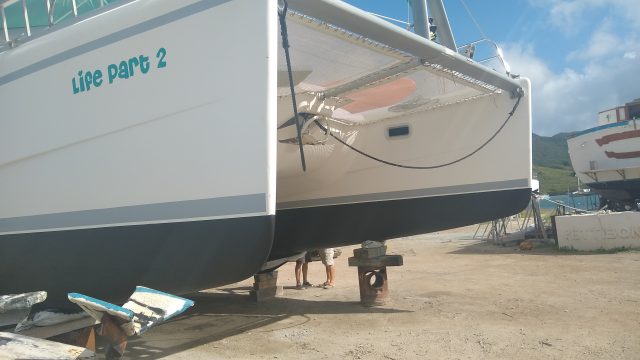 Once we got out with a clean bottom we got into tourist mode and visited some areas of the island that we hadn't visited before.
We visited the local Loterie farm where Noel and I adventured into Ziplining and obtacle courses.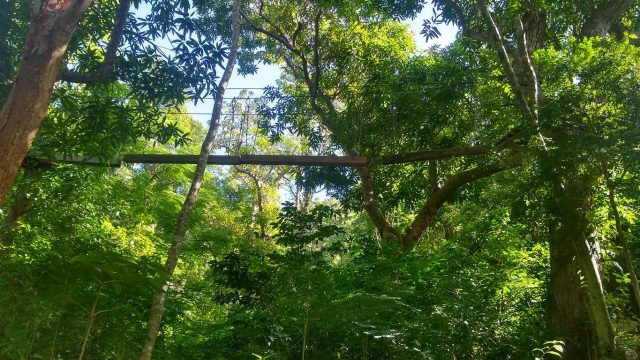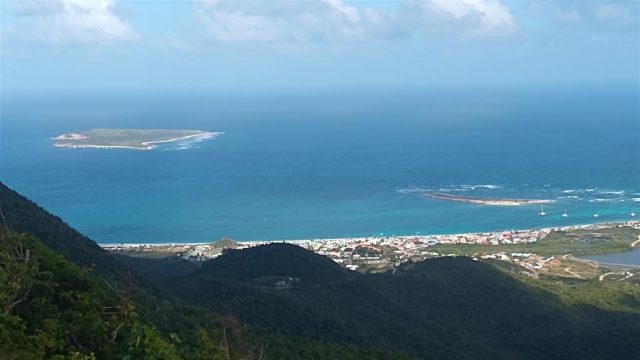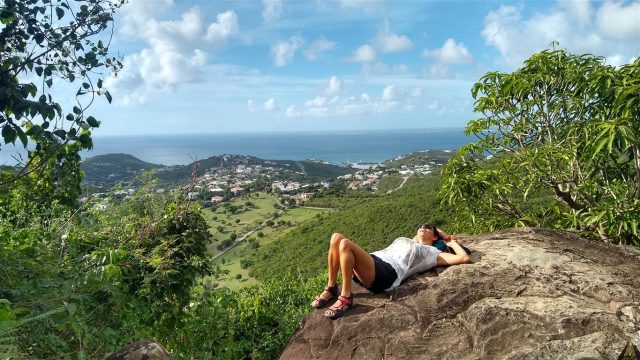 And if that wasnt enough, we did a steep hike to the top of the mountain. it took us awhile to burn off all that adrenaline. We treated ouselves to a nice drink and awsome meal at the Restaurant on the Farm. We headed to the main road and started walking to meet the local bus. We never saw one, so just kept walking home to our anchorage in Marigot Bay. It was only 3 Kms. Great day out.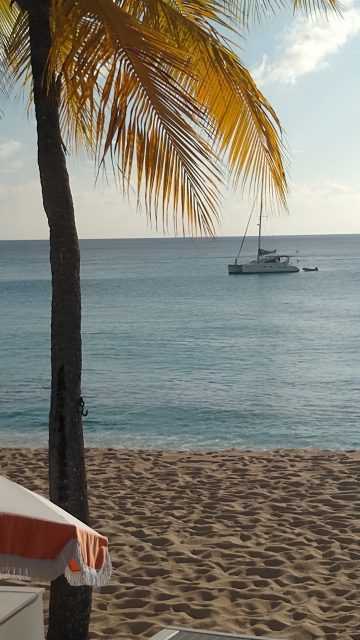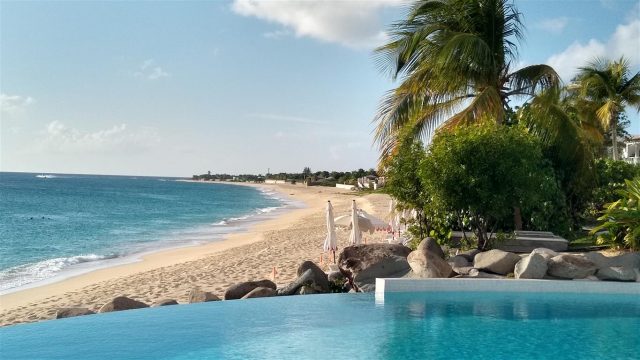 Anchored in Beautiful Cupecoy Beach. After a nice swim and a walk along the beach we decided to go into the nice fancy bar for a drink. We were welcomed by a friendly young man who was full of questions about Canada and plans to move there. When we looked at the drinks menu we realized you sure pay extra for being in a very nice location!
Cokctails were $17 USD! Oh well we still enjoyed a nice drink and a nice chat with the waiter.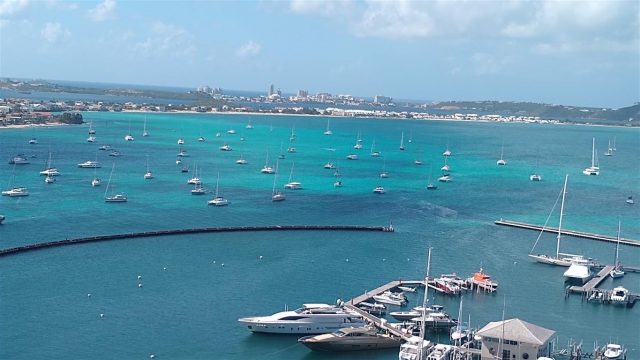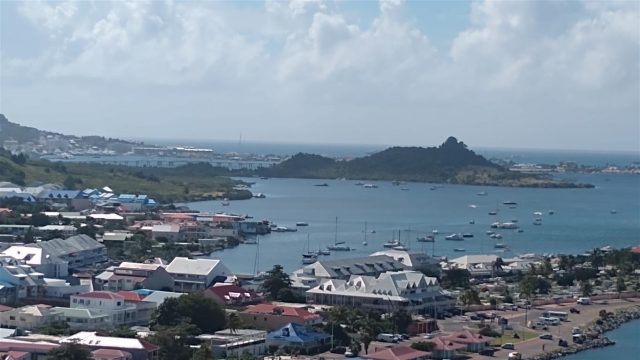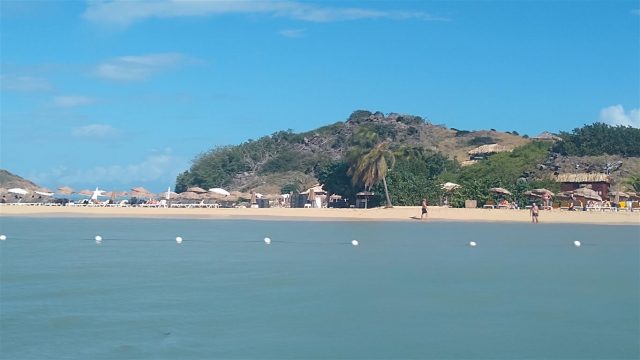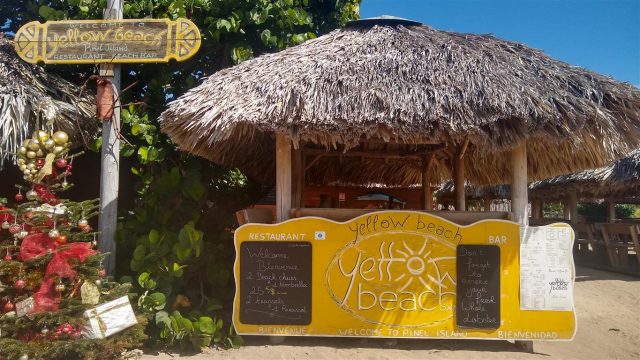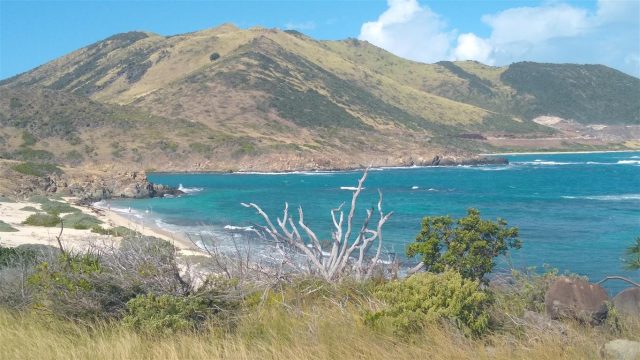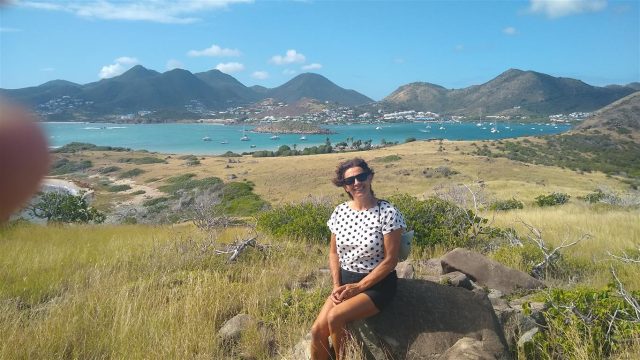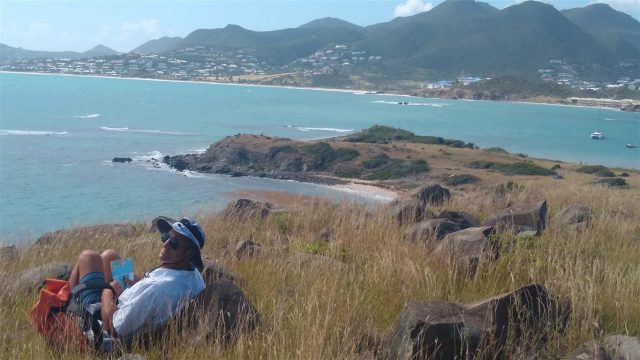 The beautiful island of Pinhel, French side of St Martin
We had fun fun fun in this beautiful Island. Lots of nice beaches and lots of nice places inland as well. But it is time to leave on the next adventure.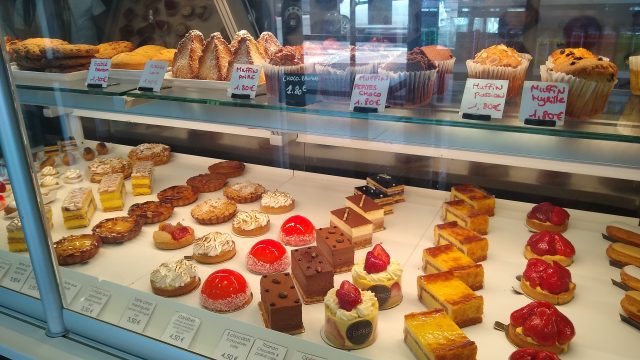 Oh, and did I mention the French pastries? We enjoyed downtown Marigot one more time for a nice Baguette and Pain au chocolat et almondes and we are off to Puerto Rico.
Stay tuned for Christmas and New Year 2022 in Puerto Rico