Boiling Lake, Dominica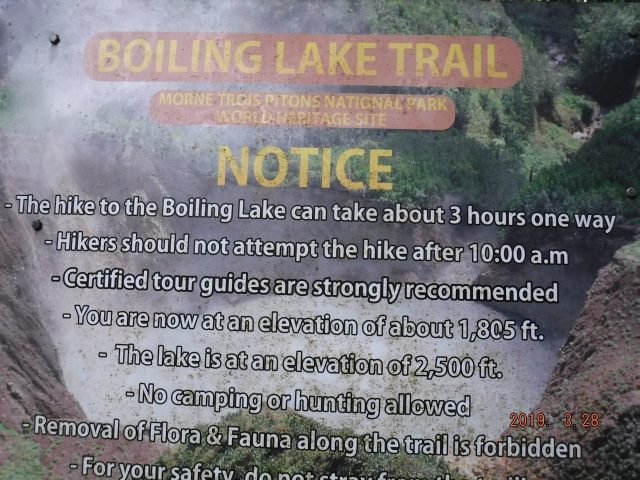 One of the toughest and most famous hikes in Dominica is to the Boiling Lake. We had done this hike ten years ago, but we knew we had to include it again on our pass through the island. We love it. Reported to be the second largest in the world, after one in New Zealand, this is well worth a visit while in Dominica. We chose not to go with a guide. We were anchored in Russeau. Walked into town and took a bus to the start of the hike in Titou Gorge.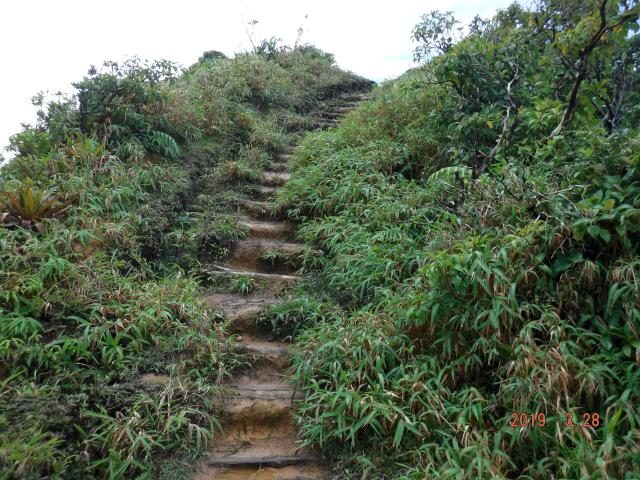 The hike does not start on the flat and only gets more challenging as you get up into the Morne Trois Pitons National Park. Steps have been made from tree trunks and you will find yourself heading mostly uphill. Starts off with a nice shaded dense rainforest.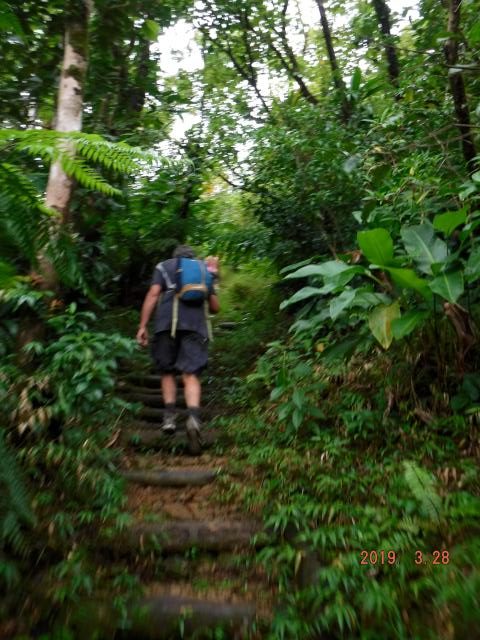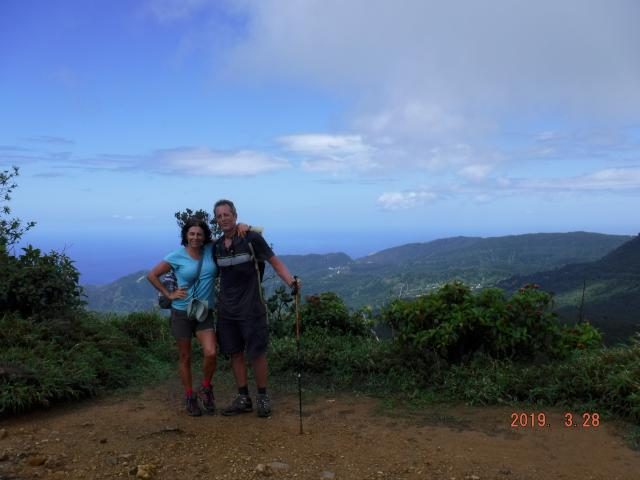 The total elevation gain is around 1,300 feet. Time to stop and admire the views. On one side you can see the town and all the way up where you came from. The other side, the beautiful valley, the gorge, the streams of varying colours and bubbling hot springs. From here, there is a tricky downhill section into the Valley of Desolation.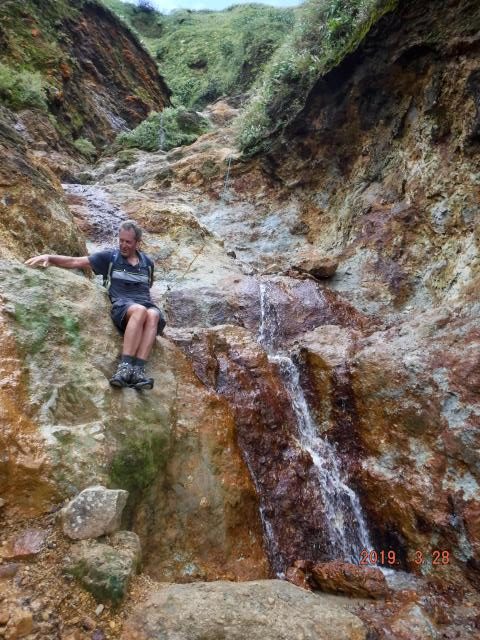 Yes…some challenging areas. The route is a little harder to follow as it has not been beaten enough yet and the trail beyond is now a river walk until it reappears as a steep, rope-assisted rock climb and descent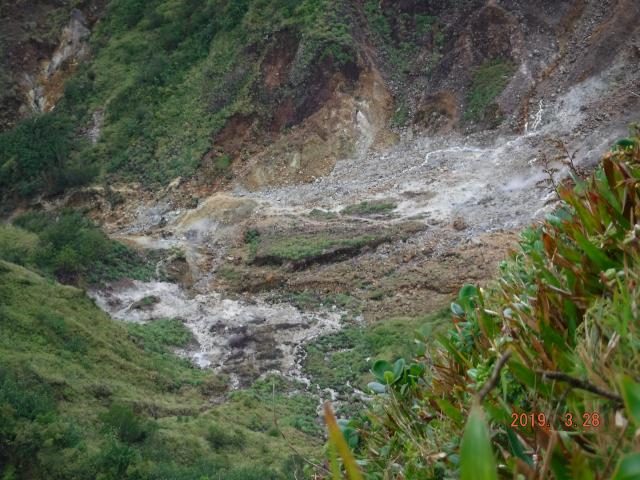 Below is the first glimpse of the Boiling Lake, looking so close but yet so far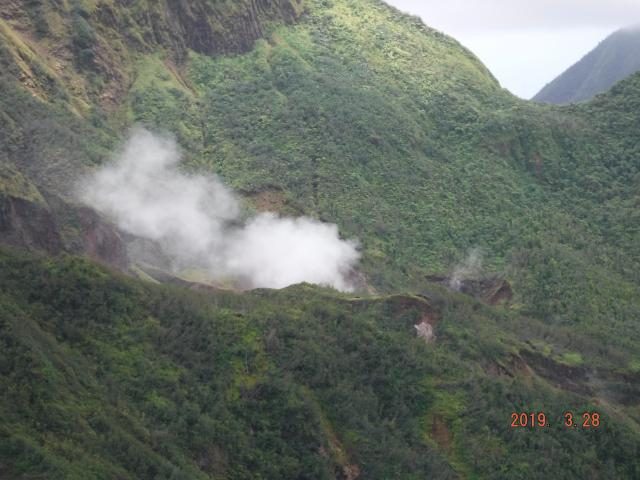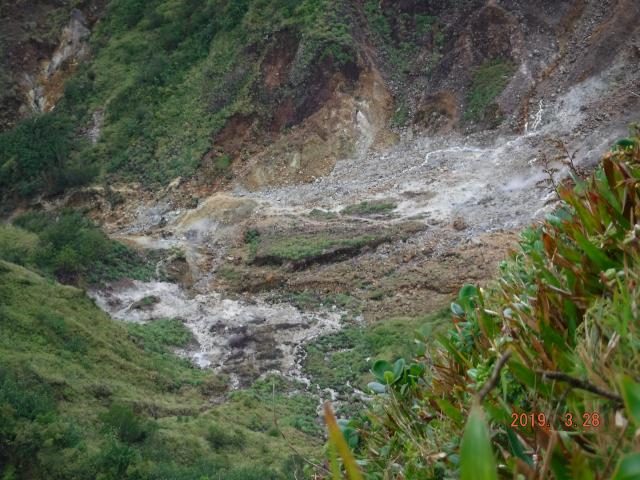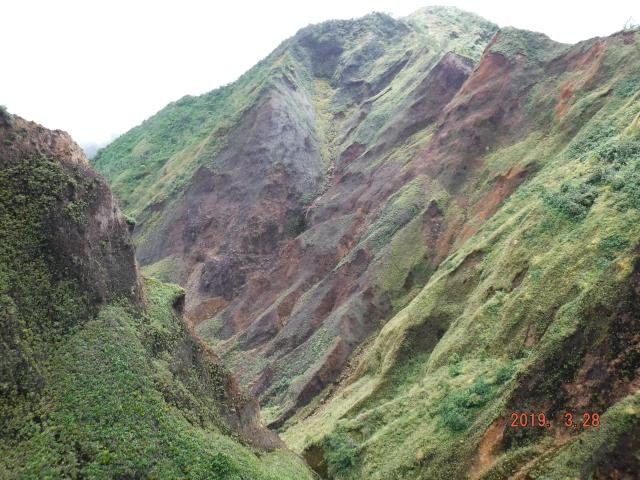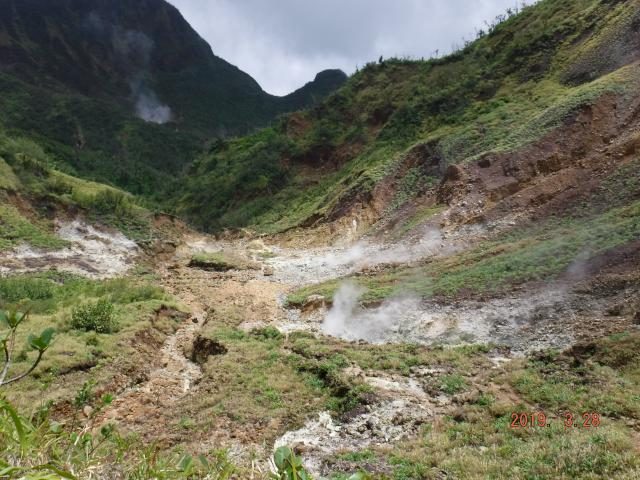 We did not try it, but people say that some guides bring eggs and boil them here for lunch. We did not have a guide, as we knew how to get there. Having said that, since Hurricane Maria, the route is a little harder to follow as it has not been beaten enough yet and the trail beyond is now a river walk until it reappears as a steep, rope-assisted rock climb.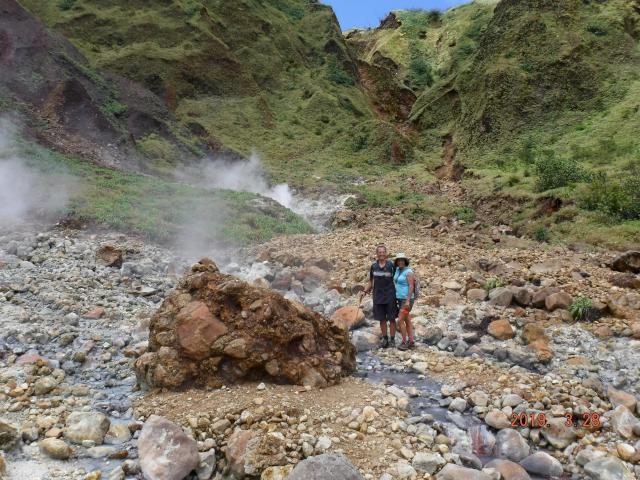 Walking through the valley and marvel at the streams of different colours and bubbling hot springs.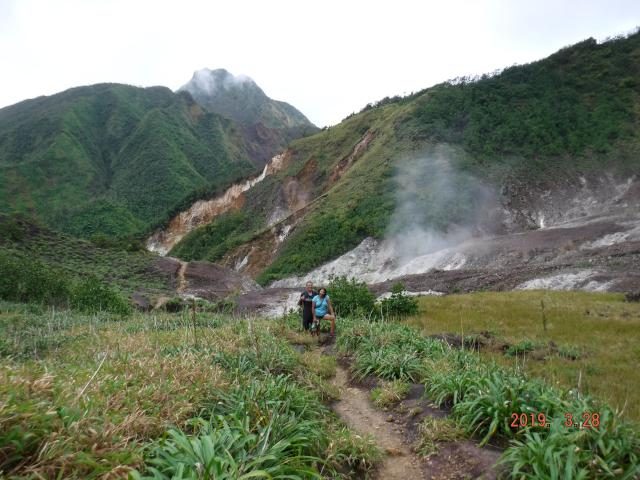 We have arrived at the destination…never disappointed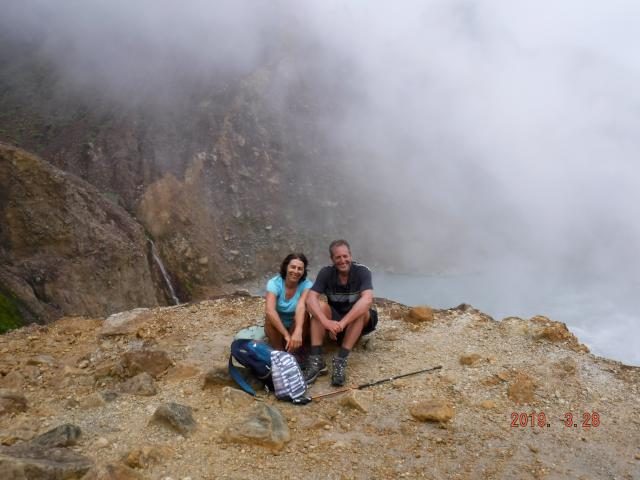 Yes… The water is boiling. Because of the high temperature of the water, it is often shrouded in steam but you wait for a minute or 2 for the wind to pick up and clear the air to get a good view of lake below.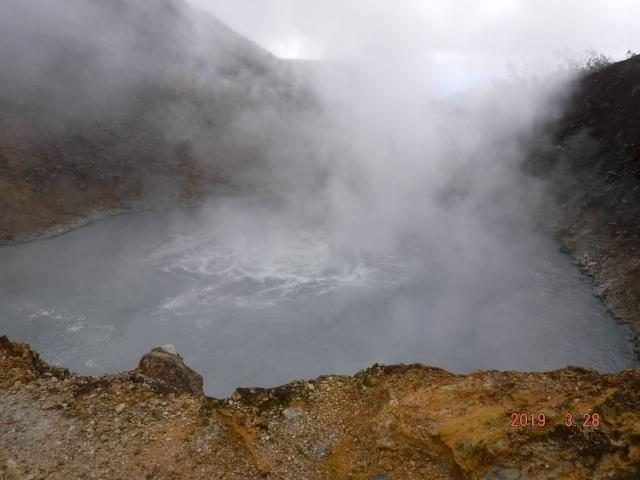 We sat down and enjoyed a nice picnic lunch here.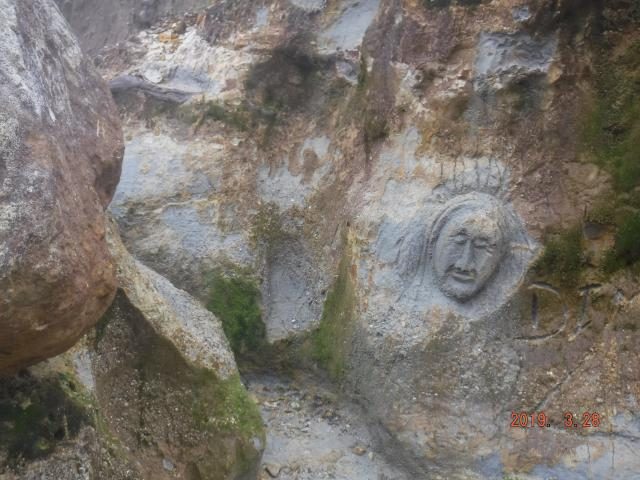 What goes up must come down….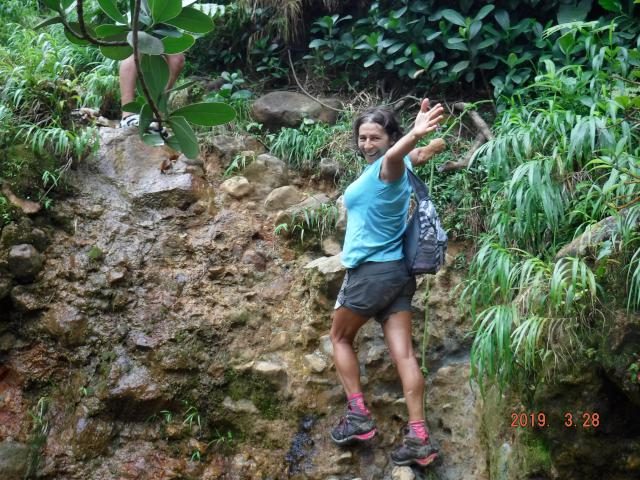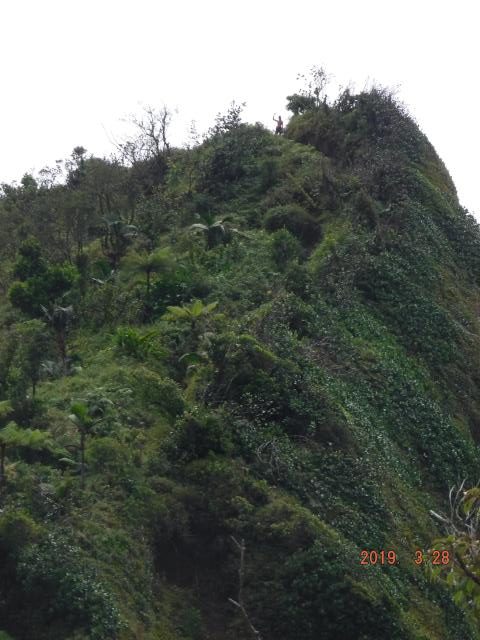 Landslides have transformed the high ridge section now a narrow track, barely a foot wide, has sheer drops on either side. If your knees wobble, forget the view and don't look down.
At the end of the hike we enjoyed a nice fresh water swim. Noel ahead of me swimming through Titou Gorge deep into a waterfall.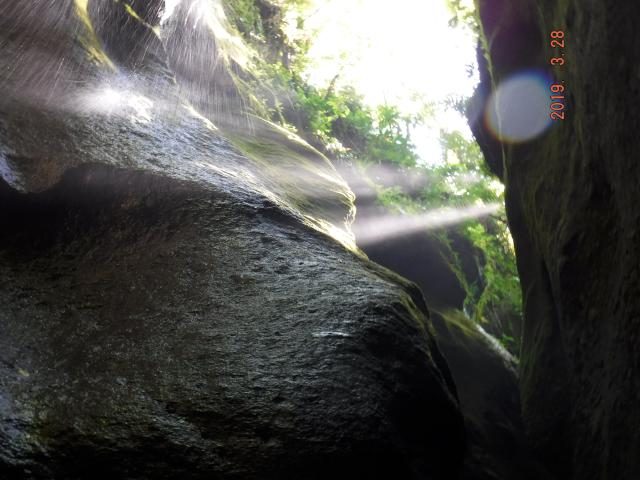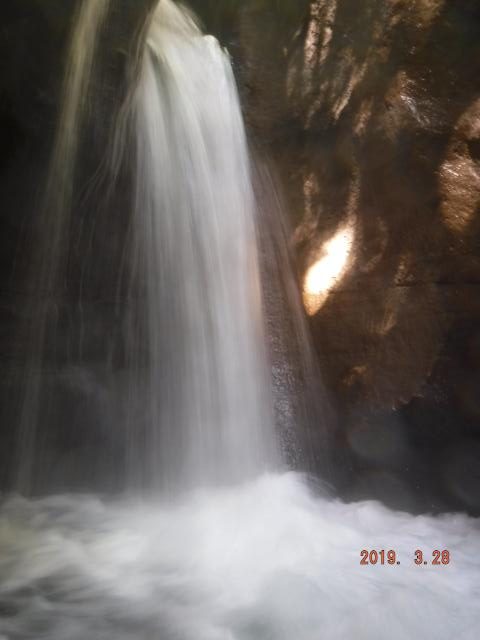 In Titou Gorge, while toweling off from our much appreciated cool swim, we got chatting with some locals young guys. They wanted to show us their local weekend hang out. Not a tourist spot. High jumping into this canyon. No, we did not jump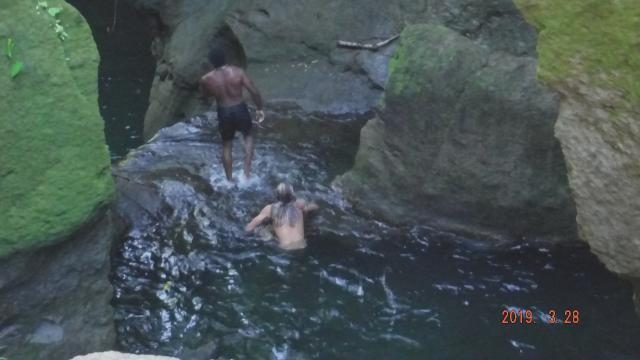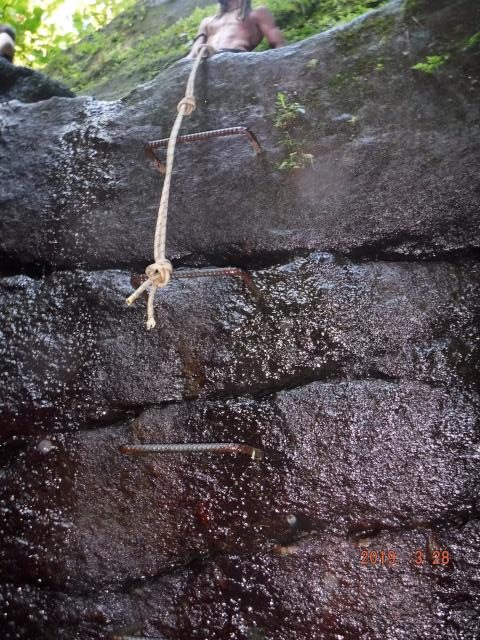 Walking down we were on all fours and assisted by robes, trough this steep and muddy creek to get down to the other canyon. Noel and I couldn't help but laugh. We had done such a huge hike already and here we are running after these young punks down on our hands holding on to tree roots and branches through steep running creek and muddy steps
We descended and walked a bit up the canyon to this great waterfall.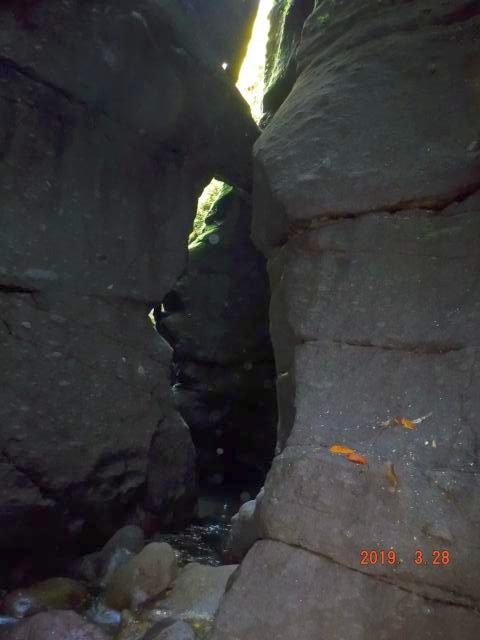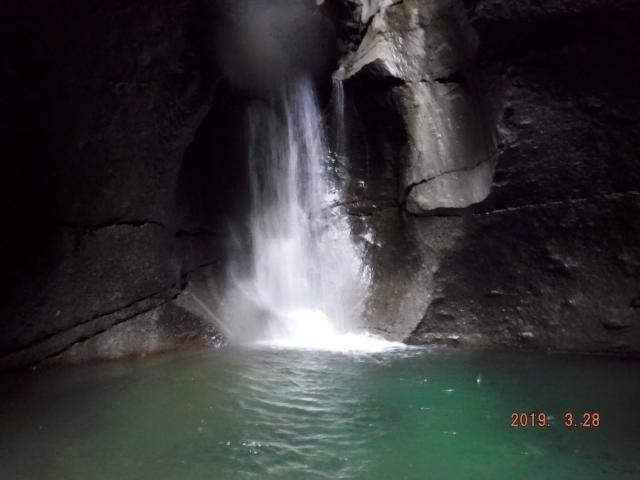 Another nice swim. We still had to make it back up to the parking lot and a bus ride into town. What a great day out. Full day too.
Guadaloupe
Love the Nature trails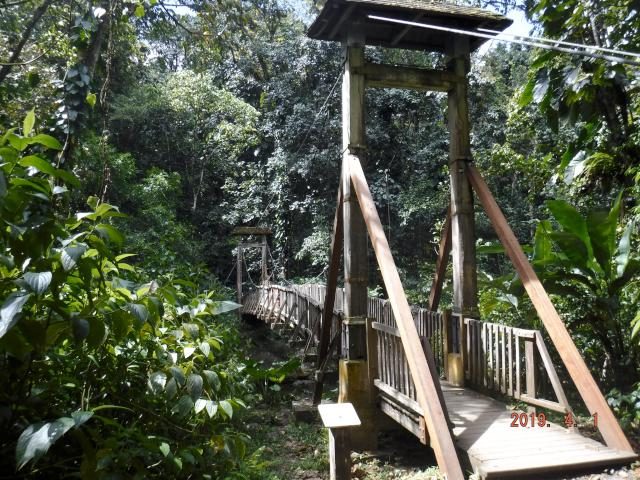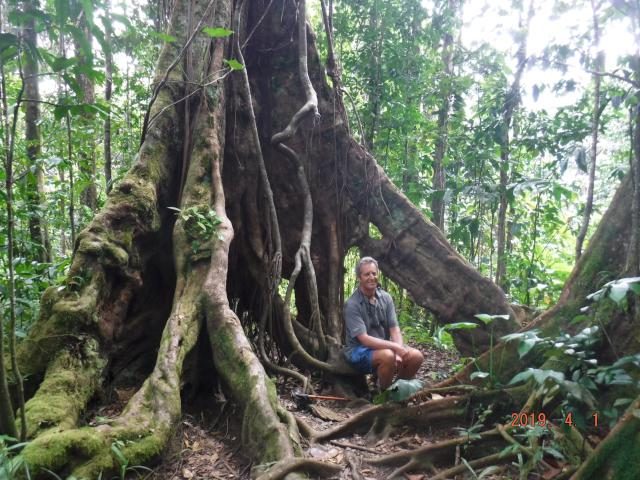 Hike to Falls, Saute de la Lezard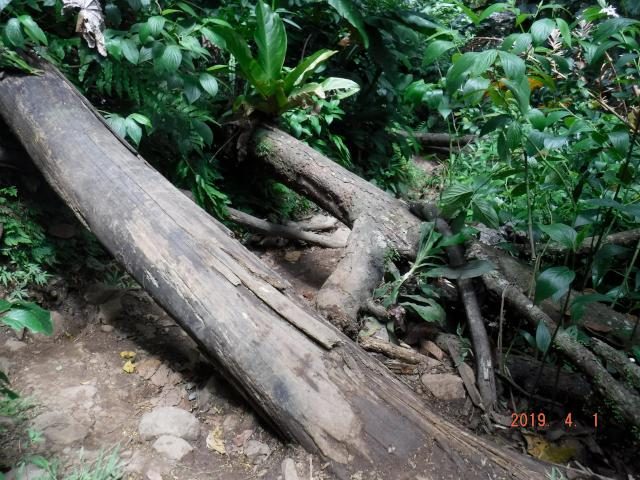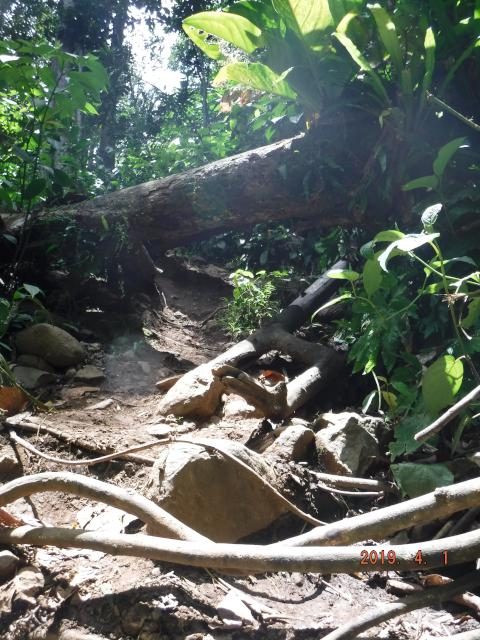 Another challenging trail, but this hike was not that long.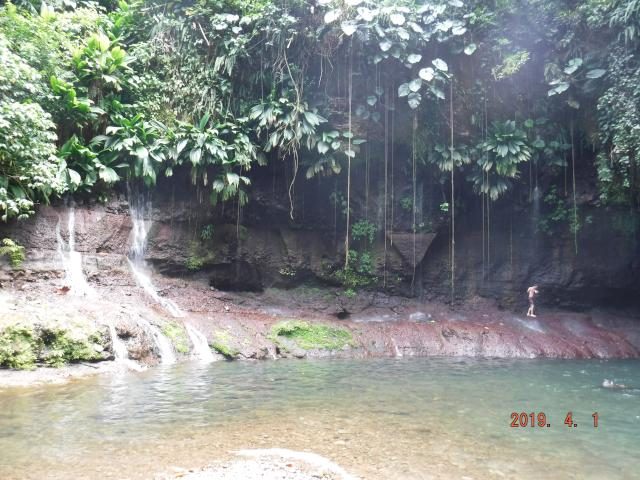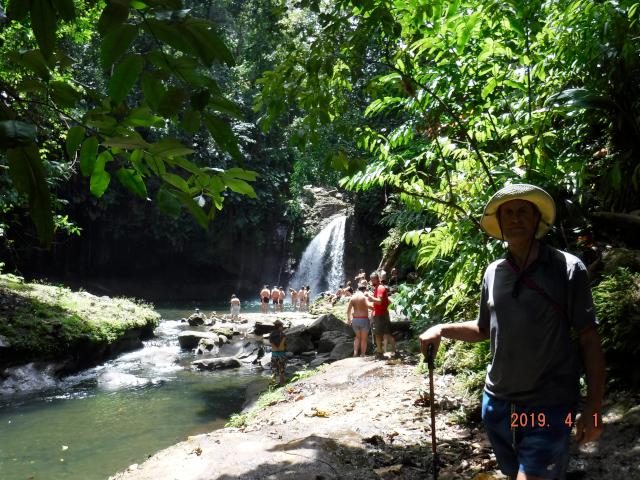 We were surprised with the crowd of almost 20 young people, who perhaps were University students. They were having fun taking turns jumping down.
Although we did not have to ourselves, it was still a nice surprise. These Falls were beautiful and a very large swimming pool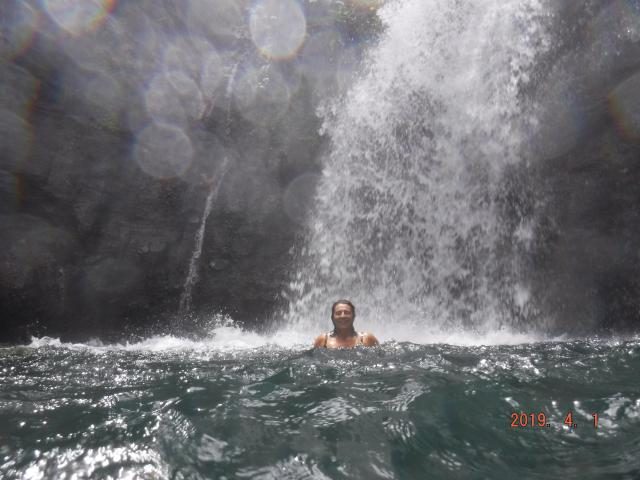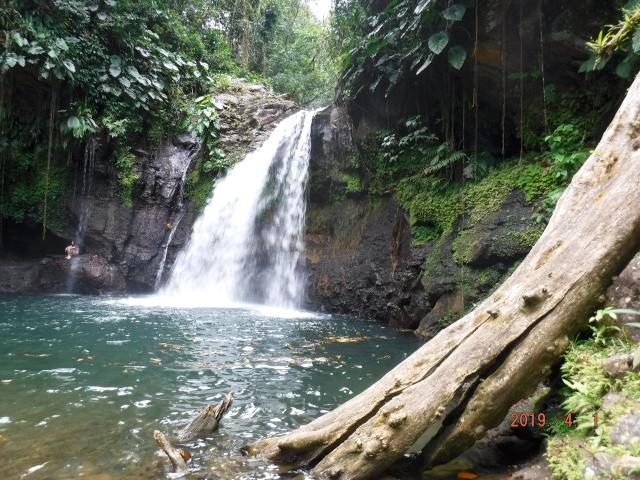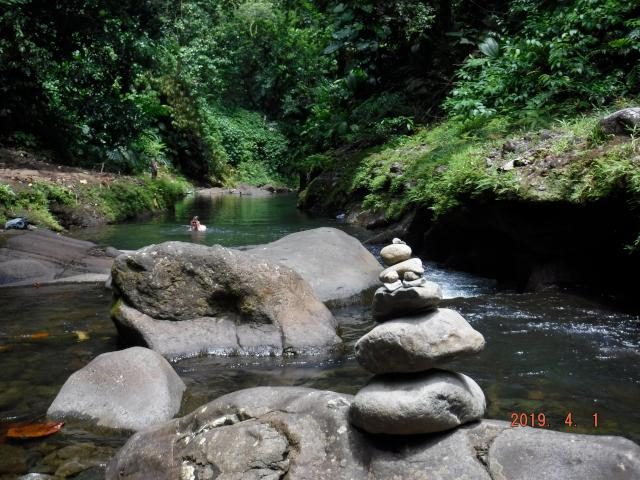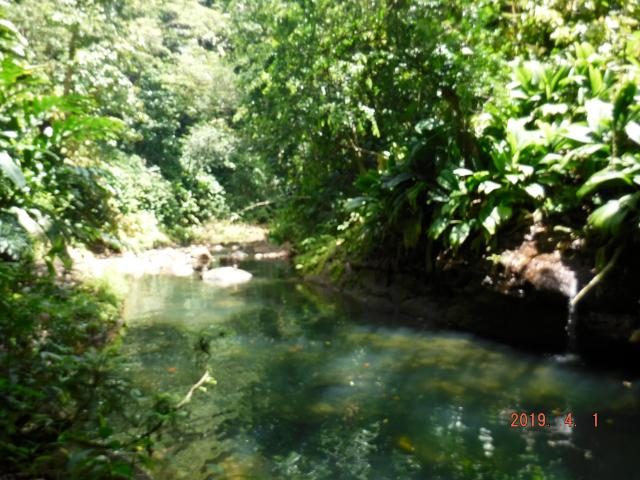 We were once again climbing up on roots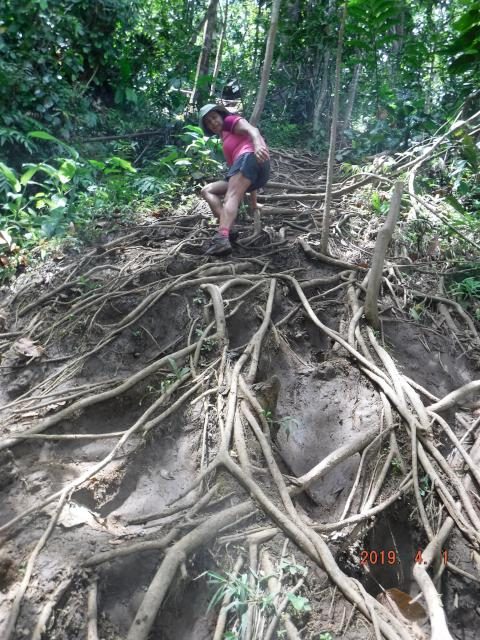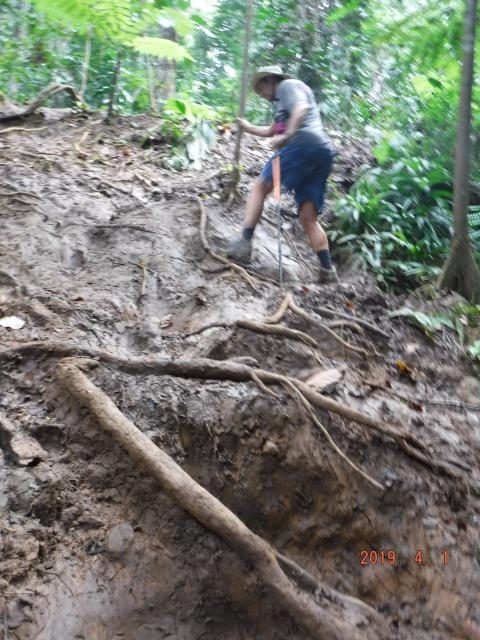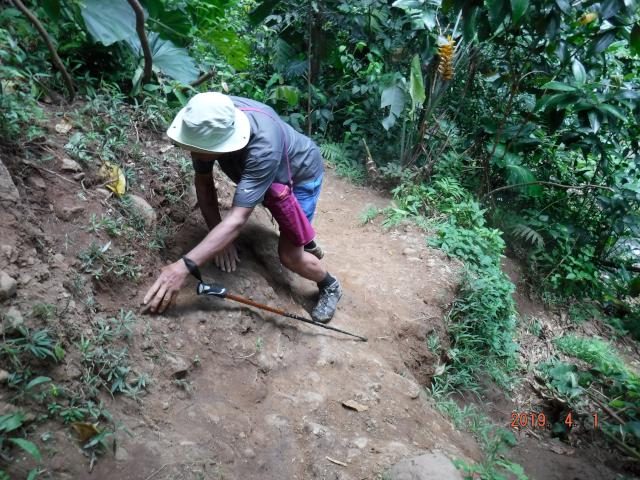 It looks like Noel got himself in a bit of a pickle. He is not sure if he has enough space to move his right foot forward, and he has no room on his left. Its all downhill. Well, while I wait I took a picture of this visitor and of this beautiful flower next to us.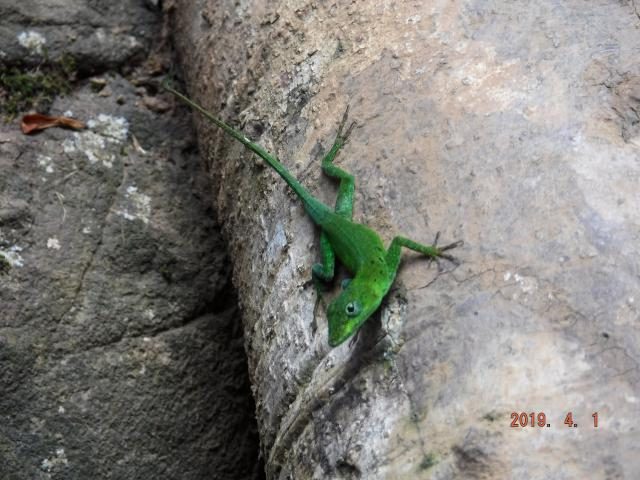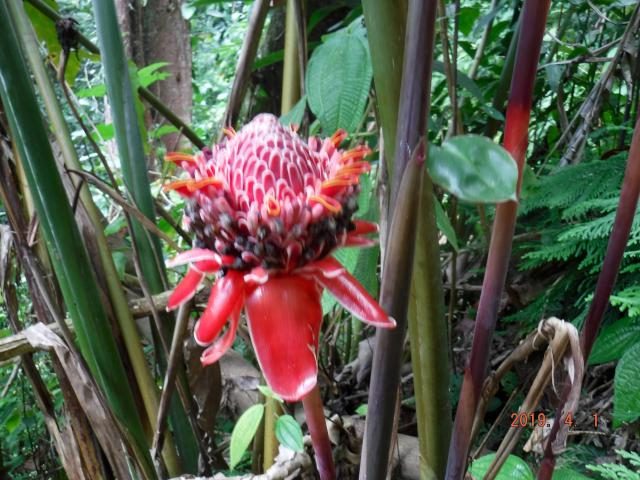 Saba Island
This Island was our first time visiting. We wrote something about it a few months ago, but I just want to add the pictures from the hike. This cute small island is Dutch. Known for diving and hiking.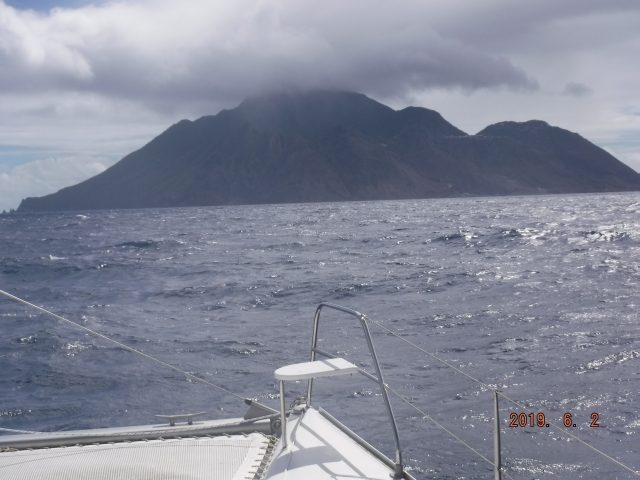 When you arrive it looks like just one big rocky island. But far from it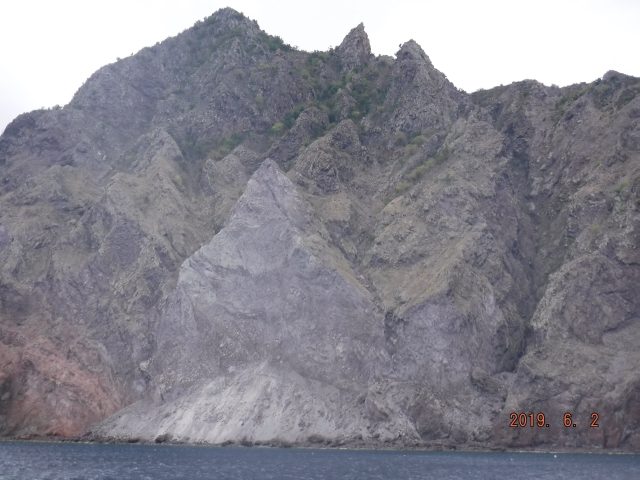 This was our anchorage. Every day a few diving boats came nearby to the dive sites. We did do snorkeling here and it was really beautiful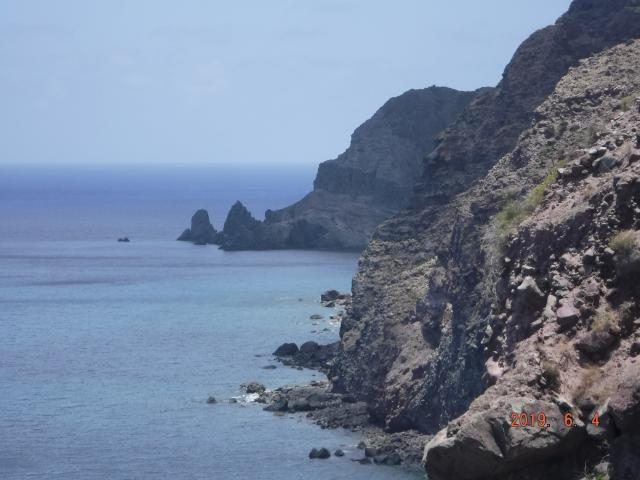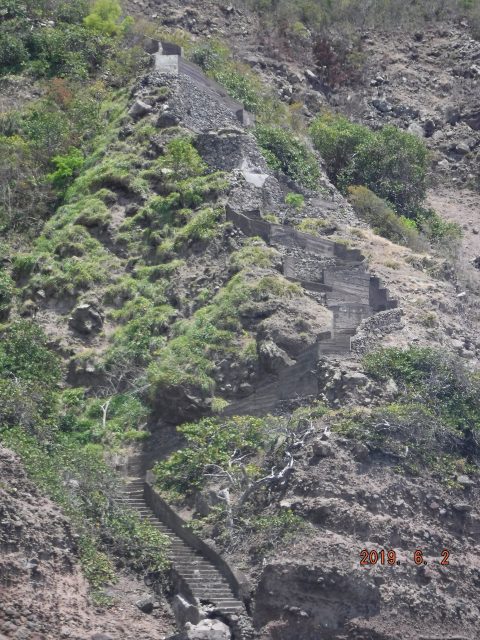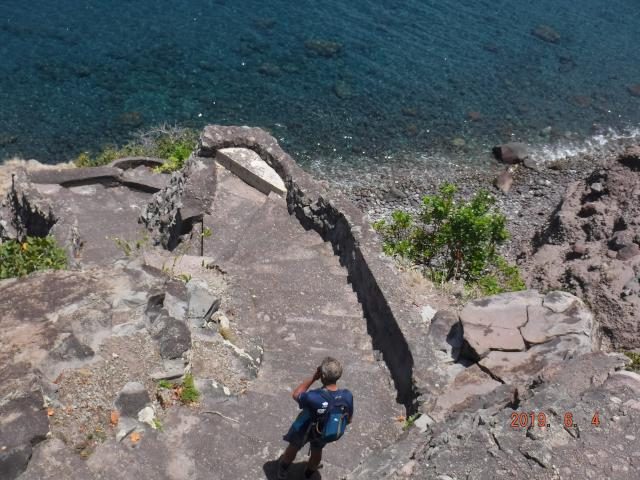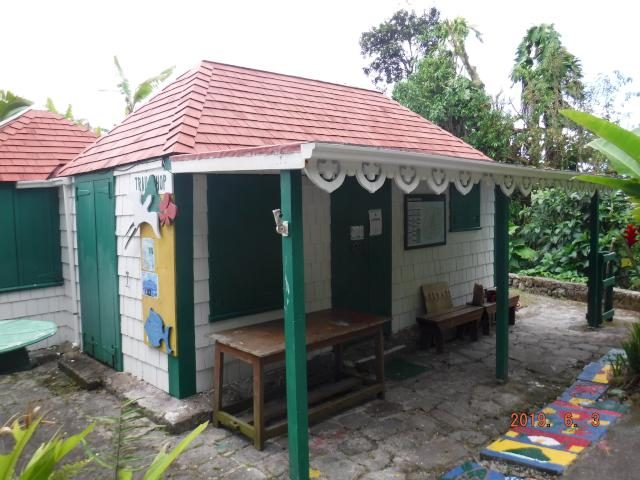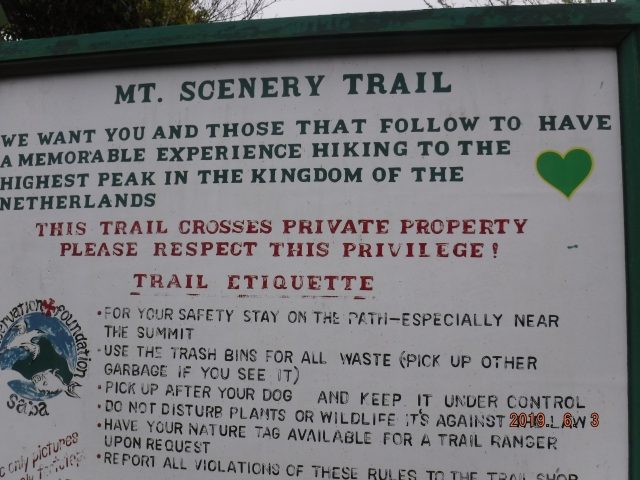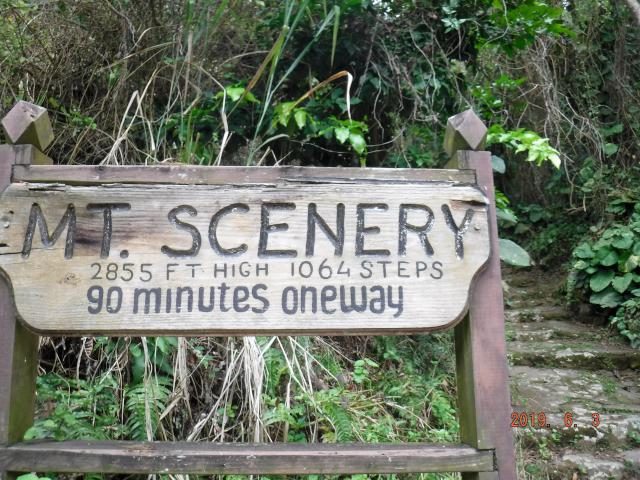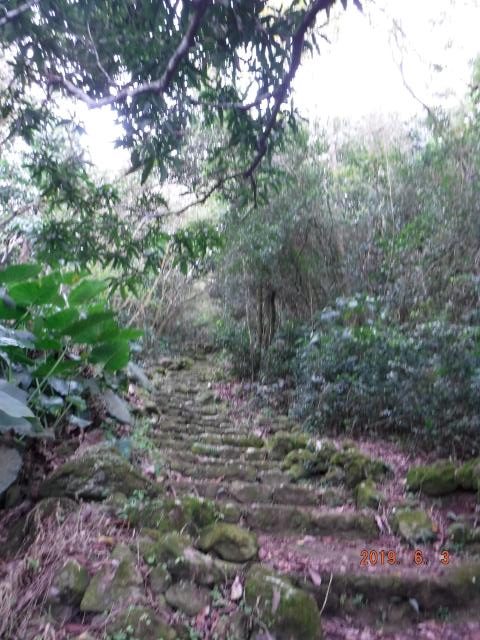 We started our hike here and took us through dense rainforest.Including beautiful fern trees.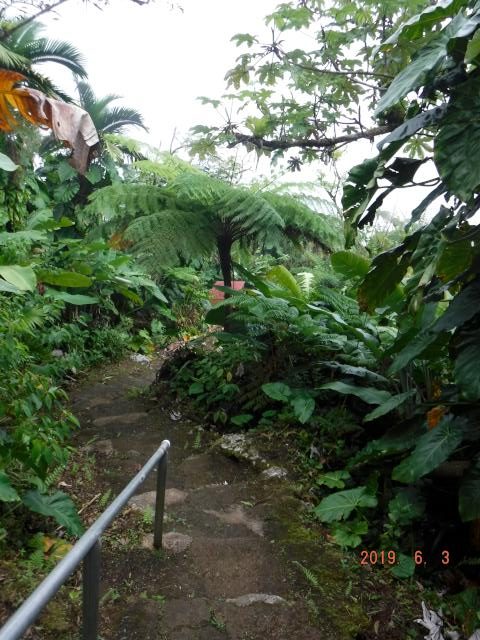 As the sign says, 1,064 steps. It didnt feel like it. It took a lot less time than it says too.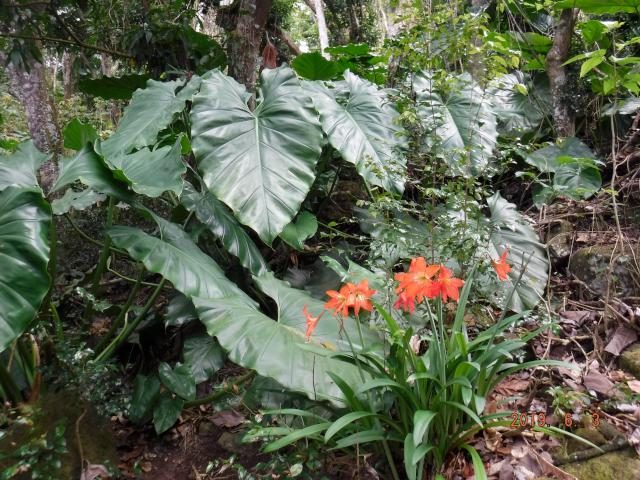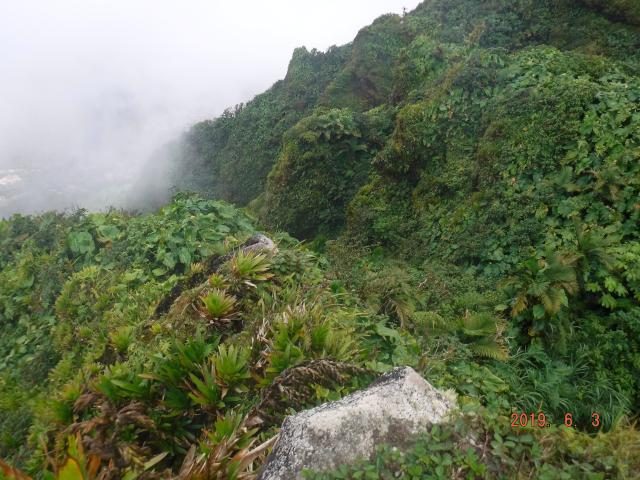 We must get to the very top, somehow…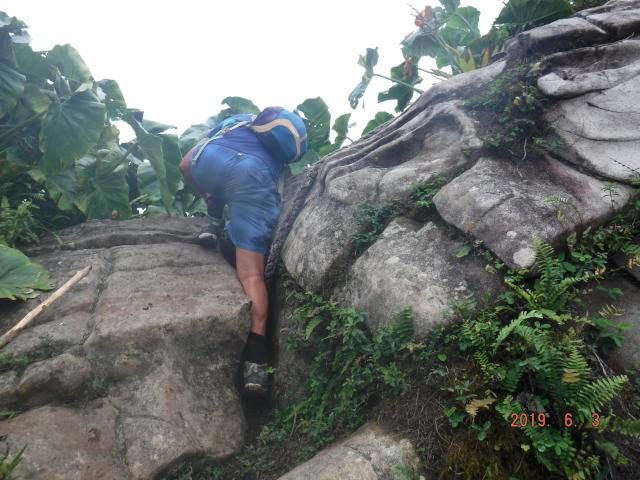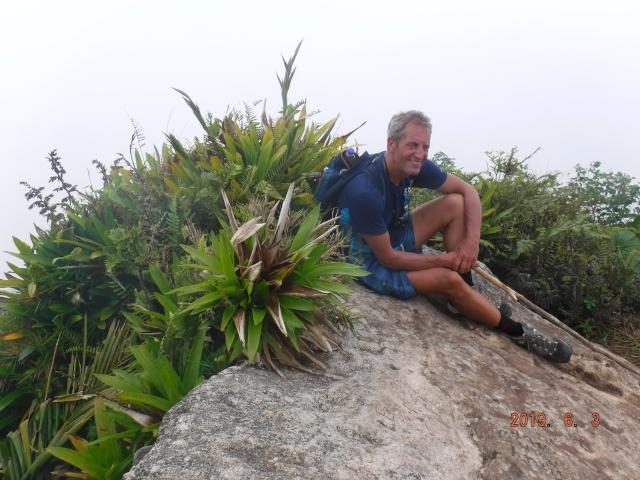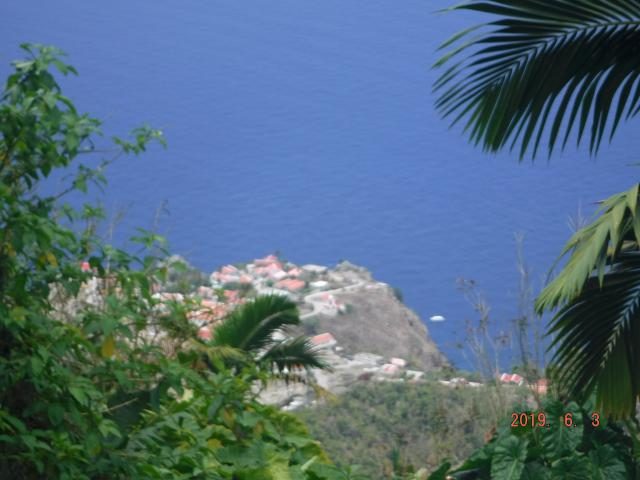 We were lucky to find a glimpse of some blue sky sometimes. The fog keeps coming in and out again after a few minutes. Somedays just fog. We met only one more person on this hike, a young man from Holland who was visiting of course diving and hiking. We loved our time here in this special island.