In Greece we lost our dinghy.
Somehow it came separated from us during the sail from Paxos island to Preveza, a distance of about 30 nautical miles. We spent three days searching for it but, alas, I believe that some lucky Greek found it and figured Christmas had come early.
Still, as the Greek police officer said, "you still have ourselves, your boat, and you are travelling. So all is good, no?" After all, who really needs a dinghy? Such a minor thing. And so cheap to replace too, after all, what is a few thousand dollars to rich tourists like yourselves?
Hah! No one quite realizes the stress of not having a dinghy. Sure, we can paddle ashore in our kayak, but that gets wet. And we cannot lock it up – remember back in St. Vincent when some kids took it out for a joy ride?
So, since it is now low season, we are reluctantly going into marinas so that we can simply step ashore.
Why the reluctance? Well, I just don't get why everyone wants to be in a marina. You are squeezed in between everyone else. There is no privacy. The people who promenade along the quay love to look into the boat to see what you are up to. You can't swim, as the water is usually dirty. There is no breeze, as it is all closed in. And then, if some wind or waves arrive, there you are bouncing up and down the dock and the other boats, at risk of damaging something.
Our first attempt at that was in Syracuse. Nice big empty town quay. We come in, we tie up alongside. And then some official comes along and tells us we can't park here as a big cruise ship is expected tomorrow. So we go out and anchor. But then we get moved again as we are too close to the shore and the big ship can't turn around. So we go even further out. And then we have to paddle ashore for our nice meal in Syracuse. So much for that attempt at staying dry! And how is Ceu supposed to dress up in her high heels?
But it gets worse. Since everyone on the Med seems to want to be at a dock, instead of anchored out in some lovely peaceful bay with clear water, and peace and quiet, there is no space for all the boats.
The solution?
Instead of docking alongside the quay, how about going end-on? Then you can cram more boats onto the same stretch of quay.
It is called Me'd Mooring'. I guess that is because it is done in the Med. Everywhere else people sensibly tie up sideways. And today we had to do it.
So what does that involve? Well, here is the procedure. Now tell me how we are supposed to do this with just two of us???
There are two variants, depending on whether the dock provides a bow line or not.
Med Mooring without a fixed line
Go to a spot about 3 boat lengths away (out to sea) from your target space. Drop your anchor.
As you let the anchor chain out, start to reverse into your slot on the quay. Now, it might be a narrow slot, so you need fenders out on both sides, and you need someone to watch your aim as you reverse into the slot. So that means one person on the anchor, and one on each side watching for the other boats. Plus the helmsman.
As you approach the dock, stern first, throw the two stern lines to some helpful people waiting on shore. They then tie up the two lines, one from each quarter. Now you are moored. All you have to do is adjust the length of the two stern lines and the anchor chain so that you are nicely positioned. Oops. What if there isn't anyone on the shore? Ok, lets skip this stage.
Keep backing up until about a foot away from the dock, at which point the person on the anchor chain checks the reverse movement by tightening up the anchor.  Another person fends the stern of the boat off the wall, while the helmsman kills the engine and, if necessary puts a bit of forward gear so you don't smash into the dock. Hmm. That takes three people.
At this point you are secured by the bow, but not by the stern, so now the cross wind starts to push you sideways onto the yacht next to you. You really need those stern lines on. But that means somehow getting ashore with the lines. If you can do that quickly, all is good. But now the taut anchor chain has pulled you off the dock again, leaving a 10ft gap to jump. Of course you could put the reverse engines on again and hope that you don't snarl some ropes.
Ok, lets try that again. New procedure. We anchor and let out out a whole bunch of chain. Then Ceu gets in the dinghy with three long ropes tied together. She goes off to the shore to attach one end, and then come back to the boat with the other end.
Meanwhile I maneuver the boat backwards into the slot and hope to meet Ceu coming towards me with the rope. Oops, rope isn't long enough. Tie on another length. Now we are there. Once she gets the rope secured to our windward quarter, we can then tighten that, and the anchor rode, until we are snuggly in place. The other quarter can then be tied up.
Oh, I forgot. No dinghy. Ok, let's go out and anchor in the bay and just paddle ashore.
But what if there are laid lines already on the dock?
Med Mooring With a Laid Line
Well, then we don't have to bother with the anchor bit. We just backup into the slot, throw the two stern lines to that helpful fisherman standing around on the dock and tie those off. Then, while one of us fends the stern off the wall, the other grabs the lazy line, walks it forward to the bow and ties the bow off. A bit of tightening here and there and Bob's your uncle!  Just as well the fisherman was there. Except he only did the one line. As the minute amount of wind pushed us sideways to the yacht next to us, while we were still 10 feet from the wall and so couldn't go ashore, we had to call for him to come and finish the job! At least there wasn't a real wind blowing!
But the hassle doesn't end there.
We are now nicely med moored. A line off the bow, a line off each stern quarter, and a third line going across from the Starboard quarter to the dock on the port side, just to stop us sliding sideways onto the yacht next to us. Boat is secure. And it is a nice safe four feet from the dock.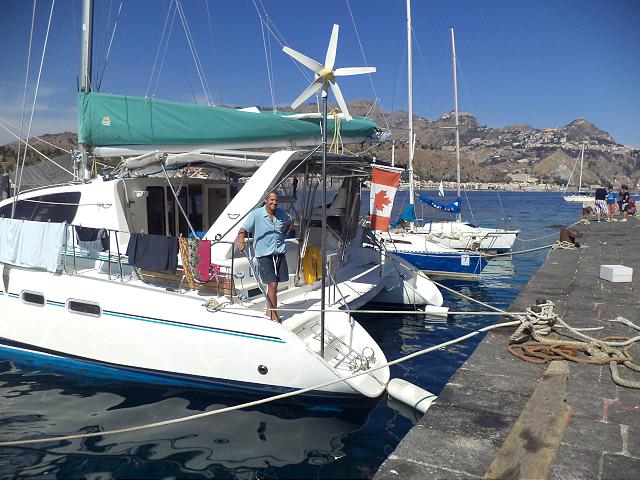 Now we just have to get ashore. The 'Med Moor' way to do that is with a passerelle. We have one of those. We made it in Cartagena, having been warned about all this Med Mooring. It is essentially (in fact, exactly) a ladder with boards across it so you can walk along it to the shore.
So, what you do is you attach one end to your boat, and suspend the other end over the dock with a rope going up. A spinnaker halyard works well for that.
At least it does in a monohull, where the stern is in the middle of the boat. Our stern is off to one side. So hanging one end from the spinnaker halyard means the passarelle gets pulled sideways to the middle. Of course we secured it with a cross line. But you still can't walk along it, as the line holding up the distal end is at an angle, cutting off your obvious escape route to shore. Try to duck under it and you fall in the water.
So now it is an hour later. We are moored. We have no passarelle in action but if we pull hard on the lines we can bring to boat close and scramble ashore. That will have to do.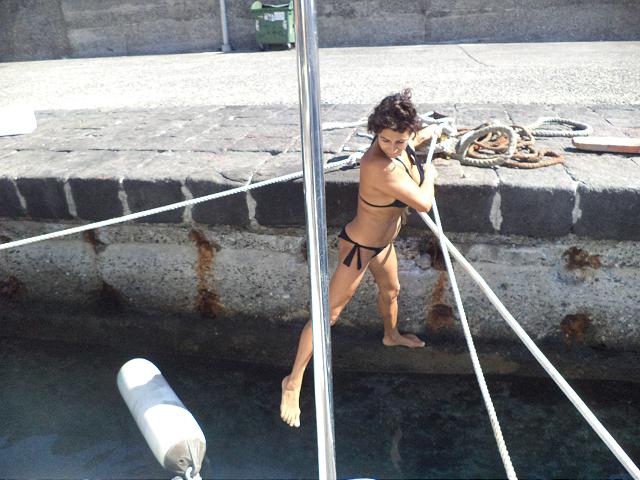 Actually, Ceu has another solution. It does involve that friendly fisherman again. We tie an extension to the spinnaker halyard and toss it to him. He secures it somewhere on shore. And then we zipline down the halyard onto dry land. What could be easier?
Now, tell me again, why do people want to do this????
4 Responses to "Med Mooring Madness"