Current Location:
Samana, Dominican Replublic
Current Position: 19 11.8 N 069 19.72 W
Click to view map.
Distance sailed since last post:
141 nautical miles
.
View the map of our voyage track here
Puerto Rico to Dominican Republic
Thursday Jan 20, 2022. Time to head to the DR. But first we need to get outbound clearance from Puerto Rico which, of course, you cannot do as they say you don't need it. Except that the DR wants to see it. Eventually on the phone I persuaded the officer that I really did need some kind of documentation that we had checked out officially. So he sent me a form, which I filled out and then emailed back to him. He stamped it as official and emailed it back to me. Now we were official!
11am we weigh anchor. Yep, still weighs the same 33kg. The forecast is for 20kts easterly trade winds, but for the first two hours we have no wind, as we are still in the island lee. Motors on. Then the wind fills in – from the West – Since we were still expecting the trade winds to give us a downwind reach we had only the genoa out. We were actually at 60 deg on port tack but, hey, we were still moving nicely, despite the bouncy waves coming at us beam on.
Finally at 14:30 the tradewinds kicked in. Now we're off with up to 29kts of wind on a starboard broad reach doing well over 7.5kt consistently but still quite bouncy.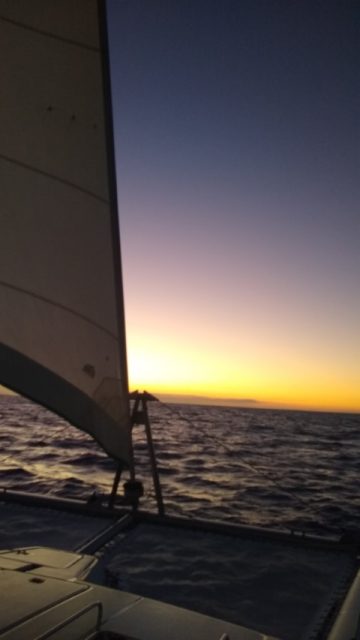 At sunset we turned the corner of Hourglass Reef, heading more downwind with more smooth sailing, though the wind eased a lot through the night.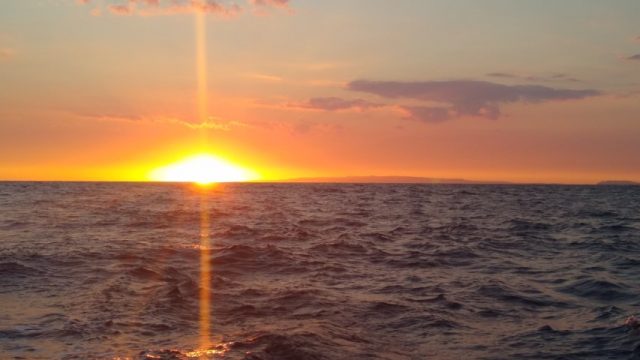 Then, just as we were entering Samana Bay, and dodging whale watching boats, we caught ourselves a nice sized yellow fin tuna!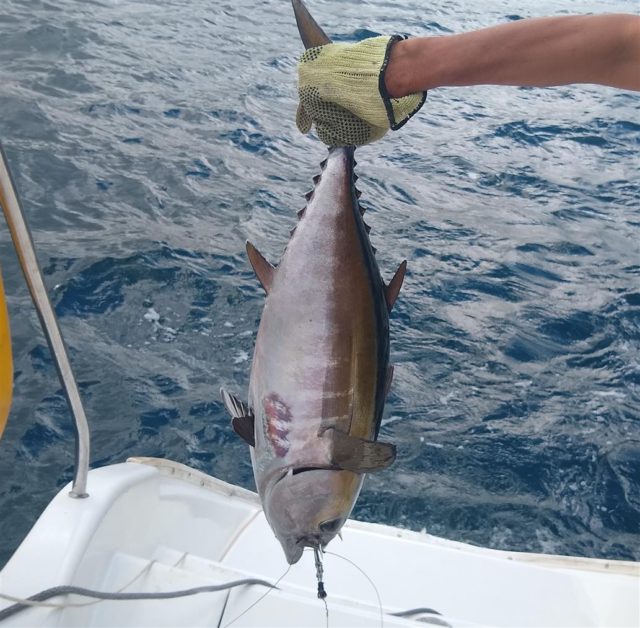 As we arrived at Samana anchorage we kept calling for the Armada, harbour master or whatever to give us instructions for checking in.
No answer.
At about 6pm Luis shows up and tells us it is holiday and too late, so he will come in the morning to get us checked in.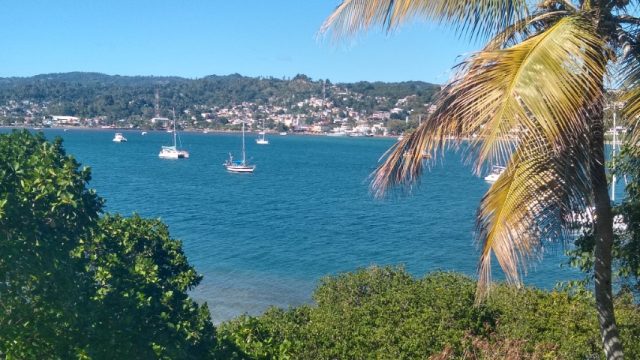 Sure enough, the next morning Luis shows up again and takes us ashore to process our check in and get our passports stamped. We are now legal BUT it is still holiday, so we need to meet him on Monday morning to get the rest of the check-in process done.
On Monday we go ashore and hunt all over the place for Luis, whom no one seems to know. We can't remember exactly which offices we went to as they are all closed and look different. Eventually we get him on the phone and he tells us it is still holiday but we should go to the Armada office to get a Dispacho to allow us to sail across the bay to Los Haitises National Park. Anytime you want to move your boat here you have to get a Dispacho giving you permission to do so. It is free, but the process takes a lot of time.
We find the Armada office and meet Stephan, a nice German, who is also looking for a Dispacho, (Permit) But it is Monday and still Holiday, so Secretaria, the person they need is not in the office. No problem, one of the Navy people gets on a motor bike and goes to pick her up. The second Armada officer, makes us coffee and served in beautiful china tea set. Coffee was good, cup was too small, so we all had a second cup! Half an hour later the first Armada arrives with the secretary on the back of the motor bike, wearing her civies, and carrying a 6 month old baby.
The baby gets handed over to the other officer, and the secretary gets to work on the dispachos for all of us. But the baby is still crying and the bottle provided by the officer does not do the job. The baby gets passed back to the secretary, breast gets pulled out, baby attaches to nipple, and now she can get on with the dispachos again while breastfeeding. Baby falls asleep, happy.
We were happy too, what a great morning, with lots of smiles, good coffee and great people. Did we say yet, that no one there speaks a word of English? Only Luis the agent, and translator, turist guide and organizer, etc etc. But he was not available. A mix of Portuguese and some some Spanish was exhanged between Ceu and Armadas. Good times.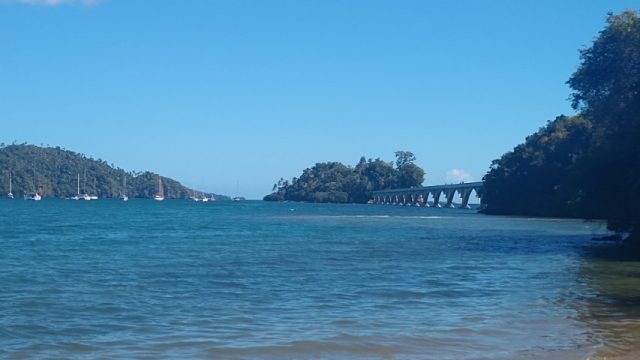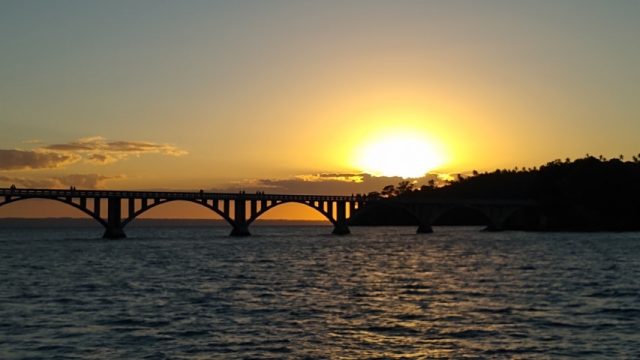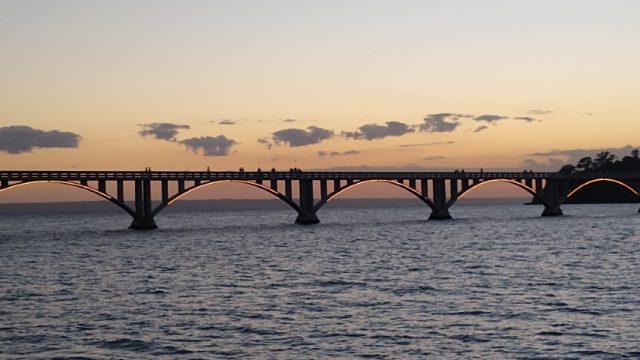 But the process is not finished. Now we have the dispacho in hand, we go back to the boat where Luis will meet us later to have a photo taken, on the boat, of him plus Noel holding up the Dispacho. Finally we are official.
The town of Samana is a scenic, colorful and peaceful port, with friendly and easy-going Dominicans, living their life with tourism, agriculture and fishing activities, all set to the beat and rhythms of Merengue, Bachata and Salsa music.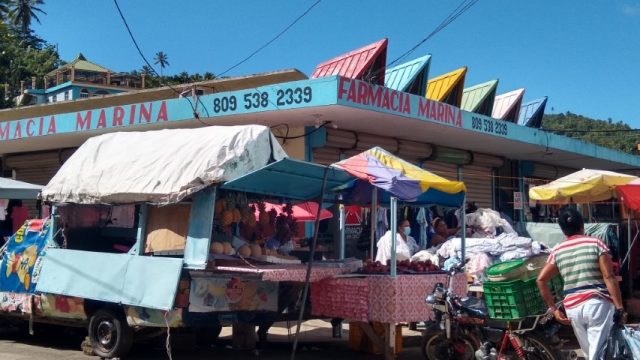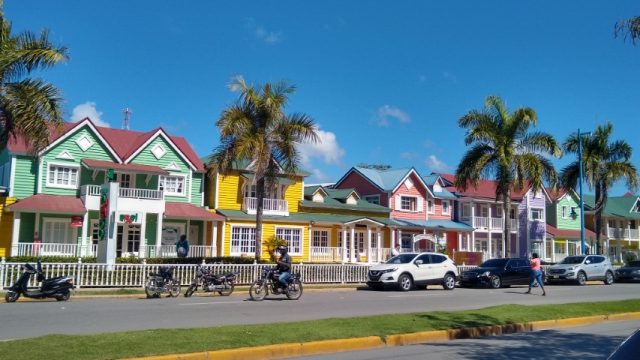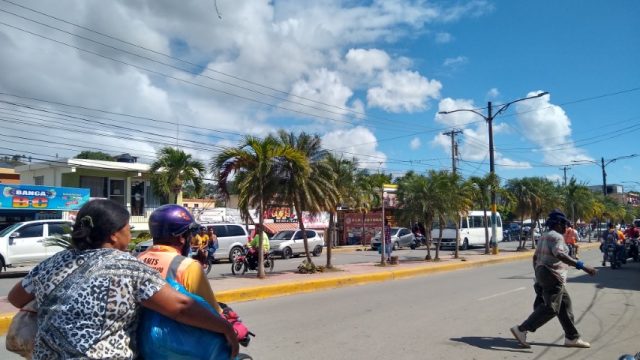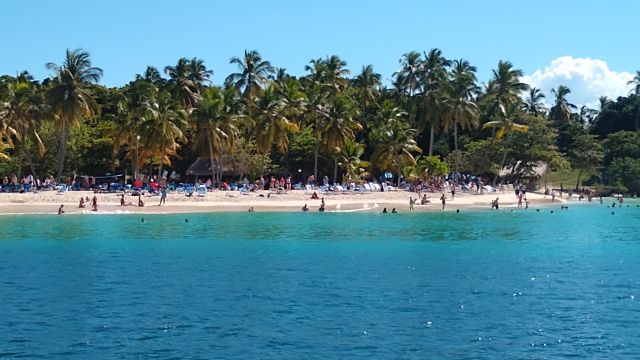 Cayo Levantado. (Bacardi island)The small, picturesque island sits just five kilometers (three miles) from Samaná Bay, and boasts brilliant white sand and palm-fringed beaches. Popular with day tripers there for the beautiful beach and water sports. Also a private resort in there.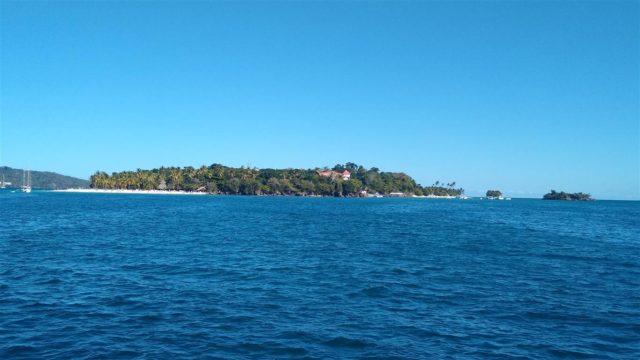 The next morning, Along with Stephan and Astrid on Intrepid Bear, we head off for Los Haitises National Park, with a little detour to visit Cayo levantado.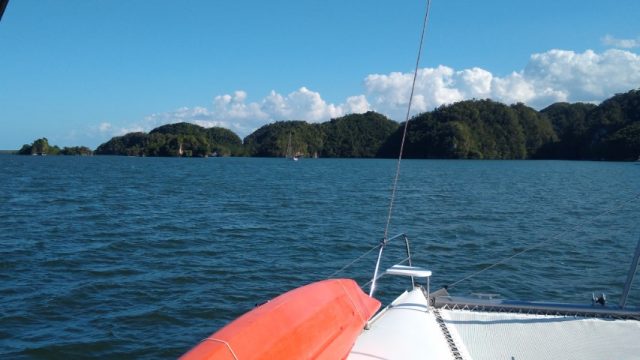 Haitises National Park was stunning and what a treat coming from the busy town of Samana. This was our anchorage in the National Park.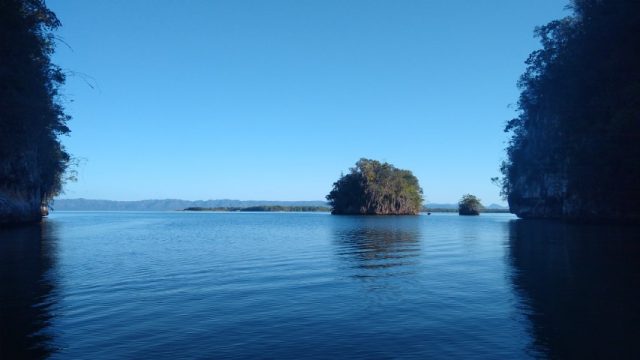 This beautiful Nature Reserve is home to rain forest, rocky vegetated hills , mangrove swamps, lush growth and conical hills. Los Haitises means "highlands" in Taíno.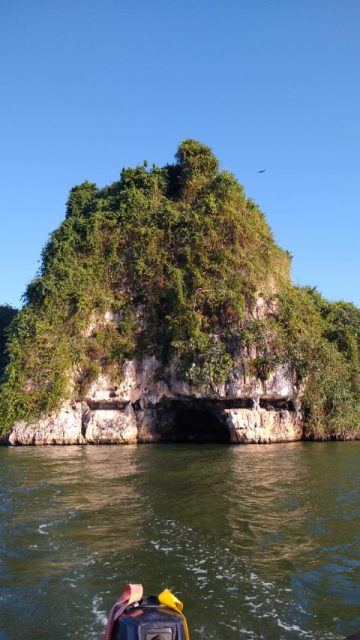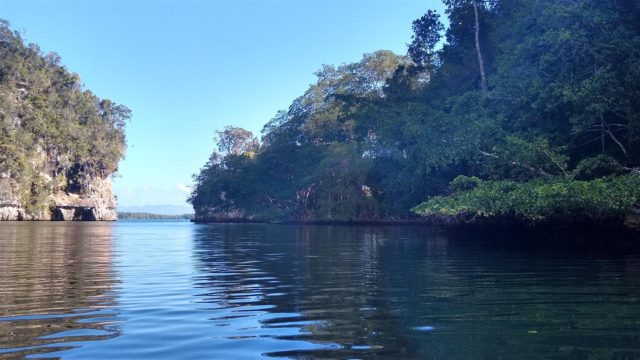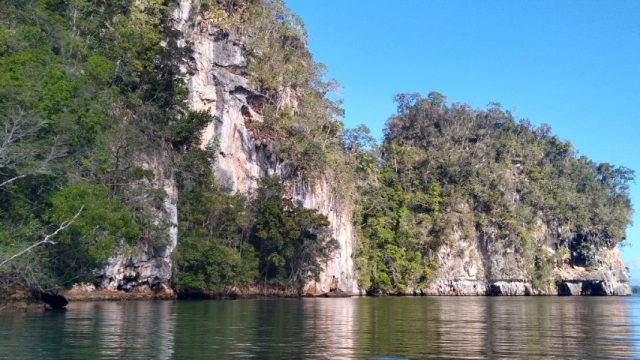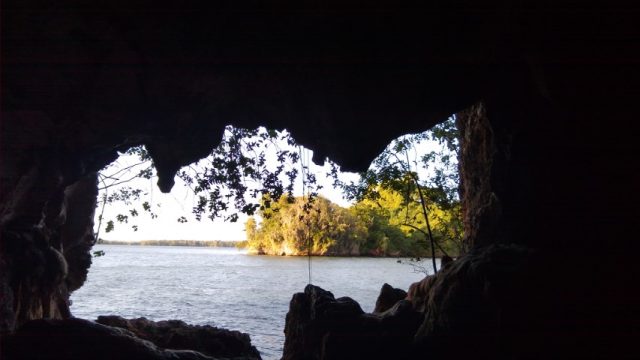 We visited at least 3 wonderfull natural caves some with petroglyphs and pectrographs. Lots of stalactites and stalagmites. One even had a white sandy beach right inside. We just loved this area somuch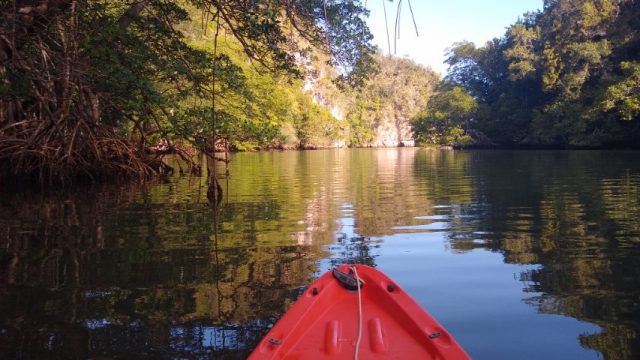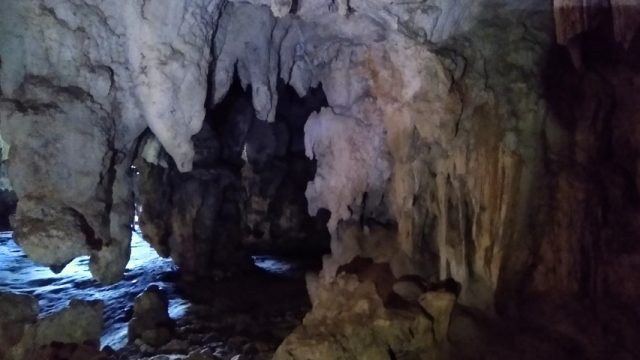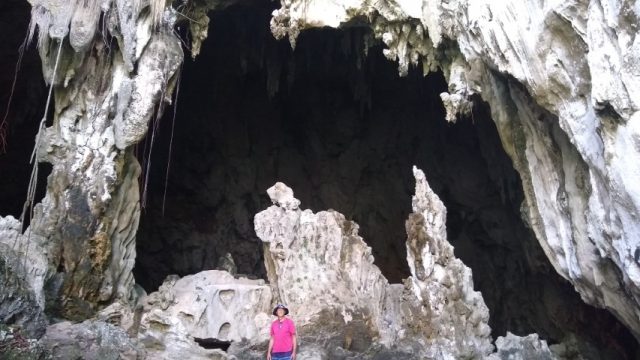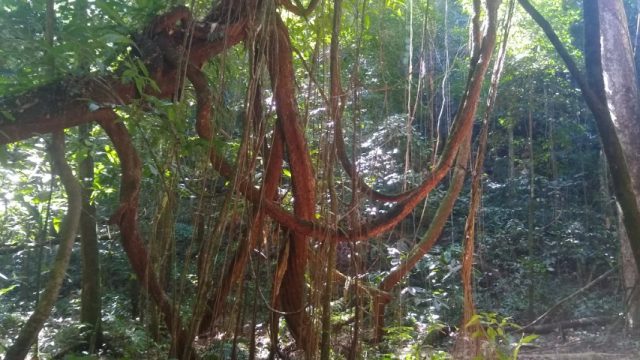 A walk through through the forest and natural swings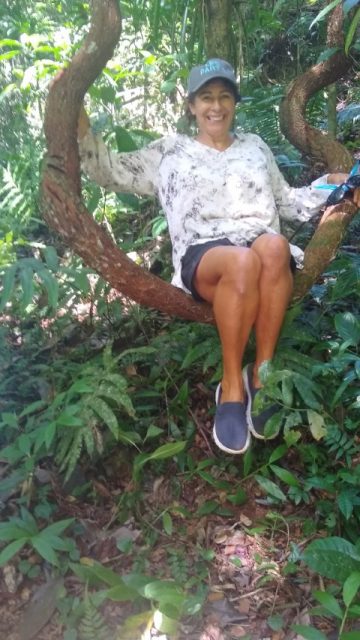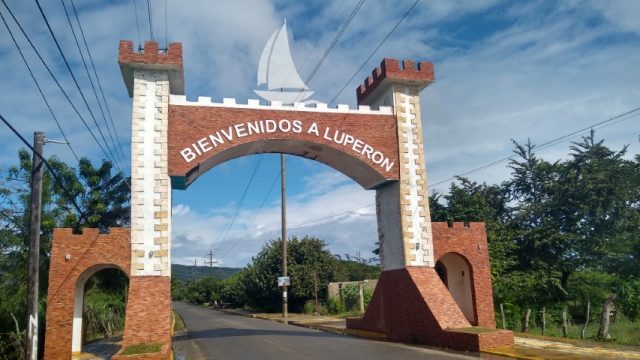 Luperon lies in the north of the country. Small town but one can find a little bit of everything, including Farmacies, a small Hospital and even a private Lab. Here we had our rapid test done, with results in half hour before departure to the Bahamas. The people are very friendly. No English speaking.
Due to its shape and location, Luperon bay is ideal for sheltering from hurricanes, and many boats anchor there during the hurricane season. Its a pretty bay surrounded by mangroves. The downside is , not nice for swimming. There is a nice beach and bar you can walk to though. The Bay was our anchorage for about 10 days while we explored the North of the coutry with a rental car and waiting for the right weather to do our passage to the Bahamas. The car was also essencial for provisioning before heading to the Bahamas. Not only the Bahamas is way more expensive, but also we were going to make stops on the deserted islands where provisioning was almost impossible. We drove to Puerto Plata about 50 kms away where they have great big supermarkets. Driving in Puerto plata is a crazy experience. The motorbikes follow no rules, dont stop at red lights, pass you from the left and right and there's somany of them everywhere zooming along in all directions! The cars form 2 lanes where there's only supposed to be one. The road is wide enough right here why not make 2 lanes? A 100 metres latter…bottle neck.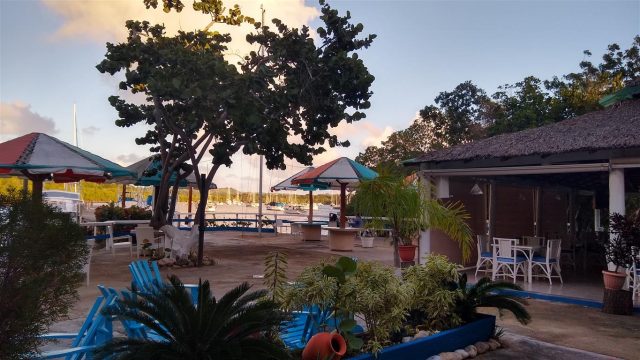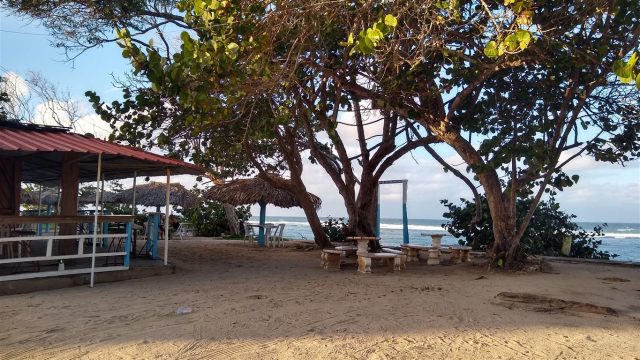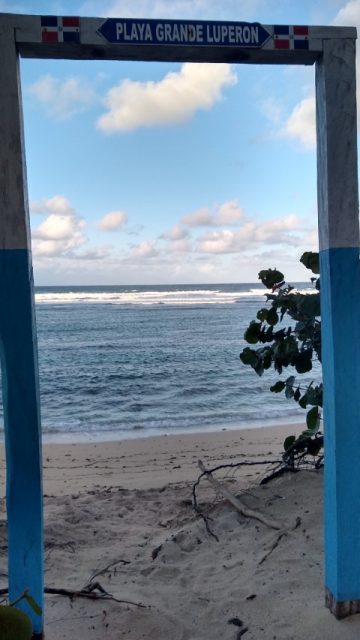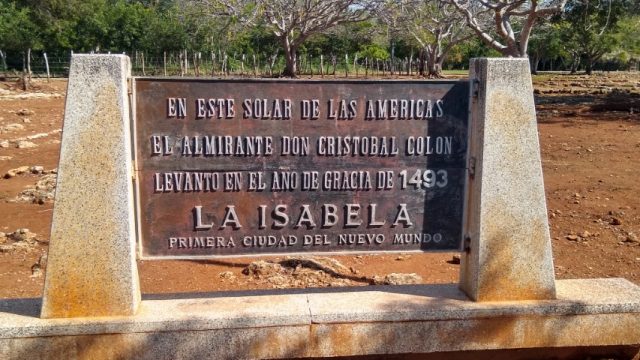 In 1494, explorer Christopher Columbus was on his second voyage to the American continents, landing in Hispaniola with a group of 1,500 settlers. The primary purpose of the expedition was to establish a colony in the Americas, but Columbus was also there to discover sources of precious metals. There on the north shore of Hispaniola, they established the first European town in the New World, called La Isabela after Queen Isabela of Spain, who supported his voyage financially and politically.
Three ships made the voyage over to the New World the Nina, Pinta, and Santa Maria. The largest ship, the Santa Maria, floundering and sinking to the bottom of the shallow waters in this bay. Columbus returned home in one of the smaller vessels, and ordered his men to build the town from the timbers, and salvage what they could.
For an early colony, La Isabela was a fairly substantial settlement. The settlers quickly built several buildings, including a palace/citadel for Columbus to live in, a fortified storehouse (alhondiga) to store their material goods, several stone buildings for various purposes, and a European-style plaza. Beautiful site.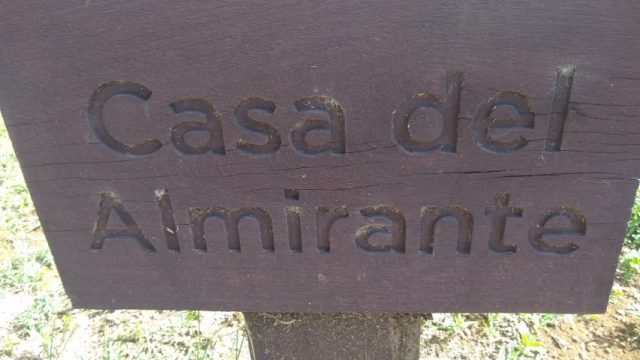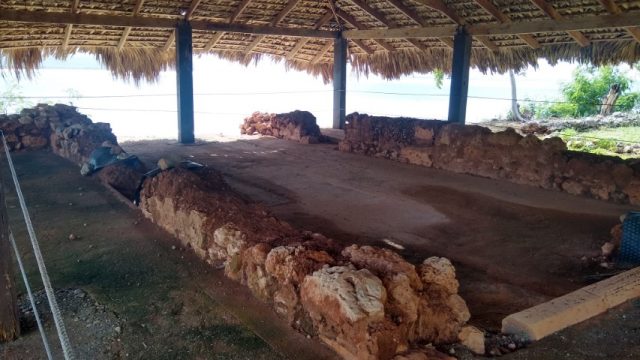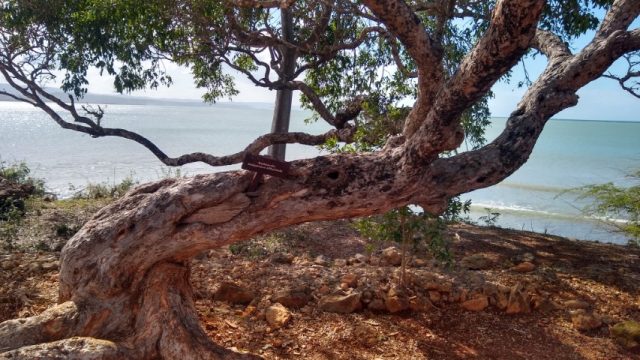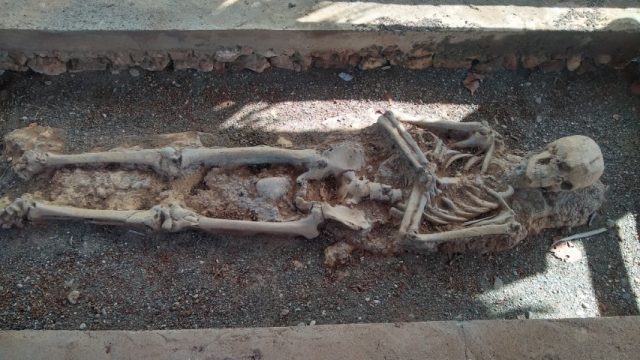 Replica of the first Church in the New World. Its located in the village just a block away from the ruins.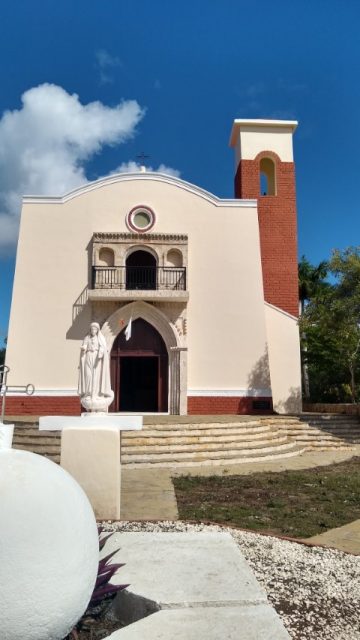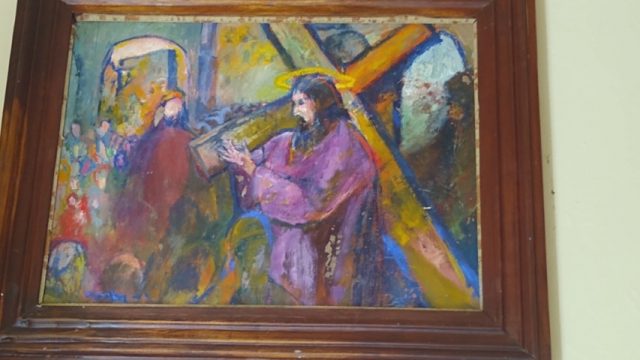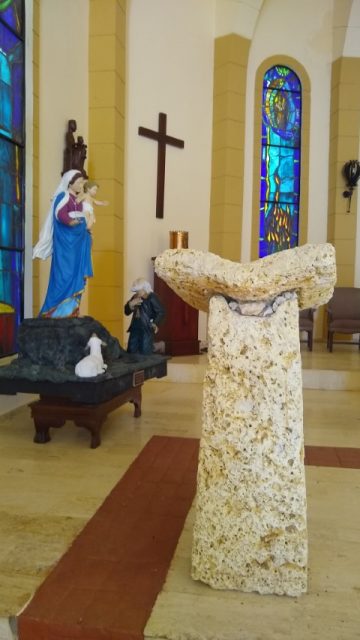 Puerto Plata old town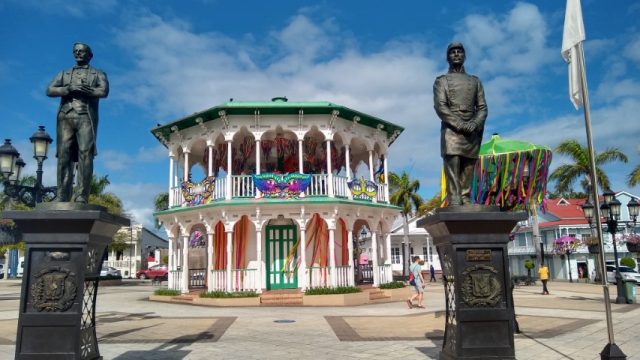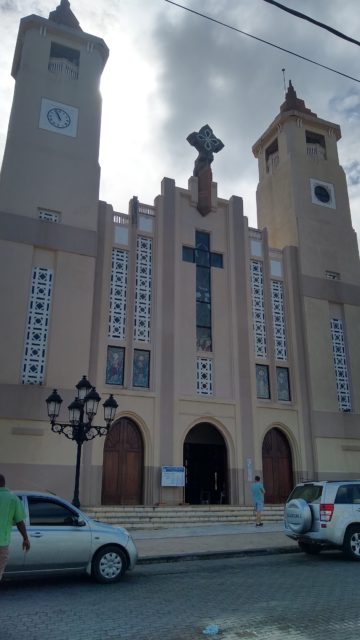 Puerto Plata Cathedral. Unfortunately, although its foundation dates to the year 1502, a fire caused by restorers completely destroyed it in 1863. The remodeling was not finished until 1956 and it now features a modern Victorian style.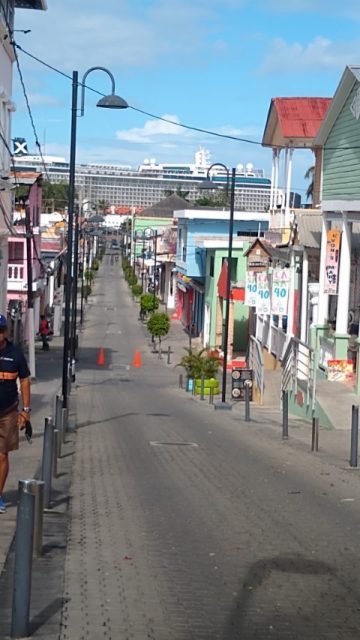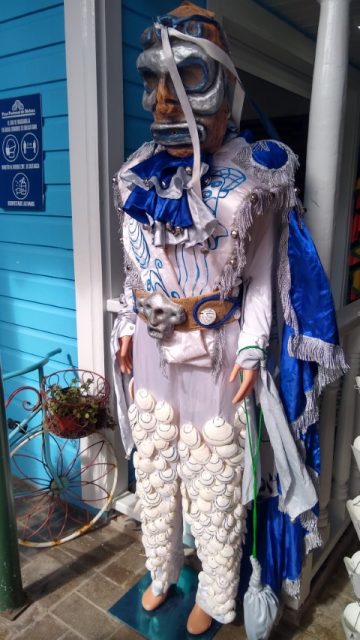 Shops in main street old town Puerto plata. Ready for Carnival? Look at the bottoms with all those shells. Beautiful to look at but definatelly looks heavy and hot to wear in the tropics!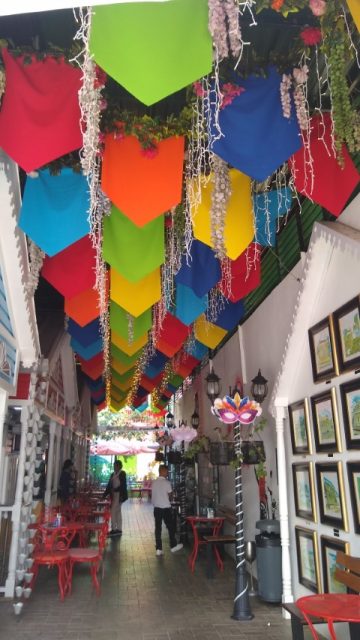 Famous Isabel de Torres National Park
At 800 metre high mountain, Pico Isabel de Torres is the highest point of Puerto Plata. Beautiful walks through the botanical garden and a replica of Christ the Redeemer though the statue is of a smaller size, but mountain itself is taller than that of Rio. The windy roads leading up the mountain are subject to large amounts of rain and are occasionally impassable. It was not raining driving up, but as soon as we arrived the fog came is and we got a bit of rain but not much. You can also hike up or take the cable car.
It was built as a look out and yes…..beautiful views, but what they didnt realize is that its in dense fog 80% of the time. We didnt get to see the panoramic views, but it was still a beautiful walk trough the gardens, some caves and a couple lagoons.
Buses full of turists get unloaded there from the Resorts in Puerto Plata, short drive up the hill. Great get away from the sunny hot beaches. Even busier on cruiseship days.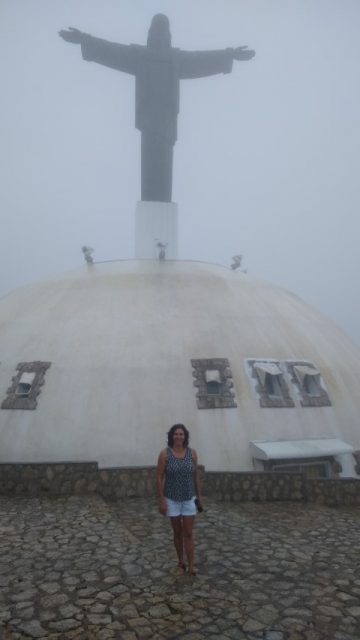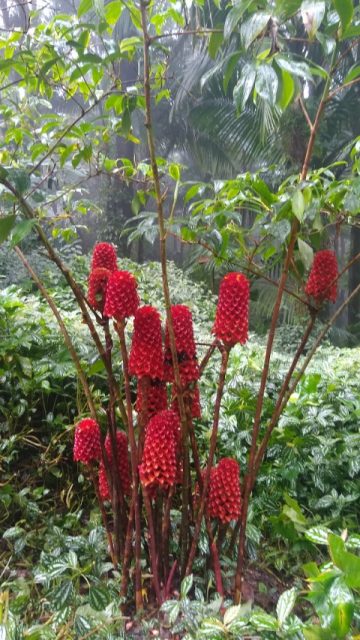 Isabel de Torres National Monument and the botanical gardens. The blooms above were so beautiful and unusual. I had never seen these red spiky ones before.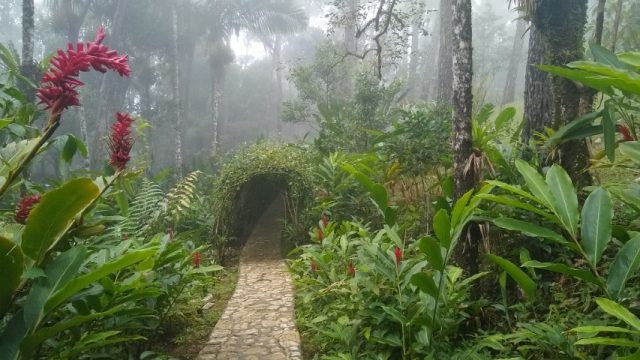 Dominican Republic really surprised us with somuch more to offer besides all their beaches and all inclusive Resorts!
27 Waterfalls of Damajagua.
What a surprise! a series of cascading waterfalls, canyons, and bright azure pools, to jump into, swim again some distance, and slide your on back down to another pool, walk through canyons and repeat!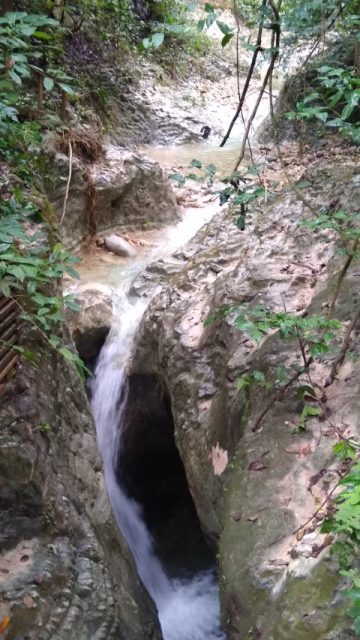 These falls have existed for a millennia but were only discoverd and opened to the public in 1994, and little by little, word got out about this amazing natural treasure and is now a big guiding industry for the local young men. Its very touristy with groups coming in buses from everywhere icluding the excursions from the Resorts.
We really did not know what to expect. We knew that you go in a group acompanied by a guide. Aparenly this group of 9 women on hollidays from the States knew even less than we did. A fabulous litle walk trough the rain forest takes you to the waterfalls. This picturesque walk should take only about 20 minutes. Well, took close to an hour. These ladies, were not expecting what they called a hike, and for some of them beeing out of shape, they were tired and had to take breaks, and often.
There were 2 ladies in the group we thought they were not goin to make it down the canyons. But the guides were amazing. The ladies had such great sense of humor and a will to finish. Or maybe the bailing out of it didnt look better, youre in the jungle. You would have to climb up a rope and hike up the hill to find the trail. It was a fun group. We had some good chats and laughs on the walk back to the parking lot, where they told us, they had no idea about this. They thought you just parked your car and look at the falls.
By now we had worked an apetite. The Park has a Restaurant where we enjoyed a buffet style lunch.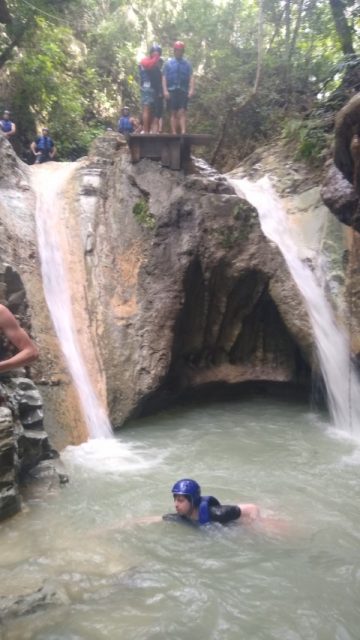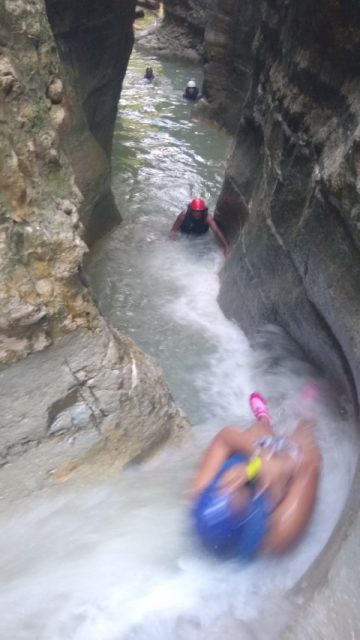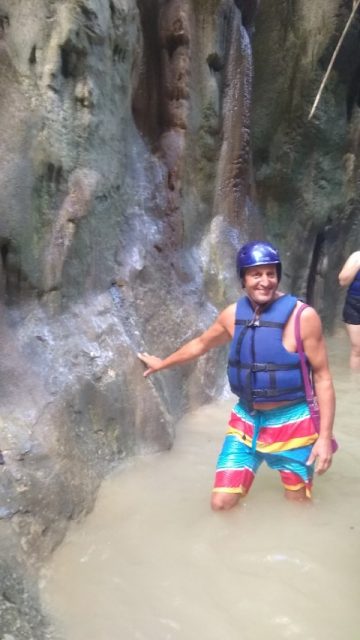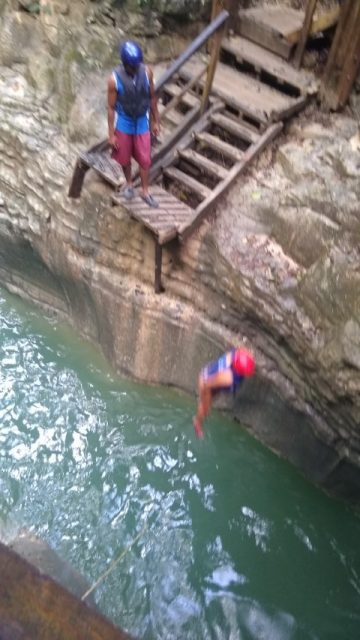 Ceu jumping in. Oh what a fun time!
Cabaret beach
Cabarete is a resort town on the Dominican Republic's northern coast. Cabarete Bay is protected by a coral reef. The calm waters, combined with breezy conditions on beaches like Cabarete and Kite, make it a center for water sports.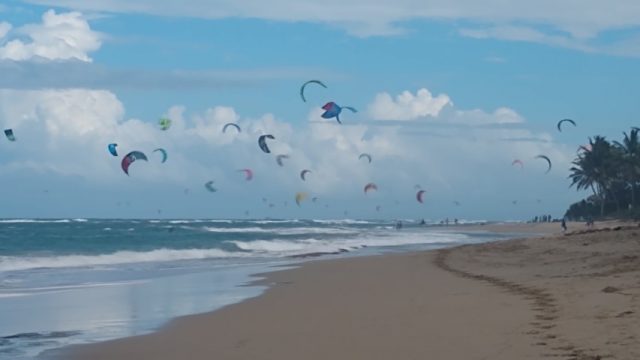 Sosua Beach
Another great stop on our road trip. Beautiful Sosua beach and seaside cute little village on the North side, about 15 km from Cabarete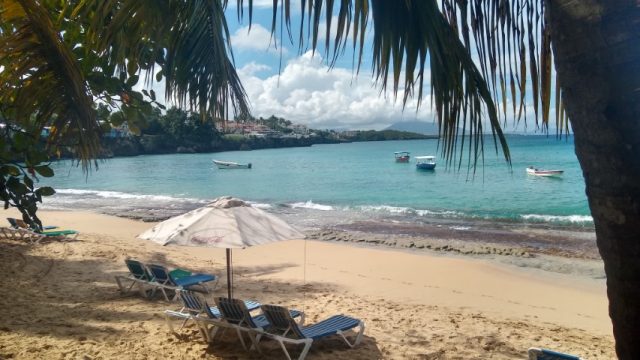 We enjoyed a nice lunch here in Playa Sosua and a very refreshing Mojito.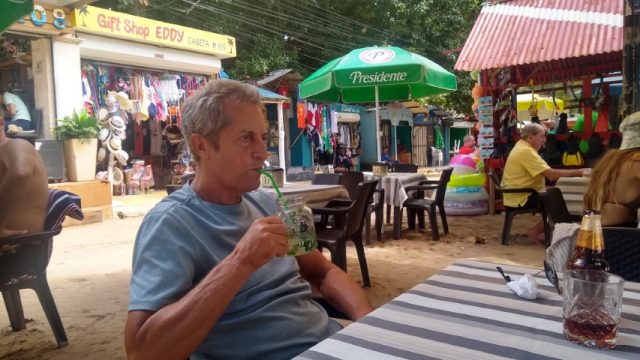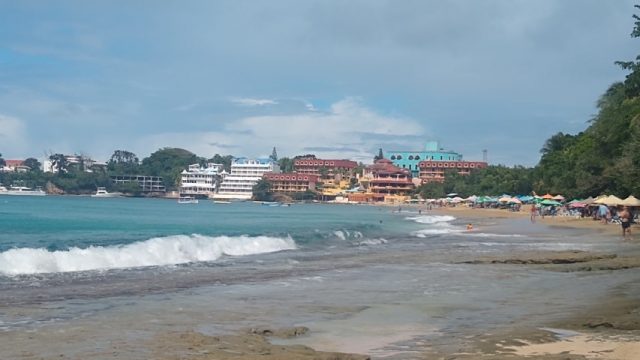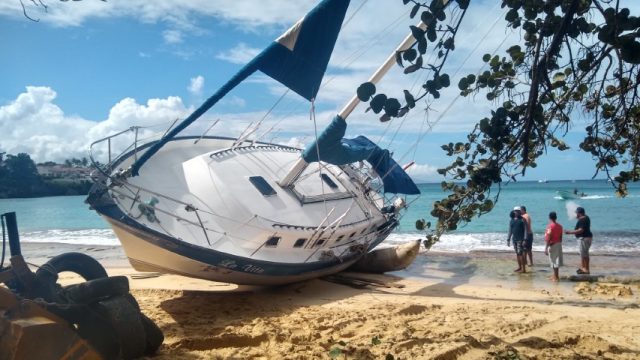 We were sad to see that this boat had just dragged on to the beach 2 days before. They had some workers there trying to bring it afloat with minimum damage to it. While were tucked in in the calm Bay of Luperon, we had some strong winds and rain, this boat on the North side was on a mooring ball that came loose during this weather.
Good times and experiences were had in DR. We felt good about having to speak some Spanish. It can easily be taken for granted that fact that everywhere you go they speak your language. But really, you just need to speak a lillte bit of Spanish, the rest is all smiles and hand language!!
We now have a very full pantry. We have a good weather window to leave to the Bahamas. We have been trying to get to the Bahamas for the last 2 years, but Covid and other circunstances has held us back. But Bahamas here we come!