Current Location:
Vizzavona, Corse, France
Current Position: 42 7.68 N 009 8.01 E
Click to view map.
After the drama with our anchor, we spent a week or so in Calvi. First we had to buy some more chain, second, the wind was forecast to be SW force 5 – 7 for several days, which meant we couldn't go further around the west coast until it had stopped, third, there was a Jazz Festival in Calvi all week, fourth, on the Sunday there was a classic car rally show that I wanted to see and, finally, we wanted to do some diving just around the corner, but for that, too, we needed some calm weather.
Fortunately, Calvi is a lovely little town with a very impressive citadel. We went for a long hike around to Revelata Point.
We wandered around the town. And we listened to lots of free jazz performances.
The Joy of Jazz
Be the end of the week, we concluded that jazz is pretty boring.
We heard only two bands with a singer. And both of those didn't sing words. Instead they tried to pretend they were instruments, singing "la, la, la, bee, bo, di, la la" etc.
Now, as far as I could tell, the purpose of a jazz quartet is for each individual musician to get to show off with their own private solo performance. The saxophonist does his bit. The drummer does his. The vocalist pretends to be an instrument and does hers. And even the Double Bass player does a solo! Now that is the most ridiculous thing I have heard. This huge instrument produces barely any volume and certainly cannot sustain any kind of melody. But, hey! Who is going to deny the Bass player his moment of glory? Especially since they all seem to be so good at bobbing their heads with weird facial expressions while they try to coax some semblance of music from their monstrous instrument.
Ah well. Some of it is nice enough as background music. But a concert? No more for me, thanks.
Diving off Revelata Point
Eventually the wind settled and we went around the corner to do some scuba diving. This is supposed to be one of the best spots in Corsica with, supposedly, all sorts of marine life.
Certainly the water was crystal clear. You could see a long way.
Trouble is, there isn't too much to see. Compared with the Caribbean it lacks color and variety. There are some fish. We even so a golden spotted moray eel. But there is very little in the way of coral, sponges and other colorful creatures. Apparently there are some. There are even supposed to be some turtles, but I guess we missed them.
Still it was Ceu's first time down with the Hookamax. She did well, with no problems going down to the 7 metres that we did on that dive.
From Calvi we went down the spectacular west coast. Rugged, mountainous, and with dramatic red rocks, caves and cliffs. As spectacular as Nortwest Mallorca, but a lot busier. But then Mallorca is probably busy now too.
Knee Boarding!
After Calvi we stopped in Cargese.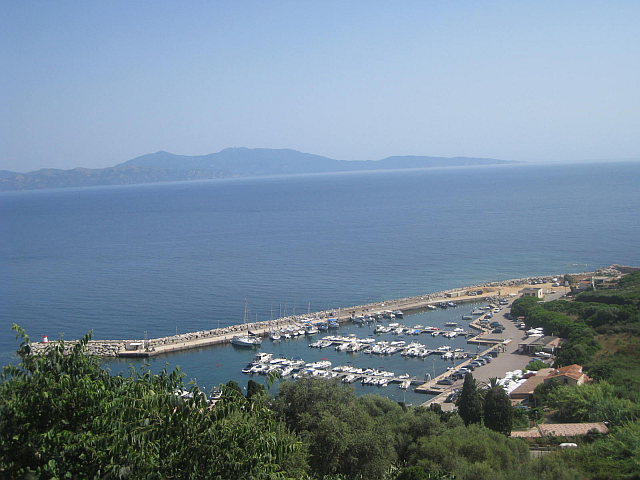 This was a beautiful little village where we ate authentic Corsican Jugged Wild Boar followed by a chestnut crème brulee.
It was nice and calm so we also went knee boarding! How? Simple. We tied some string into a ski-rope and tied it to the back of the dinghy. Then one of us sat on top of the windsurfer board (with fin) and the other gunned the dinghy. What a hoot! It is rather like cross country skiing – half out of control all the time, making it hilariously funny. Who said the windsurfer is only good in a blow?
Ajaccio and Inland
Reaching Ajaccio we parked the boat off the beach and went ashore to catch a train. A narrow gauge two-carriage railway winds itself uphill to the interior of the mountains. We didn't go as far as Corte, but got off instead as Vizzavona. There we joined the famous GR20 cross-island long-distance hiking trail, supposed to be the most challenging in Europe.
Fortunately the section we joined was pretty tame. We walked about 40 minutes to the Cascade des Anglais, a series of rocky waterfalls between boulders, with small pools in which one can dip. In spring it is probably a raging torrent. Now it is pretty low volume.
It is also a popular destination for tourists to come to cool off.
It was here also that we found the Adventure Parc and subjected ourselves to scrambling along tight cables strung 50 feet up above the ground. The craziest one was a skateboard, mounted on two parallel cables between trees. Holding on to a dangling rope, one is supposed to 'skate' across the void! Ha!
There were also countless zip lines, and various other constructions that looked like they belonged in Raiders of the Lost Ark.
After two hours of nervous energy we were done. We had some lunch, and then continued to walk the GR20 some more. It rapidly became a tricky scramble across sharp broken rocks. It would be tough to do a lot of that with a full back pack.
Needless to say, we finished our day with some good beer and food before catching the train back to Ajaccio.
Of course this was not the end of our day's adventure. Riding the dinghy home over a flat calm sea, we ran into some waves from a passing ferry. The dinghy broached, spinning rapidly to port, and poor Ceu, who was trying to photograph the citadel, was flung overboard. There she was, grimly hanging on to the dinghy, waving the camera about trying to save it! Unfortunately it did get wet and hasn't been happy since then. Oh, yes. Ceu was fine once she dried off.
Ajaccio itself has little to recommend it. It is the capital, though smaller than Bastia, and seems quite run-down in places.
It is, of course, famous as the birthplace of Napoleon Bonaparte.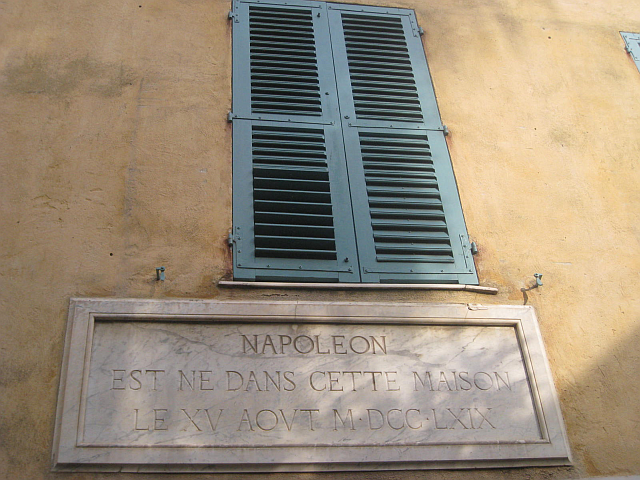 Onward to Sardinia
Once again a strong westerly wind was forecast, so it was time to head back to the east coast. We stopped briefly at Campomoro, just outside Propriano, thus completing our circumnavigation of Corsica.
The next day we set off for Bonifaccio. As with the last time we sailed this stretch, the wind gradually increased from 10kts to 27kts. With a single reef in both main and jib, we were reaching at a steady 9kts. Already there were 2-3 meter swells.
The original plan was to stop in at Bonifaccio, a long inlet in which there are supposed to be two small anchorages. The trouble was that we weren't sure that there would be room in the anchorages, and if there weren't we would have to battle the headwinds to come out of the inlet in order to proceed onwards. We decided to skip Bonifaccio, again, and head to the North East corner of Sardinia instead. But fear not, Bonifaccio! We will be back in a few days – we have to stock up on cheeses before we leave France!
One Response to "The West Coast of Corsica"