Current Location:
Kas, Turkey
Current Position: 36 12.17 N 029 38 E
Click to view map.
Distance sailed since last post:
33 nautical miles
.
View the map of our voyage track here
After dragging lures 3,000 miles across the Atlantic and catching NOTHING we had given up.
But Phil who we met in Geberske Bay, persuaded us to have another go.
So, in Marmaris we went into the Fish store and told him we wanted to troll and to catch.
He picked out a rod and reel that he said were the cheapest that would do the job. He also wound on 300 meters of 0.6mm line (about 48 lb test), and picked out two diving lures and a squid lure. And he said we were good to roll. Total cost was 320 TL (about $160) for the whole kit.
Phil then confirmed that we had got a good deal, and some good equipment.
So, since then we have been putting the line out behind us each time we moved. Sometimes we were going at 6-7kts. Other times a under 2 kts. But we put it out. We were using the small diving lure, that looks just like a 10cm fish, with 50m of line.
Today we were sailing from Kalkan to Kas. Winds were light, but we were sailing. Just. At one point we were overtaken by a Dutch monohull that came so close that he caught our line. But he managed to unsnag it, and the lure was still attached.
The wind dropped even more, and went aft. Now at least we could put up our spinnaker, and sail a bit more, at about 3kts.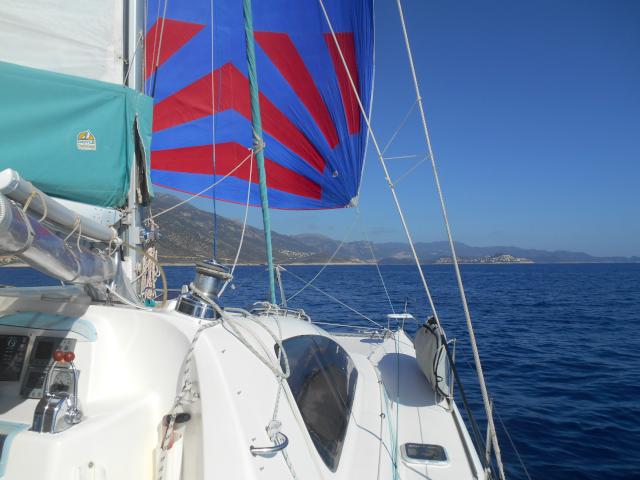 Finally, with about 4 miles to go the wind vanished totally. Sails came down and motor started.
About 10 minutes later I looked back and exclaimed, "We are dragging something!"
To be honest, I thought it was a plastic bag that we had caught. Anyway, we stopped the engine and reeled it in. There was no fight. Even when we got it right up to the boat it was hard to see what we had caught. Ceu yelled, "quick, quick, get the binos!" She wanted to see just what we were about to drag aboard. She was so scared, thinking it was some kind of scary monster,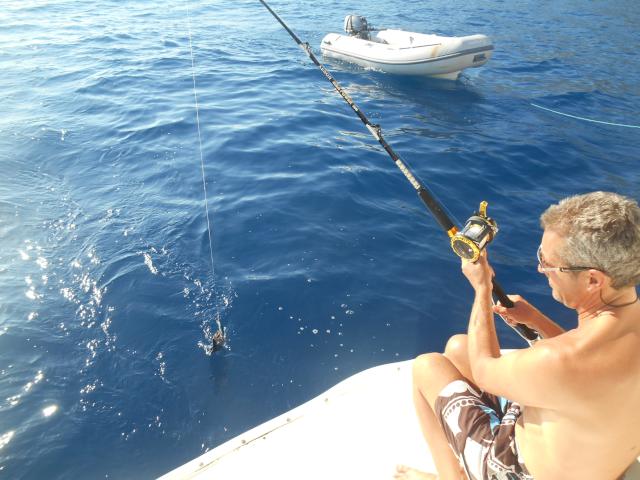 but as we pulled it out, it was all clear to see!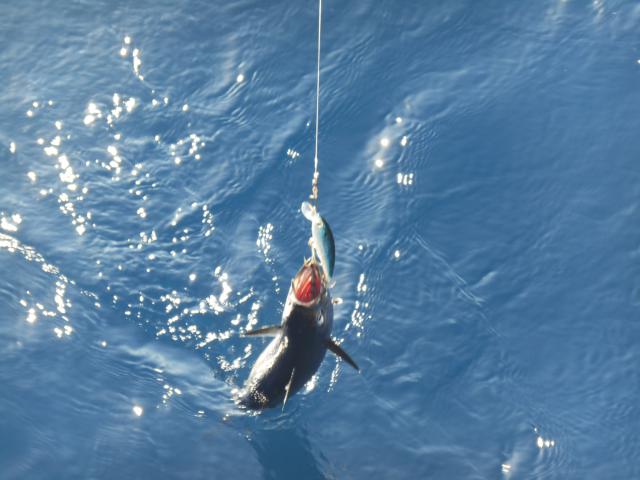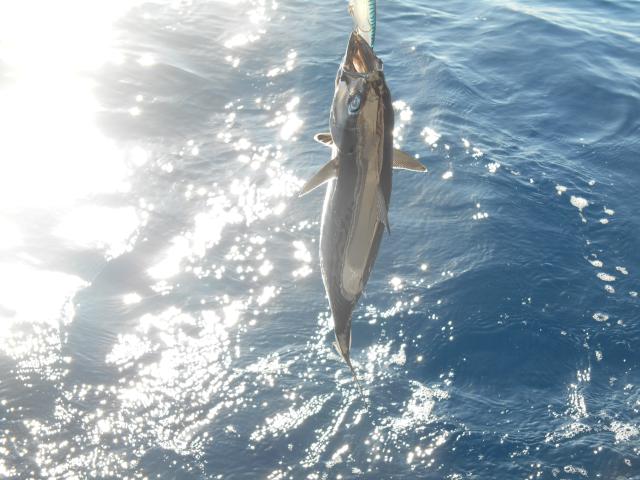 Obviously it had been too small, and our brake setting too tight, for it to be able to fight the line. So it was just dragged behind us at 5 kts and drowned.  Maybe if we hadn't noticed, it would have been bait for something bigger!
Anyway – guess what we are eating on the barbeque tonight?
Great excitement at Heavenly Delights this evening 🙂
BTW, if you can identify exactly what type of fish we caught, please post a comment and enlighten us. We think it is a Bonito – but what do we know?