Current Location:
Bonanza, Spain
Current Position: 36 47.19 N 006 23.09 W
Click to view map.
Distance sailed since last post:
78 nautical miles
.
View the map of our voyage track here
After being up half the night with me being sick with stomach cramps, we then arose with the dawn and set off from our anchorage outside the Guardiana river. The wind was a gentle 10 kts from the north, so we hoisted sails and glided straight towards a spectacular red sunrise.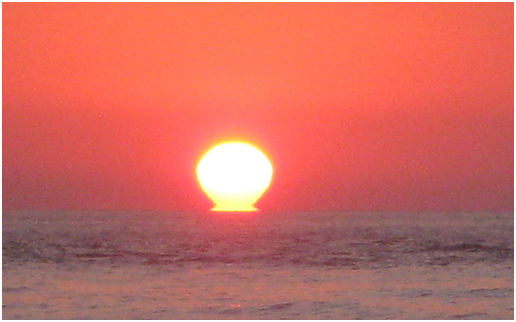 The forecast, and our expectations, were that pretty soon the wind would shift to easterly, and then swing around to the west as the day progressed. This had been the pattern for the past several weeks, and was in the forecast from Windguru.
Having said, that, past experience also showed us that the forecasts for this area were almost never accurate, and usually about 100% wrong.
And so it was today. The wind did indeed fill in from the east. On starboard tack we were now headed about 30 deg to the north of our destination. Since I expected the wind to veer, I decided to put in a tack now, so that when the wind shifted, and we tacked later, we would sail a much straighter, and therefore shorter, course to Bonanza.
I laid in a waypoint where I expected to tack.
Ha!
The MOMENT we reached that waypoint, the wind did indeed start to shift
The OTHER way! Instead of heading us, it lifted us, until now we were sailing 30 deg south of our destination. And with it came some big swells. That was a 30 deg windshift in the wrong direction. What could we do? So we sailed along on our new lifted tack and prayed that the wind would either lift us another 30 deg, or else go back to where it was before.
Instead it disappeared totally.
So now we had to motor.
About 25 miles from the destination, in the middle of a flat calm, we heard a weather report warning us of force 6 winds in Cadiz. Hmm.
10 miles later the wind suddenly filled in from the south east and rapidly increased to 20 knots. I guess this was the wind that Cadiz was getting. It was a nice breeze, and a nice direction – 60 deg off our starboard bow. Of course on starboard we couldn't hoist the mainsail because of the broken shroud, but still we could do almost 5 kts without the motor, sailing straight down the rhumb line to Bonanza.
And then it started to head us again. Tighter and tighter. Our speed dropped, so we started the motor again. Then we had to start bearing away. Now we were sailing 10 deg below (North of) our course.
Finally, 5 miles off we dropped the jib, aimed for Bonanaza, turned on the second engine, and just pushed straight into the headwind and ebbing tide.
At 11:30pm we reached the entrance to the river channel and decided to drop anchor right there. It was sheltered water, so we didn't see any reason to spend another hour going up the river to look for an anchorage further in.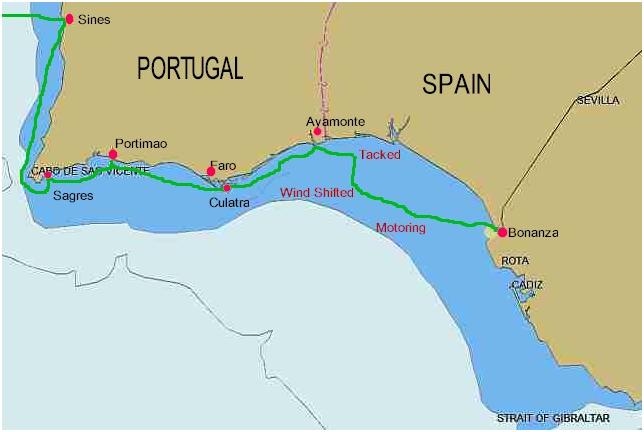 All in all it took us 15 hours at an average speed (to cover the 52 miles as the crow flies) of just 2.8 kts. I reckon if the wind had done as forecast, of if we had known what it was actually going to do, we could probably have saved at least an hour, if not two, by going the right way.
Ah well. At least the night sailing was beautiful – heaps of bright stars, and then a spectacular blood red huge moon rise.
Tomorrow, we will probably visit Bonanza briefly to do some shopping, and then after that do a two day river ascent to Seville.