Current Location:
Burano anchorage, Venice lagoon, Italy
Current Position: 45 29.35 N 012 25.4 E
Click to view map.
Distance sailed since last post:
70 nautical miles
.
View the map of our voyage track here
The forecast was for calm winds. And when we set off from Rovinj at 10pm last night it was, indeed a flat calm. At least we tried to set off. Ceu was working on the various blog posts all evening. But then, as we tried to leave, our anchor chain got jammed and needed some crowbar action. Finally we got that sorted out, and we started to drift vaguely in the right direction.
Then, as we left, we saw fireworks ashore, so we figured Croatia must have scored against Brazil.
And, an hour later, it suddenly blew up to a force 7, and stayed that way for most of the night! Don't know where that came from, but both the strength and direction were contrary to multiple forecasts that I had checked.
Nevertheless, we managed to sail pretty much on course.  We were doing a steady 7kts for several hours, close hauled on starboard and making some great power with our water generator until daylight, at which point the wind then dropped, backed 90 degrees, and now we were close hauled on port, going slower, but still pretty much on course.
With all the excitement, Ceu was unable to finish up her blog post, and by the time things had settled down, we were out of range of the internet connection, so we are rather behind with our photos since Mljet, and also of the boy's visit last week, which was a hoot. We will get those up soon, promise!
At 11:30 we entered Porto Di Lido, the entrance to the Venice lagoon, in flat calm, having motored the last couple of hours. Ceu put up here flag to support her team at the World Cup.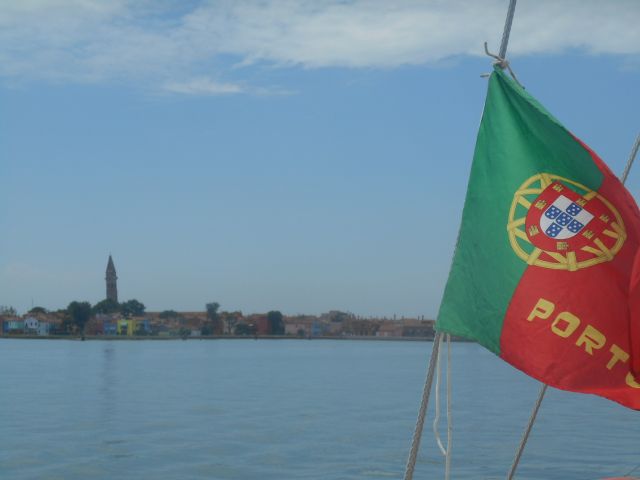 As per Bob's instructions, we turned right, motored another hour with a favourable tide of a couple of knots, and anchored just north of Burano, where we snagged some free wifi!
And so here we are in Venice!
We will dinghy ashore to Burano, and start the explorations.