So just what is life like on board Life Part 2?
Think:
The exhilaration of sailing through azure seas with a fresh breeze on the beam.
Visiting exotic new destinations to explore the local culture and cuisine
Enjoying a 'sundowner' cocktail on the foredeck while anchored in a beautiful peaceful little cove
Jumping from the foredeck into crystal clear waters.
Kayaking to explore hidden caves
Hiking local trails ashore to get the most amazing views over the seas
Dining on exquisite cuisine prepared by our 'Goddess' of culinary arts, Ceu
The excitement of catching and landing a nice sized tuna – and then eating sushi and barbecued tuna steaks
Watching a breathtaking sunset across the bay
Good conversation and lots of laughs over a bottle of local wine and a game of dominoes
Memories that will last a lifetime…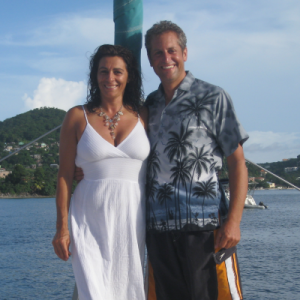 This has been our life since June of 2010. We said we would do it for as long as it was fun. We are still doing it, and still loving it. Life part 1 was working hard and raising children. This is now our Life Part 2.
To date, we have explored the Caribbean Islands and the Bahamas. We have crossed the Atlantic Ocean, visiting Bermuda and the Azores on the way. We have spent four years visiting all of the countries along the northern coast of the Mediterranean Sea, and a couple on the south. And we have a lot of memories, and photos, to prove it. Check our Google Map to see where we have been.
Not always has it been plain sailing. Sometimes we have had to sit out a gale in some small bay, checking the anchor to make sure it doesn't drag. Or had to crawl into some tiny space to fix the engine or an electrical problem. Or had to climb the mast to change the standing rigging. Or trudging around the local town trying to find some spare part. We also have the check the weather, plan the next day and, of course, cook and clean. All this is part of the lifestyle. We relish being self-sufficient and we love the adventure that each new day brings. And there is still so much more of the world to explore.
And there is one more thing we enjoy: We love to meet new people, people who are also up for an adventure, people who are not content to just be ordinary. With such people we love to share our life, and teach new skills. So, if you feel you are ready for some adventure, get in touch and come out and join us for a while.
In the meantime, please feel free to read our blog, or check the menu on the left for our articles and other content.
4 Responses to "Welcome to Life Part 2!"