Current Location:
Komiza, Vis, Croatia
Current Position: 43 2.12 N 016 5.49 E
Click to view map.
Distance sailed since last post:
22 nautical miles
.
View the map of our voyage track here
We tried twice when Mitzi and David (my sister and her husband) were here. In fact, we tried to go to Hvar and Vis, but each time we tried, the wind was either in the wrong direction, or non-existant. And, in any case, I think Mitzi, David and Emma had other ideas on how to spend their 10 day holiday, rather than motoring around: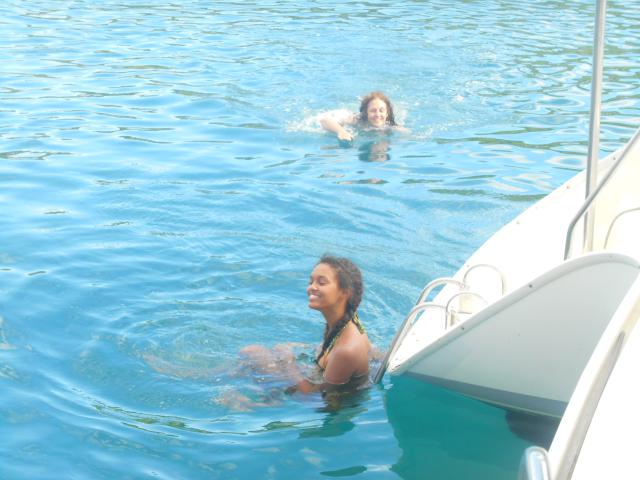 So, apart from a visit to Split,  we ended up spending most of the time in different spots on Solta,with one brief visit to Milna on Brac which is right next to Solta.
Then we tried again yesterday.
Last night we were in a beautiful little cove which, despite it being the very height of the season here in Croatia, we had all to ourselves!
Why?
Because it required a bit of ingenuity. The cove is small, and 15 m deep. So we took one long line to each shore, and tied us up in the middle of the bay. With calm conditions we had a peaceful and quiet night. And a beautiful bright full moon.
This morning we got up to find a breeze in the right direction! Se set off before 9am and were on our way, making 3kts. Then the wind vanished for an hour, but came back again. Soon we were making 2kts again. And who is in a hurry? As long as we get there before dark, we really don't care.
Then as the sea breeze picked up, it gradually strengthened, finally getting up to 23kts just as we were approaching the Western end of Vis. What a cracking sail! We bore off for the western point, and were touching 8kts of speed. And smoooth water. Can't beat it!
By 15:00 we were anchored in 7m of water, just to the south of Komiza town. A nice patch of sand, but somehow Ceu managed to plant the anchor right in the middle of a 1m diameter patch of poseidonia weed!  Which, of course, she blames on my steering. Oh well, it is holding and the night will be calm.
Tomorrow, first thing we will head the final 4 miles to visit the Blue Cave just west of here.
5 Responses to "Finally Made it to Vis"