Current Location:
Isola Ponza, Italy
Current Position: 40 54.15 N 012 57.79 E
Click to view map.
Distance sailed since last post:
81 nautical miles
.
View the map of our voyage track here
Wow, what a crazy couple of weeks it has been! We have been rushing up the West coast of Italy. Normally we wouldn't do that, but there are reasons…
So, here is the potted version of all the places we have visited – and some of the silly weather we have been having (and we will get to the celebrity in a minute – see if you recognise her).
Monday May 11, 2015 – Thursday May 14: Amalfi Coast & Capri
From Salerno we sailed around to Amalfi and anchored in 10m just outside the little harbour.
We took a bus up to Ravello up in the mountains above Amalfi. Lovely little town without too much of a touristy feel.
From there we did a hike all the way down to Positano, with beautiful views all the way. But lots of steps which, even though they were down, seem to have been bad news for Ceu's back.
Both Amalfi and Positano were very busy with cruise ship tourists. The little town Ravello was really much nicer.
Then we tried to visit Capri. We motored around the famous Faraglioni rocks, but it was pretty rough with waves from the south, so not really anywhere to anchor.
So we then sailed a lovely beam reach across to Sorrento, just 7 nautical miles away. And along the way caught ourselves another tuna. Nice.
Thursday May 14 – Saturday May 16: Capri & Burnout Visit
Our friend Roger, who singlehandedly sails the 10m catamaran "Burnout" finally joined us in Sorrento.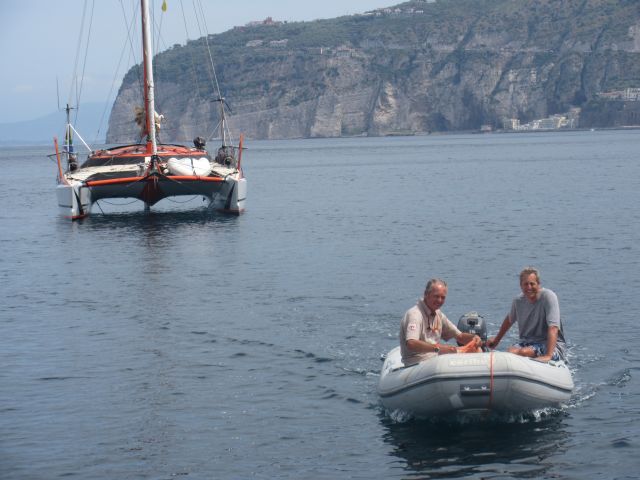 We decided to have another go at visiting Capri. We set off in a flat calm. By the time we reached the North West corner of Capri, where the Blue Grotto is, it was blowing 30kts and was, again, pretty rough. Certainly too rough to go into the cave.
So now what? The wind was forecast to stay strong, but to change 180 deg through the day and night. Which means waves from all directions. So where to anchor?
Roger and I pored over our charts trying to find a sheltered bay – but all the good ones seemed to be Marine Parks with anchoring restrictions, and we could not get any good reliable information on what those restrictions were.
Now, the key to being a good captain is to be calm and decisive. Well we were certainly calm. And we were VERY decisive. So decisive, in fact, during the course of our sail we made FOUR different decisions about where to anchor!
We started off heading back to Sorrento. Then the wind picked up more, and we went to Ischia. That looked very unpleasant, so we headed for Porto Di Baia – but the book said the bottom was foul.
Finally Roger spotted the harbour at Nisida, and that proved to be perfect! We anchored in about 6m on mud at  40 48.1N 014 10.1E and had a peaceful night, though the scenery was a bit industrial, and those westerly swells did creep in for half the night before settling down. A good game of Rummykub was played, and lots of wine drunk.
Sadly, early next morning Roger had to head back to Salerno to fly to Germany for a couple of weeks. Hopefully he will catch up with us later. Meanwhile we decided that three times is a charm, and we would go visit Capri again.
This time we made it, with another fast beam reach.
We did get ashore and found a supermarket. While we anchored at Capri a celebrity came to visit…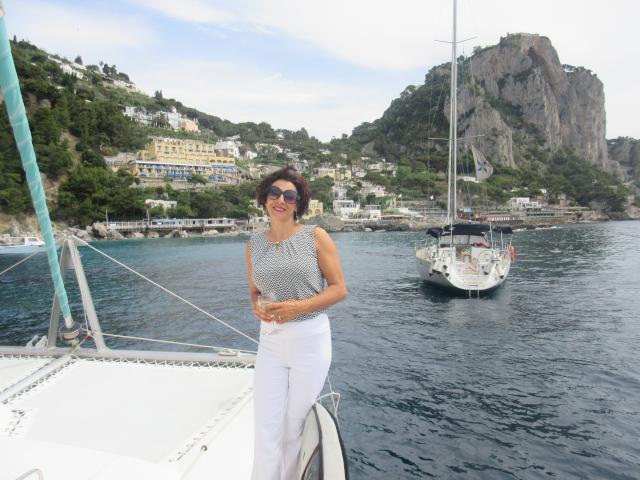 Well, as they say… if you can't join them, beat them!
But once again the wind and waves were building up, so we decided to cut our losses and find a different place to visit.
Another fast sail with 28kts and two reefs took us to Naples (Napoli). We anchored at 40 49.7N 014 14.4E just west of the castle. Good holding and turned out to be nice and flat water. And we even got in a swim.
Napoli is, of course, the home of pizza, which dates back at least 200 years. The most famous pizzeria is "Da Michele" – featured in "Eat Pray Love" book and movie, and voted best pizza in all of Italy. Go there and you have to take a numbered ticket and wait your turn, rather like buying deli in a supermarket. And endure all the visiting tourists gawking at you trying to eat your pizza in peace. They do only one flavour – Margherita.
Instead, and quite by accident, we ended up going to "Brandi" which as been in business since 1780 and was the inventor of the Margherita pizza. They were commissioned to make pizza for Queen Margherita and delivered to her three different flavours. She liked the tomato/cheese one best and, henceforth, it has been knows as the Margherita.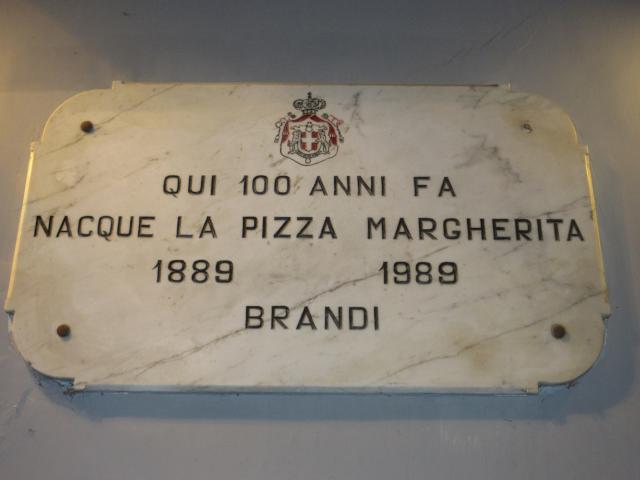 Unfortunately "Brandi" only made third place in the national competition for best pizza, so we had to slum a bit. But at least no tourists gawking at us, and no taking a ticket to wait our turn.
Now, just to be clear: a Margerita pizza in Napoli is regulated by law. Only certain approved ingredients are permitted.
And, remember, this is Italian pizza, not American pizza. That means lots of dough which is thin, but not crust – it is much more soft and chewy than the 'thin crust' pizza in North America.
Tasted good – but I still prefer ones with a lot more ingredients on top!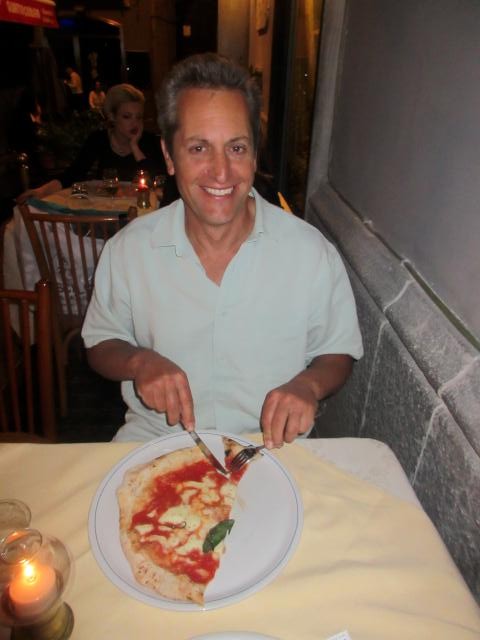 Naples itself is pretty grubby. LOTS of graffiti everywhere. Lots of beggars everywhere – though that seems to be the norm in Italy.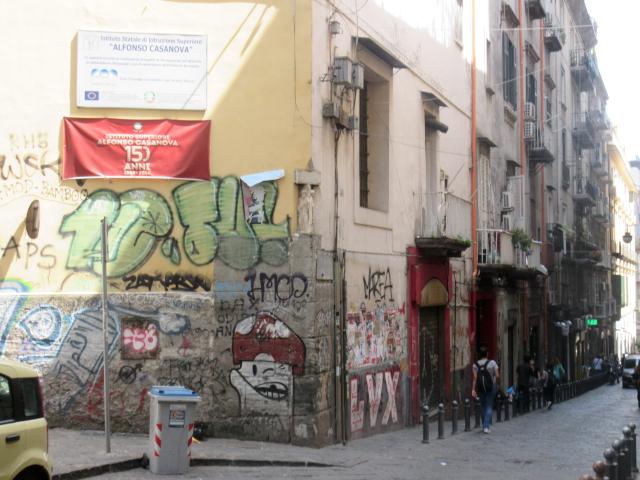 One place that was interesting, though, was an underground Roman town. Similar to Pompeii, it had been buried under a mud slide, and so is quite intact. Very interesting.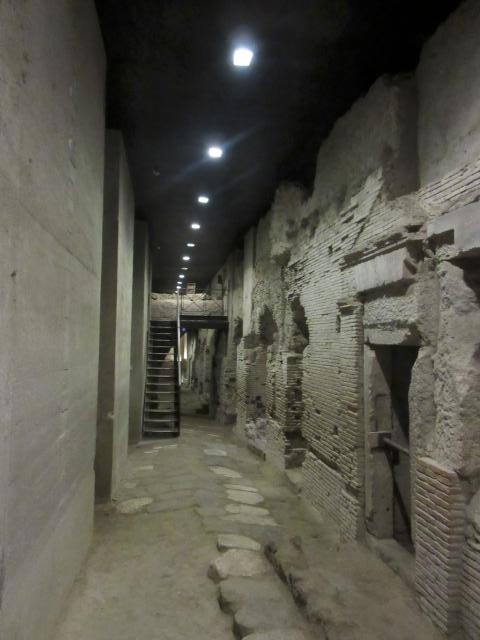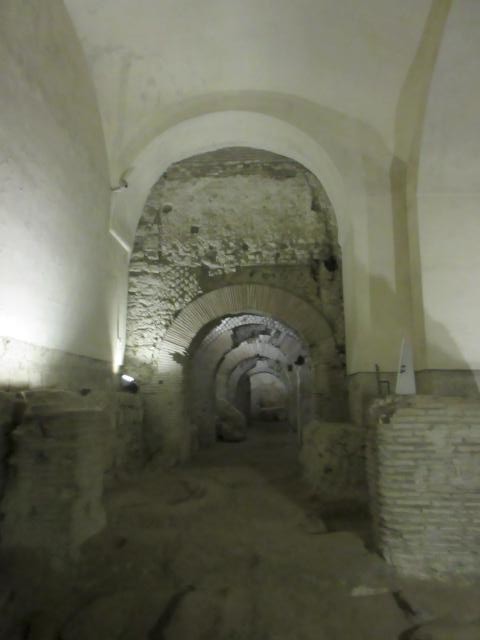 From Naples we went back to Nisida harbour for a beautiful sunset and a very peaceful night.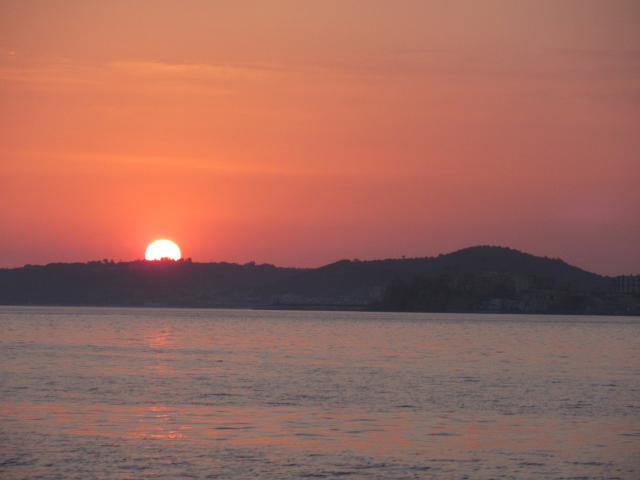 and sunrise the next day: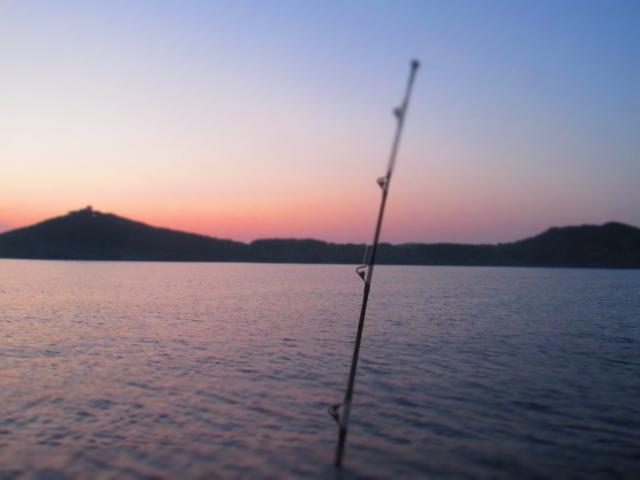 Tuesday May 19 – May 24: Ischia to Rome
By now the crazy winds had settled, a high had parked itself over the Tyrrhenian Sea, and it has been calm ever since. So almost all our travel since then has been motoring. A shame, as we have had a lot of miles to cover.  Reason? An old university friend and sailing partner, Alastair McMichael, stumbled across our blog while researching Sardinia. It turns out that he now lives in Australia, has a yacht parked in Sanremo, and is coming out on June 5th! So we are dashing north to meet up with him for the first time in over 30 years!!!
Bur first, next destination was Rome where Josh was due to visit us. Along the way we visited Ischia, Ponza and Anzio, anchoring outside each.
We loved Ponza, which had a number of dug-out caves to visit.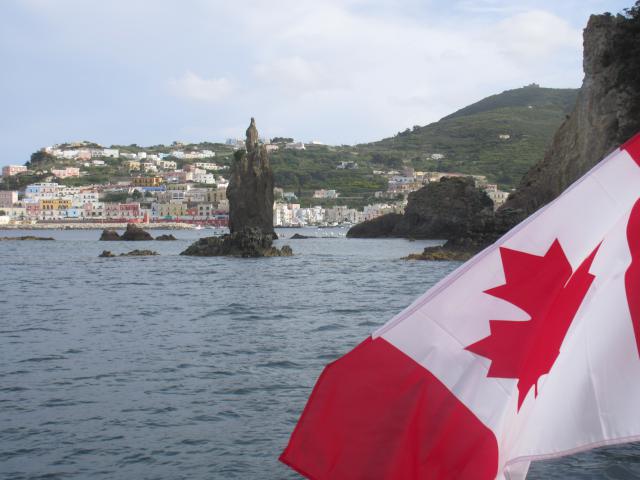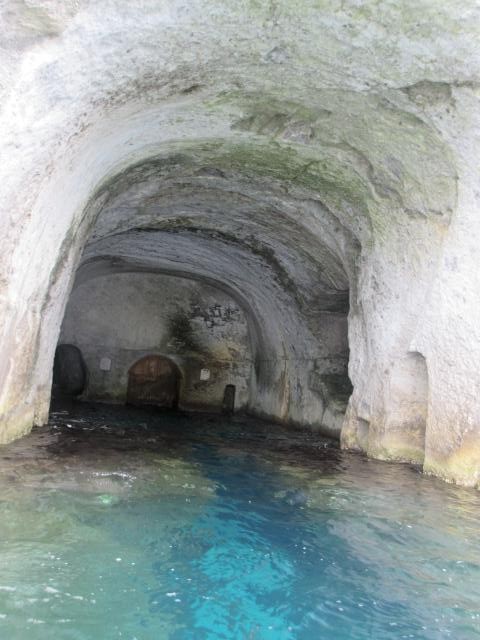 On the way to Ponza our fridge died. A quick bit of diagnostics and it turned out that the Danfoss controller module had died and needed replacement. Where the heck are we going to find one of them?
England, of course. A quick internet order, next day delivery to Josh, and he brought it out with him to Rome. We were fridgeless for only about 4 days!
2 Responses to "A Celebrity Came to Visit Life Part 2"