Current Location:
San Vicente, Ibiza, Spain
Current Position: 39 4.5 N 001 35.61 E
Click to view map.
Distance sailed since last post:
12 nautical miles
.
View the map of our voyage track here
Ibiza is known as a party town. We didn't see much evidence of that, but then I guess we go to bed too early! Apart from that, there wasn't too much to see. The old town was sort of cute, a bit like Obidos in Portugal, being situated in an old fortress, but the waterfront was very uninspiring.
There was, however, a rather funky apartment block being built, with colored plastic wrapping on the balconies and matching flowers.
After leaving Ibiza town we sailed up the coast to Santa Eulalia, a lovely town with some classy restaurants along the seafront. Way nicer than Ibiza town which had little to recommend it.
We stayed there two nights and yesterday we sailed further along, taking a look at Cala Mastella, but anchoring instead at the one next door, Cala Boix, west of Cabo Roig. When we arrived there were 4 boats there, but all of them had left by 5pm, leaving us to ourselves.
We paddled our kayak to the beach and took a little walk onshore through a valley with lots of wild flowers and many lovely properties overlooking orange groves and other fruit trees (that Ceu delighted in naming). We could see Mallorca across the sea, 50 miles away.
This morning it was a dead calm. The sea was flat, the sky blue, and the sun shining.
So we decided it was time to affix a new name to the bow of our boat.
It is pretty cute, don't you think?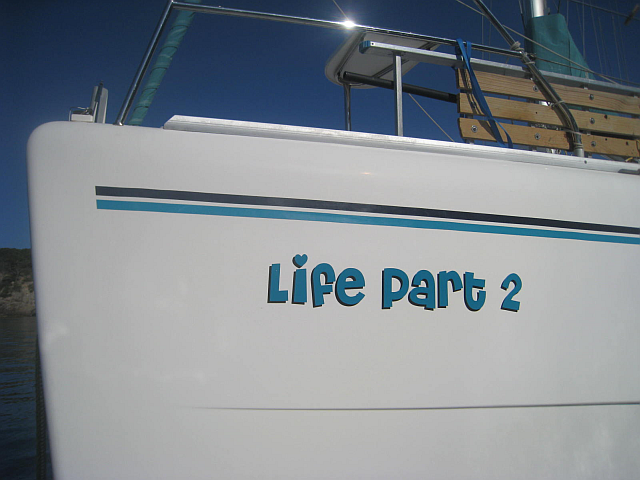 Today we motored around the corner to San Vicente in the hopes of finding some internet connection. Lovely calm day with the sun shinning and beautiful clear water (though still a bit chilly for swimming).
Tomorrow looks like it will be a good day for a reach across to Mallorca, 50 miles away. Although the Google translation of the weather forecast warns us that it will be "SOUTHEAST 2 RAGING TO
SOUTH AND SOUTHWEST 3 A 4. LOOPED COLLECTOR INCREASING TO MAREJADILLA WITH AREAS OF
STORM SURGE" which, I think, means it will be a pleasant peaceful sail with a little bit of swell.  Ceu says she is right about the sailing vocabulary – even Google can't handle it!
Will keep you informed 🙂
One Response to "A New Name for our Boat"