Current Location:
Taormina, Sicily
Current Position: 37 49.61 N 015 16.52 E
Click to view map.
Distance sailed since last post:
46 nautical miles
.
View the map of our voyage track here
After our crossing from Greece, we treated ourselves to a night on the town in Syracuse. Remembering a good restaurant that we went to last time, we headed to the large piazza in front of the Cathedral.
The restaurant was not yet open. But there were not one, but TWO accordion players in the square. Oh such dilemma! Like the husky dog trying to defend two pieces of frozen fish from the other dogs, we kept walking from one player to the next, trying to catch them both!
First we listened to this duo, with a home-made double bass! Just one string that he tensions or relaxes just by pulling the neck back and forth while he plucks with his right hand.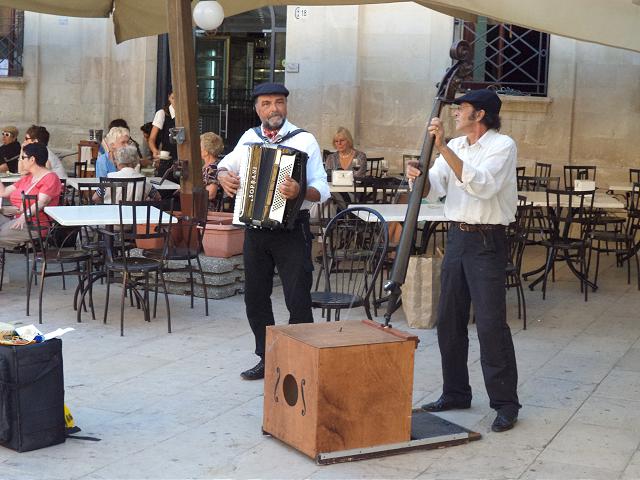 And then we had to listen to this lonely guy playing some amazing classical music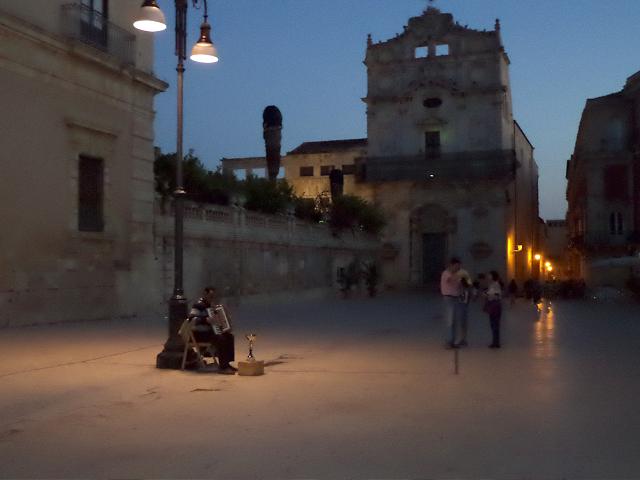 And then it was back to the duet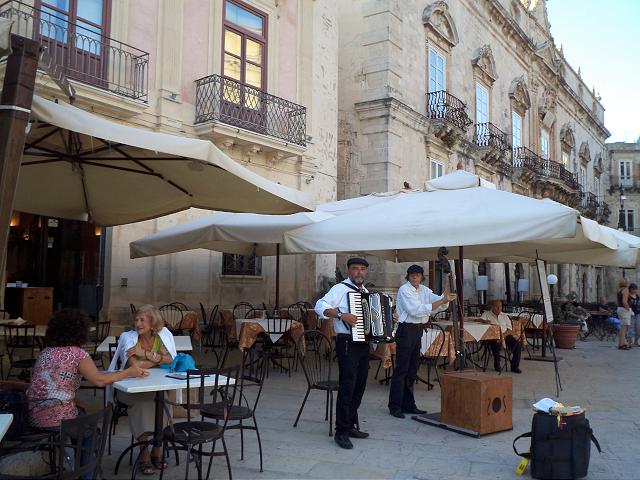 And then finally for a great meal.
Having arrived in Sicily we still wanted to go see Stromboli volcano before putting things to bed in Ragusa for the winter.
So, yesterday we had a lovely sail up the coast to Acitrezza where there are some black basalt pillars.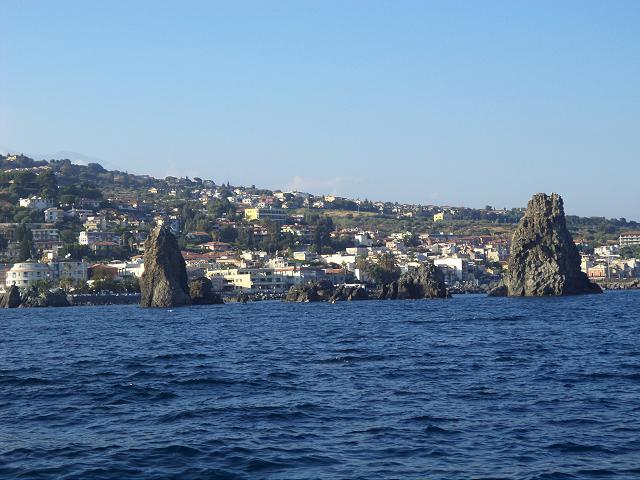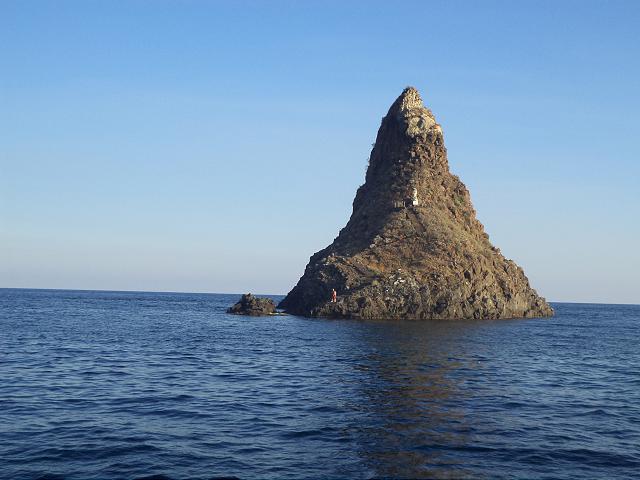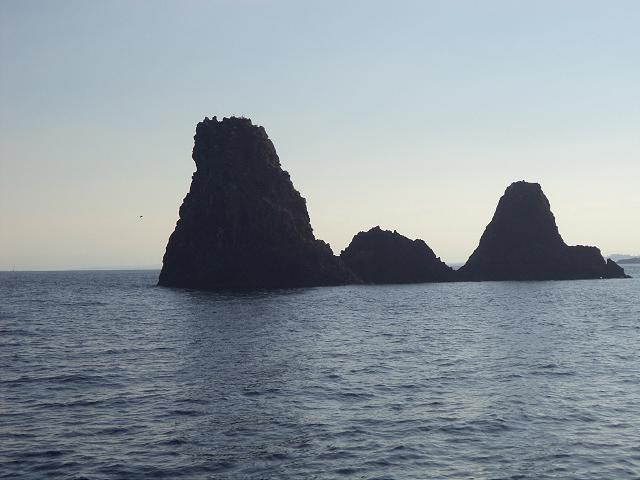 Apparently that is where they ended up, having been thrown by cyclops Polyphemus at Odysseus after Odysseus blinded him with a burning stick. And then Odysseus escaped by hanging underneath some sheep when they went out to graze. And that was after 6 of his crew had been eaten by the cyclopi!
Man, I wish Odysseus had kept a blog – he certainly had wilder adventures than we have had!
Anyway we crept into the tiny harbor and tied up alongside an empty pontoon. We had a quiet night, and no one came to charge us anything! And no cyclopi came to devour us either. Phew!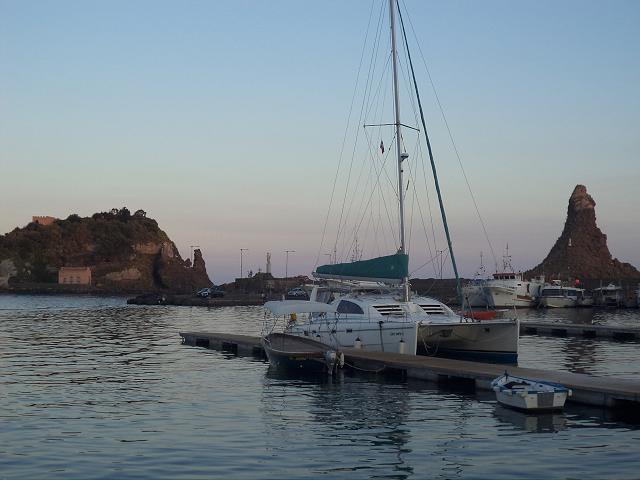 Early this morning we left Acitrezza at dawn, along with heaps of fishermen.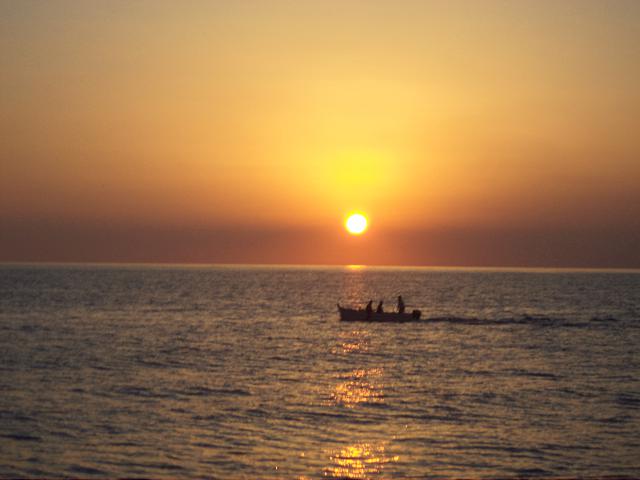 We motored up the East coast of Sicily in a flat calm to Taormina, at the foot of Mt. Etna. Along the way we had some spectacular views of Mt. Etna.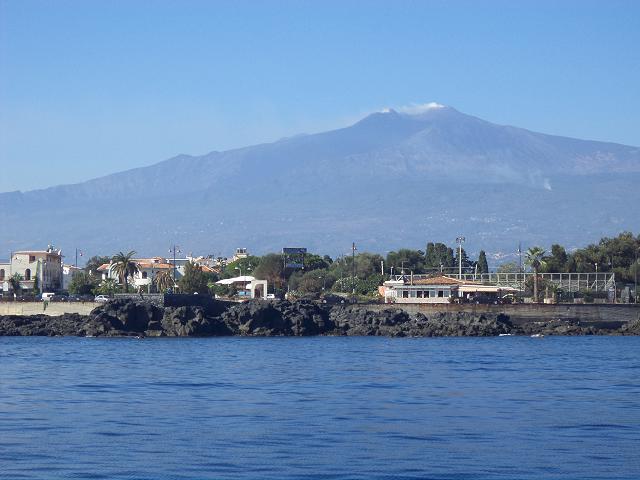 And then the fun begins.
Since we are currently dinghy-less, having lost our poor dinghy in Greece, we are reduced to paddling ashore in the kayak. Which is all well and good, except that you get wet doing so. So we decided to Med Moor in Naxos harbor (right next to Taormina, which is up in the hills). That adventure is the subject of the next post.
However, we eventually succeeded and are now nicely settled with gorgeous views of Etna and Taormina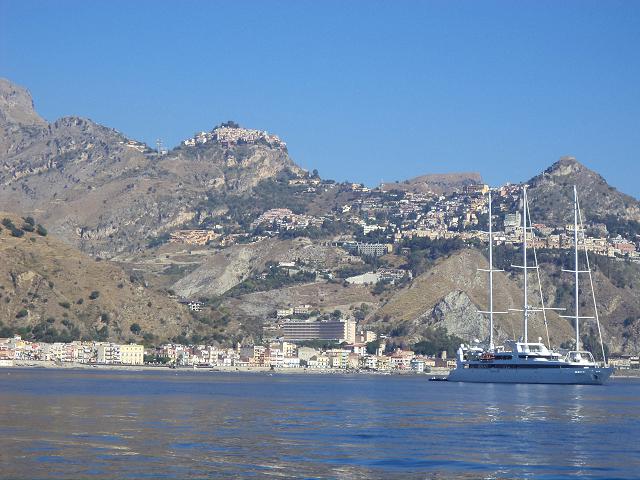 From here we need to wait a few days for some forecast westerly winds to pass and then we will strike out north to brave the ship-eating whirlpools Scilla and Charybdis of the Messina Strait. Those are in Odysseus' blog too. Fortunately I believe an earthquake changed the underwater topography and they are not as fearsome now as they used to be. We hope.
Beyond that are the volcanoes of Stromboli and Vulcano. If we survive the formidable Messina Strait.
In the meantime, the weather is still hot, the sun is shining, the water is warm, and all is right with the world.
One Response to "At Least We Weren't Eaten!"