Current Location:
Roses, Spain
Current Position: 42 15.51 N 003 10.49 E
Click to view map.
Distance sailed since last post:
164 nautical miles
.
View the map of our voyage track here
From St. Tropez it was time to head west and south, the goal being to get to Alicante, Spain by mid July.
First stop was the island of Porquerolles. Just south of Hyeres, this island has no cars, so everything, including the pizzas, are delivered by bicycle.
After a lively beat in fresh winds, we anchored just outside the harbour in 3m and went ashore for a walk through the luscious palms and vineyards.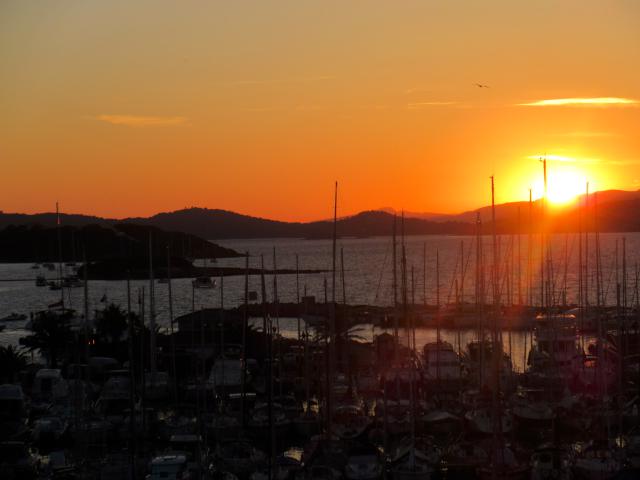 Once again there was a beautiful sunset but, unfortunately, the night was a bit bouncy with an onshore wind. Should have gone to Hyeres instead. Oh well.
The next day we sailed around the corner to Sanary Sur Mer. This was a lovely little town. There was some sort of music festival going on, with dozens of different bands setting up on the promenade.
There was also a competition or exhibition of old restored fishing boats, some dating back over 100 years.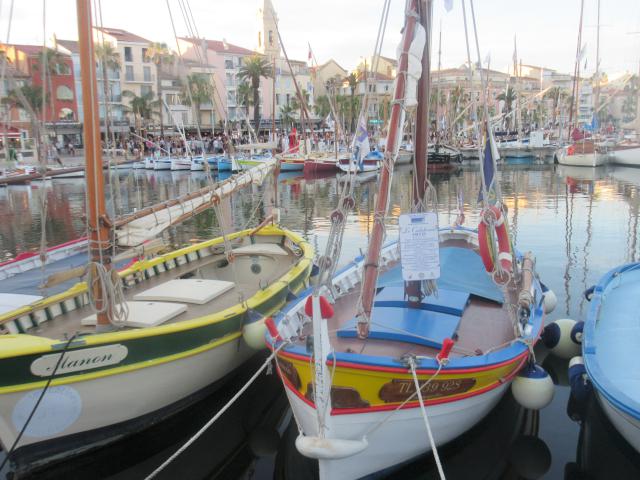 We were anchored just outside the town. But as night drew on, remember, it is dark until well past 10pm, the bands were still playing and the wind and waves turned onshore.
We decided that it was too much noise and too much bouncing, so at midnight we motored in the dark 4 miles around the corner to Bandol, where we were able to tuck behind a rock and get a nice calm night.
Bandol was also pretty, but not nearly as nice as Sanary. So we did our shopping and sailed onwards to the Calanque, where we anchored deep in one of the fjords called Calaque de Solimiou, which gave us good protection from the SW waves.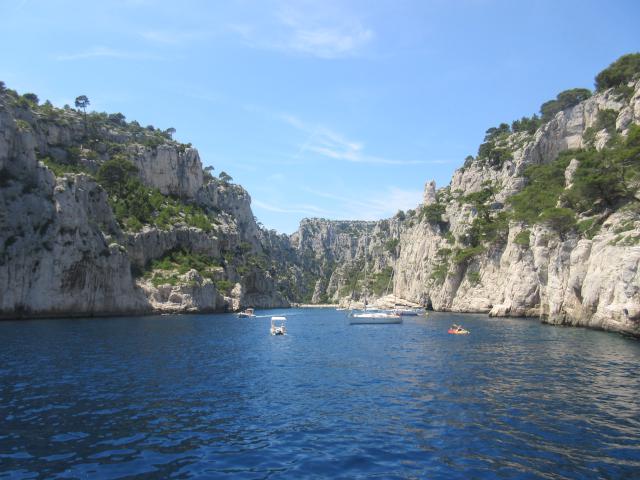 The next day was windy and wavy. We took a short trip to Cassis and went ashore. It was a bit of a challenge getting ashore in the waves. To bumpy for launching the dinghy, so we took the kayak and had a very skillful landing on the beach amongst the tourists.
Another pretty and classy French town.
There we had a HUGE meal of mussels and roasted vegetable salad. Delicious but we were oh so full!
The wind and waves were still from the SW, so we went back to the Calanque and anchored in the nearer one, Margiou, for another peaceful night. No big motorboats passing us every few minutes here!
From here the tricky thing was getting across the Golf de Lyons. This gulf is notorious for gales that suddenly do 180 deg turns on you. But we had been watching the weather for a window (despite our internet woes) and figured the next day was as good as it was going to get. It meant motoring all night in a flat calm, but that is better than motoring into the teeth of a gale, as happened to our friends Purrrfect when they did the same crossing two years before.
We did get 4 hours sailing, and with the bright quarter moon, and shortest night of the year, it was a beautiful night for crossing.
And that put us in Collioure, just a handful of miles from the Spanish border. This charming little town is famous for all the artists that have lived and painted there.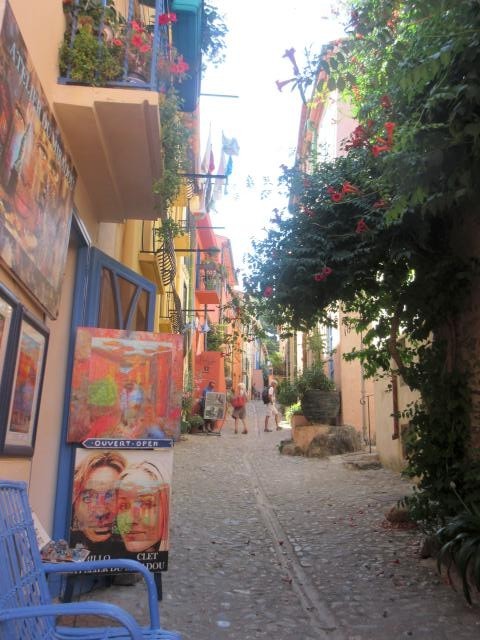 There is a nice little harbour for fishing boats, and a small bay with mooring balls for which they charge 35 euro a night! And for that you get no services!
We decided to anchor in the next bay to the south which was free, and also better protected with less waves, so we had a nice calm night.
I really don't understand why people always want to go on mooring balls or in marinas!
Since the next day was also a calm, we took a walk into Port Vendres and met an English guy who was exhibiting and selling his paintings and photos. They were good. But there is an awful lot of competition in this area!
The following day was forecast to be a nice northerly wind. Perfect for sailing downwind 35 miles to Spain with our spinnaker up. Finally we get to do some real sailing!
But what a shock!
One thing we noticed was how classy and stylish all the French towns have been. Yes, some of them are very touristy, but even then they had class. No shops full of tacky Chinese T-shirts and flip flops.
As soon as we turned into Roses bay in Spain we knew we were in a different country. Lined up on the shore were ghastly apartment blocks. All along the beach front were tourist shops aimed at lager-swilling English and German youths.
This, clearly, is a place you come to when you are just looking for a cheap seaside holiday. Jet skis, parasailing, jetboats, tourist party-catamarans, it was all there.
We were anchored in the bay just outside the harbour. We tried to take the dinghy to the harbour wall, which looked like an obvious place to take it, but some guy on a scooter said we couldn't tie up there – it was the beach or the rock breakwater. If we went into the harbour that would require payment.  Welcome to Spain!
So we went to the breakwater and managed to tie and lock up there.
We then tried to get an internet connection in a cafe. Yes, they had a wifi connection, but goodness it was slow. How can that be? We were the only ones in the cafe using it. So does that mean the cafe is paying for broadband connection and that is all they get????  The other cafes said they couldn't get a connection at all!
So far, not impressed with Spain! But we did have a peaceful night.
We then set off southwards towards Barcelona. Unfortunately it was yet another motoring day. No wind, until it filled in on the nose. Along the way there were HEAPS of motorboats, small ones, not like France! But hardly any sailing boats. I guess, unlike the French, the Spanish don't sail.
Actually, we hadn't seen a Spanish-flagged boat in at least three years until we crossed the border yesterday.
At least the coastline improved. Some nice little coves and beaches (all full with sun-bathers – well it was Sunday) and only a few apartment blocks so far.
2 Responses to "Au Revoir France, Viva España"