Current Location:
Knidos, Turkey
Current Position: 36 41.08 N 027 22.56 E
Click to view map.
Distance sailed since last post:
44 nautical miles
.
View the map of our voyage track here
On my last post I didn't have the photos ready to show off the finished work on the table. While I was gone Noel was not just busy windsurfing. After Joshua left he was busy varnishing the table.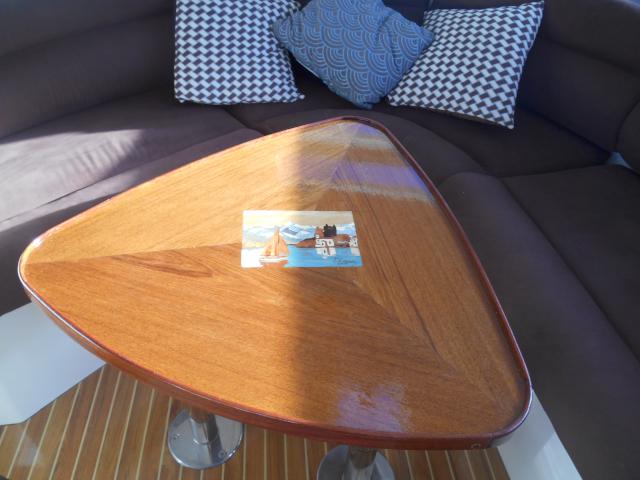 We had a nice piece of marquetry that Noel's dad Elmer, made for us, it fit in the center nicely.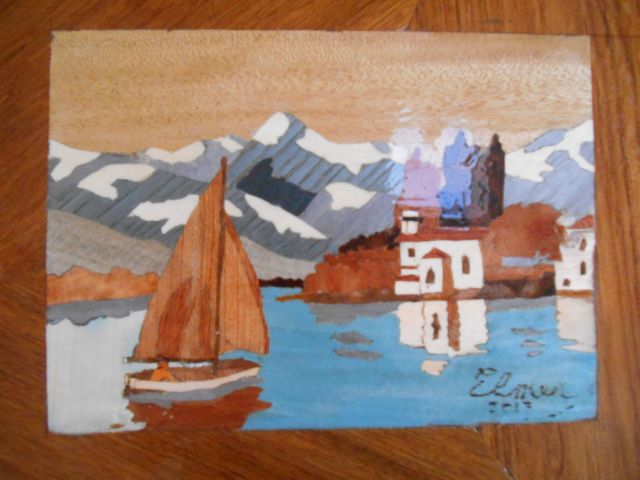 Noel also had the floors all shinny as well. He varnished everything. I had no idea what he had been up to. He had just finished it all the night before, and when I walked in there was still a strong smell around and I though it was just from the table.
I looked down and I could almost see myself on the shinny floors. Surprise! it was quite funny. The next morning we opened hatches and cooked up a storm and the varnish smell…vanished!!!!
As Noel said before..The coast just before Bodrum, for a couple days there was a bit boring with bare mountains and big developments, this one not even finished and looked abandoned.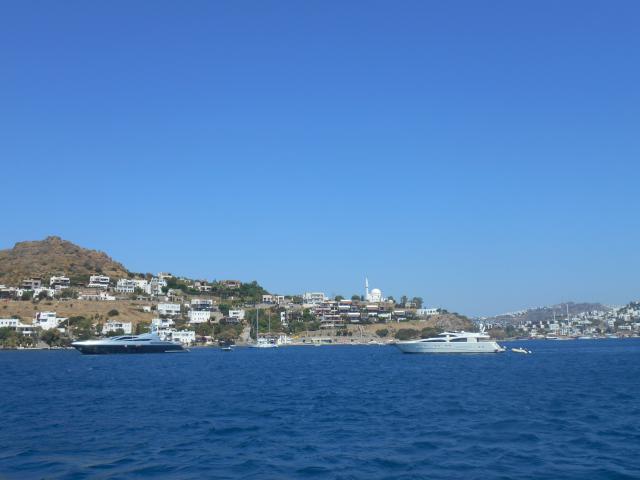 The scenery started to improve, and so the bays started to look busy with motor boats and gullets, and more Resorts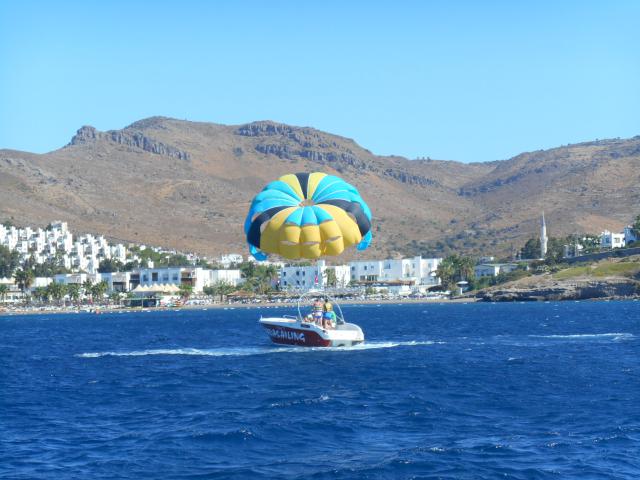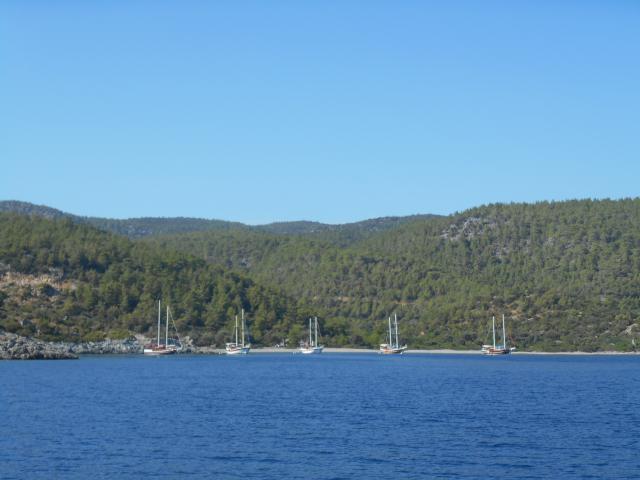 A perfect example of the gullets all lined up full of tourists that are out for the day. In this case they are probable from Bodrum as we are getting close to it.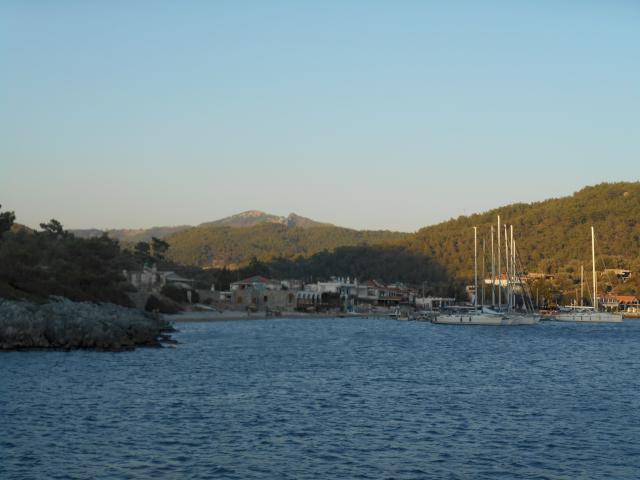 Busy places everywhere… but most of the time we were still able to find some nice more quiet coves, or it would be busy during the day and then they all leave to their birth at the marina and collect more tourists for the next day, and then is quiet for the night.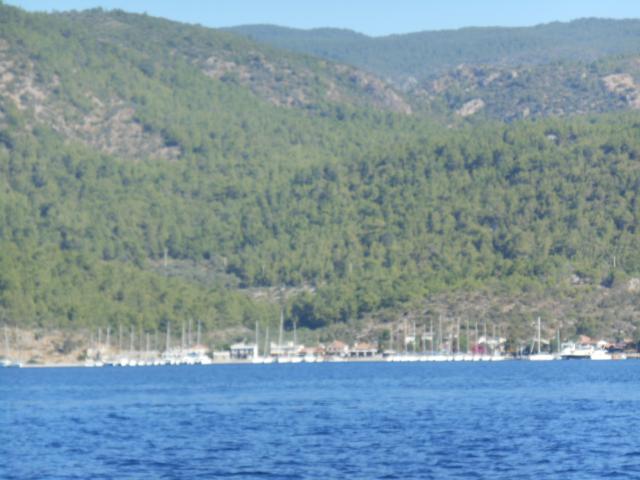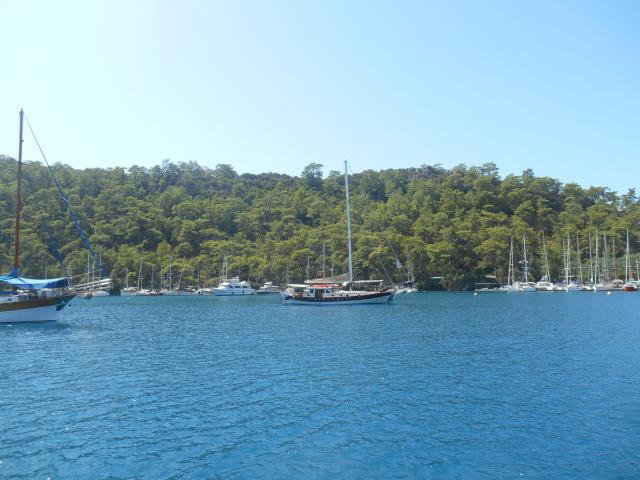 We stopped in this beautiful anchorage in a tiny but popular village of Gumusluk in the Aegean coast. Many fish Restaurants, mini markets, souvenirs and even though quite touristic, it had this peaceful, tranquility to it.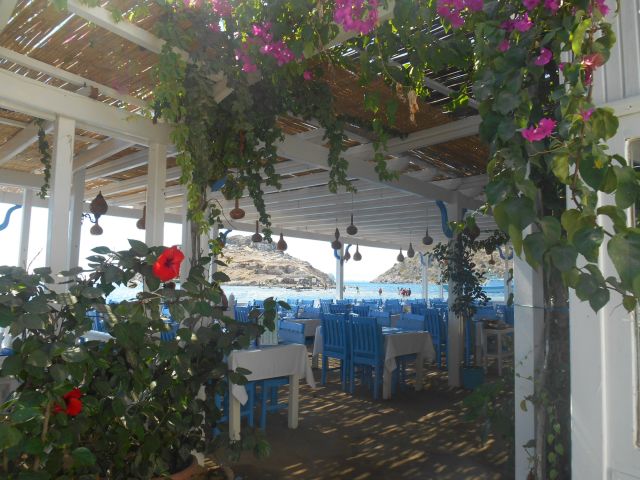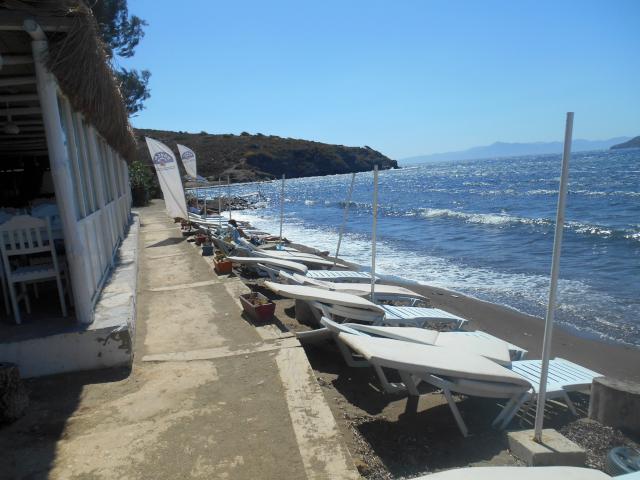 There were a few windsurfers out here at the north end of the bay, so Noel and I walked along this "barely there " beach and watched for awhile.
Charming village of Gumusluk. Restaurants and and a bit bigger beach area (when it's not taken over by the tables and chairs. )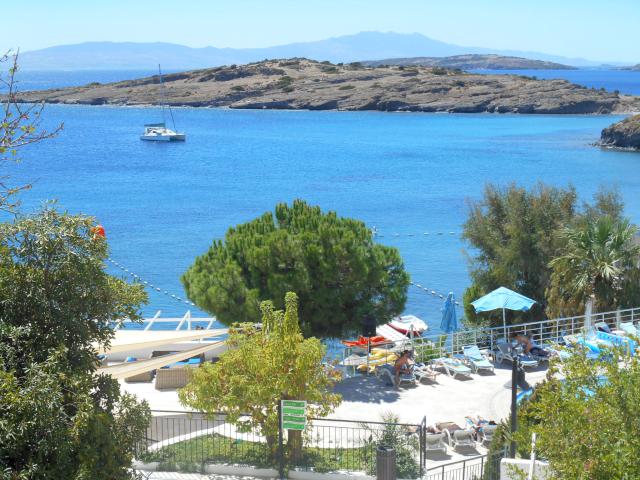 Welcome to the Turkish Riviera. They call the area the St. Tropez of Turkey. We set off sail around 9 am from Gumusluk to Bodrum. We had jib up only with 16 knots of wind astern. Another beautiful sail!
At 12pm we arrived in this empty beautiful anchorage above, just in time before the gullets arrived. As we found out later, this is one of their favourite spots for a swim.
Great holding….sandy bottom. We could take dinghy to the Marina in Bodrum or we actually just walked there.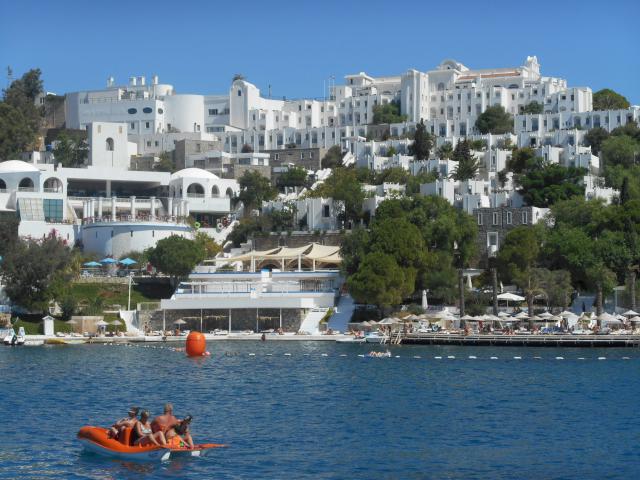 There was a nice Resort here and we just took our kiak ashore and asked the water sports guy if it was ok to leave it there for the day and off we go!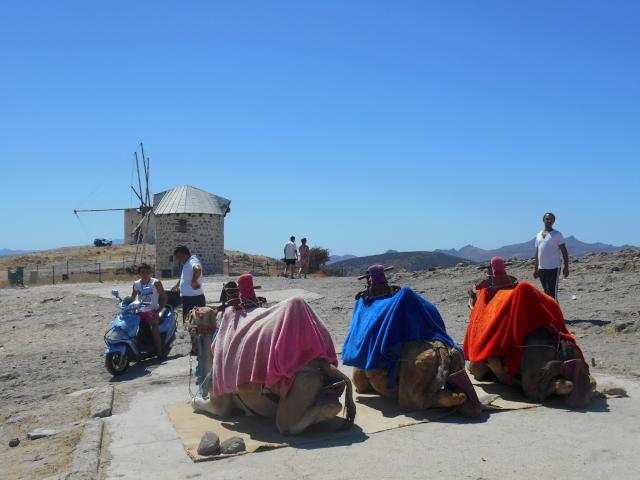 We decided to walk up the hill above our anchorage and check out the windmills.
Ahh surprise, surprise! We didn't know it was such a popular place. Camel rides and Donkey rides and many tourists. The views were amazing, and every once in awhile a tour bus stops and lets the people out for the views and photos!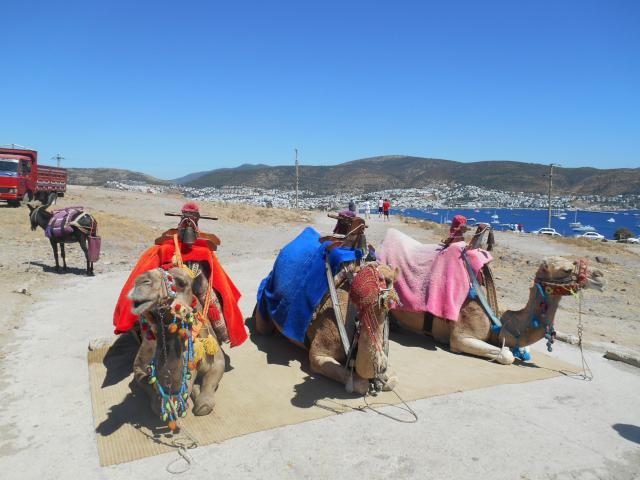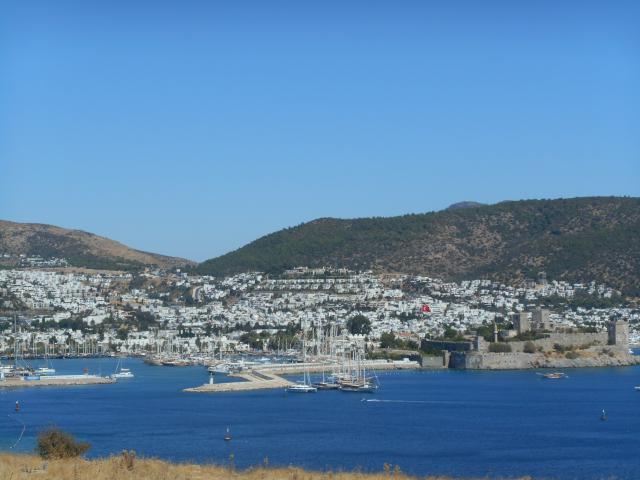 From the windmills, on the east side we had a great view of the town of Bodrum. Castle on the right. From here we walked about 2 or 3km to visit. It is a very nice town. White houses, lots bougainvilleas, many shops and a very full marina. There you can find ethnic foods, also Starbucks, McDonald's and Burger King.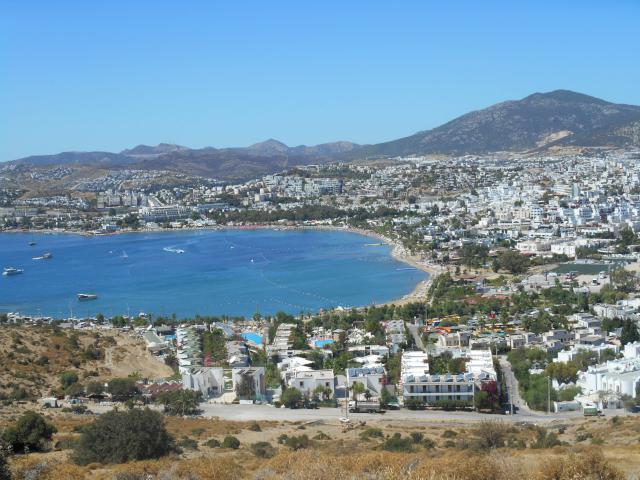 From the windmills, looking west you have the amazing view of Gumblet bay. We sailed by, it's just around the corner from where we are. A short walk from our anchorage. Long beach, very touristic. It's nice for a short visit, but it is too noisy with loud music at night and we also read that holding is not very good there.
These boats are what they call Gullets. They are everywhere around here. The Marina is lined up for a mile full of them!!!! This is one of the many that came and visit our beautiful cove. With brilliant turquoise waters, made it very appealing! It brought lots of people and music!!!!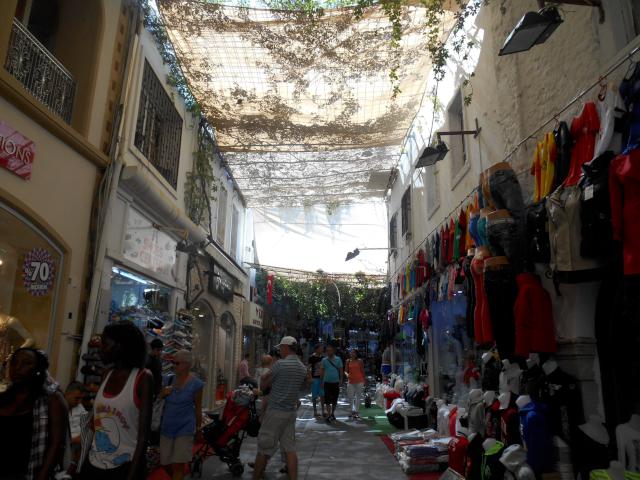 Our walk to Bodrum was very pleasant. Temperatures are still very high in Turkey, but it was a nice breeze . It was fun to visit the Marina and the many shopping streets.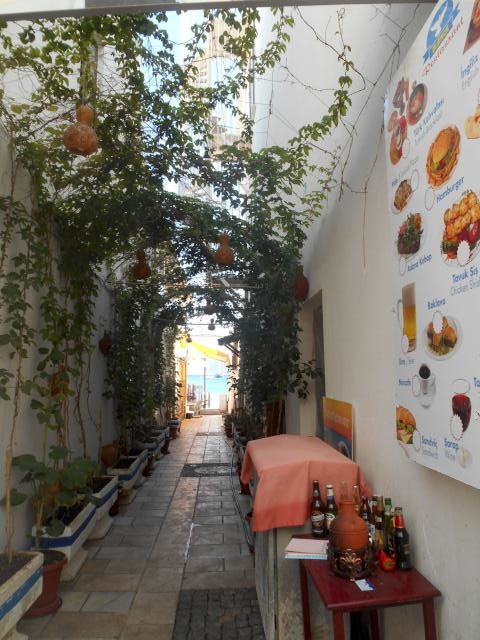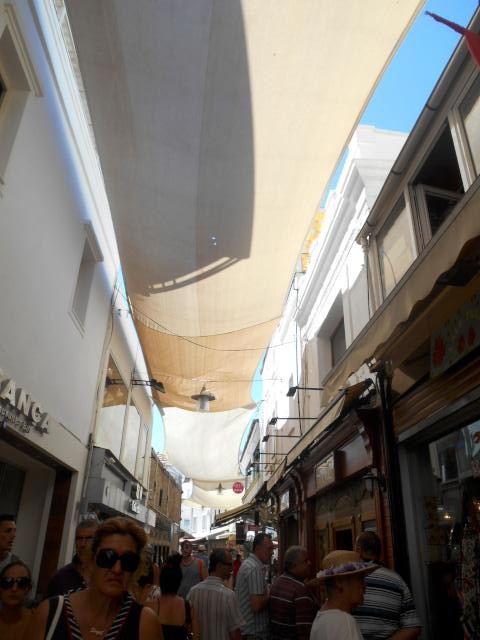 Some of the shopping streets are covered to keep it cooler, which makes shopping way more pleasant. Reminded me of Seville, Spain, very hot there too.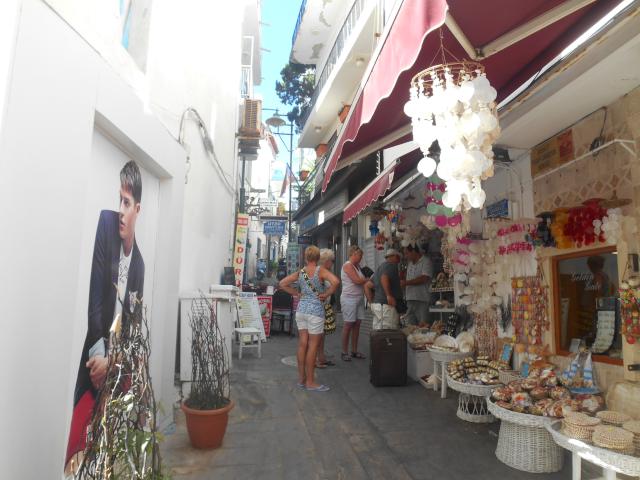 We stayed in Bodrum for 2 days and moved along the coast of Bodrum Peninsula. Stopped in a nice cove in Gokova Gulf for the night before making it the next day to Cokertme. I dont have a photo of this place because picture cannot capture the beauty and solitude and the charm of this quiet unspoiled coast that still exists in the Med. You only see a few small villages here and there, no big developments, ugly concrete buildings, is just like going through a natural park with gentle hills covered with green pine woods.
Apparently Gokova means plains of the sky. The name fits well.
Bellow is a photo of a very charming town of Cokertme, where we spent the next day.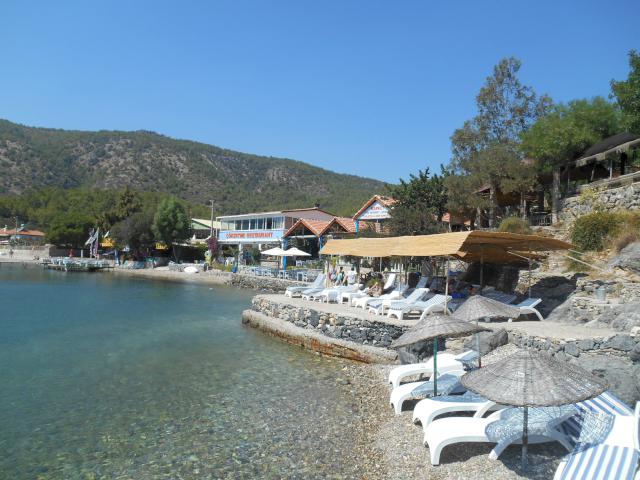 We met a nice couple from Scotland who joined us for a really nice lunch in this Restaurant and then we took a walk , 2km inland to the little village amongst olive groves.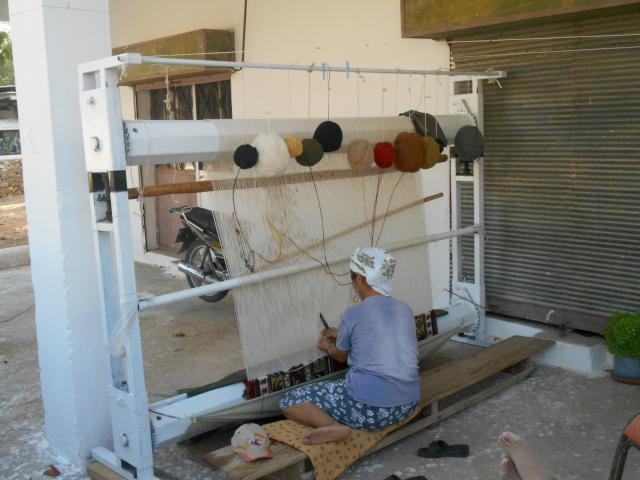 The people were so friendly.
In this village the women work from home making the carpets. This lady didn't mind having us watch and take photos of her carpet weaving.
They do beautiful work, and amazingly don't even look at a pattern!
As you can see she holds a knife in one hand. Each knot is tied and cut separately, and they are so fast! After the long line of knots she pushes it down with comb, this makes sure that knots are tight and she keeps tying and cutting more knots.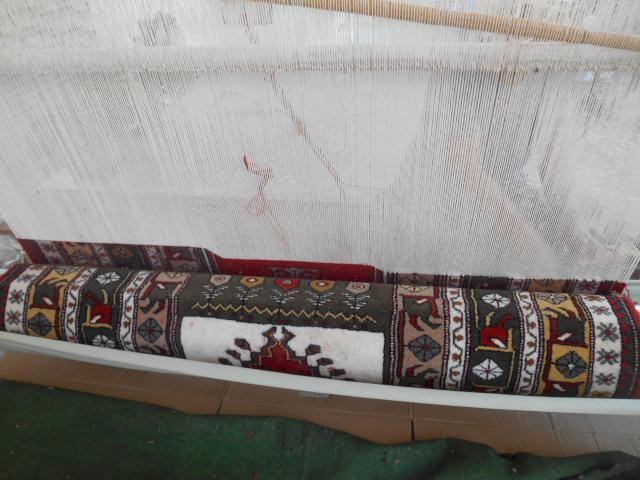 This is the back of the carpet. It is very hard work and takes a long time. But if you are buying the real one, you know it is very good quality, it is beautiful and tight to the touch.
She offered us tea or coffee we said no thanks, but I turned around and saw beautiful ripe figs on her tree and pointed to it….she got up and grabbed some of the tall branches so I could reach the ripe ones. They were so yummy, just like honey.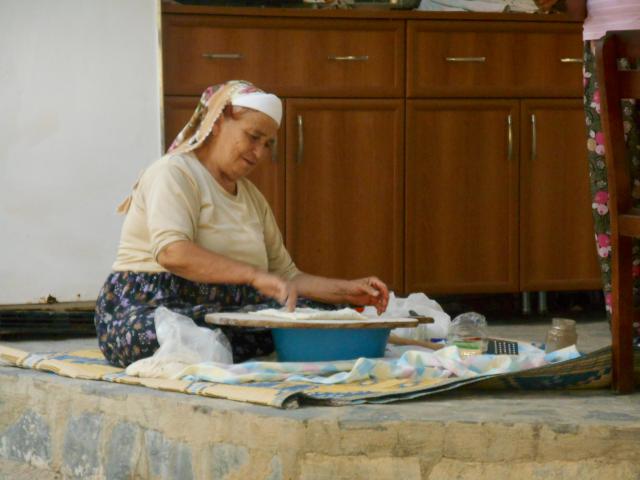 We stopped at a local cafe to quench our thirst. The table next to us ordered Pide, Turkish pizza. The lady quickly sat down and made the dough. She made it look sooo easy! Within minutes the customers were eating. We love their Pide,(Turkish pizza) . The crust is very very thin, and quick to make.
This family from the cafe didn't speak a word of English but great service and hospitality. The cute old man and his daughter proudly brought us some honey to taste. This area is famous for honey and olive oil. Olive groves and bee houses were seen everywhere.
Together with the honey he gave us some kinda nuts crushed to mix with it . It was really yummy. We enjoyed this off the beaten path very much.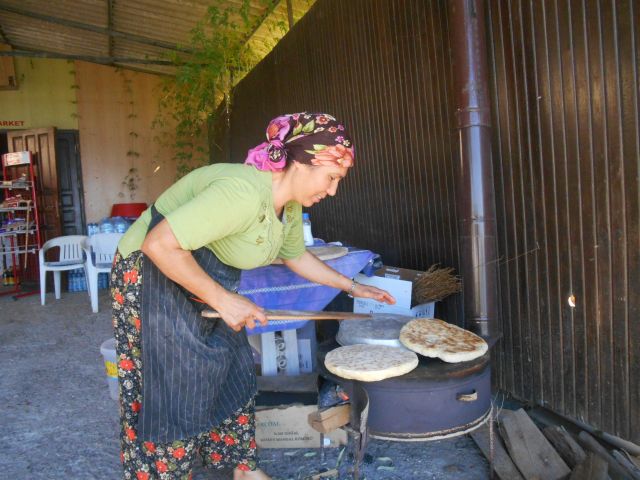 We had a peaceful night here and next morning we were ready to set off along the coast, but when I noticed this lady baking this fresh bread on the other side of the dock I quickly went to get some. Hot bread with butter, along with our cheeses I brought from Canada, it was a great breakfast and departure from our little heavenly spot.
Our next stop is Cleopatra's beach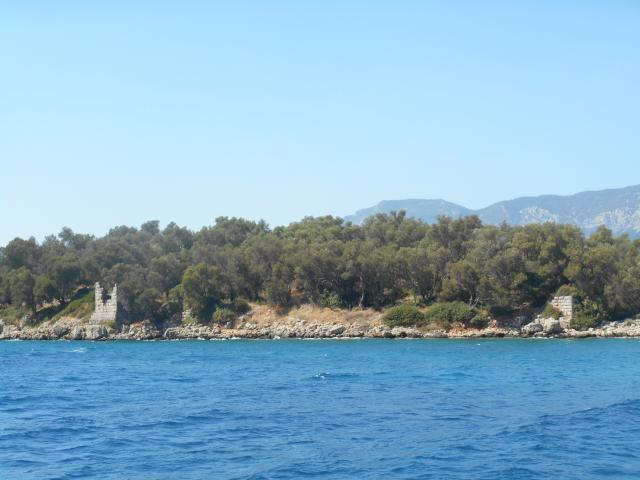 Coming around to the anchorage at Cleopatra's beach.
Some of the ruins of this ancient city can be seen here. Above, amongst the olive trees is the Temple of Appolo. For more on this ancient city and Cleopatra's beach see the older post: Cleopatra's beach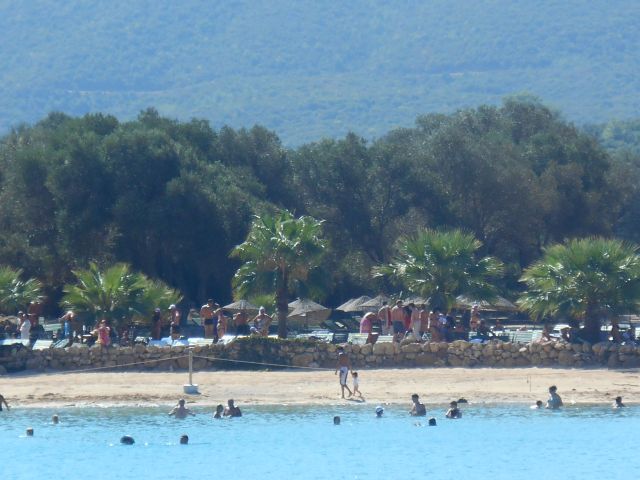 We enjoyed our visit there. It was a beautiful spot.
But now its time to say goodbye as we sail by ……On to new adventures.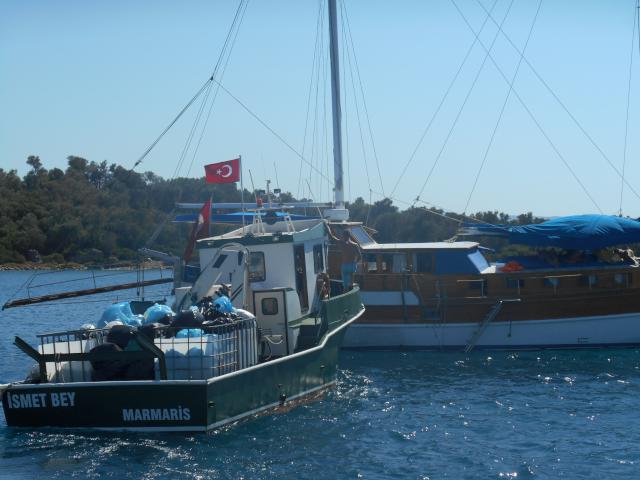 Ahhhh…. I must say! At Cleopatra's anchorage we even had garbage pick up right from your boat!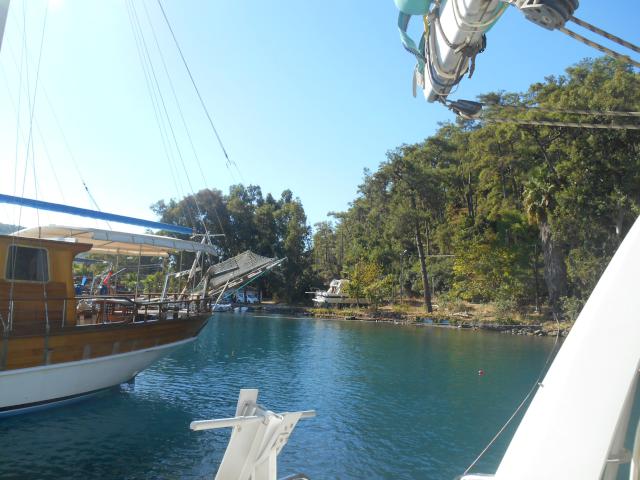 Our next stop took us to a place that we still cannot pronounce right. Karacasogut.
Upon arrival a nice young man from the gullet next to us, offered to help us immediately. He took our lines ashore on his dinghy and tied us to the trees. Gee, it is so much easier when you have that third person. With Noel at the helm and I must still be watching the anchor rode ( too long, too short????) how can I be swimming ashore too, and tie up?? It's always a procedure and we manage, but with help it was a piece of cake.
It was a really nice big bay, quite deep though. I guess that explains why most boats were med moored to the trees.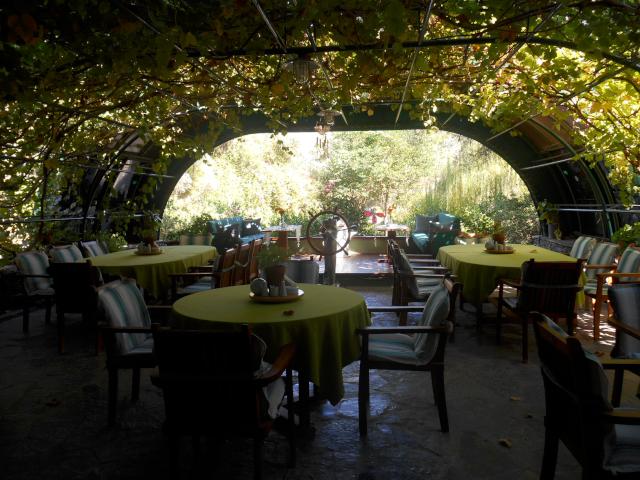 Karacasogut is home to Global Sailing club ran by a Turkish circumnavigation family. They also have Kids Summer camps and the kids just have a blast. We loved their facilities. Above is their cute Restaurant. Noel and I were planing to rent a little Laser and go for a sail but no wind……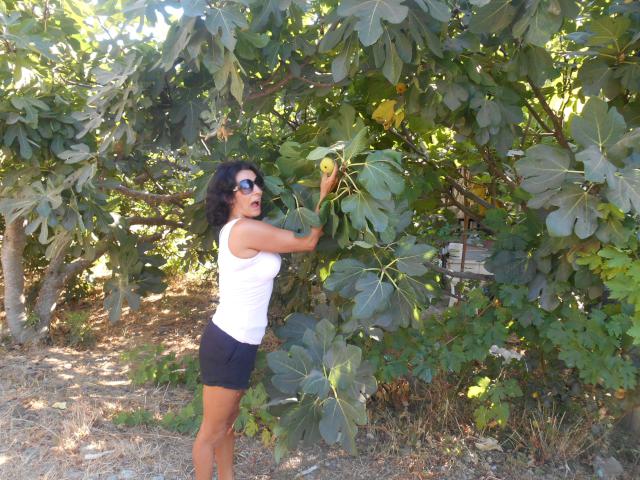 We loved the walks around this tinny village. We spent 3 days there. Every night we would go for a walk and I would pick yummy figs off the many trees along the road. There are many trees, no one cares.
Even when I couldn't see anymore ripe ones I knew there would be more the next day, on my next walk. But it was ok, I don't think I could eat anymore.
That was the expression: that is a good one!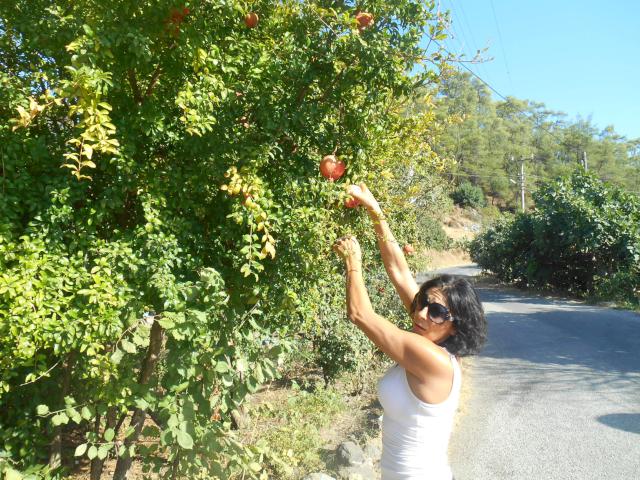 and that is the expression: hurry up, car coming!!!! ….while I pick a pomegranate.
Pomegranates interlocked with fig trees everywhere. They are just in season as well.
But I was so full from figs, we each took one home.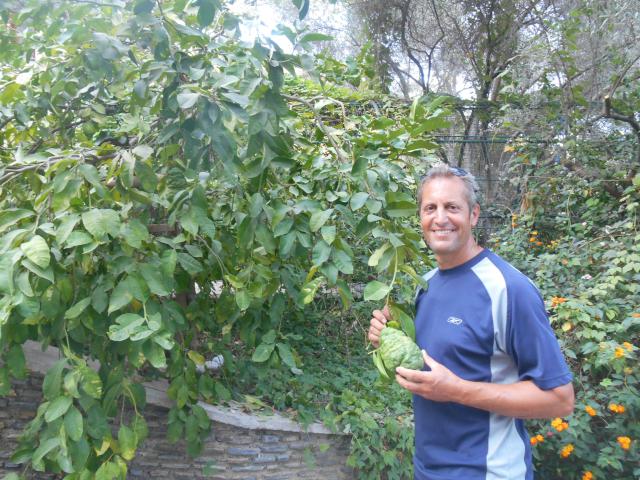 While visiting the sailing club Noel also found a bergamot tree. We found this strange looking fruit and smelled very citrus. We asked and they told us it was bergamot – the ingredient that makes Earl Grey tea so special. Very interesting.
We loved this unspoiled little village and all the locally grown vegetables and fruits.
Karacasogut is also a convenient stop if you want to travel to Marmaris. By sea is a very long distance but by land is only a 40 minute bus ride. Buses run twice a day from here, one at 07:30 and another at 13:00h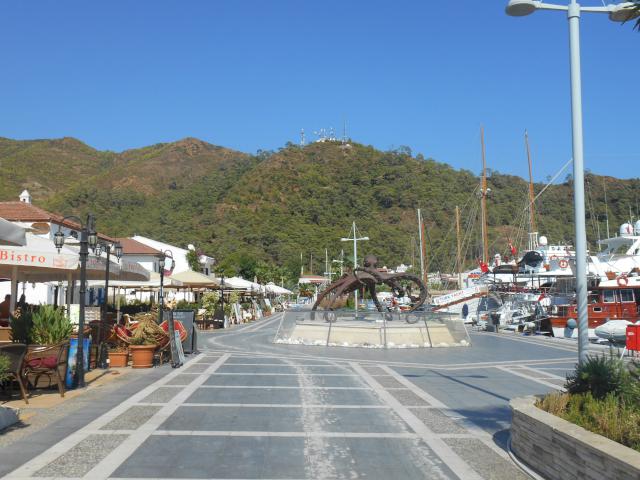 We took the bus to Marmaris and visited yet another very full marina, with even more gullets than in Bodrum. Wow. Large Marina and big town where one can find everything. One street alone is just chandlers.
Downtown Marmaris. Beautiful promenade along the sea, beaches, and parks with water fall, many water fountains and statues. Marmaris is surrounded by nice green pine-treed hills. It has one of the biggest Marinas in the Eastern Med. In the last few decades Marmaris has grown from a small fishing village into a 40,000 inhabitants and a big tourist destination.
Nice river by the marina. Migros for groceries at the end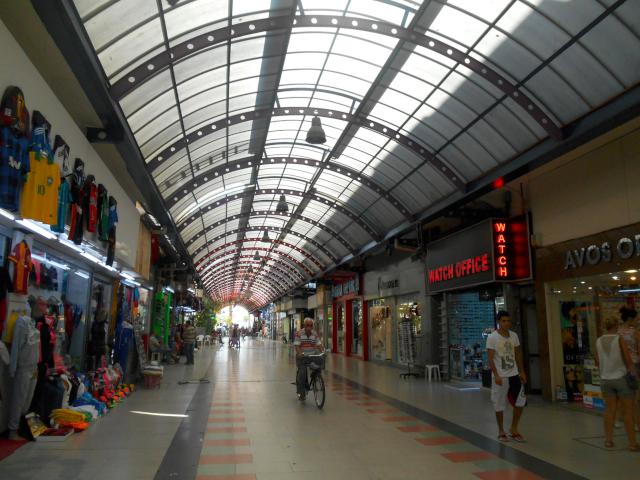 Marmaris shopping. Again the streets are covered making it look like you are inside, but nice, because at the end of each street you can walk out to the promenade along the sea and visit all the fancy boats and people watching.
It was a very hot day and we were happy to return home. After the bus ride we got onboard and jumped off the bow into the clear waters and a refreshing swim.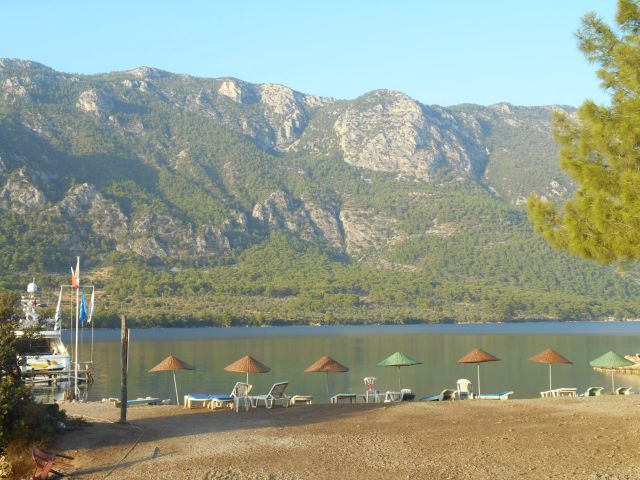 We said goodbye to Karacasogut and sailed just 5miles to Akbuk in the Bodrum peninsula. This was another beautiful big bay with a few Restaurants, cute beaches and small docks that only looked strong enough to hold tiny fishing boats.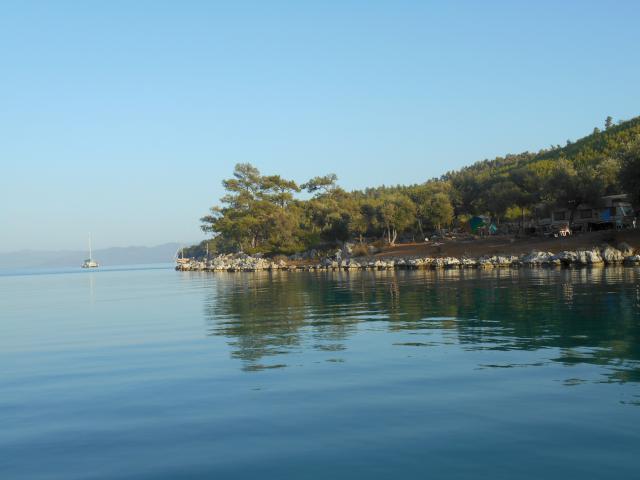 Not only it was a beautiful bay but it was also very calm inside there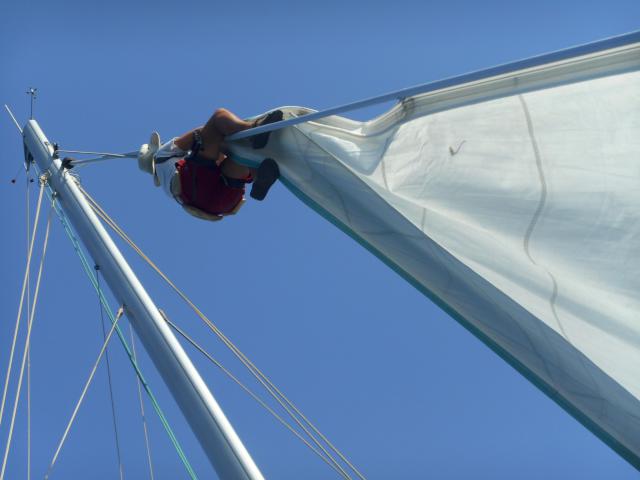 It was a good thing!!!! Just before anchoring, Noel was rolling up the jib and came to a halt. I looked up and realized the metal extrusions on the furler had come apart again.
Interestingly, one of the instructors at the Global Sailing Academy at Karacasogut had had exactly the same problem on an Atlantic crossing – but they had to cut down their jib.
We anchored in this beautiful calm place and I hoisted Noel up to look at it. He was up awhile lining up the tubes again.
Jib was down and needed just a small repair that we quickly repaired on the sewing machine.
Shortly after we had the jib up again. We were so lucky not to have wind and such calm conditions. We were happy that we saw it before too much damage to the sail and were able to do it so efficiently.
Next day we were off again back in the Datca peninsula.
We had a fast sail to Knidos at the tip of Datca peninsula. 25-30kts apparent wind close hauled on starboard. You can see the waves crashing through our trampoline netting: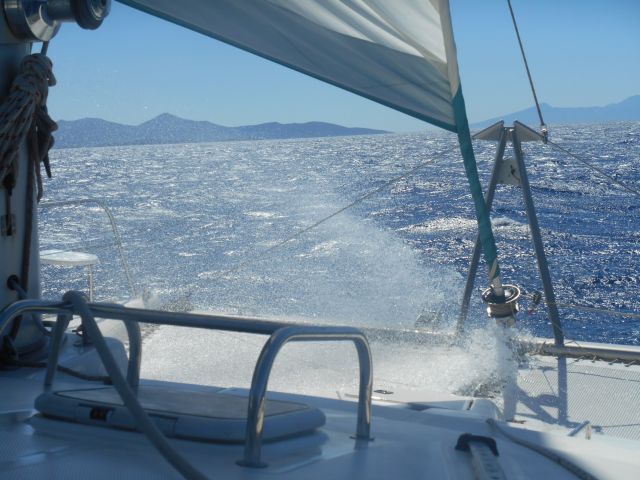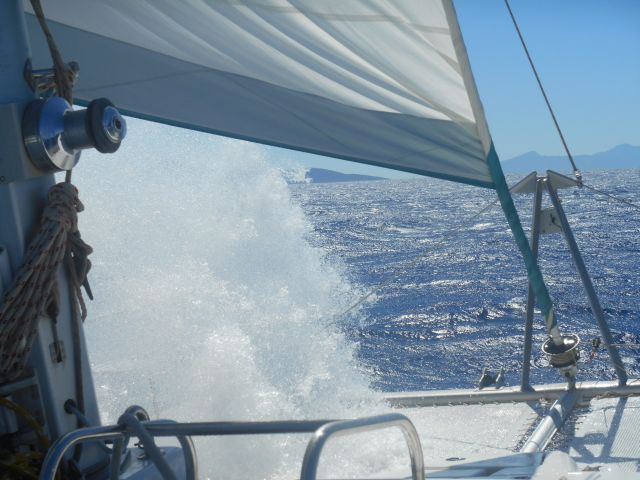 After a few tries again at anchoring, we are holding nicely in this lovely and busy bay. It is an ancient city. Feel like you are in it. Ruins all around.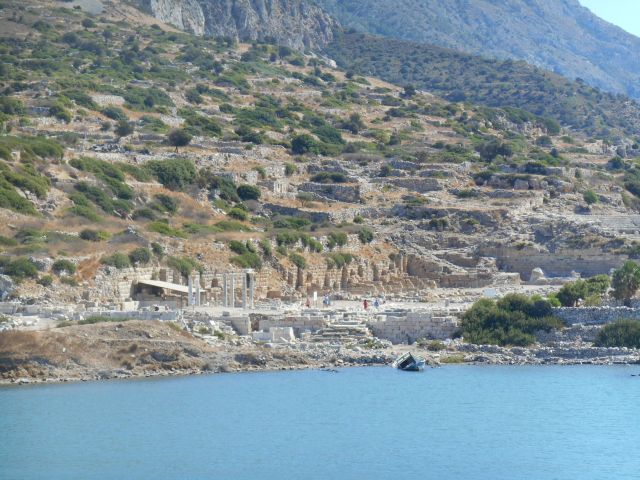 This ancient little town is not only popular now. 2350 ago was already a popular destination. It had the first naked sculpture: Aphrodite. It was positioned on the tip of Datca peninsula to welcome the sailors. The second name of the naked statue was Euploia, meaning: fair voyage!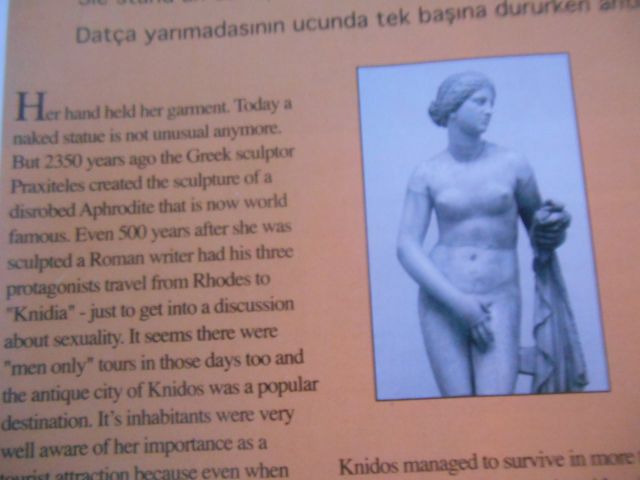 The statue is no where to be seen so I took a picture from my book. (She was probably stolen by some sailor and is still now adding to the decor of his garden???) There are all kinds of stories where the statue really is.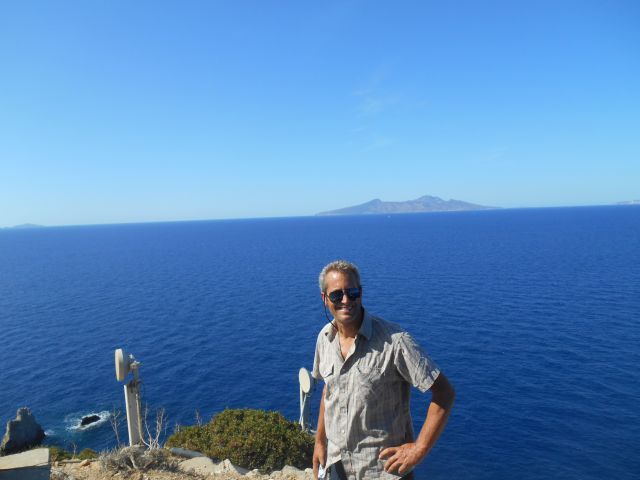 We walked up to the lighthouse right at the tip for great views of the ancient city of Knidos and you can also see a far  many of the other islands. Behind Noel you can see the Greek island of Kos.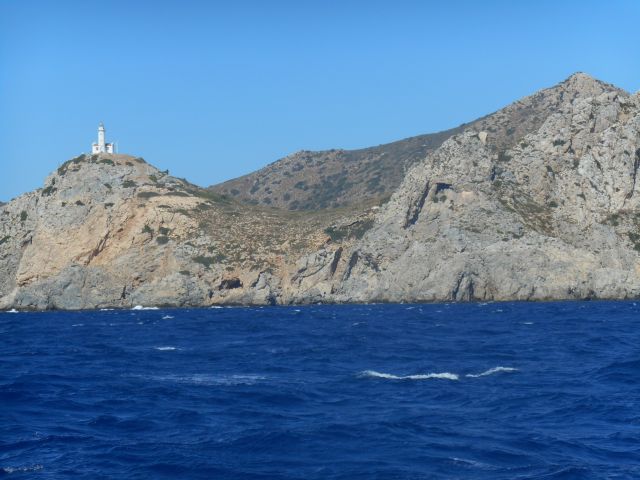 The lighthouse at the tip of the peninsula. Taken when we sailed by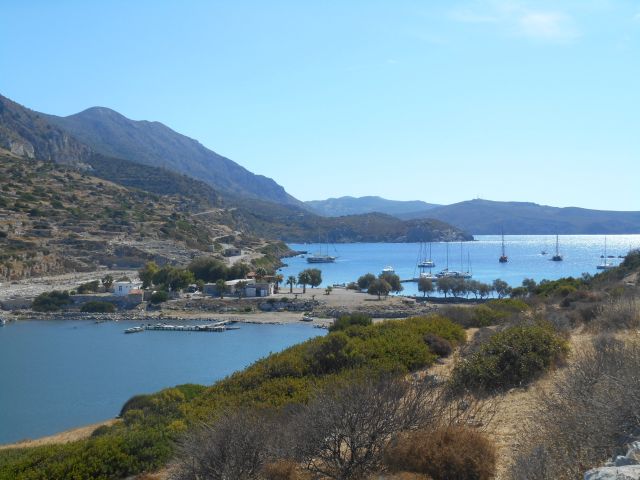 You can see our home amongst the other boats in the bay
We leave you here, as we keep sailing down the Datca peninsula looking for more adventures.
3 Responses to "Bodrum and Datca Peninsula"