It has now been 6 weeks since we left Kelowna. Time has gone pretty fast, yet feels like a long time since I've seen my loved ones. Besides our trip to Portugal, we have spent most time here in Cartagena, where we left the Boat for the winter.
After many trips up the mast, Noel and I have successfully put up the rigging, finishing  in time , the morning of ….the day we picked up Noel's parents who came to visit last week for a  few days.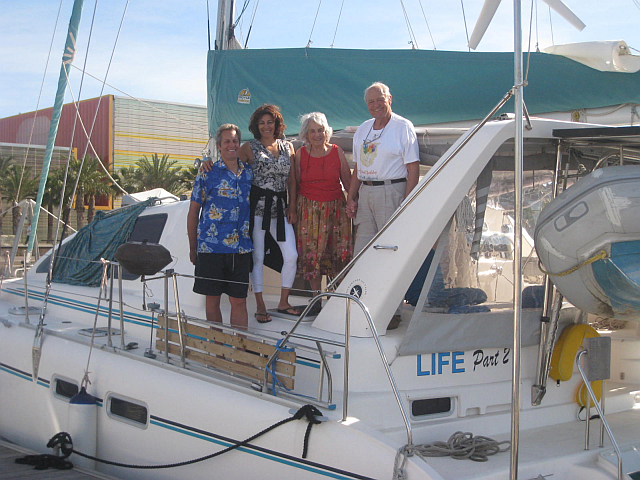 The weather warmed up to about 28 degrees last week and we all had our first swim on the Med.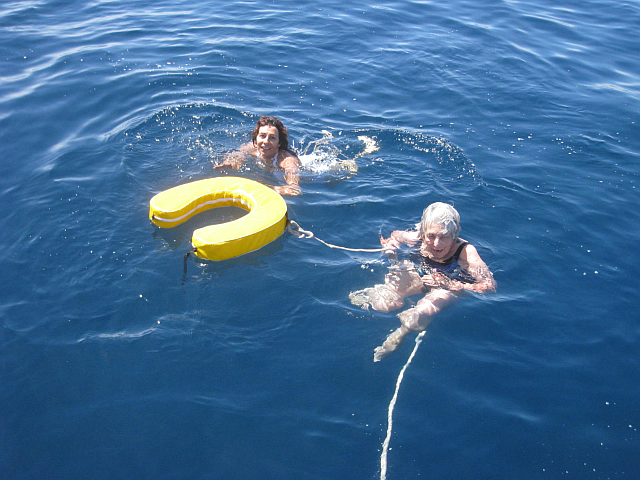 We went out twice for an afternoon sail. First day was very calm, and Heidi wanted to swim even though the water was only 18degrees. She is still very adventurous at her age and I decided if she can do it…I can do it. We both had a very refreshing and salty swim. We showered outside in fresh water, poured ourselves some drinks, and enjoyed the sun, beautiful surroundings the calm waters and the company.
Our second sail was fast, kinda bouncy……Just when Elmer was saying how nice it is in a catamaran, that things don't move  around much and stay upright…..2 cups slid into the kitchen sink one after the other and both broke. But really is the first time something brakes, that was funny. I think the waves in the Med are different, and our Caribbean Cat just has to make some adjustments!!! We had winds up to 25kts and it felt good to be out again. Elmer and Heidi coped very well, they are true troopers.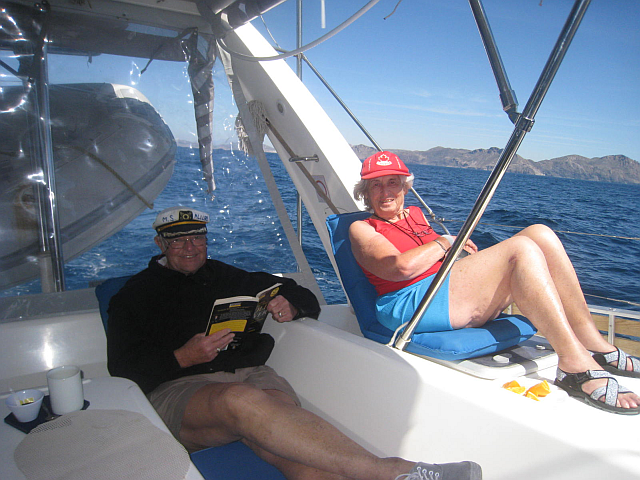 Good winds was good for us too, because we wanted to see how our new rigging was handling. Wow..the mast is still up!!!! Nice.  Just needed another trip up the mast the next day to tighten one of the shrouds a little bit.
We had a great visit with Noel's parents. We also rented a car and did some sight seeing.
Cartagena is in south-eastern Spain with a population of 218,210 inhabitants being the Region's second largest municipality.
We visited the Archaeological Museum with exhibits, many found unexpectedly during building construction, dating back to 4th and 5th centuries and also many tombs from that era. The present Museum was built in 1982 around the remains of a Paleochristian necropolis. These remains are there.
The necropolis kept in this museum was discovered and excavated in 1967. The site that was disinterred, covers a space of more than 700m2.
Took a day trip to Parc La Union, in Sierra Minera. There we visited the underground mining industry dating back to the 19 and 20th centuries. They did the extraction and processing of mostly silver, led and zinc. It was such an experience to be inside this place (which are now nice galleries for visitors)where the miners lived through such hard and intense labor, hazardous conditions and the amazing heritage they left behind. The visitors mine is about 4000sq feet open to public with the depth of 80 meters. It has 4 levels, and the bottom one has a lake of red waters, due to the pyrite. It was very cool.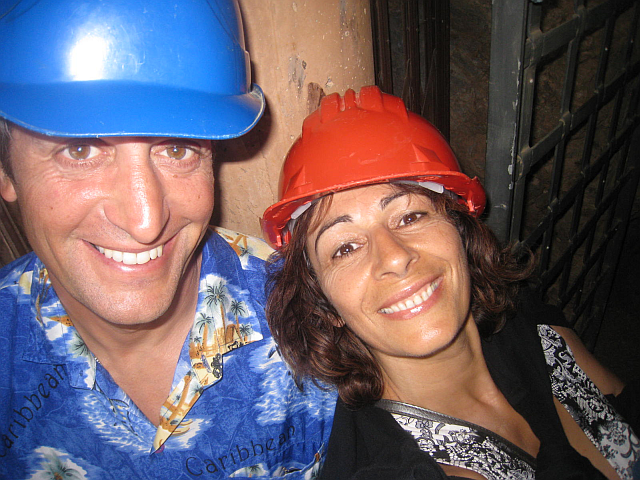 We finished our tour with a train ride to the parking lot and we headed on a hunt for a restaurant and a plato del dia.
Easy to find. Some of us enjoyed squid and others, lamb chops, ahhhh and lots of fries I was craving!!!!!
We moved on driving through the national parc in search of some nice beaches we were told about. Arrived. Took my shoes off to cross the beach onto the water. Not a good idea on black sand. I had to run very quick! I also learned not to wear a white bathing suit to a black sandy beach!! Not many people were swimming…..till we got there! What a great swim. The water was actually quite warm because it was shallow for a very long time. Welcome to the Med!
Noel's parents left us the day after and I think they were very pleased to see our life style here in Life Part2. They are visited us before, but just a 1 day trip, while they were passing  through the Caribbean on a cruise ship last year in Grenada. Good times!
During our stay in Cartagena Noel and I also visited the interesting Civil War shelter-museum. The galleries excavated in La Concepcion hill served as air-raid shelters during the Spanish Civil War.
Right across from our boat and the Marina was also the Naval Museum and the world-famous Peral Submarine invented by Isaac Peral (born in Cartagena) that was launched in 1888 as one of the first U-Boats ever.
So many other historical museums and churches.  The national Museum of Underwater Archaeology was also very interesting with objects found in archaeological excavation spans of 2500 years from the 7th century B.C. to the 19th century A.D.
The roman theatre, and the Amphitheatre, built in the middle of the 1st century A.D. Some of the surrounding walls and part of the rooms are still visible.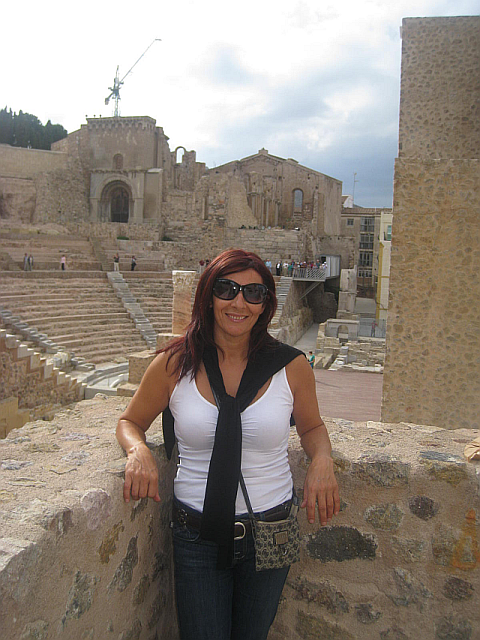 Downtown is beautiful, near the water and the boardwalk, theatre and museums and the pedestrian streets for all the shopping, food, including the great tapas bars! Best churros served with the richest dark chocolate  (you can choose white too!) Yummy!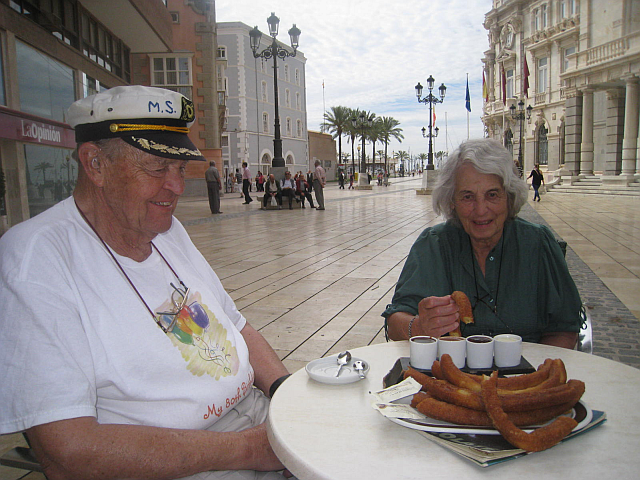 Cartagena gets many cruise ships stopping for the day. We would see them arrive in the morning across from our boat. One day they had 3 of them on the docks. You get up in the morning, walk out with your coffee, and see these big floating  hotels….that's when you decide today is not our shopping day!!!! The streets totally crowded. Great for the vendors!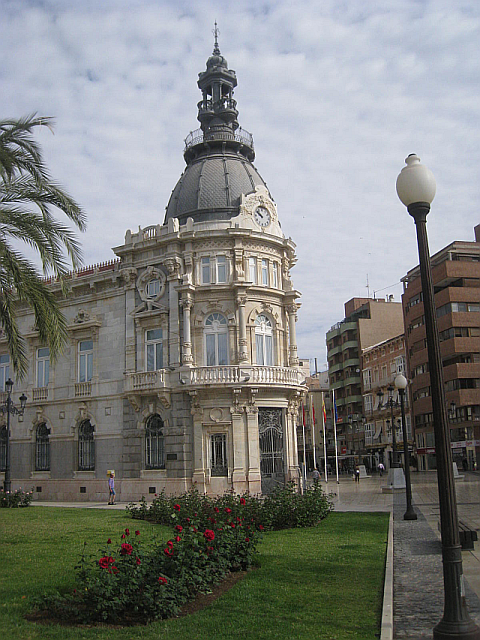 We have now left Cartagena and sailed on to Mar Menor, La Manga, about 30  miles north of Cartagena. Today is May 17th. Internet connection is not very good. Not sure when this message gets sent out.
We had a great one-day sail here, with not much wind but enough that we didn't have to motor, except the last 10 minutes to make it perfect timing for the opening of the bridge at 4pm. The bridge lifts for a few minutes every 2 hours. And as I stood there taking a picture I was thinking of home and remembering our bridge in Kelowna.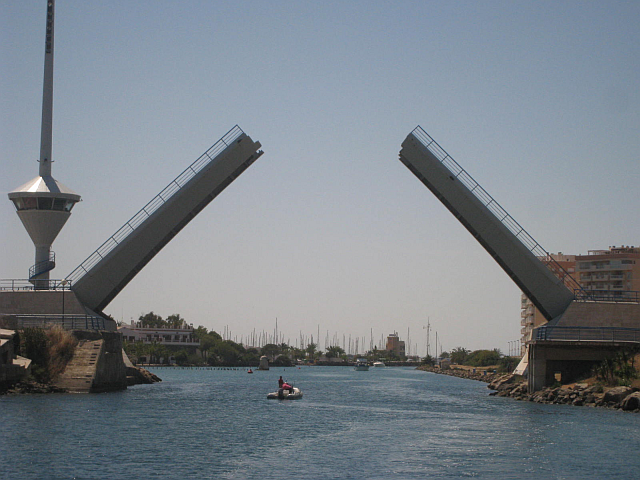 We are now preparing to leave to Ibiza tomorrow or the next day….depending on the wind. It will be a 24hr trip. We are now going to town for a bit of shopping and will also prepare a couple of meals ahead of time for our passage.
Last year we heard here in the sailors community that the unhappiest sailors are the grandmothers…I think I'm ready to join, wait a minute! I think I'm there already.lol
Update:We are on the way to Ibiza tomorrow as soon as the bridge opens for us in the morning. Weather looks good
Stay tuned.
2 Responses to "Cartagena"