Current Location:
Cleopatra's Beach, Sehir Adasi, Turkey
Current Position: 36 59.6 N 028 12.22 E
Click to view map.
Distance sailed since last post:
34 nautical miles
.
View the map of our voyage track here
Legend has it that Anthony and Cleopatra loved this beach, and so she had her ships bring over some nice fine sand for her lover. Or maybe it was Anthony who brought the sand over for Cleopatra. Or perhaps it was neither, and the sand is actually a local phenomenon.
It seems the jury is still out, though certainly the sand does appear to be different from other local sand.
Even so, it does make a good story – good enough to attract thousands of visitors to this tiny beach. Naturally the beach is roped off with guards in attendance so that you don't intentionally, or unintentionally cart off this precious sand in your sandals or purse.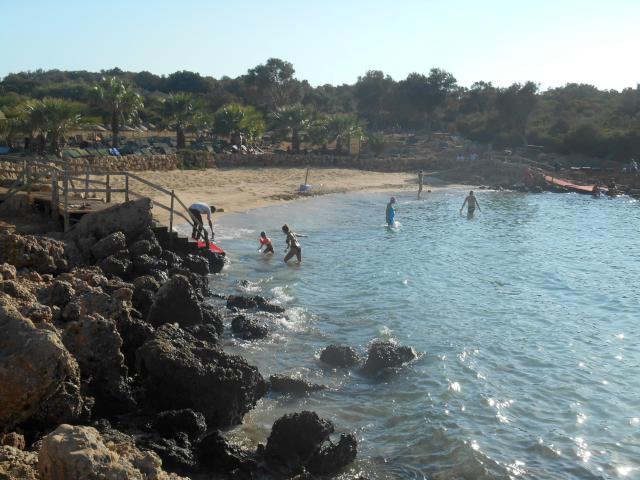 Cleopatra's beach is on a small island called Sehir Adasi which, it seems, was quite important in Hellenistic times, since there is an impressive theatre, agora and town walls still evident.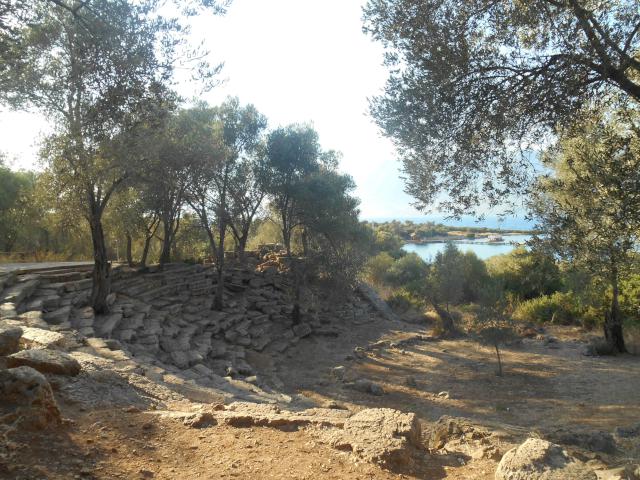 Theatre
It has a small bay which, naturally, fills up with visiting gulets. We arrived at about 3pm and anchored next to one, while about 10 more were attached to the small pier. 10 minutes later 5 sunsail boats arrived and also squeezed in to the anchorage.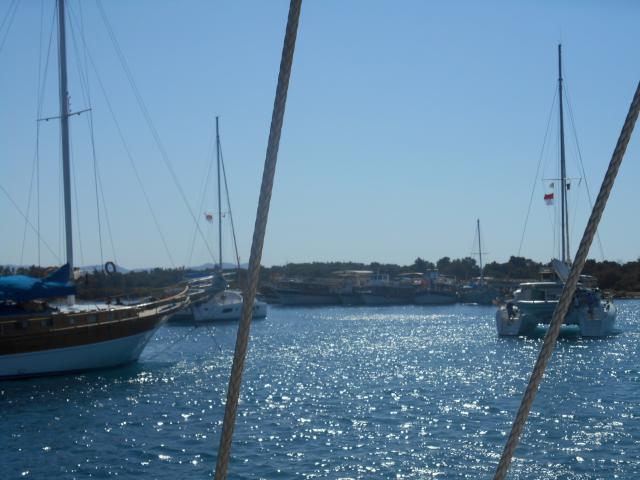 Before…as soon a we arrived it got crowded.
But by 5pm everyone was gone! Now at 7pm there are two gulets on the dock, and one other yacht with a line to the southern shore. Everyone else has gone. I guess they had to rush back to find a restaurant to give them supper. The Sunsail boats didn't even go ashore!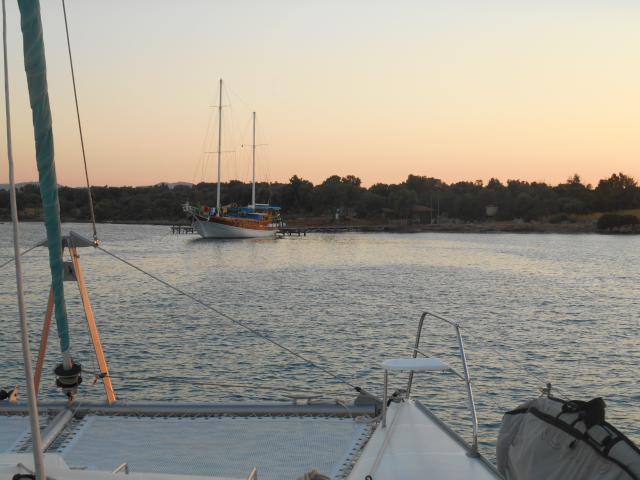 After 5pm. Just life part 2 and 2 more boats left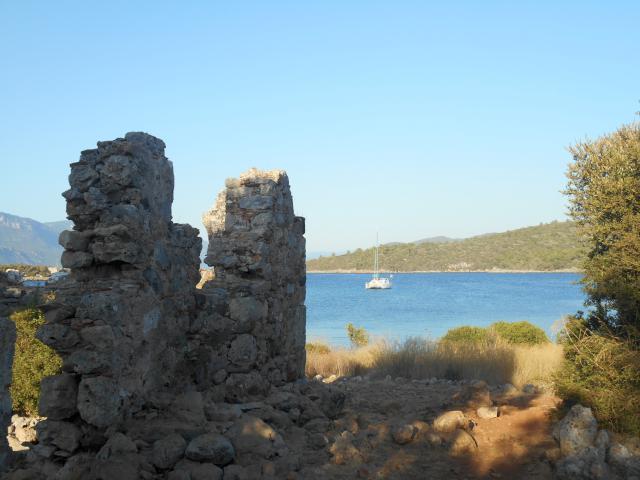 As we walked around the island the bay just about got deserted, we were left alone on the bay! These ruins are where the Church used to be.
We kayaked ashore to look at the famous beach and the ancient city.
Certainly they have done a great job putting a board walk all through the island, making it easy to visit the ruins.
And the beach.
Goodness.
It is tiny. And the sand isn't even white. I was expecting a beautiful shiny white sand, but no, it looked pretty much like any other sand, though it was very fine. Hmm. If you want to see a really nice imported beach, go look at Monacco.
As you can see, you are only allowed on the beach below the high water line, but not above that. You can have your swim, but no towels or other clothing on the sand.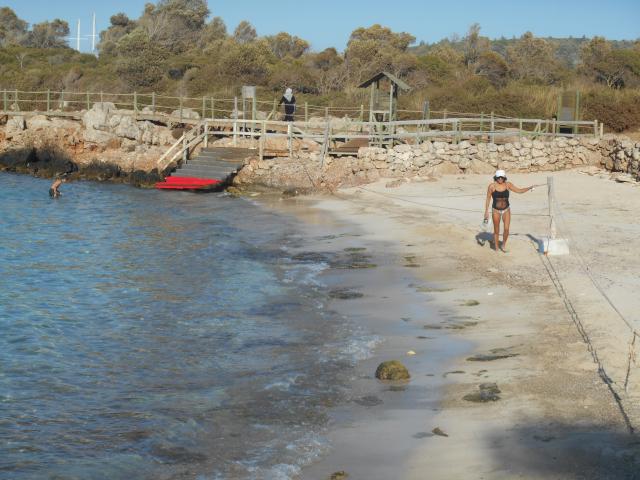 And look at all the beach chairs packed in there!  I am glad we didn't try to come here earlier in the day!
The chairs up above extend to the back into the olive groves.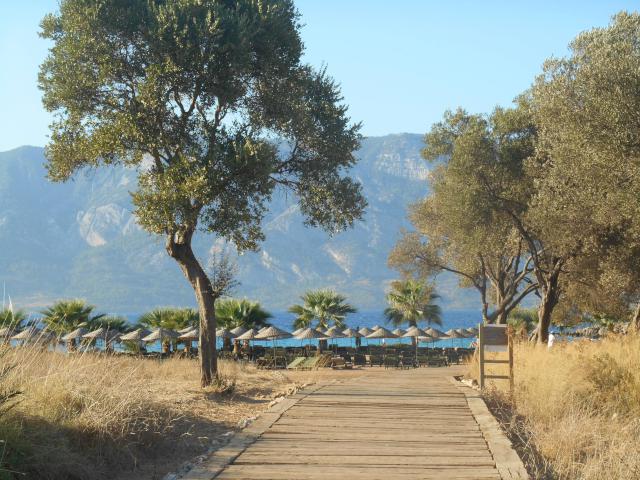 The chairs above the beach. Photo taken from behind, on our way back from the walk in the ancient city.
We did enjoy a great walk around the island through the olive groves along the sea.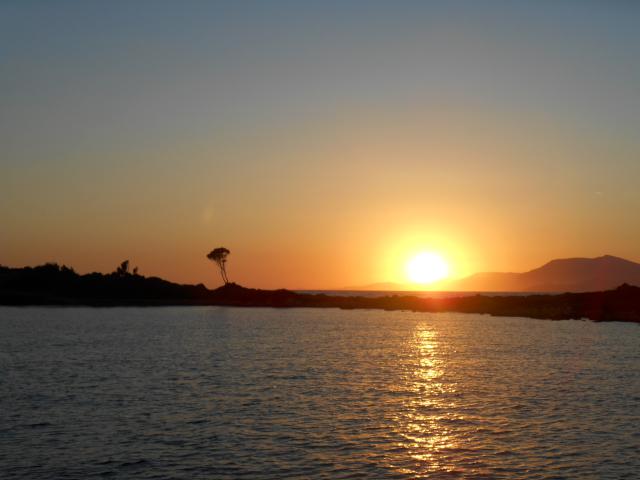 With a glass of wine we are now  enjoying a beautiful sunset, along with some lovely lamb chops cooked in wine with garlic and rosemary, accompanied by sautéed potatoes, and a green salad being served up in Heavenly Delights Restaurant by my private chef.
Good food, good company, good wine, beautiful on-the-water dining in an almost deserted cove – what else could one hope for?
3 Responses to "Cleopatra's Beach: So This is What All the Fuss is About?"