Current Location:
La Gomera, Canary Islands, Spain
Current Position: 28 4.2 N 017 7.62 W
Click to view map.
Distance sailed since last post:
47 nautical miles
.
View the map of our voyage track here
Sorry about the delay but, beter late than never, here is our retrospective account of our time in the Canary Islands.
Lanzarote
We arrived in Arrecife which was a very nice town, not just touristic but good place to shop for all your provisions. Marina Lanzarrote, nothing special, but nice with shopping, tourist information office, car rental, many restaurants, including some nice Tapa bars.
Some of the big stores, like Hiper Dino also deliver to your boat . We ended up shopping there on a Saturday afternoon and after confirming delivery with a store clerk we proceeded to do a huge shopping. After all that, once at the cashier, she told us they don't deliver till Monday. Ok, we loaded ourselves for our walk back to the marina with all the fresh items, made another box to be kept at their refrigerator till Monday.
The next day we rented a car and visited the island.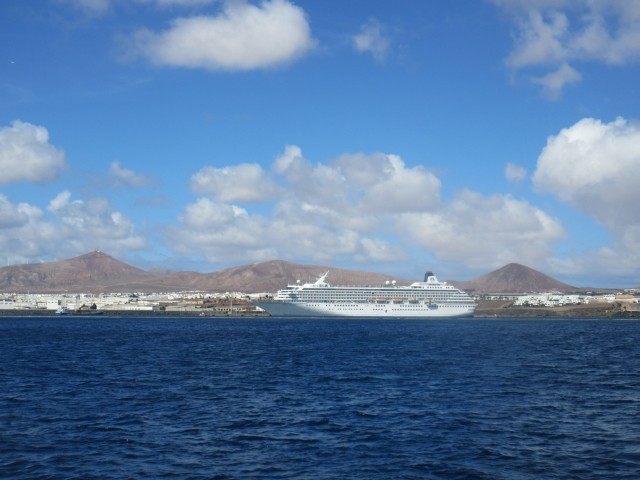 We set off from Arrecife and around the west coast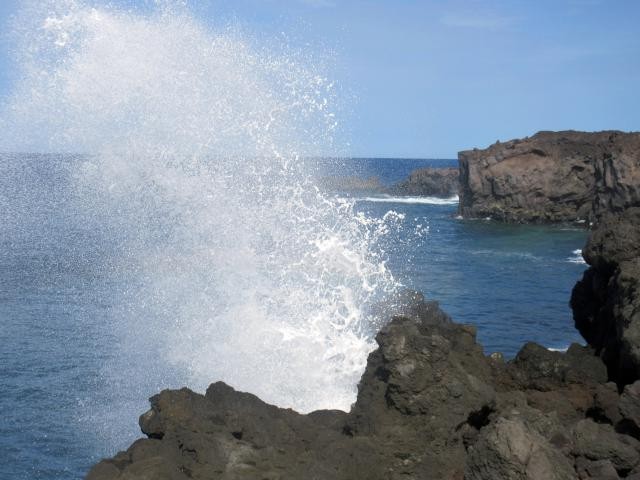 We took the wine route where the island is forever trying to grow grapes. Not easy to do when there is no rain and lots of wind!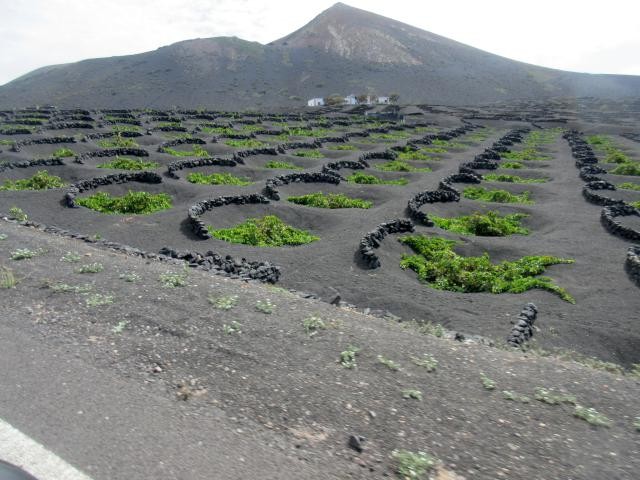 On the west coast is El Golfo a volcanic crater filled by sea water. The deep green colour is caused by algae in the water.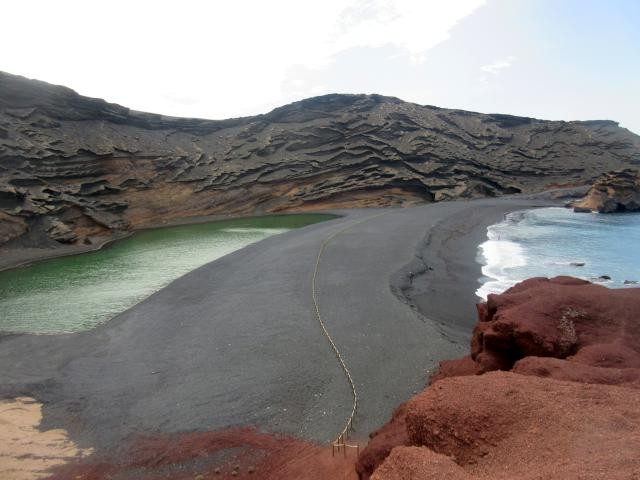 We had an amazing day out. Below is Timanfaya National park. 50 km² of Volcanic Landscape and Craters.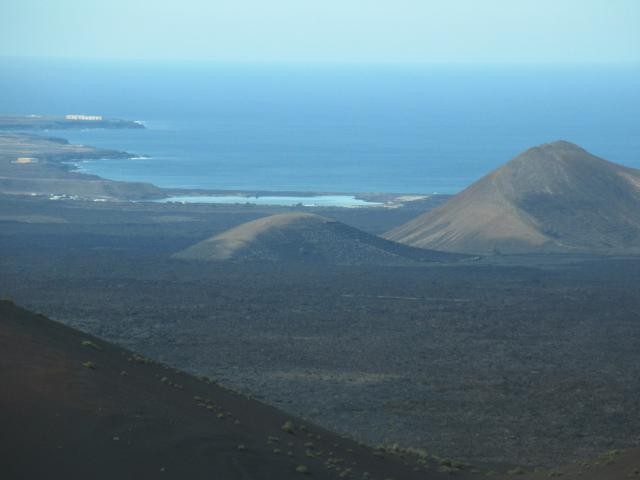 When you arrive up at the large and steep parking lot they have tour buses that take you on a windy and narrow road along through these amazing craters. Buses have a commentary in French, English and German.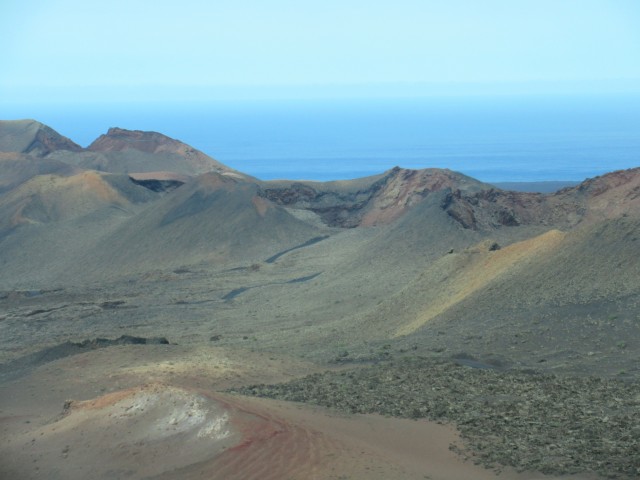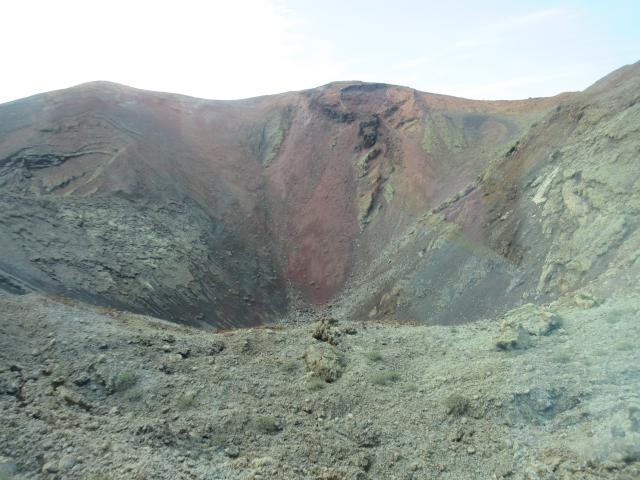 They grill with the volvanic heat from the lava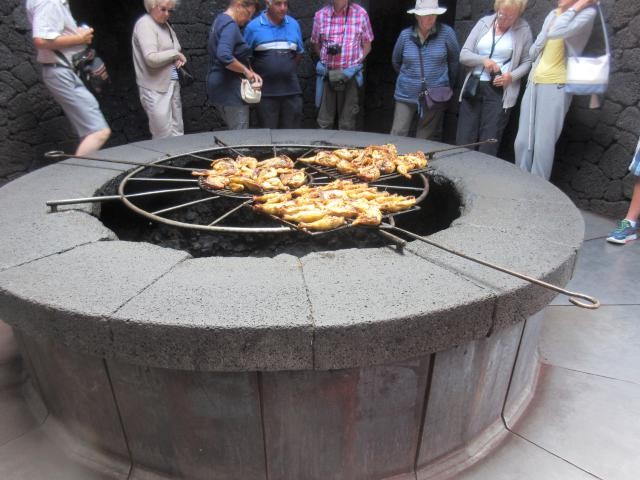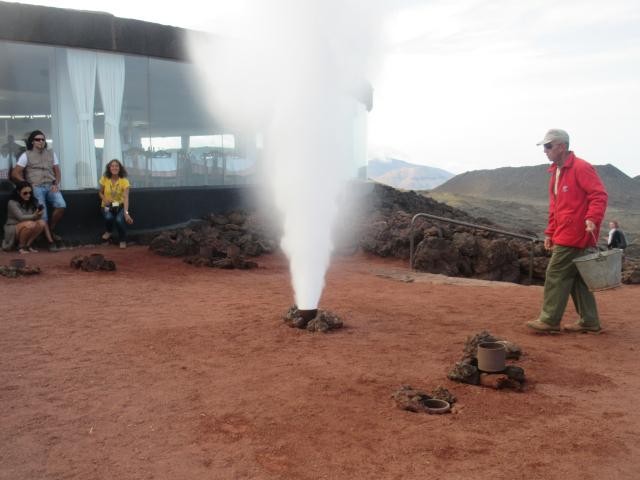 We loved the works through out the island of Cesar Manrique, who was was born in Arrecife, Lanzarrote.
He was an amazing artist,received many awards for his artistic and environment work. Lanzarrote is since 1993 a World Bisophere Reserve by UNESCO.
In 1968 he embarked in this architectural project:
A 2 story building, his home, built over 5 large natural volcanic lava caves generated in the 1730's eruptions. Cesar Manrique Foundation is sculpted out of a volcano.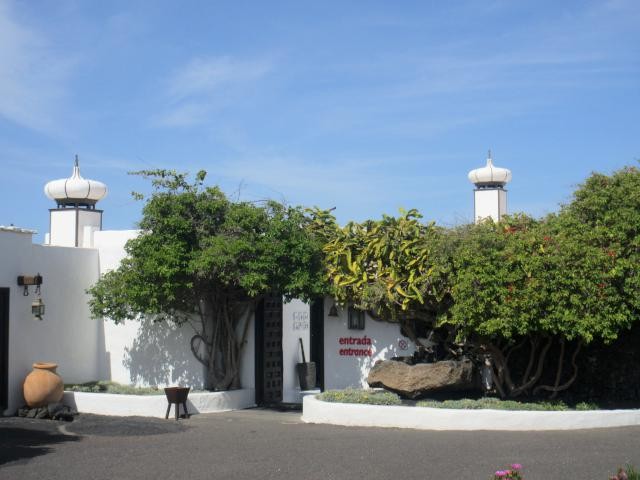 Upstairs are large rooms and open spaces with large windows taking in all the views. Some of these spaces now show some of his art on the walls and a few sculptures.
Cute spiral staircases takes you downstairs where you go through tunnels, caves burrowed in the lava as passageways to a cozy sitting room, guest room, and out the door into a beautiful recreational area. Pool, rustic oven, dance floor, all of this surrounded by beautiful flowers lava rock fountain and plant life.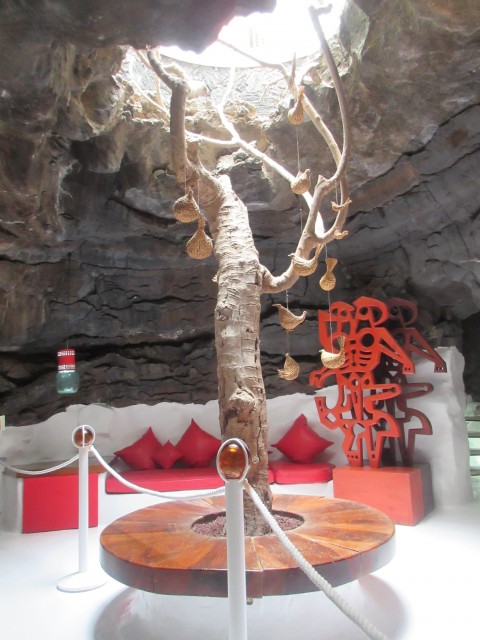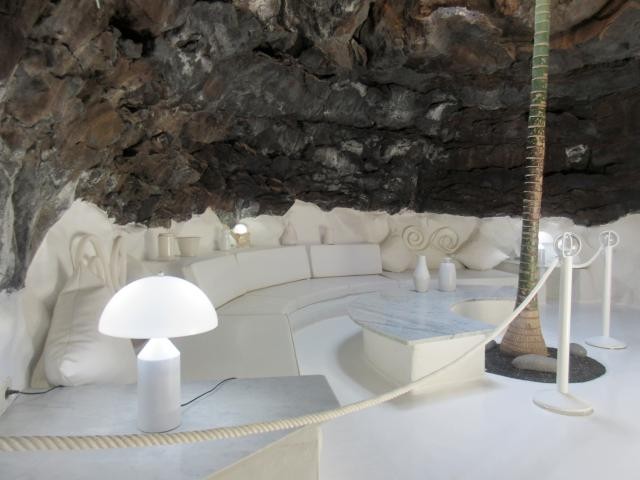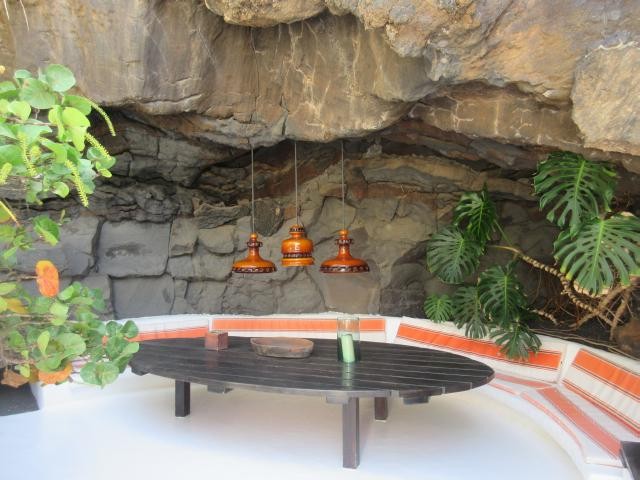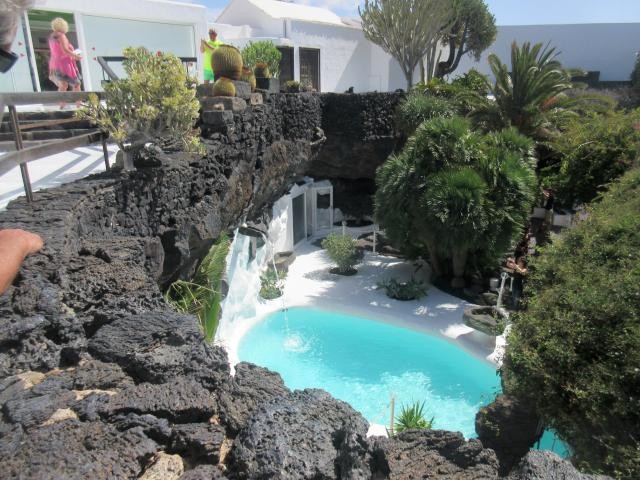 His love for Nature and building into it;s own environment shows through out. Volcano and architecture done so beautifully. It is SO beautiful, both Noel and I decided we have to have a home like this!
The garage is now the nice souvenir shop, and there is also a cafe amongst a beautiful setting.
Cesar lived in this house till 1988.
He then moved to the rural village of Haria, again surrounded by nature, but this time, he build the home in a Palm Grove he had purchased much earlier.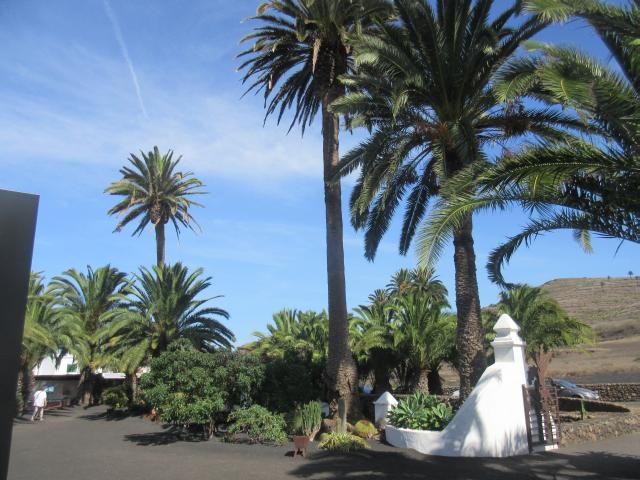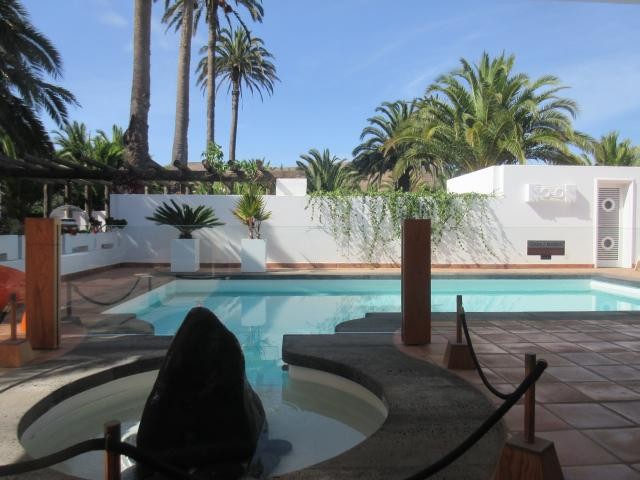 Although, the island is pretty barren, Hari is like a little oasis.
This house is different from the one on the volcano eruption, but is also beautiful. It is now a Museum.Large rooms, bathrooms all surrounded by large windows (yes, even the bathrooms) looking out into his own park like setting. A beautiful walk around the pool and the gardens and green grass, takes you to his workshop.
He lived and worked in this peaceful place till the time of his death.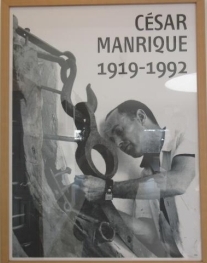 He died of a car crash. His workshop still looks like he is supposed to be there and finish all his works and more….
Mirador Del Rio.
Spectacular views of La Graciosa and other small islands. We did not actually sail to La Graciosa, but felt that we got a good view of it from this lookout with a Cafe/Restaurant also designed by Cesar Manrique.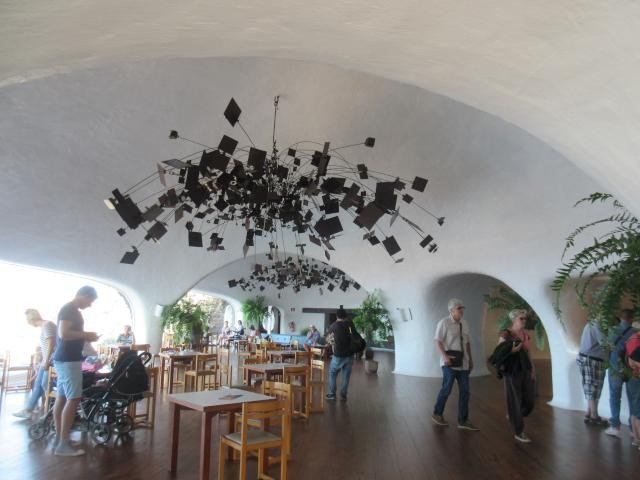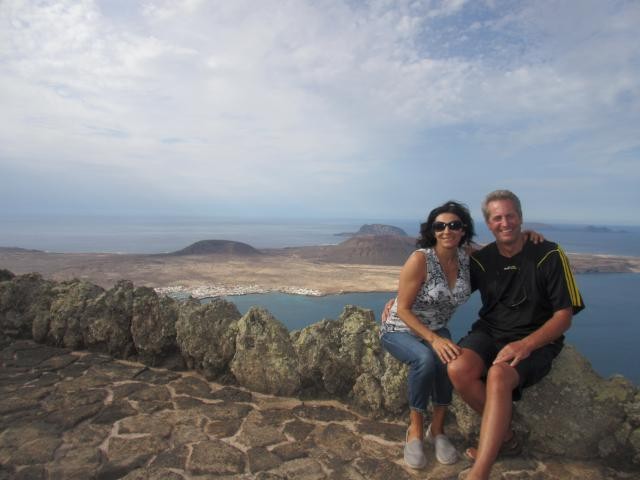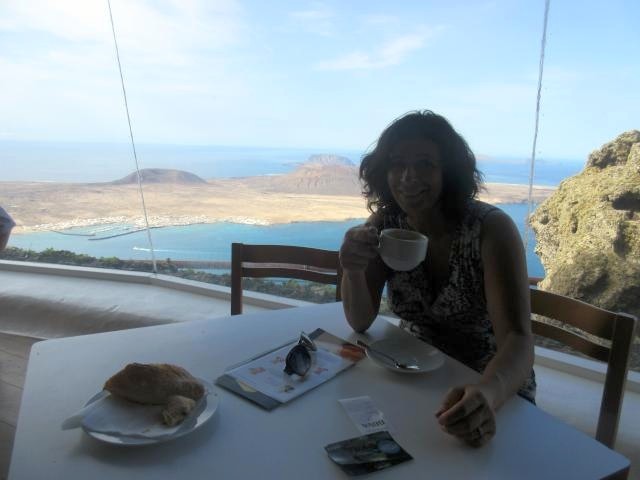 Southern Lanzarotte
We left the marina the following morning to anchor in Arrecife Bay, short dinghy ride from the town. As we approached the bay, one nice Frenchman came to tell us that there was no anchoring in this rocky bottom and that, instead we should find a cement block with a ring. Noel snorkeled down and tied us up to it. The clear blue waters were also warm at 25 degrees and we were so happy to be swimming again!!
Lanzarrote has been home to many movies. There was an exhibition going on and outside of the museum poster of Raquel Welch on the movie papagayo that was filmed here in the 60's
From there we sailed in a nice breeze along the coast to a good protected anchorage on Punta papagayo. Some nice beaches, mostly naturists or clothes optional.
Our next anchorage was in Playa Blanca. We anchored just outside of Marina Rubicon and took dinghy inside.
And then we were off to the next island of Fuerteventura with a nice stop at Lobos island
We anchored in the beautiful turquoise waters in the little island of Lobos. Nice spot to have lunch onboard and admire the beauty but we couldn't go ashore. There was nowhere to land or tie up the dinghy.The swell was really bad against the rocky shore. Many tourists come there from nearby islands but they get dropped off for their walk on a pier that is way too high for us, without ladder.
Fuerteventura
In Fuerteventura our first anchorage was in puerto Rosario. There is good provisions here and also buses to visit the island.
We took the bus this time to a cute colonial town of Bentacuria.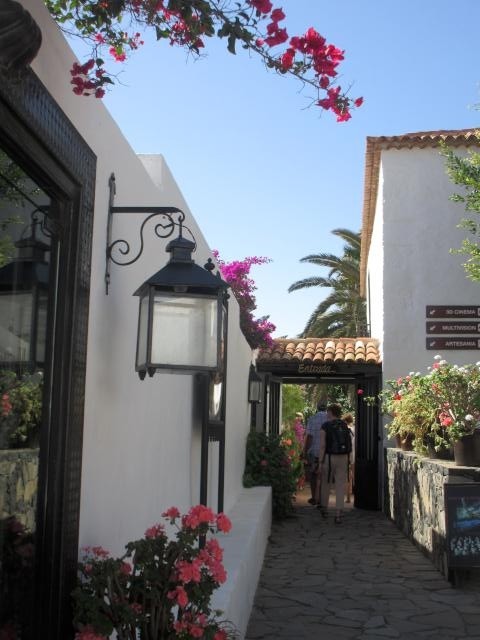 We were the only 2 people on this bus after he dropped off the third passenger sometime ago. Cute friendly senior driver was a like tour guide telling us all about the areas we were passing, including the highest and very windy roads in the Island. All of this in Spanish of course,but we could say "si si senhor, ah…muy lindo" with my Portinhol. Hard to believe this tinny town of Bentacuria was once their Capital. It is a heritage site since 1979. It has a few Religious monuments and museum, some cute cafes all in a nice setting. From there the next bus was 3 hours later, you only need an hour or so there. So we decided to hike up and over the mountain down to the next town of Antigua where buses were more frequent. There was a couple of signs we read on this route. It turns out this is a pillgramage route,every year on the day of the celebration they carry along the Saint in a procession. No wonder the path was so windy…to make it easier for everyone to climb the steep hill.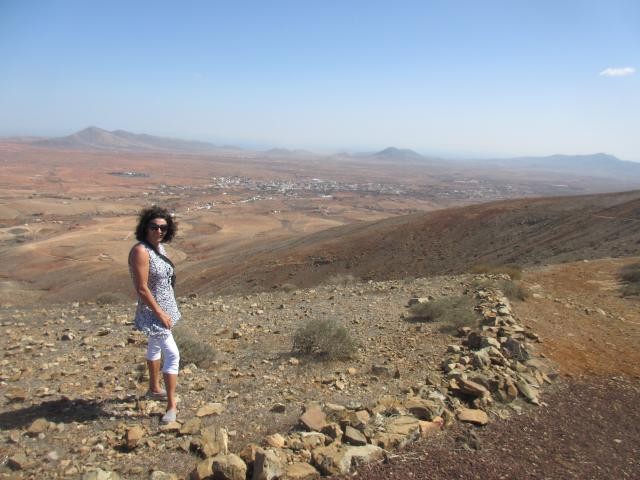 Had a nice lunch in Antigua , at the end of our hike and took the bus around the island, made one more stop at a beach town of Gran Tarajal and hopped on the bus back to the port.
This bus trip with only 2 stops, and not even a visit to whole island cost the 2 of us close to 20 euros. So if you want to visit the island and you don't mind the driving … it is almost cheaper to rent a car and a lot more convenient. It worked for us, Sundays are often hard to find a car rental that is open, unless you are near Resorts and Turistic areas. Car rental is about 35 or 40 euros. Gas was 10 euros for the whole island of La Gomera, and 16 euros in the bigger islands
We departed Puerto del Rosario down the coast and found a nice anchorage in bahia calma.
White sandy beaches and resorts. We enjoyed a nice walk through a park of Palm and pine trees. Good provisions here, with many resorts and apartments.
The next day we looked forward to visit some really nice beaches, virgin beaches of Fuerteventura
We had to climb a mountain to get these views, but we must keep in shape!
All these beaches are clothes optional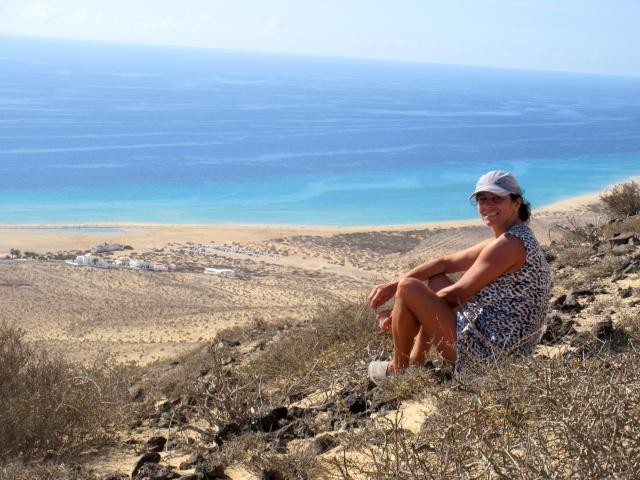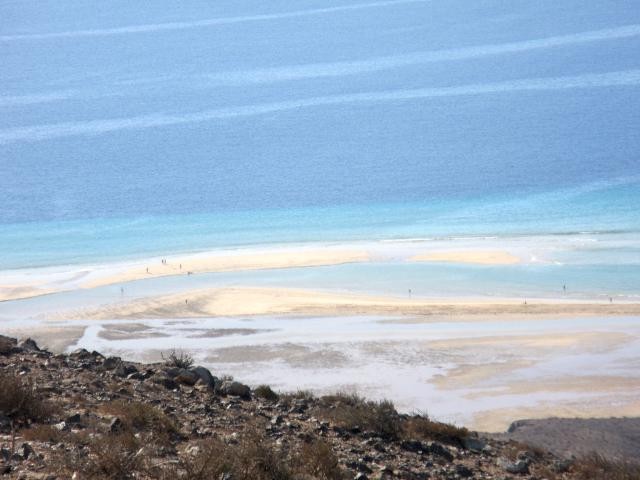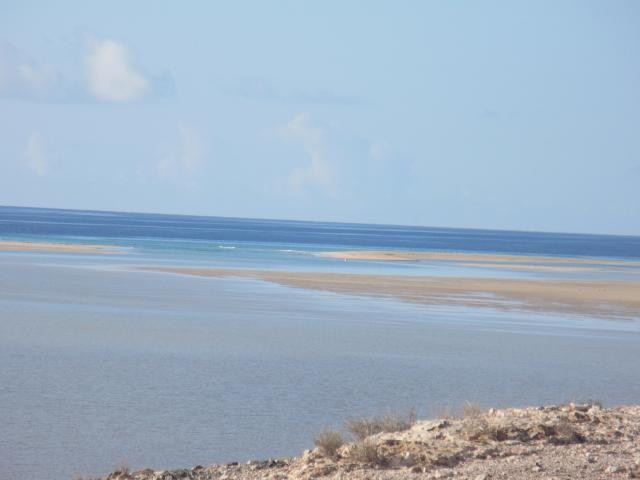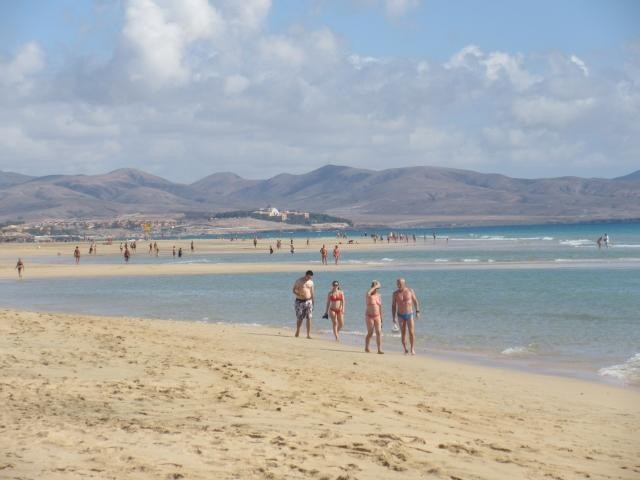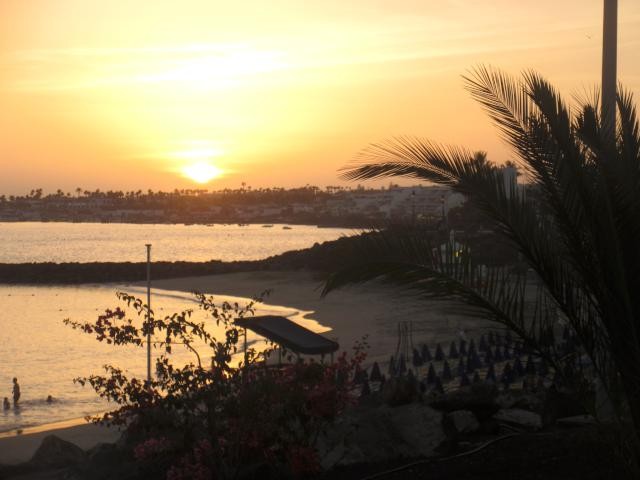 Marina Rubicon is not only surrounded by nice beaches and a long beautiful promenade, but very upscale with many beautiful shops, cafes and restaurants. There are also some bigger supermarkets for provisioning.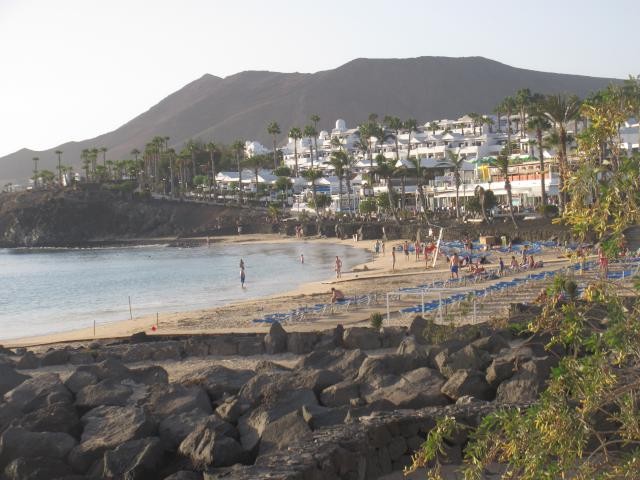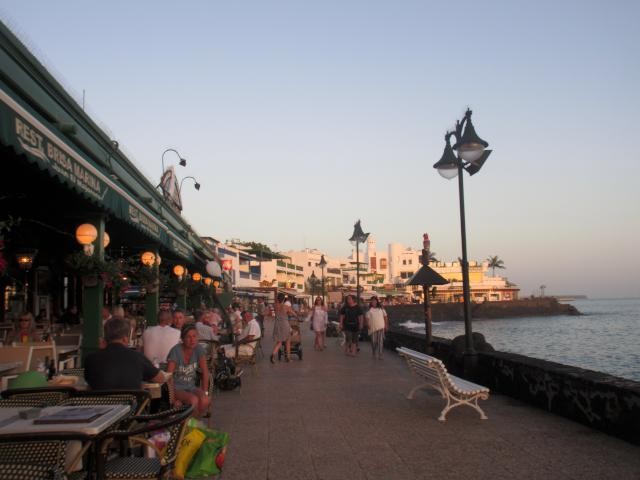 Rain had started and we were expecting some weather coming through with southerly winds, so we went back up north to Lanzarote and called in to Marina Rubicon for a berth.
We stayed for 3 nights and got caught up online on their fast internet(for a change around here). It is a very nice marina. Shame the weather was bad and so we didn't use the pool.
Tenerrife
We left Marina Rubicon on a night passage to Tenerrife. At 4 am we were sailing nicely at the tip of Gran Canaria, Punta Sardina, but that breeze didn't last long, we motored for awhile after that. Bright lights of Tenerrife ahead.
We were headed to Puerto Radazul where we had booked a berth. The only place around that had space.
Wow, it was quite a sight arriving here with all these apartments built right into the steep rocky mountain
We tied up right on starboard along the wall across from the office. Not much English speaking but very friendly.
The next day we went up the coast passed Santa Cruz de Tenerife
Beautiful spot, anchored in in rippled black sandy bottom in Playa das Teresitas just North of Santa Cruz. Turquise waters and great snorkeing!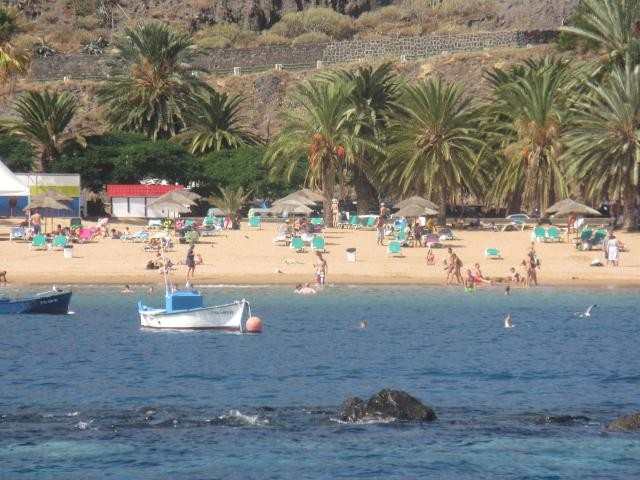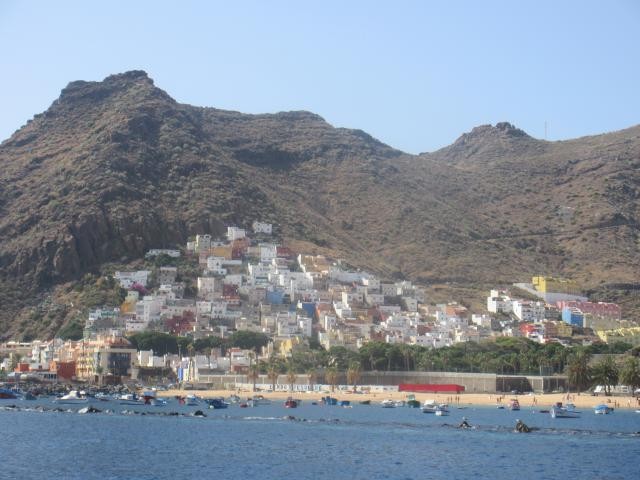 The beautiful and only white sandy beach in the island, backed by palm trees and the cute fishing village of San Andres. The reason the sand is so beautiful is tht it is imported from the Sahara! Cheat!
We headed down south, next anchorage at puerto Guimar. It was a rolly night! No wind, but the swells came in overnight.
Nice sail to Bahia de Abona. Another rocky night but a beautiful spot. Black sandy bottom, a lava flow just behind our boat. Great snorkeling again. Tried to rent a car here, but nothing available. Small village, very touristic, popular with the Spanish locals.
After a bit of a walk and almost 200 steps later we arrived at the main highway to catch a bus. Visited the beach Resort Los Christianos, full of English breakfasts for 3 euros, and Sunday roast dinner and yorkshire pudding for 6 euros. We enjoyed a yummy Chinese dinner a block away from the crowds!
We bused from there to the airport and picked up a car there for the next day so we could visit the island.
Pico del Teide National Parc
Teide is a volcano that is still active now.
It is topped with light colored cone with a crater about 80 m in diameter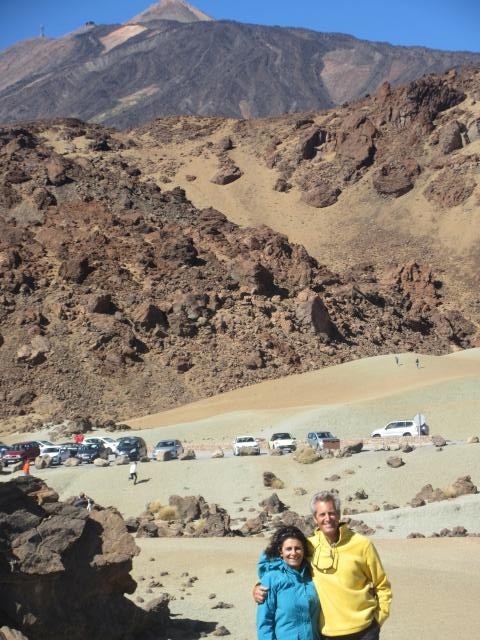 The day we visited was very windy so the telepheric was shut down, so no visit to the top.
It at 3700m altitude being the highest point in Spain and the Atlantic archipelago.
The last erruption was in 1798. For 3 months it was throwing out a huge amount of lava covering an immense area we drove thruogh for awhile.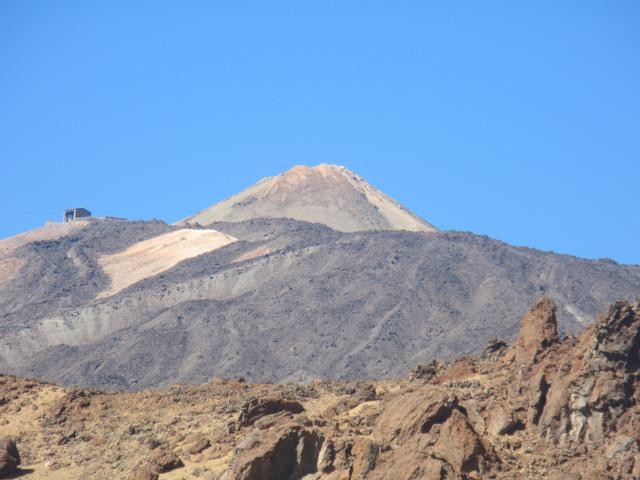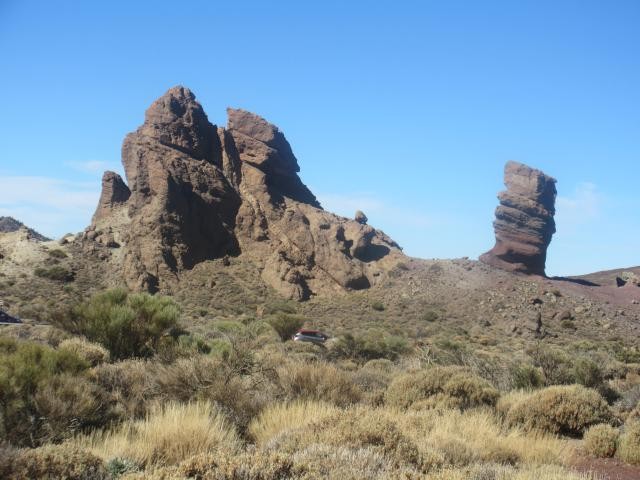 Going up toEl Tide. Views from windy road and pine forests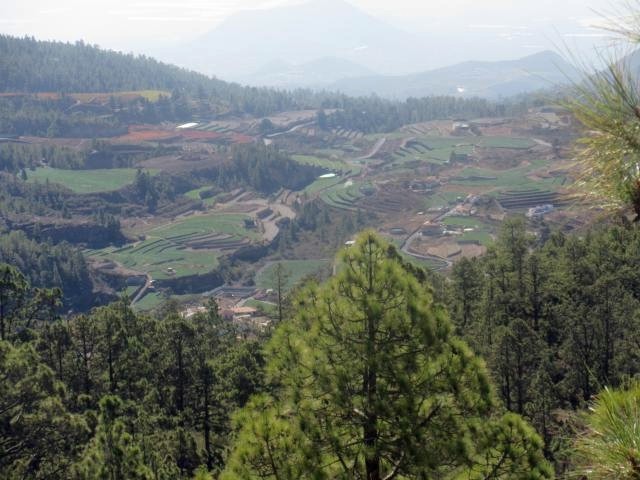 Coming back from El Tide we took the Orotava valley route on the other side
Windy and steep hill coming down to sea level again with beautiful views and some fotos before the popular cloud of mist took over.
We made a stop in Puerto de Santa Cruz. The old town is really cute with some nice buildings and some Churches and squares.The traffic was bad and we could not find parking there.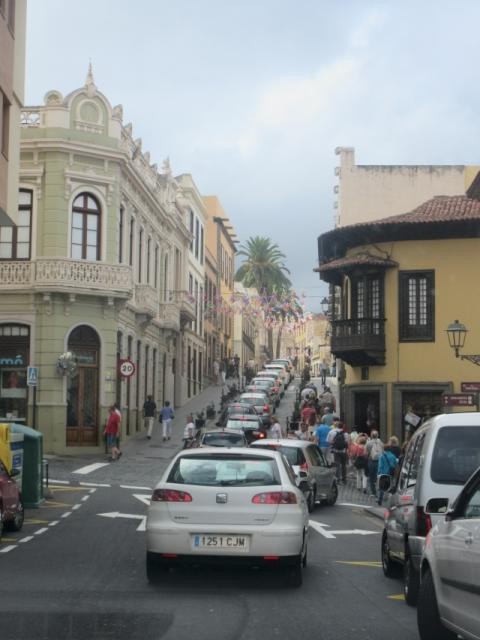 Found parking a little ways from the old town near the beaches. Really nice town with many villas and parcs. At one of the Resorts the gardener was mowing the lawn. Ohh that nice smell of freshly mowed grass!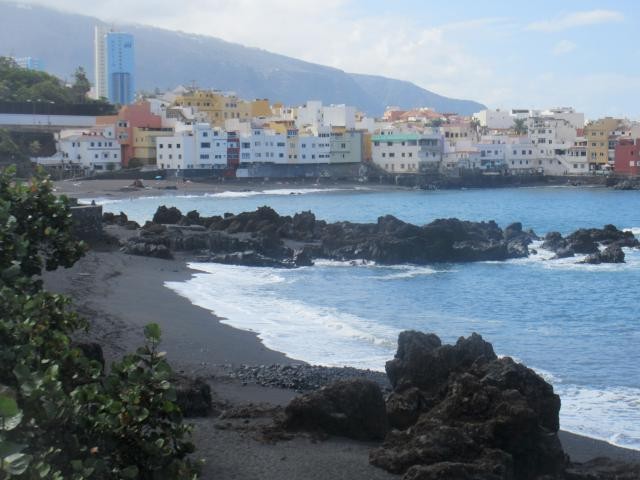 Visited the nearby town en route to see the 1000 year old Drago tree
Guirincho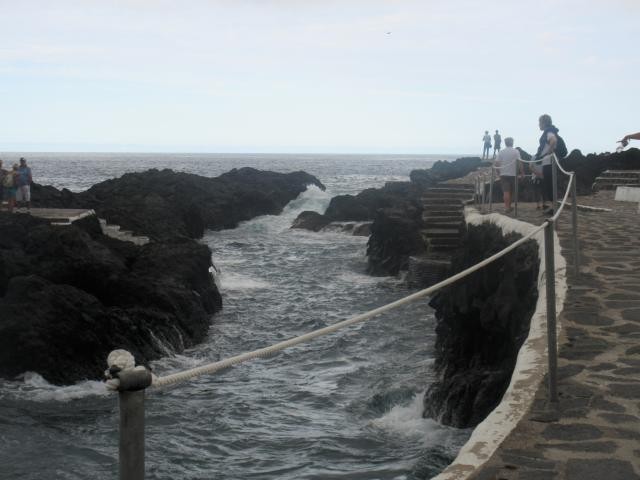 Masca ravines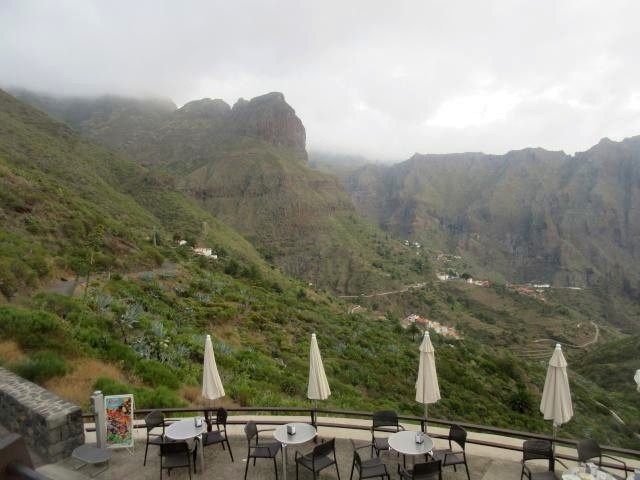 Ohhh my Goodness..As if we had not had enough of beautiful scenery hills and bends, the best was still waiting for us on the last leg home to LifePart2.
This road through Masca is just incredible. Not many chances to stop and take photos either. Narrow road and quite a bit of traffic probably all trying to get home before it got dark.
And so, on to La Gomera…
La Gomera
We were getting tired of the rolly anchorages through the islands. Called Marina La Gomera for a berth, they said they were full but to check the next day.
So we anchored just a mile south of the Marina in Playa de la Guancha and dinghy to the marina. They told us they would have a berth for us the next day, but actually we really enjoyed our anchorage, however we booked in for one last night so we could fill with diesel and water before setting off to our long passage to Senegal.
Our anchorage was calm, clear waters and a black peble beach all to ourselves for a few nights. One night, one boat joined us and left next morning and another night 2 guys set up a tent for the and enjoyed the beach and the clear waters au naturel!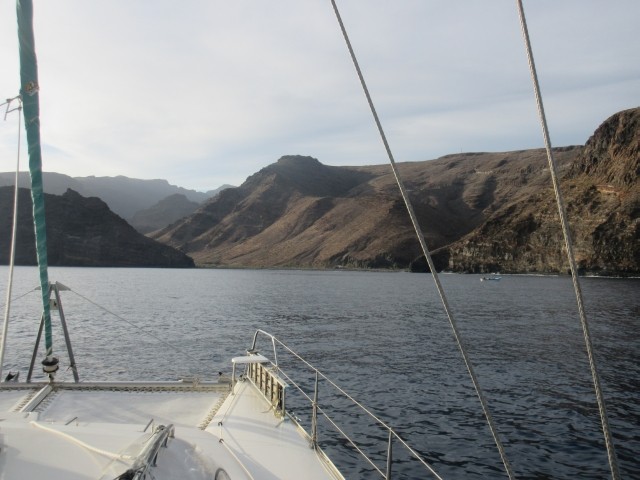 We spent a night in Playa del Cabrito,a mile or so further down from Playa de la Guancha, which was nice too, with a few cottages and some tourists, accessible by boat only.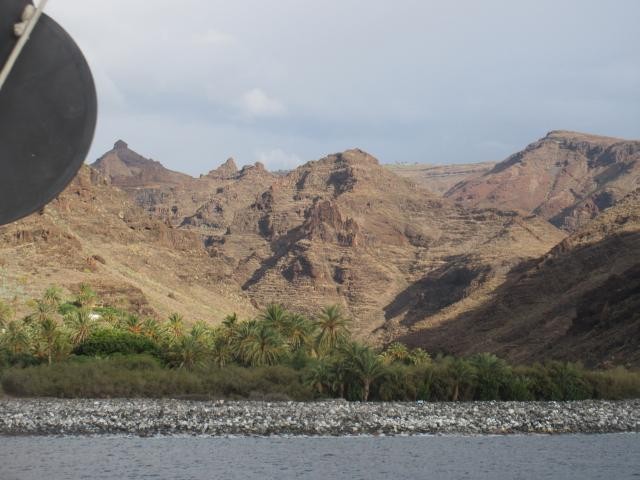 When you approach it looks barren but as you get in to the valleys it is beautiful and green and luscious!
Wow we so enjoyed La Gomera very much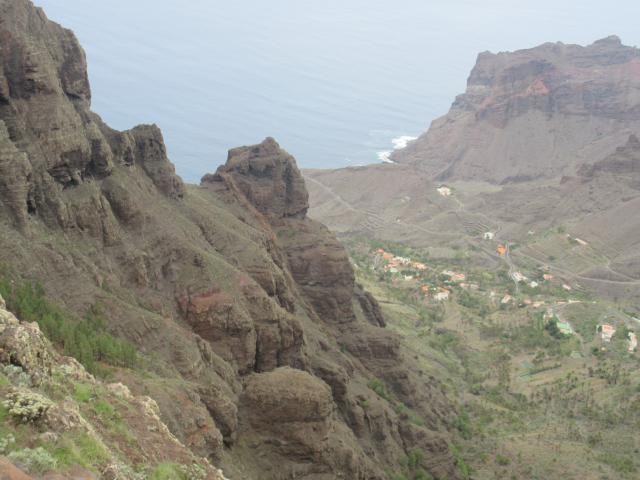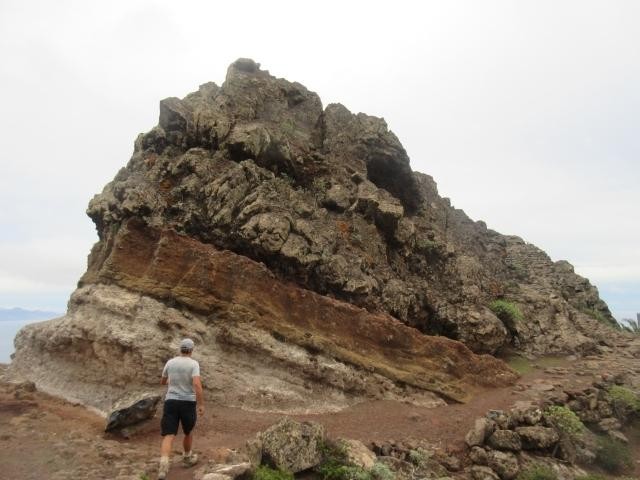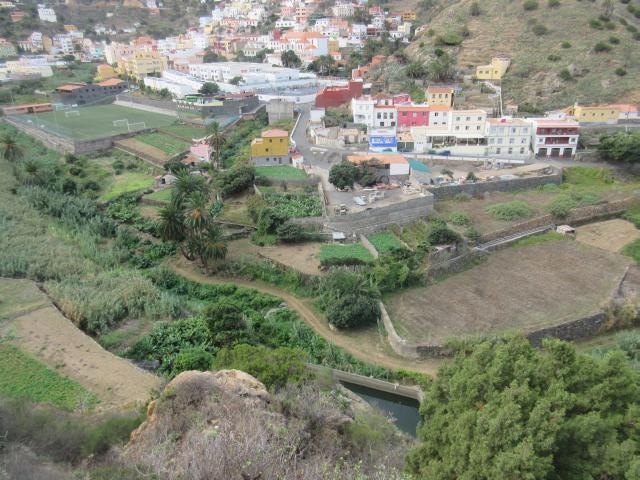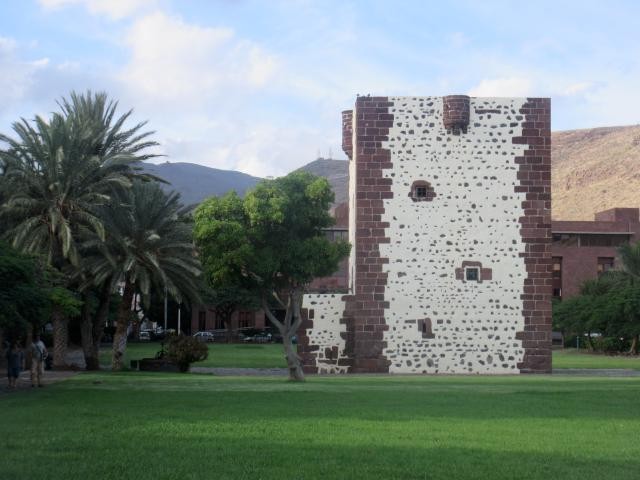 On this street we visited the house of Cristopher Columbus. It was here at this Port that he provisioned and set off, on his adventure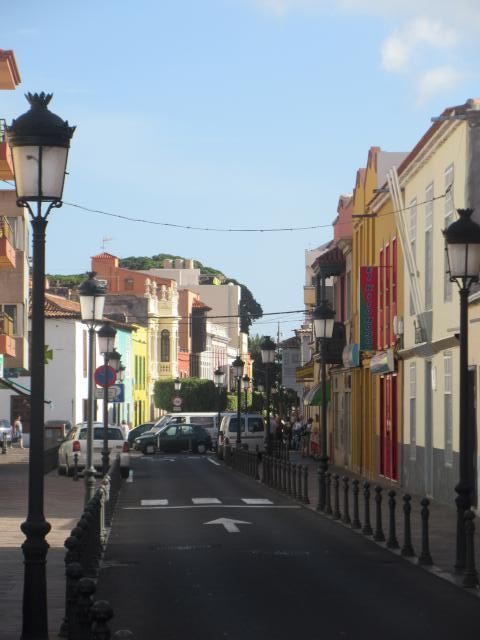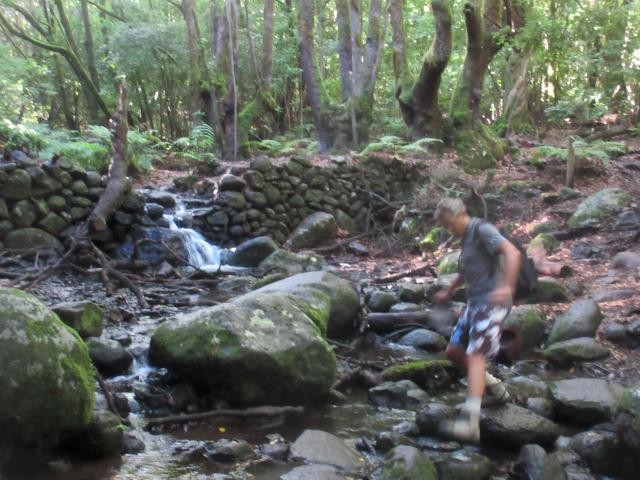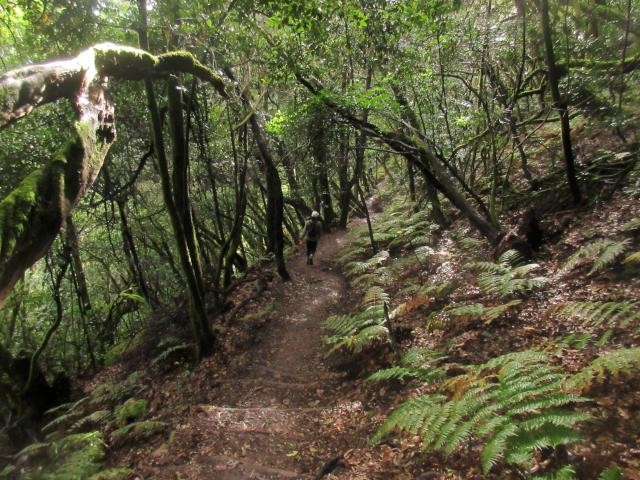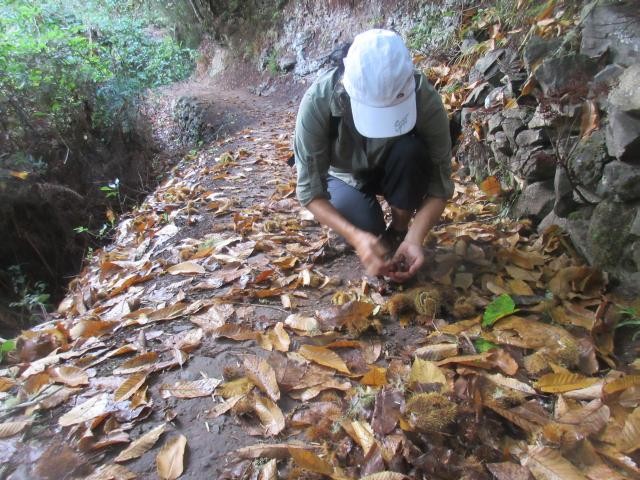 A nice hike with a bonus! I was delighted to find some chestnuts. I really enjoyed them during my lonely night passages to Senegal. Yummy confort food.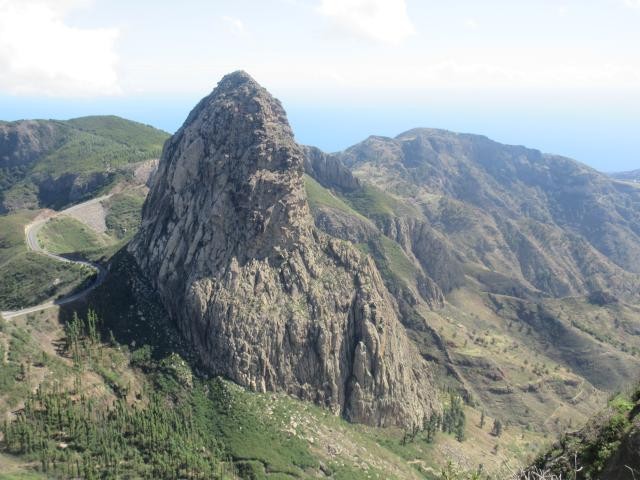 We rented a car for the day. it it was amazing scenery. This island is a hikers paradise, so many diferent walks, hikes of all levels and lengths, also very well marked. When we dropped off our rental car and we told the guys we were catching a bus up the next morning to do some hiking he offered to give us a ride, he was going out that way. We did 17 km. The scenery was just amazing, everywhere!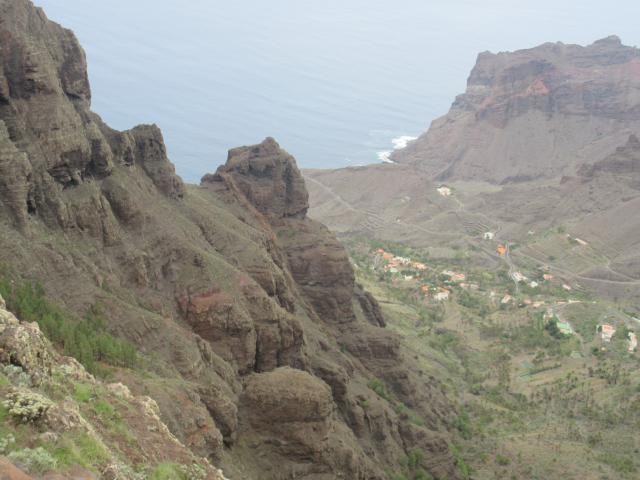 And so that brought a close to our Canary Islands visit. Next was a 6 day sail to Senegal.