Current Location:
Ephesus, Turkey
Current Position: 37 51.09 N 027 27.76 E
Click to view map.
Upon arrival in Kussadaci, Turkey, we were welcomed by a dinghy and e 2 marineros to guide us to our birth in the Marina, followed by another 2, to help with the lines. There I was ready to take the lines, gloves on this time, (before i knew the lines that lay in the water are usually full of barnacles and they rip right through your hands) Their lines were very clean too.
Wow! What a treat, they come right onboard and do it all for you and they were very friendly.
I guess good service is included when you pay $100+ a night, with no choice of course, because it's a port of entry and no anchorages around the area.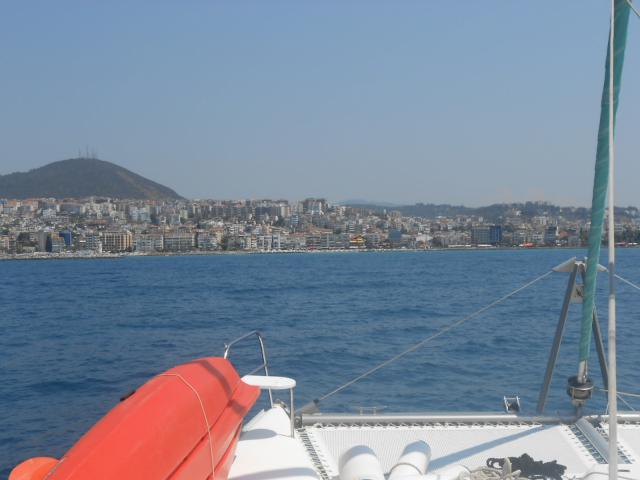 Arriving Kussadaci. It just looked so different to us seeing all the high rises and big populated city. It had been along time since city life. Very touristic city. Lots of shopping, crazy with traffic and pedestrians.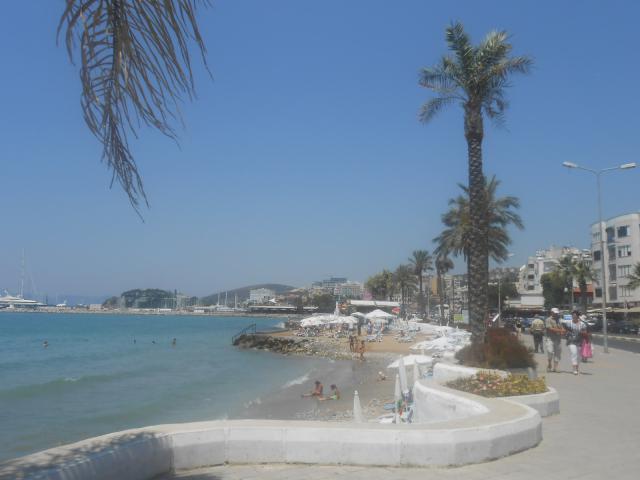 A walk along the waterfront. Marina just ahead.
What's new? New country, new internet connection and a long and sweaty walking town looking for a Vodaphone store. Half of the time you get instructions wrong, their 1 km turns out to be 2 or maybe 3 (they don't judge walking distances very well, because they always drive) and if you forget to take your Passport with you, well…. you will have to go back again because this silly law of not being able to buy a internet stick is really inconvenient. And on the way there don't bother asking for directions, this is not Greece. English is not as popular in Turkey.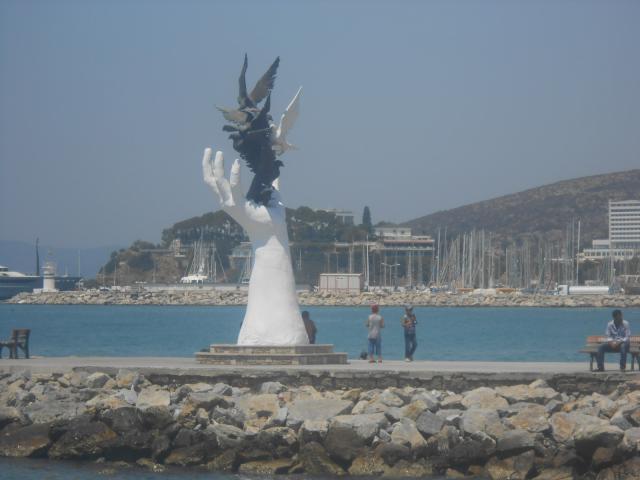 Downtown, Kussadaci
and a busy round about
Welcome to city of Ephesus
Oops! Did I say No more ruins?
True. No more ruins after these ones. But they are so interesting!
And Noel says my pictures are the same as the pictures you can get on their site. Oh really? (I must be taking good photos then, even if he's rushing me!) Well having my own photos and seeing ourselves walking through this amazing place, is not the same as what I can find on the net, so i keep taking more……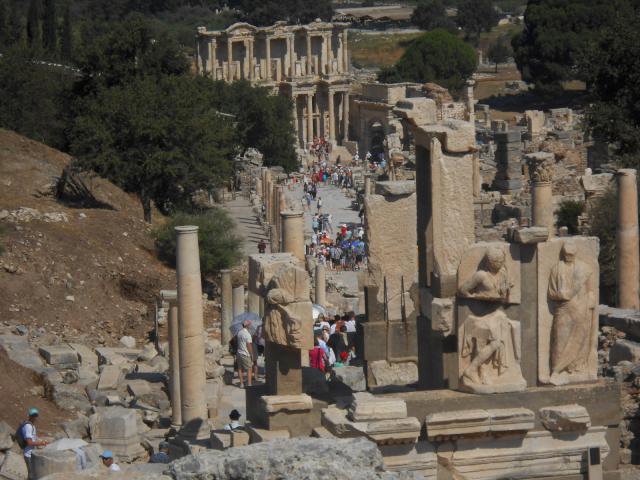 The ancient city of Ephesus was first Greek and later a Roman city. In the Roman times population was over 200.000.
They have done a great job preserving a lot of the buildings. It was complete with stadiums, gymnasium, theaters, Halls, fountains, many temples, churches, castle, brothel, bath houses and latrines.
The city held many historical events, even had visits from Cleopatra and Mark Anthony.
The picture above shows the beautiful 400m long marbled and lit up street, with advanced technology sewage system underneath, taking you down to the famous Celsus library that was built in 115. Celsus' tomb is in the back. Along the side of the street one can see still the stalls where the stores were.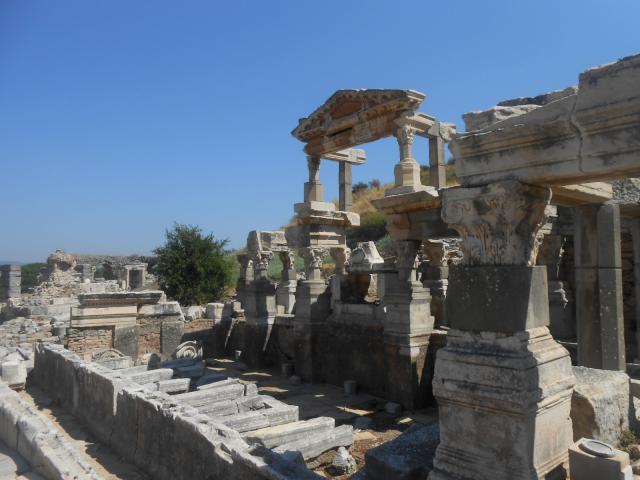 Fountain. It had 2 floors and a large pool in front of it.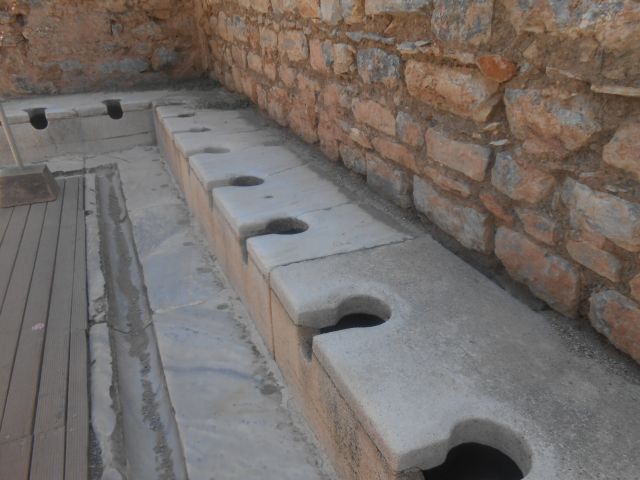 The latrine. Judging from the small size of the Latrine one could never guess the huge population of this city. It's quite funny. There are about only forty of them. They are around this large square room and they occupy the 3 sides, on the one side is the big entrance. It no wonder this place was very busy at all times and popular with gossip!!!! Not like you could see anything with those big cloaks on, and a good seat cover too! Lol
And who said anything about a bidet? look at the photo bellow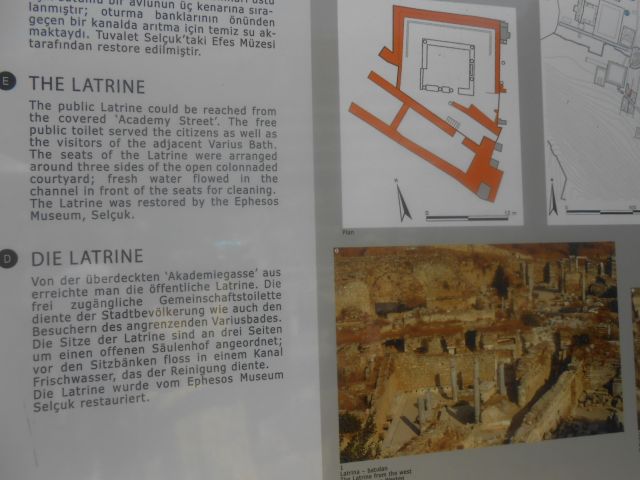 Bellow is a beautiful building, Temple of Hadrian along Curetes street. It was built in 117-138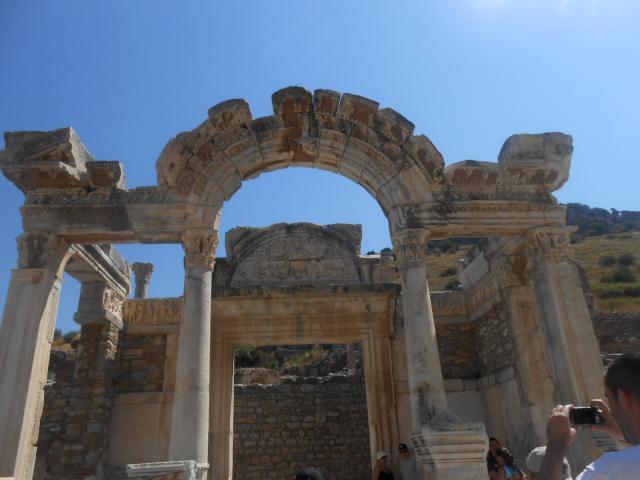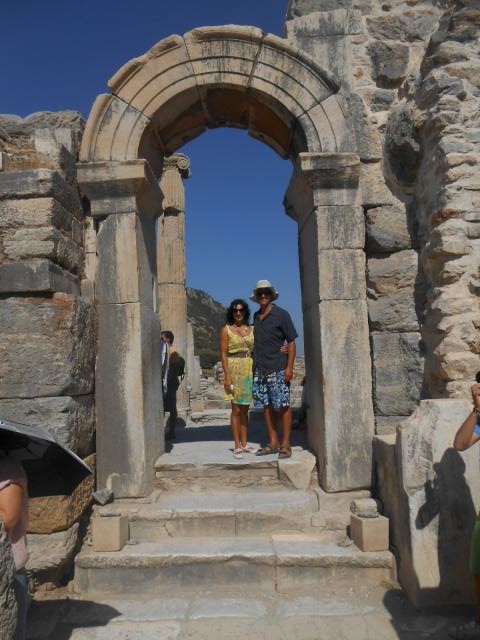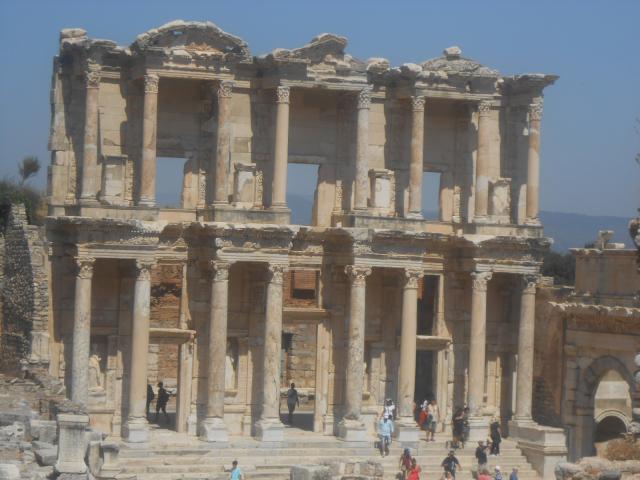 Celsus Library and the many tourists. We were glad we went in the morning, it wasn't too bad, but there was a big line up already to buy tickets. They say they get up to 10,000 visitors per day during high season, but everyone was surprised about line ups to buy tickets and the lack of speedy process to get in.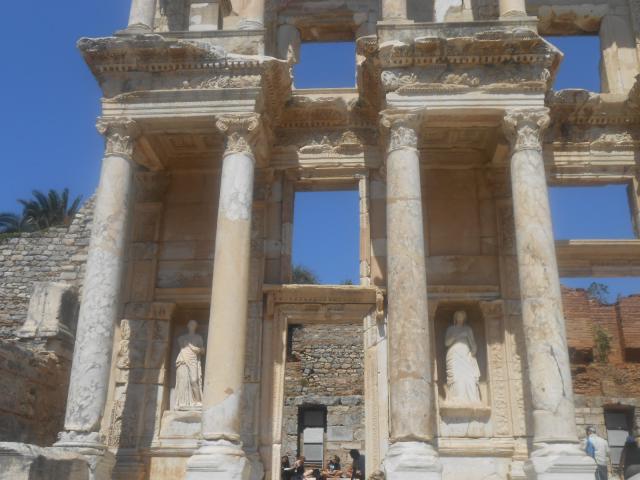 The sun was beating and the shade in their faces but I still wanted a picture a bit closer. I had read that the statues in the front facade, (4)from Roman Period, are the 4 females of personal virtues : Wisdom, Character, Judgement and Experience.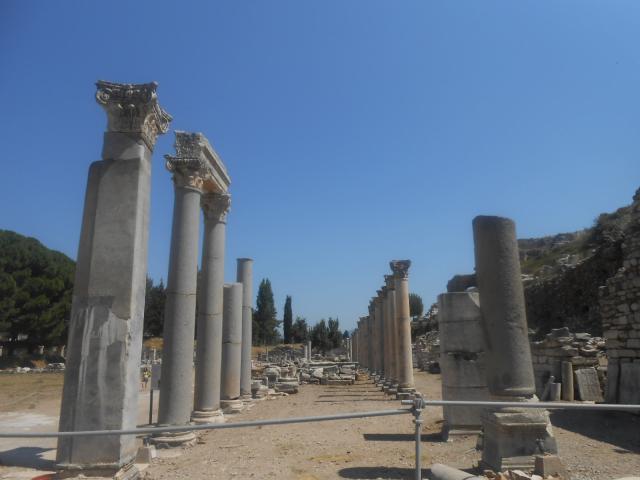 Above is the market square, near the port.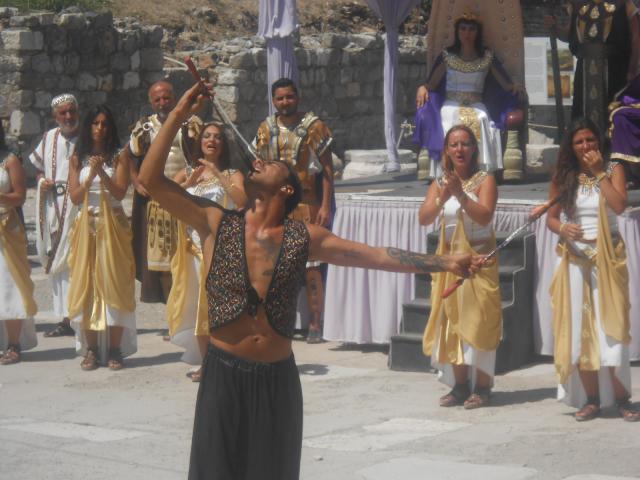 This street above also equipped with lights, extends from the grand theatre all the way down to the ancient port and it believed that on this street, Mark Anthony and Cleopatra walked together. Just as we were passing by this little performance was starting. Short performance of about 10 minutes with dancers and gladiators.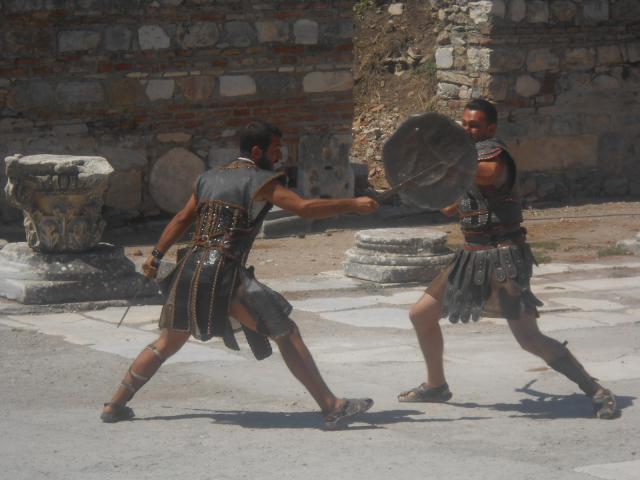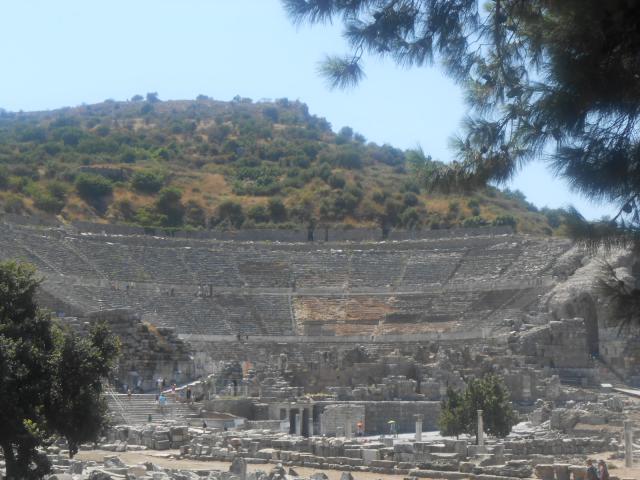 The grand theater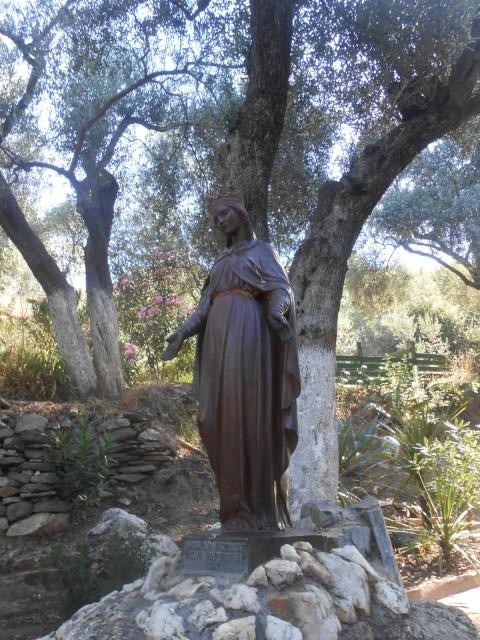 Ephesus is also home to this very Religious site and visited by 3 recent Popes. The House of the Virgin Mary.
It said that when Jesus was being crucified he asked St. John to look after his Mother. St John brought her here and that's where she spent her last years.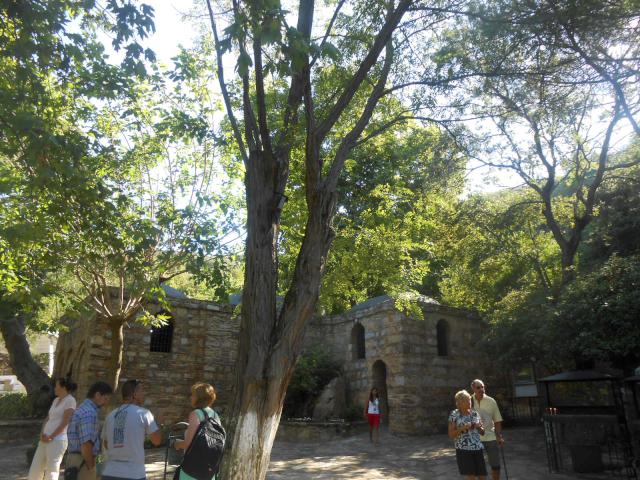 Above is the house of the Virgin Mary. It is situated in a beautiful park with manicured grass, flowers and shade trees.
Not allowed to take photos inside, but the photo below shows what it looks like. It is small, but very cute with a nice altar and statue.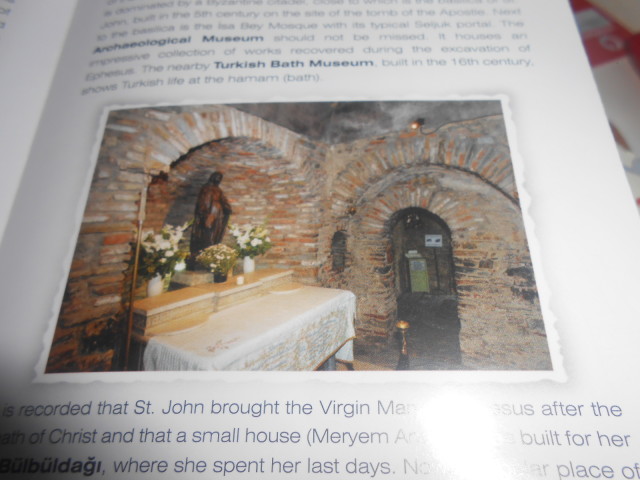 A walk through the paths and down a few steps takes you to the fountains with the blessed water.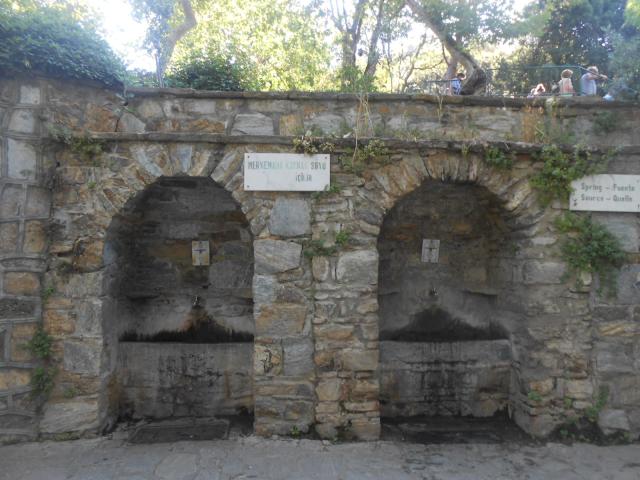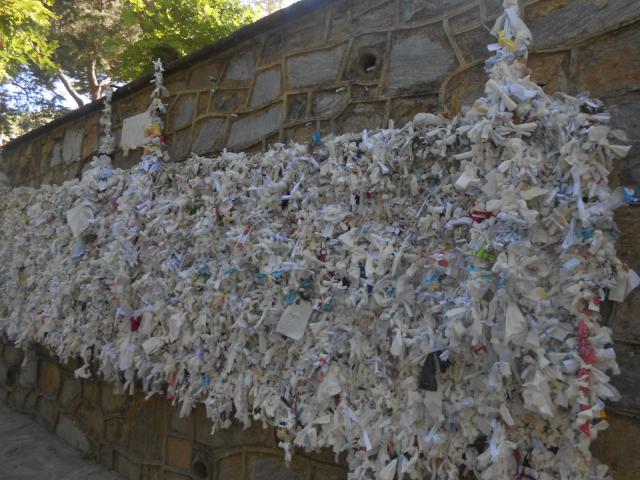 After the fountains you follow the gardens towards the exit. The wall along is covered with the millions of notes left to the Virgin Mary by the pilgrims.
This visit took me back to Fatima in my home country.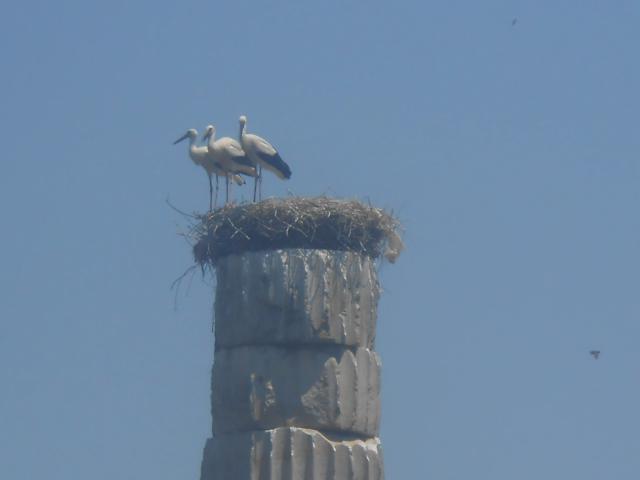 We enjoyed seeing the storks up close.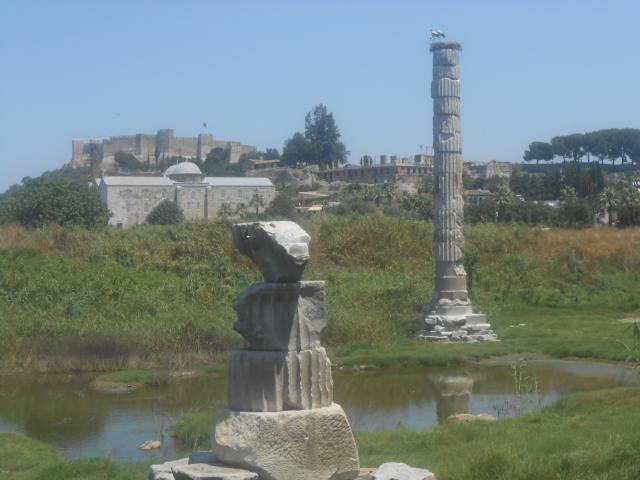 The largest Temple of Artemis, the most ancient goddess in Anatolia, and also one of the Seven Wonders of the Ancient World was also here in Ephesus. Not much is left though
Behind the Temple is the Basilica of St John. Following his death they built a basilica over his grave up in the hill in the 5th century. It has gone many changes and restorations since and is now a archaeological park.
This took us to the end of our tour in Ephesus. I hope you didn't get too bored!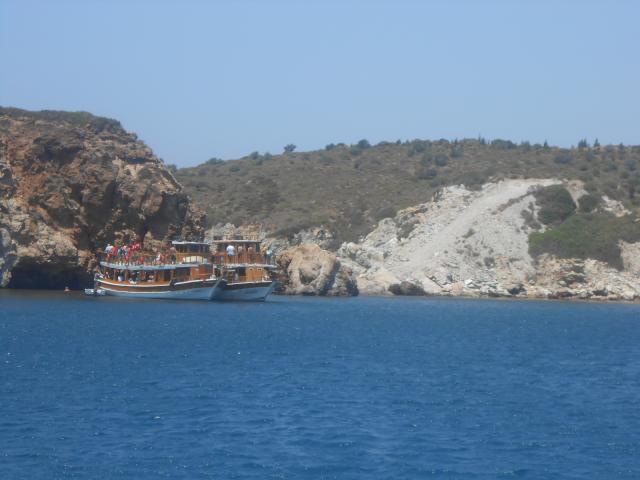 As we moved along the west coast, this was our first anchorage away from the marina. When the tourist boats left late in the afternoon we swam to this cave where they were anchored, as we approached we saw all these neat bubbles coming up to the surface, turned out this area has a lot of thermal springs so inside the caves you could find some nice and warm water, but only to make you feel more cold as you get into the cold waters of this area. The water was a bit warmer here, about 24 degrees, but just around the corner, 5 miles away it was only 21, and that's how it is around here. The water is not warm, but refreshing because the air is very hot.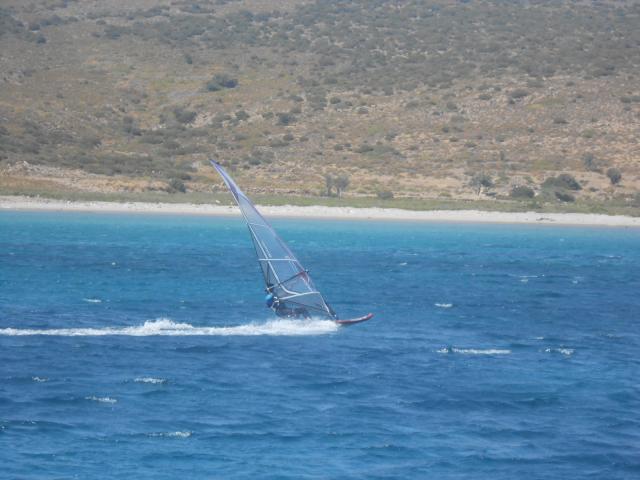 In the evening and the next morning the bay was very quiet, we were the only ones there again….and Noel enjoyed some windsurfing.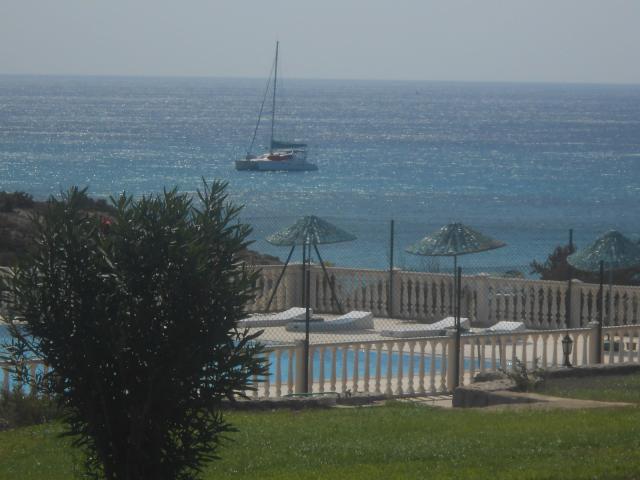 This coast has many bays and coves and nice clear waters.We are in Karaabdullah Koyu.
Above is a holiday village gated community. Many Turkish peoples have summer houses in the area to escape the busy city life.
We took a long walk through it look for some supermarket, but did not find one.
On to the next village where we found the friendly donkey. I hope the owner was not having a long siesta while he waits in this heat. Ahhh, no siestas in Turkey! Just when we were finally getting used to the opening and closing of the shops in Greece, we get to start all over again. Sometimes I have to ask myself if we are in Turkey or Greece. We cross over often. We also have to remember to change the flag, otherwise…….not sure we would be welcomed in both of these countries.
Peppers drying.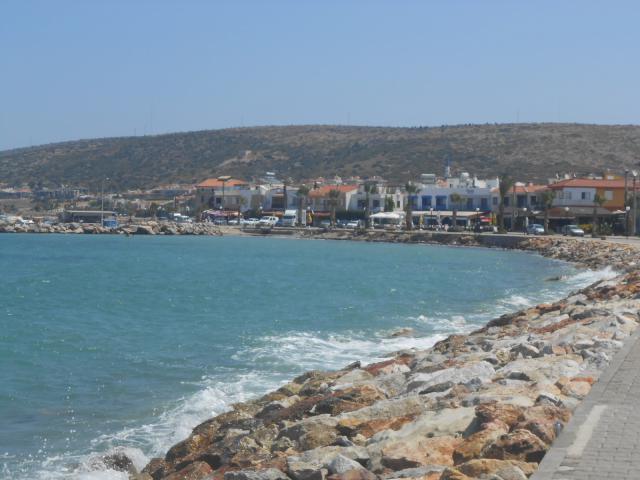 We finally arrived at a big town and lots of supermarkets. The town is Shiftlick. We have been having fun pronouncing these names, this one we call it chick flick.
We sat around in a little square enjoying some baklava and watching the big yacht race going from Cesme down the coast. It was very windy, even from afar you can see how much the boats are healing. Catamaran not included.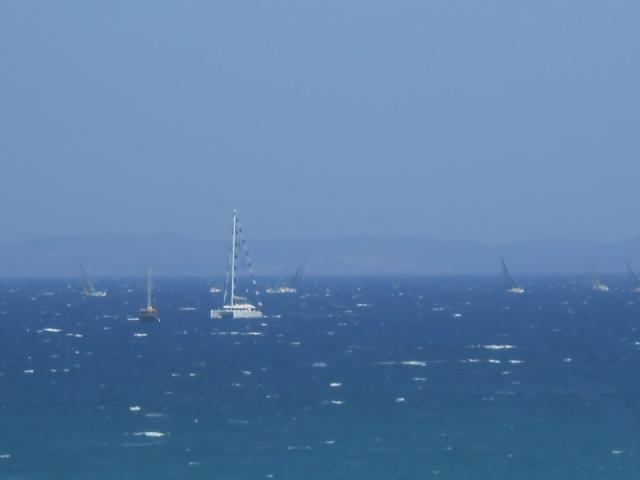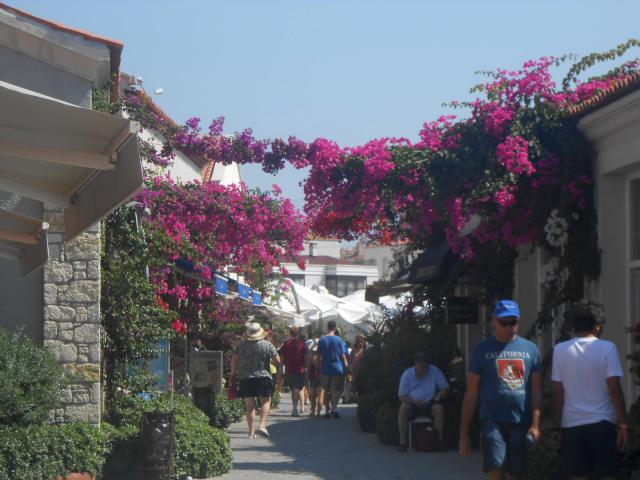 The next day we ventured a bit further but this time by bus, to Cesme. They have a beautiful new Marina there very upscale shopping and restaurants.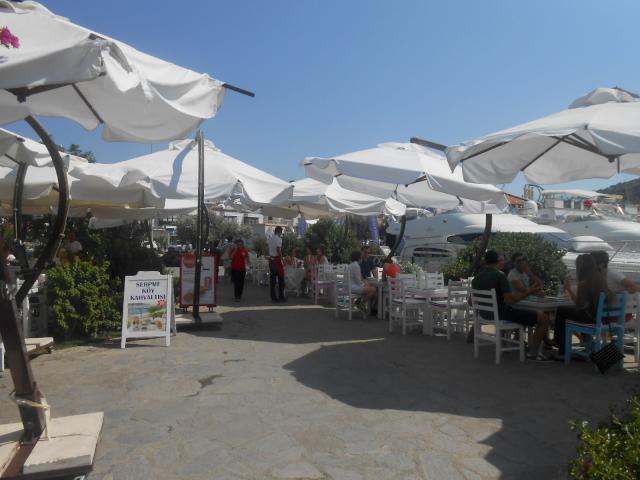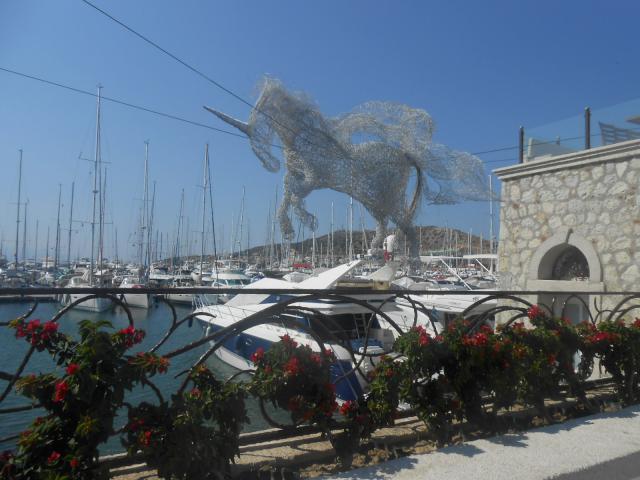 The Marina was very full mostly with local yachts.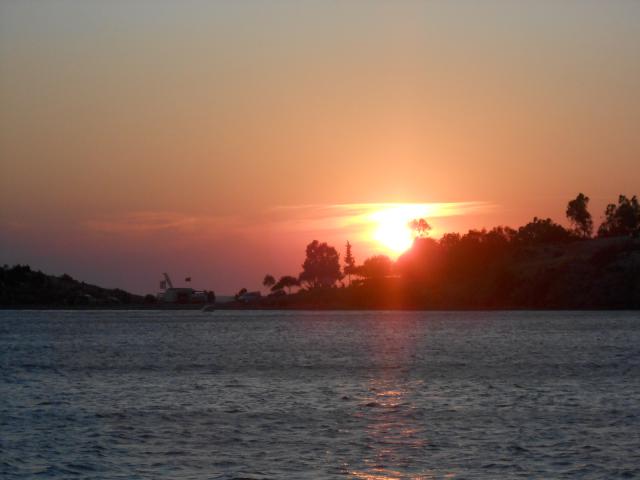 Back home for a nice sunset!!!!!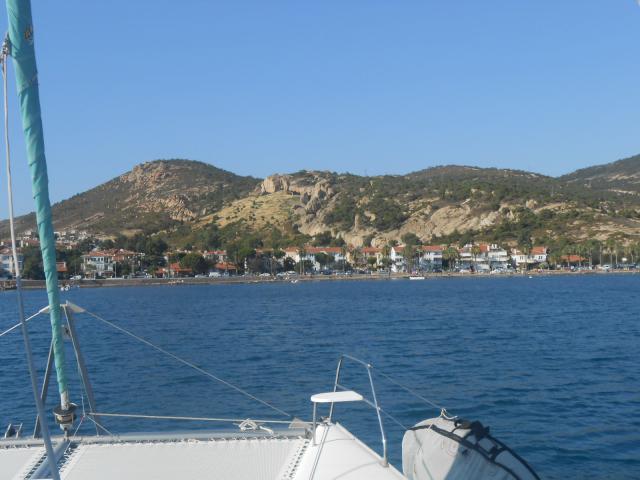 The coast is mainly populated with holiday villages and Resorts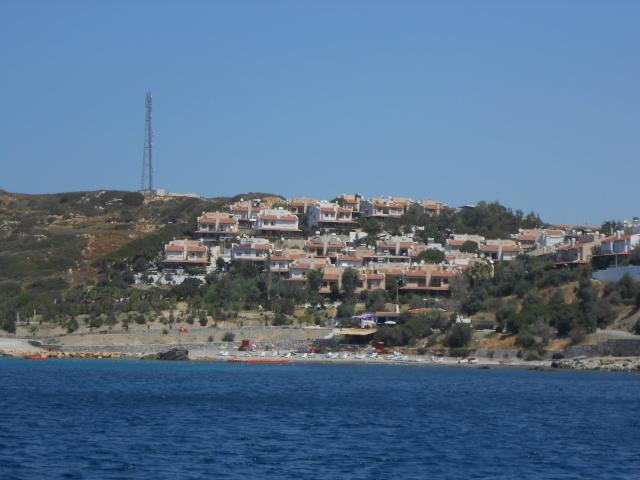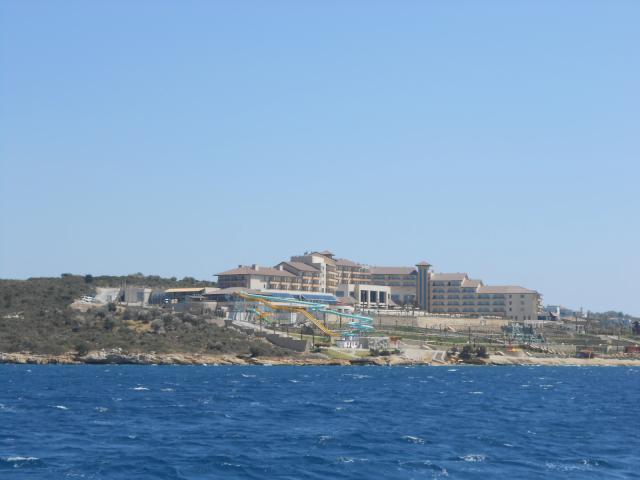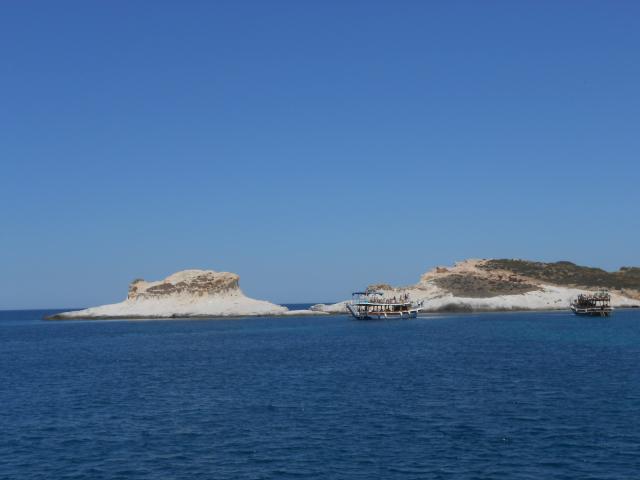 The siren rocks, the tourist boats destination.They extend for about a mile up the coast just north of Eski Foca.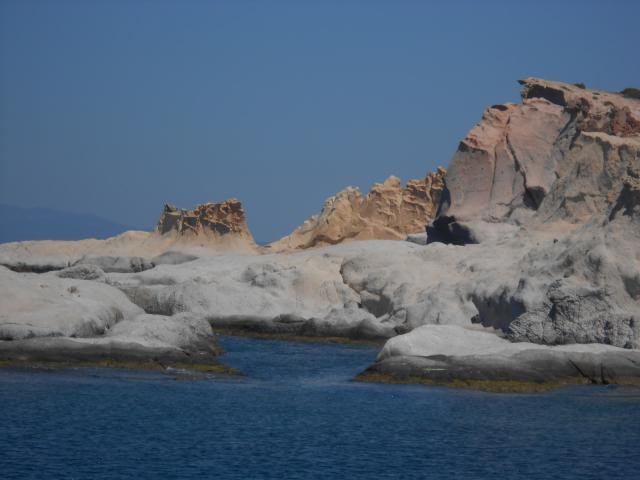 A group of islets with many caves and little coves with beautiful clear waters. The rocks are supposed to look like seals.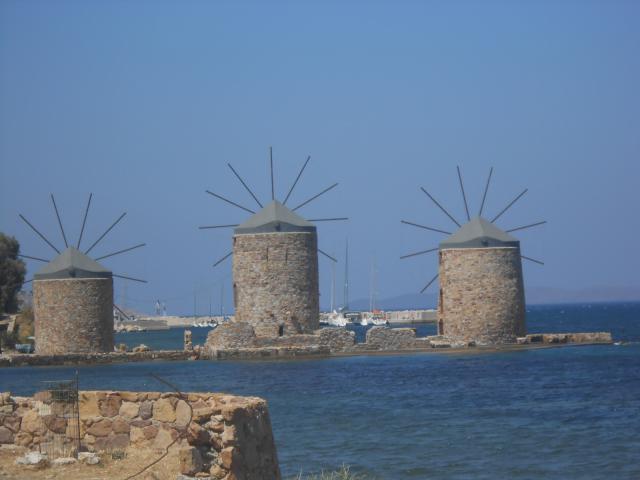 After visiting Lesvos island for a night we sailed down the coast to Chios, Greece where we tied up in a free unfinished marina. Met a few English, German, Spanish and Italian boats there. Popular place. Great place to visit and shopping for everything.
Noel and I wanted to buy cooking gas. This time we wanted to buy the Greek bottles so we can have them filled or exchanged easily. We were very lucky to find a place and was also able to fill our American bottle. The man at the store was super helpful and when we told him we were getting a taxi he offered to deliver them on his way home. We find that Greece is much easier to get things done because many many people speak English.
We were now happy with lots of propane and left to Sigacik where it will be close enough for me to take taxi to airport in Izmir.
Back in Turkey – Sigacik
Nice sail here. We anchored just outside Teos marina.
We had a choppy ride to the marina. It's windy here most of the time.We tied up the dinghy and went ashore to explore and find out about taxis and car rentals. Gotta get to the airport somehow……Its all organized thanks to the Marina staff who speak English.
People are friendly around here. Yesterday we had an older Turkish couple swim to our boat from the beach and say "Welcome here." I asked if they were from here and she said: home here. We all kept on smiling, we couldn't understand each other any further. That was cute.
A couple of weeks ago I had 2 young boys swim over and all they could say in English was Hello. They sounded very tired so I pointed to them they could sit in the stern and rest a minute. Their plan was to ask me if they could jump off the bow of the boat, I said no,no, sorry. They even had pontoons all along the beach for the young to dive from! Silly kids, but at least they asked and were friendly.
Today, just a few minutes ago as I'm typing away I heard some yelling. sounded very close to the boat. I looked outside and saw one guy, afloat, moving and saying Help, Help me. I called Noel out with me immediately, but almost not believing he actually needed help, just for safety. He swam over a few more feet to the stern and wouldn't even hold on to it till I told him to, because he sounded almost out of breath.
The poor guy was soo tired. I put the ladder down and told him it was ok to sit on the boat. You could tell he was very polite. I brought out some water for him and he was trying to talk and having to stop to catch his breath. He told me his English was not very good, and apologized and thanked us so many times over and telling us we were great people. He wanted Noel and I to go for supper at his place. He is from Izmir and is staying in this holiday village with some friends that own it for a week. I told him we were busy tonight but perhaps tomorrow for a drink. He rested for about 10 minutes and he realized his friends were waving from the beach. At this time Noel is long gone back to his computer and it's a Do Not Disturb when he's programming.
The friends started to swim over to pick him up. I was still in my little bikini so I put on my wrap around. He told me not to worry, his friends are very nice and they are swimming here just to pick him up! He was worried that I was worried. Too funny.
As he left, one can see he does not swim very well. One of his friends spoke very good English and told me he went to college in Texas. Again before he left he wanted to make sure I understood his English and left us with phone number, for us to contact him tomorrow. He was so happy and thankful. Imagine this bunch of young Turkish guys cooking dinner for us, old foreigners. Should we accept the invitation??? Stay tuned!
Too funny. Never is a dull moment around here!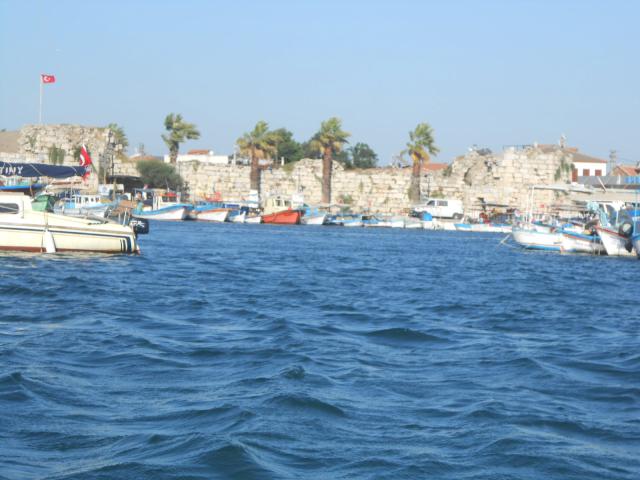 We took the bus to the bazaar in Seferihisar, 15 minutes away from Sigacik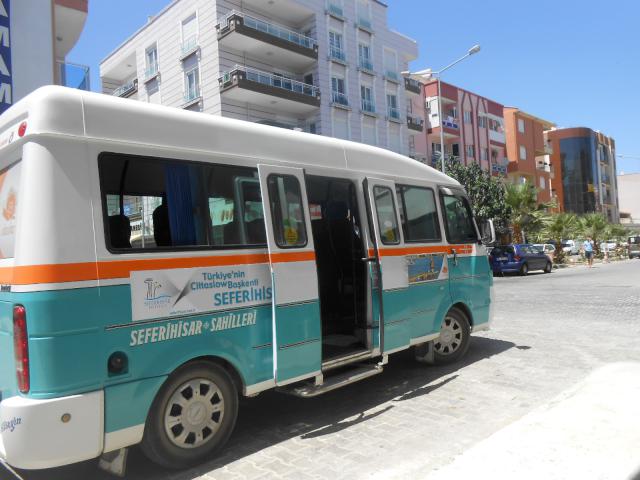 We love this system of small buses. They are very economic and run every few minutes.
Their famous Turkish Bazaar, was huge. Although I was thinking there would be more clothing, shoes and such, it was mostly fruits and vegetables, nuts and seeds. Only one stand of fish and no meat! Clothes were of very poor quality and of course, souvenirs. We stopped at a cheese stand and pointed to what we wanted, the first one turned out to be butter after he cut it and we saw the texture, so we thought: butter, why not??? the rest of the cheeses all look the same and taste the same. We bought some fetta look a like but is not as tasty. We miss the french cheeses!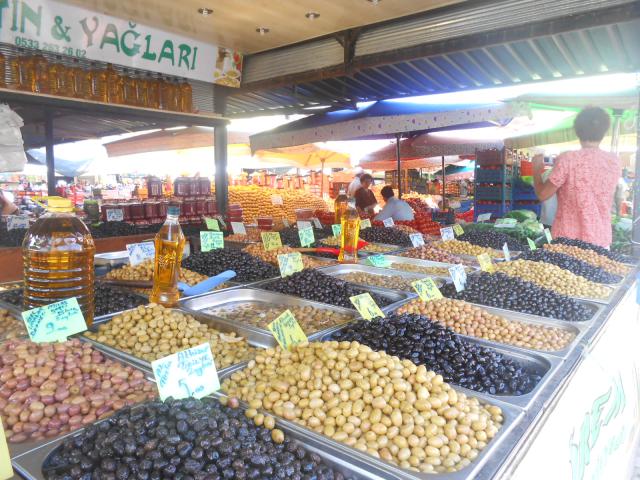 So many olives,and we couldn't believe how fresh everything was and so neatly stacked…..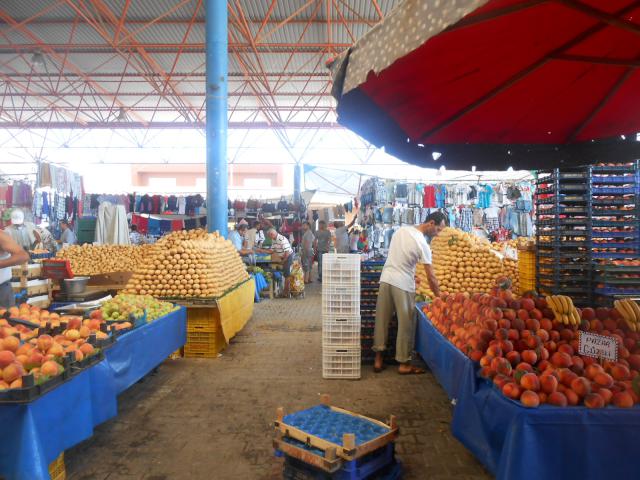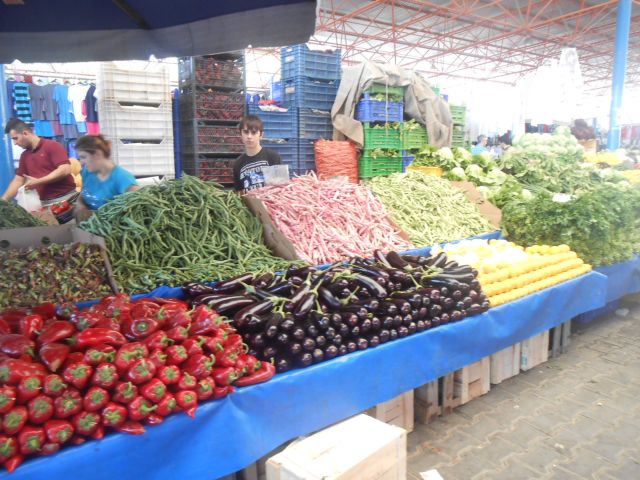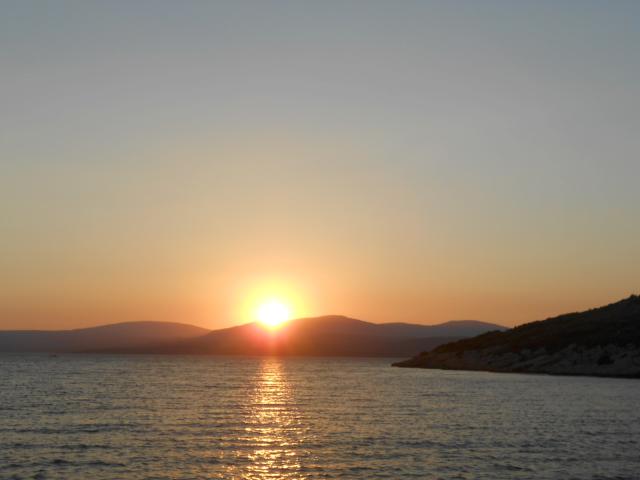 We bused back with full back packs, and home in time for a drink and a beautiful sunset at life part2 in Sigacik.
We were anchored just outside the marina, it wasn't an ideal spot for windsurfing. So we sailed 4 nm down the coast in bare poles and 20kts of wind into a nice big bay , very pretty with some holiday village above and surrounded by sandy beaches.
But now we want to go ashore and it's all beaches or rocky shore. Where do we leave our dinghy and make sure it's still there when we come back????It makes it difficult to find a place to tie up and lock it, and most of the time they don't even allow you to take the dinghy ashore. We take off slowly along the shoreline finally far and away we found a little fishing harbour and we tied up.
Ahhh but now, does the bus make it here?? Is this just another dirt road or is it a main road???? Ahh it's a main road,there a bus coming! It stops and picks us up, only 2 other people were in it. We asked him if he was going to Sigacik he said Ok. In the next 5 minutes he stops at a beach and one person gets out, maybe a life guard. Waits a couple of minutes and turns around, but this time in the wrong direction we wanted to go. We spent 30 minutes just going around the same area, around the beaches, as we started to laugh..we could still see our home near by us. We asked again if going to our destination and he said Yes, Change. At this time we don't even know the name of the town we are in.
Ok, we had to "change" somewhere. We kept going on the bus almost an hour in the wrong direction the sun getting hotter, wondering how it was possible when we know we were so close to that town we had left 2 days ago and along the coast was only 3 or 4 miles???!!! More than an hour later we arrive in Seferihisar where we went to the bazaar. Ahhh now we know where we are!! This is where we had to change bus to go to Sigacik and in 15 minutes we were there. What an adventure, never a dull moment! We thought it was pretty funny, and we got a tour of some other towns that otherwise we wouldn't see.
Later we googled the area. There is a river here near us and although we are very close to where we wanted to go, there are no roads, so the bus does this big loop, goes inland first, to Seferihisar and then around to the seaside town of Sigacik.
We were trying to get to the country fair in town. It took us awhile to get there, but we had all day!! Except maybe the fair would be over in the afternoon and not allow us enough time.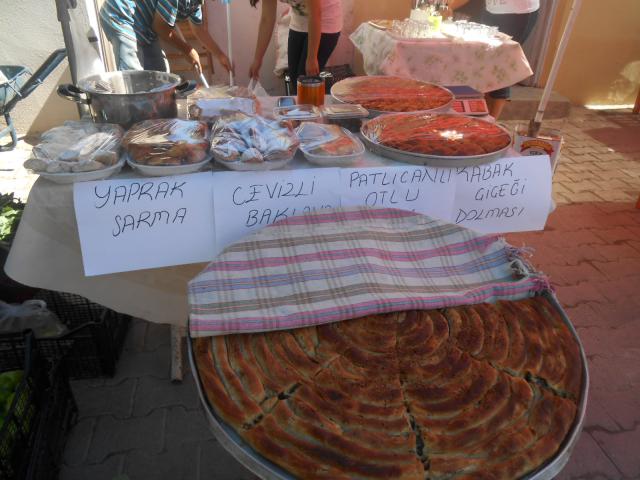 The long ride was worth it. We enjoyed the fair very much.
The locals were out with their homemade goodies, through the narrow streets inside the fortress.
Lots of crafts, fresh fruits and vegetables and lots of food.
We finally tried the stuffed zucchini flowers. We kept walking through and picking up something different from each table into our lunch box. After picking up some drinks we sat in a bench along the waterfront outside the castle walls and indulged……
We finally tried the stuffed zucchini flowers. They are stuffed with rice and spices I didn't recognize, but very tasty. The stuffed grape leaves were really good too.The pastries were filled with spinach and cheese or aubergine . Did not see anything stuffed with meat. Meat is actually very expensive here.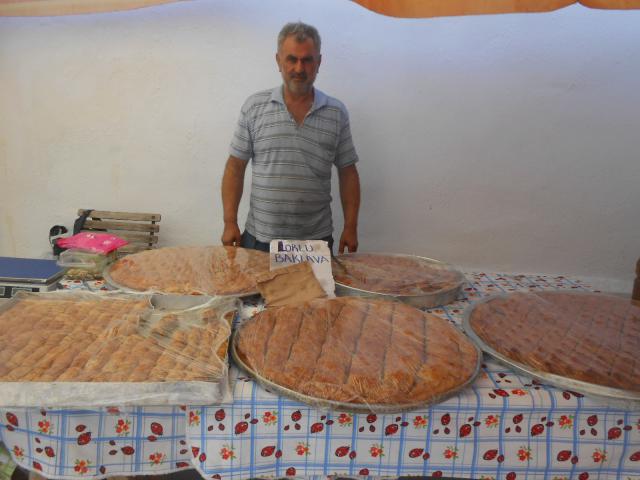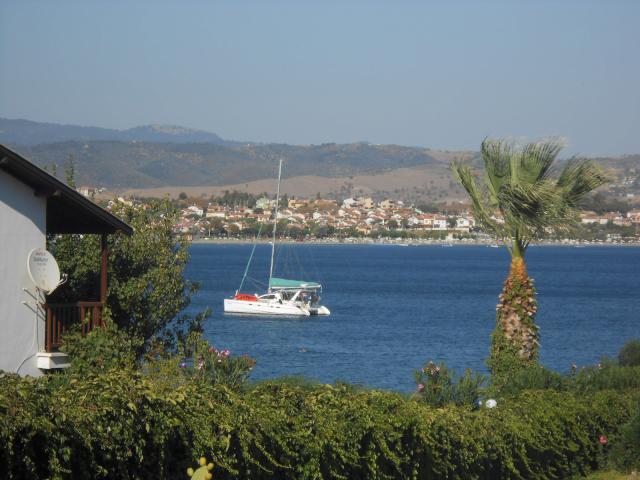 This is Teos Liman, where we have been the last few days. I will leave Life part2 here to Noel and Josh. Big bay surrounded by holiday villages and beaches all around. They will have fun sailing around this area. I have prepared the guest room for Josh and tomorrow is laundry day and finish packing my suitcase.
One Response to "Ephesus and West Turkey"