Current Location:
Finike, Turkey
Current Position: 36 17.55 N 030 9.02 E
Click to view map.
Distance sailed since last post:
26 nautical miles
.
View the map of our voyage track here
Welcome to Gemiler Island which is also known as the Island of St Nicholas.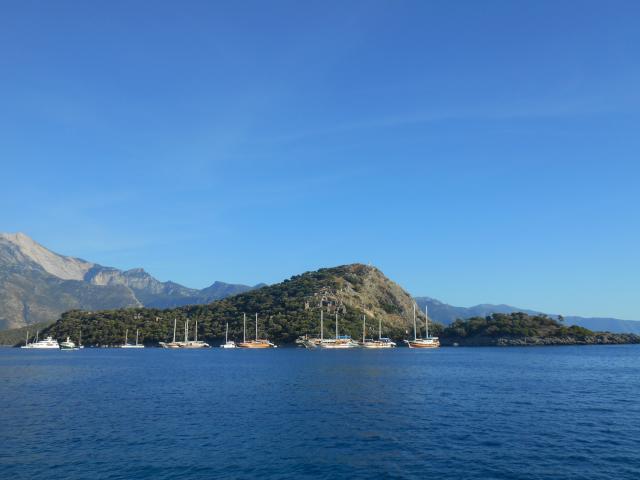 It was our next stop after Oludiniz. The Island is only 1000m long by 400m but with many remains of Benzantine dwellings, many churches and other religious buildings.  Archaeologists believe that after his death on the 6th of December 343 AD he was buried here in this island.The Island became an attraction for local pilgrimages and pilgrims from afar who would stop off on their way to Jerusalem to visit the shrine. In 650 AD the remains were taken to the safety of Myra after the island was repeatedly attacked by Arab pirates forcing the inhabitants to abandon the settlement. Myra is only a 20 minute bus drive from where we are and  we plan to go visit St. Nicholas church where is tomb is.
The island is beautiful, and a beautiful walk through it.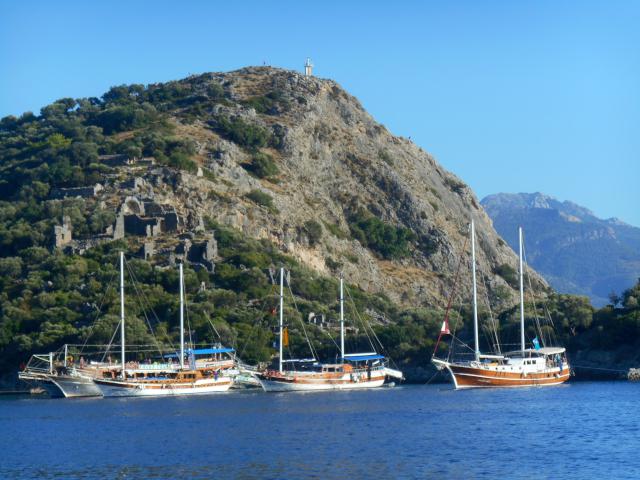 It is visited all day long by gullets full of tourists and by night it was just an amazing peaceful spot to anchor. We were anchored right across from here, with only another 2 other boats near by.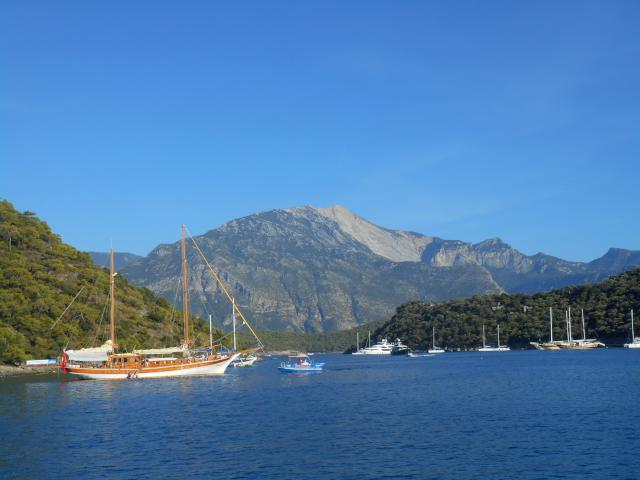 The strait going up to cold water bay, a popular anchorage which we thought to cruise by.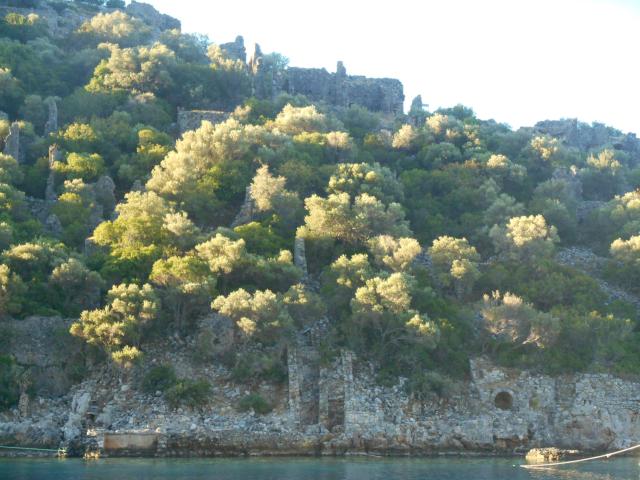 You can see the ruins all along the strait and down to the shore line and bellow.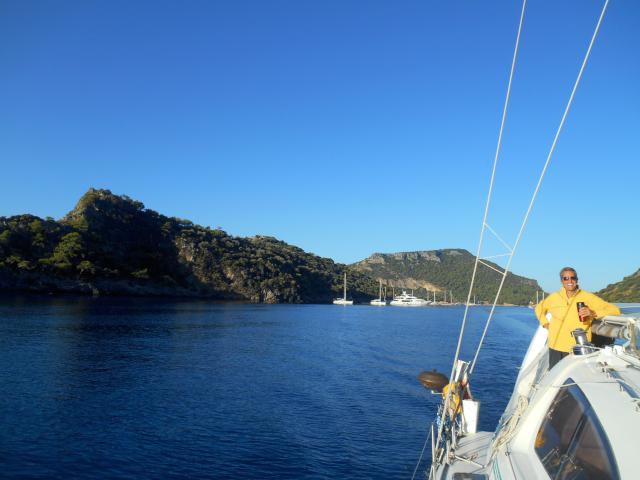 Above photo is going up the strait just after sunrise. It was sure a beautiful sight to see the sun rising above and over this beautiful island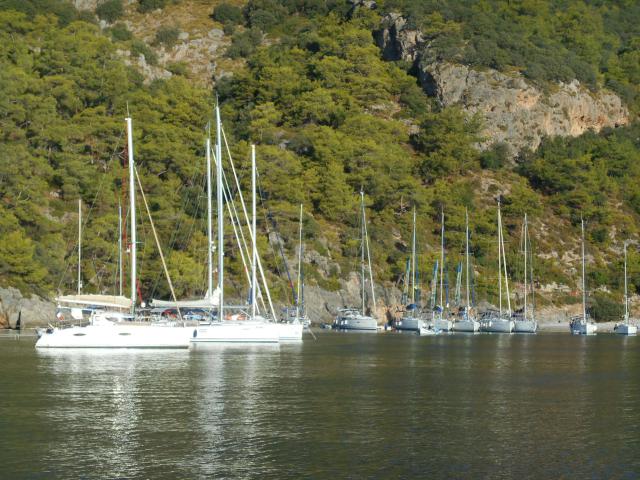 Above is the anchorage in cold water bay. We were gad we didn't come there for the night, it looks pretty busy all lined up.
Photo bellow: ahhhh, now, this a good place to be!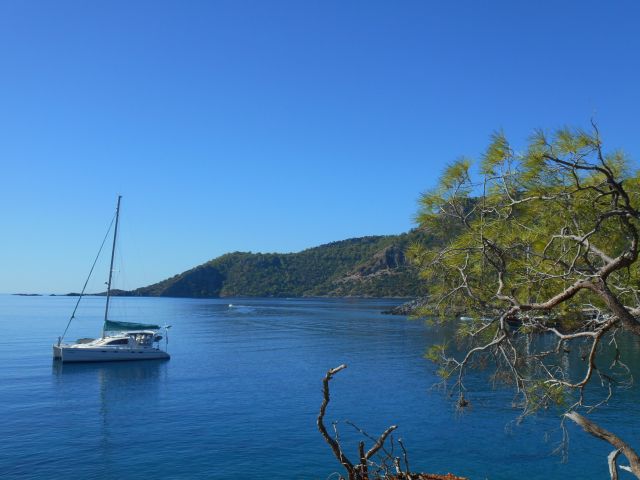 But, 2 days later and after a long 16km hike to Kayakoy, a ghost town abandoned during the Greko-Turkish war, we moved on….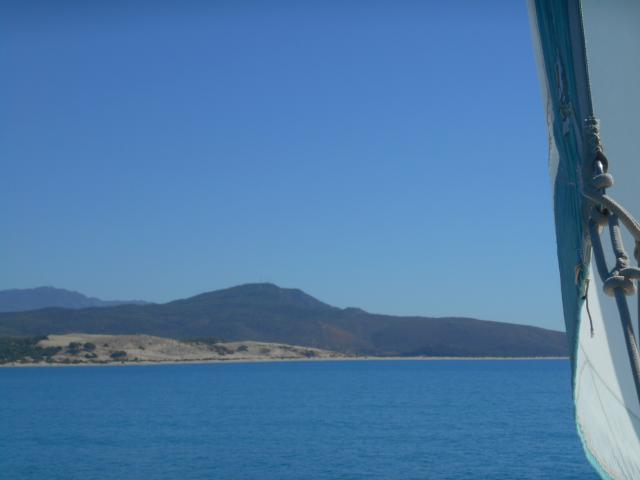 We sailed along Patara beach, very touristic and popular with the locals as well . It is 14kms long and backed by sand dunes.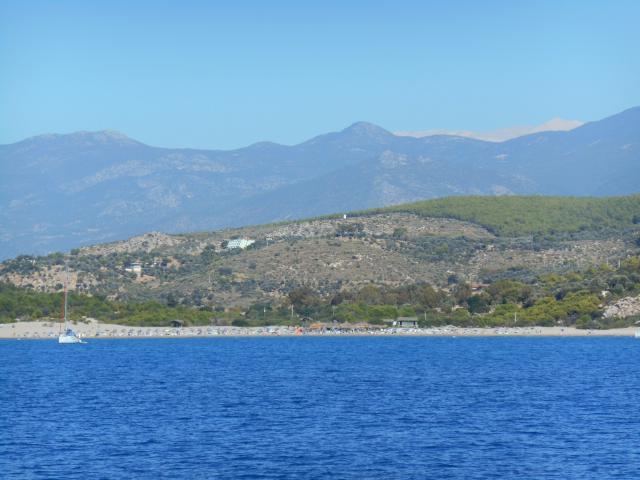 In some areas is backed by hotels, restaurants and covered with sun beds.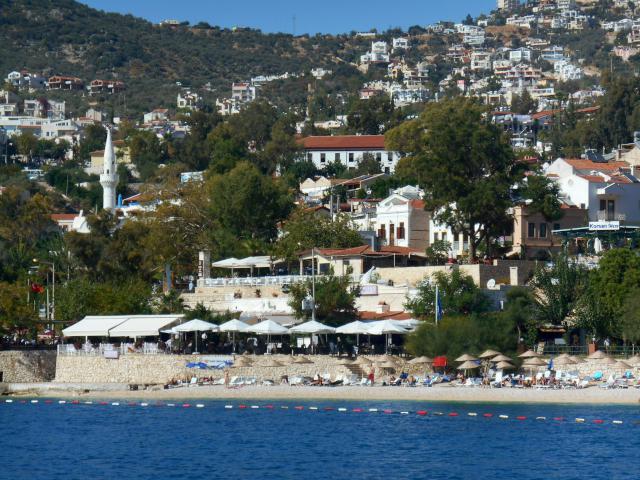 It was about a 5 hour trip to this lovely town of Kalkan, where again we had a nice little anchorage just in front of this beach, and conveniently just outside the town harbour.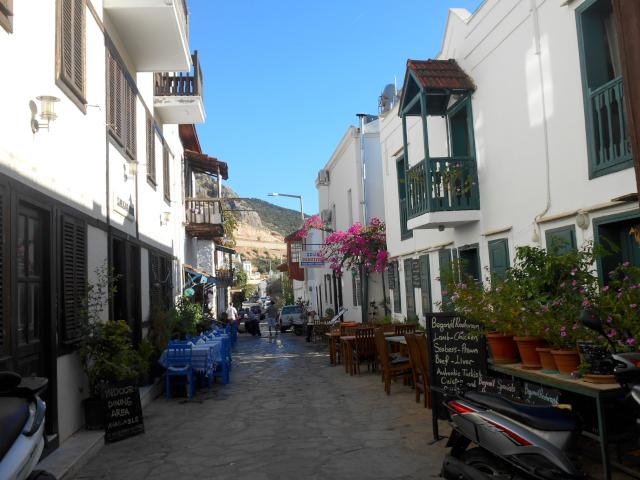 We strolled the nice cobbled streets, and checked out the supermarkets. We were told the market was the next day, so I was excited about that.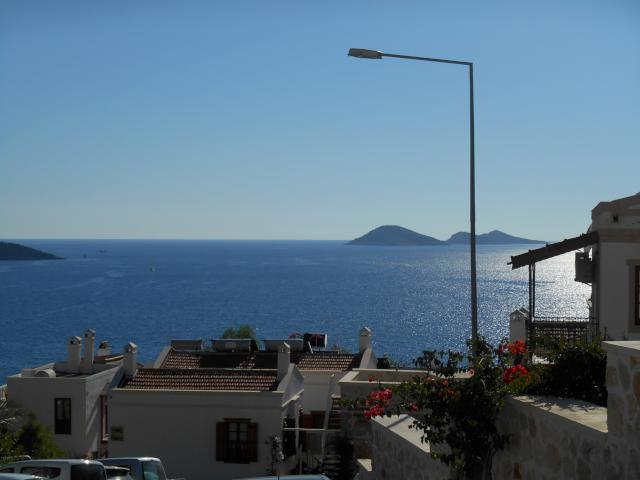 The next day I dinghy ashore and tied up at the harbour, somewhere between some stinky fishing boats the fishermen pointed me to after watching me hunting around. All the space in the harbours seem to always be taken by these huge, but beautiful gullets. Above is just another nice view during my walk to the market…with Life Part 2 very near there.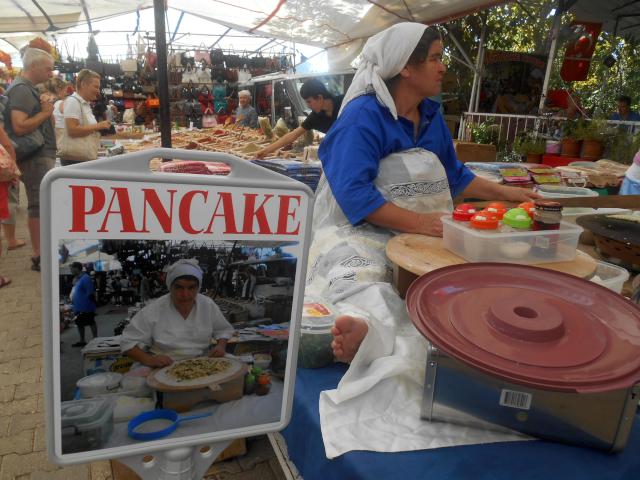 The market was great. I found some real vegetables…. I mean anything more than tomatoes, peppers, tomatoes , zuchini and aubergine, is Real stuff. I indulged in broccoli, cauliflower, squash, leeks, mushrooms and more. All fresh, what a treat!I also tried what they call "pancake"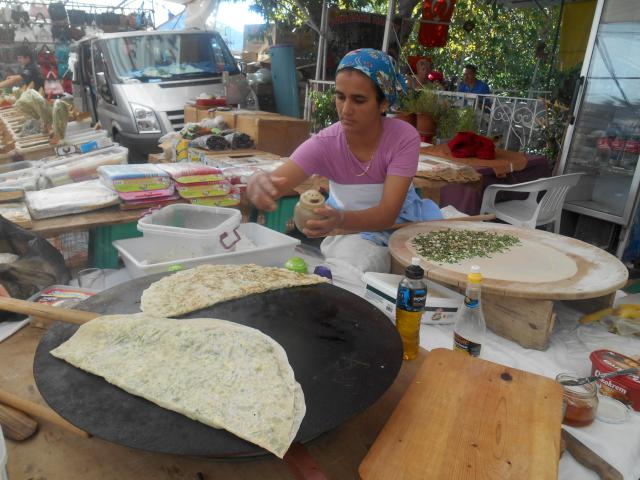 Pancake is very popular and made everywhere by the local ladies cross legged even on tables. A very thin tortilla like this is filled with a mixture of Turkish/feta cheese and spinach. It is very good.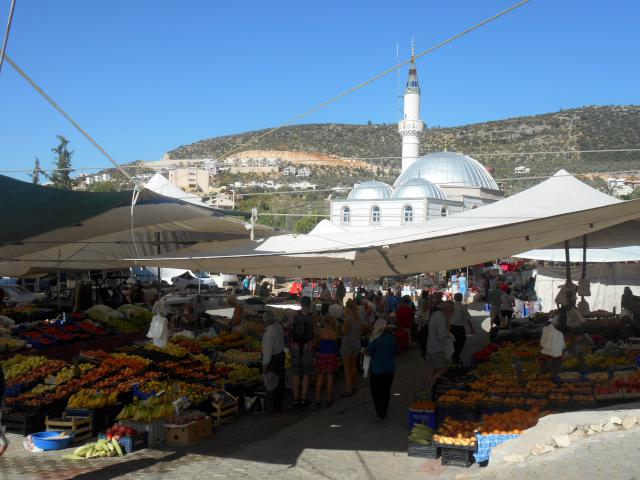 Most towns hold their market only once a week. The markets are always over-kill with so much fruit and vegetables. But then again, the stores don't carry much of  that, so you have to wait just for that day of the week to stock up! And that is why I am always so happy when we hit the town with market day!!!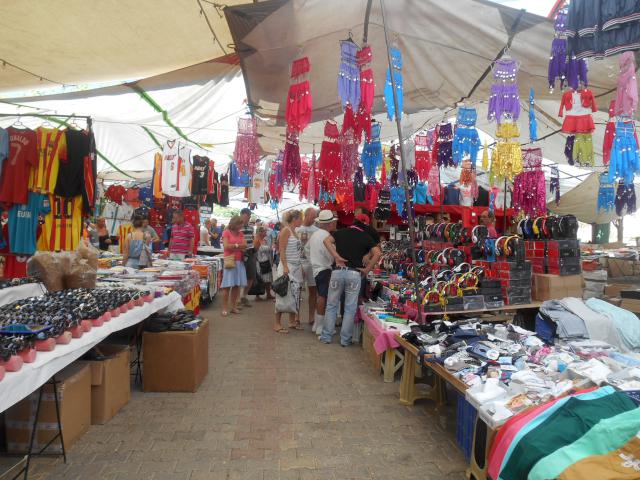 Again this town was popular with the British. I met one couple that told me they have been going there every Fall for the last 13 years.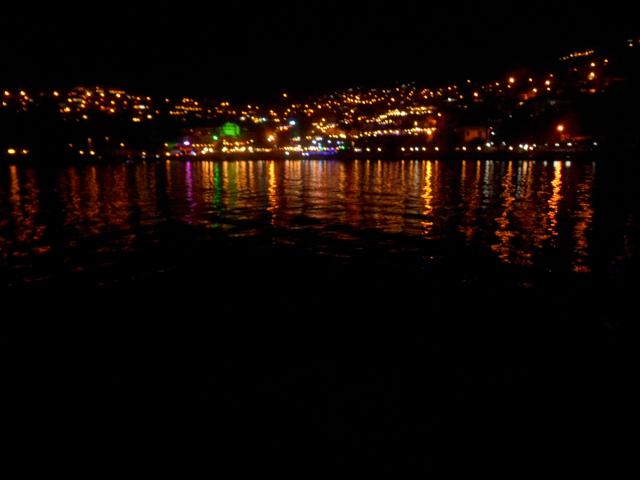 The town looked pretty at night too. We enjoyed a couple of nights here and kept going to our next destination.
Welcome to Kas.
Very cute and picturesque also very touristic little town. No, we did not pay to come in this crowded harbour. No, we wouldn't go in even if it was free. Again the gullets take over….only enough space for a few guests. It's very amusing watching them getting in and out of their births. These 2 are very close to hitting each other, but no one cares, they know what they're doing.
Now below is our home. And we loved it there. We anchored just outside Kas marina. Only us there and a motor boat ahead. It was also a very short walk to town.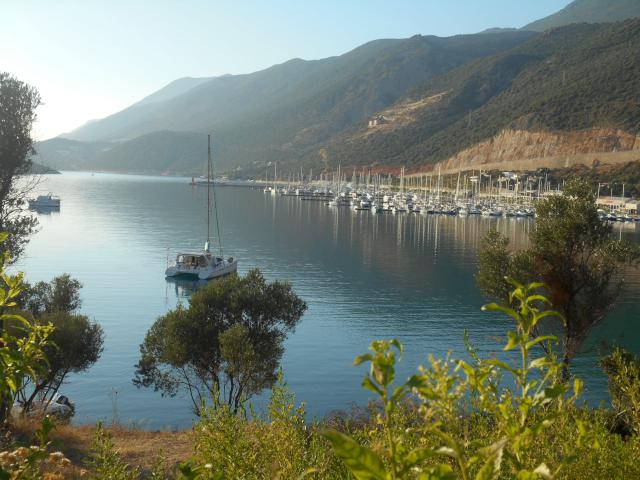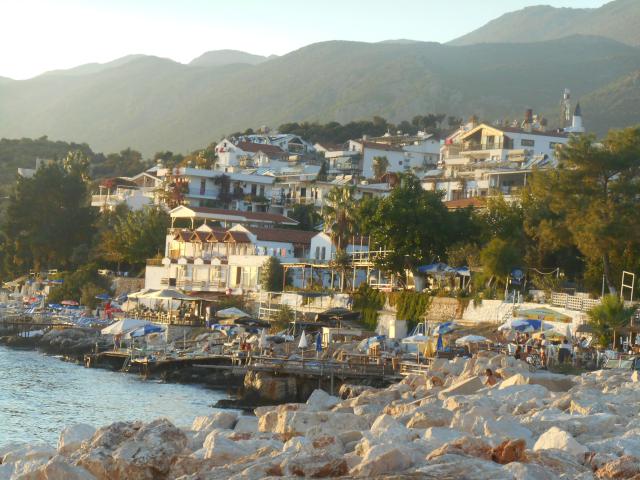 We visited the harbour, the picturesque little town and enjoyed the nice sunset.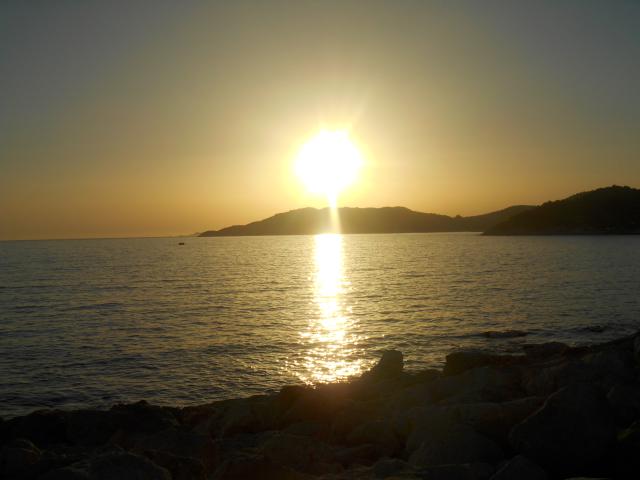 The narrow cobbled streets were busy, with agencies trying to sell you trips to visit the nearby tourist sites inland or sea cruises. Lots of tourists, shopping, and many many cute restaurants and bistros. Bougainvilleas added to the beauty…always!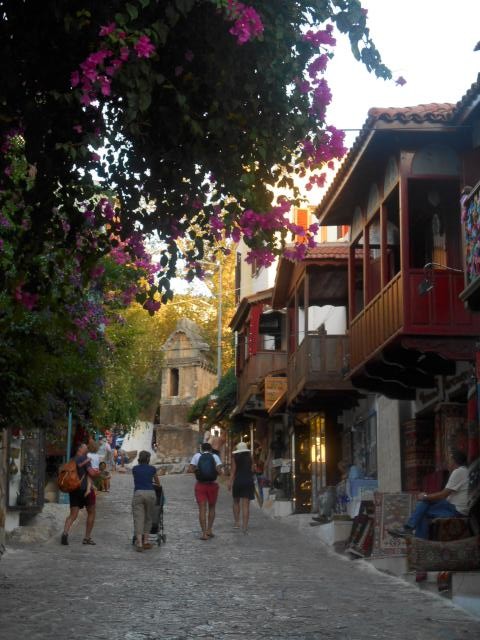 Sarcophagus in the city center.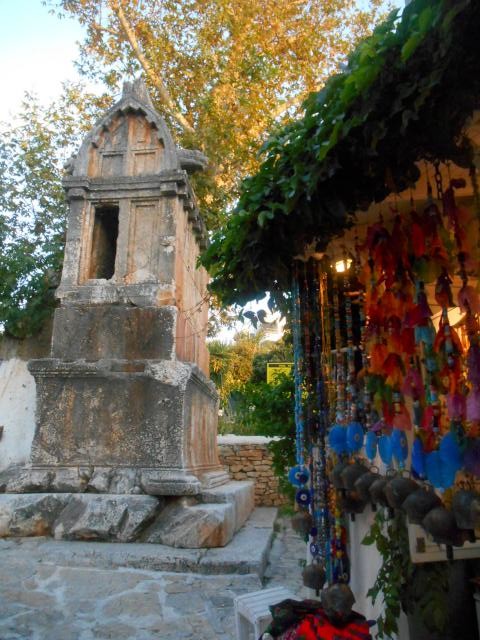 A great  attraction and almost the symbol of Kas is the Lycian style sarcophagus at the end of this street. Consists of three sections, 1.5 meters high, and decorated with lion heads and paws on each corner.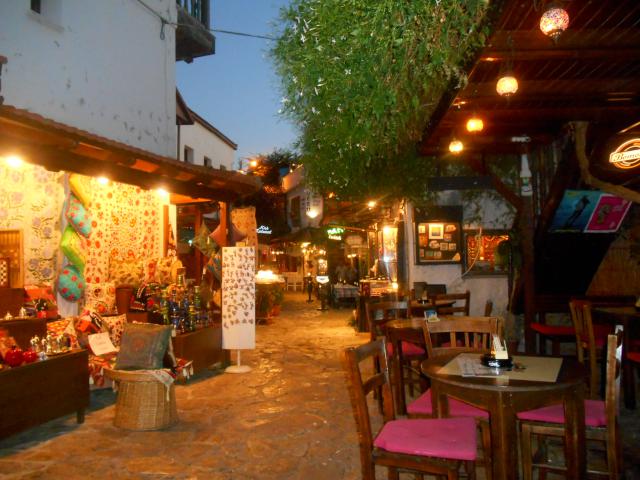 We enjoyed some drinks here while using their WIFI services, we were having internet problems with ours. Again!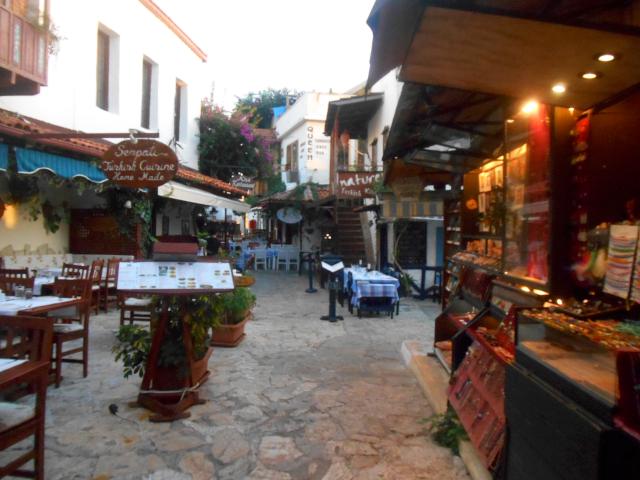 2 days later we left this nice place to Kekova, the sunken city.
As we leave Kas, I took a photo and waved to Greece. Castelorizo, a Greek island just across. Photo below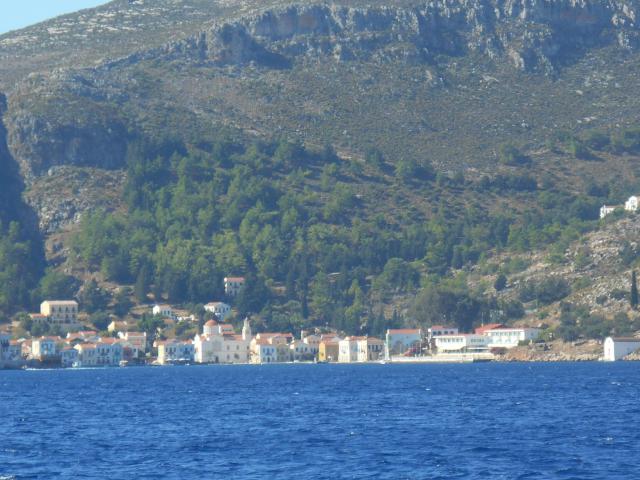 Near Kekova
With so many gullets selling their trips to Kekova, the sunken city, we sure had high expectations! Although, very beautiful scenery and cruising grounds, the so called "sunken city" has not much there to see.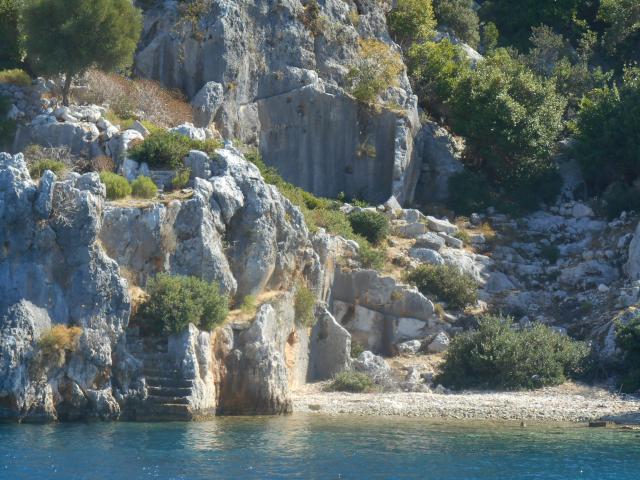 As we got in to the bay, the coast line was popular with gullets cruising along here.
We decided to follow them and see how much there was to see. The partially sunken city was destroyed by an earthquake in the 2 century. It was rebuilt in the Byzantyne Period but abandoned later because of some problems with the Arabs. You can see the many ruins and staircases down to the water.
The Kekova region was declared a specially protected area by the Turkish Government in 1990. All kinds of diving are not allowed in the area.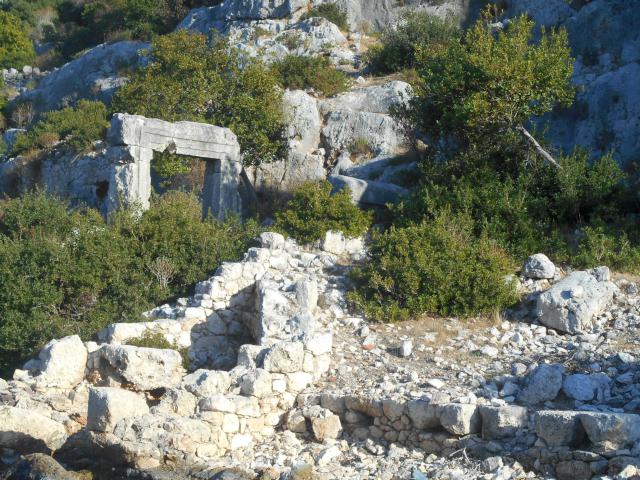 When the gullets went back to the harbour Noel and I took a ride in the dinghy with a glass bottom, along the coast to see the hidden treasures that we couldn't see from the boat. It was a nice ride along all the ruins and the crystal clear waters, but under water was not much to see besides small pieces of broken pottery.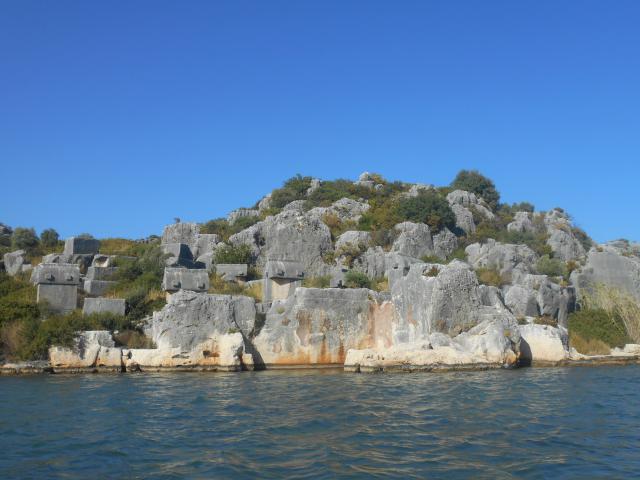 Lycian necropolis with a cluster of some very nice sarcophagus and there are more around scattered over the hills among olive trees. We were anchored right here.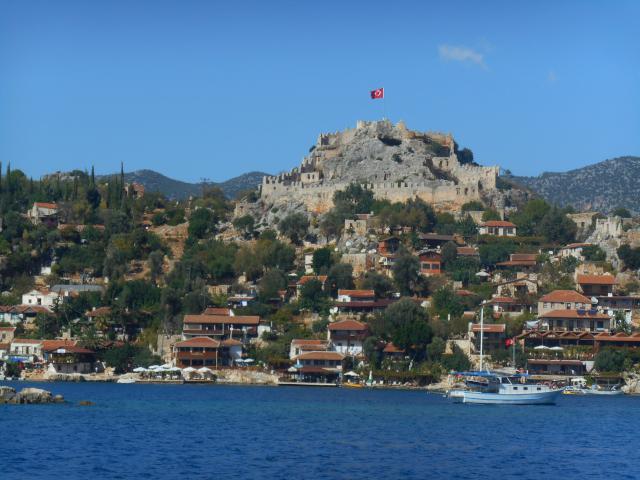 This is the charming fishing village of Kalekoy ("castle village").  There are 2 villages only about 1 km apart.The top of the village is dominated by a well-preserved castle built by the Knights of Rhodes.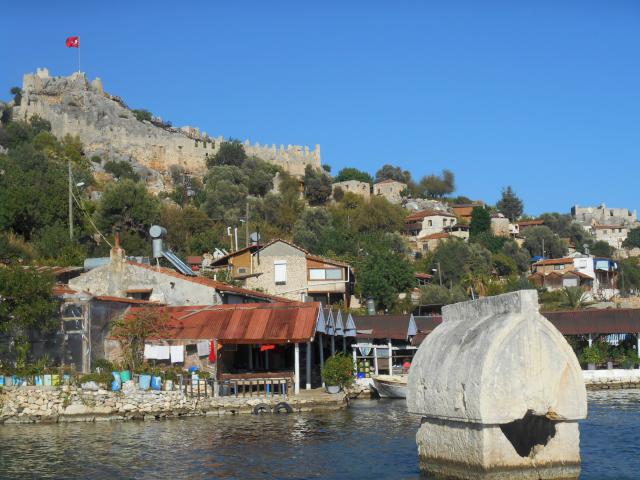 This is the ancient harbour of of Kalekoy. Hard to believe that at one time this was a very busy shipyard. Another sarcophagus, this one popping up from the water.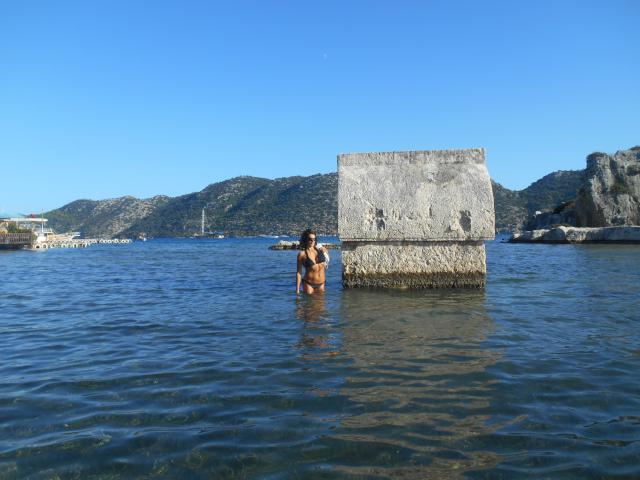 This is the other town,  Ucagiz. Tiny village, big harbour full of gullets. Here is the start of the sea cruises for this very touristic area.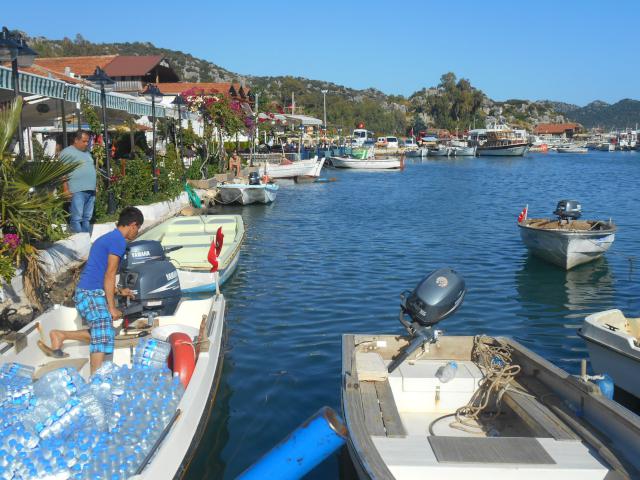 Loads of bottled water that unfortunately end up covering the grounds on the side of the roads and everywhere. Why do we need bottles made of plastic that last forever, but are used only for a few days? Let's go back to glass, or at least fully degradable plastic.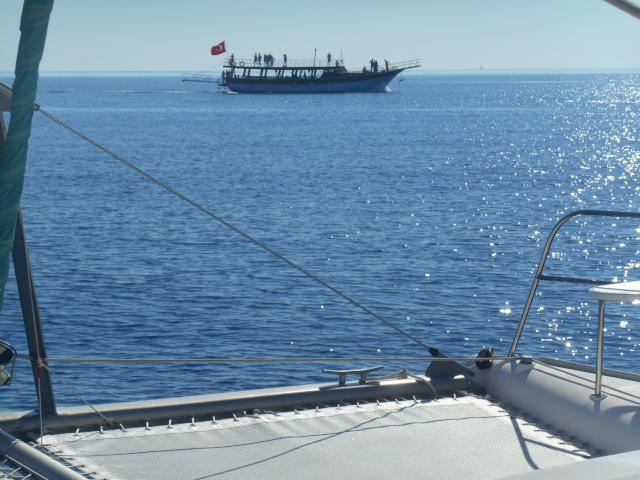 Dodging traffic while going up to a different anchorage still in Kekova.
Kekova is a maze of beautiful anchorages, you can spend many days just cruising around find a new place every night in beautiful calm, crystal clear waters and wonderful scenery. Also the water still warm, so swimming everyday is a bonus.
This was our anchorage for the next couple of days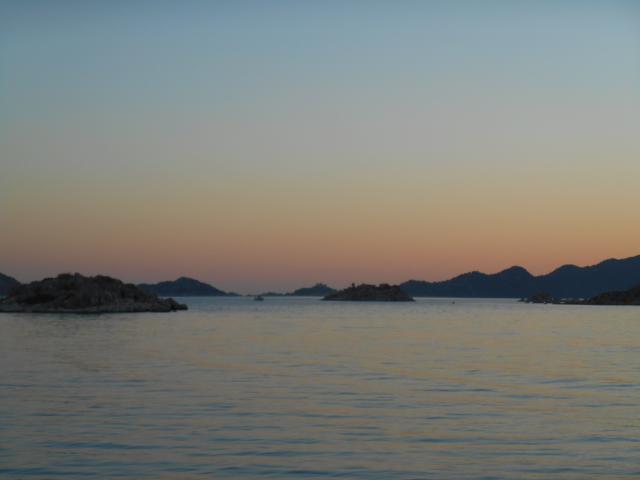 We are getting to the end of our cruising year 2013.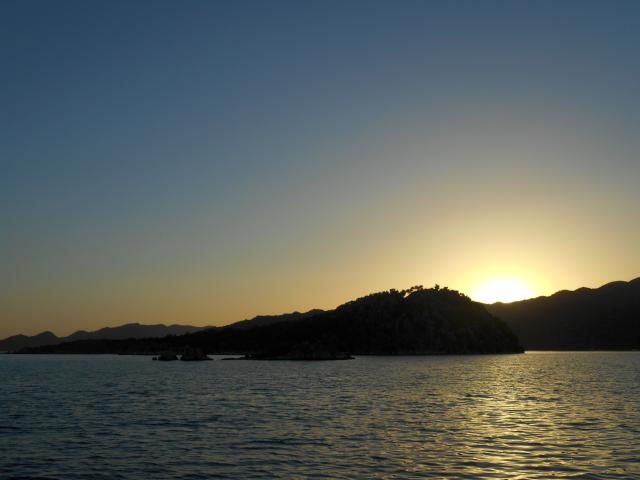 This was our last sunset in Kekova. The next day we sailed around to Finike where Life Part 2 has a reserved birth for the Winter.
 Finike Marina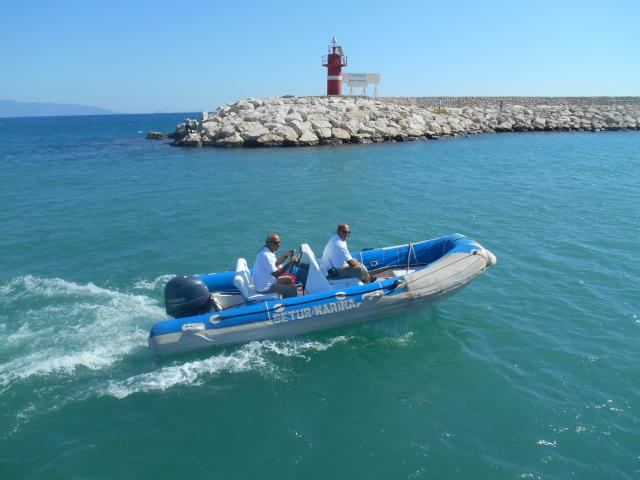 We are now arriving in Finike welcomed by our marinheiros with directions to the birth and help with the lines.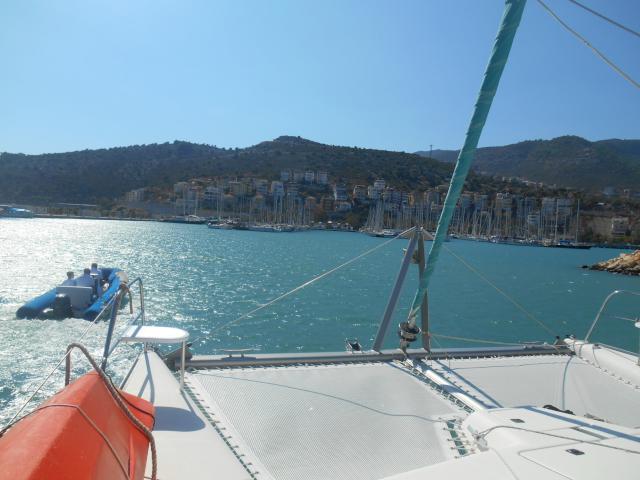 The weather is great, the water is warm, it just feels like it's too early to come in to the marina. It just does not feel right.
Ohhh but there is no wind anymore…we took it all! Noel is very proud to say we only did 130 hours of motoring through the whole season!!!!
Wow! what a great season. Now the best part is going home to see my beautiful family soon. I can't wait!
If I can't be sailing get me out of here…oh, but not until we do our tour. We are traveling for a few days inland, going to Cappadocia.
Update: My above post is 2 weeks behind schedule. Too busy to finish and publish it.
We just got back from the amazing Cappadocia trip.
We are now in the marina preparing the boat for the Winter. Most cruisers are back in the marina as well, and many of us know each other from last year in Sicily plus others we met along the way. Barbeques, pub nights, yoga and coffee time. It sure is nice to see everyone again.
My last post will be about Cappadocia.
One Response to "Gemiller to Finike-the destination"