Current Location:
Marinella di Selinunte, Sicily
Current Position: 37 34.83 N 012 50.57 E
Click to view map.
Distance sailed since last post:
23 nautical miles
.
View the map of our voyage track here
The Greeks, as you know, had a lot of gods. Which meant that they needed lots of temples in which to worship all those gods. Back then they had a good eye for architectural design, but not a lot of understanding of the principles of solid construction. So, to make sure stuff stayed upright, they ascribed to the theory of 'Brute Force Civil Engineering'. Which means, at its core, that if you make stuff big enough, it won't fall down. As you will see in the photos, that meant massive columns to hold up massive blocks of stone for the roof lintels. And all of these carved by hand with bronze tools.
And, it seems, their theories were correct. Two and a half thousand years later, despite storms, earthquakes and multiple invaders, their temples are still (sort of) standing. In fact, some of them are in remarkably good shape, considering the time gone by.
There are three major archeological sites in Sicily: Agrigento, Segeste and Selinunte, listed in so-called order of importance. The first two have examples of the most complete remaining temples, which is why they are at the top of the list.
We visited Agrigento and Selinunte.
Selinunte is visible from the sea as you approach the little fishing village of Marinella di Salinunte. The harbor is way too small for a yacht, but one can anchor just beside it and get some (not a lot) protection from its walls. And at least the harbor makes it easy to go ashore with the dinghy. It is then a short walk up to the archeological park. The entrance fee was 6 euros, which also provided entrance to the Caves di Cusa – the stone quarry from which all those massive pillars where carved. Unfortunately that was 13km away, so we couldn't get to it as there were no buses there.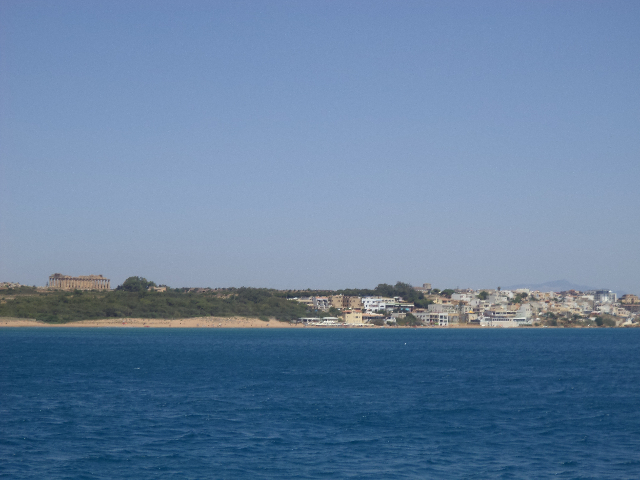 Inside the park one can freely roam among all the ruins.
As well as the temples, there are also the remains of fortifications made by the Carthaginians when they conquered the area. And there are good descriptions and explanations, in English, by the various temples and sites.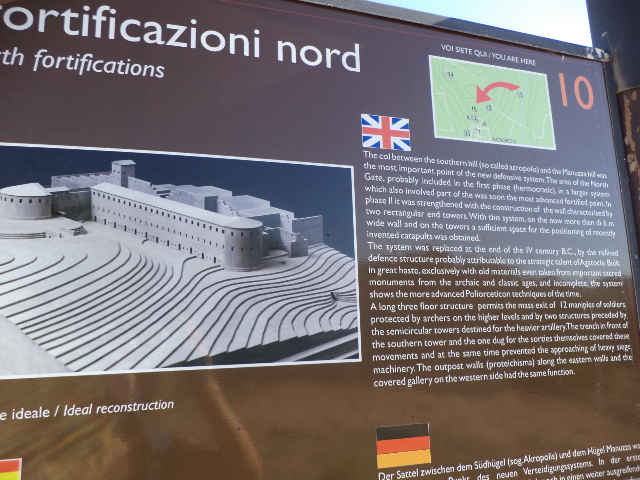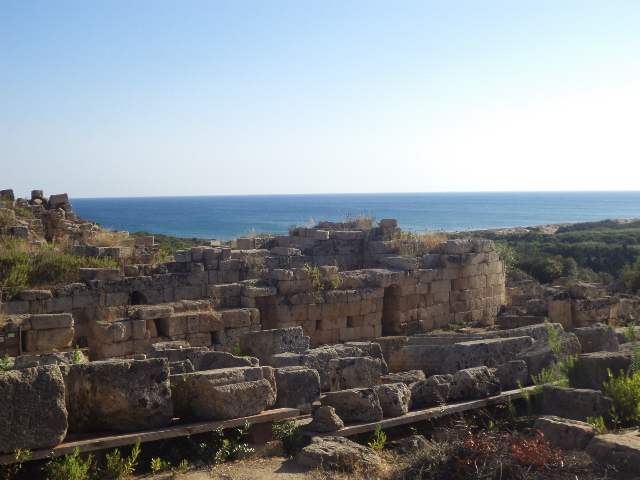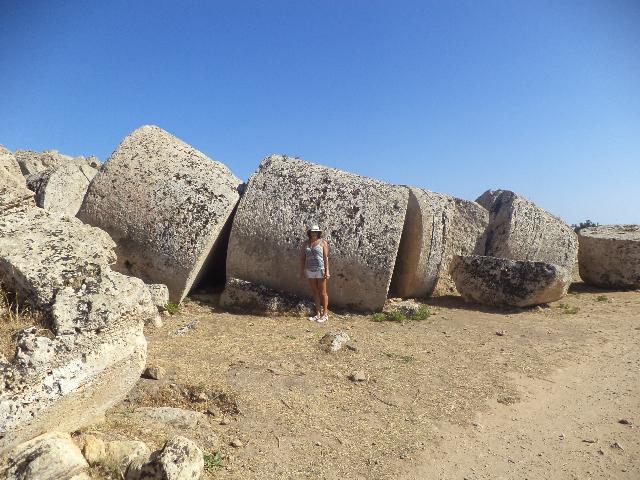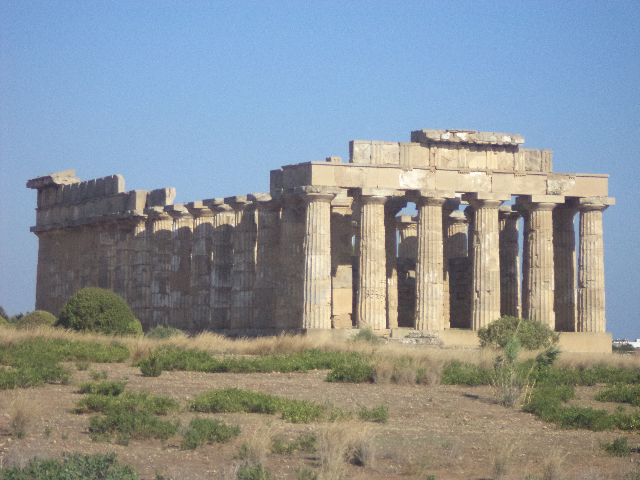 The following day we went to Agrigento. This is farther inland. One can anchor free of charge inside the huge commercial harbor of Empedocle, and then dinghy ashore. Then walk up the road to the right, passing a fishmonger, to find the bus terminal on the right. From there it is a half hour bus right straight to the entrance to the archeological park at Agrigento. The bus runs in both directions about every half hour.
Entrance here is 11 euros. And, once again, you can wander around the ruins. But you can't walk through them. There is one very well preserved temple, but it was a shame to not be able to actually walk inside it like you can at Selinunte. There also appeared to be less ruins, although the ancient Christian necropolis was interesting. However there were NO informative signs at all, not even in Italian. Of course, if you really want the information, they will sell you a site map for 1 euro and a book for 7 euros. It seems they figured being a World Heritage Site with a well preserved temple is enough, and they don't need to do anything else to enhance your 11 euro experience.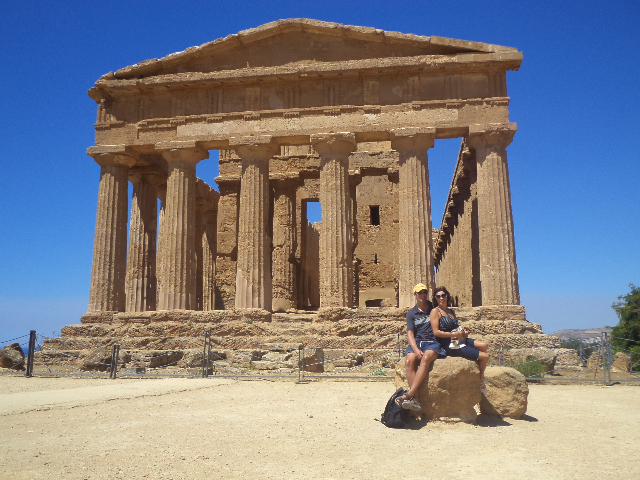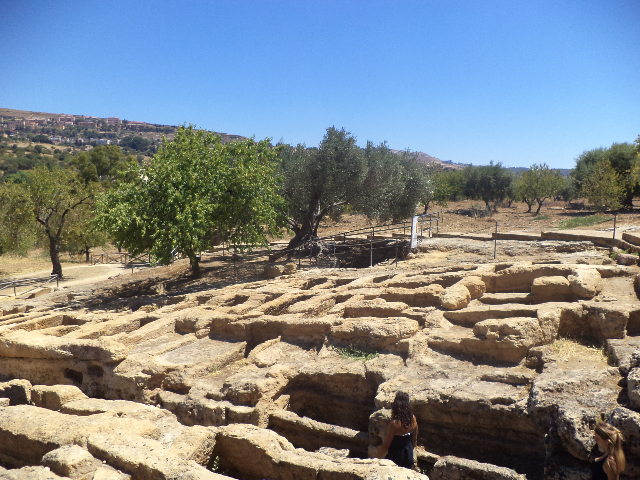 Allow a good couple of hours to visit each place.
Overall, we figured that Selinunte was more interesting and better value. If you have time for only one of them, do Selinunte. But do go to at least one of them! My understanding is that Segeste (which we didn't visit) is similar to Agrigento.
You can see the full gallery of the pictures here:
Greek Ruins at Selinunte, Sicily, July 2012
Greek Temples at Agrigento, Sicily, July 2012
Some of them are pretty impressive!
2 Responses to "Greek Temples at Selinunte and Agrigento"