Current Location:
Ejido, Andalucía, Spain
Current Position: 36 41.74 N 002 47.51 W
Click to view map.
Distance sailed since last post:
128 nautical miles
.
View the map of our voyage track here
After crossing the Gibraltar strait,  it was very impressive arriving in the large Algeciras Bay at dusk. I was surpised by how many huge tankers there were sitting at anchor in the bay. They were all lit up like Christmas trees, making it very pretty. Apparently the bay is officially international waters, so they can anchor free for a month without hassle as they wait for their next shipping job. And of course there was the Rock, towering over everything.
It was at this point that we discovered that our chart plotter charts didn't cover the area!  I had planned to buy new charts for the Med when we got over here, but a) had forgotten and b) in any case, no one seems to stock them. All it gave us was the barest of shore outlines.
However, we did have our back-up charts on the laptop, using the free OpenCPN chart plotting software (which is excellent). This is what we used for our trip all the way to Cartagena, as we couldn't buy any charts in Gibraltar either.
We managed to find our way in to La Linea, Spain which is right next to Gib. We anchored, in the dark, inside the harbor, but outside the marina, despite warnings that the police might move us along.
As it happened, they didn't, and we had a pleasant stay there, along with a handful of other boats, for a couple of days.
On the Monday we then moved over the Queesnway Quay marina in Gibraltar. There I picked up my new shrouds without any difficulties. It was a straight forward process of going to the FedEx office, where I picked up some papers and took them across the road to the Customs office at the Airport. There I presented the boat papers and my passport. They filled in a form, and that was that; no duty or tax to pay.
We then went back to the anchorage at La Linea where I spent a couple of days getting the new shrouds installed.
Meanwhile we did, of course, do some sightseeing in both Gib and La Linea.
In Gib we took a bus tour to the tunnels, saw the monkeys (who sat on my head), visited the Pillar of Hercules monument, and wandered through the botanical garden.
The 32 miles of tunnels dug into the Rock are very impressive. Certainly you don't get a better fortress than one made of solid mountain!
Unfortunately I managed to delete all the nice photos by accident. A real shame as there were some fun ones of the monkeys sitting on my head.
It was a good half day visit.The trip to Morrisons supermarket also allowed us to buy some English mustard and mint sauce.
Beyond that, Gib is not  recommended. Very busy with traffic. Not a pretty town. Not a lot to recommend it really.
La Linea is the same. It is clearly a very poor town, with lots of run-down housing. The small historical downtown is quite nice, with cafes on the streets, but that is about it.
We had to pay5 euros a day if we wanted to leave our dinghy somewhere safe when we went ashore, otherwise it was likely to be nicked. You can walk from La Linea, through customs, across the airport runway, and into Gibraltar. There is also a bus (number 5) available at the airport that will take you into town and right to Morrisons.
Anyway, we got the jobs done, and we then had a great sail on a broad reach in 25kts to Fuengirola, where we met up with Mark Thompson and had a lovely carvery roast lunch. All very English on the Costa del Sol!
This was the view from the restaurant: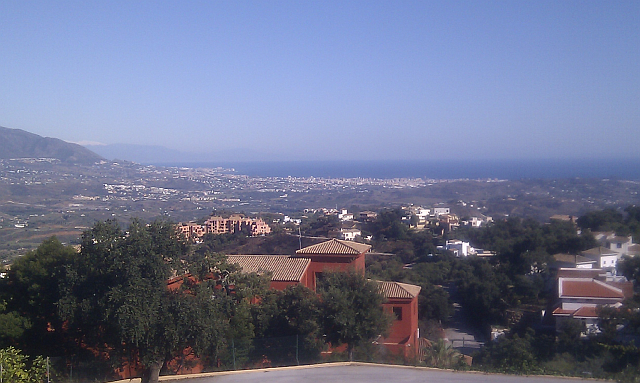 And here is my internet marketing buddy, Mark Thompson. That is the cool thing about internet marketing – you get to meet people all over the world. We have talked many a time on Skype over the past 4 years, but this was the first time that we actually met in person: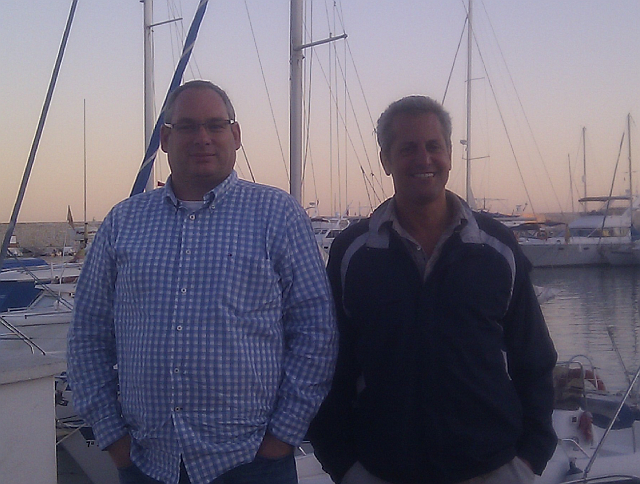 The next day was another fresh sail past Nerja (where I could see the apartment I used to own) to the little bay at Herradura. There is a small marina there (Marina del Este) but we anchored just outside it, and then went ashore for a lovely pasta meal.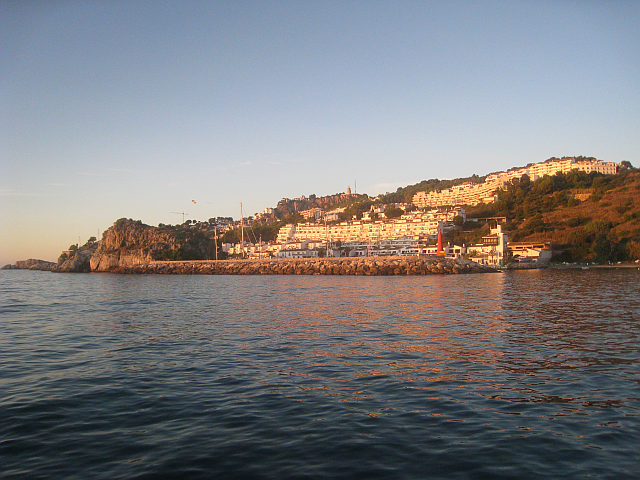 From there we had yet another fast sail,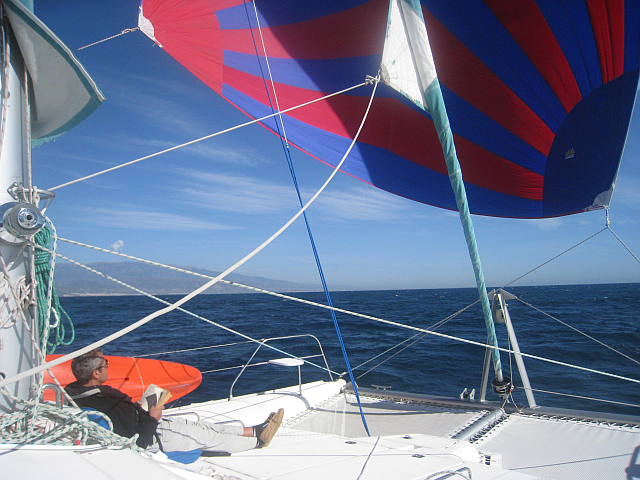 past acres and acres of plastic sheeting (for growing tomatoes and other crops) backed by the snowy Sierra Nevada,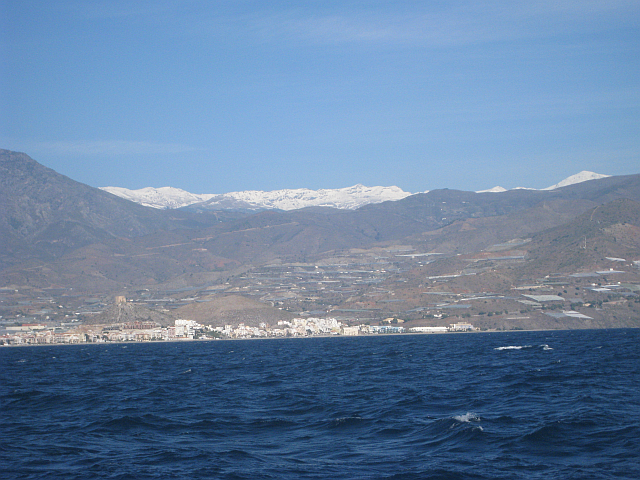 To arrive in good time at Almerimar. Almerimar is easy to get into. The fuel and reception dock are just on the left, immediately after you arrive.
Then you get allocated a berth, which is all med moor with bow lines that are tied up to the dock and you then have to walk them forward to tie up the bow. We were parked in that big space, just next to the other cats: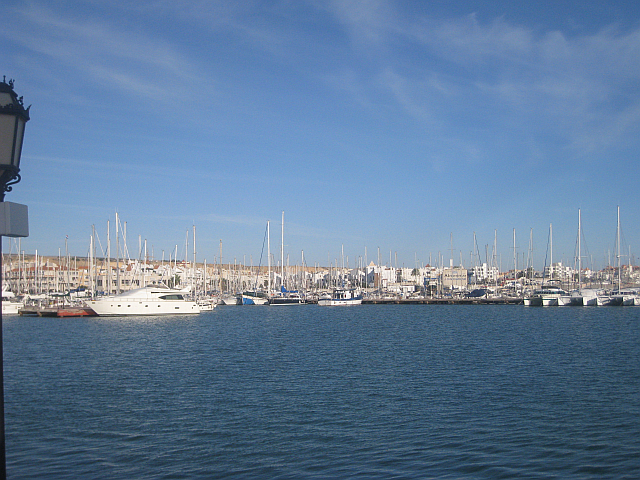 We then walked around the docks to find Bob and Connie from Meridith (fellow Canadians we met in Portimao).
They had a car. So the next day we went to visit one of the Pueblo Blancos (White Towns) – that's Bob in the photo: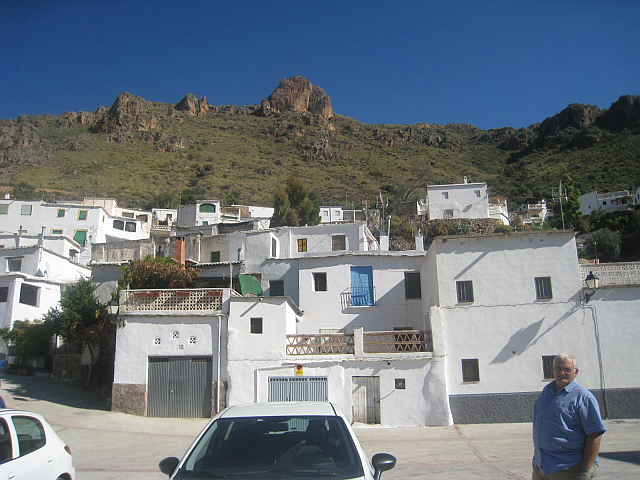 where me met a crazy German who had retired to this tiny village of 15 inhabitants. He proudly showed us around all the upgrades he had been doing to his house, including a lovely patio: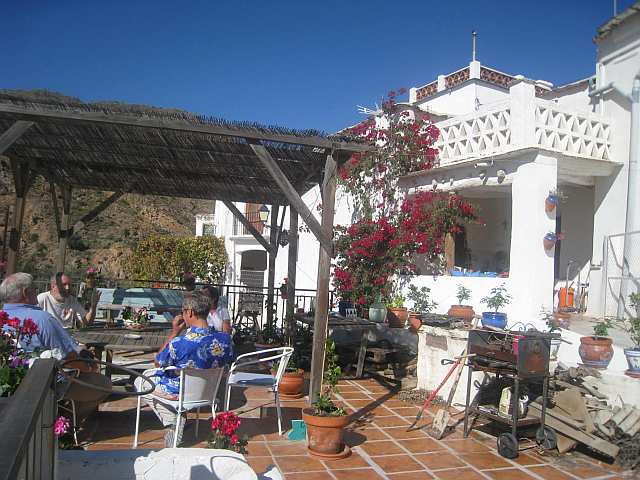 On the way back we picked some prickly pears – and managed to get lots of prickles in our fingers. It wasn't worth it – they don't taste of much!
Next day we were on the move again.
We rounded Cabo de Gata, and now were in the Costa Blanca (so named because of the limestone cliffs – though most of them were still the same rock as the Costa del Sol). We had a brief overnight anchorage at Carboneras, tucked in behind the northernmost harbor wall.
The next day we pressed on to Cartagena. This time we had to motor, but a headwind was forecast, so we wanted to get moving. We arrived without fuss just as the sun was setting.
One Response to "Impressions of La Linea and Gibraltar and Onward to Almerimar"