Current Location:
Sanremo, Italy
Current Position: 43 48.91 N 007 47.13 E
Click to view map.
Distance sailed since last post:
209 nautical miles
.
View the map of our voyage track here
May 28th – June 5th: Santa Marinella to Sanremo
Once Josh had gone, it was a mad dash north to meet with Alastair in Sanremo. Still the winds were flat calm, so it was a case of motoring 30+ miles every day, though sometimes in the afternoon the sea breeze would kick in and let us sail – if it wasn't right on the nose. But we did catch 3 tiny fish one day, so that made a nice supper, and another small one today.
On the way we visited:
Monte Argentario. Nice anchorage 42 22.9N 011 11.0E sand.
Isola Giglio. We just sailed past it to see where the cruise ship Concordia had gone aground. The ship is now in Genoa for dismantling, so we saw only a few cranes etc that were still on site cleaning up.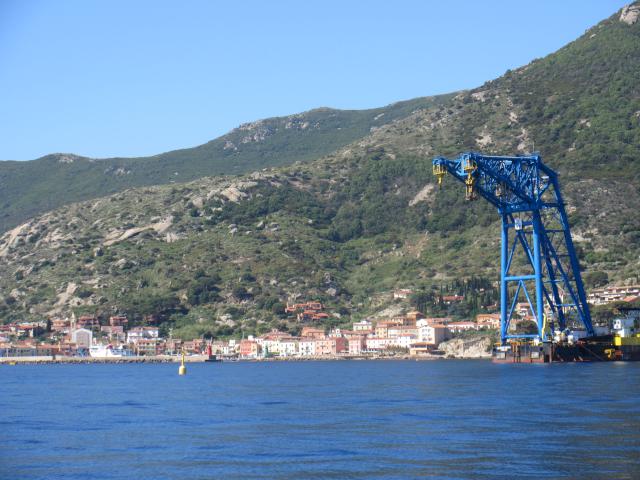 Cala di Mola, Elba 42 45.6N 10 23.5E. Beautiful anchorage. Very scenic and good holding.
From there we took a bus to Porto Ferraio which used to be an iron ore mining town, but is now a tourist destination.
Elba is a very pleasant wooded island. We visited Napoleon's country residence (not worth the bus fare and 5 euro entry) and then headed back to the boat. The problem was that the buses take a siesta. No buses between 14.30 and 18.30 so you either have a very brief visit or a very long one. Neither Napoleon's house, nor Porto Ferraio seemed worth a long visit so we went home.
Nice beaches and bays around the island, so would be worth a longer visit.
Pisa. One advantage of these calm days is that one can anchor off the beach, which we did at Pisa.
Now Pisa WAS worth visiting! The tower is just incredible. It seems to be in excellent condition, yet is leaning over at an impossible angle. No apparent cracks or stress fractures. Just leaning over. Maybe it is because of all the tourists holding it up each day.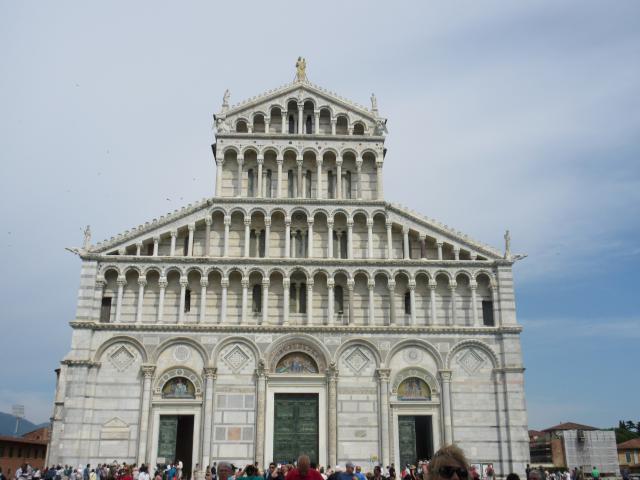 The Duomo is also an impressive building. Ceu paid for admission, but says it was no more spectacular than many other basilicas we have seen.
Le Grazie at La Spezia and Cingue Terre.
We arrived here to find yachts everywhere! Busier than the Solent on a sunny summer afternoon. What the heck?
It turns out that June 2nd is Republic Day – THE Italian national holiday. And with a lovely sunny weekend, everyone decided to go boating.
The anchorage in Le Grazie is very well protected. From there one takes a bus (every half hour) to LaSpezia, and from there a train, every hour, to the five towns of Cinque Terre. Except that being holiday there where extra trains laid on!
This was a day of travel screw ups!  At le Grazie we got on the wrong bus – going to Portovenere instead of La Spezie. When we got there Ceu asked the drive when he was going to La Spezie. Thinking he said three minutes past nine we got off the busy and walked around the town. At 3 minutes TO nine the bus passed us and refused to stop. So we had half an hour to visit the charming town.
When we made it to La Spezia train station we again missed the train. Caught one half an hour later and arrived at Monterossa, farthest north of the Cinque Terre, and the most touristy. And, remember, this was national holiday!
We intended to walk the coastal paths between the towns, though we knew that one of them was closed.  It turns out that the ONLY one that was open was Monterossa to Vernazza. It was a pleasant walk, but busy and not as spectacular as the one above Positano. It was supposedly a 2 hour hike, but took us one hour ten minutes with all the pedestrians slowing us down.
The path from Vernazza to Corniglia we knew to be closed so we took a train. Except the train didn't stop at Corniglia, so we ended up in Riomaggiore. No matter. Visited there instead.
From there we tried to walk the "Via d'Amore", but that too was closed, so we took the train to Corniglia, succesfully this time. From there we tried to walk to Manorola, but that path was also closed. So, back to the train station.
Finally we got to Manorola and had a good visit.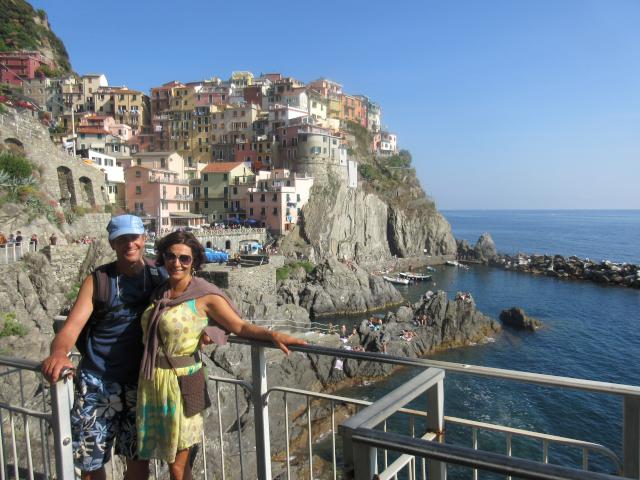 The Cinque Terre are interesting. Again one wonders why on earth people try to live in such difficult terrain. The coves are tiny, so not exactly good for fishermen. The terrain is mountainous, so every thing has to be terrace for agriculture. There was no access between the villages except by sea.
But it did result in some spectacular building achievements!
The following day we also motored around by sea so as to get the sea views. Unfortunately th early morning sun did not permit any good photos from the sea. When we left in the morning there were only 3 boats at anchor! A far cry from the night before. I guess the holiday was over.
Still calm, so we motored the next 30 miles to Santa Marghuerita where we anchored just inside the harbour. Wow, what a beautiful town! Described in our pilot guide as 'upmarket' and it certainly is.  The buildings are all painted on the outside.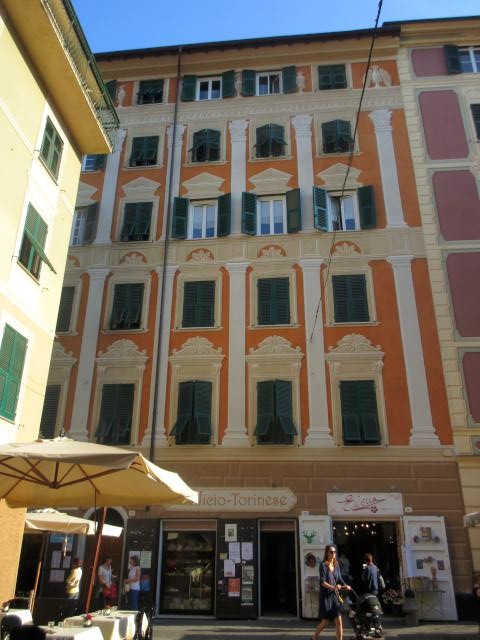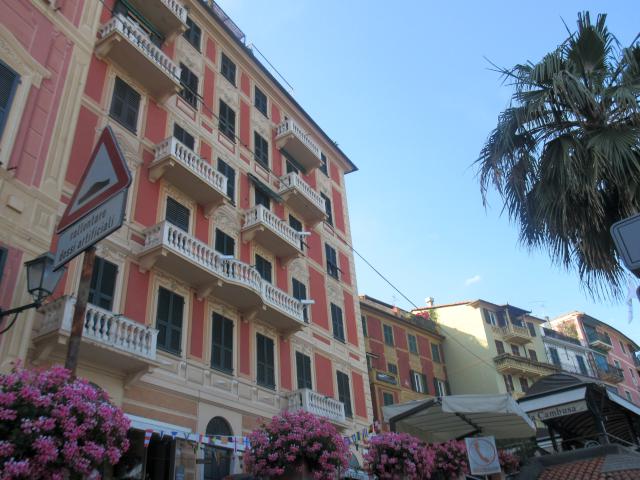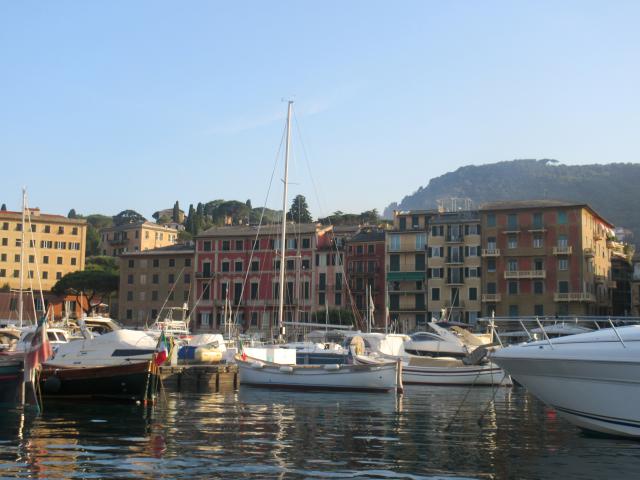 The Basilica was one of the most ornate we have seen anywhere. The yachts are big. Yet there is also a big fishing fleet to keep it all 'down to Earth' as it were. Unfortunately the chandler here is a dinghy chandler. We are still trying to find some nylon docking lines. It seems that Italians never use nylon. Can't find it anywhere. Only polyester which doesn't have the same give in it.
Yesterday we motored, again, across the bay to Finale Ligure, where we anchored outside the harbour for a final night before going to Sanremo.
It has been a mad dash – but fun. But the dash isn't finished yet, as we are next due to meet up with Ceu's sister Lucie near Marseille in just a week!  Maybe then we will be able to catch our breath and slow down a bit.
2 Responses to "Le Grazie, La Spezia and Cinque Terre"