Current Location:
Marrakesh, Morocco
Current Position: 31 37.77 N 007 58.87 W
Click to view map.
Wow..it has been a busy 3 weeks..
Since we left Lisbon on the 25th of September, we have done 2 long crossings, visited Morroco and one of the Cannary islands.
We enjoyed morroco very much. People were just so warm and friendly. Taking the local train was always a great experience with the locals. They quickly welcomed us into their country and loved chatting with us to practice their English. Surprisingly, not as many people speak French as expected, as it is supposedly their second language. Going shopping was always a fun experience with us speaking French and them speaking Arabic.
On one train ride we were chatting with a pretty 21 year old girl, when she told us that the lady sitting next to her had just asked her if she would marry her son!  It seems that arranged marriages are still pretty common, although usually with the agreement of the young couple.
We managed to visit 7 of their 9 UNESCO sites in Morroco. All by train and buses, sometimes taxi from the station to the destination in town. It was very inexpensive as well.
Rabat
This is the capital of the country, and is certainly the most modern of the cities, with the exception, perhaps, of Casablanca.
We arrived up the river, past the fishing boats and the old Kasbah, before turning left into the marina.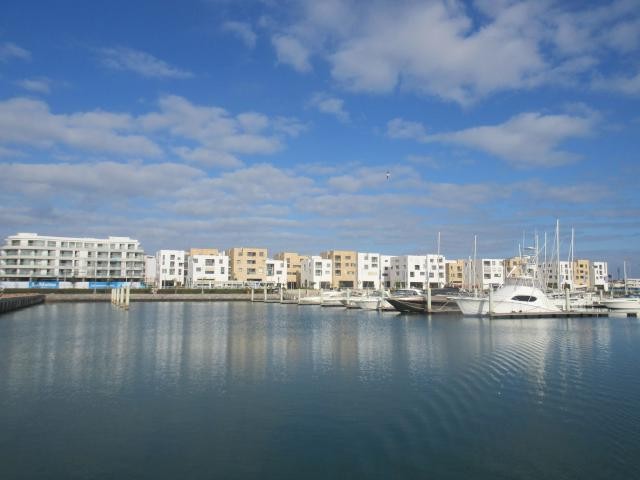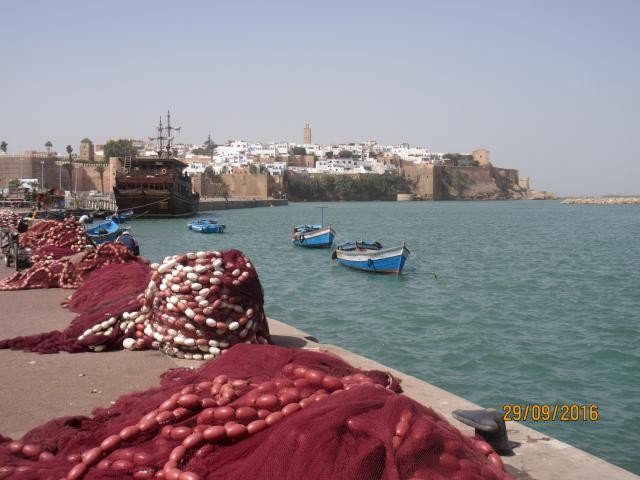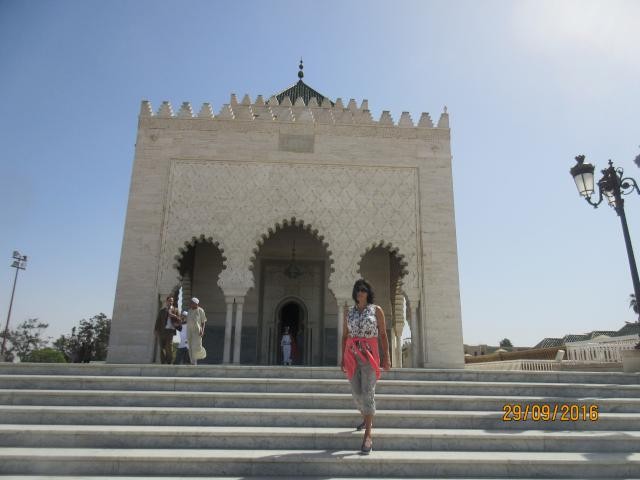 Marrakesh
2 days after arriving in Morocco, we took the train to Marrakesh. This is most famous for its Medina and, in particular, the large square, Jemaa El Fna, which is supposed to be the most beautiful square in the world. Well, um, not so sure about that. In terms of architecture, the square has little, though the rest of Marrakes certainly has some beautiful mosques, gardens and palaces. In terms of street entertainment, again, it cannot match the street performers that we have seen in Covent Garden, Syracuse, Seville, Albufeira and many other places. But it does have buzz. And lots of places serving food and delicious freshly squeezed fruit juices served from the stalls shown below.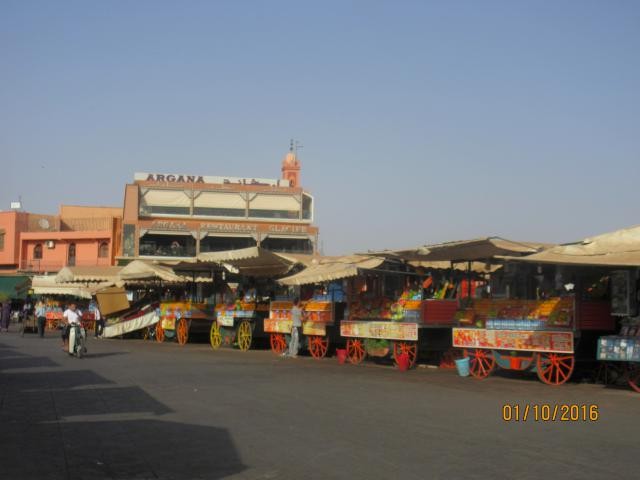 And snake charmers. We managed to sneak this photo, as they do all they can to prevent you taking a photo unless you pay. However, we did not see them actually charming snakes. Mostly the snakes were lying coiled up on the ground. By early evening they are all gone.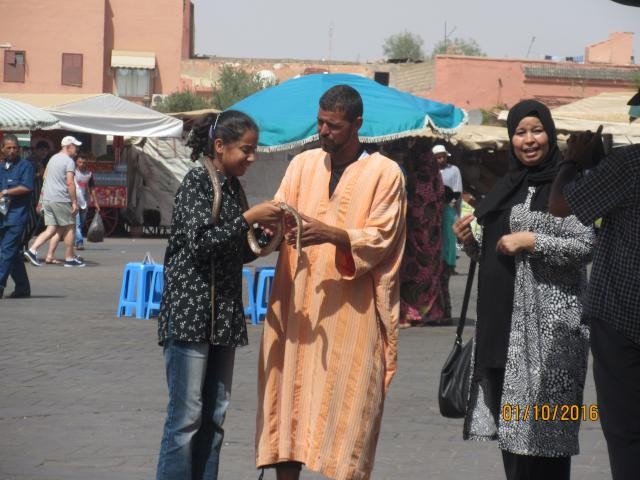 Like most of these arab medinas, the streets are very narrow and crowded, and you may have to share the road with the donkeys bringing produce to the stalls. They don't hassle you as much here as in Tunisia or Turkey but, be warned, the carpet sellers are still out in force! The city feels pretty safe, but if they can rip you off on a deal, they will do so.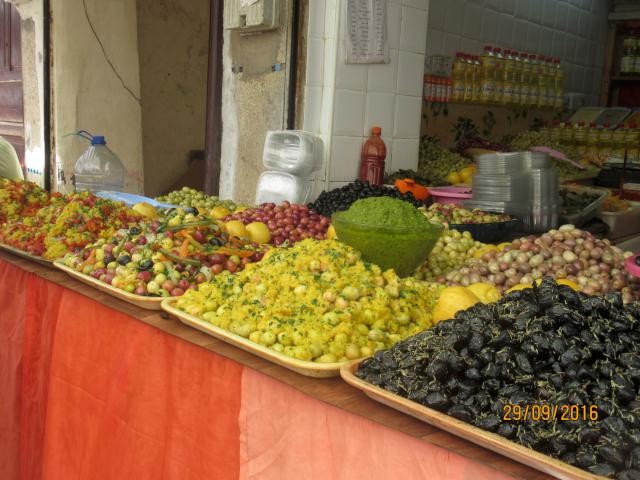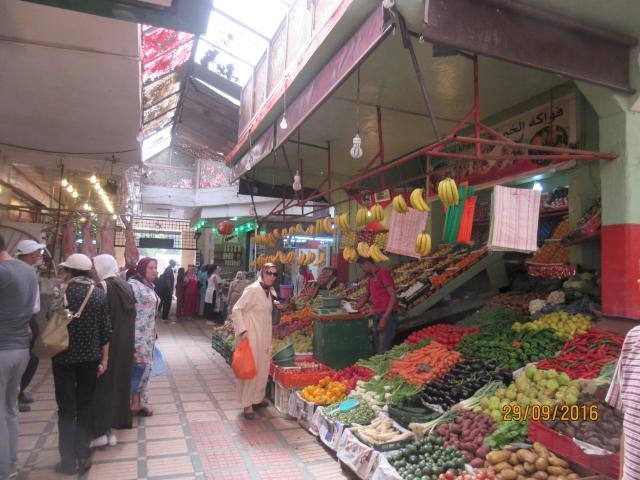 In all the cities we chose to stay in hostels that were housed in riads. A riad is a traditional house that has a central courtyard with the roof open to the elements. Usually there is a fountain or similar in the middle.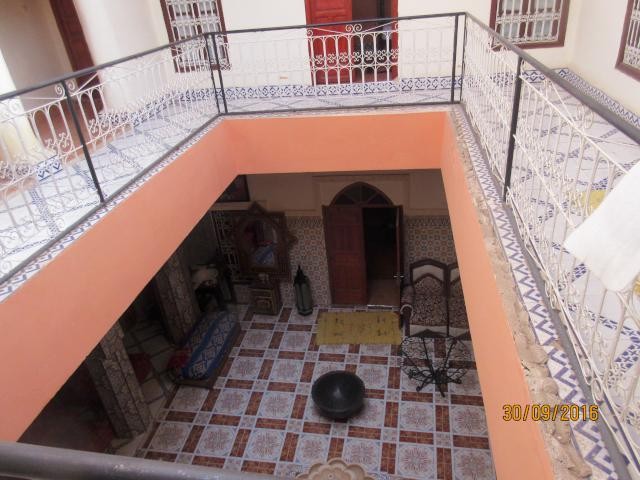 Atlas Mountains
One bonus of staying in hostels is that they are great for organizing cheap tours. We took a three-day trip to the Atlas mountains and the Sahara desert.
Ait Ben Haddou is a UNESCO site that has been the filming location for dozens of movies, such as Gladiator and even James Bond. Our guide says he has been in several as an extra. It seems to provide some additional income for the locals! Just as well, since every two years they have to fix up their mud-brick houses that deteriorate in the rain.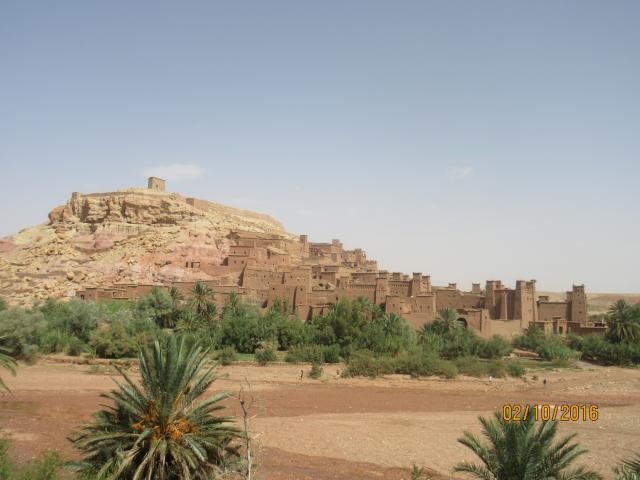 Nearby is the Gorge of Todra, which is worth a couple of hours visit. It has a 300 m canyon in the Dades valley.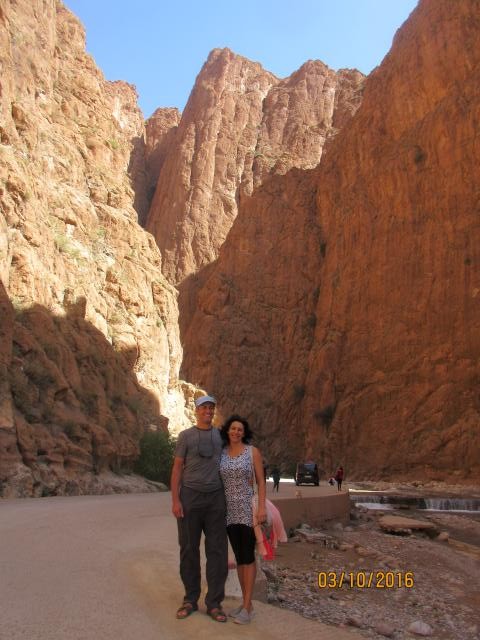 The 'road of the thousand Kasbahs' took us to the Erg Chebbi sand dunes, where yet more films were made, and where our camels awaited us for a sunset cruise.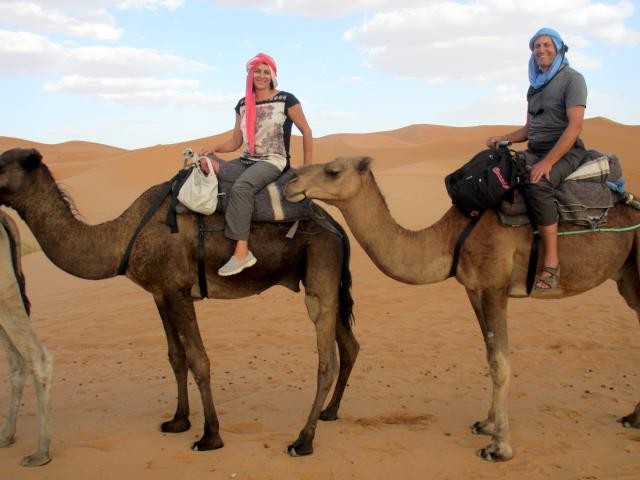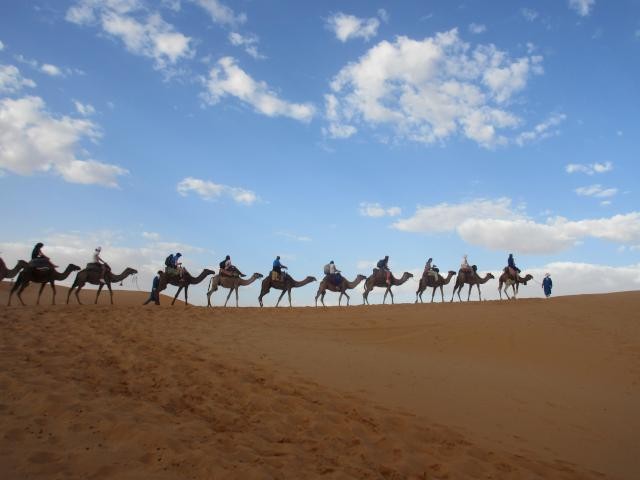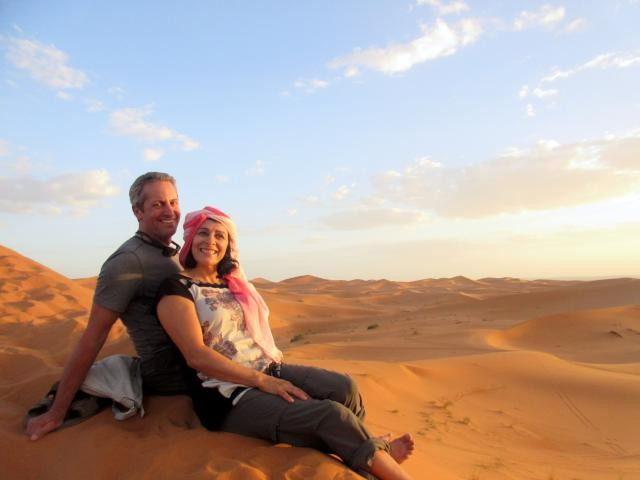 And an early morning sunrise.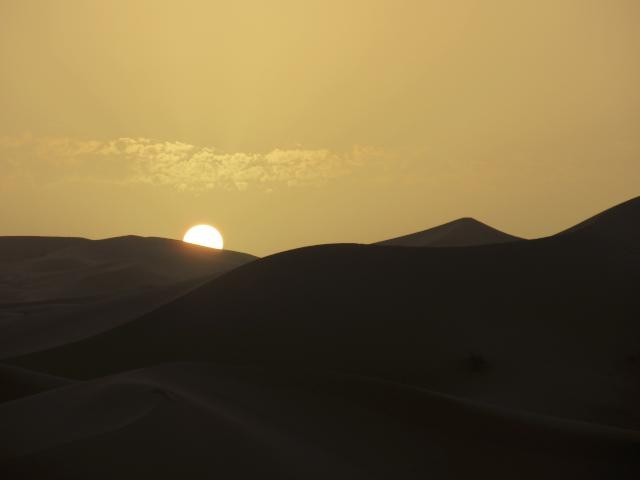 Casablanca
Casablanca has to things going for it: First is Rick's Cafe, famous at the location for the movie. But I doubt that Sam is still playing there.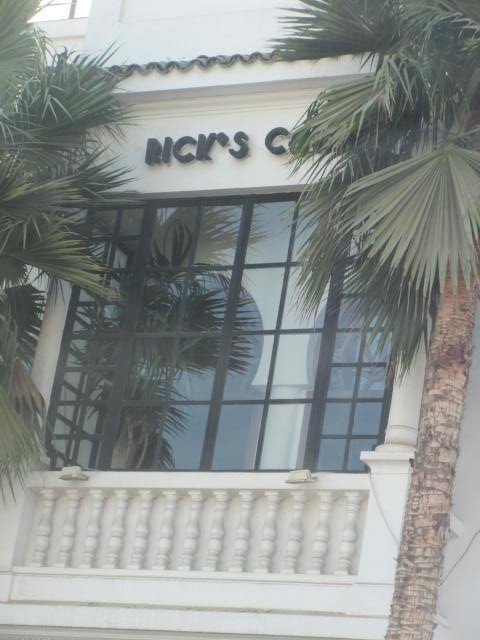 And then there is the world's largest mosque outside of Mecca. Room for 25,000 worshipers.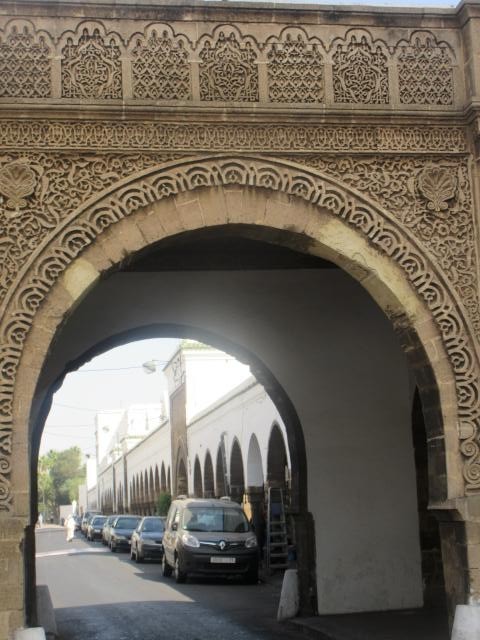 We didn't get to go inside as there are restricted viewing times.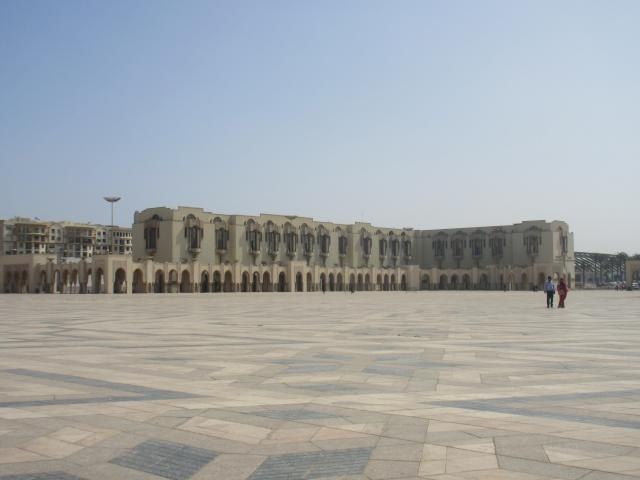 Portuguese City of Mazagan – in El Jedida
A tiny port and fortress that was built by the Portuguese in 16th century as a major trading center. Quite interesting. Once again, we stayed in a Riad, where they offered both beer and wine on the rooftop terrace!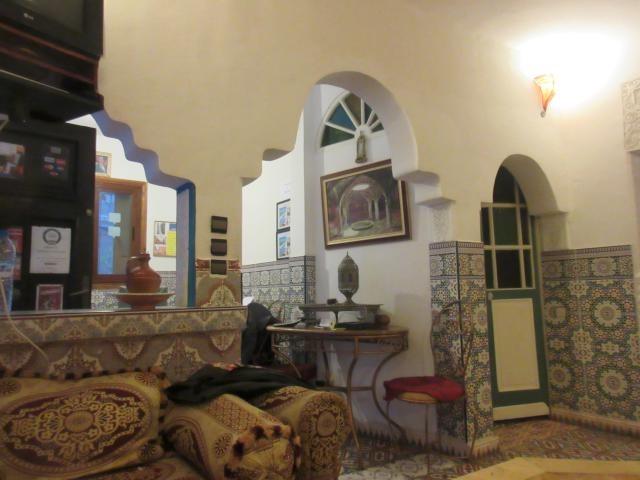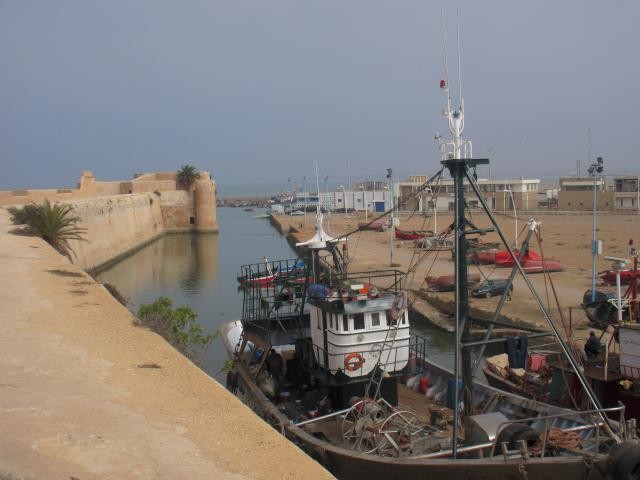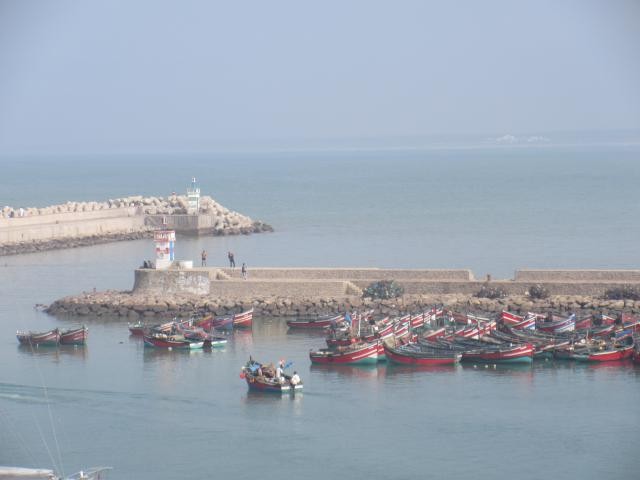 Only the cistern and a church (which is now a theater and was being renovated and so could not be seen) are the notable sights. Plus, of course, a Portuguese cafe and restaurant. But no one speaking Portuguese any more.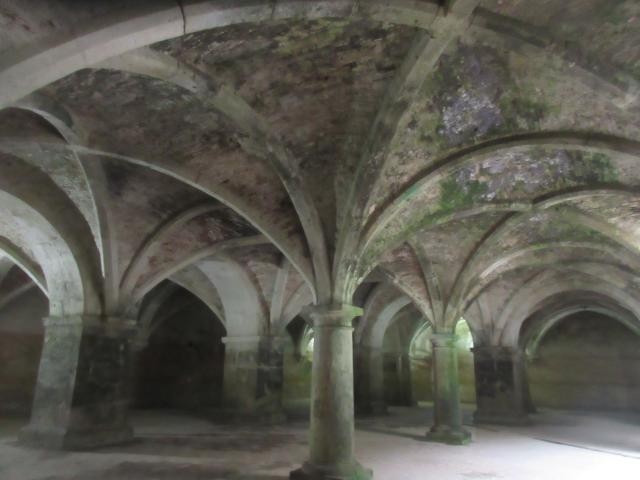 So, having forgotten his razor, Noel was in desperate need of a shave.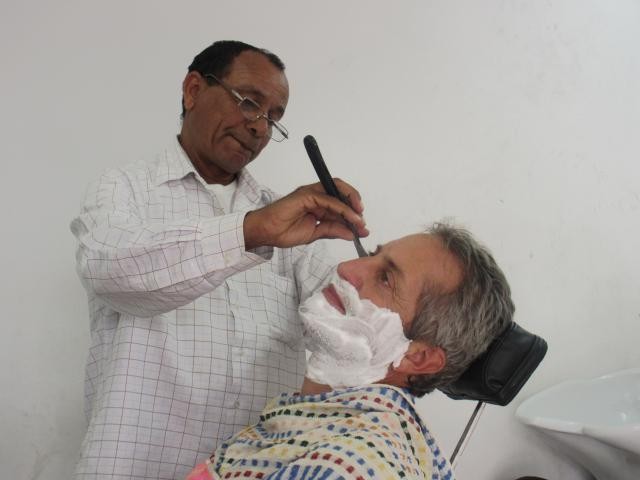 Fez
The smells, the chaos and the confusion of Fez. One huge medina in which one definitely gets lost.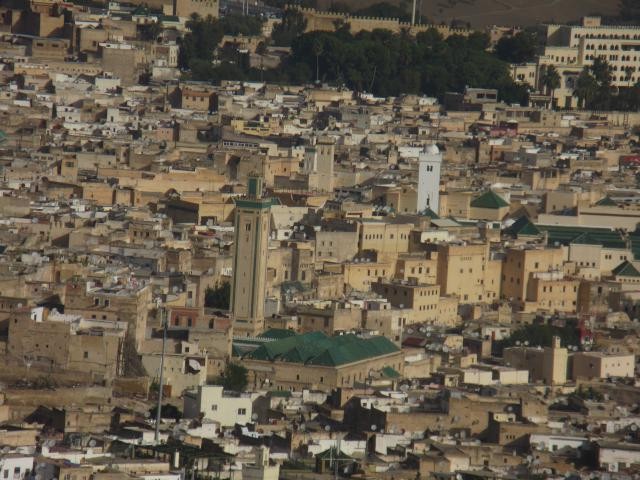 Again we stayed in a small Riad, where we met with other travellers – from Australia, England, Mexico and Mongolia! The Riad owner made a large dish of couscous for lunch.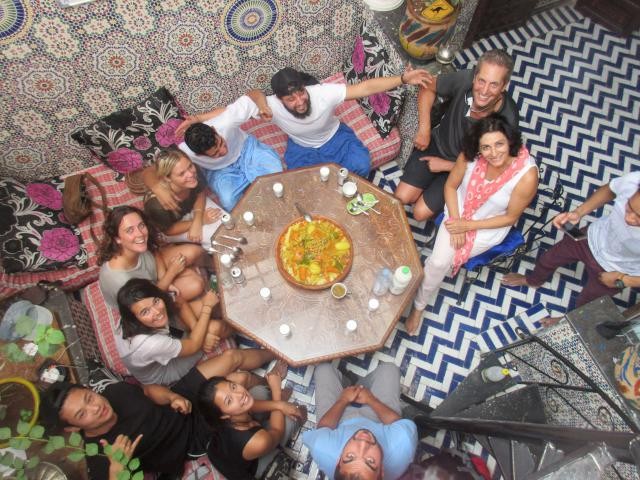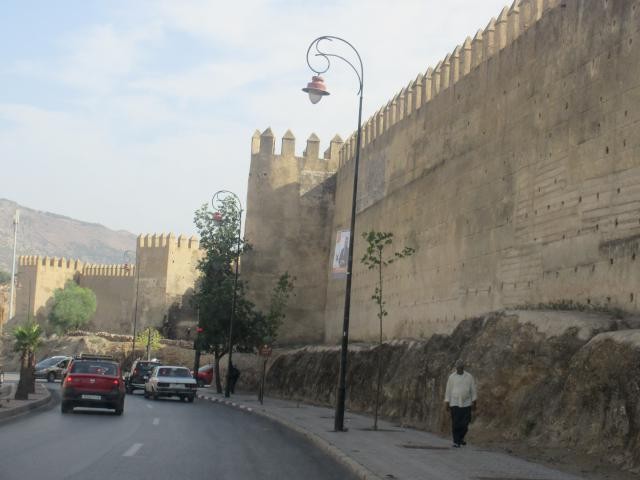 Every medina is surrounded by a wall, punctured by various decorated gates.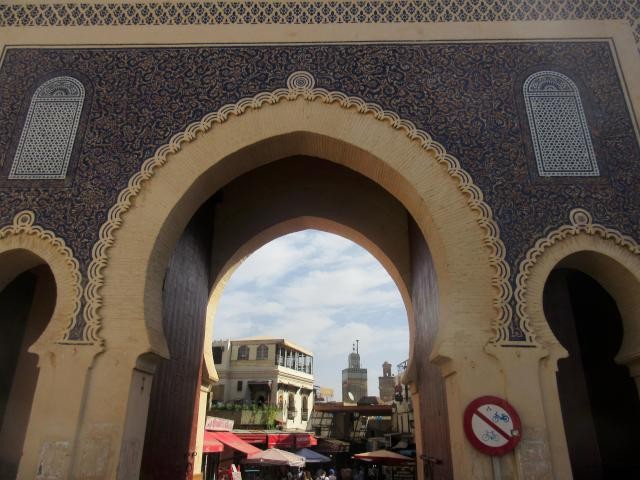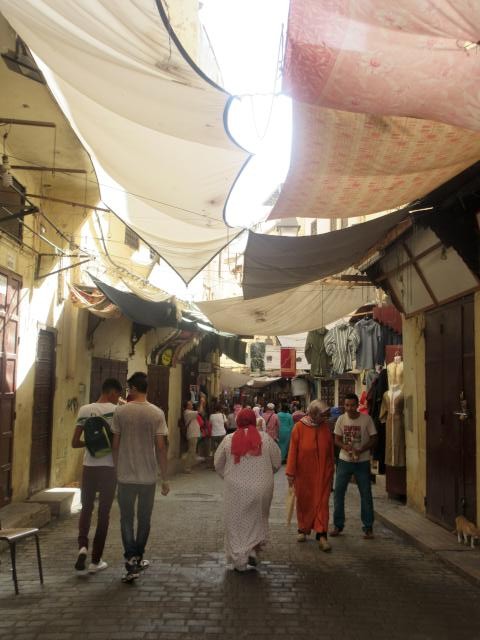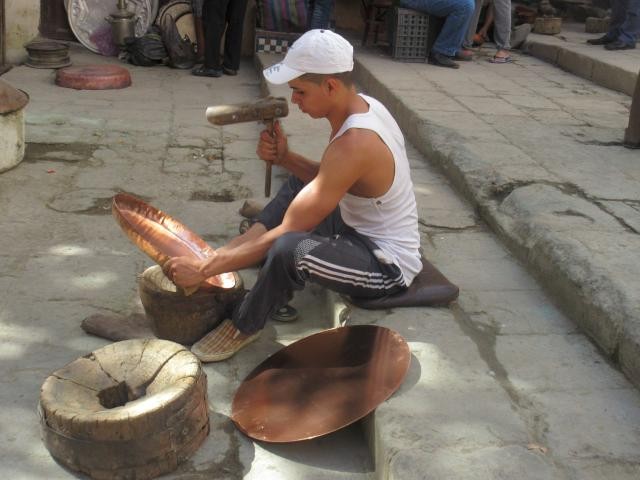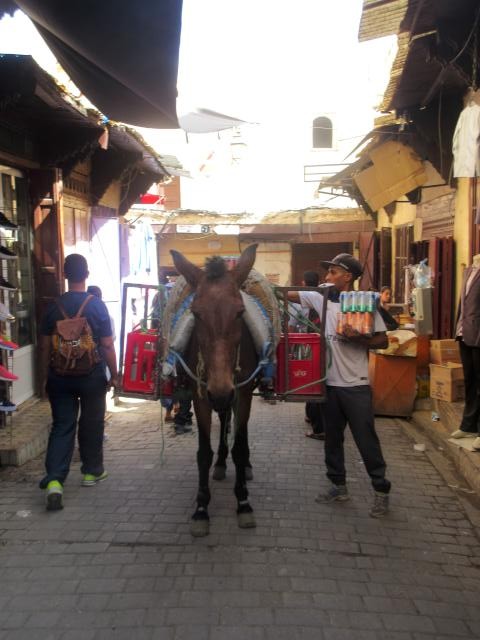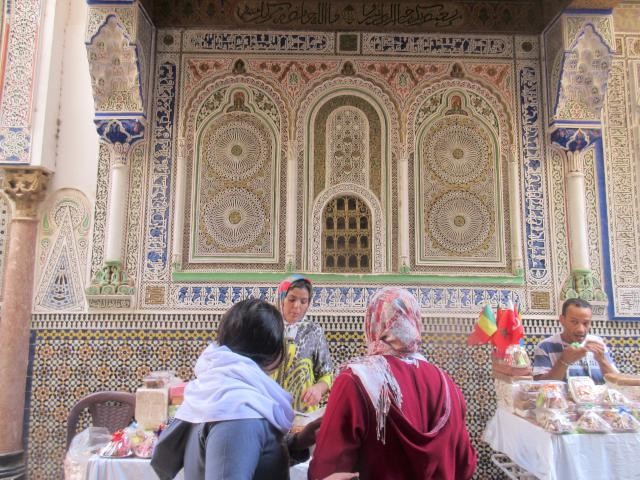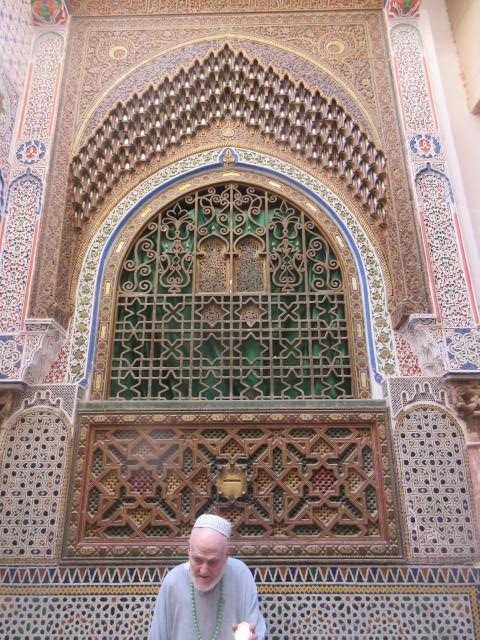 So many fancy buildings here.  Below is the oldest university in the world. Previously they taught all subjects, but now just the Koran. Having said that, we were impressed that Morocco is not fanatical about their Islam. In fact, they were eager to tell us how they are different from the 'crazy' people of the more eastern countries. Even so, entry to most mosques is closed to non-muslims.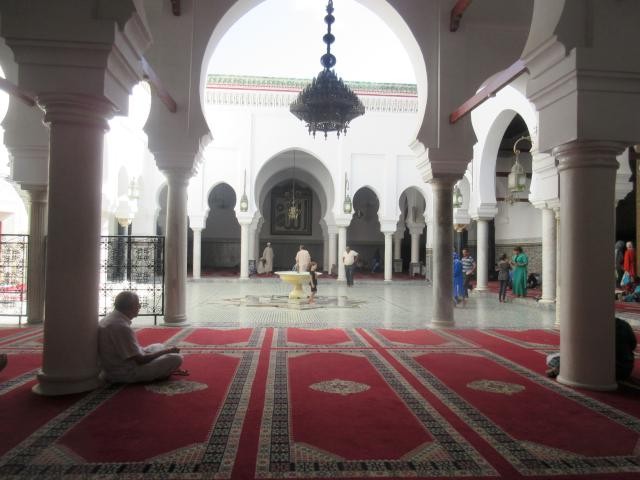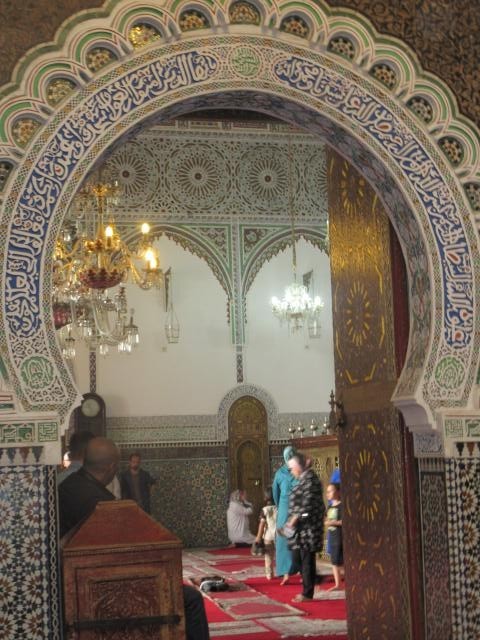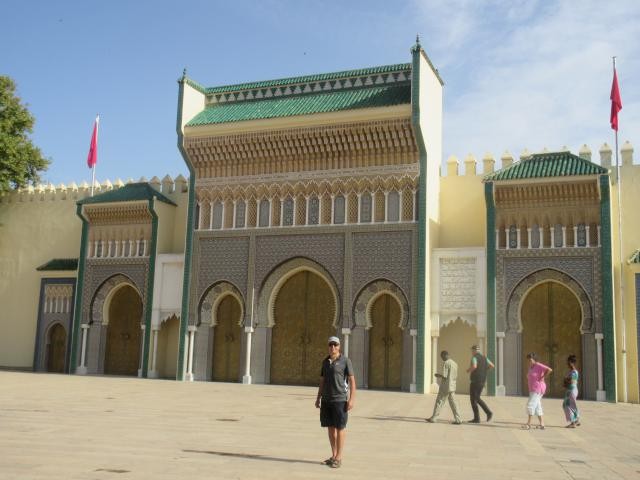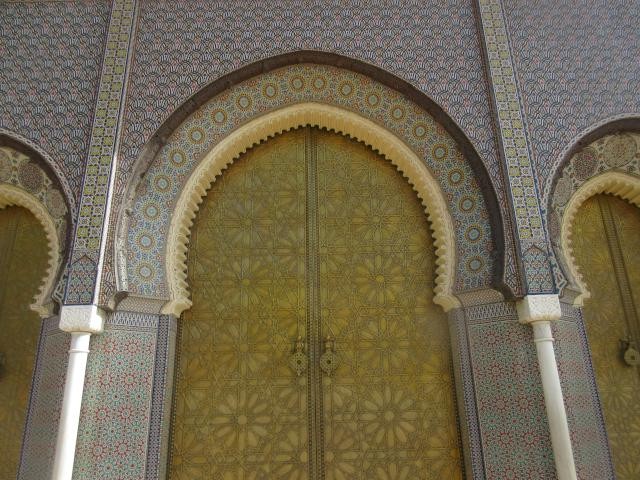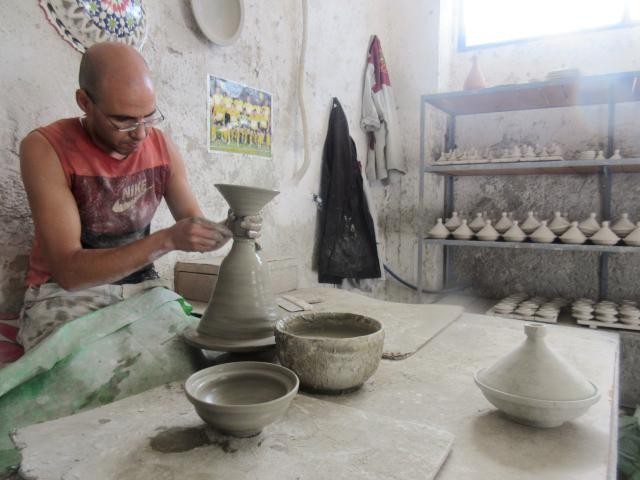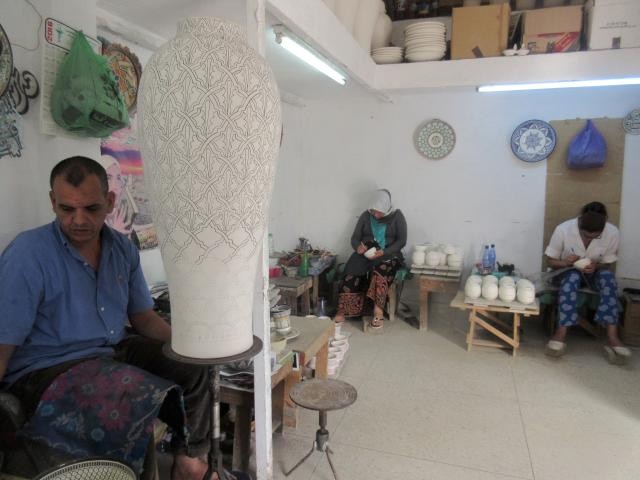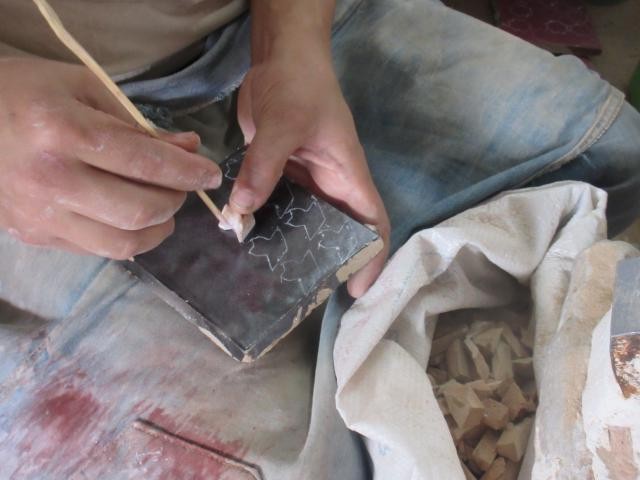 The smells, or stink, is mostly provided by the tanneries that soak the skins in solutions of pigeon poop. Yet, somehow the leather comes out without any smell at all. But don't worry, they give you a sprig of mint to shove up your nostrils.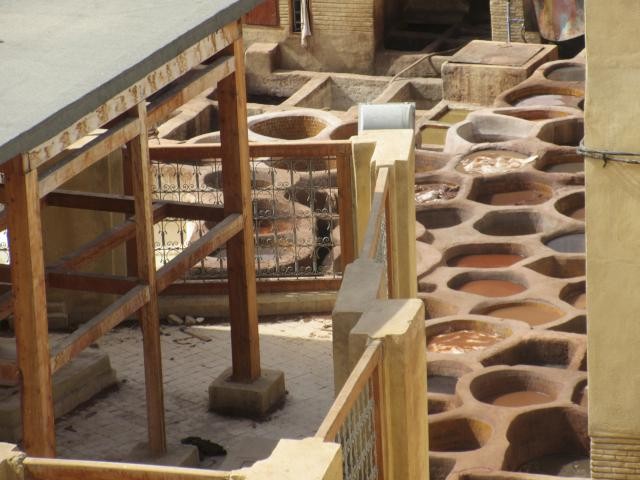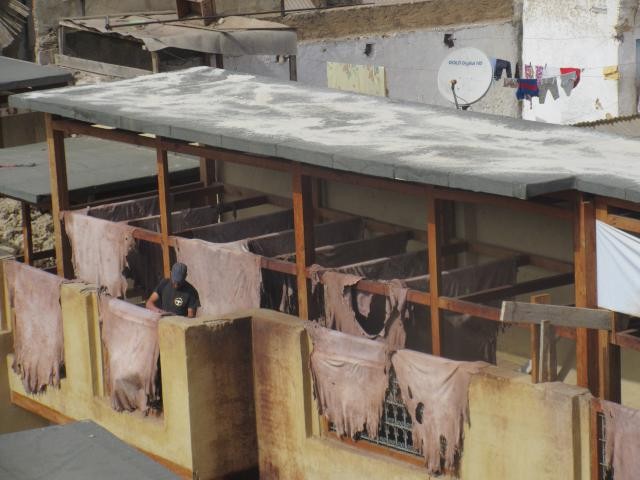 Meknes
Yet another world heritage site with several impressively tiled buildings all quite close to each other. We were able to see these during a few hours on our way from Fez back to Rabat. Below is Dar Jamai museum. Dar just means 'house', so this was a large house which previously housed a rich man and his harem, plus various other relatives.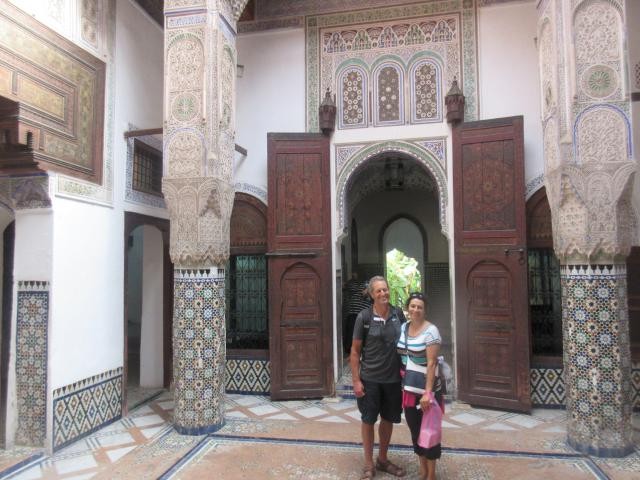 This was, again, one of the gates to the medina, at the main square Place Hedim.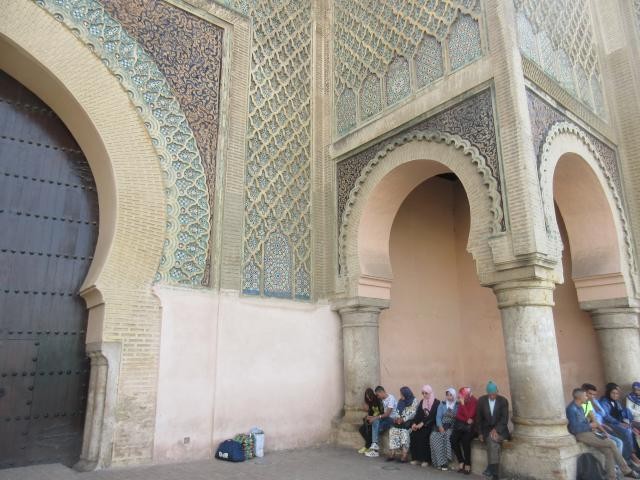 Another Koranic school (Madrasa) dating back to 1350. Upstairs were numerous small bedrooms for the students.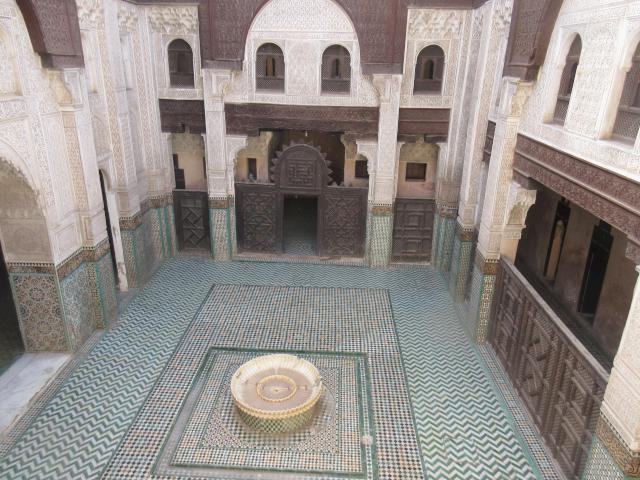 Below the city was Habs Qara prison, which housed as many as 60,000 prisoners chained to the walls. They were used to build the palaces during the day.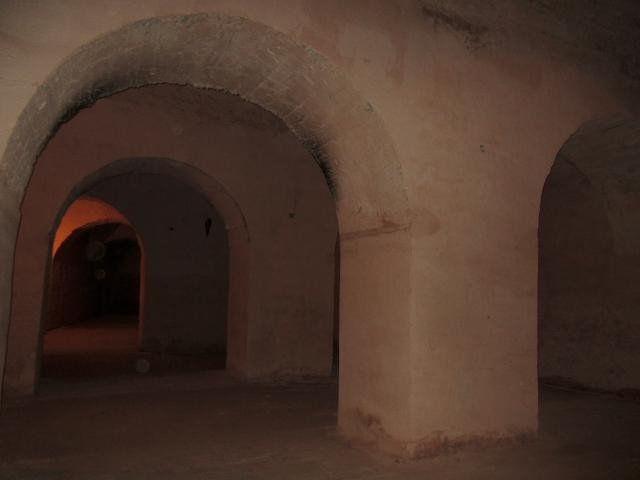 There is, of course, so much more that one could say, but then it would all be 'Too Long, Didn't Read' (TLDR) 🙂
And, of course, pictures don't capture the full experience.
And so, back to Rabat, and then a sail to the Canary Islands.
We are now at the bottom of Lanzarote, enjoying the sun and the warm sea. Great swimming, clear water – even saw a giant ray.
One Response to "Highlights of Morocco"