Current Location:
Cocoa Point, Barbuda
Current Position: 17 32.95 N 061 46.18 W
Click to view map.
Distance sailed since last post:
32 nautical miles
.
View the map of our voyage track here
Although we spent quite a bit of time in Martinique we didn't write much about it, only a few photos of the Carnival and announcing that we had left for St Lucia where Heidi joined us for a couple of weeks.
The French island of Martinique deserves its' own blog post as well. We had a great time there.The island has a mix of French and West Indian influences. It is a French overseas department. The island has much history, lush vegetation, and nice white sandy beaches and the North reveals some black sandy beaches due to the eruption of Mont Pelle in 1902.
Also a few rum destilleries, with a rum route. Its largest town, Fort-de-France, features steep hills, narrow streets and many shops. Their official lunguage is French and the currency is the Euro. We sure have missed all the french products you get here, especially the cheese!
More on Carnival parade: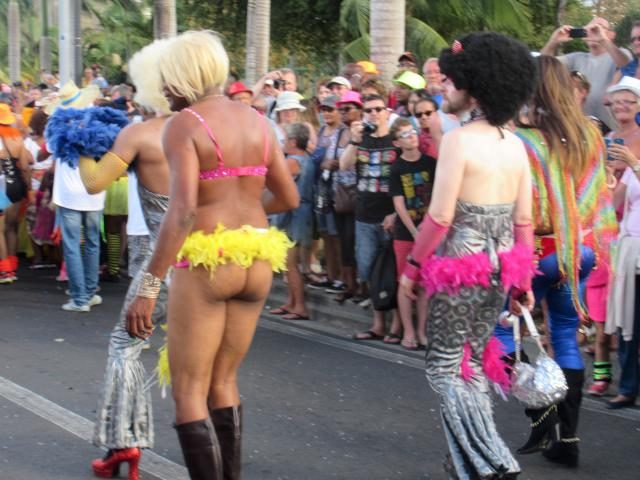 I know we posted many of the fancy Carnival costumes, beautiful ellaborate costumes.These were a bit more plain but got just as much attention. So many guys dressed as women. They were just having so much fun and were not shy at all to pose for photos. This one got all the ladies having a good time taking photos of him.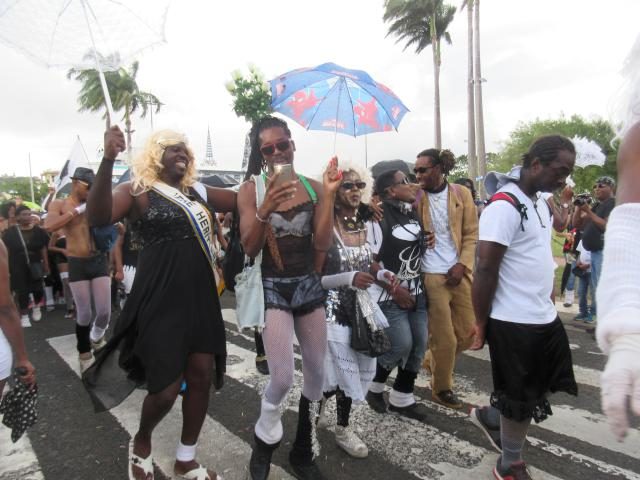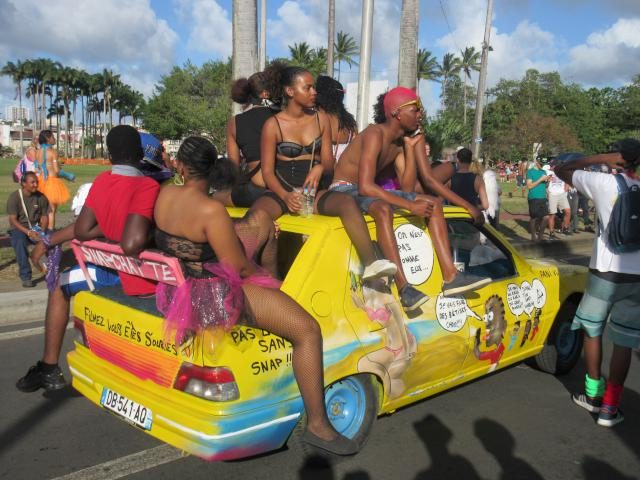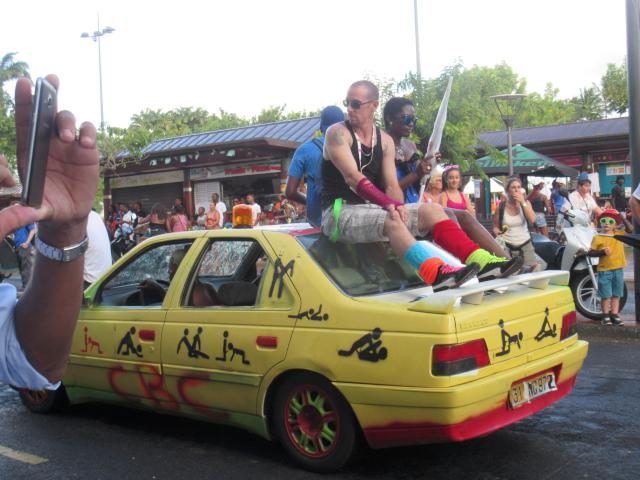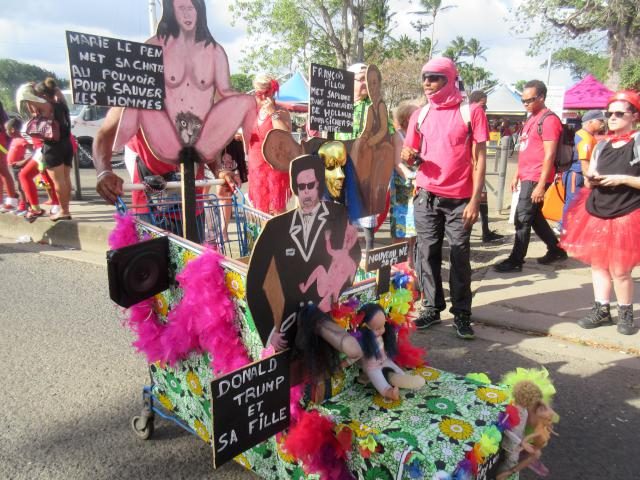 The local TV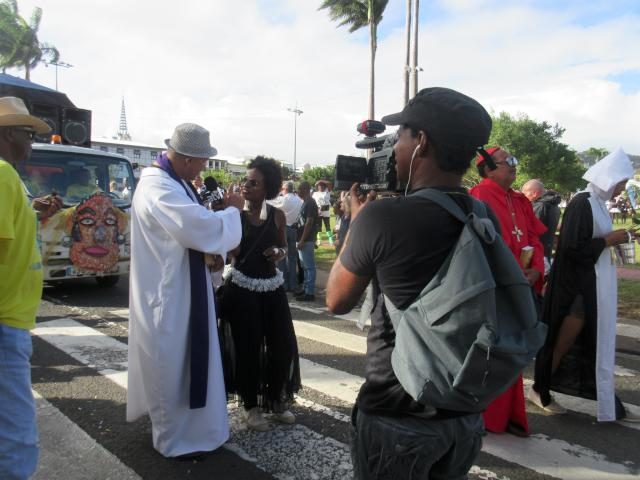 I wonder what the priest thinks of it all.
Noel's sister and her husband David arrived on the last day of the Carnival.
After enjoying the last day aof the festivities, we set off cruising South.
A stop in Saint Anne, a delightfull town with surrounding green hills, and nice town beach. Here one can stock up with meat and vegetables and also has a fish market. Supermarket for all your needs and the bakeries with the french breads and pastries. Lots of shops, popular with turists, and a huge bay popular with yatchs. It was from here that we set off on our La Trace des Caps hike.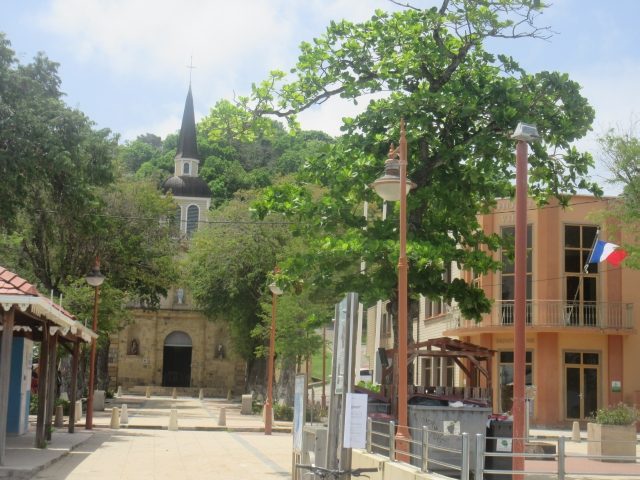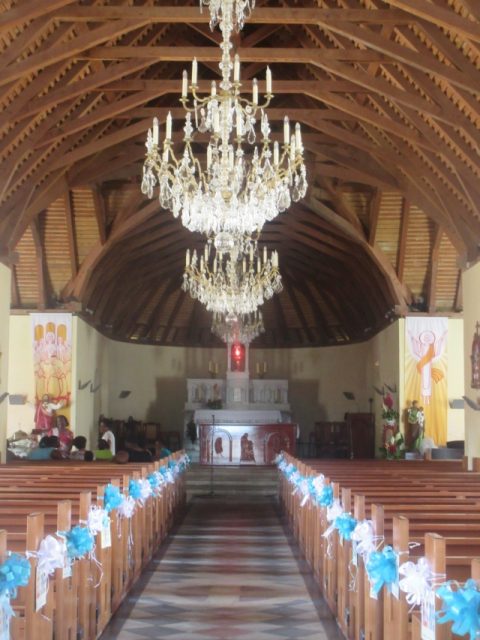 Martinique has such a great diversity of beautiful beaches, mountains and rain forests. We did a hike Les Traces Des Caps, started in Saint Anne that took us all around the South of the island, up the Atlantic coast, past some wild beaches popular with kite surfers, and a variety of landscapes and loop back inland to Saint Anne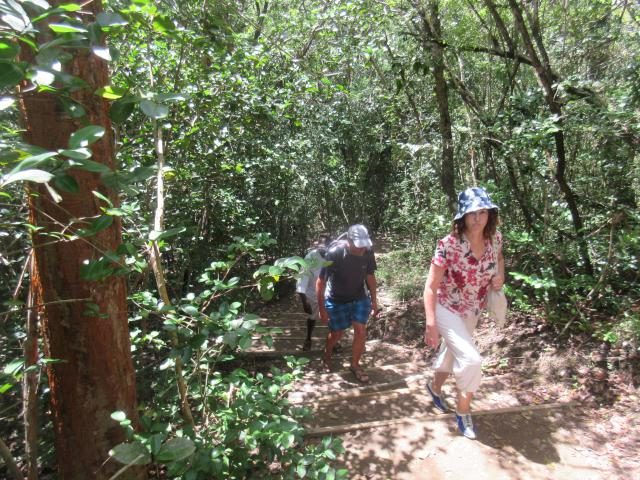 Les Salines, claims to be one of the best beaches of Martinique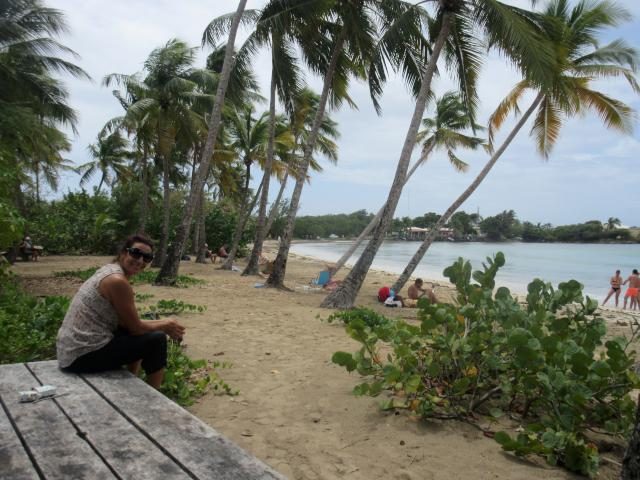 Beach des Les Salines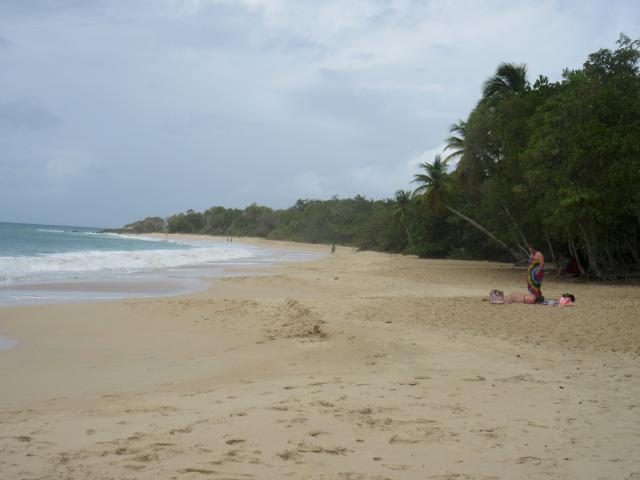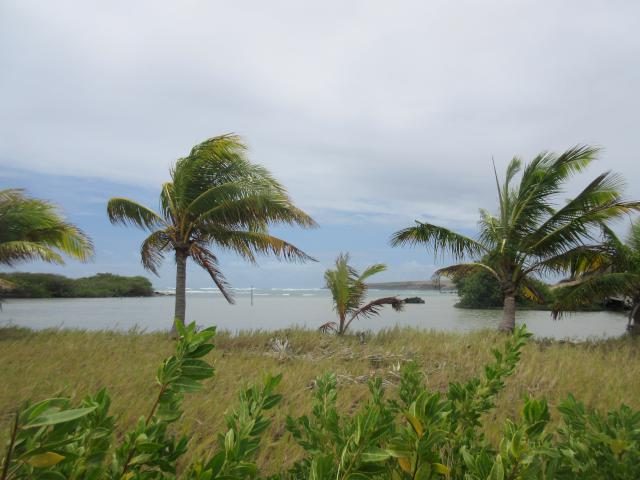 "Martinique's little desert" Petrification Savanah. Atlantic coast
This amazing landscape,once including fossils, such as petrified wood, this place is now completely desert and rock.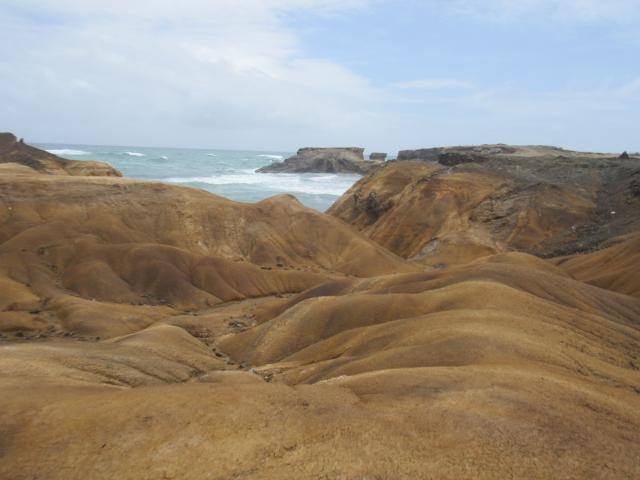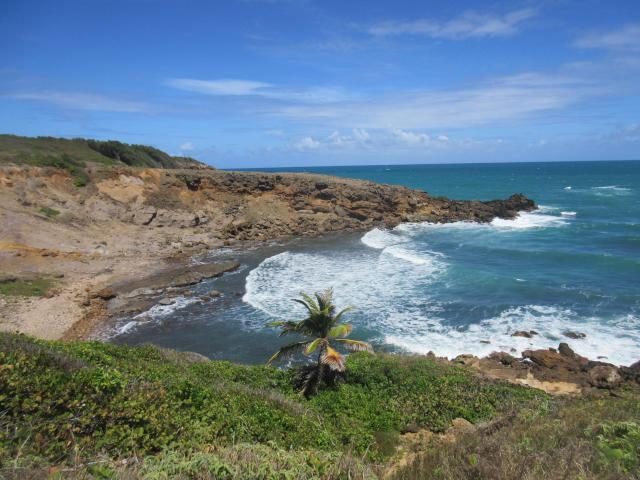 Anse D"Arlet was another favorite little fishing village, picturesque with a Church right by the beach and a great promenade along the seafront. It also has some great snorkeling just off the beach, or a short swim from your boat.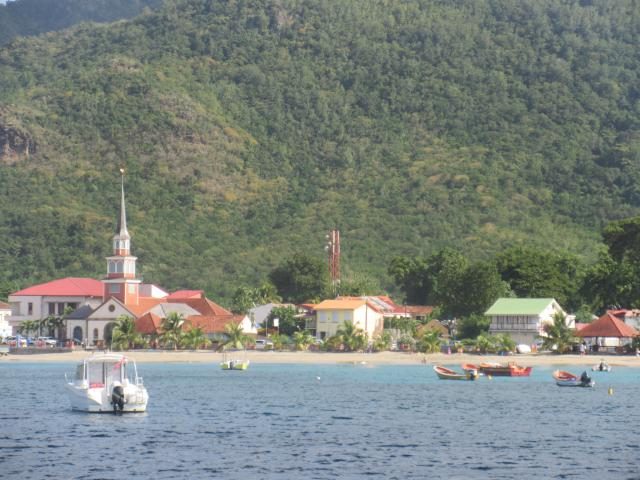 Anse D'Arlet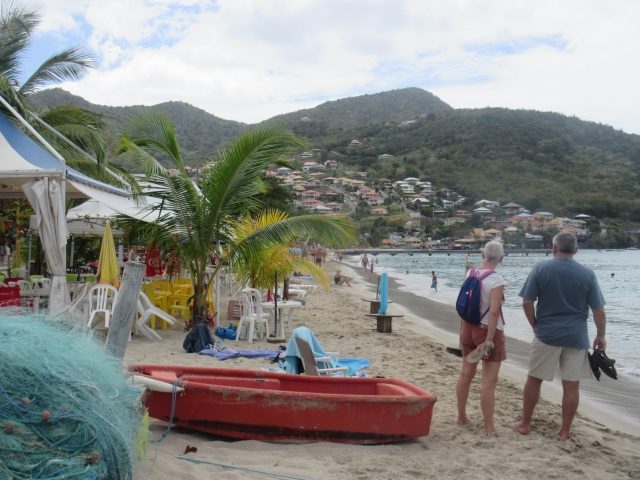 A nice cruise up the coast this time north, to Saint Pierre. A nice change from Fort de France, a busy city with cars people and shops.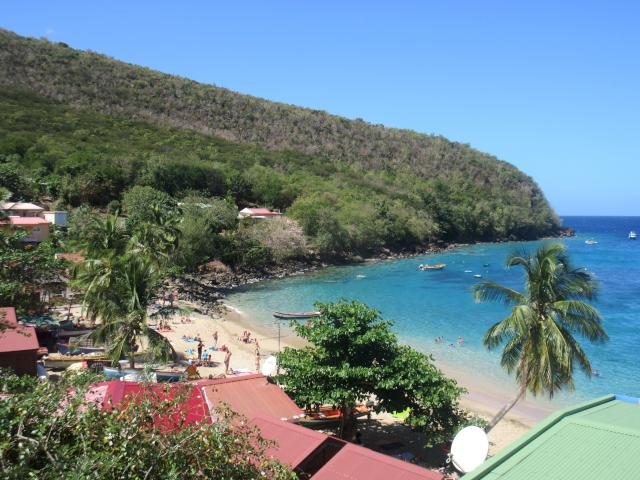 Nice sleepy charming village of Case Pilot, South of Saint Pierre
The village of Le Carbet, just south of Saint Pierre. The black sandy beaches quite the contrast to the ones we are seeing now in Antigua.
They also have a square dedicated to the Landing of Christopher Columbus in June 1502, who landed here during his fourth voyage to the New World and stayed a few days.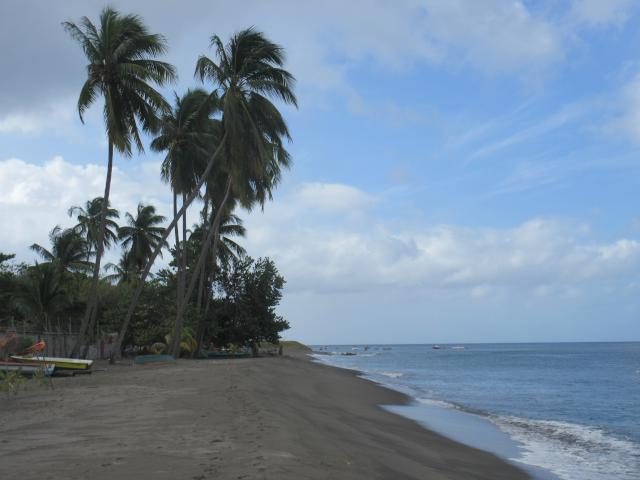 They also have a square dedicated to the Landing of Christopher Columbus in June 1502, who landed here during his fourth voyage to the New World and stayed a few days.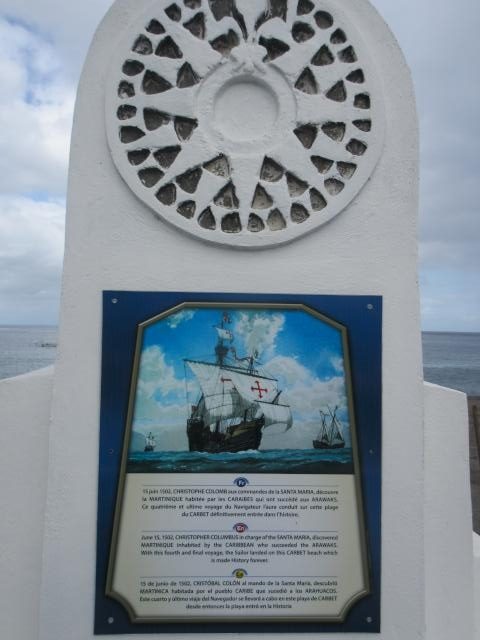 Looking across a picturesque bay with a black sand beach and the striking backdrop of Mt Pelée sunrise and sunsets are a special time of day in Saint Pierre.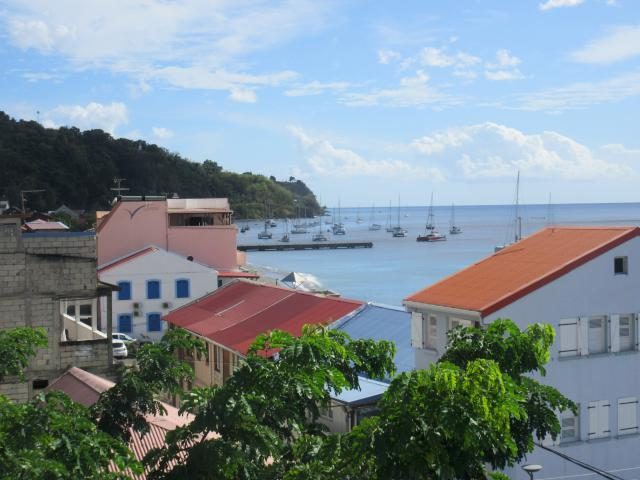 Noel and I had visted this place about 7 years ago, but we were happy to visit it again this time with Noels's sister Mitzi and her husband David.
St Pierre lies at the foot of Mt.Pelee volcano. It used to be the capital of Martinique and a wealthy place with multi milionaires plantatiom owners. Ships came in to take rum, sugar coffe and cooa. It was the commercial, cultural and social center of Martinique.The whole estate was destroyed in 1902 from the volcanic explosion of Mount Pelee killing all but 2 people from the 30,000 population. Leaving it all burried with mud, lava, rocks and boiling gasses.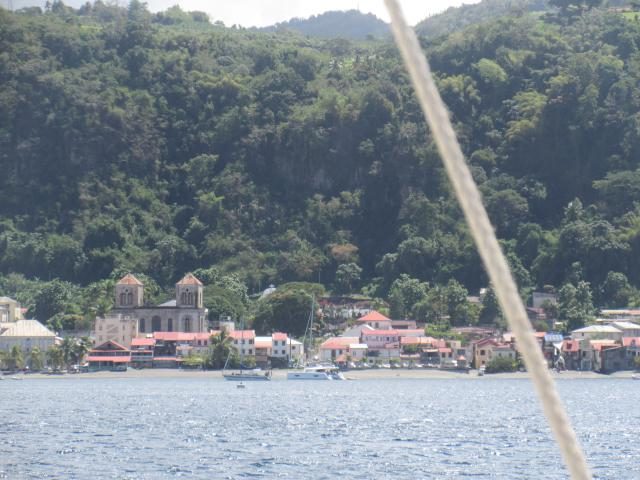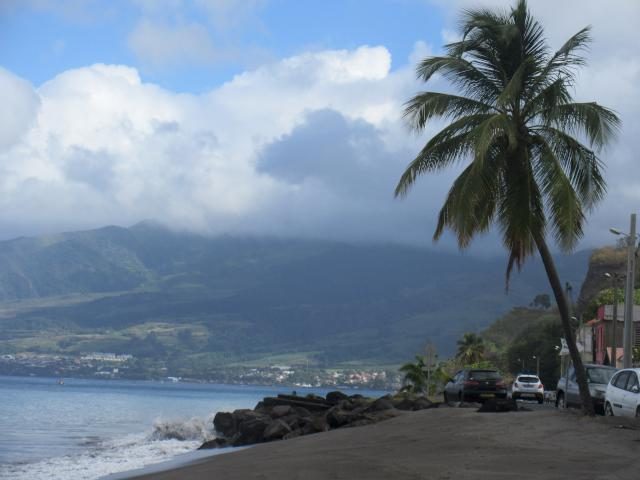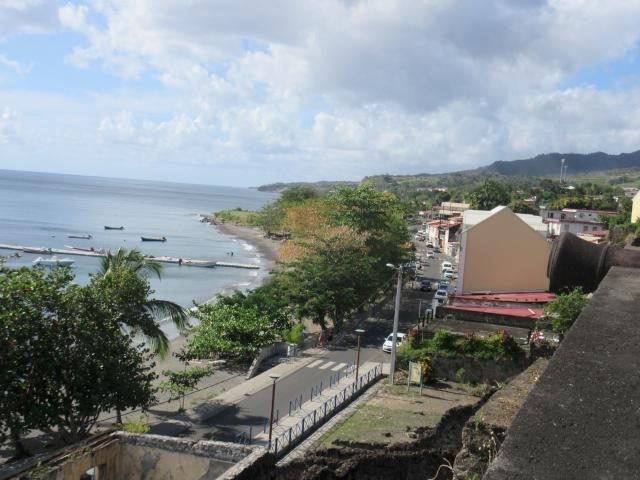 A few ruins still remain. Perhaps the most significant of these is the historic theatre, a magnificent building seating 800 people, in its time the venue held host to theatre and musical companies from France.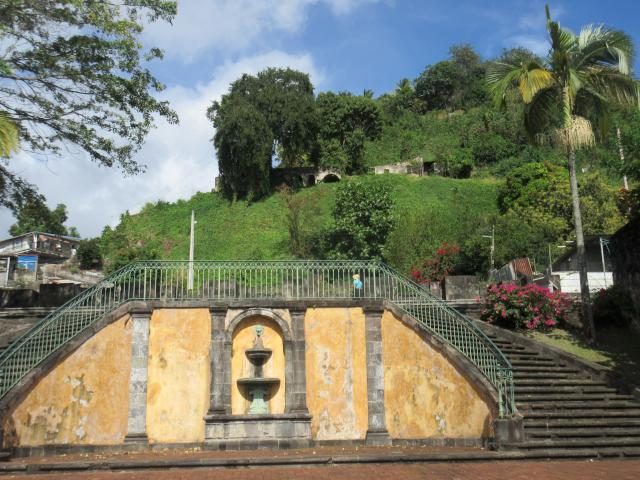 Beside the theatre, where the prison formerly stood, you can see the cell which held one of the 2 survivors of the 1902 catastrophe, Cyparis, saved by the thickness of his cell's walls. Noel is checking it out.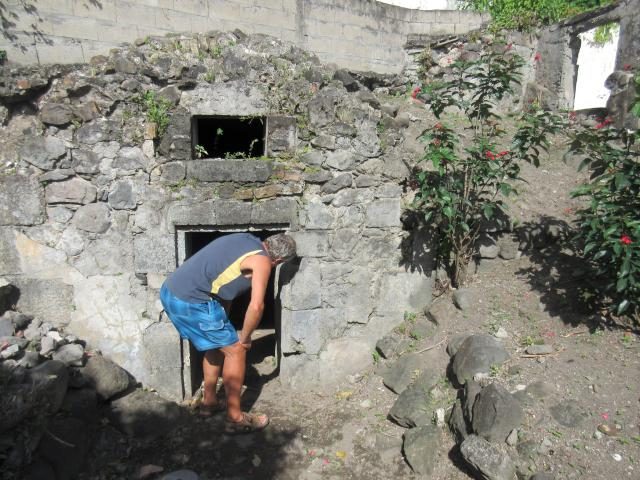 Throughout the town you can see many of the new buildings built on top of the ruins from the eruption. It's busy with tourists, but mostly on days the cruiseship is in. We took the bus up from town into a village in the mountains for out little hike. When we finished our hike we made a stop at the tourist shop and she informed us there would be no more buses running back to Saint Pierre, but she quickly called someone and he gave us a ride to town. No money asked, although we did give him a tip. Friendly people!
Basilica Sacre coeur de la Ballata, a short ride up from Fort de France. it was worth a stop on the way to the Botanical Gardens. It'ts supposed to be a miniature version of the Basilica of the Sacred Heart in Paris. Construction was finished in 1915 The volcanic eruption that destroyed Martinique's former capital, Saint-Pierre, gave rise to Fort-de-France becoming the island's principal city, but not without some growing pains.
The thousands of inhabitants formerly living in the outskirts of Saint-Pierre in the north descended upon Fort-de-France in the south, another church was needed. It has survived 2 fires and it is now in need of some TLC.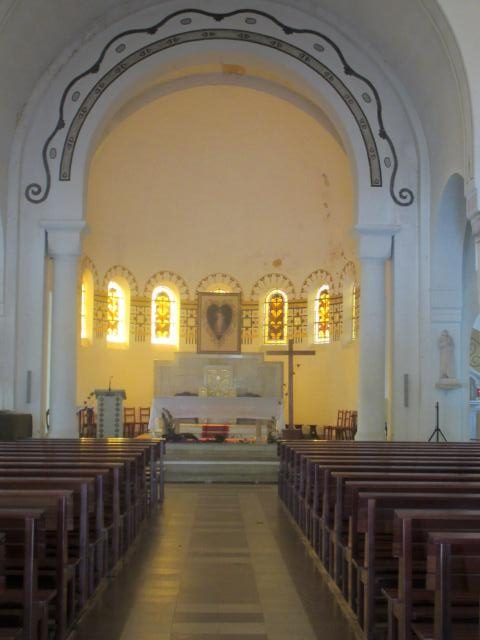 Not quite as decorated as the one in Paris yet simple and peaceful.It was a nice surprise stop, including the beautiful views of Fort de France
Botanical Gradens
Balata Gardens, is one the famous things to do in Martinique. It is a short drive from Fort de France and you can take taxi or bus number 25. Is a private botanical garden, just north of the city with many begonias, bromeliads, bamboo and about 200 different types of palm trees. They told us you can buy your bouquets there and they will even arrange special packaging to facilitate bringing your flowers on the plane.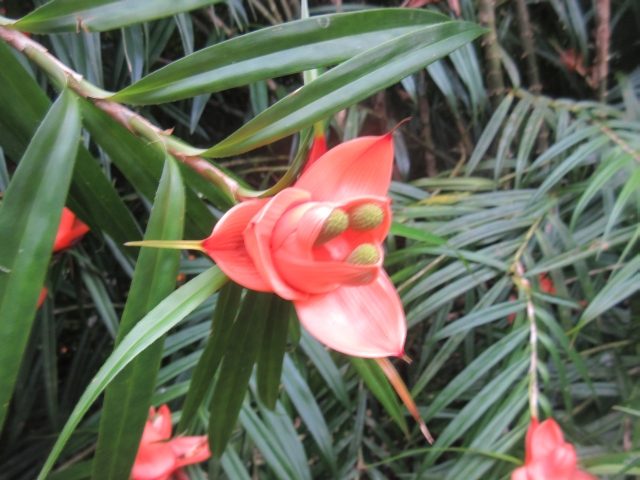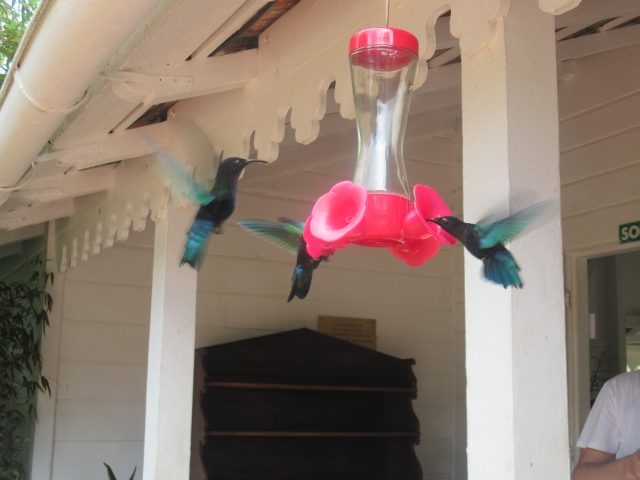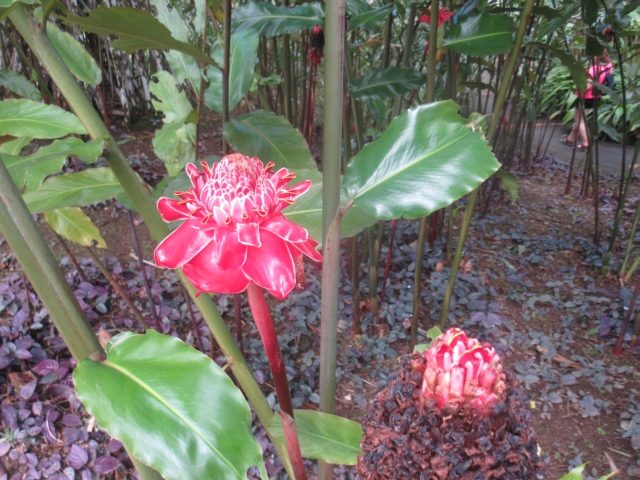 After the visit, we set off from there on a hike that took us through some beautiful luscious green forests, with creeks and waterfalls and signs advising not to touch the water. Not really knowing how long this hike was gona take and where exacly we were going to end up,(map was not too helpfull) we enjoyed the hike very much and were happy when it ended at a main road, with signs taking us to the Basilica, Sacre Coeur for a visit and then took a bus from there to Fort de France.
It was a great day out and thanks to Mitzi for navigating with our poor map!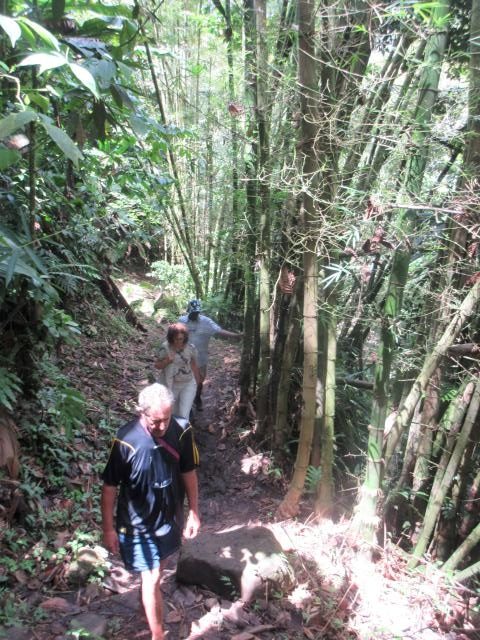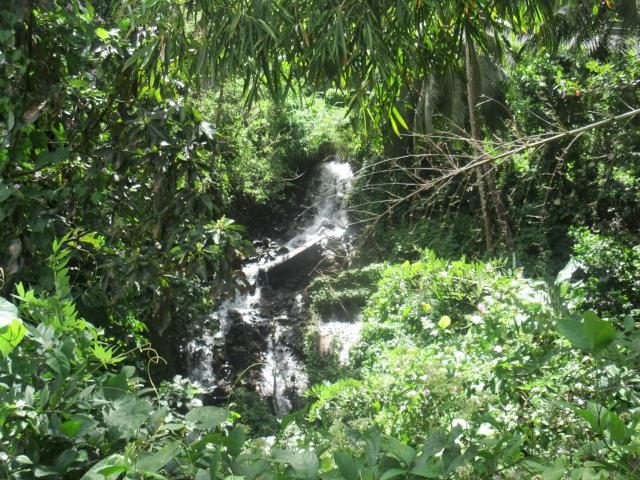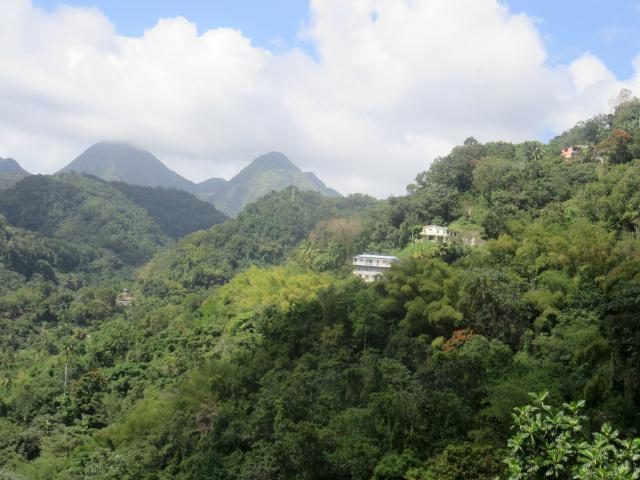 We sure had a lot of rain during our visit in Martinique. It's no wonder everything is so green around here!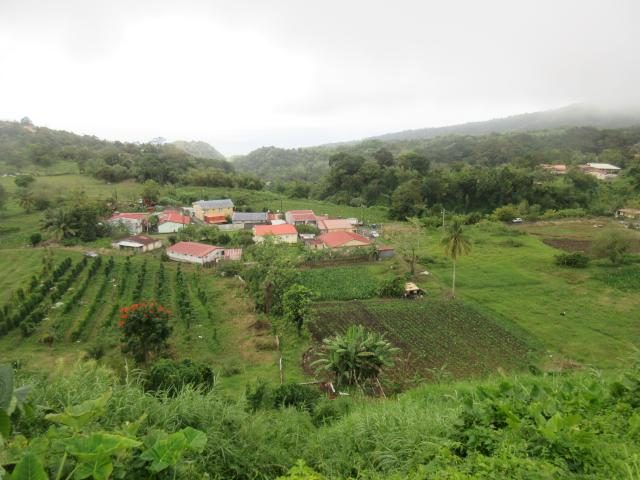 Haha…We had much umbrella trouble trying to keep dry! We decided that some tropical showers would not keep us from going to do a hike above Saint Pierre. We set off with 2 umbrellas,which one of them was thrown into the garbage bin as soon as we hit town. They dont get used much so they get corroded. We walked past a chinese store and decided 2 more umbrellas would be a good idea. As soon as we opened them we realized, corrosion does not only happen in the boat, the 2 brand new umbrelas were all rusty too! We were dispointed but were busy having a good time and a good laugh trying to keep them from flipping in the strong breeze.
Update
Wow….I started this blog almost 2 weeks ago and so much has happened since then. Well, since we left Antigua after the racing week , much needed non drinking, non party time was needed. We headed to Barbuda. The land of deserted beaches and peaceful bays. Wow, loved it
Here is a glimpse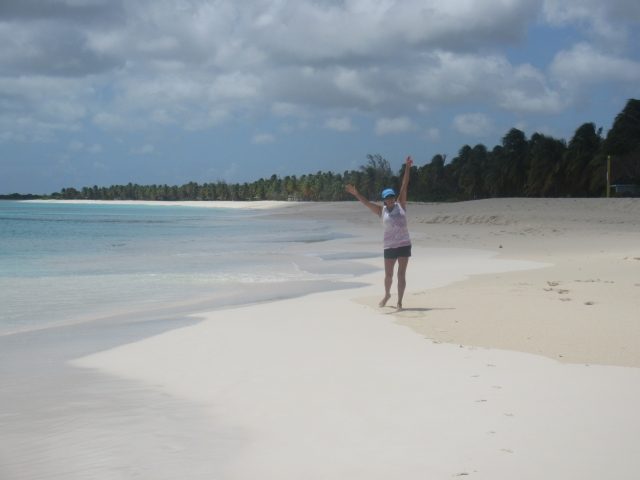 Stay tuned for more on Barbuda later