Current Location:
Southern Tunisia
Current Position: 33 52.06 N 008 35.48 E
Click to view map.
Wow. Time flies. I cant believe it has been a month since we arrived in Tunisia. We spent a bit more time there than expected because of the work being done on the boat. But we got away and couldn't wait to  explore more of the country, especially the South.We have moved on spending a couple days in Malta and are now in Greece sitting in a pretty little Bay in a small fishing village.
Our first stop in Tunisia was Kelibia,the northern end. We tied up along Paul and Gabby who we met in Marina di Ragusa. It was nice to meet up with them.
From Kelibia we had a quick sail down to Hammamet, where we anchored right here, just outside the Medina (The brick walls on the right):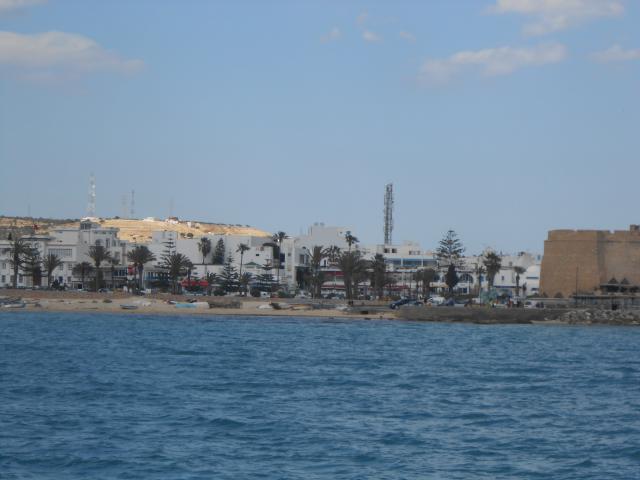 When we got back from the yard and into the marina in Monastir we met up with some other boats that we had met in Sicilly. So they too joined us for a 3day adventure into the South of Tunisia. We had so much fun!!!
Bellow are some photos but for more go to the gallery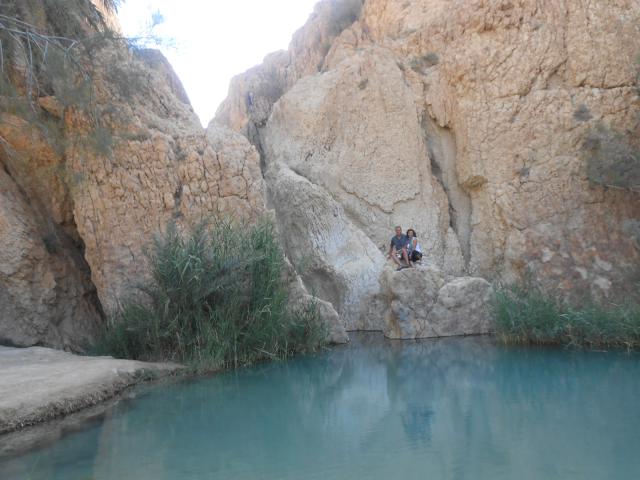 We visited this beautiful mountain Oasis with many palm trees and natural Springs in Chebika. It has a new and an old village that was destroyed by storms but much is still intact. It was build around this steep gorge and amazing scenery all around. Check out the photo gallery for more photos
Haha…..The palm trees have a lot to offer besides providing shelter, juice, dates and everything else they use palms for!!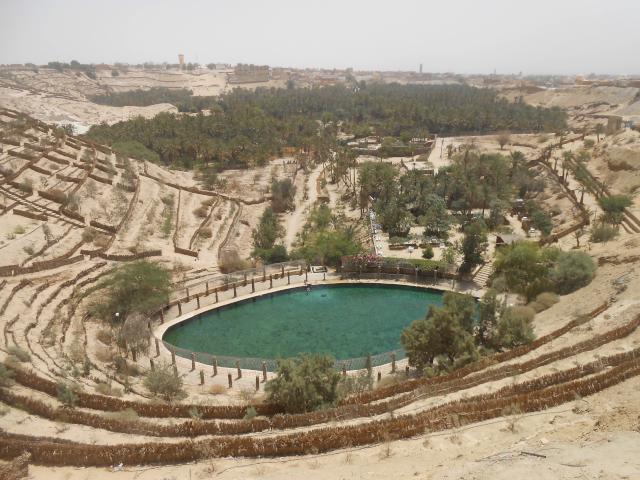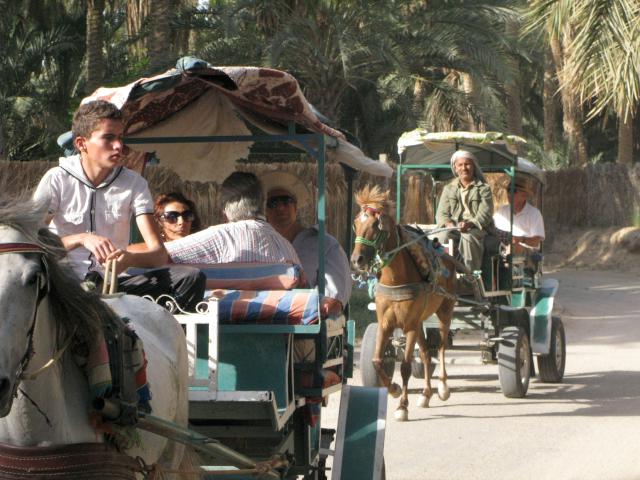 Here in Nafta is where we slept the second night. We were picked up at our hotel by horse and carriage to visit another Oasis, the prevoius photo.Here we tasted yummy palm juice, deglet dates and smoked the leaves. I was surprised how much they can actually grow between the palm trees. I saw lettuce, apricots, pomegranate, peaches, tomatoes, potatoes, lots of flowers and more!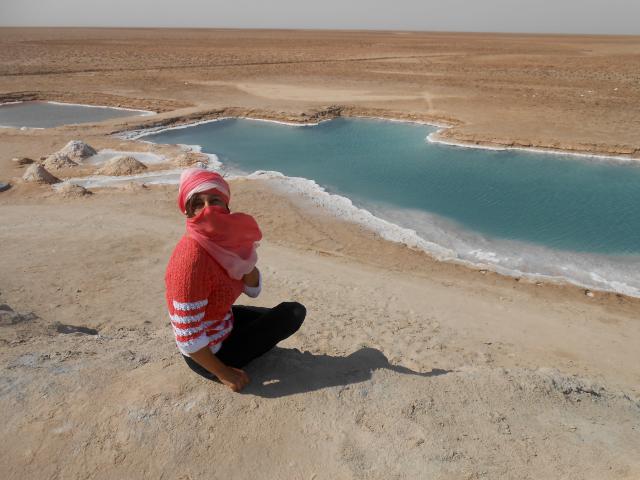 Chott El Jerid is a Tunisian name for Salt Lakes. To drive on a newly built road in the middle of the dried up lake was an amazing experience . One can see a variety of colours and mirages. The lakes go on forever. They have filmed many movies along here.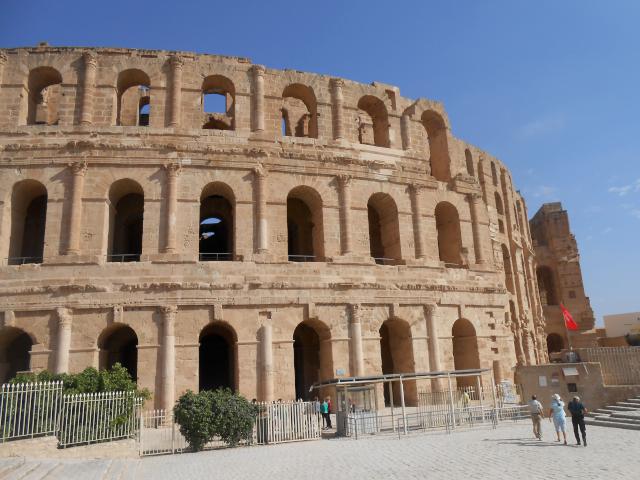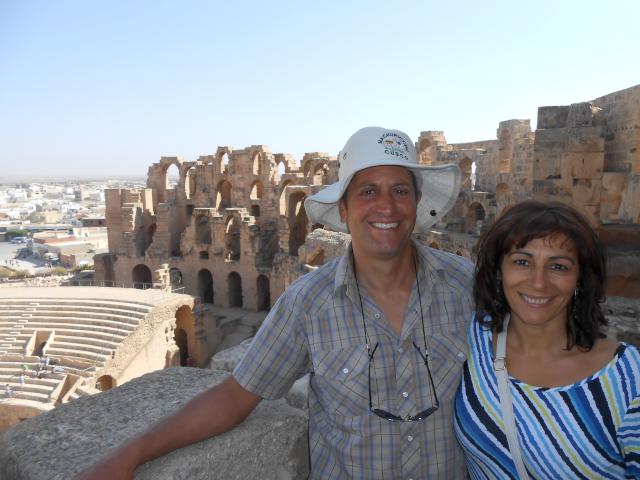 As big as a modern football stadium, El Jem accommodated more than 3o thousand spectators. The Roman Amphitheatre is very well preserved, very impressive. The movie Gladiator was filmed here. Imagine the roaring of crowds as they watch gladiators fight against tigers and lions!
I come to an end of Tunisia and my post. Tired of computers. We are not friends, that's why I am not the One updating!  BUT…I leave you with a few photos from Monastir, where  we spent the most time in Tunisia. I truly enjoyed the Medina, the scenery,  the friendly people the beautiful city and all it had to offer. These photos was pretty much our walk into town from the Marina for all our shopping. It was only a 10 minute walk. Great markets….and the Fish! Yummy fresh tuna was often on the menu.  We also enjoyed meeting up with people that we have met along our travels. It was wonderful!!!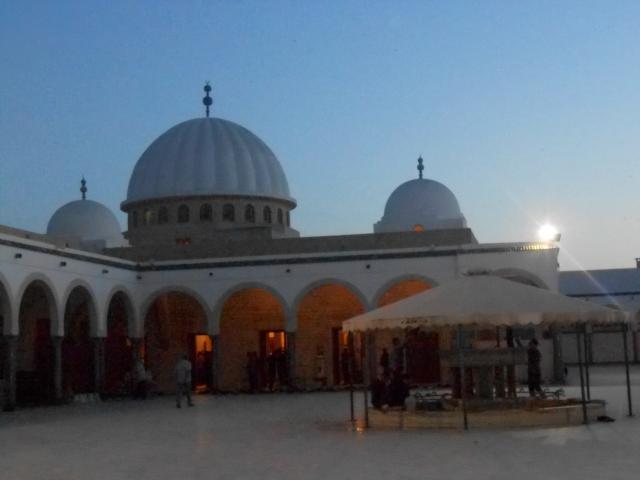 We had a great time in Tunisia, besides being frustrated with the workmanship and all on the boat. It feels great to be back in Greece!!
Last night we were treated to some live music and even some dancing from the waiters at a restaurant on the water front.
We will soon post some pictures from Malta.
One Response to "Tunisia"