Current Location:
Pampelonne Beach, France
Current Position: 43 13.36 N 006 40.25 E
Click to view map.
Distance sailed since last post:
60 nautical miles
.
View the map of our voyage track here
We made it to Sanremo in time to meet up with my old sailing buddy from university, Alastair McMichael. With him was his wife Judy, and their friends from England, Lance and Elie.
On the Saturday we motored in a calm to Menton, thus entering France! Ah, the land of stinky cheeses! Love it! The next day we had a fantastic sail to Monaco, and sailed into and out of the Hercule Harbour just to look at the boats and say we had done it.
Got some nice photos of Escapade, and hope soon to have some good photos of Life Part 2 from Ali.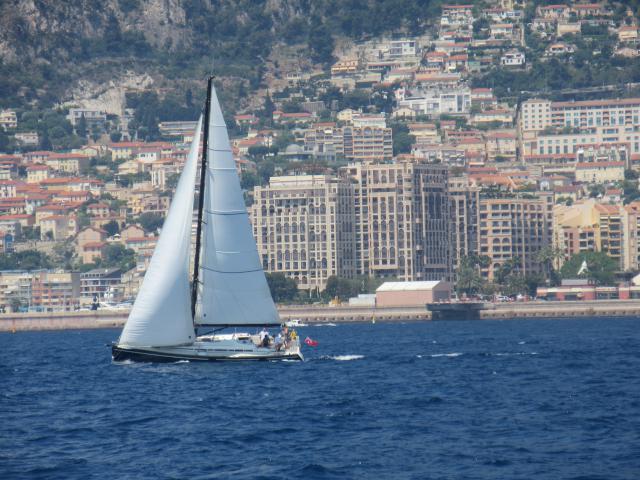 We had fun sailing along in Monaco with Escapade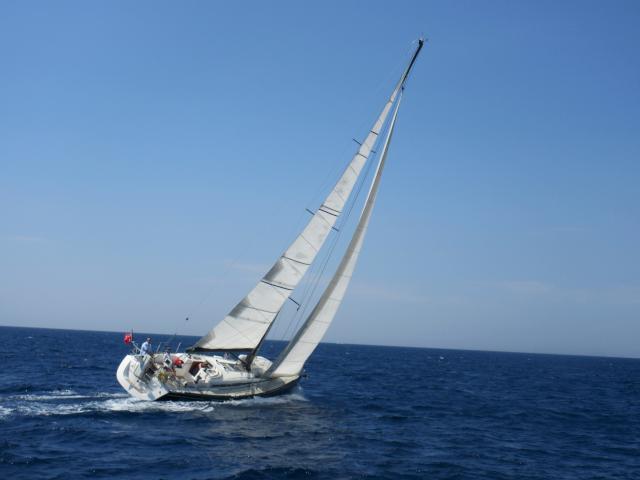 Once they went back to Sanremo, we carried on to Villefrance, where we anchored and took a train back in to Monaco.
The Casino is one of the most spectacular buildings I have seen. Just incredible.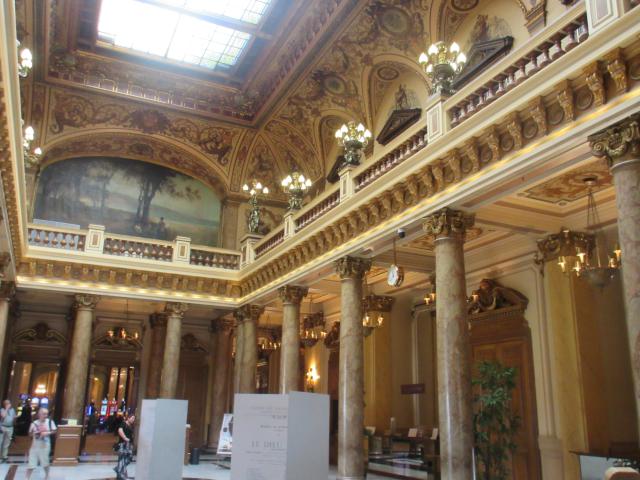 Just an incredible building, sure worth the 10 euros! We had to go in before the gambling started because Ceu did not have ID with her, you must go before 1 pm, it is quiet and one does not need ID.
Pictures cannot show much…. above is one of the bars!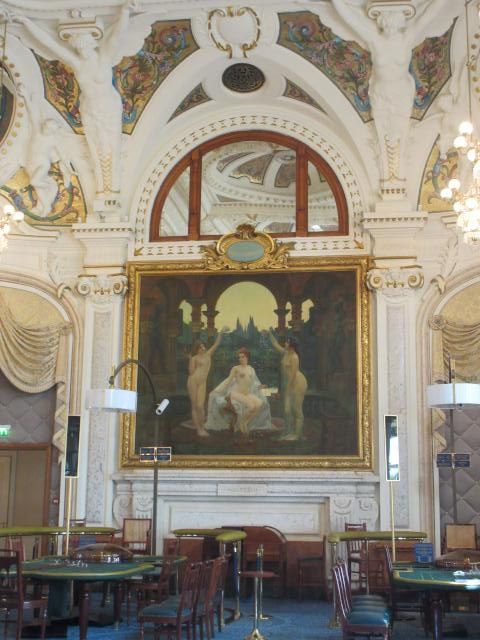 So much beauty all over. From Chandeliers to art of every kind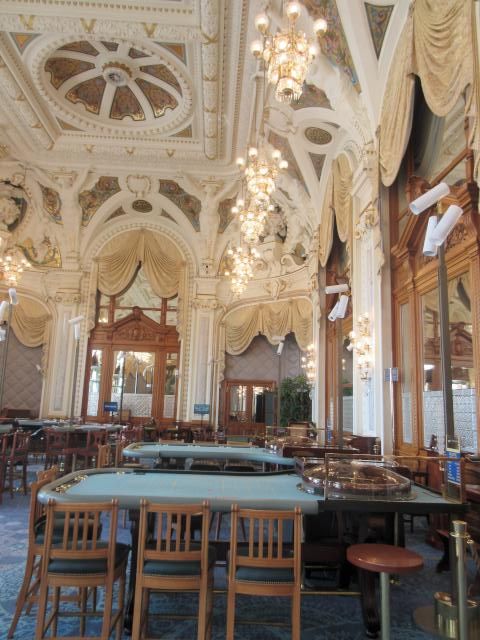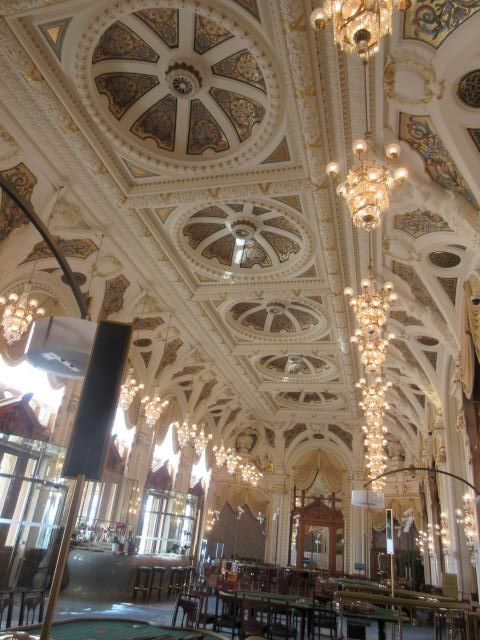 We also walked around the town a bit, but nothing to compare with the casino. The town is very nice with many gardens and parks very well manicured.
We walked to the old town, did not visit the Palace inside though. Visited the beautiful Cathedral and the tombs of Princess Grace and Prince Reinier inside.
Did not see as many fancy cars as I expected.
We then took the train to Nice to try to buy internet. Waited a full hour in the Orange shop only to be told they had sold out of SIM cards.
Finally we got back to the boat.
From there we then took some quick sails to get to Marseille by the next weekend in order to welcome Ceu's sister, Lucia, and her family on board.
We anchored for a day in Antibes. Again the harbour was full of super yachts.
Of course this is the home of Picasso. We enjoyed a visit to Picasso museum. The streets of this medieval town was lined not only with many chandlers to service the mega yachts, but lots of art, shopping and restaurants. We really enjoyed our stop here.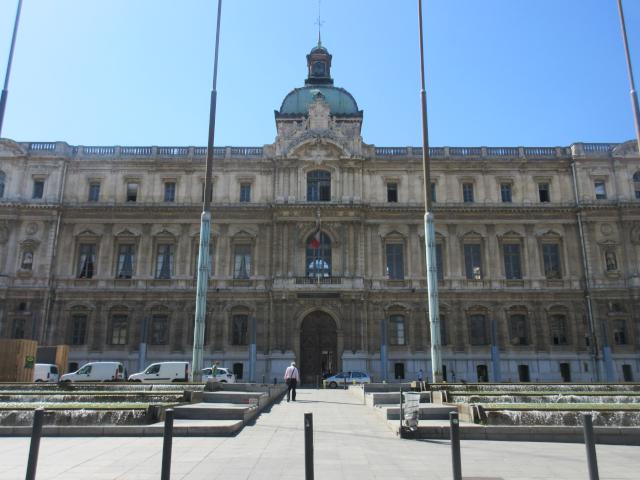 Marseille above and bellow, a nice city with a huge harbour and lined with many beautiful buildings.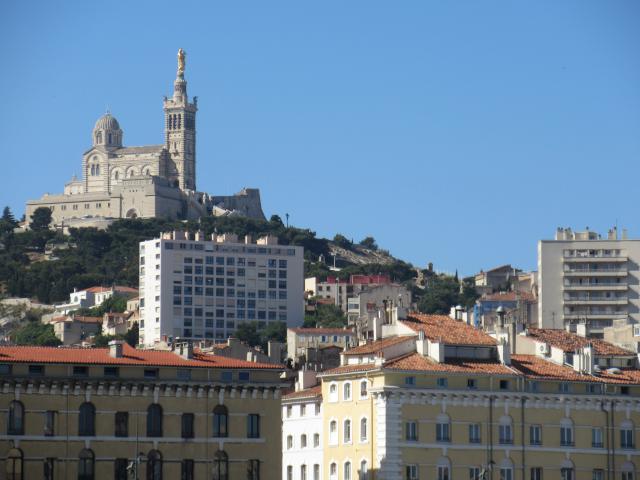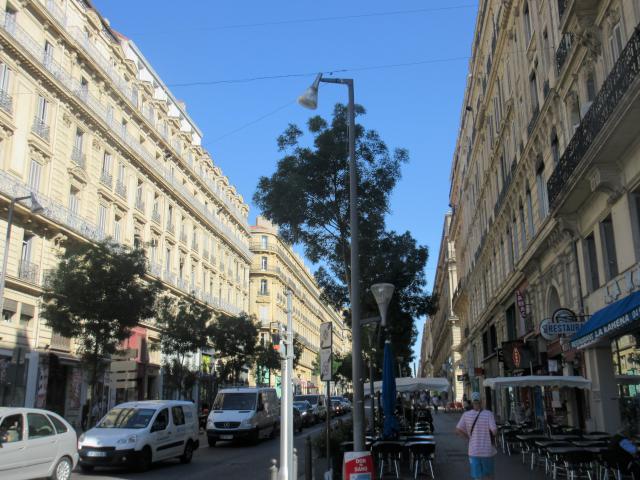 Getting the family on board was a challenge! Just as they arrived by car, the heavens opened up with a thunderstorm, and the wind shifted 180 deg to an onshore fresh breeze, piling up a vicious little chop as it did so.
So, we had to pile 5 small suitcases and then 4 people on board the little dinghy and motor through the pouring rain and big waves to get them on board Life Part 2.
Needless to say, everyone was SOAKED.
And the boat was bouncing up and down like crazy. Not the best introduction to life on board!
We had prepared a nice cheese fondue. Unfortunately Ceu and I were the only ones eating it, everyone else being decidedly green in colour. Sorry they missed out! Instead, they had some soup and tea.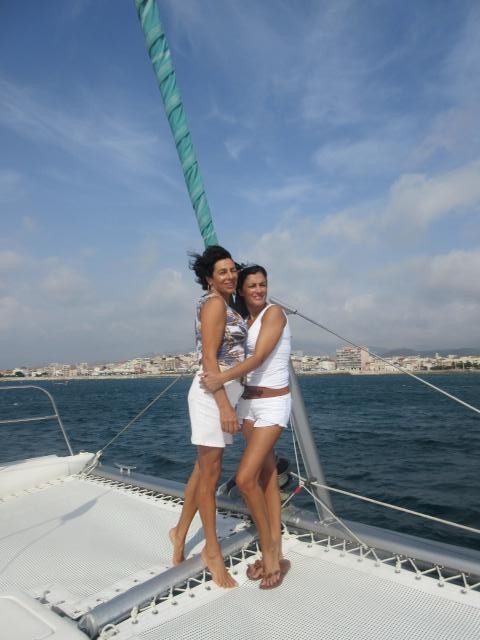 Fortunately, as I predicted to them, the waves and the rain all settled down in less than a couple of hours and they were able to get a settled and peaceful night's sleep. We woke up to a wonderful sunny morning, nice breakfast and headed up the coast for some sight seeing of the calanques, steep white cliffs where we all enjoyed a nice walk, some kayaking , snorkeling and swim.
After that, we had surprisingly good weather! Despite forecasts of more rain, we actually had sunshine and some nice little breezes.  This enabled us to do a bit of sailing, a bit of motoring, and a fair bit of swimming and sunbathing in the beautiful area of Marseille. Ahh and Eat! Lucia showed up with many French cheeses and wine. One night we finished off  with a nice bottle of Italian Limoncello…..that was fun!!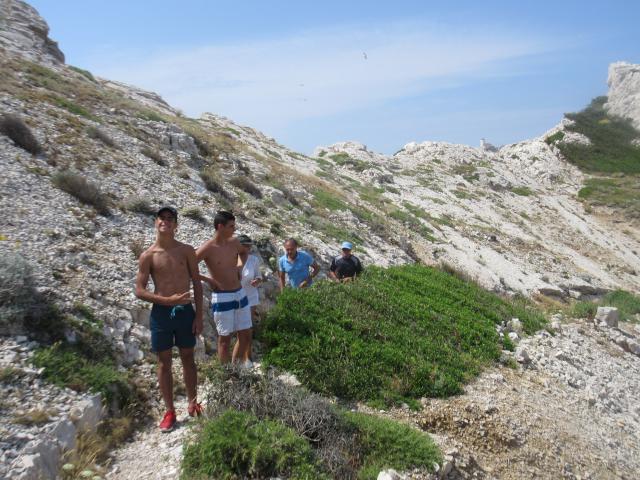 Despite the first-day challenges, everyone had a good time! We really enjoyed the time together.
We are now on our way back to St. Tropez to visit the bits we missed on they way West. Cannes (not impressed) and Antibes (loved it) we already did get to see prior to Marseille: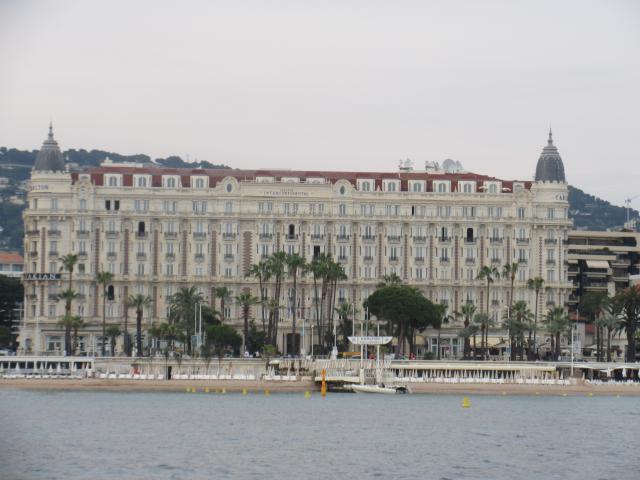 Overall Cannes was not really that impressive. Nothing spectacular! Nice very small area of old town, narrow streets, lined with chic restaurants. As you go further away from the old town, the main street is lined with very expensive hotels and some nice beaches.
Views from our anchorage. We anchored just in front of the beaches and dinghy into the harbour.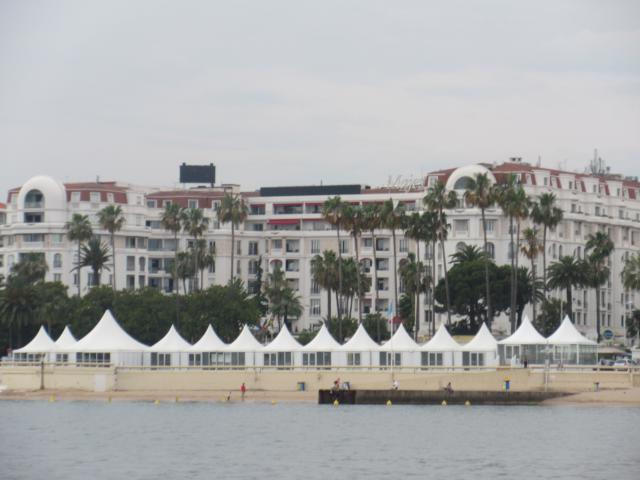 After that, we will then head west again, aiming to get down to the bottom right corner of Spain by mid-July for when Mitzi and co. arrive.
A lot of long sailing days these days!
5 Responses to "Two Great Weekends!"