Current Location:
English Harbour, Antigua
Current Position: 17 0.54 N 061 45.8 W
Click to view map.
Continued from spring 2018 Guadaloupe to Trinidad
Wow…I can't believe it has been a year since my last post. As promised here is Guadaloupe Part2, showing you more of our beloved French island.
Not only we enjoyed the wine the bread and the cheeses, the beaches and the great snorkeling, but also the luscious green island with many Parks, hiking trails and waterfalls.
Bananas and sugarcane are the principal cash crops. They also grow coffee, vanilla, cacao, vegetables, like eggplants that get exported, coconuts, and some fruits.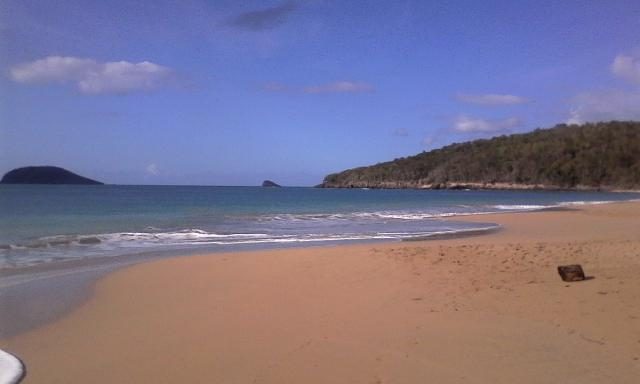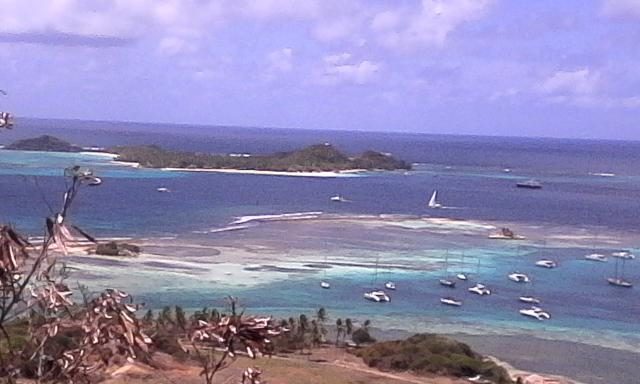 Above is our lovely anchorage in Isle Gossier, just across from the mainland. Locals and tourists hang out at the bar or have barbeque parties. Really nice beach and a nice walk to the lighthouse.
We did rent a car for a couple of days to get around the island. Some of the trails you have to drive to the start of the hikes.
This waterfall below is Cascade aux Ecrevisses. Very easy access from the main road. A short paved walk even wheelchair friendly. On our first stop there, it was packed with tourists from the Cruise ship, but the next morning we had it all for ourselves.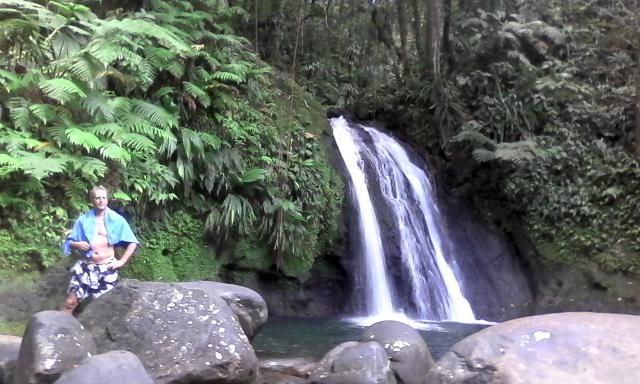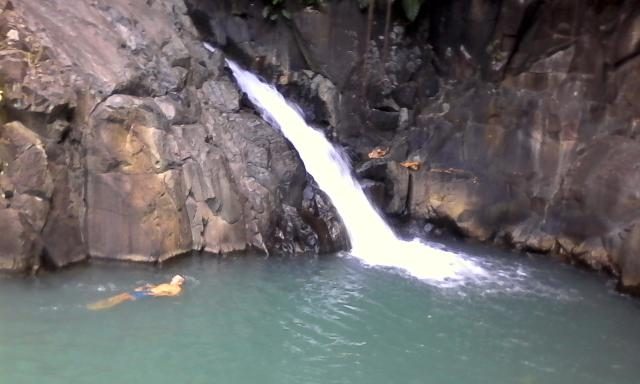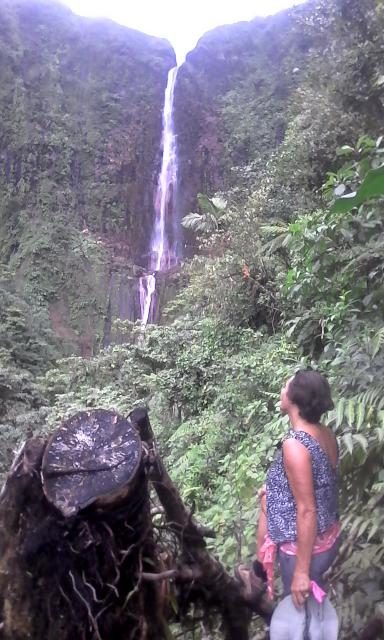 The 350 feet Carbet Waterfalls are the tallest in the Eastern Caribbean. Chute 1 and 2. First view before you descend to a pool where you can have a refreshing swim and where we had our picnic.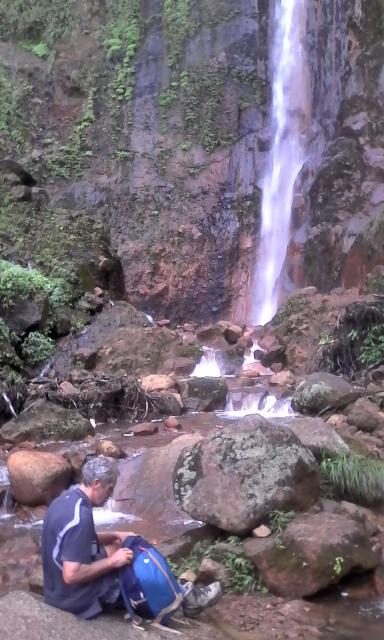 The cascades are set amid the tropical rainforests on the lower slopes of the volcano La Soufrière. The hike takes you above the rainforest and through cloud forest. For some, this hike may be a bit difficult, but so rewarding!
They charge 2 Euros a person for the hike. That is very cheap. The trail is very well maintained. Many small bridges over creeks covered with chicken wire to make it nonslip and rails where needed. Of course due to the nature of the trails, you still have to scramble through boulders. Which in many areas they even had the rock cut to rough it up for grip. Very impressive.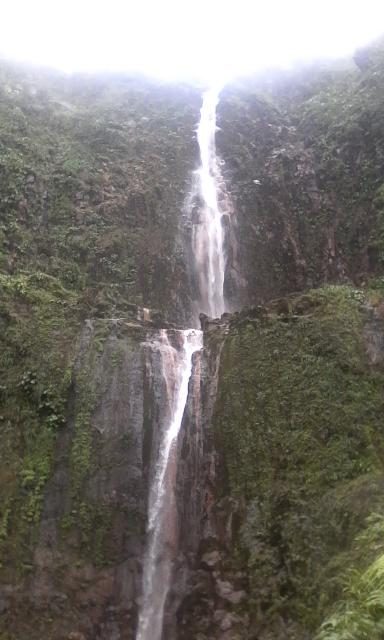 At the end of a hard day, we are driving through the village of Gouyave and the fisherman were selling live Lobster on the side of the road. We parked the car, bought our dinner, bought 3 litres of coconut water on the next stall, and headed home. The next day was our anniversary. Hmm…yesterday was sure a good day, how are we going to top that one up??? We just celebrate each and everyday.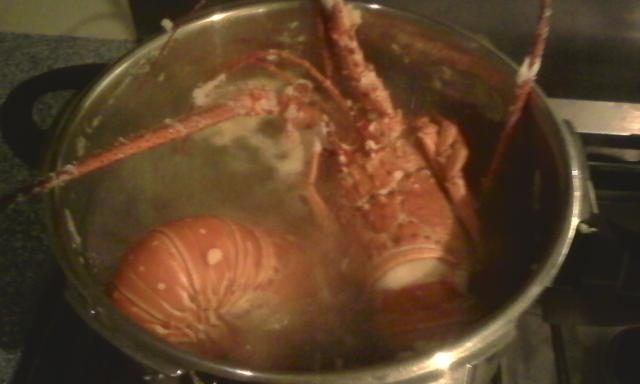 And then for those who won't necessarily want to take all kinds of expeditions hiking through the jungle… here is Desjhai Botanical Gardens: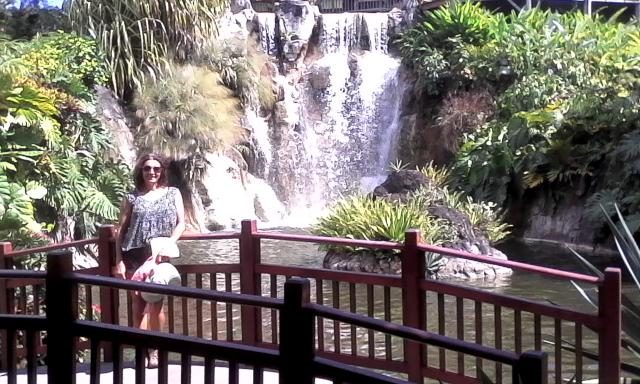 This walk in the 7 acres park it's a magical tropical beauty. Waterfalls, ponds, exotic flowers and birds, this lush and peace and tranquility is worth the expensive entry fee of 15 Euros. By far is our favorite gardens of the Caribbean.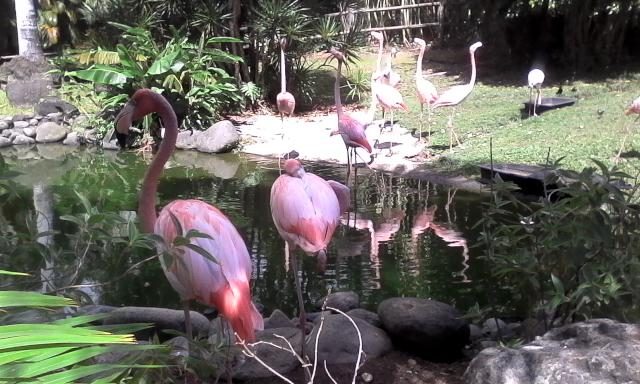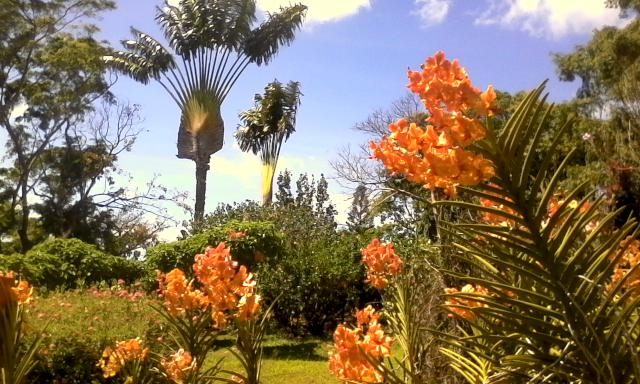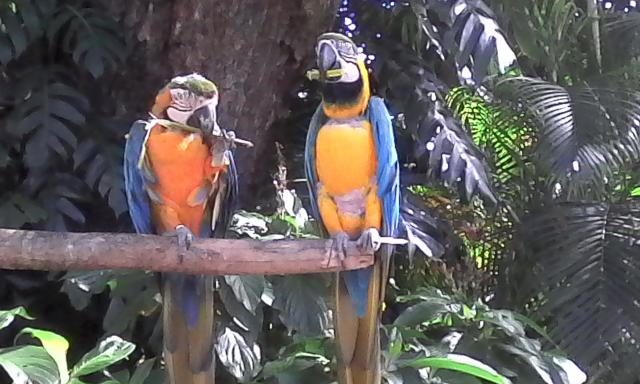 We had to say goodbye to Guadaloupe.
We are now headed to Antigua where we will meet our friends Phil and Lesley.
It was short 20 nautical miles stretch there, with 16knots of wind,close hauled.
Antigua
We have been in Antigua twice and we enjoy it each time.
Beautiful island but mostly for the coastline. The beaches are amazing, short sails between them all and great anchorages. One can beach/bar hop for a long time. After all, they claim to have 365 beaches. Inside the island is dry and not so special, but friendly island and you can find all amenities there. Public transportation is also easy to get around.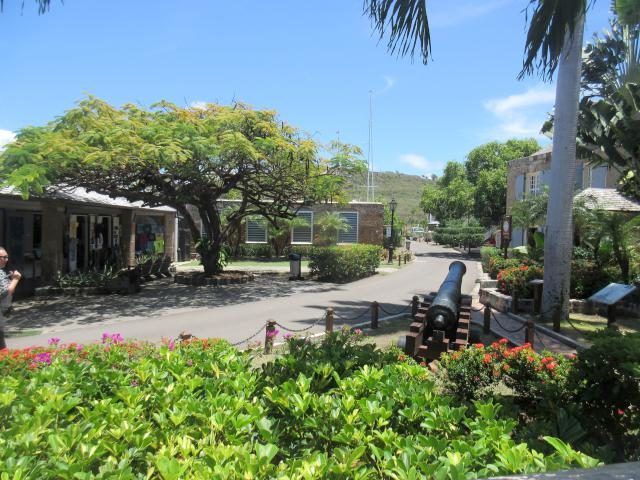 Nelson's Dockyard, in English Harbour. We met our friends here upon arrival in a taxi from the airport.
It is named after Admiral Nelson who lived in the Royal Navy Dockyard from 1784 through 1787. English Harbour is a UNESCO site a cultural heritage site and marina.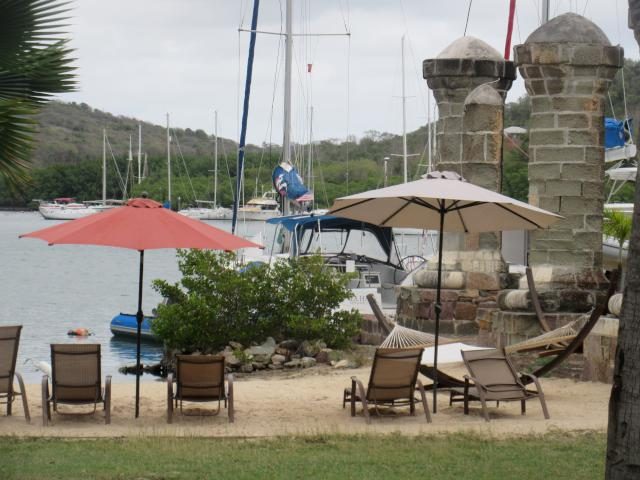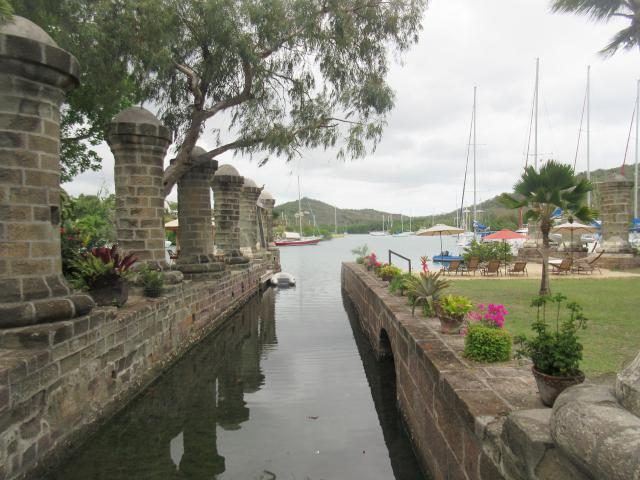 Nelson's Dockyard is also home to some of Antigua's sailing and yachting events such as Antigua sailing week, Antiga classics and the Antigua Charter Yacht Meeting. As well as some International Optimist North American Championships.
The views of the harbour from Fort Barkeley
Fort Barkeley. Its a beautiful short walk from English Harbour or one can make it longer doing a loop around further up scrambling a bit. The area is very nice whether you anchor here or you anchor in Falmouth harbour. From Falmouth Harbour is a pleasant 10 minute walk to the nice park, English Harbour.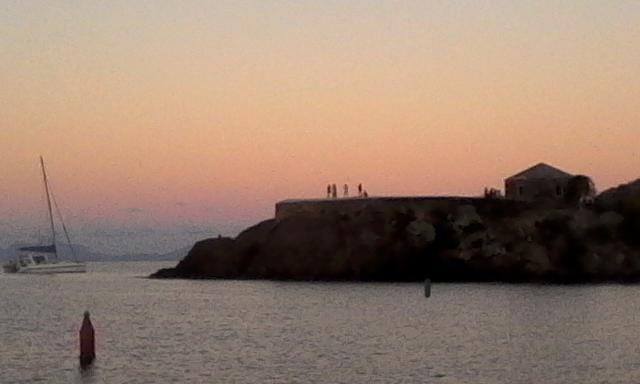 Fort Berkeley is popular at sunset. One morning we were sailing by at sunrise, some young group of people were still there, singing away…not in tune of course, but very happy!!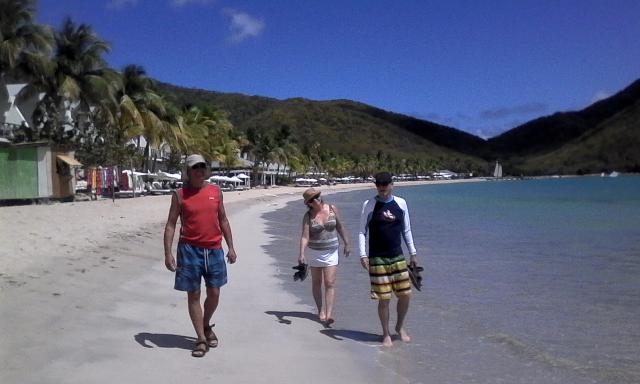 Our friends, Phil and Lesley. Checking out the sailing lifestyle. They are working on their Skippers certification.
We had a great time sailing around the Island with them for a week, with many stops at the beaches and bars.
We enjoyed the company and cocktails onboard, and especially Leslie's Sangria.
And the Baileys……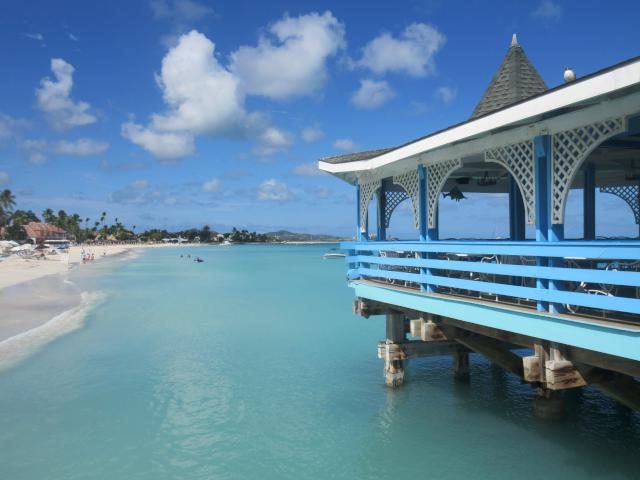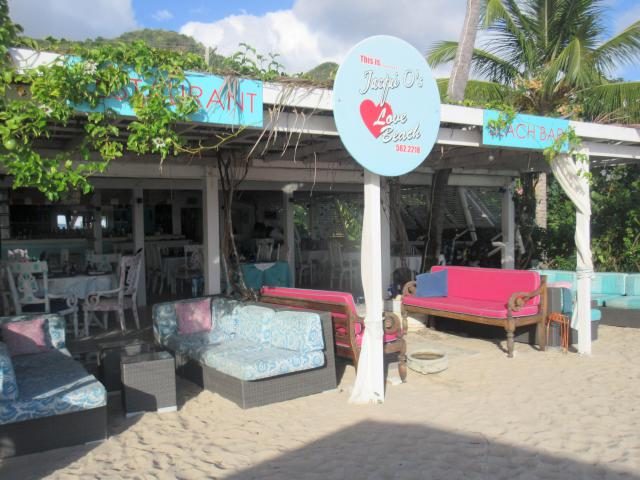 Never a visit to Antigua without a stop at Jacki O's bar at beautiful Love beach. The evening gets busy but you get there in the morning and is peace and quiet, great views, and if you don't want breakfast, bar is open. They open early.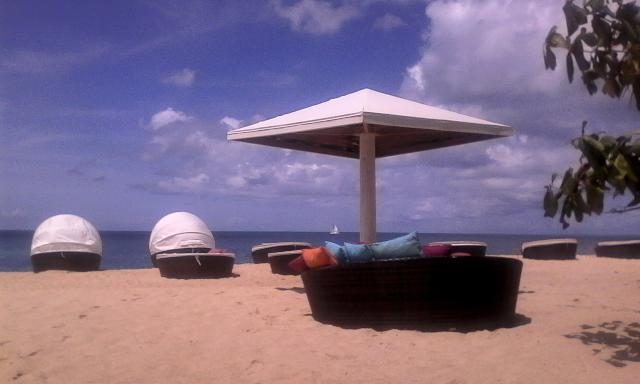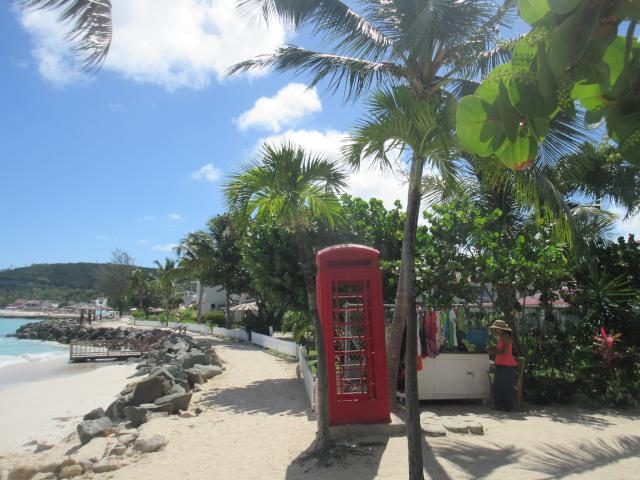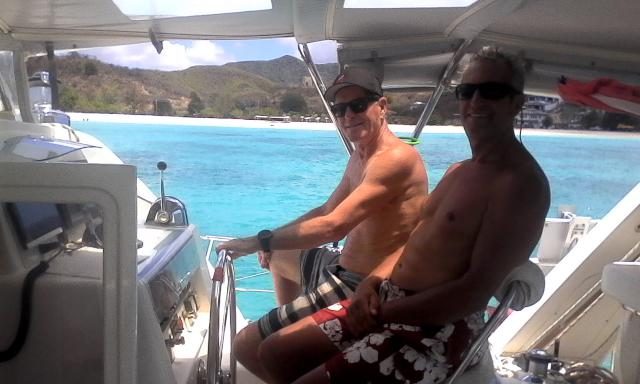 Lesley is looking for the next stop.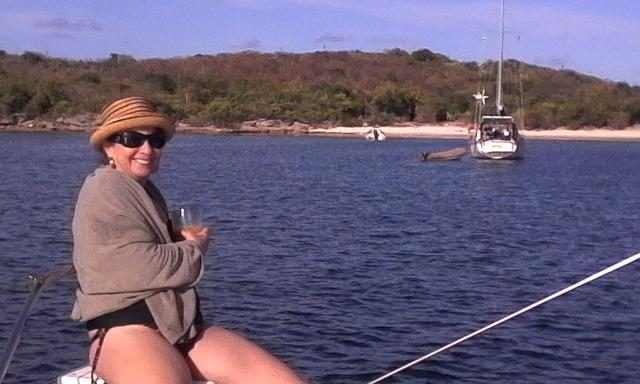 Barbuda
We did a nice day sail to the Island of Barbuda, and stayed a night.
We were there months before hurricane Maria hit. It was devastating to see the damage. We anchored in front of Cocoa Point Hotel. My pictures of before…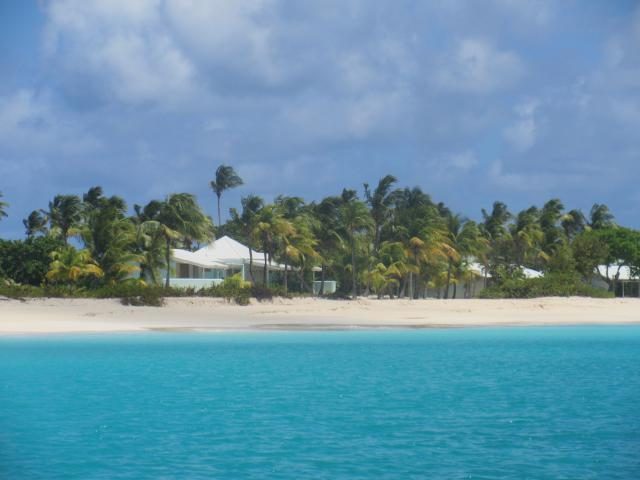 and the pictures after: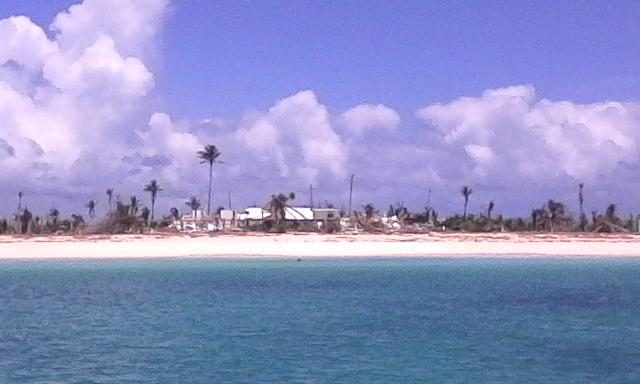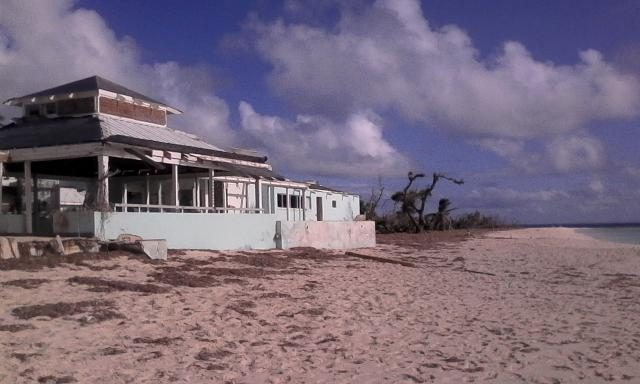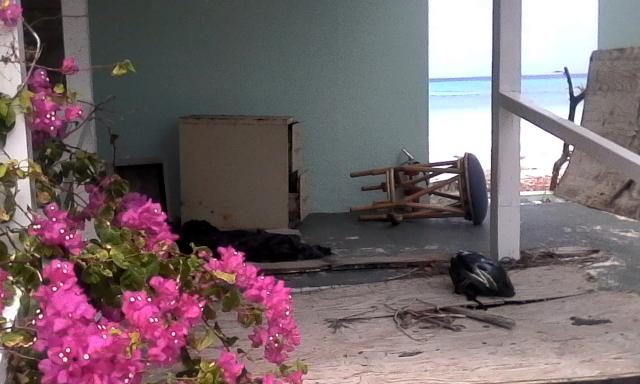 A beautiful bougainvillaea still thrives through…
Everything has been abandoned, no one came to even salvage some of the furniture still in good condition.
There were desks with papers and books scattered all over the place. We could still read their entries on their books of being still busy in the Spring before they got hit in the Summer and never to open again. We read it was for sale. It has now been a year, We need an update!
Much has been re built. The whole island was totally evacuated at the time.
It is also said that big Landlord Robert de Niro is still planning to open his Resort in 2020.
The amazing beaches remain. Please visit, it is still a beautiful piece of heaven. It is no wonder Princess Diana loved it here. They also named a beach after her.