Current Location:
Cagliari, Sardinia
Current Position: 39 11.67 N 009 7.28 E
Click to view map.
Distance sailed since last post:
105 nautical miles
.
View the map of our voyage track here
Viva L'Italia…..
where the beer costs the same as water. 3dollars, a beer, 3dollars a bottle water???  hhhmmmm!!!!
We are still trying to figure out their menu. We decided to go out for a nice dinner of their local tradition, suckling pig. We went to this restaurant that had very high recommendations in the the cute village of Callasseta, Sardinia. We were greeted by the waiter who in Italian was asking if we wanted the A/C on. When I saw where he was pointing, I got the message!!! I just said yess….si, confusion!
After that he spoke some English to us.
They had two piglets roasting in the nice brick oven in an open fire. Our mouths were watering!!! Only to be told in broken English that we couldn't order any. It has to be ordered the day before, because it takes 3.5hrs to slow roast! Well…..of course our second choice was fish and seafood.
Waiter recommended an appetizer that had a good variety. Sure enough it looked good, but the best was the shrimp cocktail in it, nicely wrapped in radiccio. The rest of the fish on the plate was cured and salty. Our second appetizer was another local tradition of pasta called malloreddus, it came in a nice tomatoe sauce with sausages. It was really good!
We chose fish for  main course, but forgot that here, you have to order your side dishes separately. Sooo funny, the plate came with the fish , only, right across the plate, head and all! Noel and I had a great laugh….but who needs more than that, after pigging out in the appys and all the olives and bread, that came with it. We enjoyed our fish, and at least 2litres of water and came out still laughing!!!
Stayed in town a bit longer, it was some band playing out in a Piazza, and by then was 11pm. Got to our dinghy, something was wrong with our prop, and we barely had any speed, unless you count side to side in the big waves. Luckily home was just around the corner from the harbour. But it still took some paddling along with it to make the trip a bit faster in the dark and big swells. Ahhhh, always an adventure with us.
We have really enjoyed our time here in Sardinia. Its quite a big Island, second largest in the Med after Sicily. It's 260 km long and 135 km long. We have been here for the last 2weeks. Did the North coast, West coast and now we are down South. Just arrived in the city of Cagliary, capital of Sardinia.
Just 7 miles away from Corsica, the North coast of Sardinia we sailed through the Maddalena islands and stopped in Porto Cervo. They call it the millionaire's playground. In the evening, especialy,  we just grabed a drink and watch the parade of luxurious yachts come in to the harbour. We were lucky to find a spot right next to the harbour, so we could watch the show!!!The book said no anchoring allowed in the area, but we though we would just check it out. We found a beautiful spot where you could fit only 3 boats and we were the 3th boat in. Lucky there!!! It's a beautiful Marina, with all the shops and restaurants, surrounded by big houses, with beautiful stone work and amazing landscapes.  No wonder  stars like Mick Jagger and George Clooney have been seen in town!!!
We sailed down the West Coast, along many beautiful beaches, one of them was about 10km long. Great sand dunes, lagoons with pink flamingos. The coast is also very rocky, with lots of amazing rock formation and lots of caves that you can explore by dinghy or Kayak. Lots of cute villages with pastel colour houses and most of them with a citadel and their breath taking views , Castles and beautiful churches and the very narrow streets full of restaurants and shops.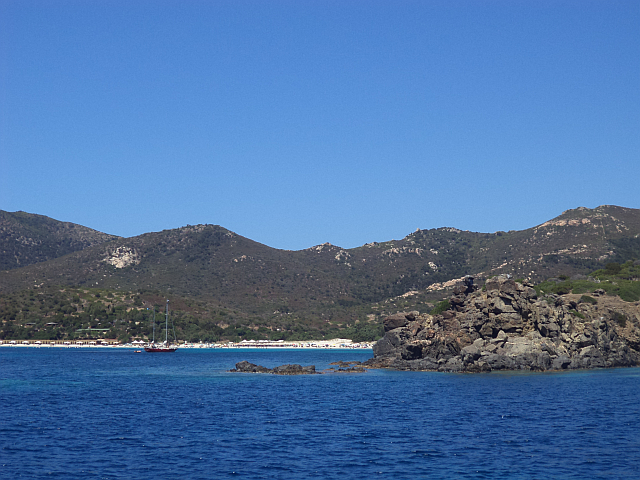 south coast, near Porto Pino
A few of our favourite places at anchor where Stintino, a huge bay with it's crystal clear water and the famous beach of Ancora with fine white sand and lots of room for us to do our knee boarding! Just attached a handle to a rope and use Noel's surf board and our dinghy. Lots of fun. I think the neighbours enjoy watching too! We did have to watch out for macho man though, showing off in their motor yatchs, and spoil our smooth water.
Porto Conte, was another favorite. Big bay, surrounded by nice beaches, restaurants, hotel, caves, and nature walks. We also realized how popular it was, with the many ferries arriving to visit the Neptune Cave. In the post card, Cave looks very nice, but very similar to the ones we just saw in Mallorca, so we passed on that one.
We visited Carloforte, not much of an atmosphere there, but we needed to stop for the night and also some groceries. We visited their famous nature wonders, the Columns. It was worth the stop, and it only made it a very short sail the next day to Callassetta where we had our fish dinner and wild ride home.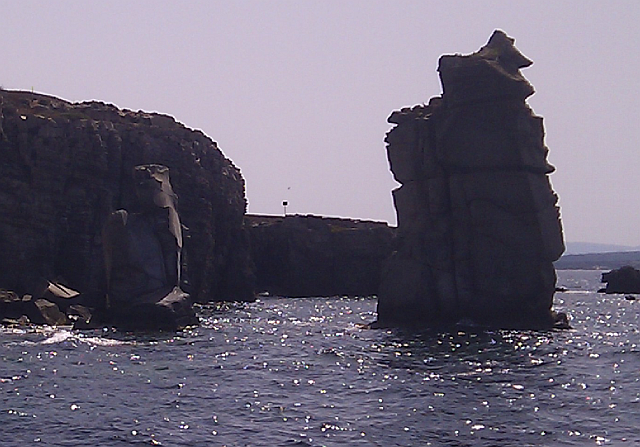 the Columns, in Carloforte
Moving on along the South Coast now, we really enjoyed the bay of Porto Pino. We kayaked onto the gorgeous pink sandy beach and took along walk through the sand dunes and the amazing vegetation through out and a big lagoon with pink flamingos who have chosen this beautiful wetland area for nesting. Porto Teulada, Porto Malfatano, just as beautiful and peaceful.
Yesterday we spent the day in Nora, the very first city being built in Sardinia. The archeological site,Punic-Roman ruins in Nora in this spectacular setting dating back to 800 BC. Fascinating insight into the ancient city, complete with thermal baths and change room, massage parlor, heated floors, beautiful and still well preserved mosaics and Theatre.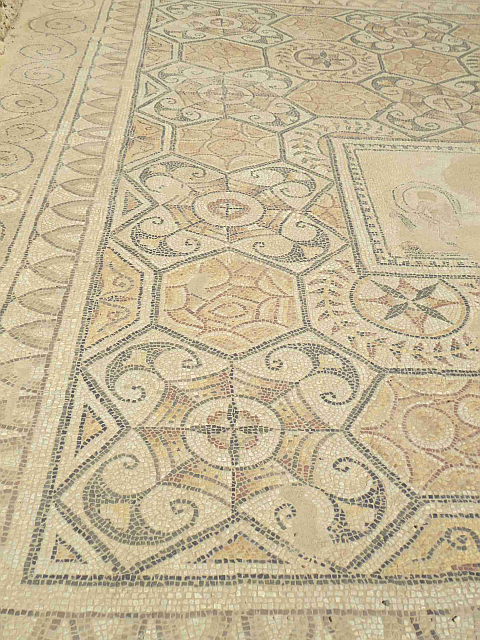 The site is extensive, and is at the sea side. It is also surrounded by a nice beach, restaurant, palm trees, fields of wild flowers, a tower from the 1600's and a lagoon. Hard to imagine this beautiful roman city    8000 people living in it back then. It is a work in progress, and our guide says that the original settlement is now under the sea.
It was sure worth the visit and the ticket included a visit to the museum in Pula, which was just a short bus ride inland from Nora, where we got to see a lot of the artifacts from the ruins.
Pula  was a very nice village, so clean and tidy, nice Piazzas and large supermarket (that's always a bonus!)
Bought few groceries, bused back to Nora and kayaked back to Life Part2.
About 9:30pm we were delighted to hear some Beatles music from ashore. It was the Beatles tribute band playing at a beach bar not far from us. We quickly grabbed a drink and sat up front under the stars, in a warm summer night listening to the wonderful music and the clapping hands of the crowds, enjoying the drink, the company, savoring the moment and counting our blessings!
I started writing this blog post as we were sailing along from Pula to Cagliari. It was only a 3hour journey. We have just arrived at our anchorage  and I am now going to finish this. We had very smooth waters, not much wind but with our spinnaker up we did reasonable speed, had a great sail here and no noisy engines!!!! Cagliari is a big city, and the capital of Sardinia in the South Coast. It's very touristic, we actually just noticed a cruise ship in the harbour just around the corner from us. It is popular for the hot weather and beautiful stretches of long white sandy beaches, dinning, nightlife,and many historical attractions. We probably spend the weekend here and look forward to do some sight seeing.
Weather has been hot hot hot. Have not seen any rain for ages and very few clouds.
The water in the Med has been warm and crystal clear. Amazing!
We have enjoyed Sardinia even with the language barrier……lots of fun! So far managed to  ask for a hair salon, take directions and get a hair cut. And as usual ran around town to find Internet.  We found Chandlers (here, they often dont exist in these small marinas…)and a place to buy oil and engine filters for an oil change, and parts to fix our propeller in the dinghy.  Had to also find a shop to buy a camera, mine went for a swim with me, after I fell from the dinghy. ( quite funny…..I held my hand out with the camera, above the waves trying to keep it dry I could only think of my pictures) We hit a big wave, from the macho man motor boat that went by….and I was busy taking, just my last photo of the day! It sure was the last photo for that cam, it has not recuperated since, from that little splash of salt water.
The ladies in the gift shops are a bit aggressive to sell you stuff. I just say no, grazie! I keep smiling and quickly walk out.
In Italy, they ask me if I'm Spanish. In Spain they asked me if I was Italian. In Peru they though I was Brasilian. In Brasil they right away told me I was from Portugal. And lately, when I tell them I'm from Canada, they say "but you don't have a Canadian accent". Ok, its a Canadian/Portuguese accent maybe. And they are very happy with that!!! It's so funny. We have a laugh.
Arrivederci