I must confess during my sailing voyages I have enjoyed reading some great murder, mystery and thriller novels many by John Grisham and James Patterson, amongst other great reads.
But I had better get my sailing books out instead. I think while away I forgot a lot of stuff, plus the other day when Noel said something to me about "aloft"  I started laughing! I couldn't remember if it was up or down or behind or forward. How am I going to understand Noel when he's telling me what to do?????
It always amazes me this sailing vocabulary. I started thinking back when I had to learn everything from Port to Starboard. How about the sheets??? Between main sheet, travelers sheets jib sheets, spinnaker sheet and painter. Ohh, its so crazy! They all looked the same to me, the same rope, just used for different functions. Still was forgetting the spring line too.  The same piece of rope changes name depending how or where you use it!
Ahh……jib and genoa, battens, tacks and clews, stanchions and lifelines, furling drum and forestay, pulpit and pushpit, bow, stern and deckhead.
Aft, abaft and aloft.
Cockpits and galleys, the saloon and galleys…the head (toilet) berths, vee-births and setee-births.
Not to mention the vocabulary for emergency and safety equipment, tidal streams with their springs and neaps, dead reckoning positions and way points.
I also had to meet Bruce and Danford, Delta, fisherman, CQR and plough. Together we had some fun in the sand, rocks, mud and weeds. Welcome to the show of anchoring!!!! We totally enjoy this sport…..versus staying in Marinas. We have anchored in some very beautiful spots.
I once read not to go to sea unless you know how to tie 7 very important knots.
Between a few hitches, a reef knot, a figure of 8 and the bowline, I think I'm there . Ohh yes! Was forgetting the sheet bend, I just had to use it yesterday when anchoring…..because the line on  my snubber in the anchor chain broke and I had to join it back  together quickly.
I still practice the knots, when I think of it, especially the bowline. It's very very useful and it's good to be able to do tie it under different angles and circumstances.
I have a lot to learn yet….right now I'm reading seaman's guide to the rules of the road. It's about the sound signals and night and day recognition of the lights. Talk about confusion!!
For now…I think I better just be in a look out, and consider all the vessels are coming towards us, and take action!
Oh, did you get to meet the boys?
Oops…the buoys. Or is it the "boo-ease" like the American call them?
Do they have a can, or is it a triangle, or a cone?
Bring out the binoculars. They have 2 balls? Isolated danger mark!!!  Only one ball….stripped or solid color?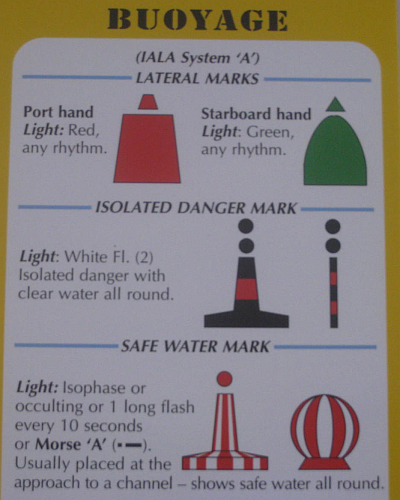 Ohhh…they're flashing! How often? Is that a flashing green? Or is it just the pharmacy sign onshore?
Red right return, or green right return? I don't know if I am coming or going.
Clear to North, South, East, or West??? What does that one mean again?
Confusion!!!!!
Just keep your eyes on the balls (or is it the can?) and a good humor, and hopefully you are on the correct side, and you make it through the channel and safe into your berth. (Ahhhh…did you call ahead and reserve it???)
You deserve a good night!
One Response to "A Sailors Vocabulary"