Current Location:
Golfe de Rondinara, Corsica
Current Position: 41 28.23 N 009 16.18 E
Click to view map.
Distance sailed since last post:
322 nautical miles
.
View the map of our voyage track here
We arrived in Corsica yesterday morning, after a tiring but exciting two day crossing from Menorca.
The forecast was for light to moderate winds from the south, turning to easterlies right at the end.
Having filled up with water an fuel in Mahon, we departed in a brisk 15kt southerly wind, and put up the spinnaker in about 9 kts apparent wind. All was well for the first day, spinnaker pulling nicely with a sunny blue sky. By the evening the wind had backed a bit, so we took down the spinnaker and continued on a beam reach doing about 7kts. Knowing the wind would be backing us, we stayed high, aiming for the top end of Sardinia. The tactic worked perfectly.
During the second day the wind continued to pick up and head us, until we were close hauled sailing parallel to the Sardinia coastline. We then had to decide whether we stopped in Sardinia for the night, or carried on to Corsica. As it turned out, it would have been after dark by the time we tacked and made it to the Sardinian coast, so we carried on.
Through the second night the wind and waves continued to pick up to about 28kts, and the waves continued to build, so it was pretty bumpy – and then the reefing line for the first reef broke, so we had to go forward and put a second reef in. All in a night's work! No need for flashlights with the bright full moon!
Anyway, 10 am, after 43.5 hours sailing, saw us sailing straight into Propriano, no tacking needed, at the head of a 5 mile bay nicely protected from the easterlies. We anchored and went ashore to find internet.
Nice little town, but getting internet involved a 2 mile walk to some big shopping center out of town. That is how we keep fit in this game! After buying the internet cards we sat down for a coffee and ice cream at the 'No Stress Caffe' on the main street by the waterfront – have to get the nice views of the water after being on land for so long.
Now, the challenge was that we knew that the easterly wind would be changing to a westerly the next day, making this lovely bay not so lovely any more. So early this morning we upped anchor, and set off down wind, spinnaker up again, headed for the east side of Corsica. The forecast was for a sunny day, with easterlies blowing at 4- 6 kts with gusts up to 7kts at the east end of the passage between Corsica and Sardinia. However, it was a flat calm and grey and miserable when we set off.
After a few hours moving nicely with the kite up, the wind started to increase. We went faster. It increased some more. We went 8 – 9kts. It increased some more. We decided to take down the spinnaker – and still did 7 kts. It increased some more, so we ditched our plan of going through the shorter, but very narrow passage that would involve 2 gybes, and took the long way around instead.
Good decision. The wind went up again. We decided to put in the second reef.  While we did so, Ceu saw the wind peak at 44kts – she stopped looking at that point. Now we were making 10.5kt. Yep, we even have a photo to prove it.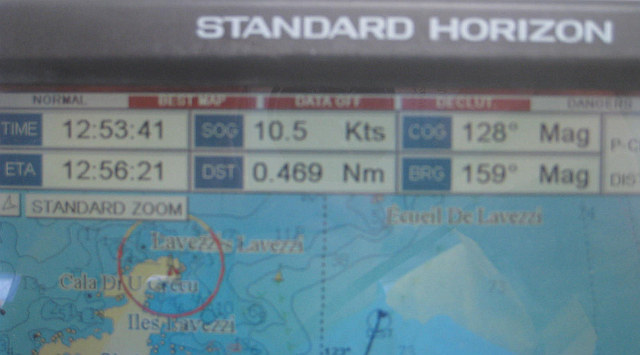 Pretty soon we were on the east side of the island, and pulled into a lovely small bay called Golfe Rondinara. Wind still blowing, but no waves here!
Then we had to connect the internet.
Ha! To activate it we had to call some french telephone number from our non-existent phone.
But, being people of resourcefulnes, we had the brilliant idea that the boat anchored right in front of us, being French, would probably a) have a phone and b) speak french, and thus be able to follow the phone instructions.
Turns out both were true, and following a successful activation, Alain and wife came over for some wine and beer to discuss cruising in the med – and Corsican cheese that comes complete with worms! Yes, let the cheese mature, and it will even crawl across the table to you.
Another adventure begins.
One Response to "Arrived in Corsica, Winds up to 44 kts"