Current Location:
Salerno, Italy
Current Position: 40 39.97 N 014 43.17 E
Click to view map.
Distance sailed since last post:
124 nautical miles
.
View the map of our voyage track here
Wednesday, 29th April, 2015
After all the partying it was time to leave Cariati. The wind was perfect, so we had a fast downwind run to Crotone – even catching a nice big tuna on the way! Woohoo, sushi for lunch and tuna steaks for supper.
Thursday April 30th
After getting our newly reconditioned engine checked out once more by Elio's mechanic, and after some quick hello's and goodbyes with Rick and Barb, who had just returned to Far Out, we cast off and motored out of the harbour.
The forecast was for fresh to strong winds coming off the Golfo di Squilace (Gulf of Squalls), but the forecast beyond that was for calms or contrary winds, so we decided to go for it. And it did just what was forecast! During the night we had up to 30kts apparent wind, close hauled on starboard, bashing into a very choppy sea. It was putting in the second reef that finally did me in – for the first time ever I was really seasick. Man, that is no fun!
Still, we did good time. By the morning the wind had dropped and we turned into the Messina Strait.
Suddenly at 11 am the wind filled in again. 18kts right on the nose, so we were tacking up the strait into its narrowness and all the ferries made us switch to motor. The timing with the current was perfect, and at 17:40 we were anchored outside the little harbour of Scilla.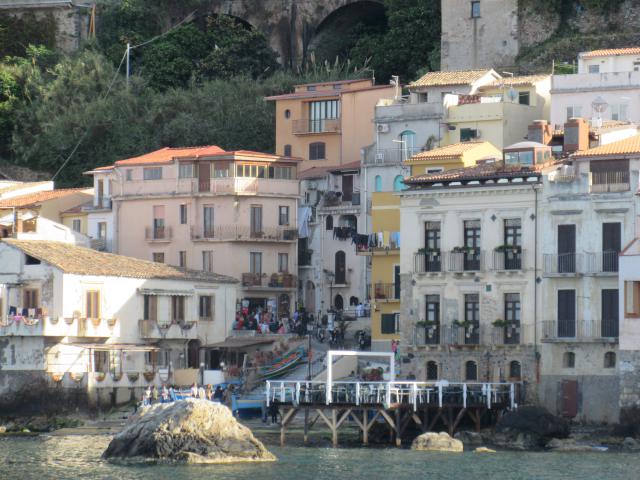 What a lovely little village! Wandering through the back streets we discovered a guitar maker. This man, it turns out, makes guitars to order and ships around the world. He also makes a unique ancient type of guitar called a Batente which has multiple layers of wood inside the sounding hole, and produces a very interesting sound.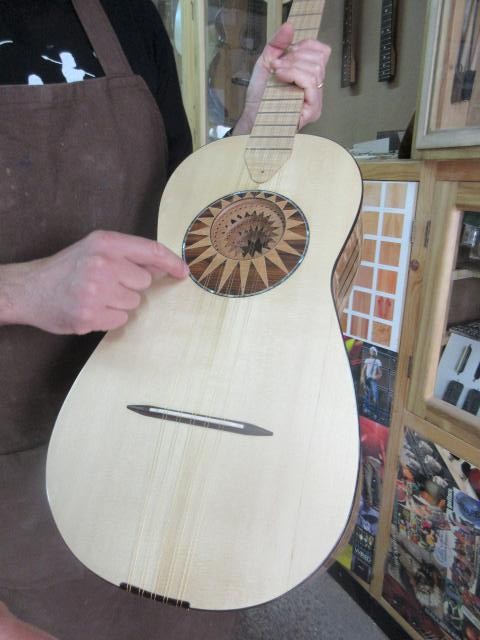 Friday, May 1st.
From Scilla we motored in a flat calm for a couple of hours before the wind filled in a gave us some gorgeous sailing again.We put out the fishing lines and just before arriving at Tropea we caught another little tuna! Once again we anchored outside the harbour.
Tropea is gorgeous. It reminded us a little of Korcula, Croatia. And, best of all, we had arrived at the time of their special fiesta, commemorating the expulsion of Saracens and Turks way back.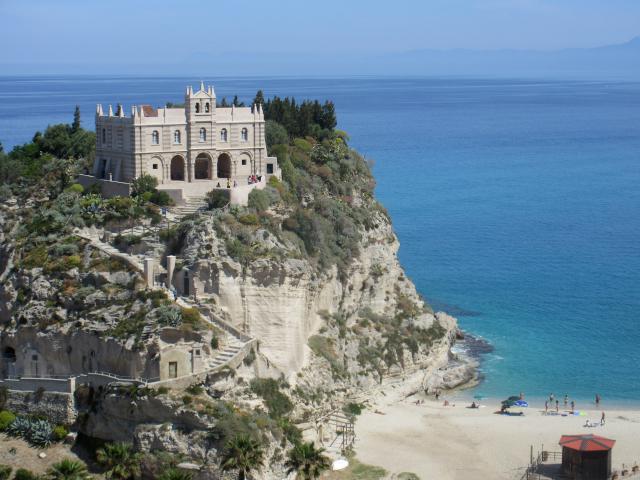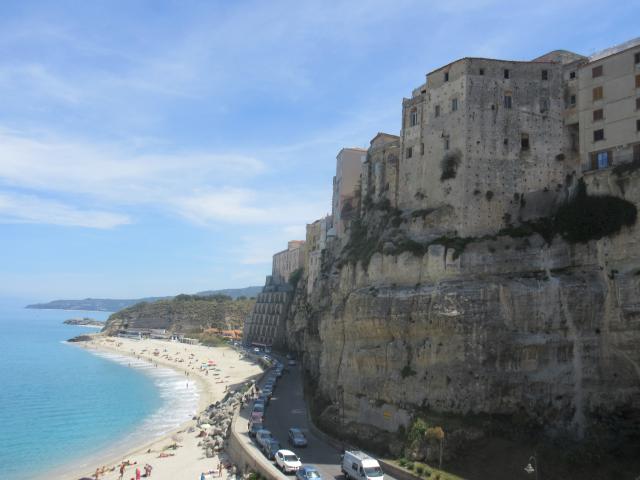 Rather like Guy Fawkes day in the UK, this siesta is celebrated with some parades in which the prisoners are let in on donkeys/camels (reports seem to vary) which are then set fire.
Actually, this was pretty impressive. The donkeys/camels are like the Chinese dragons, fitted over a person who caries it. They dance into the town square, and then the animal explodes into a heap of fireworks – while there is still someone inside it!
After that, they set off a whole bunch of Catherine wheels.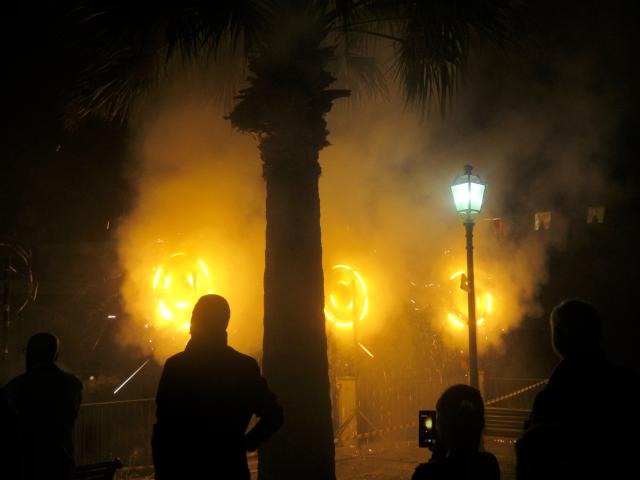 And then, the paper boat that is suspended over the gorge, is set alight, again with fireworks.
And finally there is the most spectacular firework display, which is set off from the beach, 50 meters below the town cliff, which basically put us at eye level with all the fireworks! One of the best displays we have ever seen. Photos just don't capture it. But we sure got part of it on video!!!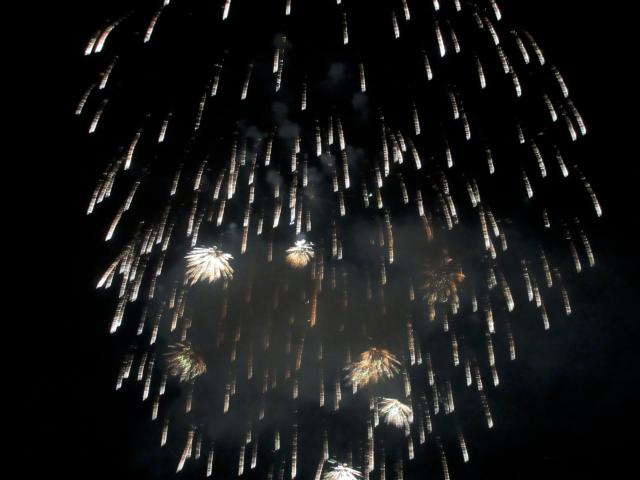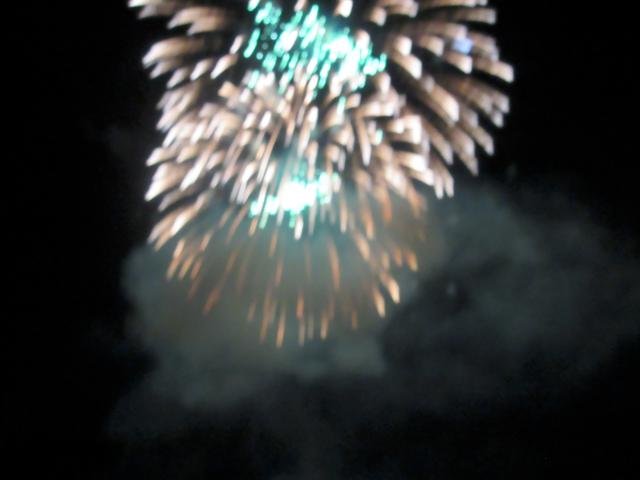 So what else is Tropea famous for? Would you believe Red Onion Ice Cream! While Michele was telling us how Tropea was famous for being the original source of red onions, we were telling him that they even made ice cream from it. And they do! And it even tastes good – like caramelized onions.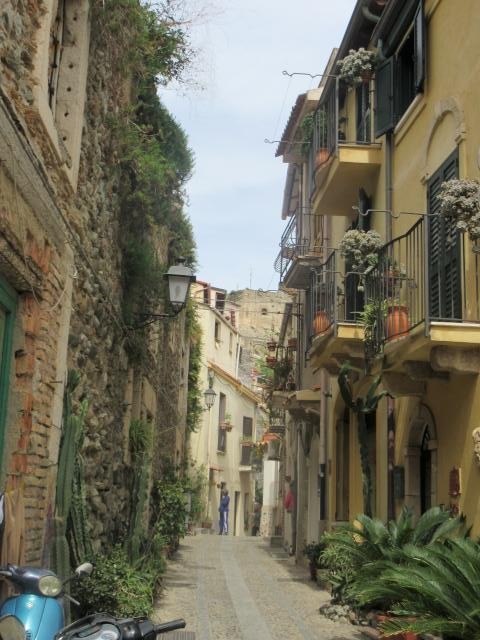 Being such a delightful town, we stayed two nights before setting off northwards. Unfortunately the days of helpful winds were gone. Now it was just calms.
Monday, May 4th
Motoring. Fishing. No fish, just plastic bags. Anchored at 38 55.76 N 014 12.56 E just outside a tiny village called Gizzeria. Peaceful, 'cos the town is DEAD!
Tuesday, May 5thTried to sail. Lasted about half an hour before the calm set in again. Motored. Fished. No fish. Anchored in 7m outside Amantea and had our first swim! 21 deg. Chilly! But 30 deg out of the water. Nice.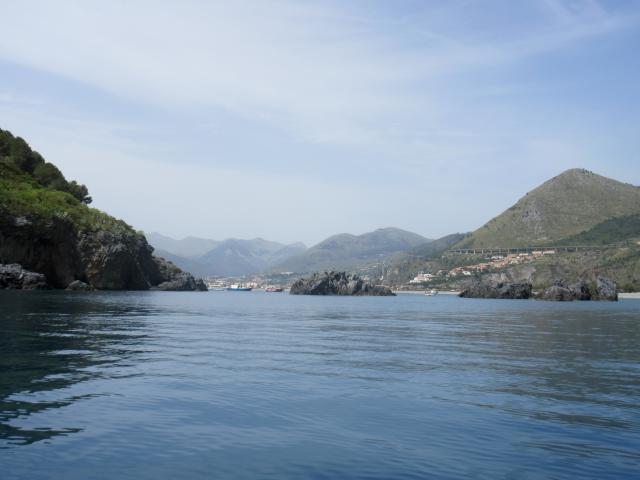 Then we carried on to Cetraro, anchoring there in 5m off the beach just outside the harbour. Walked into town and found a Lidl – carried the bags for the mile long walk back to the boat.
Wednesday, May 6th
Motored again. Anchored on the south side of Isole di Dino and took the kayak out to paddle around the island. Another hot day. Then went for a swim – 25 deg! Lovely. Still flat calm.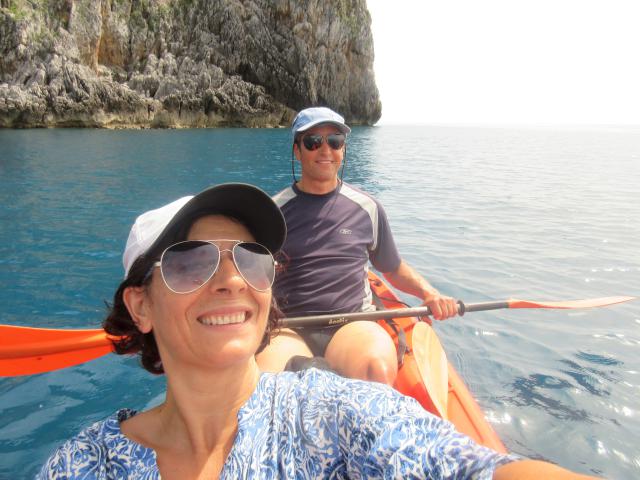 Then we continued our journey across Golfo di Policastro to Scario. Tied up to a free mooring ball in the tiny cove Cala di Iscoletta. Very pretty. One other French yacht in the cove.
At about 9pm, in the dark, a coast guard vessel turned up, poked around the cove with their spotlight, and then asked us if we were at anchor or on a mooring ball. Just as well we were on a ball, as this is a marine park with no anchoring permitted! But free mooring balls. Very nice.
Thursday, May 7th
Motored another 10 miles around the corner to Palinuro. We anchored on the south side of the headland, which has the town and port on the north side. We went ashore and climbed 465 steps, only to find that they ended at a private guest house. So then we went down them again. Walked along the beach a bit and then climbed a different set of steps. This time there were only 200 and the did lead across the isthmus to the town. after a gelato and cappuccino we then took the hike out to the lighthouse and back to our bay.
We then took the dinghy around the cape to visit all the caves, including the Blue Grotto which, Ceu says, was way better than the one in Vis, Croatia, for which they charged an entrance fee.
Friday, May 8th
Finally some wind! Sailed close hauled. Half an hour later the wind vanished and we motored again. Finally arrived at Ogliastro Marina where we anchored off the beach. Quiet town, and everything closed.
Saturday, May 9th
Had an early departure as the plan was to stop off the beach by Paestum, so that we could go ashore and visit the ruins. Unfortunately, just at that time the onshore wind picked up and it got a bit too rough to risk kayaking ashore. So we pressed on to Salerno. From there we will get on public transportation and go visit Paestum, it's near by and will be a nice trip inland as well.
Naturally, the wind dropped and the sea went calm again. Still no fish. Oh well.
Even so, we did still sail the whole way, close fetch on port. Just anchored off the beach at the west end of Salerno, as the forecast is for waves to be coming in from the west overnight, so we want to be tucked up under the cliffs.
Tomorrow we will go  ashore and explore this Amalfi coast.
5 Responses to "Cariati To Salerno – A Quick Run Up The Tyrrhenian Coast"