The forecast said that the westerly winds had ended, and a southerly should be in place for today. That was good enough for us. So at 05:50 this morning we upped anchor and set off with great trepidation to brave the savage whirlpools of Charybdis and Scilla.
High Water Girbraltar was at 0008 hrs. The north flowing current in Messina Strait begins at about 1:45hr before HW Gib, and ends at about 4:30hrs after HW Gib. Add two hours for our time zone and that meant the southward stream began at about 06:30. Which is why we wanted to get going before the contrary stream became too strong.
It was a flat calm. We put on both engines, for maximum speed, and we stayed close to the shore to keep out of the current. Soon a light wind on our starboard beam was assisting us so that we were doing over 6 kts, even with the current, which we could already feel.
As we went north, the strait narrowed, and the time progressed, both of which increased the current. Before too long our speed was down to 3kts and we were about to round the corner where Scilla lurks.
And there it was!
In fact, we motored right over one whirlpool, which you could just about make out, though there was no actual hole in it. At one point our boat was turned about 15 degrees. Wow. I was so scared.
And that was it.
I've played in more exciting eddies on the Thames in my kayak.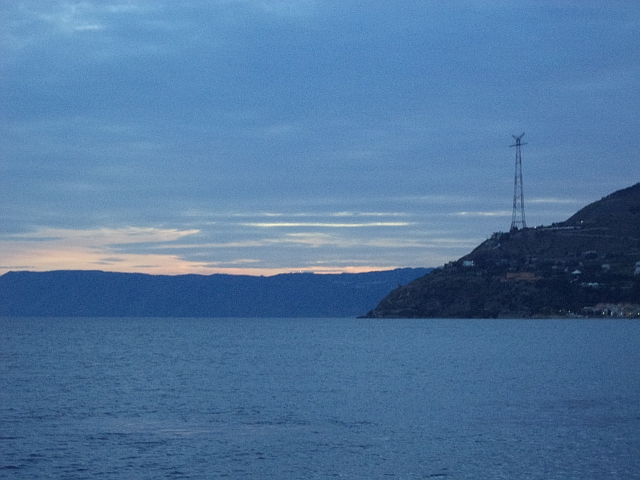 By now it was daylight. We had seen a few fishing boats but no other traffic at all. As we excited the strait, we turned west and headed for Vulcano. The wind had now picked up, so up went the main, off with the engines and away we go!
Pretty soon we had 20kts funneling through the strait on our port beam, giving us 8kts of speed for about half an hour.
And then that ended.
The rest of the journey was motoring in flat calm and glassy seas. Arriving at Porto Levante on Vulcano island at about 16:00hrs.
We tried to fill up with water here, but there was none. So we moved on to Lipari island, got our water, and anchored for the night.
Looking forward to climbing some of these volcanoes!