Current Location:
Mindelo, San Vicente, Cape Verdes Islands
Current Position: 16 53.14 N 024 59.52 W
Click to view map.
Distance sailed since last post:
39 nautical miles
.
View the map of our voyage track here
Our new year started with some serious hiking and awesome sailing.
In Sao Nicolau we did a 15 km hike which seemed like it went vertically up and then vertically down. The scenery was spectacular, but our quads were certainly suffering by the end.
When we got back to our dinghy at the harbour, we found this strange creature swimming about! The locals call it pico which means thorn. To us it looked just like a porcupine swimming – but it is a fish!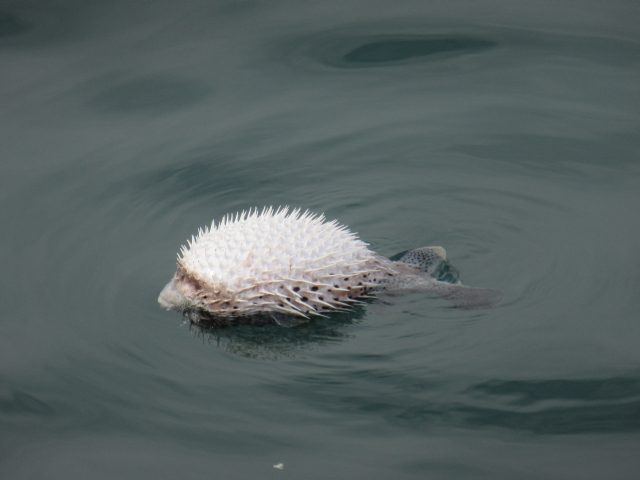 Then we had a nice fast 25 mile reach to the deserted island of Santa Luzie, where we did another up and down hike – to try to loosen up our sore legs, and then a swim on the deserted sandy beach.
And today we had another, slightly slower, sail for another 25 miles to take us around the corner to Mindelo on Sao Vicente. The sun was shining, and the sea was smooth. Unfortunately, unlike the day before, today we did not catch any fish. Oh well.
On arriving in Mindelo we were greeted by a German boat who told us that two days ago his boat had been burgled. And that three dinghies have been stolen this season so far. Hmm. Not very encouraging. And the marina wants to charge 47 euro a night. Plus water and electricity. Needless to say, we are staying out at anchor. At least the water is clean and swimmable, and the weather is warm. Ah, so nice to be in the tropics!
We are here to do our final preparations, and waiting for Roger to arrive on the 8th. In the meantime we will try to figure out how to go and visit Santo Anton without having to pay an arm and a leg to do so. Sounds like some nice hiking over there.
So, our year is off to a good start. We do hope that yours is too!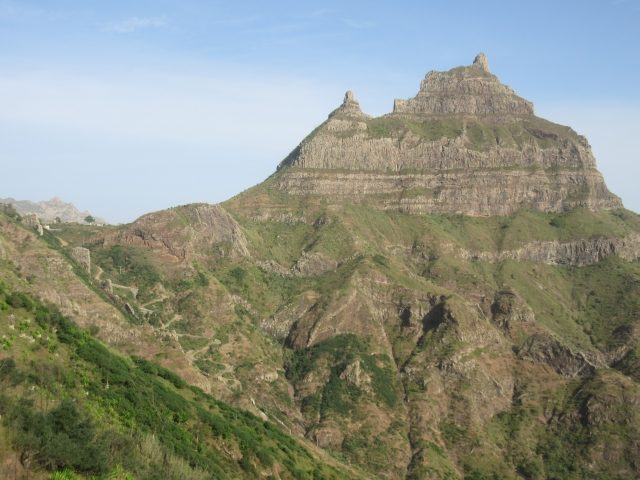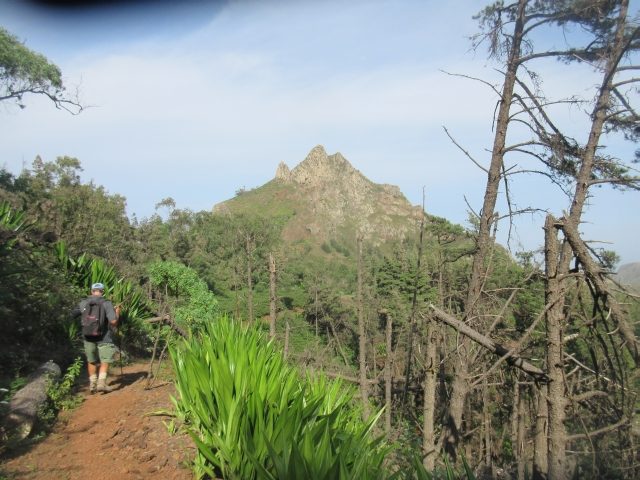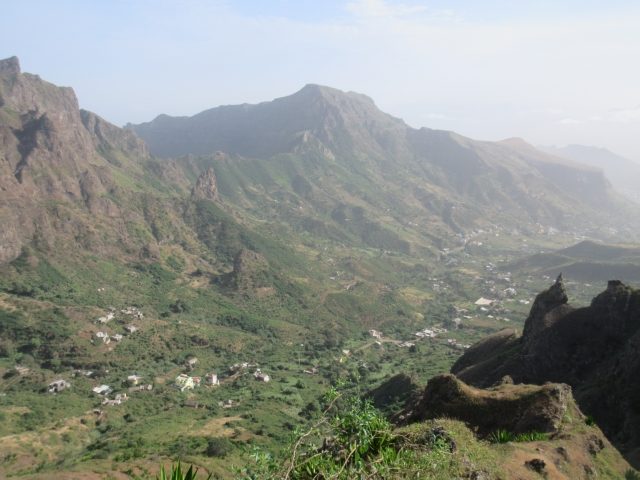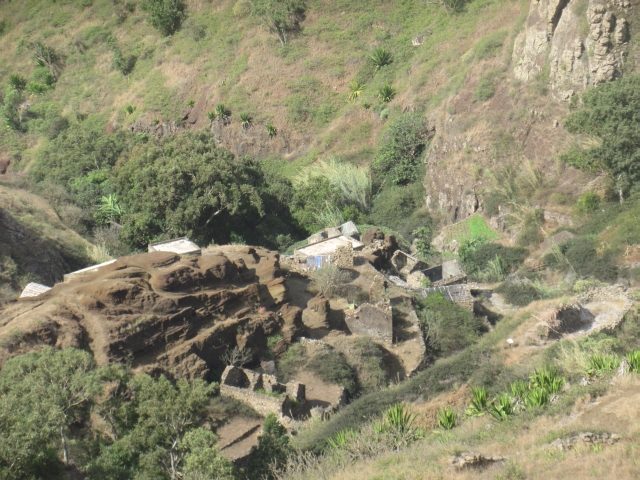 Abandoned village where Ceu picked a nice ripe papaya she enjoyed on the way
That's me, trying to assist my legs with the climb. Ceu likes to point out that she is ahead of me already.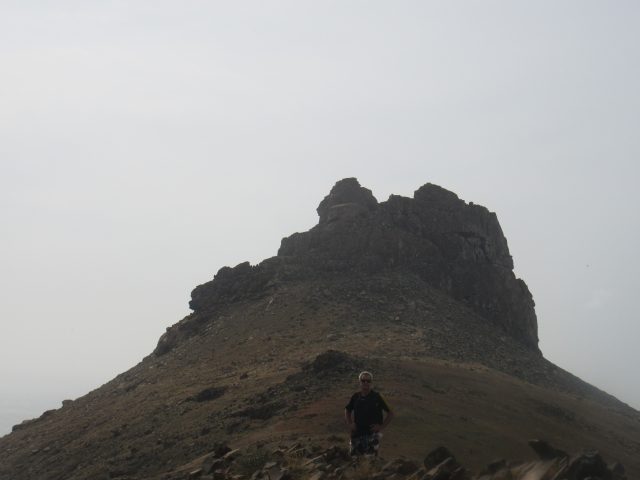 He made it !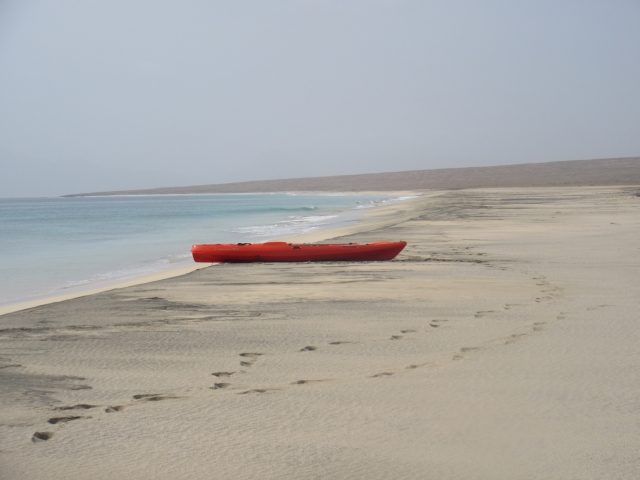 Kyaked ashore. Beautiful, long beach all to ourselves. Loved Santa Luzia anchorage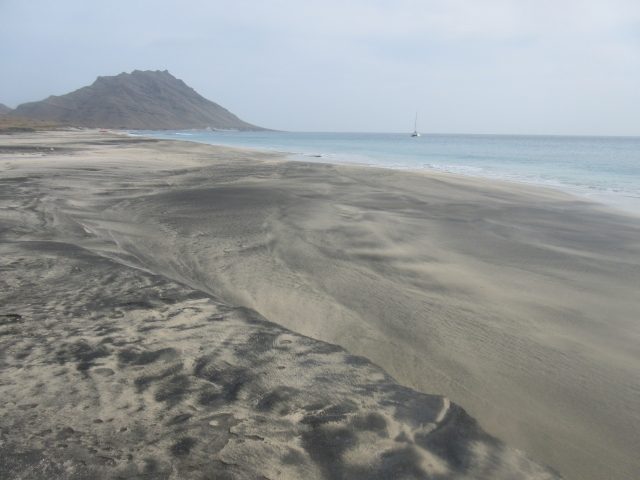 Isn't it cool how the black and white sand mix together? The mountains are black volcanic, so we think the sand has been blown across from the Sahara. That is Life Part 2 all by herself in the background.
One Response to "Happy 2017! Just arrived in Mindelo"