Current Location:
Pavlesina, Ugljan Island, Croatia
Current Position: 44 7.83 N 015 4.26 E
Click to view map.
Distance sailed since last post:
139 nautical miles
.
View the map of our voyage track here
We woke up in the middle of the night with thunder storms.  We were about to leave our anchorage this morning and got another downpour. I collected so much rain water from our dinghy that is enough to do all my laundry now. (that is overdue)
We left after lunch with a few clouds in the sky and a nice breeze. It was a slow sail and very smooth. We motored the last hour to finish our short sail of 10 miles or so. Our wind vane gave up on us. Noel worked on that during the trip but no success, even after talking to Raymarine engineer. It will take a trip up the mast to see if the problem is at that end.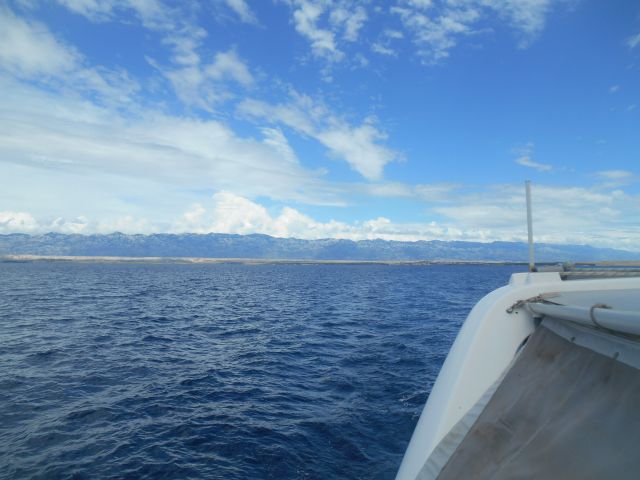 Just after leaving our anchorage Povljana, in the island of Pag this morning. You can see the Vallebit mountains behind us. A friendly couple who swam to our boat from the beach told us the reason for the area being so bare is because Venice stole their trees along with all the slaves from the area.
Tonight we are anchored in Pavlesina, in the west side of Ugljan island: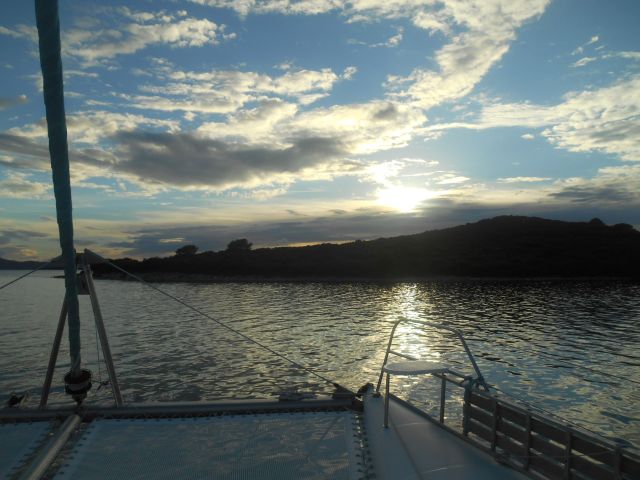 We arrived at 18:15 in this peaceful bay with a few local swimmers in the small beach and a another catamaran. We knew he would probably be leaving shortly for the night in the marina nearby. Which is the norm for the credit card captain or Triple W"s, as i call them.
But for the time being I thought we were going to have an audience, and we were providing the entertainment of Noel going up the mast, like it always does. But it turns out they were too busy having their own entertainment: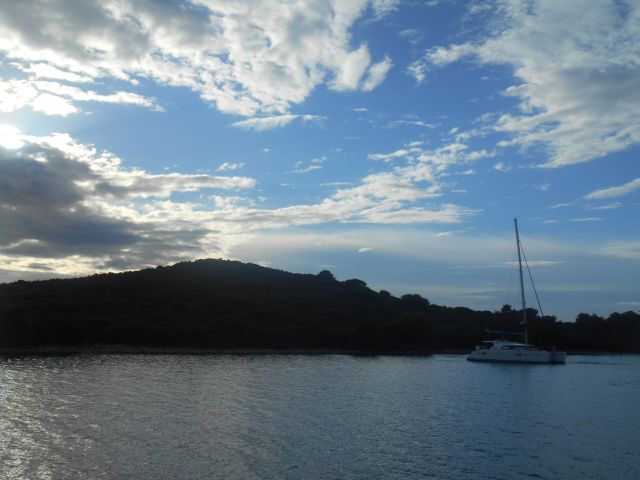 Well..the catamaran had quite a few people on it. They attempted to leave, I heard their engines on. As Noel goes up higher and higher up the mast their engines just rev higher and higher up to the max, the crew also gets louder and louder and their arms swing up in the air signing to the captain, as Noel yells Stop..he was at the top of the mast.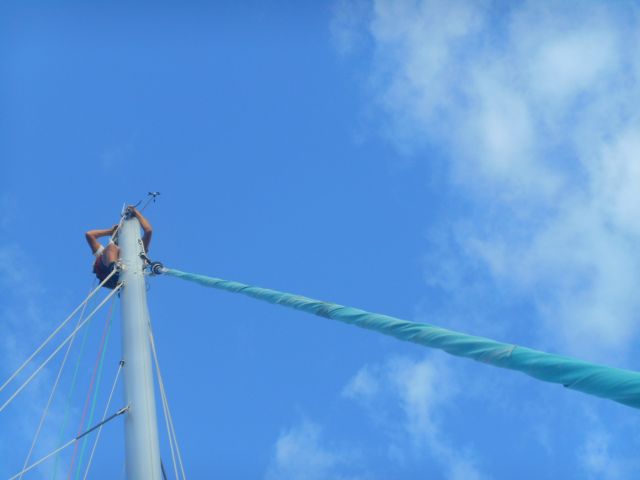 They drove those engines hard for at least an hour, without trying a trip line, even  a swim or a snorkel to check out their anchor. Eventually they gave up. I hope they have some provisions on board. No dinner out tonight, a bit far for the dinghy and way to many people to take ashore. Well …at least they know they are not moving during the night. Secured anchorage!
As for us, no success fixing the wind vane . Noel says: " Not Yet!"
We just finished dinner with pretty views, nice music and a glass of wine.
I sit writing this while the sky is still making pretty pictures.
Who says it's the busy Season????
We were warned about busy Season and the hassle of anchoring in busy bays, being harassed to pay for anchoring all over the place, and very unfriendly people. So far nothing like it. It sure has been great ! ( ok, ok, they changed some rules and all got educated on how to be nice to the tourists now that they joined the EU. Sure.)
We were expecting it to be very busy by now, on the way back from Venice.
We have been lucky to find many beautiful and deserted spots along the coast. All Free and no one has ever asked for money in any anchorages.
Ok maybe busy season only starts after the 15th??
Bellow are just a few of the anchorages we have been in the last 1o days or so.
Weighing anchor: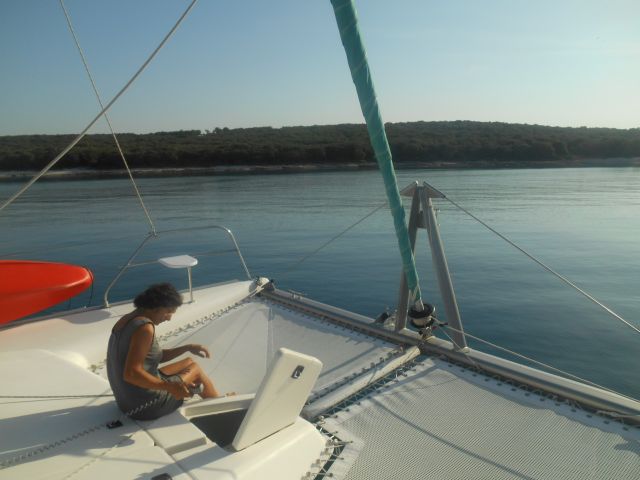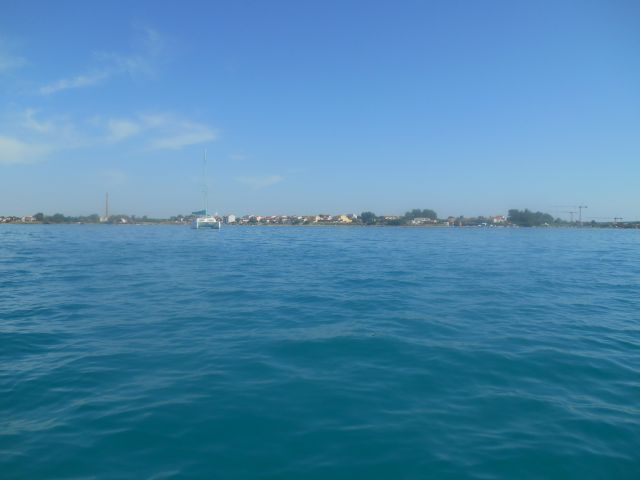 This huge anchorage, we are the only ones here for the 3 days we were there. Where is everyone??  They are all close to the Charter points and all follow the same itinerary and this is a bit out of their way. In the cute town of Nin. photo bellow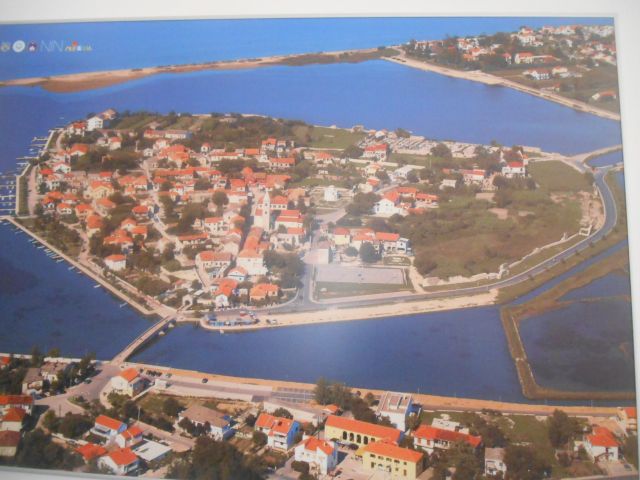 We were anchored outside these lagoons in a huge bay, on the right corner of this picture. Short dinghy ride to town. No, we weren't paragliding again – I stole this picture.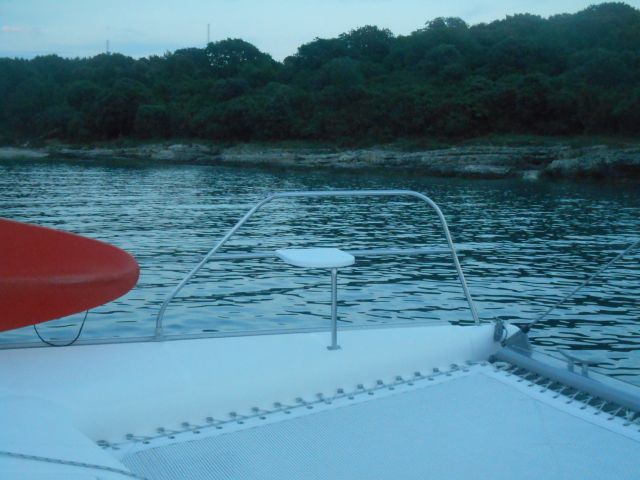 Love it…..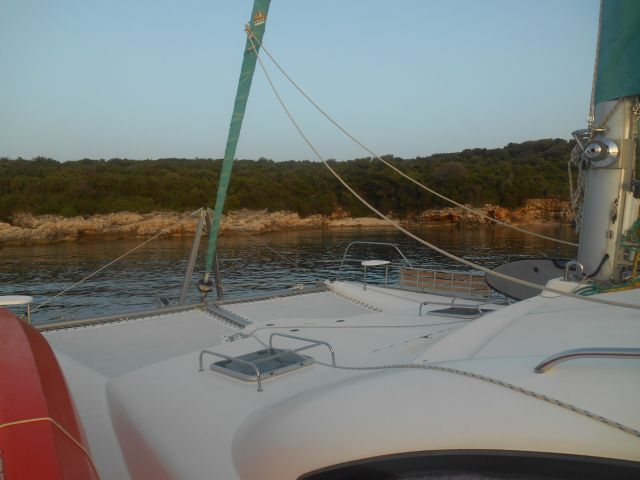 Above , one of our favorite spots, deserted, only room for one boat in there, us of course! Best snorkeling and clear water we have had in the Med. Just at the top end of island Ilovik.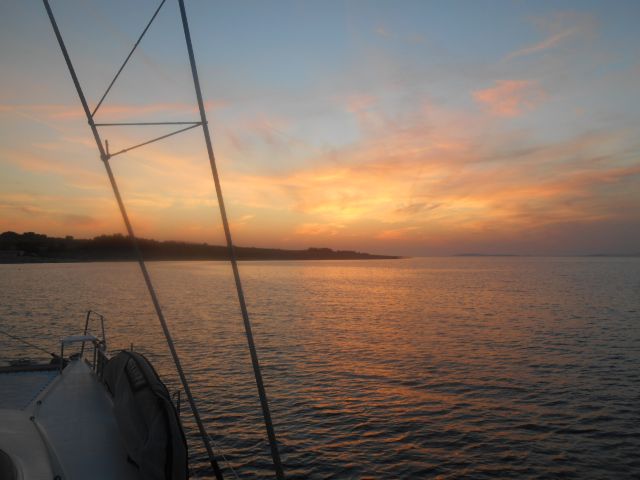 This one was in the island of Vir, just before Nin.
Hope to keep avoiding the crowds!
In the mean time we are working our way down South as we have Noel's parents come for a visit, arriving in Split on the 16th.
I am also a bit behind on putting up a Venice blog post!  Soon!