Current Location:
Chaguaramas, Trinidad
Current Position: 10 40.74 N 061 38.34 W
Click to view map.
Distance sailed since last post:
332 nautical miles
.
View the map of our voyage track here
As I prepare some new photos from our travels 2019, I get reminded that I must finish catching up with last year.
We said goodbye to our friends in Antigua and stayed a few more days to see the Antigua Classics race, that's always fun.
But I forgot to mention on my last post about Antigua, sorry Phill, we had to put you to work on your holiday!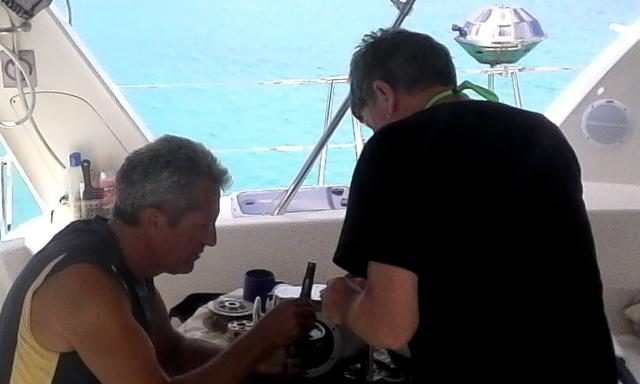 We had to give you a taste of fixing boats in exotic places!
Our windless started to skip while trying to anchor in Barbuda. So the men took it out and had to get their hands dirty, and FIXED it.
Dominica
We love this island for the rivers, rain forest, and great hikes. They have the world-renowned hike to the Boiling Lake. The second largest boiling lake in the world. First being New Zealand. We did a smaller hike this time. We're here on a short visit stop. We did Boiling Lake hike on a previous visit 8 years ago. Plan to do it again next season, 2019
This is 7 months after hurricane Maria. It was sad to see.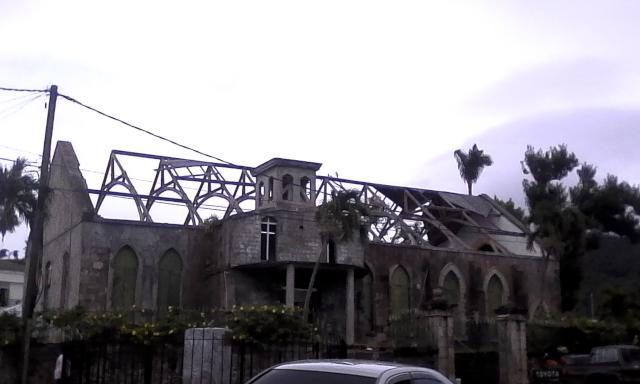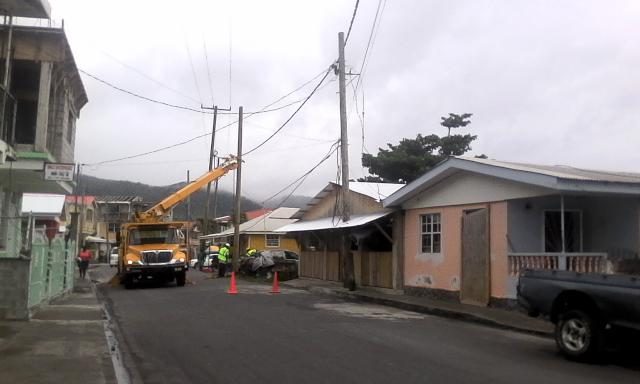 The crews were busy fixing the power lines, many roofs have been put on their houses and I hope next year when we return, the beautiful trees have more leaves on them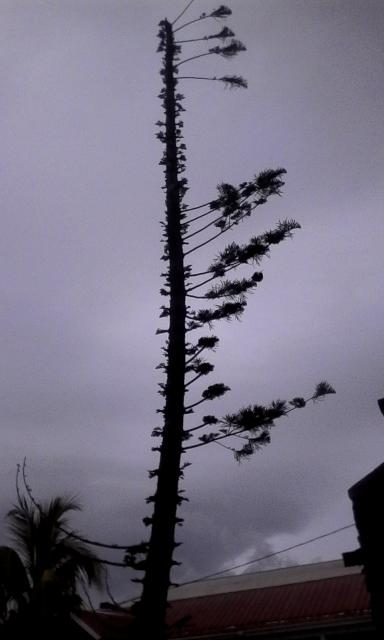 Martinique
May 1st at 6:30 Am, we left Dominica to French island of Martinique and early in the afternoon we were anchored in St Pierre, north end of the island.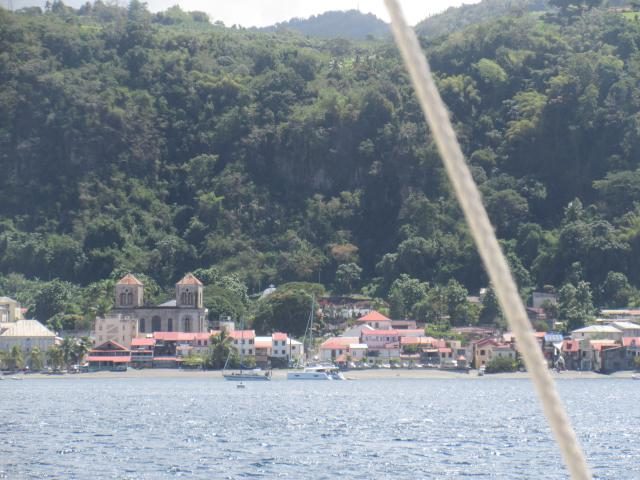 We had visited this nice place before but had not yet ventured to do this hike: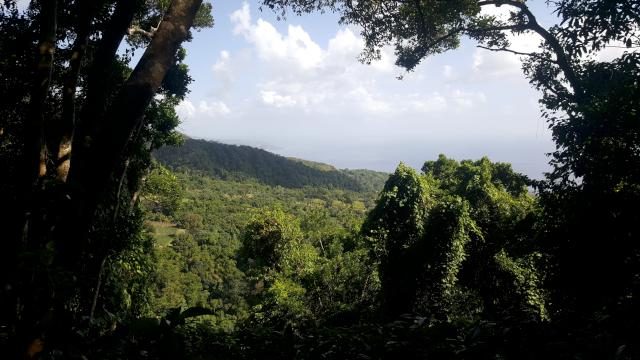 The next day Noel and I and our friend Nick went hiking Mount Pelle. Headed to town and waited forever for a bus that never showed up. Decided to hitchhike up to the base of the mountain. Less than 5 minutes later a nice lady who is from Paris but is now a local there, picked us up and knew exactly where we were going. She says she picks up tourists there all the time. She did not accept any money but took the chocolate I offered her.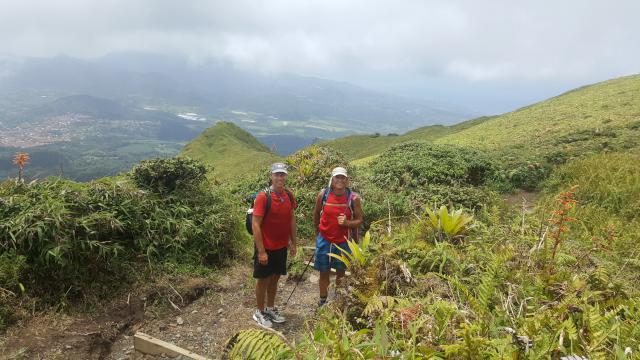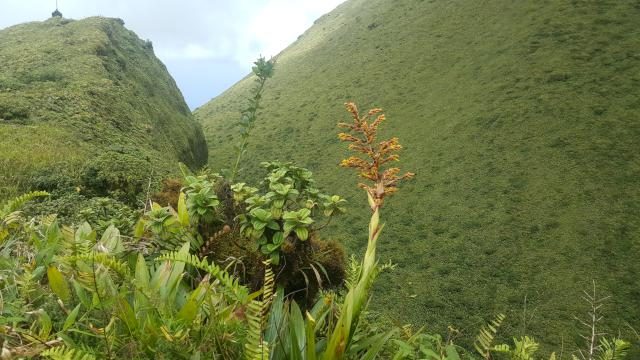 Mount Pelle is a very steep hike. The altitude is 1397m. We started at about 700m at the base of the mountain. Coming down, wow..straight down from the top, to sea level. Halfway down the mountain, this scenery changed to bamboo and all shaded tropical jungle. Ended up at a different village where we got a ride back again to our port.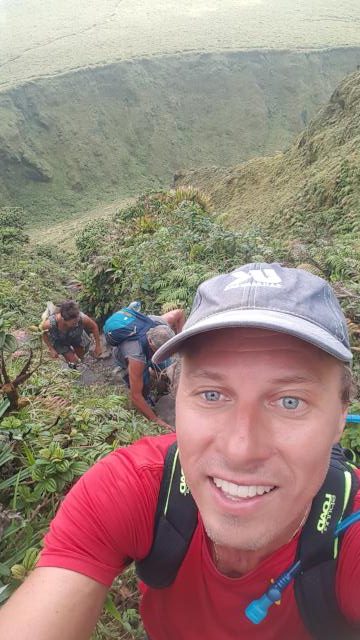 Here we are scrambling up the mountain with our friend Nick.
We enjoyed the sweaty hike and magnificent views.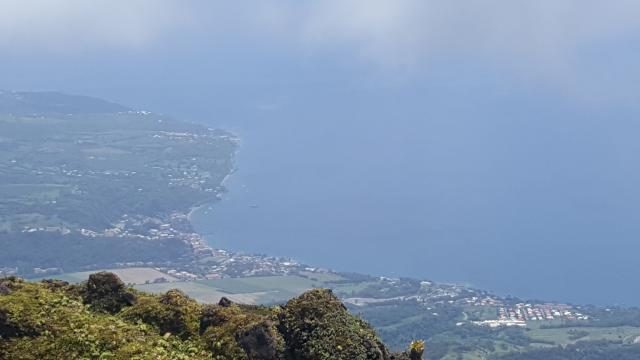 The next day we hiked again but just a short 3 km to visit the De Paz Distillery. It Was a fun visit along with with our friends Jessica and Nick, and their 3 kids, Asher, Alex, and Sophia. Free entry and lots of Rum tasting. Did I say we were hiking back? lol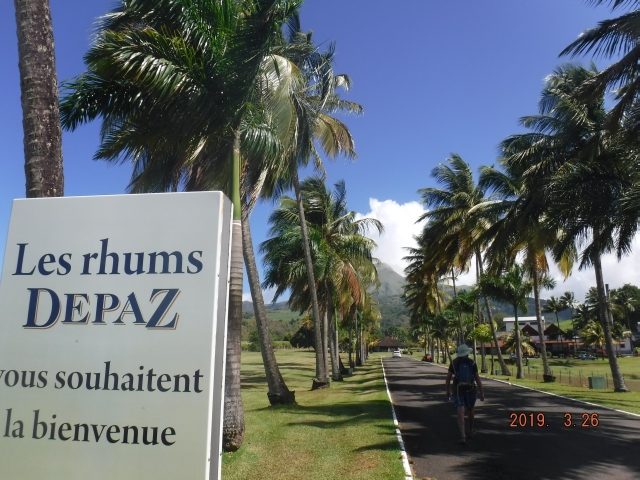 The Distillery is situated in a beautiful acreage above the town of St Pierre at the foot of Mt. Pelle.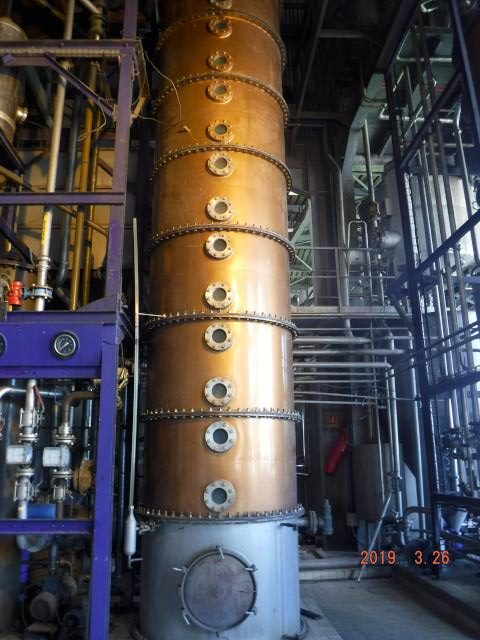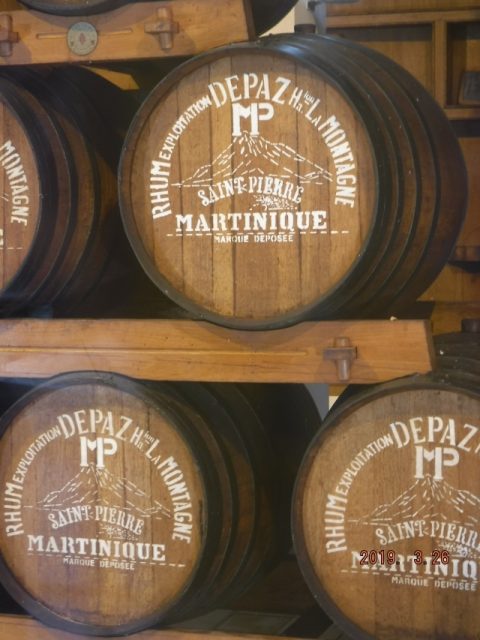 Historical Diamond rock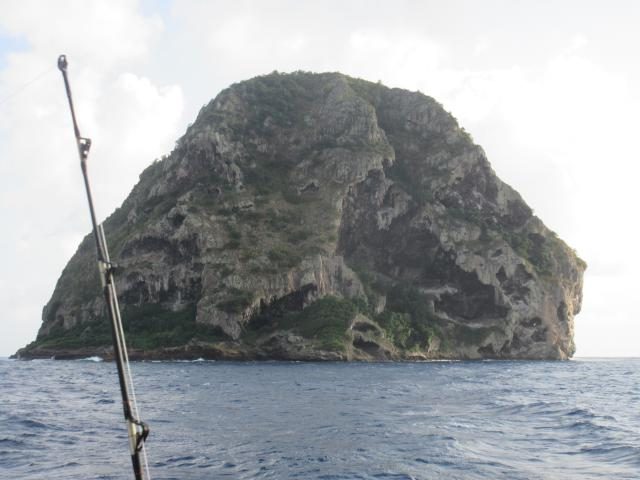 The Diamond Rock as we sail past it on a very calm day.
Here is another sad site where many battles happened and lives were lost between the French, British, and Spanish.
It was a naval post for the British in 1804 during the Napoleonic Wars. They thought if they occupied "the rock" it would allow the British to effectively control the shipping approaching the ports on the western side of the island.
They blasted the wrock to make space to set up the battery and hauled up everything to the summit of the wrock. They had sleeping areas in caves around the rock and drove out the bats by burning bales of hay. Seems it should be called the "blood rock"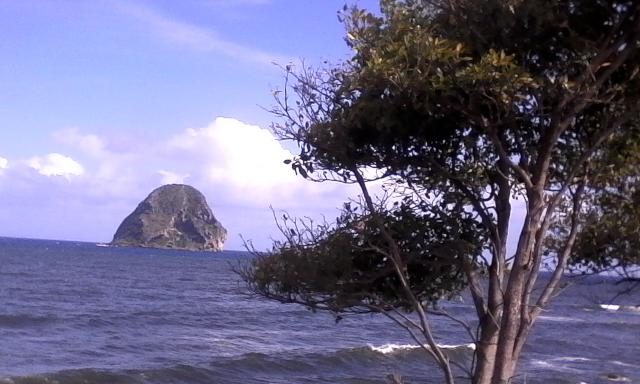 As it looked then….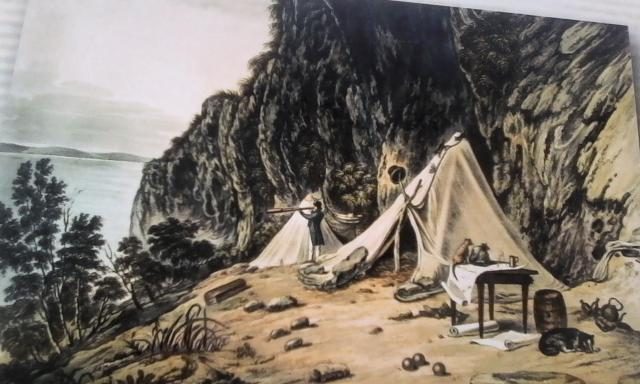 I took a picture of the posted information. Hard to imagine this kind of life and death on the Rock that is now just a nesting place for the birds.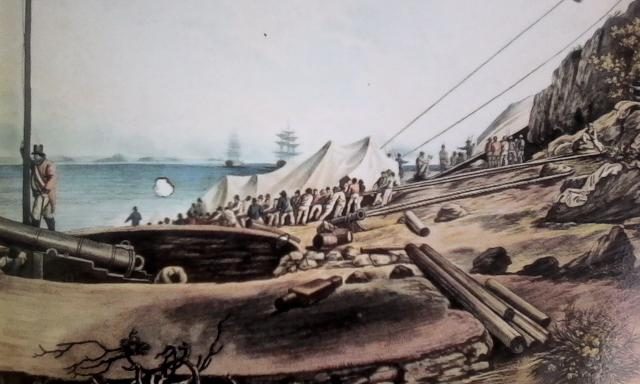 It was also here on this Rock that in 1830 a Slave Ship crashed, claiming the lives of many.
Noel and I took a long walking excursion to The Anse Cafard Memorial site in Southwest of the island. This Memorial sits up o a hill just above the sea with panoramic views. The 20 statues here memorialize an 1830 incident where a slave ship crashed into Diamond Rock Mountain, killing much of the crew, and the slaves shackled in the cargo areas. Statues are facing the sea, to where the lives were lost and probably facing Africa where they were first sold and taken away. This glimpse into the past, the faces of these slaves, it's a very moving place.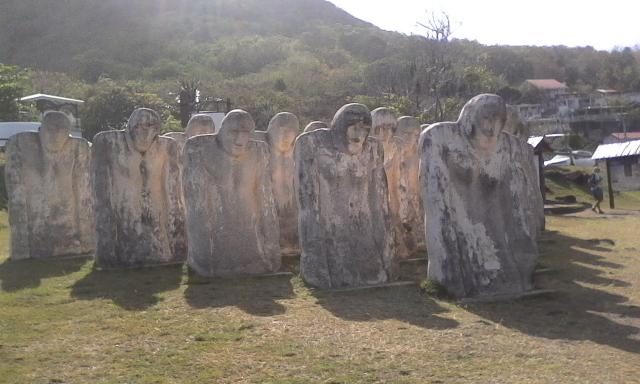 We switched from being a tourist to fixing boats in exotic places! Time to stay home and catch up! (supposed to be recuperating from these hikes, such sore thighs, and calves…) Back to work!
Our floors were really starting to show it's wearing especially entrance way and galley. But last season when we arrived on the boat, it was even starting to get mildew around the cabinets. We sailed to Martinique, where we purchased the flooring, and we started the installation. Hard work, with much cutting and cleaning up. But very pleased with the results.
Before and after… well, actually, after, before and after.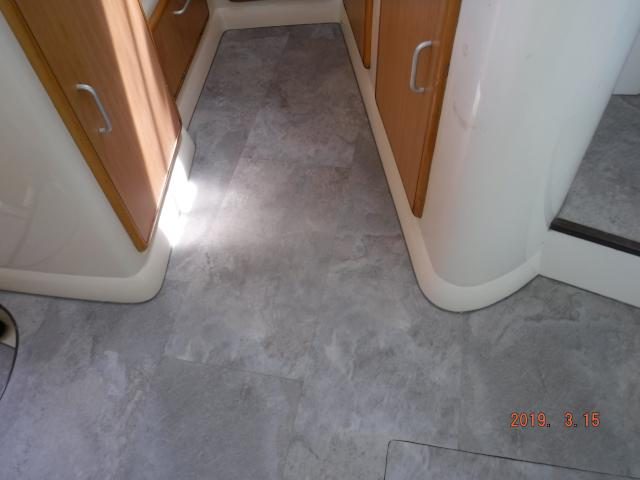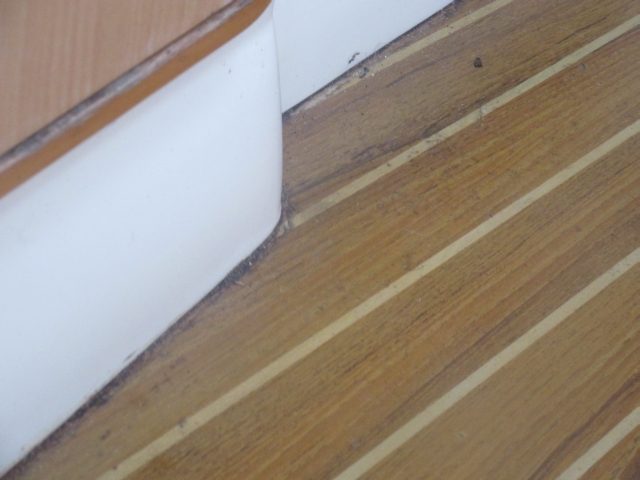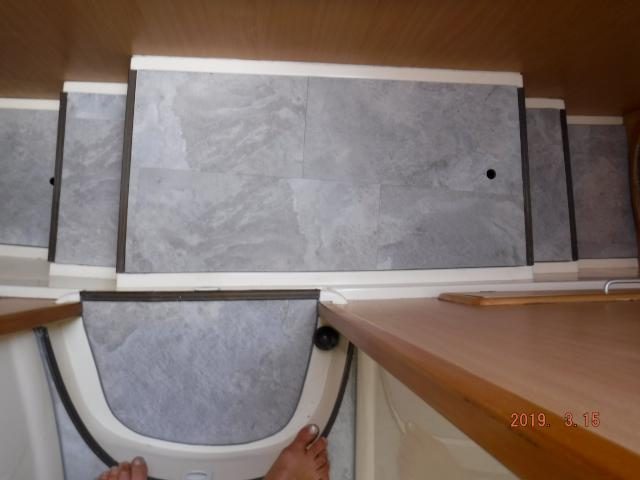 As usual, we enjoy the French islands. We headed down the coast with a few stops in some cute fishing villages and enjoyed some good snorkeling around as well. And of course, we stocked up at the grocery store. Cheese, wine and vegetables on the top of the list, before heading to St Lucia.
St Lucia.
We were excited to pick up our nice new seats for our cockpit. We had picked out the fabric and left foam and measurements with a seamstress in town. We like St Lucia, but we actually just stayed the day as we have visited much here. My outdoor living is now more comfortable with new cushions.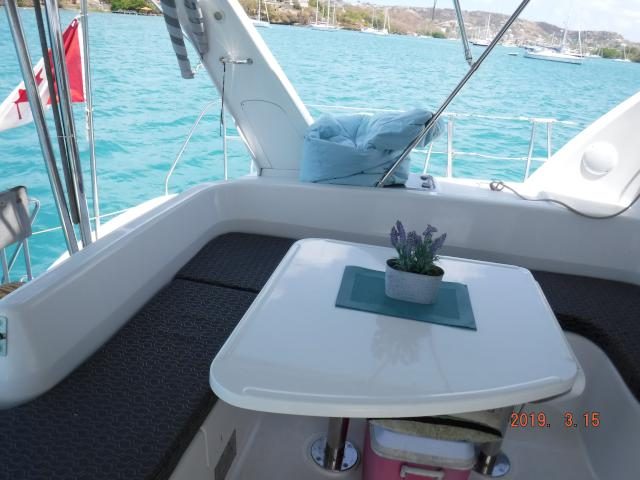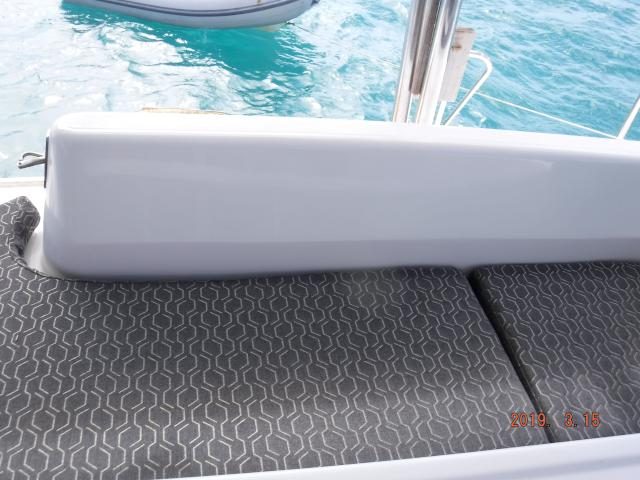 The Pittons. Leaving St Lucia in a squall but it soon cleared up.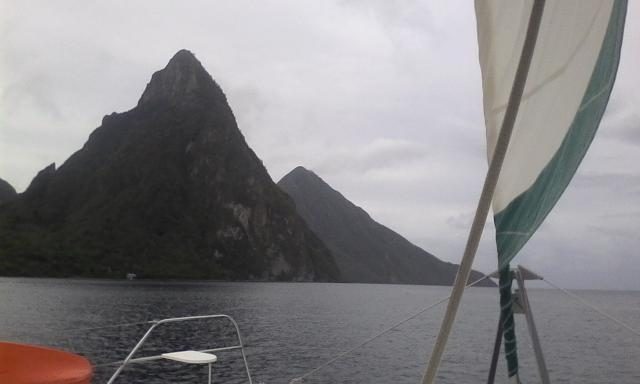 We are off to the Grenadines. St Vincent and Grenadines make up one country.
May 2018
At 7:45 we left to Bequia, North of the Grenadines. Expecting about 20 kts of wind. Passing along St Vincent bigger winds, big waves, and tides. One of our lower shrouds came down. One of the stainless steel fittings at the top broke, due to corrosion. And it was only 7 years old. Don't like stainless steel for critical applications.
Sails down and motoring to Bequia where we hope to find someone who will fix it.
Adding time to our journey, which means we will now arrive in the dark. Oh well, it's a nice big anchorage, easy to get to. Plus our friends are just sailing ahead of us, they will save us a good spot??
Arrived Bequia at 19:45 at Tony Gibbons beach. And we caught NO FISH.
Next day we did find someone who welded our part at huge expense and it was good again.
A few days later we left for Mustique, next island North of Grenadines
Unique Mustique
Unique in many ways, it is super clean and well manicured.
Very peaceful, barely any traffic, they ride Golf buggies except the maintenance crew.
No bling bling and a laid back atmosphere. No security anywhere, no barbed wire fences and barred windows and doors.
No advertising hoardings, or people selling you stuff you don't want. No noisy water skiing or jet ski is allowed.
This is a privately owned island, developed into holiday homes for the wealthy. The late Princess Margaret loved it here. She built a beautiful house, in her 10 acres property, given to her by her friend, Colin Tennant who bought Mustique in 1958.
On this posh island, they charge you to visit. You are also only allowed to anchor in Brittania Bay. A minimum of 3 nights for 80 US.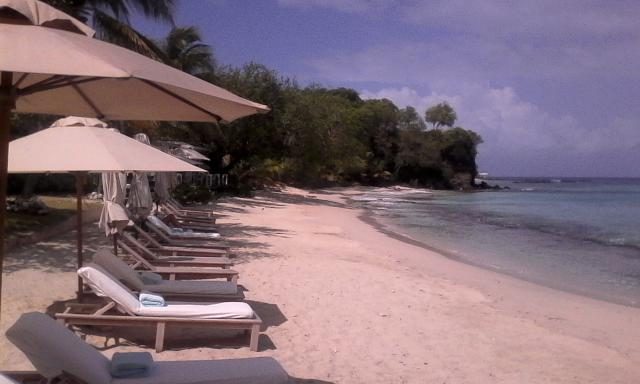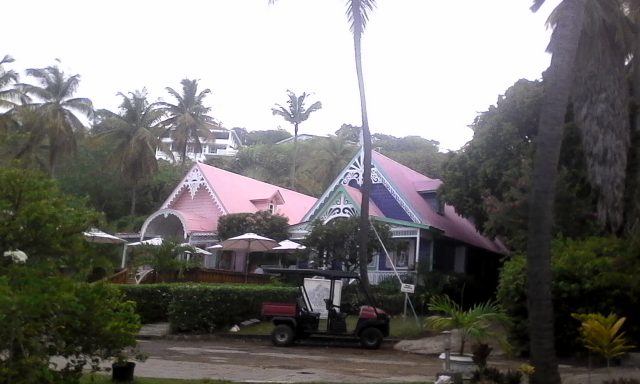 2 charming boutiques line the front street along the beach. Golf buggy parked here.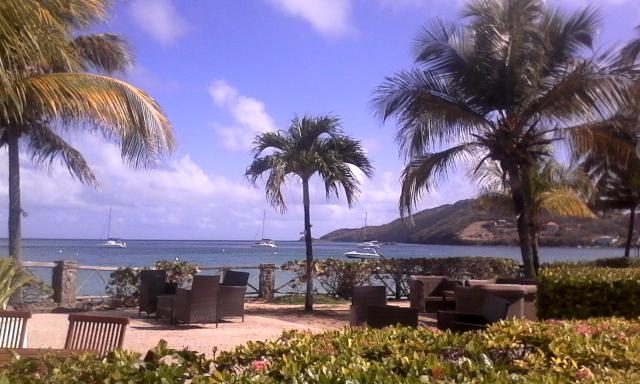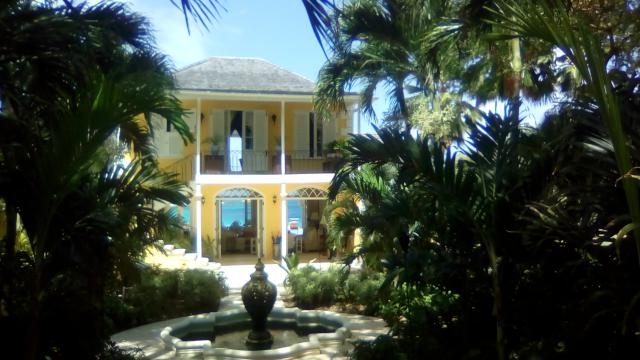 The Duke and Duchess of Cambridge and the whole Middleton family are regular villa renters here.
You can hike or bike on this beautiful island with nice shady paths everywhere. The island is 3 miles long and 1 mile across. Noel and I walked it all. We hiked the North end, more rugged paths along the sea, on the first day. And the next day we did the south end and all through town.
Their mansions are scattered all over the mountain hills with tennis courts and pools. Some, their lawn stretches out all the way to the beach. Manicured yards, lots of flowers, luscious shrubs and large trees. We ended our walks with a refreshing swim with the turtles right off our boat. Ohhh they were soo cute. We enjoyed this spot right in front of their famous "Basil" Bar. At the time was being renovated, so it was closed, but Noel and I had been there before and No…didnt see any Stars there. Although on our last day in Mustique, Noel and I decided to splurge and go for a drink at the bar at the fancy and secluded Firefly Hotel overlooking the ocean and Brittania Bay. The bartender was super friendly and told us about some of the stars he has met here, most recently, like the week before, Kelly from Kelly and Regis, who was there with her Trainer.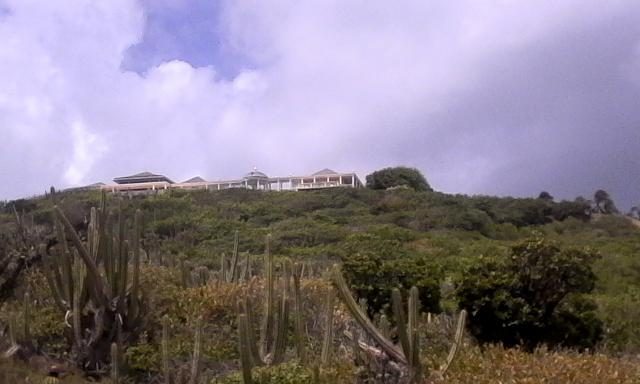 We walked below this Mansion, who we were later told belongs to Felix Dennis, founder of Maxim magazine.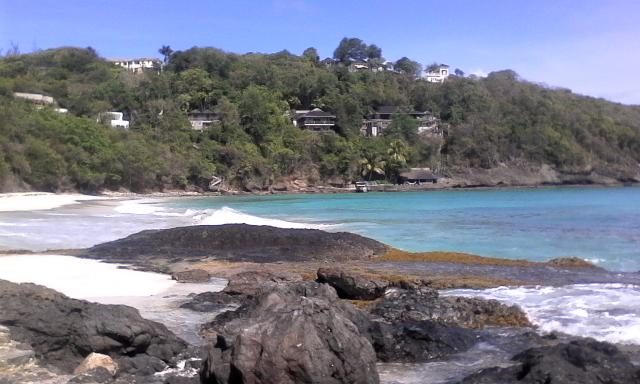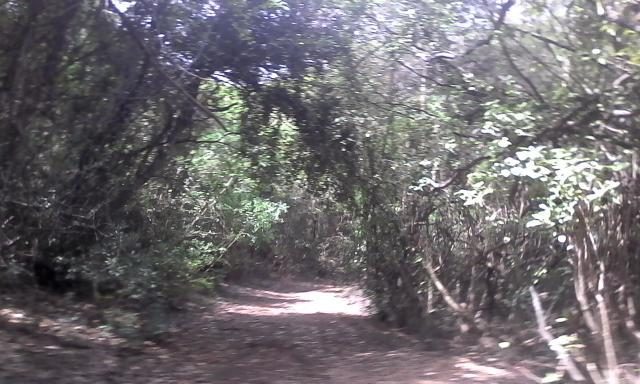 Many tortoises along the roads…
What's also nice about this island is that has remained unspoiled. With only a small little village, near the sea, and just over a hundred villas scattered throughout the hills, 2 small Hotels and the many unpaved roads.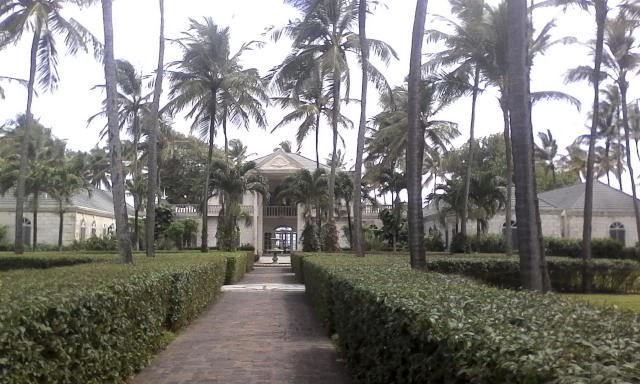 Famous people like Mich Jager, David Bowie, Bryan Adams Raquel Welch, own or have owned here. These houses above, back on to the beach. Most of these are available for rent when the owners are not around.
Everyone on the Island is very friendly. After all, half the people are the maintenance workers and they never know who they talk to, could be their Landlord or some VIP guest.
We came across the workers living quarters while exploring the area. They have their own little village. There are no mansions, but decent and very clean.
We left Mustique for a short 13 NM sail to Canouan. We caught a small barracuda, but we let it go because we were not sure it was safe to eat, due to ciguatera.
Canouan
The island looked quite dry on this side, and not as nice as we expected. We anchored in nice turquoise waters in front of Tamarind Hotel.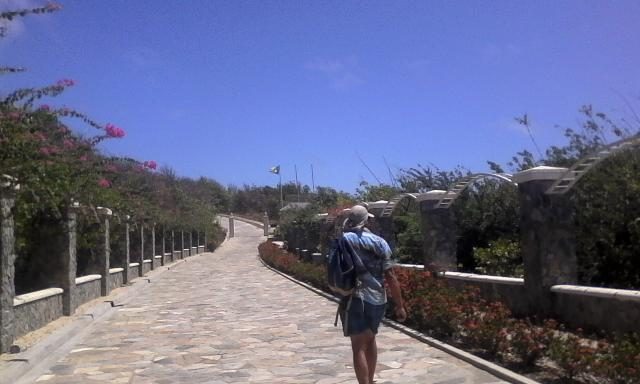 We did do a hike to the North end of the island and came into this place that was more green and lush with open gates and we kept going. A minute or 2 later we got stopped by friendly security.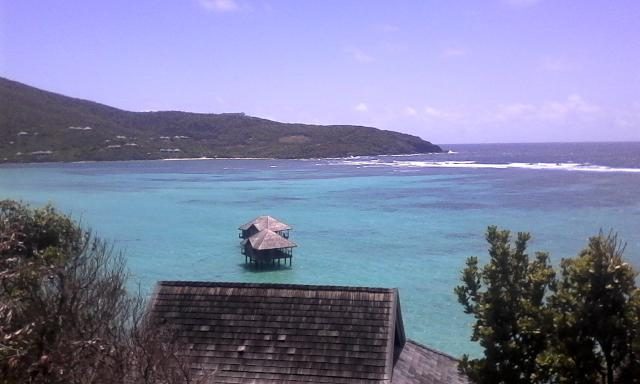 It was this beautiful "Pink Sands Resort" with private cabanas and apartments scattered in the hills hiding amongst luscious trees and blooms that we never saw anywhere else on the island. We have since heard that it was built by Trump, and still expanding it, said the security guard. The beaches are calm protected by the reef ahead.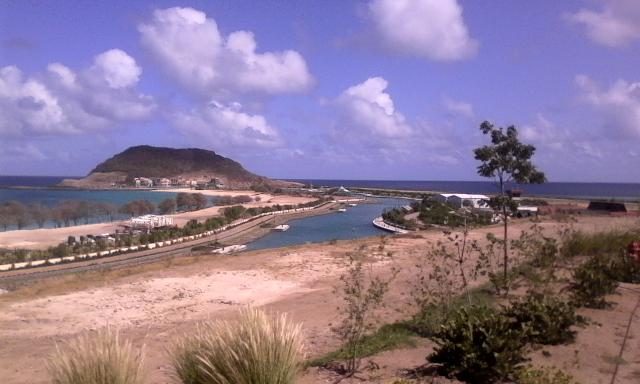 We kept on exploring the island on foot. At the south end, we walked through a huge new marina development, with many apartments being built. Some of them already painted nicely in pastel colors.
It's now May 28th and moving on from Canouan. A very short jib out only, and much care on navigating took us to Tobago Cays. It's a group of small deserted islands and a Marine Reserve Park surrounded by Horseshoe Reef. Well known for the good snorkeling turquoise waters and just beautiful scenery. We saw a beautiful spotted Ray just under our boat and some nice colorful fish. Here we swam with the turtles, took the dinghy out to the reef for more snorkeling and we even saw a nurse shark.
One evening we joined in a local barbeque at the beach with the locals along with our friends Jess, Nick and kids. They also came over and played games. for the rest of the evening. We have been buddy sailing together with this nice family from the US the last few weeks and we have had some good times together at sea and shore excursions.
We loved our next spot in Mayreau, Salt whistle bay anchorage. We hiked up the hill over to the other side of the island and visited Saline bay beach. Beautiful beach, but we found it a bit smelly from the salt pans right behind it. It does have a proper town with restaurants and grocery shopping and a Church. It was a hot Sunday morning as we got up to the hill. They were having their Mass and I stood at the door for a minute and joined in one of my favorite verses. Noel was outside with a funny smile on his face. OK, Ok, I'm coming ( I was just cooling off in the air conditioning! ) Yes, visiting Churches is great to cool off too!
Our next anchorage was in Union Island, just a short 45-minute smooth sail. Anchored in beautiful Chatham bay. The nice long beach was mostly wild, with only a small charming Resort and restaurant. It was so nice and peaceful, very calm waters even though some big wind gusts there. Free internet from the Resort.
We had some interesting snorkeling there. Huge, massive schools of small fish and we were swimming among them all..Pretty cool.
We moved along further up the island and tried to anchor in the town of Clifton. It was difficult to find a space to anchor. Some boats were on mooring balls, some were at anchor and all around too shallow, there is a big reef around it. So we picked up a ball and went ashore. Nice colorful front street but a bit smelly. The anchorage was close to the town and was quite rolly. We moved around the point to Frigate Bay where was peaceful and not busy at all.
From our anchorage, we took the dinghy ashore into the sleepy town of Aston to start our hike to the top of the mountain and then to another side of the island. It was hot, but the beautiful views from there are amazing!
As we approached the sea on the other side, we came across this beautiful and cozy Resort. We couldn't help but stop and enjoy a much deserved cold drink in this charming place. What a gem!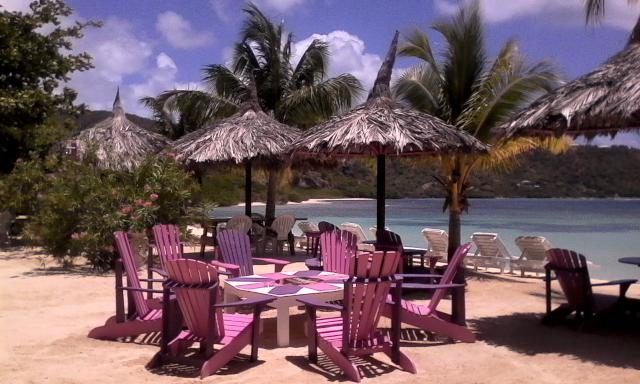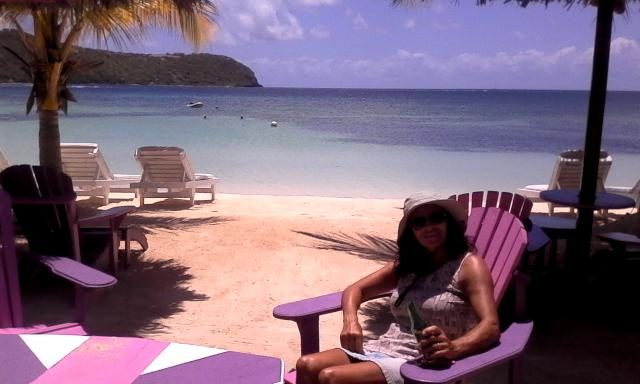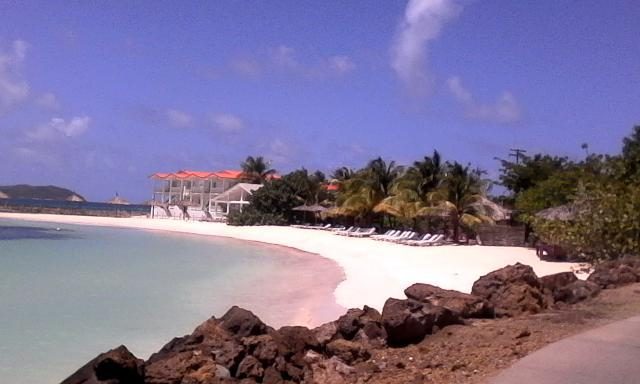 Across from Union Island, just 2 miles away is Palm Island. Another Paradise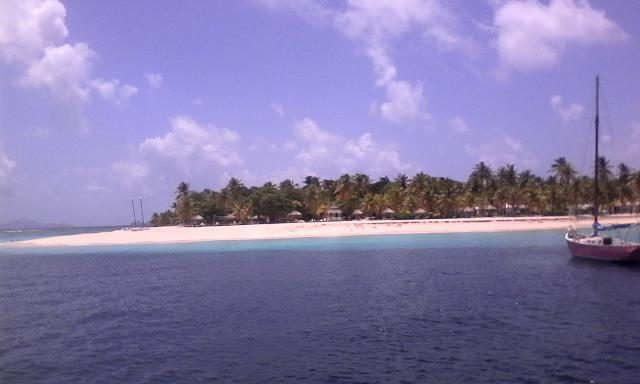 It is a small island occupied mainly by a Resort, but you can walk around the beach and all outside the premises. We enjoyed the gorgeous shallow turquoise beach. We dropped our anchor and our friend Nick and Noel did some windsurfing here. Jess and I and the kids wondered our way around the Resort, into the Resort and got sent out of their gardens by a friendly guard. We were not aware of all this private stuff. But I guess we missed the "No trespassing sign"
We did our checking out of the Grenadines across from here, in Clifton.
In another hour we were on the little island of Petit St Vincent. Just a quick stop to check it out. Turned out to be a private island, taken up by a very nice Resort. Beautiful beach and very luscious hillside make these scattered stone cabanas very private. We wondered ashore and walked along the beach, visitors are also allowed to use their Restaurant, Spa and boutique shopping. We left after lunch for another short sail
Carriacou
A 4-hour sail takes un into Cariacou where went ashore and check in at customs and immigration.
We anchored in Hillsborough. Big bay, quite bouncy. A decent town with a black sandy beach. A grocery store but very expensive. Don't plan to stock up on groceries here!
We stayed here for a rolly night.

The next morning we moved across to visit this beautiful deserted Sandy island. A nice walk and good snorkeling there.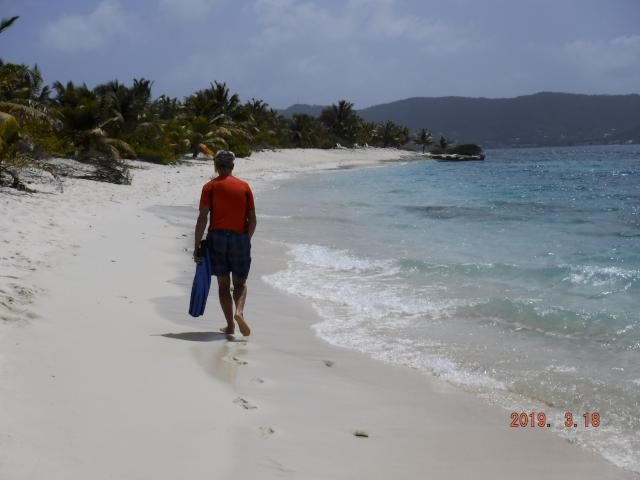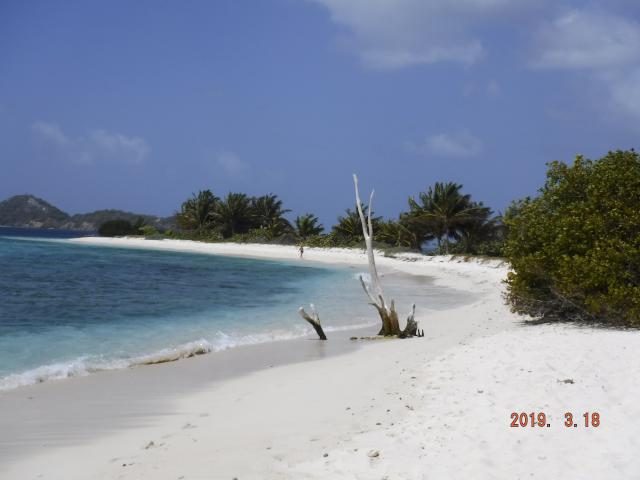 Mid-afternoon we moved back to Paradise beach in Cariacou. What a gorgeous beach with shallow turquoise waters. Also very protected and calm waters. For the night, we moved around the corner into the nice Tyrell bay. A lot busier than we expected, drove around for a while to find a space. A few bars and Restaurants along the beach. We had a nice pizza at Lazy Turtle, very cute Restaurant. At this Bay, we met other Canadians, Toronto, and Montreal.
The next morning Jess and I went noodling. A noodle water class at the beach. We met a lady who teaches and was very good. It was a surprisingly fun and good workout
But here we had to say goodbye to our nice friends from SV Ventus.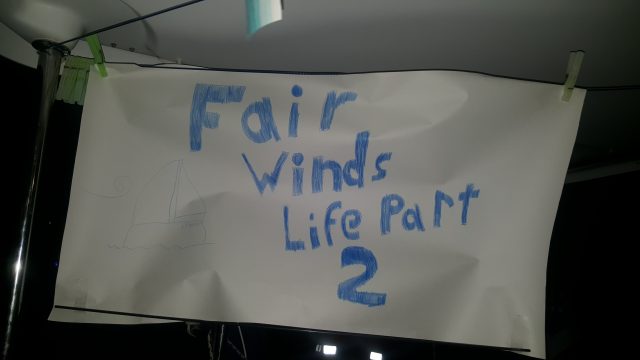 We have been buddy sailing together for the last 2 months. We sailed, we played games, snorkeling and we explored ashore together. Nice hikes, bushwacking, visiting the towns, we really enjoyed their company. We will miss them. The kids are so sweet. We met them first in Marie Galant just before heading to Guadaloupe. When we got the next anchorage on little island, Petit Terre, there was Nick to take our line and tie it to the mooring ball. How helpful, since there was so much current at this place. We sailed together since, up to Dominica and back down to Carriacou, from the beginning of this blog. Sad to depart without them.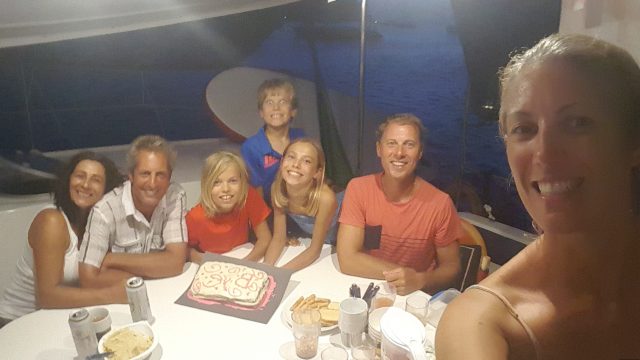 They plan to stay here in Cariacou for a while longer, but we must move on…..
Grenada
Beautiful day, calm seas, 12kts wind on Port. Gliding along at 7kts.
Our plan to stop at Dragon bay to dive the not so deep water statues. Flamingo Bay right near it, had signs for No Anchoring Allowed. We took a mooring ball at Dragon Bay. It's very deep to anchor.
We picked up our snorkeling gear and took the dinghy and tied it to a mooring ball at the site. It took us a while to find the statues. It's a big area and they are not all together. Shortly after going around looking and looking, a tourist boat showed up and anchored. There is our clue.
Unfortunately, they did not pick a nice spot with clear waters. The water is pretty murky both times we snorkeled here. We still loved it. These pictures do no justice! There were some pretty fish around as well, and even a nice spotted ray.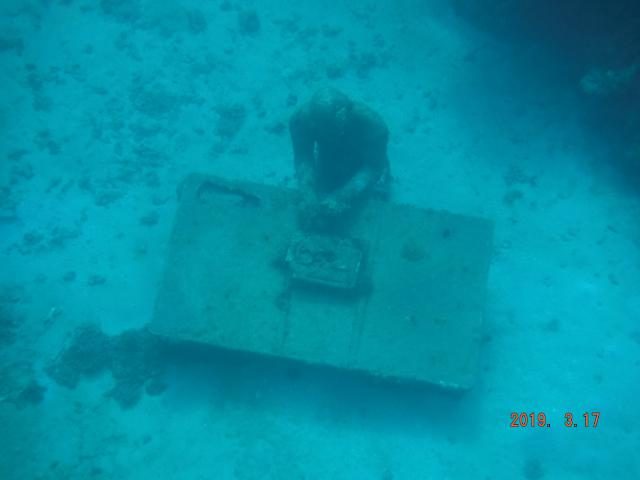 The Correspondent, a sculpture of a man sitting at a desk fardown below the surface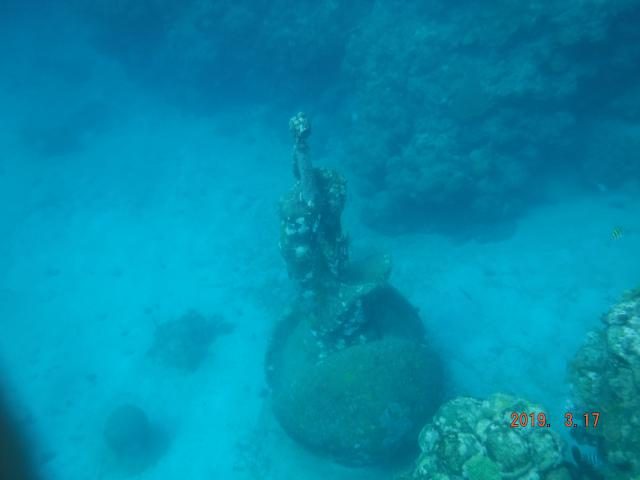 The Nutmeg Princess. Too bad, the pictures are hazy.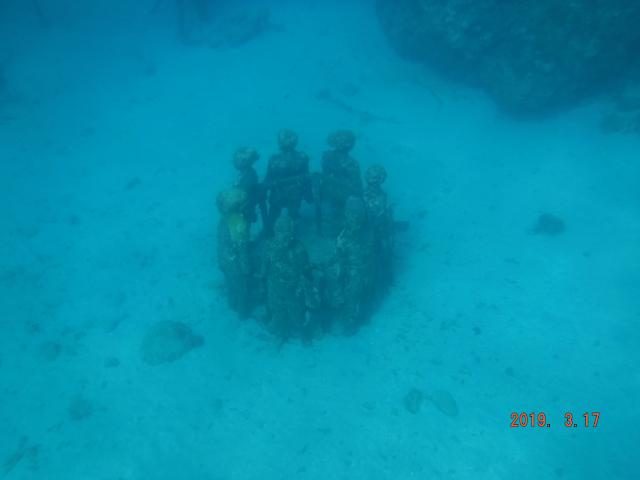 The Circle of Children was a beautiful complete statue. When you got close, the coral growth could be seen. It was stunning as we looked at it from many different angles.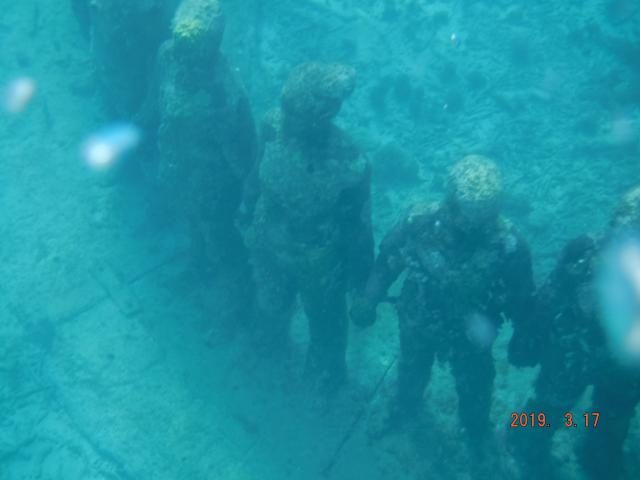 Christ of the Deep stood on the bottom with his arms spread wide.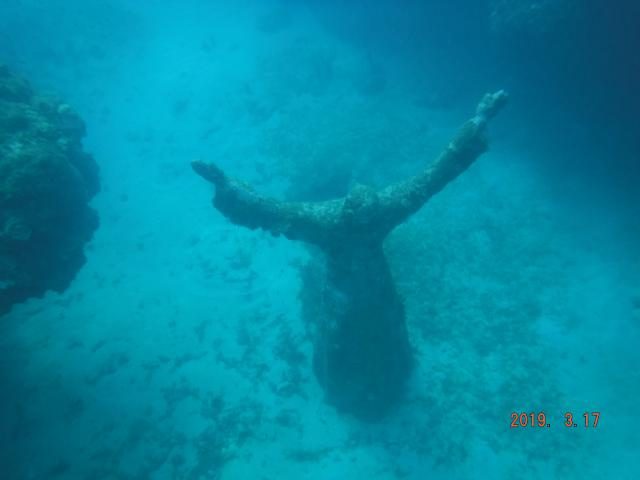 We stayed for 2 nights. From this bay was easy to catch a bus to visit Concord Falls.
From the bus stop was a nice steep hike, but not too far.
Lots of shade on this hike provided by cocoa trees, nutmeg, star fruit and pomegranates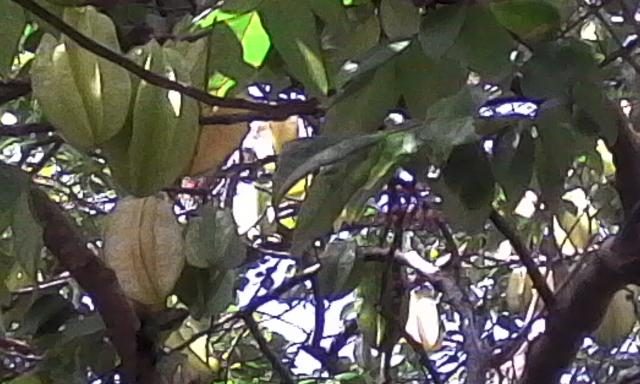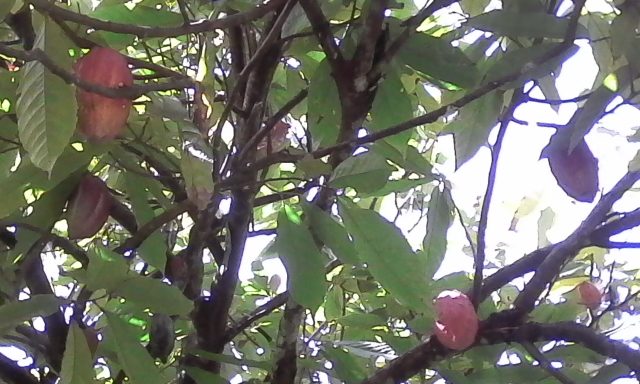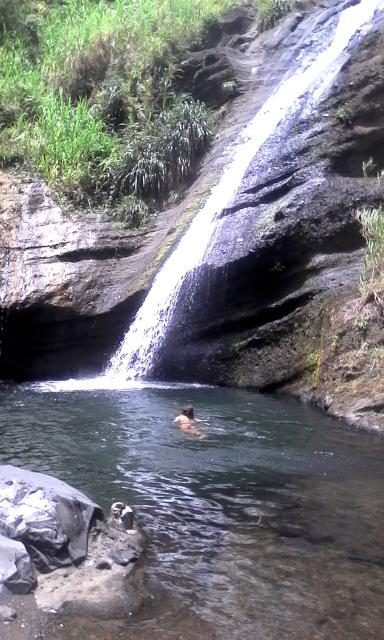 Arrived at the first waterfall and had a refreshing swim.
Noel and I ventured up the mountain, different vegetation and more rugged terrain, and narrow path. We were treated to 2 more Falls where there were no tourists, no one, just the sounds of Nature, birds and the crashing 2 waterfalls one after the other into the nice pools. Another refreshing swim and a picnic.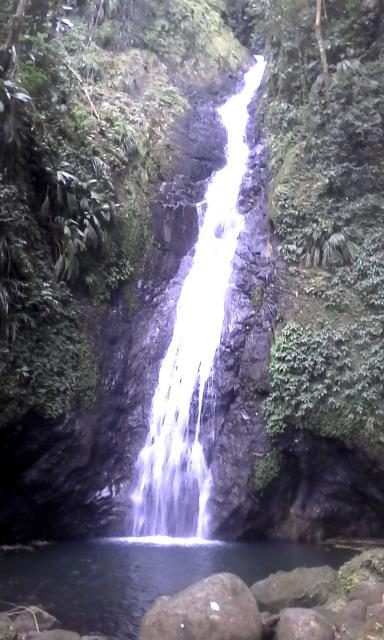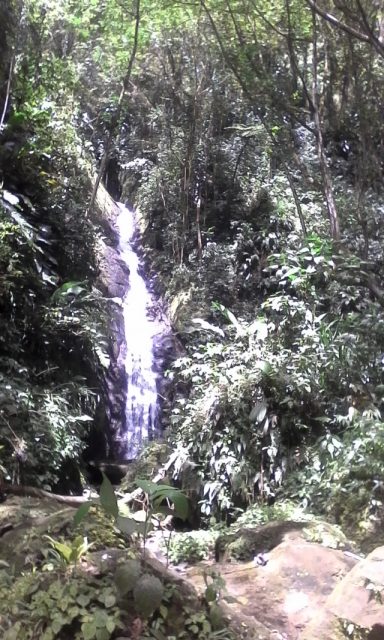 The next day we went to St Georges and anchored out in the bay. We took the dinghy ashore and did some provisioning.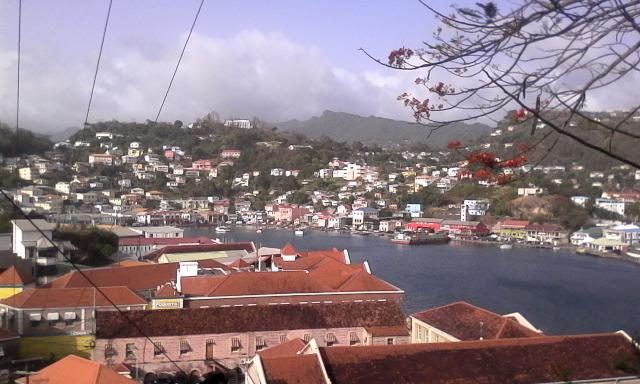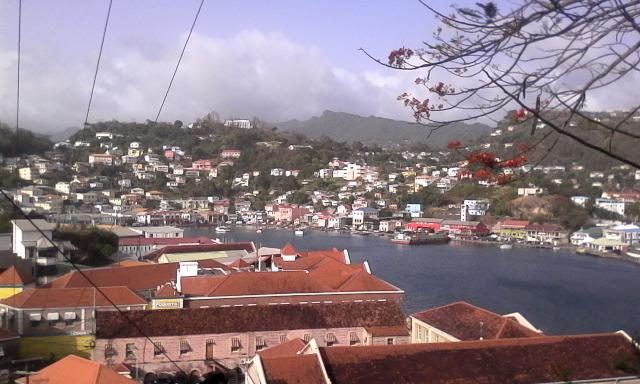 Our next stop was a few miles down the coast, where met up with an old friend and went ashore for the evening. Nemrod Pub is a great hangout for the locals and sailors. It was Karaoke night and a great time was had by all.
The next day we took the bus at this pub location to St Georges, where we took a different bus to Grand Etang. Here we ventured on another hike, to Mt. Qua Qua. It was very pleasant with lots of shade and great views.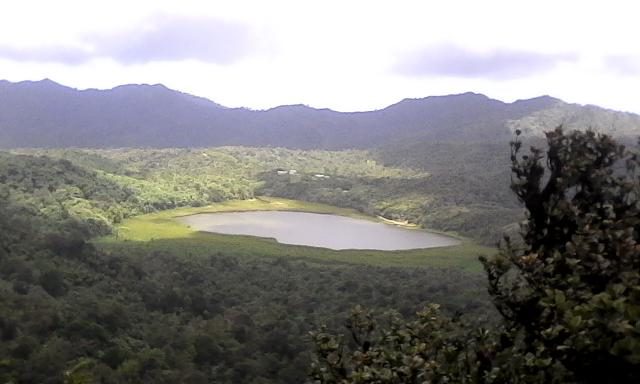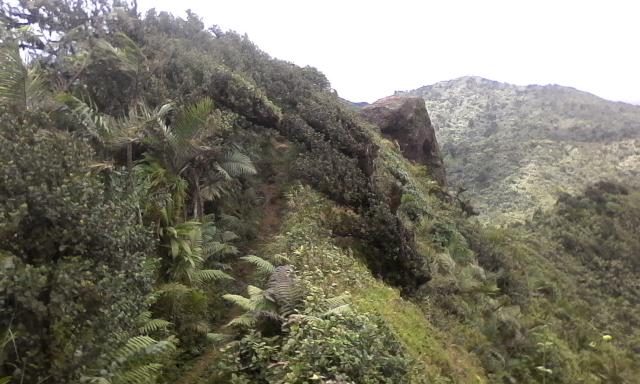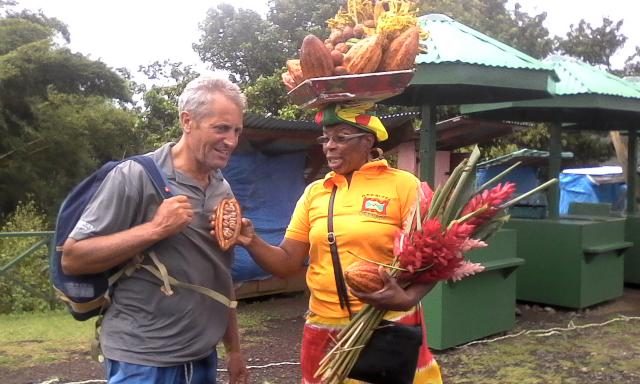 Does it look like Noel really wants to buy the cocoa bean? or flowers? We are tired, waiting for the bus, let's go home
Hot and sweaty, we made a detour… to the Brewery
Noel is very happy to find an English Pint. |Yep, they actually brew real English Bitter here. What a way to end the day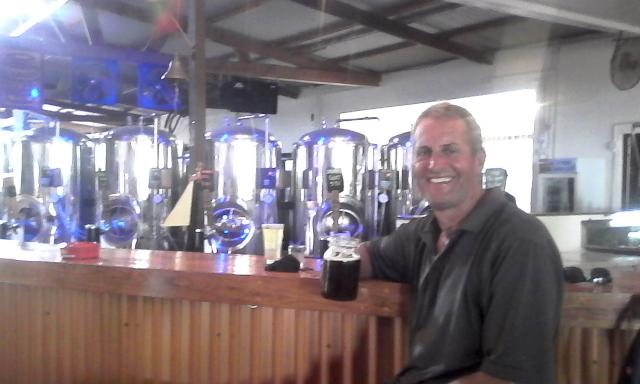 Grenada is a friendly and beautiful island. They also have a large yachties community here. Popular during Hurricane season and beyond. They have activities planned for each day of the week and if you have kids this is also the place to spend Hurricane season.
And speaking of Hurricane season, it is approaching, it is now the end of June. We are departing Grenada this evening to Trinidad where we will leave Life Part 2 all tucked in. It is an overnight passage, so we can arrive there the next morning in daylight.
We look forward to always going home and visit the family, and of course, downhill skiing. Looking forward to more adventures and a next Season 2019