Current Location:
Anse Algajola, Corsica
Current Position: 42 36.79 N 008 51.96 E
Click to view map.
Distance sailed since last post:
19 nautical miles
.
View the map of our voyage track here
From Centuri we tried to anchor in a small bay called Anse D'Algajola. Unfortunately the anchor snagged on a rock. As we tried to recover it, a wave lifted the boat and shock loaded the chain, which was bent around the side of the bow roller. One of the chain links bent and parted at the weld. They are not supposed to do that.
However, the anchor was till attached, so we went a bit farther on to the next beach. There we anchored in sand using our Fortress back up anchor on a nylon rode from the stern. Apart from all the nudist men on the nearby beach, which blighted the view somewhat, we had a peaceful evening and night.
The next day we moved on the Calvi and again anchored with the Fortress, this time from the bow.
We went ashore to top up our internet and to buy a new chain link.
Back on the boat it was blowing a force 7. We hauled up the Fortress and laid our main anchor,  with new chain link installed.
Very odd. The boat didn't seem to want to settle on the new anchor. We let out some more chain to try to improve the holding. Still we were drifting sideways.
Being ultra smart, we realized something was amiss. So we pulled all the chain back in again, only to find no anchor on the end of it! And Ceu was laughing.
So, it was back to laying the Fortress, again!
The next day, with the benefit of a handheld GPS, and crystal clear water, we did a grid search with the dinghy and rapidly found our errant anchor. Once we pulled it up, we found it still had 20 meters of chain attached to it. Clearly the chain had parted AGAIN.
It's not supposed to do that.
Time to get a new chain and, while we are at it, time to research a new anchor, as I am fed up with dragging this one around the bays! Turns out that all the anchors on board, except the Fortress which we bought in Grenada, as about half the size they should be! Fat lot of good that is.
Have tracked down some Rocna 33's in Sicily, so shall pick up two, plus some longer chain when we get down there.
As you can see, the welds on the old chain (top) are not nearly as well done as the new chain (bottom). Probably some Chinese junk.
The new chain is 10mm G40 High Tensile.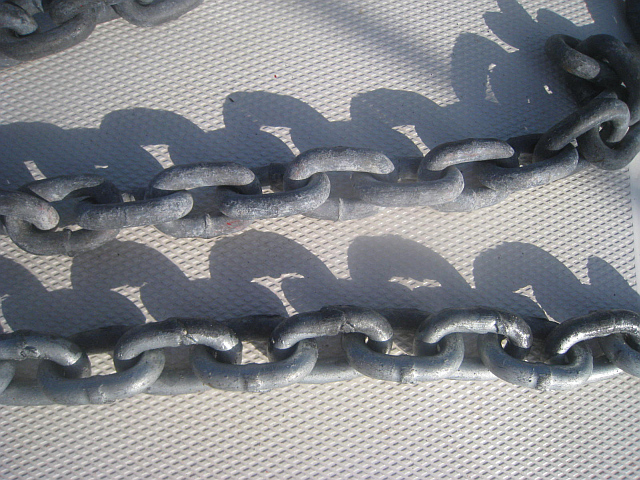 One Response to "Of Anchors Lost and Found"