Current Location:
Aground at Culatra, Portugal
Current Position: 37 0.54 N 007 48.12 W
Click to view map.
Distance sailed since last post:
35 nautical miles
.
View the map of our voyage track here
Well, we aimed to leave out the east end of Culatra first thing in the morning on an ebbing tide. We almost made it, but then decided to take a nice coffee break on a private little sandy island. Well, it became an island about half an hour after we beached on it.
And then we were joined by a couple of tourist boats who also wanted a day trip to a deserted island. They were taking pictures of us too. I guess they thought it pretty cool that we could just drive our own boat up to the sand like that.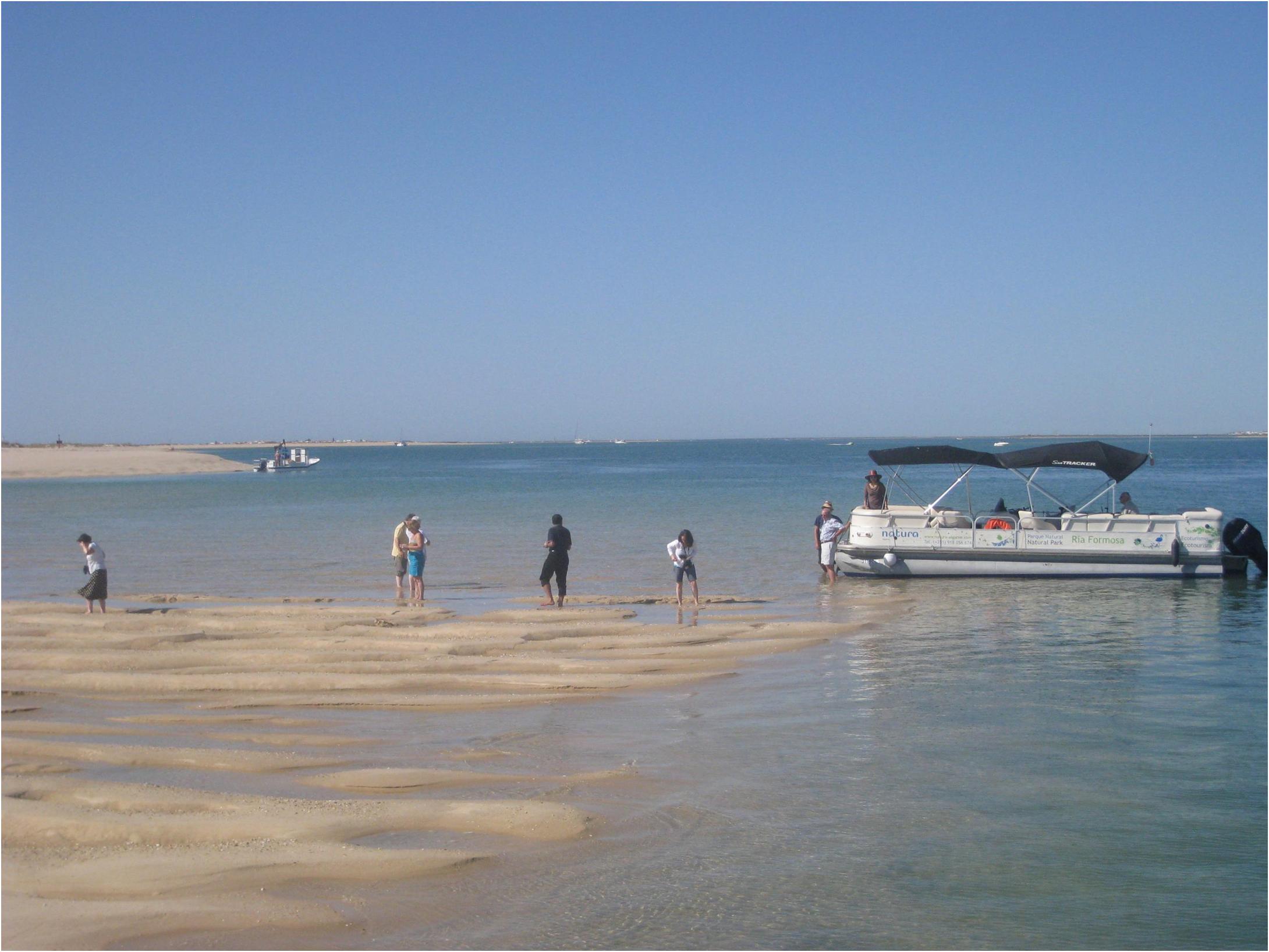 We even had some workmen arrive with shovels. I thought maybe they were going to dig us out, but it turns out they just wanted to load their boats up with free sand to take back to the plant nurseries. Here's a picture. Except this is a fisherman who stopped to let his dog have a pee. Actually, if you look at the boat in the background in the picture above, you can see that they even arrived with their own backhoe on board!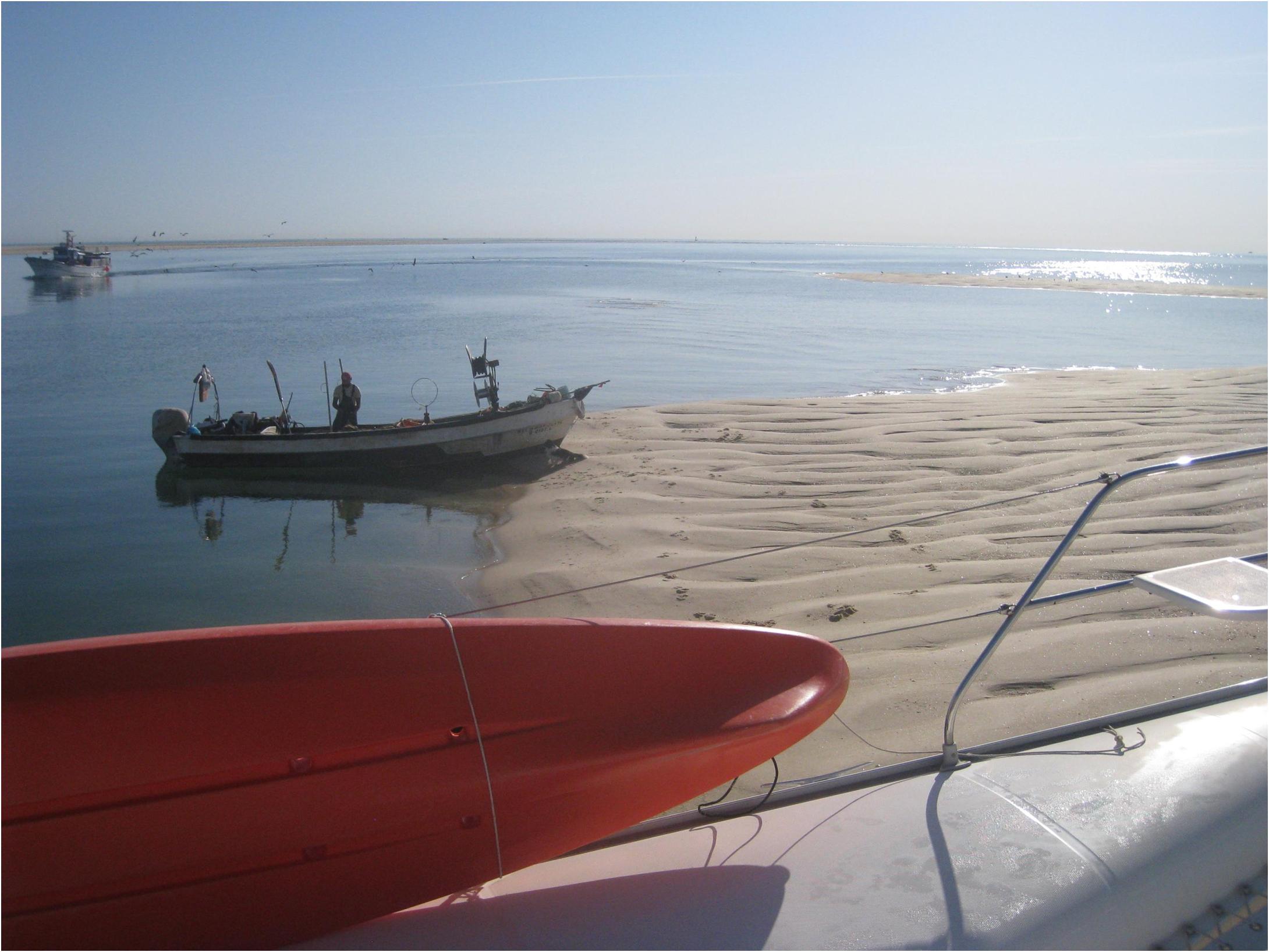 A few hours later the tide had gone all the way out, and then back in again, and we were afloat again. Interesting eating breakfast on a 15 deg slope. But then again, I guess monohull sailors do that all the time!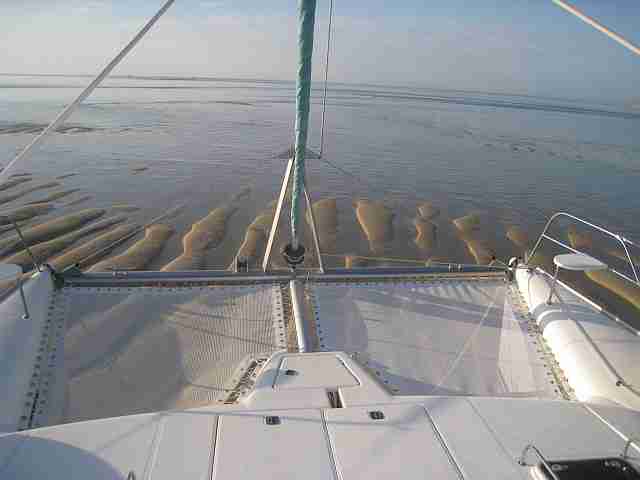 So by the time we got going again it was a bit later in the day. 12:30 in fact. We headed for Ayamonte, 27 nautical miles to the East.
Then we read about the tides in the morning and decided that would be a pain if we were to get going early. It seems that with the current in the river creating a lot of rough water at the river entrance, we would have to leave at high tide, which is 4am. Didn't fancy that idea at all.
So then we headed for Tavira (10miles short of Ayamonte), but came to the same conclusion about that.
So then we did a trial anchor just outside Tavira and concluded it was fine. The wind had picked up with a nice sea breeze, so we decided we would sail another three hours down the coast and anchor off the beach outside of the Guardiana river (Where Ayamonte is located). Actually, we went a couple of miles further down, just outside some small harbor called Punta Moharra. Not too bad. A little bit of wave action, but beats having to get up at 4 am.
Tomorrow we will head for Bonanza (the mouth of the river that goes north to Seville) and see if we make it before dark.
Who knows where we might end up.