Current Location:
Rio Guadalquivir, Spain
Current Position: 37 2.17 N 006 7.03 W
Click to view map.
Distance sailed since last post:
20 nautical miles
.
View the map of our voyage track here
Well..Sailing through the river was different from being at sea. The scenery through the 40 miles of the river was very different.
We started off through some very flat territory that looked almost like Holland. Gradually it became a bit more treed and then we started to see some hills inland.
We began at 2pm, just about at the turn of low tide right down at the entrance to the channel into Bonanza. The river is wide and easy. The channel deep.
Along the way we passed numerous fishing boats that looked like seaplanes with their booms out on each side. Many of them were junk, some were still operational, though often it was hard to determine their state.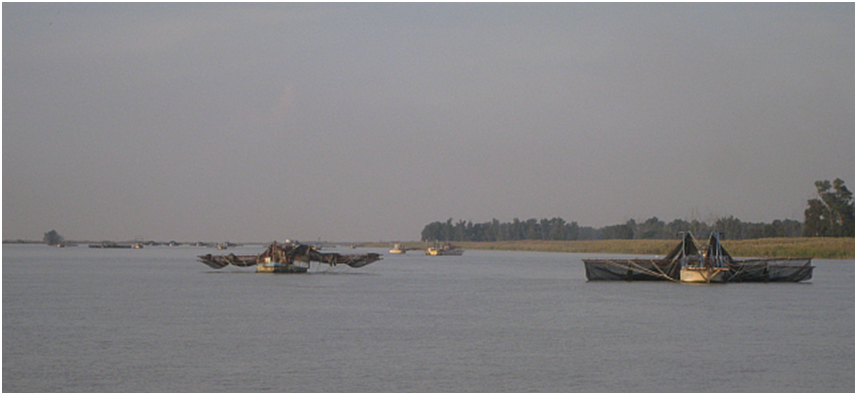 We thought we would see more traffic, but saw only one tanker that passed us on the way up, and then met us again the next day as they were coming down again.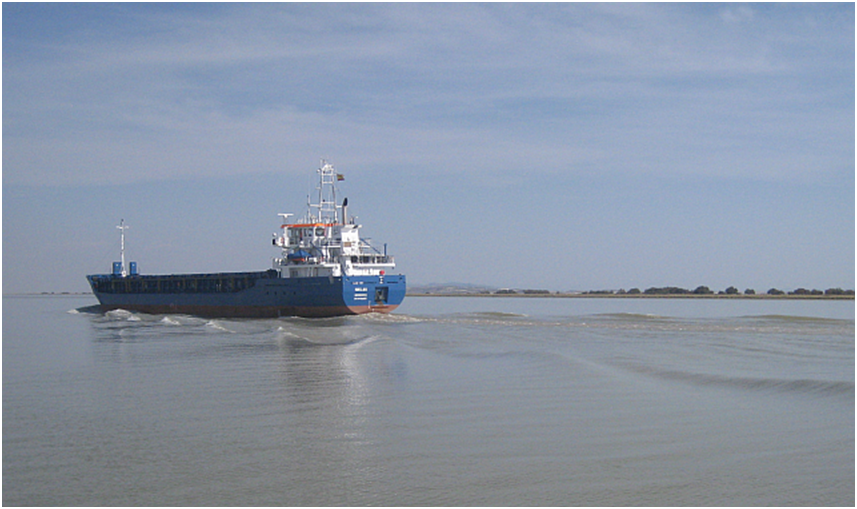 Most of the way we motored, of course. But at times we were able to put up the jib to give us an extra boost. Of course then the wind would shift and the river bend, and then we would have to roll it up again.
Once the trees started we saw lots of birds (almost as many as in the Pantanal), and of course the usual cows and horses. But no alligators.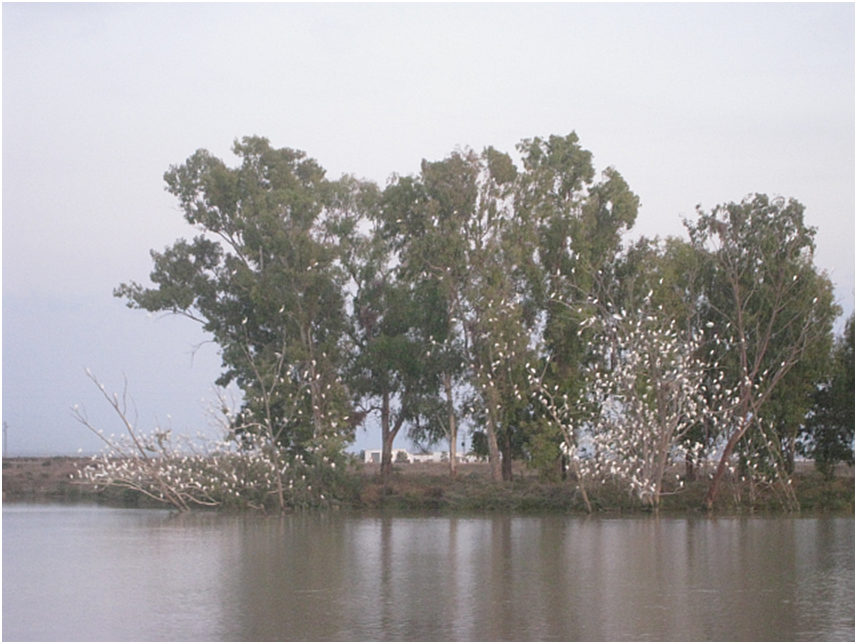 At 7pm it was getting dark, so we anchored along the side of the river at a spot that was a bit wider. That enabled us to do just the one anchor thing, which is a lot easier than two. We watched another spectacular sunset as huge fish were leaping two feet into the air. None leapt onto our boat, however, which would be the only way we would ever catch them!
The next morning we set off at 8am and got in a couple of hours before the tide changed. We then waited six hours for it to change again, and set off just before 4pm. At that time the tide was still against us a bit, but we wanted to get to Gelves before dark. It turns out that on the river the tide has 5 hours of flood, and 7 hours of ebb, so the return trip should be easy!
Just before Seville, the river branches. To the right are some fancy bright blue cantilever bridges that mark the entrance to the Canal de Alfonso XIII. This is the canal that runs right through Seville. However, it is a big procedure to actually get through it – it involves some locks, and bridges, and people who have to open bridges for you.
So we took the left hand branch. About a mile further up here is a little town called Gelves, with a tiny marina, and a nice place to anchor. Just beyond that is a low bridge, so that is as far as you can get anyway.
This is the little port of Gelves. It proved to be an excellent place to anchor, with easy accessibility to Seville by taking the 140 Bus right into town center. The return bus leaves from exactly the same stop as the one at which one gets of in town.
We stopped there and went ashore. It was about 6:30 when we arrived, so that put our whole trip at about 7 ½ hours. Doesn't seem to be much there, actually, but we did find a small supermarket, and right outside the marina is a café where we had some lamb chops for dinner and could finally use the internet.
Tomorrow we will go and explore Seville, which is just a bus ride away. We will update this when we have some new pictures.